If you're an executive, you need a resume writer that matches your expertise.
Your resume is an investment in the future of your career.
Gone are the days of searching for the least expensive resume service. More often than not, those are the services that use ghostwriters and templates and your resume looks like everyone else's.
Experienced executive resume writers know what it takes to get you an interview.
They highlight your accomplishments, showcase your transferrable skills, emphasize your leadership skills… It's much more than copying and pasting information into a one size fits all template.
It takes time and expertise to write a high-quality, executive-level resume. Understandably, this increases the cost of these resumes. So you aren't going to find $100-$200 services on this list.
You're going to find high-caliber, senior-level resume writers on this list of the best executive resume writing services. These are the writers that take the time to do it right!
Executive Resume Service Criteria
Each of the executive resume writing services below was reviewed by a Certified Professional Resume Writer (CPRW) taking into consideration the following:
Cost: The cost of the service compared to other executive resume services.
Turnaround: The speed at which the resume is completed.
Credentials: Overall experience, awards, and certifications.
Resume Design: The design, style, and overall look of the resume.
Customer Service: Guarantees, number of edits, and reviews.
This list was designed to serve all industries and executive professions. We focused on resume writing services that cater to Director, Vice President, and C-level roles.
Best Executive Resume Writing Services
1. Find My Profession
Find My Profession is much more than a US-based executive resume writing service. We are a global company whose work has been featured on sites like Forbes, Inc., Zety, Fast Company, and more.
Our elite executive resume writing team has experience in 85+ industries/professions. This allows us to assign you a professional writer based on your unique background and experience.
We have successfully landed our executive clients senior-level leadership positions at companies like Apple, Amazon, EA, Oracle, GM, Facebook, DoJ, Morgan Stanley, Gap, and 2U just to name a few.
Find My Profession has 650+ 5-star reviews and offers a 60-day interview guarantee. Every resume created is Applicant Tracking System (ATS) compatible and highly customized to meet your unique needs. We've included a sample executive resume below.
Pros: Find My Profession commits to working with each client until they are 100% satisfied. Don't worry about having a limited number of edits, or a set amount of time with your writer. Your writer will send as many emails or get on as many calls as you require.
Cons: Find My Profession is a virtual company. While we provide services in your city, we don't have a physical office for in-person visits. You'll communicate directly with your writer via email and phone calls.
Reviews: 5/5 based on 124 Google reviews, 5/5 based on 8 BBB reviews, 5/5 based on 35 Facebook reviews, 4.9/5 based on 304 Trustpilot reviews, 4.7/5 based on 255 Sitejabber reviews
Turnaround: 3 – 5 business days (can expedite to 2 business days)
Cost: $795 – $995
Contact: (831) 888-0967 or help@findmyprofession.com
Check out some of our 5-star reviews.
2. The Creative Advantage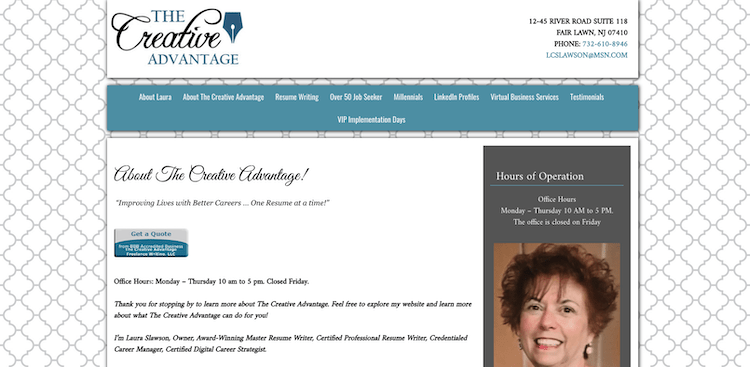 The Creative Advantage was founded by Master Resume Writer and Credentialed Career Manager, Laura Slawson. Laura has more than 10-years of professional resume writing experience with a primary focus on executive resume writing and helping over 50 job seekers.
Pros: Laura Slawson is one of the highest credentialed resume writers on this list. She makes a personal commitment to call each customer back within 24 hours of receiving their call. Additionally, all of her services are very personalized to the job seeker.
Cons: The turnaround time to receive a resume is roughly 2-weeks. Also, there are no resume samples on the website. While there are no samples publicly available, we have personally seen samples from The Creative Advantage and they are of high quality.
Reviews: 5/5 based on 1 Google review
Turnaround: 7 – 10 business days
Cost: $899+
Contact: (732) 610-8946 or lcslawson@msn.com
3. An Expert Resume
An Expert Resume is known to provide a top-notch resume fit for an executive. CEO and Founder of An Expert Resume, Laura Smith-Proulx has been honored in the global resume industry for 11 years, accumulating 35 resume honors & awards from 2007 to present.
Pros: Hiring An Expert Resume means that you will be working directly with Laura. She is a very experienced resume writer with many rewards. Laura Smith-Proulx is well known and credible in the industry. She will spend 12-15 hours in strategy and writing for each order she receives.
Cons: Since our last article, this company has lowered its cost a bit and completely made over their website. Aside from cons that are no longer relevant, the price and turnaround time is likely more than the average person wants to pay for a resume.
Reviews: Not found
Turnaround: 10 – 15 business days
Cost: $1,797
Contact: (877) 258-3517 or laura@anexpertresume.com
4. Great Resumes Fast
Great Resumes Fast has earned its place as one of the best executive resume companies. Jessica Hernandez founded Great Resumes Fast has been writing resumes for more than 10 years. GRF works across a broad array of industries and roles. Look forward to a 60-90 minute phone consultation with your writer.
Pros: Great Resumes Fast is a well-priced service compared to some other executive resume services on this list. They also offer one of the faster delivery times on the market. This company is well-rounded and employs a quality team of resume writers.
Cons: GRF does not seem to require all its writers to be certified. While the founder has a great background, she does not write the majority of the resumes herself. Make sure to find out who you will be working with specifically before signing up.
Reviews: 4.8/5 based on 115 Trustpilot reviews, 4.2/5 based on 20 Google reviews, 4.6/10 based on ResumeHelpServices review
Turnaround: 3 – 5 business days
Cost: $899 – $999
Contact: (800) 991-5187 or info@greatresumesfast.com
5. Mary Elizabeth Bradford
Mary Elizabeth Bradford has been in the business of writing resumes since before it was cool. In 2008, Mary Elizabeth Bradford was voted a Forbes Top 100 Career Website and has received multiple rewards and recognition for their resume writing services. The founder, Mary Elizabeth Bradford has a focus on six and seven-figure earners and comes from a background of HR and recruiting.
Pros: Mary Elizabeth Bradford holds many certifications within the resume-writing community. She has been in the business for many years. For a premium, you can work with Mary Elizabeth directly. The executive resume samples on her website have some really great designs and appear to be very unique.
Cons: Mary Elizabeth Bradford does not write all the resumes herself and there is no information about her resume writing staff. For more than $2,000 you would expect to work with Mary personally. Also, the resume samples on the website do not appear to be Applicant Tracking System (ATS) compliant.
Reviews: Not found
Turnaround: 10 – 20 business days
Cost: $2,597 – $5,797
Contact: (830) 331-9398 or natalia@maryelizabethbradford.com
6. Chameleon Resumes
Chameleon Resumes has been recognized by Forbes as a Top 100 Career Website. Their team of corporate and search firm recruiters has a combined 80 years of recruiting experience, making them a great resource for anyone looking to hire an executive resume writing service.
Pros: Chameleon Resumes has been in the resume writing business for quite some time. Founder Lisa Rangel comes from 13 years of recruiting experience, which definitely helps her know what is important to put on a resume. There are also quite a few high-quality executive resume examples on the site to review.
Cons: For the steep price tag of nearly $3,000 you would think that the founder of this company writes the resumes herself. Unfortunately, she does not, so it is unclear what credentials the resume writers have. Also, the online reviews seem to be about free career advice or webinars, not resume writing services.
Reviews: 5/5 based on 18 Sitejabber reviews
Turnaround: 15 – 20 business days
Cost: $2,897
Contact: (732) 307-9520 or lr@chameleonresumes.com
7. Kelly Donovan & Associates
Kelly Donovan & Associates was founded in 2007 and is a company named after the founder, Kelly Donovan. Kelly comes from a career in journalism as well as marketing and PR management. She has contributed to various different books and holds a CPRW certification for executive resume writing.
Pros: Kelly Donovan provides a free 15-30-minute consultation prior to requiring any upfront payment. Although we can't say for sure, it looks like Kelly Donovan personally writes each resume and does not outsource her work. A 3% discount is applied if you pay in full within 48 hours of receiving the invoice.
Cons: We couldn't find any resume samples available on the website. We also weren't able to find many customer reviews outside of her own website. For a pricey service such as this one, you'd really like to read some reviews and look at resume samples.
Reviews: 5/5 based on 2 Yelp reviews
Turnaround: 8 – 12 business days
Cost: $1500 – $2,900
Contact: (909) 235-6383
Visit Kelly Donovan & Associate
8. AvidCareerist
AvidCareerist is a bit of a hidden gem founded by Donna Svei in 2006. Hidden underneath a fairly low-quality website with a few minor glitches and a lack of information is a truly high-quality executive resume writing service. Similar to the website, the resume design is fairly minimal, removing the need for fancy boxes and designs. Avid Careerist sticks to the basics and focuses on what matters most: the content.
Pros: According to the website, Avid Careerist clients have landed jobs at many major companies including Accenture, Adobe, Amazon, Apple, Citi, LinkedIn, Verizon, and more. Donna Svei spent time as a retained search consultant for 25 years prior to writing resumes.
Cons: There is not a whole lot of transparency with this resume writing service. The cost is not mentioned anywhere on the website and neither is the turnaround time. There are also not any third-party reviews to be found online for Avid Careerist.
Reviews: Not found
Turnaround: 15 – 20 business days
Cost: $1,800 – $2,500
Contact: (208) 721-0131 or donnasvei@gmail.com
9. Career Steering
Career Steering founder, Rosa Elizabeth Vargas, has 17+ years of experience writing executive resumes. She also has a corporate background in HR and is a certified resume writer with multiple organizations. She has earned 20+ Toast of the Resume Industry (TORI) awards and nominations.
Pros: Your executive resume would be written by Rosa Elizabeth herself. She has a team of two multi-certified resume writers to support her in editing resumes.
Cons: The service is usually booked to capacity in advance. Check availability before placing an order if you have an upcoming deadline. You will have only two rounds of edits to produce your final resume.
Reviews: 4.8/5 based on 11 Google reviews
Turnaround: 14 – 21 days
Cost: $1595
Contact: (321) 704-7209 or writer@careersteering.com
Visit Career Steering
10. Career Solvers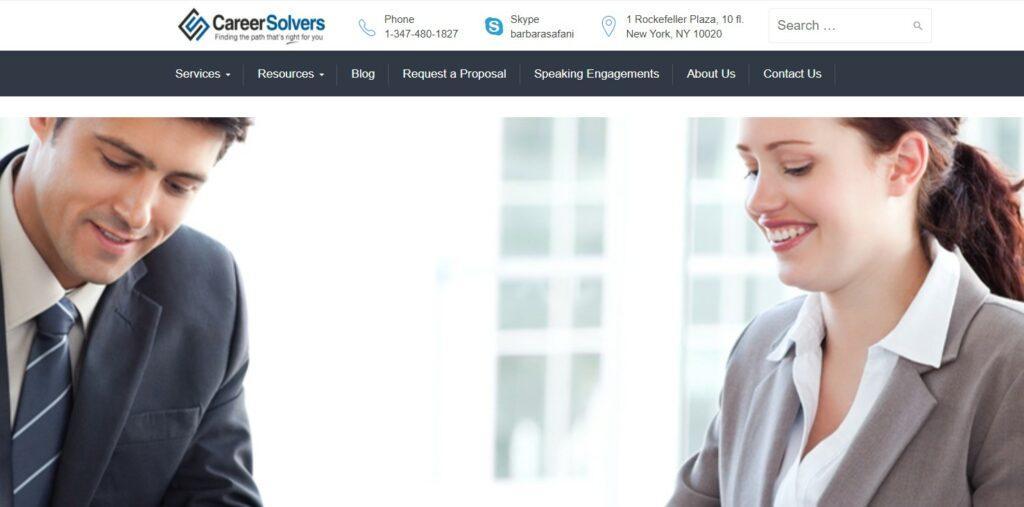 Career Solvers specializes in job search and career management for professionals and executives. Barbara Safani, the owner of Career Solvers, is a multi-certified and multi-award-winning executive resume writer and career strategist. She has over 15 years of experience in resume writing. 
Pros: The owner Barbara Safani is a Certified Expert Resume Writer (CERW) and Certified Executive Resume Master. Her work is featured in more than two dozen career related publications. She personally manages all career transition projects.
Cons: It's not clear whether Barbara is the only resume writer or the company has a staff of resume writers. Also, there are no reviews found on most of the third-party customer review websites.
Reviews: 5/5 based on 3 Facebook reviews
Turnaround: 14 days
Cost: $1,000 – $1,800+
Contact: (347) 480-1827 or info@careersolvers.com
Visit Career Solvers

Bonus: Top Executive Resume Winners (2021)
Find My Profession, The Creative Advantage, An Expert Resume, Great Resumes Fast, Mary Elizabeth Bradford, Chameleon Resumes, Kelly Donovan & Associates, AvidCareerist, Career Steering
How To Choose An Executive Resume Writer
We always recommend interviewing 2 – 3 resume services before making a final decision.
When it comes to executive resume writing, there are huge ranges in price and writer experience so it's important to find the perfect fit for your needs.
Here are some questions to ask your executive resume writer before using their service:
Will my writer have experience writing resumes for my job and industry?
Will my writer have experience writing senior-level resumes?
How many years of experience does my executive resume writer have?
Can I speak with my writer before ordering a package?
Can I speak with my writer during the writing process?
Do I work with the same writer from the information gathering stage to the final draft of my resume?
Do you take my old resume and reword it or do you start from scratch?
What is the expected turnaround time?
How many rounds of revisions/edits are available?
How much will my executive resume cost?
Do you offer any sort of interview or satisfaction guarantee?
If I need an executive biography, is that an option?
Have you ever been awarded a "Best Resume Service" award by FMP or any other award or certifications?
Do you have any reviews that I can read about your company on third-party sites?
Do you have sample resumes so I can see your work?
While this may seem like a lot of questions, none of these questions should be considered "too much to ask." Any resume service worth the cost they are charging will be happy to answer your questions.
You can literally copy and paste these questions above into an email and send them to each of the companies on this list if you wanted!
A quality resume service will have most of this information easily accessible on their website as well.
Executive Resume Example
We've included an executive resume sample so you can get a better idea of what makes an executive resume great.
As you can see, executive resumes need to grab your attention with their appearance. They also need easy-to-read language that describes high-level skills.
Here is an example of a senior executive resume. It is from the #1 pick on our list, Find My Profession. Click on the resume below to view the full resume.
Visit Find My Profession