Your resume is an important part of the job search. It could very well be the thing that sets you apart from your competition.
This also means that a subpar resume can set your job search back months.
Today we will be reviewing Storeyline Resumes and their resume writing services.
We have taken a deep dive into the customer reviews, cost, resume samples, and writer credentials at Storeyline Resumes. Our overall rating for Storeyline Resumes is 80/100.
Storeyline Resumes
Score
Our goal is to help you find the best resume service that will advance your career. Take a look at some other top-rated resume writing services and find the perfect fit for you!
Best
Storeyline Resumes

Alternatives




About Storeyline Resumes
Storeyline Resumes is a well-known boutique resume writing company founded by Robynn Storey in 2000.
Robynn is a Professional in Human Resources (PHR) with 8+ years of experience as a Human Resources (HR) executive.
When Robynn Storeyline Resumes, it was a one-woman shop, run by Robynn herself.
As time passed, Robynn's resume writing skills started to take hold in the contemporary resume writing industry. Her name started to spread beyond her circle of friends, family, and co-workers.
Gradually, the company started to spread its wings and became a thriving boutique establishment. Today, Robynn has a hand-picked team of experienced resume writers successfully serving all levels of professionals.
The team has written over 300,000 resumes, LinkedIn profiles, and job search documents.
Let's dive right into some of the pros and cons when it comes to working with Storeyline Resumes.
Storeyline Resumes Pros vs. Cons
As with any company, there are pros and cons. It's up to you to determine what is a "must-have" and what things you can live without.
Pros
20+ years of resume writing experience.

More than 8 years of Human Resources experience.

280+ 5-star reviews from previous customers.

300,000+ resumes and career documents written.
Cons
No industry-recognized resume writing certifications.

Resume cost of $589 – $889 is more expensive than average.

10 – 12 business day turnaround time is longer than most services.

Website provides little to no information about the resume writers.
If Storeyline Resumes does not quite meet your needs, consider a different service. Find My Profession has 800+ 5-star reviews, resumes start at $395, their turnaround time is 3-5 business days, and their writers are clearly displayed on their website.
Find My Profession may have a few other pros that you may like:
PROS
Featured on Forbes, Inc. Times, Cnet, LinkedIn, Jobscan, Motherly, Zety and more than 100 media outlets.
Clients have landed jobs at top companies like Oracle, Google, Apple, EA, Tesla, and more.
Nearly 100% 5-star reviews on Trustpilot, Sitejabber, Google, Yelp, Facebook, and BBB.
Every resume writer is a Certified Professional Writer and will be handpicked for you based on your unique professional background.
60-day interview guarantee and unlimited edits/revisions.
CONS
No physical office for in-person meetings.
Turnaround time is 3 – 5 business days.
Cost for resume writing is slightly above the average service.
All orders must be placed directly on the website.
Storeyline Resumes Customer Reviews

Our Certified Professional Resume Writers have rated Storeyline Resumes an 80/100. Additionally, Storeyline Resumes has received customer reviews of 4.6/5 on Google, 3.6/5 on BBB with an A+ rating, 1/5 on Revdex, and 5/5 on Yellowpages. These reviews are well above average in the world of resume writing, but we would've liked to see more reviews on sites like Trustpilot, Sitejabber, and Yelp.
Google shows 298 reviews with an average rating of 4.6/5. This is the type of rating we'd expect from a quality service. It's even more impressive that more than 250 of them are 5-star reviews.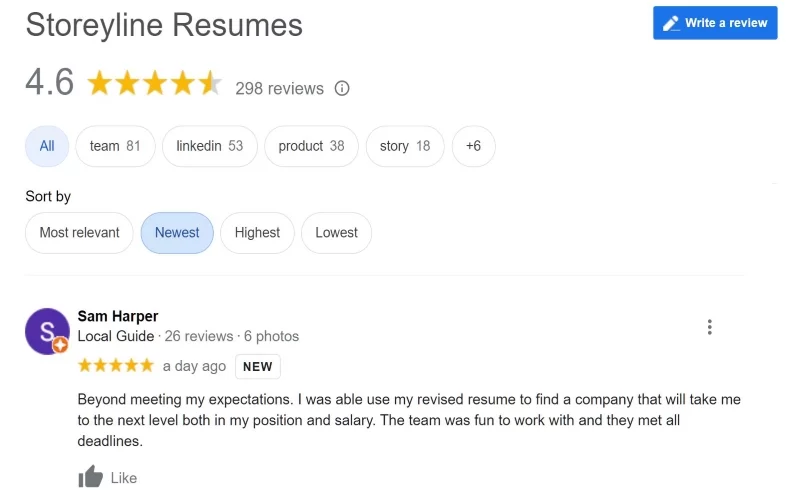 BBB shows 33 reviews with an average rating of 3.6/5. Of the reviews, 22 were 5-star, while 11 were 1-star. They've also received 6 complaints in the past year, wherein the clients said they received a low-quality resume riddled with error.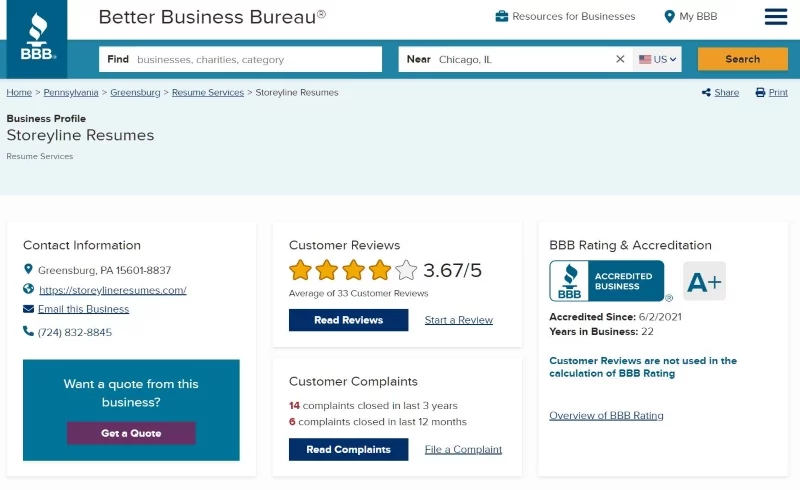 Revdex shows 13 reviews with an average rating of 1/5. Customers were displeased with the service. Most of them complained about receiving a low-quality resume that was full of errors, and delivered late.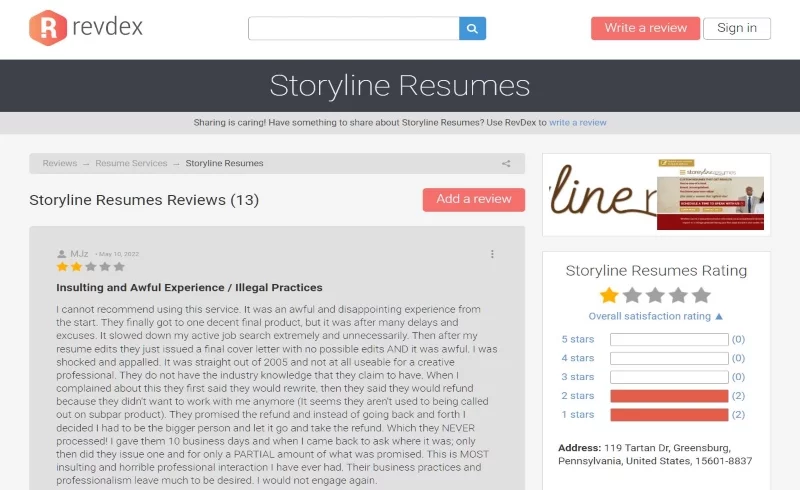 Storeyline Resumes doesn't have as many online reviews as you would expect of a company that started over 20 years ago.
However, there's no doubt that the founder, Robynn Storey is a well established resume writer in her own right. Which is why it's no surprise that she has over 320 recommendations on LinkedIn.
If you'd like to know more about customer's experience with using Storeyline Resumes, check out this thread on Reddit.
As with anything, it's important to take each review with a grain of salt. Additional research should be done beyond reading the reviews that are found online.
How Much Does Storeyline Resumes Cost?

Storeyline Resumes' resume packages cost $589 – $889. This is much more expensive than the average resume service. But judging by their positive reviews, it looks like customers are getting their money's worth.
$689
There are four packages to choose from – Professional Level ($589), Executive Level ($689), Senior Executive Level ($789), and C-Suite Level ($889).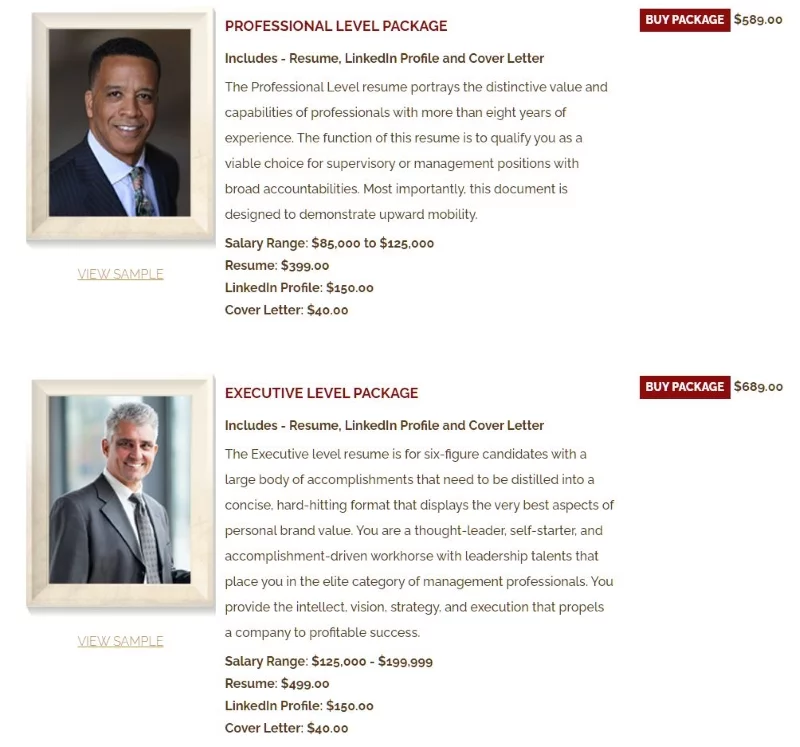 The Professional Level package is for professionals with more than 8 years of working experience ($589).
The Executive Level package is designed for six-figure candidates with a slew of accomplishments to their name ($689).
The Senior Executive Level package is for candidates in leadership positions who have the expertise to drive business growth ($789).
The C-Suite Level package is for Directors or C-level executives who are at the zenith of their careers ($889).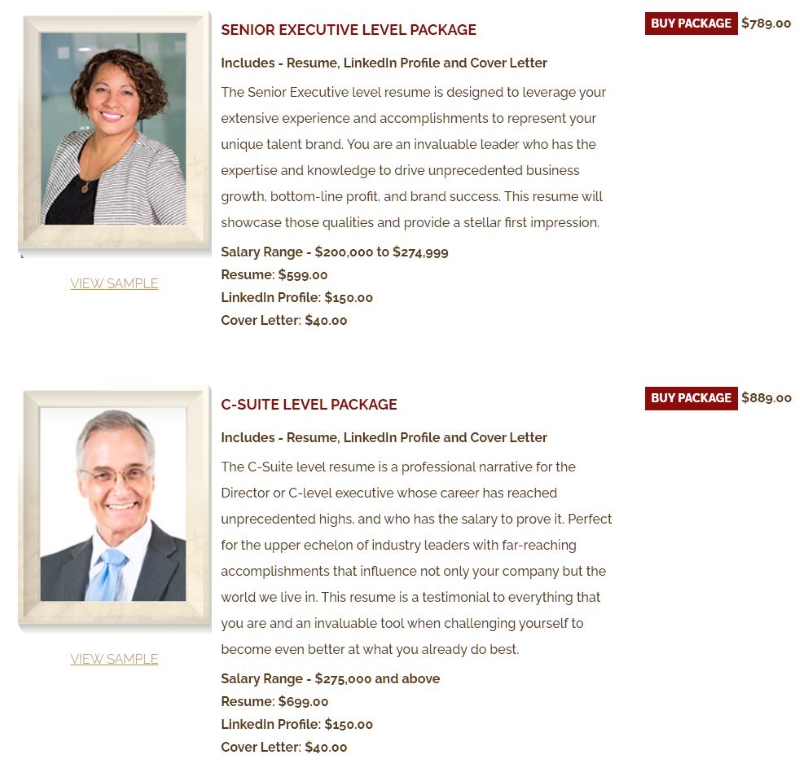 You can purchase add-on services with whichever resume package you choose. Add-ons include Cover Letter ($50), Interview Skills Workshop ($200), and Professional Bio ($150).
For the most accurate and up to date details on package pricing at Storeyline Resumes, we recommend that you visit their website directly.
Storeyline Resumes Resume Sample
We wanted to see what the resume quality of Storeyline Resumes looked like so we took a look at some of the resume samples featured on their website.
We've attached a Storeyline Resumes resume sample for you to review (first page only). Below, we share some of the things that we liked, and what we disliked about this resume.
The Good
Includes a clearly defined target job title at the top.

Lots of appropriate keywords are included throughout the content.

Starts off with a simply, but strong impact statement.

Uses color and visual aesthetics to engage the reader.
The Bad
Format appears to contain text boxes and tables making it not ATS compatible.

Format does not flow properly and is difficult to read/follow.

Content is weak and does not engage the reader or make the candidate stand out.

Lacks measurable accomplishments and specific details.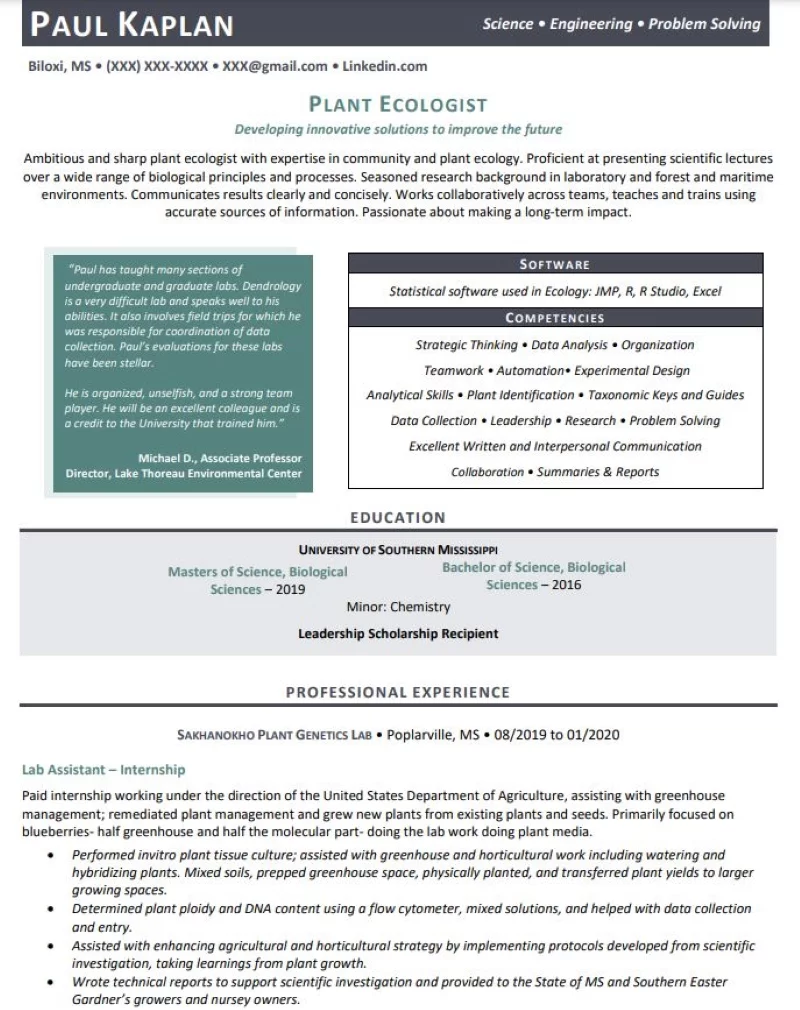 Storeyline Resumes Writer Credentials
The Storeyline Resumes website doesn't offer many details about the resume writers other than Robynn Storey.
Robynn possesses a Professional in Human Resources (PHR) certificate, as well as over 320 recommendations on her LinkedIn profile. She also has more than 20 years of resume writing experience, and 8+ years of experience as a successful HR executive.
Robynn works alongside a small team of resume writers, whom she handpicked by herself. The team has around 125 years of collective experience in various career fields and business disciplines.
Collectively, the team has written more than 300,000 resumes, LinkedIn profiles, and career documents for clients around the globe.
The website mentions that the team is made up of 50 interviewers and writers. However, a LinkedIn search revealed 23 employees, 6 of which are resume writers.
Unfortunately, none of these 6 writers possess any industry-recognized resume writing certifications.
Storeyline Resumes Resume Writing Process
Storeyline Resumes follows a straightforward and simple operating procedure for getting your resume written.
Let's look at the steps taken in Storeyline Resumes's resume writing process below:
You will have a 25 – 40 minute phone interview with a resume writer to discuss your background, accomplishments, and career goals.
The resume proof (first draft) will be delivered to you within 10 – 12 business days after your phone interview.
You will have ten days to give feedback, make comments, or request any edits that you may want.
As a value-added service, you will get tips and tools to improve your job search.
You may seek assistance in the future if you have any questions or need advice.
Although the regular revision period is ten days, consideration is given for extenuating circumstances.
Is Storeyline Resumes Worth It?
Whether or not Storeyline Resumes is worth it is entirely up to you.
Our goal is to provide you with the most transparent and helpful information possible. But, only you know what is best for you and your career.
Here is a summary of our findings on Storeyline Resumes written and reviewed by a Certified Professional Resume Writer:
Customer Reviews: 25/25
Cost to Value: 25/25
Sample Quality: 15/25
Writer Credentials: 15/25
Total Score: 80/100
As a reminder, we highly recommend reviewing 2-3 services before making a final decision.
It's helpful to understand the different service offerings, prices, and writer credentials before choosing a resume writing service.