If you are looking for the best medical staffing agencies, you've come to the right place.
When you're in the middle of a job search, you want to find a recruiter who understands your field and can talk the talk.
That's why it's so important for medical professionals to work with healthcare staffing companies.
And you'll find plenty of options out there.
But don't worry. We've done the heavy lifting by sorting through hundreds of medical-specific staffing agencies.
To save you time, this article outlines only the best medical recruiters and staffing companies.
Whether you are looking for entry-level nursing roles or a CEO position, we've included companies on this list that will cover your specific vocational needs.
Medical Staffing Agency Criteria
Each of the Medical Staffing Agencies below was reviewed by a Certified Professional Resume Writer (CPRW) taking into consideration the following:
Credentials: Overall experience, awards, and certifications.
Opportunities: Number and variety of jobs available.
Customer Service: Guarantees and reviews.
This list serves the following healthcare roles:
Nurse practitioner, physical therapist, occupational therapist, administrative medical assistant, assistant director of nursing, clinical coordinator, dentist, doctor, anesthesiologist, hospital administrator, medical coder, medical technologist, physician assistant, and many more.
Best Healthcare Staffing Agencies
Before reaching out to any companies on this list, we recommend that you make sure your resume is in tip-top shape. If you'd like professional help with your medical resume, contact the pros at Find My Profession.
And now for the detailed reviews…
1. CHG Healthcare
CHG Healthcare has a family of companies to serve the needs of any kind of medical facility, from rural clinics to massive hospital networks. They can combine the expertise of their multiple brands to bring you the best staffing solution. The agency has 11 offices in eight states. 
Job Types: CHG Healthcare staffs for each and every medical field through multiple brands. CompHealth supports over 100 physician specialties and allied healthcare staffing. Weatherby Healthcare focuses on locum tenens physicians, physician assistants, and nurse practitioners. RNnetwork provides personalized travel nursing opportunities. Foundation Medical Staffing specializes in placing dialysis and home health nurses. Global Medical Staffing places doctors in assignments domestically and abroad.
Pros: The company has been placing hard-to-find healthcare providers in even the most hard-to-staff locations for more than 40 years. They cover every healthcare field including nursing, advanced practice, and other specialties. They also made the list of Glassdoor's Best Places to Work in 2021.
Reviews: 4.7/5 based on 98 Google reviews
Contact: (800) 466-0637
2. Axis Medical Staffing
Axis Medical Staffing was founded by Ryan Skjonsberg and Adam McKinnon in 2004. They offer opportunities for nursing and allied healthcare professionals in acute care facilities, multi-specialty settings, government contracts, medical device organizations, correctional facilities, and school districts, among others. 
Job Types: Axis Medical Staffing focuses on nursing and allied health positions including advanced registered nurse practitioner, certified nursing assistant, medical assistant, surgical technologist, physical therapist, pharmacist, imaging professional, and more.
Pros: Axis Medical Staffing has won multiple awards as a top travel nurse company. You can search through hundreds of available jobs on the website and apply online. The application process is also easy and streamlined.
Reviews: 4.9/5 based on 106 Facebook reviews, 4.9/5 based on 66 Google reviews,  4.5/5 based on 1 G2 review, 1/5 based on 1 Yelp review
Contact: (888) 299-2947 or info@axismedicalstaffing.com
3. All American Healthcare
All American Healthcare Services is a nursing staffing agency specifically for CNAs, LPNs, and RNs. They staff hundreds of facilities including nursing homes, schools, hospitals, and jails across the country. The agency has been helping healthcare professionals for over 15 years.
Job Types: As mentioned, All American Healthcare Services primarily staff RNs, LPNs, and CNAs; however, they also staff occupational therapists, physical therapists, speech-language pathologists, psychologists, nutritionists, audiologists, and other healthcare professionals.
Pros: All American Healthcare Services have an app called AllShifts to match professionals with relevant institutions and facilities. As such, they can find work for nurses and medical professionals very quickly. They promise to send open shifts immediately after your application is complete.
Reviews: 3.4/5 based on 25 Facebook reviews, 4.6/5 based on 1392 Google reviews
Contact: (866) 629-2242
Visit All American Healthcare Services
4. Triage
Triage started its journey in 2006, and since then has become one of the largest healthcare staffing firms in the United States. Since 2017, Triage has been ranked as one of the Top 5 Best Travel Nursing Companies by BluePipes. The Gypsy Nurse also named Triage as The Best Overall Staffing Agency in 2021.
Job Types: Triage serves the five major divisions of acute care – nursing, lab, radiology, rehab therapy, and cardiopulmonary.
Pros: The brand image of Triage is built upon the theme of honesty. They promise to openly convey all the information that you need to know about the position you are looking at. They have posted thousands of nursing and medical jobs that you can easily search through using applicable filters.
Reviews: 4.9/5 based on 264 Facebook reviews, 4.9/5 based on 406 Google reviews, 4.7/5 based on  10 G2 reviews, 3.5/5 based on 3 Yelp reviews 
Contact: (800) 259-9897
5. Brightstar Care Staffing
BrightStar Care specializes in home health care and medical staffing. They have over 300 independently owned and operated locations nationwide. BrightStar Care has earned the Enterprise Champion for Quality award from The Joint Commission for seven straight years. 
Job Types: In addition to home healthcare jobs, BrightStar Care also offers positions in hospitals and nursing homes. Some of the positions include certified nursing assistant (CNA), emergency medical technician (EMT), pharmacist, phlebotomist, medical assistant, therapist, and more.
Pros: Brightstar Care offers guaranteed compatibility between caregiver and client. They have the processes in place to make sure that you're getting the best possible match. They have also won The Best of Home Care – Employer of Choice award 2021.
Reviews: 5/5 based on 1 G2 review, 5/5 based on 1 Sitejabber review, 4/5 based on 12 Yelp reviews
Contact: (866) 618-7827
6. Aya Healthcare
Aya Healthcare is among America's largest travel nursing staffing agencies. They are ranked #1 by Healthcare Research & Analytics. The agency has also earned The Joint Commission's Gold Seal of Approval. Moreover, 24 state hospital associations endorse Aya for workforce solutions. 
Job Types: Aya Healthcare provides travel nurse staffing and allied health staffing, including cath lab, surgical services, and pharmacy, per diem and local staffing for physicians and advanced practitioners, and non-clinical staffing.
Pros: Aya Healthcare offers full self-service capabilities to travel nurses, allied health professionals, and locums. You will have the ability to self-select for an assignment. They can also assist you in obtaining any state medical licenses you might be seeking.
Reviews: 5/5 based on 8 Allied Travel Careers reviews, 4.2/5 based on 285 Google reviews, 1/5 based on 3 BBB reviews, 3.8/5 based on 172 Facebook reviews
Contact: (866) 687-7390
7. All Medical Personnel
All Medical Personnel has been providing nursing and medical staffing for over three decades. The company was ranked as one of SIA's Largest Healthcare Staffing Firms in the U.S. for 2020. They are also an official Member of the National Association of Locum Tenens Organizations (NALTO). 
Job Types: All Medical Personnel specializes in locum tenens, nursing, and allied health including physician, NP, PA, CRNA, RN, LPN/LVN, phlebotomist, medical assistant, accessioner, administrative, general support, and many more positions.
Pros: All Medical Personnel provides health workforce solutions for businesses and government entities in every U.S. state. They have a wide range of clients including hospitals, clinics and clinical laboratories, corporate health and wellness, retail, manufacturing, professional sports, and government agencies.
Reviews: 5/5 based on 1 TravelNurseSource review, 5/5 based on 5 LocumJobsOnline reviews, 3.3/5 based on 49 Google reviews
Contact: Contact form available on the website
8. Atlas MedStaff
Atlas MedStaff is the largest veteran-owned travel nurse staffing agency. The company was born out of a vision to revolutionize the old models of recruitment and breathe a new life of efficiency into medical staffing practices. They promise to serve you with honesty, determination, and integrity. 
Job Types: Atlas MedStaff has posted many nursing, medical technology, and therapist positions on their site, including sterile processing technologist, intensive care unit registered nurse, vascular sonographer, cardiopulmonary respiratory therapy, generalist medical technologist, and more.
Pros: Atlas is focused on being the very best at matching great people to great facilities. On their website, you can meet each one of the recruiters and other team members along with their direct contact information. Also, they have plenty of healthcare jobs for you to search easily with location and specialty filters.
Reviews: 5/5 based on 7 TravelNurseSource reviews, 4.9/5 based on 678 Great Recruiters reviews, 4.4/5 based on 26 Google reviews
Contact: (855) 884-2360 or contactus@atlasmedstaff.com
9. AMN Healthcare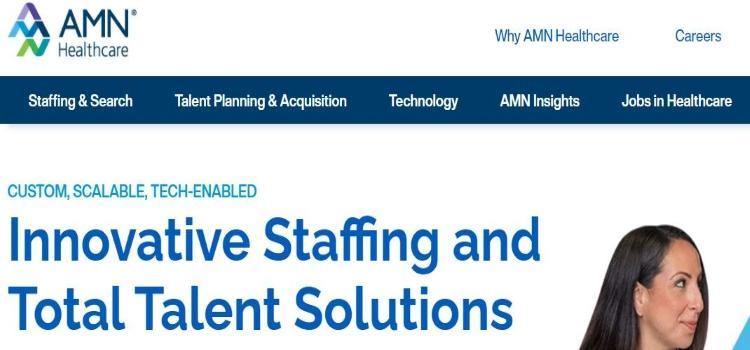 AMN Healthcare has been an innovator in healthcare workforce solutions for more than 25 years. AMN is the first healthcare staffing company to receive the Gold Seal of Approval from The Joint Commission. They offer a broad range of physician and clinician jobs through several award-winning brands. 
Job Types: AMN Healthcare has multiple brands for each division of healthcare staffing, including physicians, clinicians, nursing, allied health professionals, home healthcare jobs, and more.
Pros: AMN Healthcare provides an app called AMN Passport to book and manage your travel assignments. They have thousands of clients including hospitals, clinics, medical centers, government facilities, and other healthcare organizations across the United States.
Reviews: 4/5 based on 62 Facebook reviews, 3.6/5 based on 85 Google reviews, 3.5/5 based on 17 Yelp reviews
Contact: (866) 871-8519 or info@amnhealthcare.com
10. Cross Country Healthcare
Cross Country Healthcare was co-founded by CEO Kevin Clark in 1986. The agency has over 34 years of experience recruiting and placing highly qualified healthcare professionals in virtually every specialty and area of expertise. They are also the winner of the Best of Staffing Client Satisfaction Award 2021.  
Job Types: Cross Country Healthcare specializes in travel nurse, allied staffing, per diem staffing, physician and advanced practice locum tenens, education staffing, and executive search services.
Pros: This medical staffing agency has made the job search process very easy by placing the search bar as the first thing on the home page. They also have plenty of open jobs for medical and nursing professionals online.
Reviews: 4.9/5 based on 20 ClearlyRated reviews, 3.7/5 based on 6 Facebook reviews, 3.4/5 based on 18 Google reviews
Contact: (800) 347-2264
Visit Cross Country Healthcare
Bonus: Top Medical Staffing Agency in America Winners (2021)
CHG Healthcare, Axis Medical Staffing, All American Healthcare Services, Triage, Brightstar Staffing, Aya Healthcare, All Medical Personnel, Atlas Med Staff, AMN Healthcare, Cross Country Healthcare.
How Do Staffing Agencies Work?
Staffing, or employment, agencies fill open positions for the employers they contract with. The agency is paid by the hiring company, so it's a free service for the job seeker.
Staffing agencies can hire for temporary, temp-to-hire, and permanent positions.
If you are hired for a temporary job, you are usually employed and paid by the staffing agency. Some agencies offer benefits to their employees, including health insurance and retirement plans.
For permanent roles, the staffing agency essentially acts as a recruiter and will refer you to the hiring company.
Here's what we recommend when working with a staffing agency:
Browse the website to see if you find any jobs you are interested in.
Whether you find an ideal job or not, contact the staffing agency.
Provide information about yourself and the type of work you are looking for.
If you found a relevant job on their website, mention it.
The agency will take down your information and reach out if they find a relevant position.
Make as many staffing agencies as possible aware of your search. It's simply more eyes and ears out there helping with your job search.
Before you reach out to these staffing agencies, make sure you have a great resume – both in look and content. The worst thing you can do is provide a resume that won't get results to a bunch of staffing agencies.
Check out some professional resume services on our list of the Best Healthcare Resume Services.
Need more than resume assistance?
At Find My Profession, we also offer career coaching services and Career Finder, a professional job search service that manages every part of the job search, from searching for jobs for you to networking on your behalf.