So, you need help with your job search and you're considering hiring an agency to help bridge the gap.
You've possibly heard about Find My Profession's reverse recruiting services and are wondering if they're worth the investment.
You've come to the right place! Today, we will be reviewing Find My Profession and their reverse recruiting service.
We have taken a deep dive into the customer reviews, cost, services offered, and staff at Find My Profession. Our overall rating for Find My Profession is 100/100.
Find My Profession
Score
About Find My Profession
Find My Profession was created by Mike Podesto in 2015 and is headquartered in Golden, CO.
After working as a recruiter, Mike wondered why there aren't any services for job seekers to hire someone to do the job search for them.
As a result, Find My Profession was created, introducing the first reverse recruiting services to the career services market.
Reverse recruiting is job seeker-focused. So, instead of working for companies to fill positions like traditional recruiters, reverse recruiters work for job seekers to land them interviews.
As the first and largest company to offer reverse recruiting services, Find My Profession has paved the way for a new generation of job searching.
Whether you are strapped for time, or simply need assistance with your job search, reverse recruiting is designed to take all the heavy lifting from your job search.
Find My Profession is the only company that will find jobs for you, apply to them with a custom resume, network on your behalf to land you interviews, and prep you for those interviews.
Save time and never search for a job alone again.
Find My Profession Pros vs. Cons
As with any company, there are pros and cons. It's up to you to determine what is a "must-have" and what things you can live without.
Pros
#1 rated reverse recruiting service with 900+ five-star reviews.

First and most comprehensive reverse recruiting service on the market.

Featured on Forbes, Inc., Fast Company, Bloomberg, and more.

Free introductory conversation before signing up.
Cons
$2,499+ every 4 weeks is not affordable for everyone.

Not a big focus on recent college graduates.

There is no job guarantee in X amount of time.

No office for in-person meetings with your reverse recruiter.
Our goal is to help you find the best service that will advance your career. Take a look at some of our top-rated reverse recruiting services and find the perfect fit for you!
Best
Find My Profession

Alternatives



Find My Profession Customer Reviews

Our Career Experts have rated Find My Profession a 100/100. Additionally, Find My Profession has received customer reviews of 4.9/5 stars on Trustpilot, 4.9/5 stars on Sitejabber, 4.9/5 stars on Google, and 5/5 stars on Facebook.
Trustpilot shows 531 reviews with an average rating of 4.9/5. This is by far one of the most impressive scores and number of reviews we've seen for a career services company. Almost 500 of the reviews are 5 stars.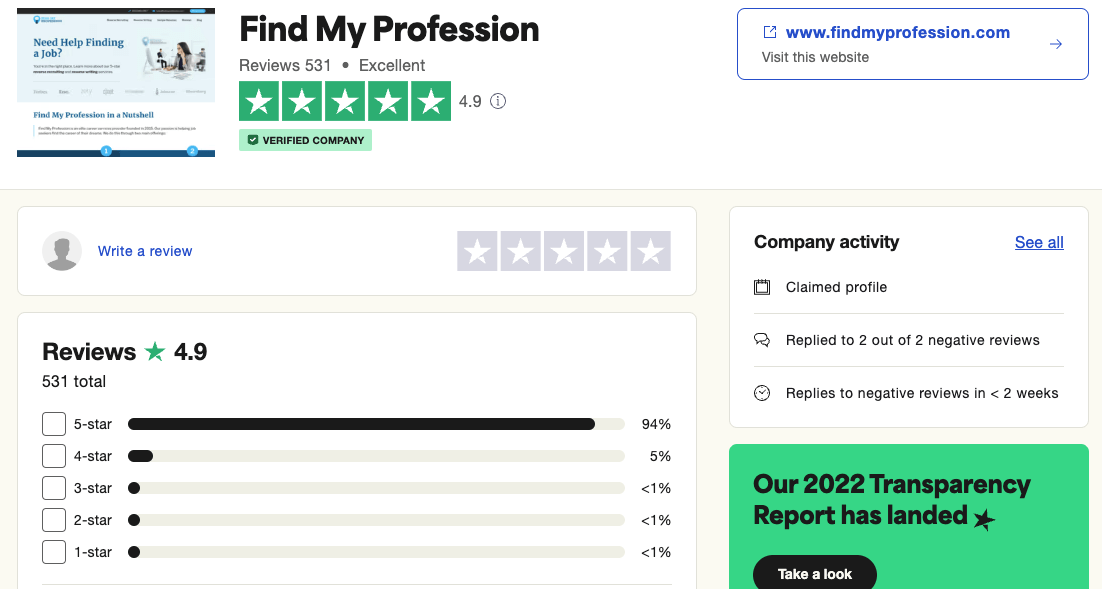 Sitejabber shows 322 reviews with an average rating of 4.85/5. More than 275 of these reviews are 5-star, with most clients mentioning the great customer service, simple process, and high-quality deliverables.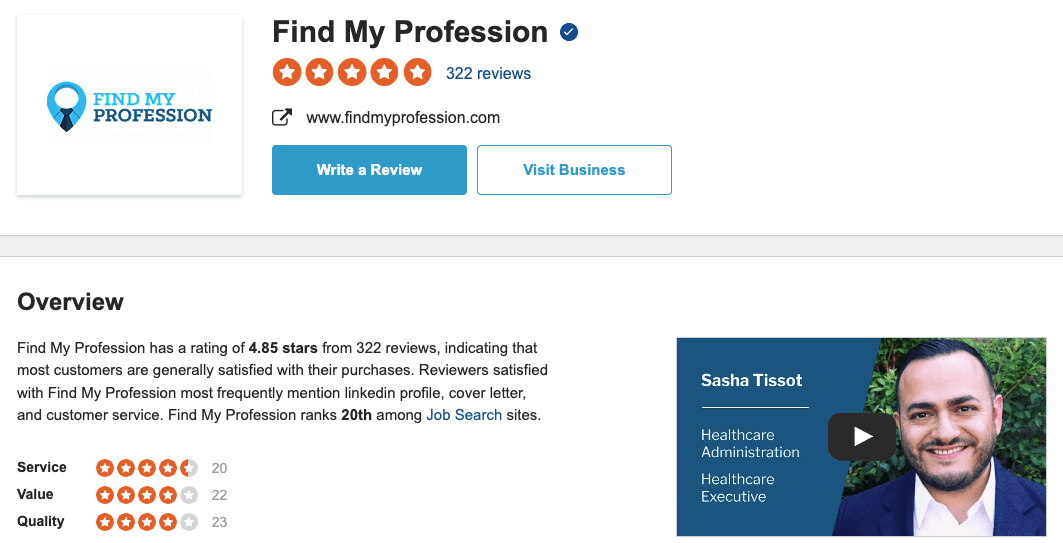 Google shows 151 reviews with an average rating of 4.9/5. The 4.9-star rating is impressive enough, but we also liked how they consistently replied to their customers' reviews.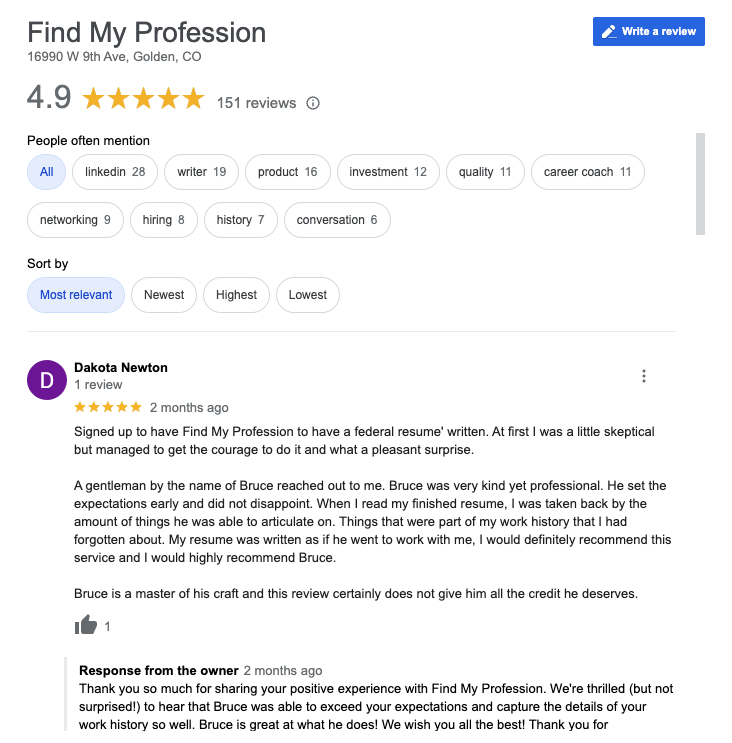 Facebook shows 52 reviews with an average rating of 5/5. A lot of the reviews are from over 2 years ago, but the reviews mention how caring, knowledgeable, and helpful the staff at Find My Profession is.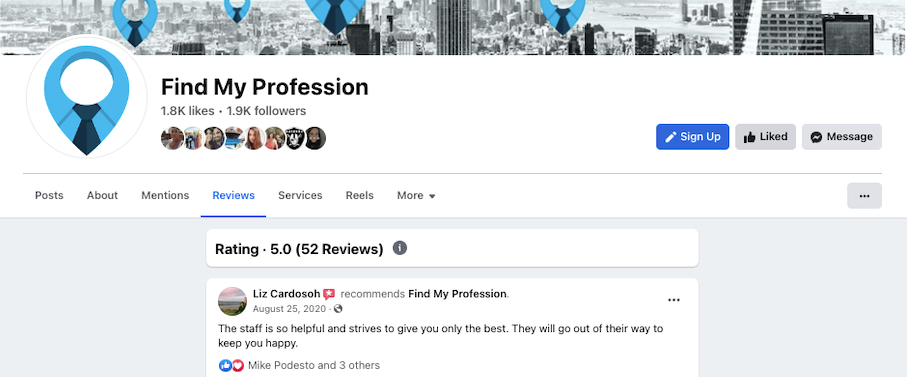 As with anything, it's important to take each review with a grain of salt. Additional research should be done beyond reading the reviews that are found online.
How Much Does Reverse Recruiting Cost?

Find My Profession charges $2,499 – $3,999 every 4 weeks for their reverse recruiting service depending on the package you choose. On the bright side, their clients often see results in 2 – 3 months.
$3,249
To be clear, Find My Profession is not a recruiting or staffing agency. They are not headhunters. They work as reverse recruiters, which means they work directly for the job seeker.
The benefit of reverse recruiting is that they are completely invested in your job search. The downside is that all fees are paid directly by the job seeker.
So yes, the $2,499+ price tag would be paid by you upfront (not after you get hired). That said, most of their clients start seeing results within 2-3 months.
For the most accurate and up-to-date details on package pricing at Find My Profession, we recommend that you visit their website directly.
Reverse Recruiting Process
Find My Profession has a clear and strategically sound process to help you find your dream job with their reverse recruiting service.
1. Reviewing Job Search Materials
The first thing they do is review your resume and LinkedIn to ensure that they're adequate.
If they aren't up to par, Find My Profession will recommend that you use their professional resume writing services.
The last thing anyone wants to do is invest weeks and weeks of job searching with an ineffective resume. This wastes everyone's time, and more importantly, your money.
Once your job search documents are adequate, then you're ready to go!
2. Job Searching
You'll meet with your dedicated reverse recruiter prior to your launch date. They will get to know you and discuss your specific job search requirements.
Every Friday, your reverse recruiter will search for jobs on your behalf and add them to your profile.
You will go through these jobs, approve or reject them, and provide any notes you care to share.
Once you've approved the jobs, it's time to move on to the applications.
3. Job Applications
Every Monday, your dedicated reverse recruiter will apply to the approved jobs on your behalf.
They will customize your resume for each application submitted and upload a copy of the custom resume to your profile.
Find My Profession is deeply focused on quality over quantity, so you should expect to see between 3-5 highly relevant jobs applied to each Monday.
4. Networking
Next, we have the most important piece of the puzzle – networking.
For the remainder of the week (Tues – Thurs) your reverse recruiter will network with key decision-makers, hiring managers, and influencers on your behalf.
They will literally log into your LinkedIn profile, and a freshly created Gmail account (with your permission), and contact these people for you, as if it were you.
Their networking strategy includes job-specific networking, location-specific networking, and target company networking.
This is a remarkable value add that no other reverse recruiting service comes close to offering.
5. Interview Preparation
Depending on the reverse recruiting package you choose, your reverse recruiter will be available for interview preparation, mock interviews, and post-interview consulting.
All reverse recruiters offering interview preparation have been certified by the Professional Association of Resume Writers and Career Coaches (PAWRCC) as Certified Interview Coaches (CIC).
In a nutshell, Find My Profession's reverse recruiting services can do just about everything for you besides showing up to the actual interview.
6. Salary Negotiation
Your reverse recruiter can even provide salary negotiation advice for every job offer you receive. This includes help from discovering your true salary potential to conducting a negotiation.
All salary negotiation coaching is done by a reverse recruiter who has been certified as a Certified Salary Negotiation Specialist (CSNS) by the Career Planning Academy.
The FMP team strives to make the entire job search process a very easy and uncomplicated one. By doing all the hard work for you and ensuring that you are well-prepared for any interview and job offer, all you need to do is walk into the interview, crush it, and walk out with the job in hand.
Reverse Recruiting Team
Find My Profession consists of roughly 40 individuals with varying roles and responsibilities. The team includes certified resume writers & editors (16), reverse recruiters (26), IT (5), marketing (5), customer success (4), and various other support and leadership roles.
Mike Podesto is the founder and CEO of Find My Profession. His background includes recruiting and enterprise software sales.
His work has been featured on sites like Forbes, Inc., Oracle, Fast Company, Bloomberg, and more.
Emily Wittig leads the reverse recruiting team at Find My Profession. She has almost a decade of experience in recruiting, talent development, and team management.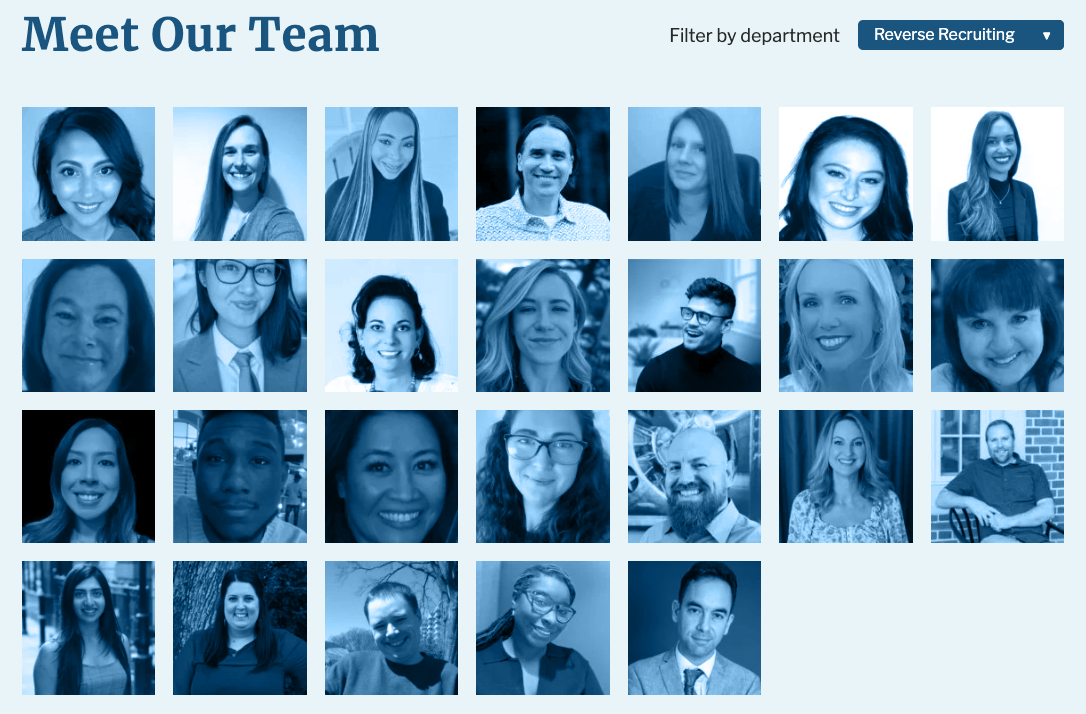 For more information about each of the reverse recruiters at Find My Profession, you can check out their website. Simply filter their team by the "Reverse Recruiting" department and then click on a picture.
Is Find My Profession Worth It?
Whether or not Find My Profession is worth it is entirely up to you.
Our goal is to provide you with the most transparent and helpful information possible. But, only you know what is best for you and your career.
Here is a summary of our findings on Find My Profession written and reviewed by certified and professional career experts:
Customer Reviews: 25/25
Cost to Value: 25/25
Time Savings: 25/25
Team Knowledge: 25/25
Total Score: 100/100
As a reminder, we highly recommend reviewing 2-3 services before making a final decision.
It's helpful to understand the different services, prices, and personal time commitment before choosing a reverse recruiting service.