So, you need help with your job search and you're considering hiring an agency to help bridge the gap.
You've possibly heard about Browning Associates' career management services and are wondering if they're worth the investment.
You've come to the right place! Today we will be reviewing Browning Associates (aka www.Executivejobsearch.net) and their managed job search services.
We have taken a deep dive into the customer reviews, cost, services offered, and staff at Browning Associates. Our overall rating for Browning Associates is 90/100.
Browning Associates
Score
Our goal is to help you find the best service that will advance your career. Take a look at some more of our top-rated reverse recruiting services and find the perfect fit for you!
Best
Browning Associates

Alternatives



About Browning Associates
Browning Associates was founded in 2007 by John Seraichyk and is headquartered in Providence, Rhode Island.
Interestingly enough, John originally founded Browning Associates' #1 competitor, The Barrett Group.
Browning Associates works exclusively with $200K+ earners to assist with the challenging task of changing careers.
They help you build your personal brand through three main steps:
Position your strategy, contacts, and network
Package your message, resume, and brand
Promote your value, interview, and negotiate
Browning Associates is a Christian-based company fit to serve clients in all 50 states. Their expertise spans talent assessment, leadership development, organizational effectiveness, employee engagement, and workforce transition.
Browning Associates Pros vs Cons
As with any company, there are pros and cons. It's up to you to determine what is a "must-have" and what things you can live without.
PROS
30+ years in the business

A+ rated with BBB

Exclusively focused on executive jobs

Military transition experience
CONS
Lots of negative customer reviews

Extremely high cost at $15,000+

They do not apply to jobs for you

No satisfaction or interview guarantees
If you are looking for a career service provider, Browning Associates is a great option, but it is worth considering other alternatives to find the best fit for your needs.
One such alternative is Find My Profession, which is also rated A+ by the BBB and caters to clients at all levels, including those transitioning from military service.
However, Find My Profession differs from Browning Associates in that it has an average rating of 4.9/5 from over 900 previous clients, is more affordable, applies for jobs on your behalf, and prioritizes client satisfaction.
Browning Associates Customer Reviews

Our career experts have rated Browning Associates a 90/100. Additionally, Browning Associates has received a 5/5 on BBB with an A+ rating, 5/5 on Google, and a 5/5 on Facebook. For a company that has been around for 15+ years, we'd expect to see more reviews on trusted third-party sites like Trustpilot, Sitejabber, or Yelp.
BBB shows 41 reviews with an average rating of 5/5 stars and an A+ rating. This seems to be the primary review source for Browning Associates with only positive reviews from their customers.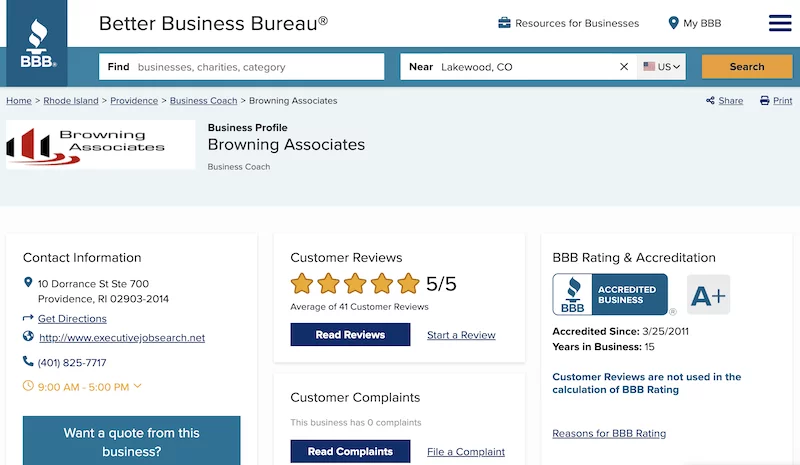 Google shows 40 reviews with an average rating of 5/5. Everyone has only nice things to say about the quality of service and integrity of the staff members.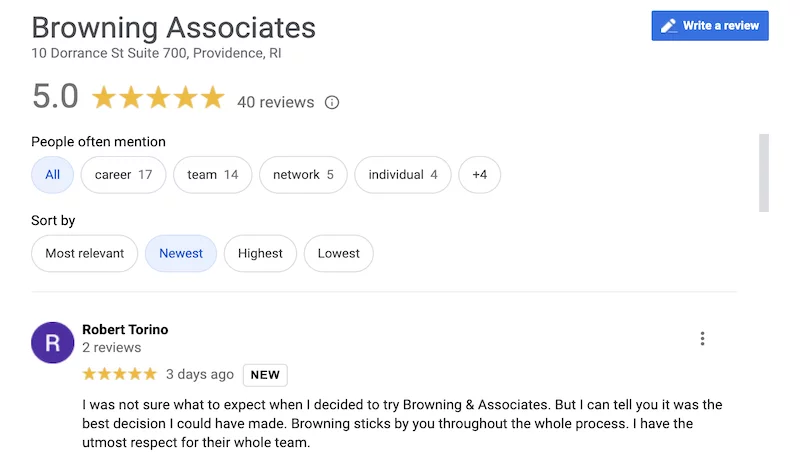 Facebook shows 33 reviews with an average rating of 5/5. We were a little confused by the reviews we found on Facebook. Many of the reviews mention "Bitcoin trading" (see below) and seem to be fake/spammy.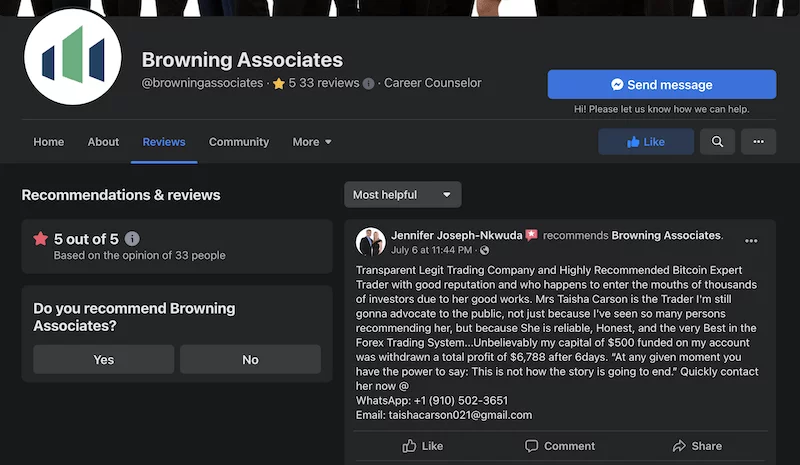 You can read more about Browning Associates on this Reddit thread discussing different clients' experiences using the service.
As with anything, it's important to take each review with a grain of salt. Additional research should be done beyond reading the reviews that are found online.
In contrast to Browning Associates' sparse reviews, Find My Profession has a ton of reviews from previous clients. Their average rating is 4.9/5 stars based on the experiences of 900+ clients.
How Much Does Browning Associates Cost?

Browning Associates charges ~$15,000 upfront for their career management services. Unfortunately, prices are not transparently listed on their website and will be custom quoted.
$15,000
To be clear, Browning Associates is not a recruiting or staffing agency. They are not headhunters. They work as reverse recruiters which means they work directly for the job seeker.
The benefit of reverse recruiting is that they are completely invested in your job search. The downside is that all fees are paid directly by the job seeker.
So yes, the $15,000 price tag would be paid by you upfront (not after you get hired).
For the most accurate and up-to-date details on package pricing at Browning Associates, we recommend that you visit their website directly.
As an alternative, Find My Profession offers their services for $2,499+ per 4-week period. You can choose how many months you continue the service. The cost is less expensive and more flexible.
Browning Associates Process
Browning Associates works directly with executives to help with their personal branding and job search strategy. They do not provide job placement, and they do not guarantee a job after using their services. They do however commit to working with you until you find work (make sure to get this in writing).
Their process can be broken down into a few main steps:
Optimize LinkedIn

Browning Associates will optimize your LinkedIn profile to attract recruiters and executives offering your ideal position and work culture.

Apply for Published Jobs

They'll teach you how to leverage the power of your network by showing you proven methods to identify, apply, and interview for executive roles.

Company Targeting

Based on your interest and level of pursuit, Browning Associates can prepare a targeted correspondence promoting your value and assets to mutual networks.

Follow-Up Action Plan

Your personal coach will work with you to implement a time-tested follow-up strategy and action plan that sets you apart.
Browning Associates can work with professionals in many industries including energy, healthcare, marketing, banking, engineering, IT, media, real estate, construction, insurance, manufacturing, wholesale, legal, finance, education, logistics, and more.
This is very similar to the services offered by Find My Profession, except FMP does most of the work for you (networking, job applications, etc) while Browning Associates coaches you on how to do it yourself.
Browning Associates Team
Browning Associates' team consists of roughly 30 individuals with varying responsibilities. These responsibilities include resume and LinkedIn writers (6), career consultants (17), and executive leaders (7).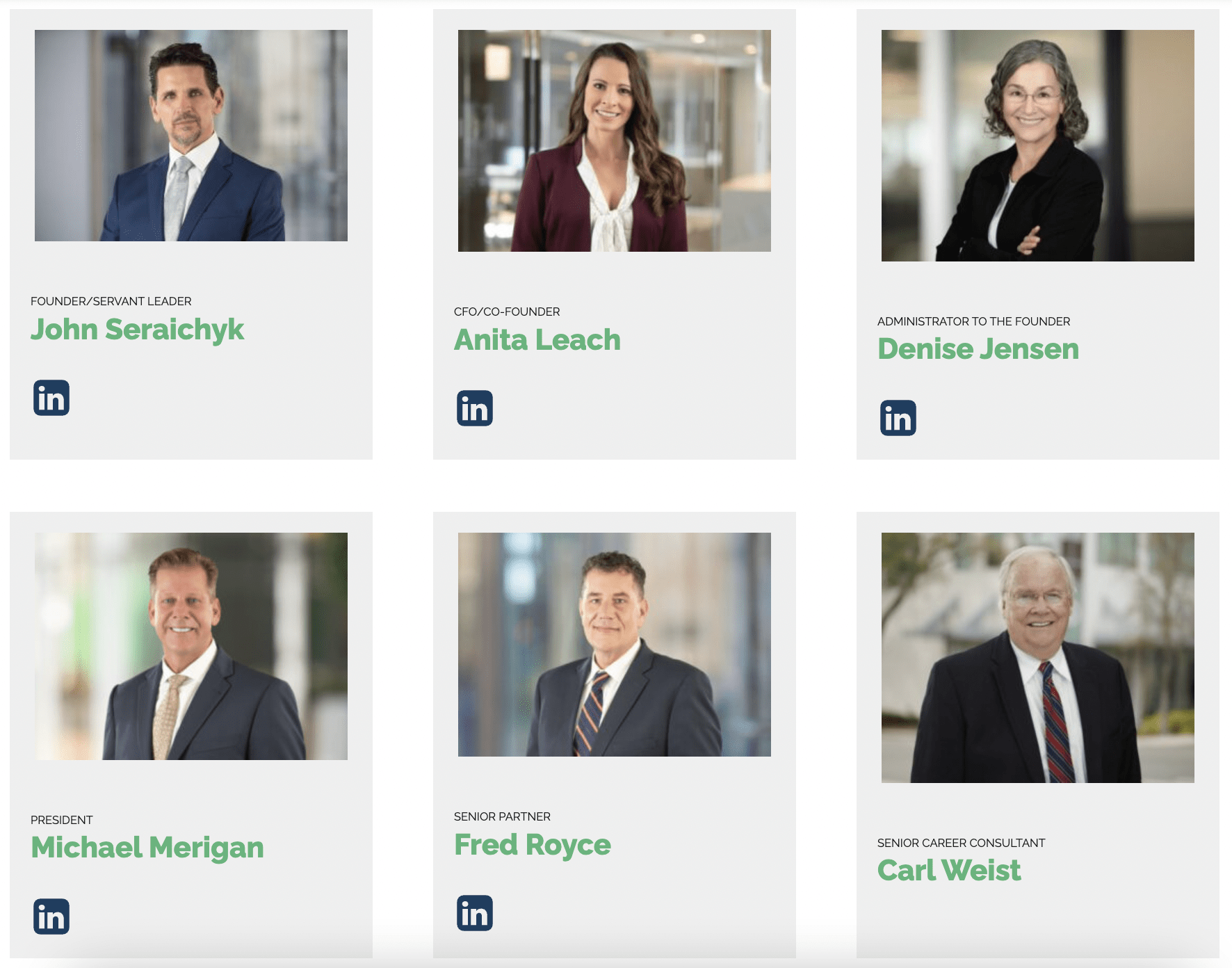 John Seraichyk is the Founder and CEO of Browning Associates. He was also the founder of P.O.W.E.R. (People Offering Ways to Employment Resources,) a former networking group sponsored by the US Chamber of Commerce. He volunteers as a guest lecturer at colleges and universities throughout New England. John also served on the board of directors for the Rhode Island Better Business Bureau.
The team promotes a strong Christian culture and is family-focused, never requiring travel. Each morning, the team starts their day with an hour of prayer. They invite their Executive clients to 30 minutes of the corporate prayer call.
Overall, the Browning Associates team seems to enjoy their workplace. They have a 4.9/5 star rating on Glassdoor and 100% of the employees would recommend working there to a friend.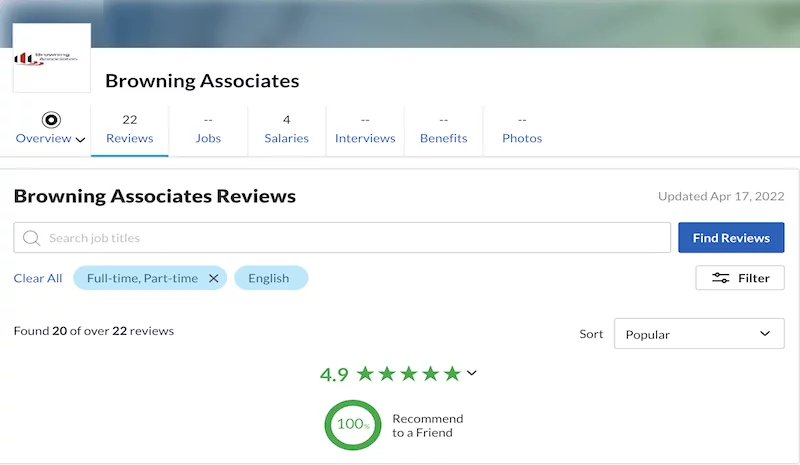 Find My Profession has very similar ratings on Glassdoor. So it's safe to say their employees are pretty happy as well!
Is Browning Associates Worth It?
Whether or not Browning Associates is worth it is entirely up to you.
Our goal is to provide you with the most transparent and helpful information possible. But, only you know what is best for you and your career.
Here is a summary of our findings on Browning Associates:
Customer Reviews: 25/25
Cost to Value: 25/25
Time Savings: 15/25
Team Knowledge: 25/25
Total Score: 90/100
As a reminder, we highly recommend reviewing 2-3 services before making a final decision.
If you're in need of a fully managed job search service, we suggest checking out Find My Profession. With a team of experienced reverse recruiters and a commitment to customer satisfaction, Find My Profession can help you find your dream job. And with a perfect score of 100/100, you can trust that you'll be in good hands!