Your resume is an important part of the job search. It could very well be the thing that sets you apart from your competition.
This also means that a subpar resume can set your job search back months.
Today we will be reviewing Find My Profession and their resume writing services.
If you're interested in reading a detailed review about Find My Profession's reverse recruiting services, you'll want to go here.
We have taken a deep dive into the customer reviews, cost, resume samples, and writer credentials at Find My Profession. Our overall rating for Find My Profession is 100/100.
Find My Profession
Score
About Find My Profession
Find My Profession is an elite job search firm based out of Colorado. They provide resume, LinkedIn, and cover letter writing, as well as reverse recruiting services globally.
The company was founded in 2015 by decorated executive writer, Mike Podesto. Mike's work has been featured on several sites like Forbes, Jobscan, Inc., Fast Company, Zety, Bloomberg, and hundreds more.
Each Find My Profession resume writer is a Certified Professional Writer and has years of experience in HR, recruiting, and resume writing.
Find My Profession is the #1 rated executive resume writing company on CNET. They are also the #1 rated Military Transition resume writers on FederalResumeGuide. And independently rated as the #1 resume writing service on nearly a dozen other websites.
Let's dive right into some of the pros and cons when it comes to working with Find My Profession.
Find My Profession Pros vs Cons
As with any company, there are pros and cons. It's up to you to determine what is a "must-have" and what things you can live without.
Pros
Featured on

Forbes, Inc. Times, Cnet, LinkedIn, Jobscan

,

Motherly

, Zety and more than 100 media outlets.

Clients have landed jobs at top companies like Oracle, Google, Apple, EA, Tesla, and more.

Nearly 100% 5-star reviews on Trustpilot, Sitejabber, Google, Yelp, Facebook, and BBB.

Every resume writer is a Certified Professional Writer and will be handpicked for you based on your unique professional background.

60-day interview guarantee and unlimited edits/revisions.
Cons
No physical office for in-person meetings.

Turnaround time is 3 – 5 business days.

Cost for resume writing is slightly above the average service.

All orders must be placed directly on the website.
Find My Profession Customer Reviews

Our Certified Professional Resume Writers have rated Find My Profession a 100/100. Additionally, Find My Profession has received customer reviews of 4.9/5 on Trustpilot, 4.9/5 on Sitejabber, 5/5 on Google, 5/5 on Facebook, 5/5 on BBB with an A+ rating, and a 5/5 on Yelp. These are near perfect reviews, and you won't be able to find many services that do better.
Trustpilot shows 358 reviews with an average rating of 4.9/5. This is by far one of the most impressive reviews we've seen for a resume company. More than 300 of them are 5 stars.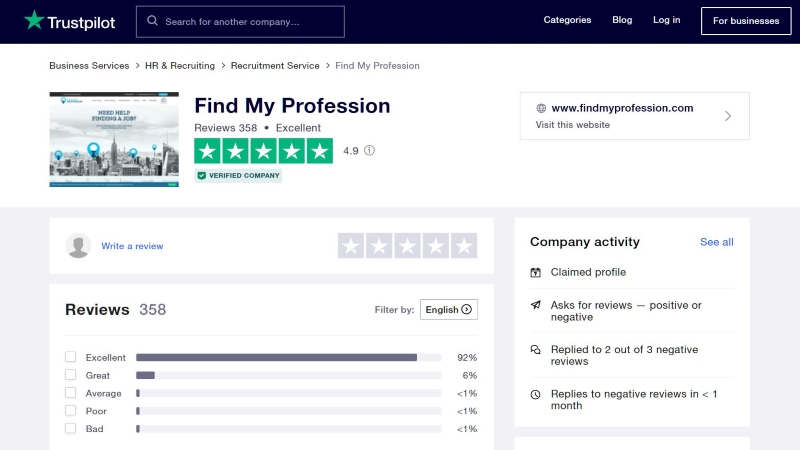 Sitejabber shows 268 reviews with an average rating of 4.9/5. More than 220 of these reviews are 5-star, with most of them mentioning the great customer service, simple process, and high-quality deliverables.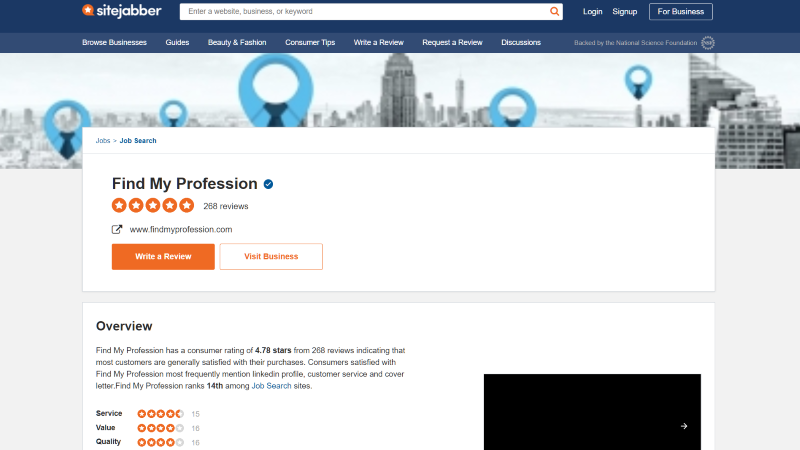 Google shows 149 reviews with an average rating of 5/5. The rating is superb, but what's more impressive is that most of the reviews were about how attentive and knowledgeable the resume writers were during consultation sessions.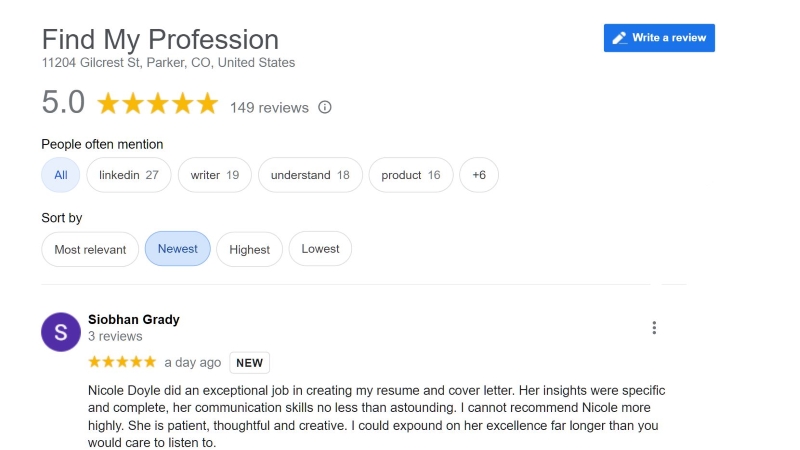 Facebook shows 35 reviews with an average rating of 5/5. Despite the fact that the reviews are from over 2 years ago, a lot of clients mention how caring, knowledgeable, and helpful the staff at Find My Profession are.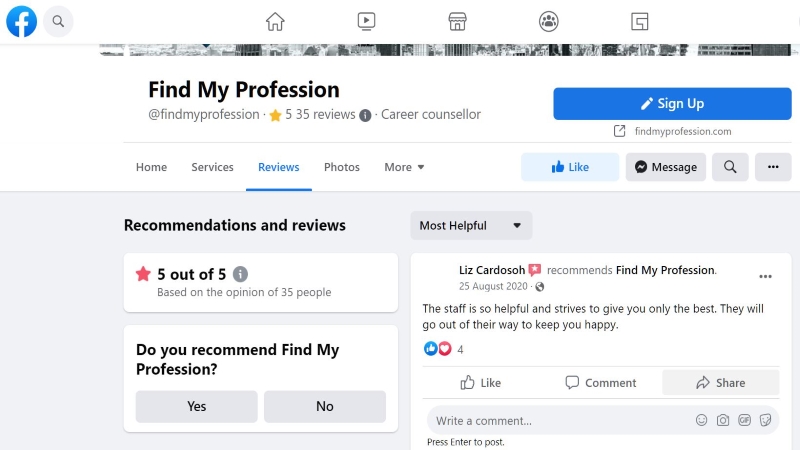 BBB shows 8 reviews with an average rating of 5/5 and an A+ rating. Nearly all the reviews expressed how Find My Profession not only helped them write a resume, but also made their job search a whole lot easier.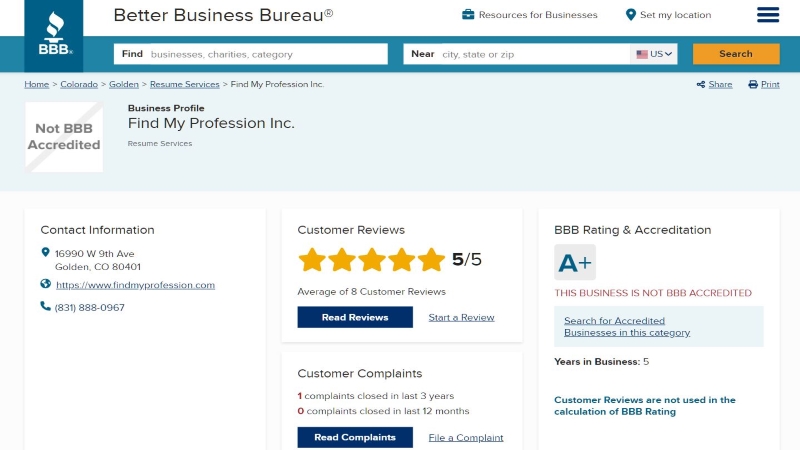 Yelp shows 4 reviews with an average rating of 5/5. The reviews mention how Find My Profession's guidance, resume, and cover letter helped them in their career journey.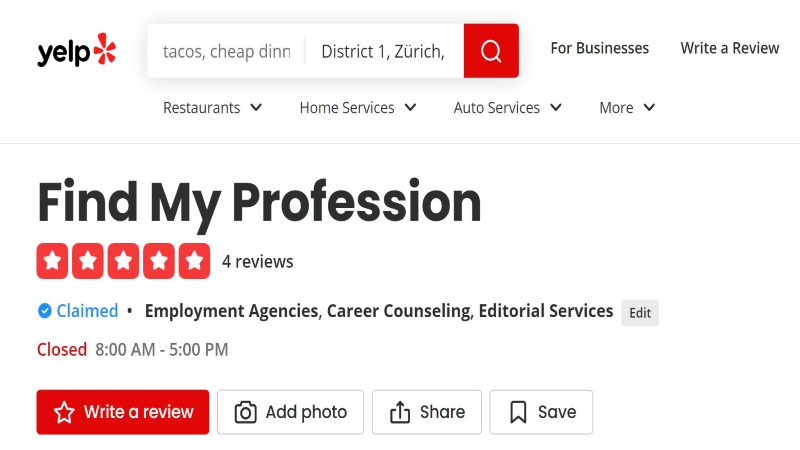 Customer reviews are one of the most important factors that we consider when reviewing a resume writing service. We really like to see this level of review transparency that Find My Profession offers.
As with anything, it's important to take each review with a grain of salt. Additional research should be done beyond reading the reviews that are found online.
How Much Does Find My Profession Cost?

Find My Profession's resume packages range in cost from $395 for an entry-level resume alone to $1,295 for a C-level resume, LinkedIn, and cover letter.
$695
There are five resume options to choose from – Entry-Level Resume Writing ($395), Professional Resume Writing ($595), Executive Resume Writing ($795), C-Level Resume Writing ($995), and Federal Resume Writing ($695+).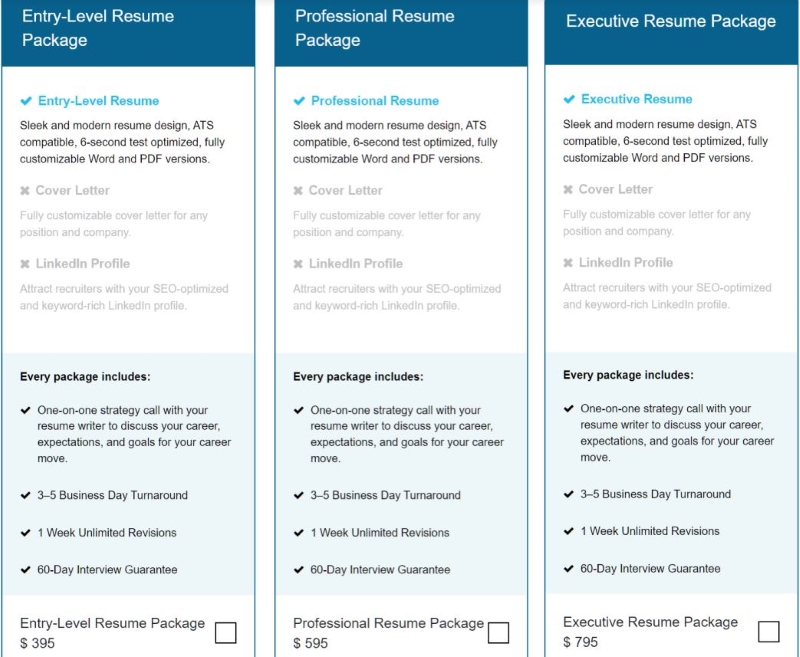 The main difference between the five packages has to do with the types of services that you receive.
The Entry-Level Resume Writing package is for individuals with 0 – 2 years of combined experience in any industry ($395).
The Professional Resume Writing package is for mid-career professionals with 3+ years of combined experience in any industry ($595).
The Executive Resume Writing package is for rising or current executives aiming for director-level or higher positions ($795).
The C-level Resume Writing package is for current or aspiring C-level executives with job titles like CEO, COO, CTO, CMO, and CFO ($995).
The Federal Resume Writing package is for federal employees ranging from GS-7 ($695) to SES ($1,095).
Each package has the option to purchase additional services such as cover letters ($99+), LinkedIn makeovers ($199+), professional bios ($199+), TQ/PTQ/MTQ ($350), ECQ ($500), and more.
Every resume package includes a one-on-one strategy call with your resume writer, unlimited revisions, a 60-day interview guarantee, and a turnaround time of 3 – 5 business days (rush options available for an upcharge).
For the most accurate and up-to-date details on package pricing at Find My Profession, we recommend that you visit their website directly.
Find My Profession Resume Sample
We wanted to see what the resume quality of Find My Profession looked like so we took a look at some of the resume samples featured on their website.
We've attached a Find My Profession resume sample for you to review (first page only). Below, we share some of the things that we liked, and what we disliked about this resume.
The Good
Contained a strong summary and impact statement at beginning of resume.

 Has a clear target job title and keywords relevant for the target position.

 Content consists of lots of measurable accomplishments and specifics.

 The resume format follow all ATS guidelines and requirements.
The Bad
 Format has minimal visual appeal or added formatting.

 Lacks a keyword section to specifically call out the appropriate buzzwords.

 The combination of blue shading and font can be difficult to read.

 The contact information is missing the location (i.e. city/state).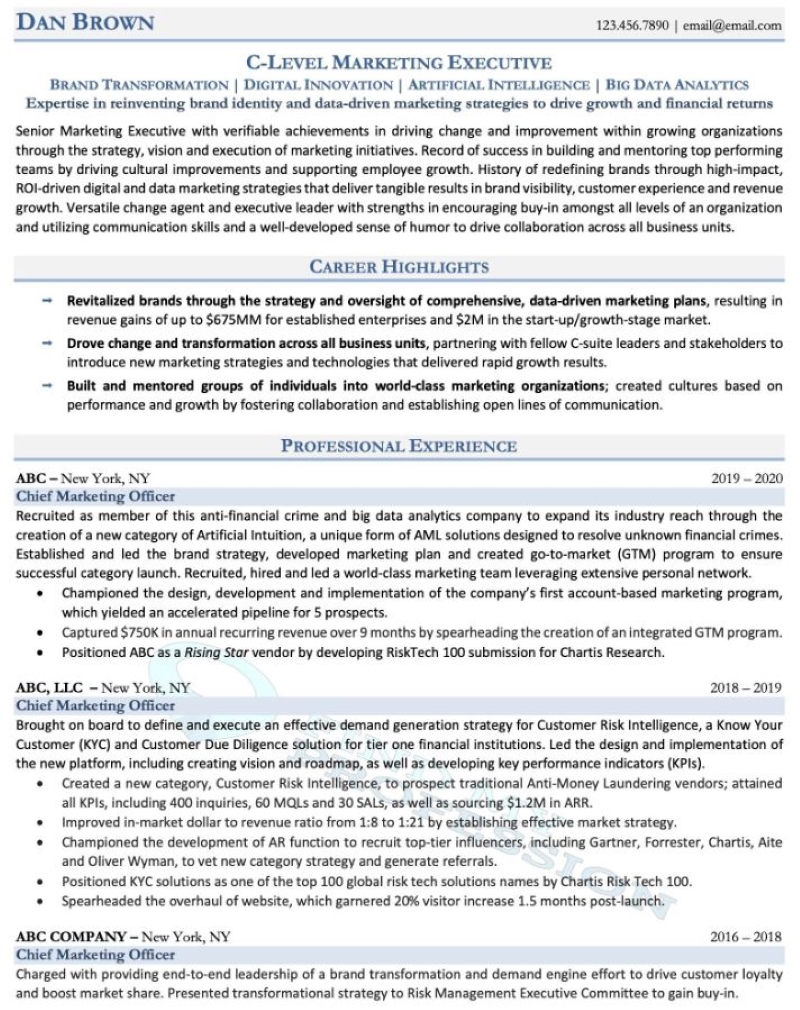 Find My Profession Writer Credentials
Find My Profession has a team of highly-qualified professional resume writers. To be honest, we've not seen a single team of resume writers as credentialed as Find My Profession's.
All of their resume writers are Certified Professional Writers with years of experience. Find My Profession is also an active member of the Professional Association of Resume Writers & Career Coaches (PARWCC).
Most of their resume writers have well over 10 years of resume writing expertise. With experience spanning 85+ industries/professions, they promise to match you with a writer who is an expert in your role/industry.
You can find more information about the academic/professional qualifications of each of their resume writers on the company's website.
Find My Profession Resume Writing Process
Find My Profession follows a straightforward and simple operating procedure for getting your resume written.
Let's look at the steps taken in Find My Profession's resume writing process below:
Select a resume package that best describes your situation.
Either sign up directly on the website or call/email their customer success team to learn more.
Provide additional information about yourself (resume, career goals, etc) so that you can be paired with your writer.
Schedule a phone consultation with your personally assigned writer (guaranteed to have experience with your line of work)
Receive the first draft of your resume within 3-5 business days.
Review your draft, suggest edits (if any), and work with your writer for as long as you'd like to finalize your resume.
As mentioned above, each resume package includes a 60-day interview guarantee. This means that if you do not receive at least 3x interviews with your new resume within 60 days, they will rewrite your resume for free.
Is Find My Profession Worth It?
Whether or not Find My Profession is worth it is entirely up to you.
Our goal is to provide you with the most transparent and helpful information possible. But, only you know what is best for you and your career.
Here is a summary of our findings on Find My Profession written and reviewed by a Certified Professional Resume Writer:
Customer Reviews: 25/25
Cost to Value: 25/25
Sample Quality: 25/25
Writer Credentials: 25/25
Total Score: 100/100
As a reminder, we highly recommend reviewing 2-3 services before making a final decision.
It's helpful to understand the different service offerings, prices, and writer credentials before choosing a resume writing service.