Want to get ahead in your career in Jacksonville, but are unsure of where to start?
The answer might surprise you.
Taking the next steps in your career isn't as simple as having a good education and work accomplishments.
To take your career to the next level, you need a great resume.
Without a stellar resume, hiring managers won't get the chance to realize how perfect you are.
From Crescent Beach to Middleburg to the Northside, we've got you covered.
Use any of these top Jax resume services to write your resume and prepare for those interviews!
Jacksonville Resume Service Criteria
Each of the Jacksonville resume services below was reviewed by a Certified Professional Resume Writer (CPRW) taking into consideration the following:
Cost: The cost of the service compared to other Jacksonville resume writers.
Turnaround: The speed at which the resume is completed.
Credentials: Overall experience, awards, and certifications.
Resume Design: The design, style, and overall look of the resume.
Customer Service: Guarantees, number of edits, and reviews.
This list was hand-curated to serve all industries, professions, and career levels. While many of the writers on this list are from Jacksonville, these services are virtually available whether you are in Jacksonville, St. Augustine, Palatka, Gainesville, Lake City, Tallahassee, or any other Florida city.
Best Resume Services in Jacksonville
1. Find My Profession
Find My Profession is much more than a Jacksonville resume writing service. We are a global company whose work has been featured on sites like Forbes, Inc., Zety, Fast Company, and more.
Our elite resume writing team has experience in 85+ industries/professions. This allows us to assign you a professional writer based on your unique background and experience.
We have successfully landed our clients positions at companies like Apple, Amazon, EA, Oracle, GM, Facebook, DoJ, Morgan Stanley, Gap, and 2U just to name a few.
Find My Profession has 650+ 5-star reviews and offers a 60-day interview guarantee. Every resume created is Applicant Tracking System (ATS) compatible and highly customized to meet your specific needs.
Pros: You will work one-on-one with a resume writer in the United States. Find My Profession commits to working with each client until they are 100% satisfied. Don't worry about having a limited number of edits or a set amount of time with your writer.
Cons: Find My Profession is a virtual company. While we provide services in Jacksonville, we don't have a physical office for in-person visits. You'll communicate directly with your writer via email and phone calls.
Reviews: 5/5 based on 124 Google reviews, 5/5 based on 8 BBB reviews, 5/5 based on 35 Facebook reviews, 4.9/5 based on 304 Trustpilot reviews, 4.7/5 based on 255 Sitejabber reviews
Turnaround: 3 – 5 business days (can expedite to 2 business days)
Cost: $395 – $995
Contact: (831) 888-0967 or help@findmyprofession.com
Check out some of our 5-star reviews.
2. ResumeZest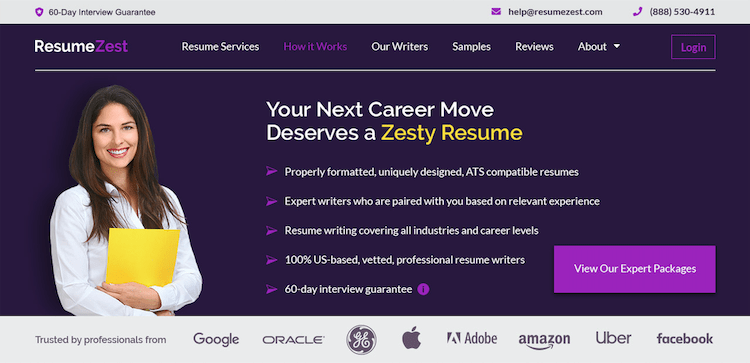 ResumeZest is trusted by professionals from companies like Google, Amazon, Apple, Oracle, GE, Adobe, Uber, and Facebook. Their resume writing team has written resumes for more than 75 industries. A 60-day interview guarantee backs up every resume they write. Each resume is also ATS compliant and keyword-optimized.
Pros: ResumeZest is a very well-rounded company. They offer affordable pricing and quick turnaround times. You will work with a high-quality, certified writer and receive excellent customer service. They are also members of the Professional Association of Resume Writers and Career Coaches (PARW/CC).
Cons: ResumeZest is one of the newer companies on this list. While they do a great job and their writers have many years of experience, the company was only founded in 2020.
Reviews: 5/5 based on 9 Facebook reviews, 5/5 based on 50 Google reviews, 5/5 based on 3 Yelp reviews, 4.8/5 based on 56 Sitejabber reviews, 4.8/5 based on 52 Trustpilot reviews
Turnaround: 3 – 5 business days (can expedite to 2 business days)
Cost: $179 – $379
Contact: (888) 530-4911 or help@resumezest.com
Visit ResumeZest
3. Exclusive Career Coaching
Exclusive Career Coaching is owned by Lesa Edwards. Lesa has worked in the career industry for more than 20 years. She is a Master Resume Writer and an Academy Certified Resume Writer (ACRW). She has extensive experience writing resumes for high-achieving professionals. She is based in Tallahassee.
Pros: This Master Resume Writer personally writes all resumes herself. Lesa provides a 60-day interview guarantee with her resume packages. She offers a free resume course if you are looking to DIY your resume before hiring someone.
Cons: There is no a la carte resume service available on the website. A cover letter and LinkedIn profile come with your resume, whether you'd like these or not. The site lacks details about the resume writing and revision processes.
Reviews: Not found
Turnaround: 5 business days
Cost: $595 – $1595
Contact: (850) 591-9995 or lesa@exclusivecareercoaching.com
Visit Exclusive Career Coaching
4. Great Resumes Fast

Great Resumes Fast is a popular resume writing service in Jacksonville. Started by Jessica Hernandez, who still leads the company, Great Resumes Fast has won awards for their resume writing. With a turnaround time that's average compared to their competitors, Great Resumes Fast isn't as speedy as their name might imply –– but they are a reputable option nonetheless.
Pros: Great Resumes Fast has ample positive reviews from past customers and they have been in the resume writing business for years.
Cons: Great Resumes Fast is extremely pricey. For executive resume writing services with add-ons like a LinkedIn profile and thank you letter, customers must fork over almost $2,000. Even for executives, such a hefty price tag can be a deal-breaker.
Reviews: 5/5 based on 14 BBB reviews, 4.8/5 based on 117 Trustpilot reviews, 4.3/5 based on 22 Google reviews, 3/5 based on 2 Facebook reviews
Turnaround: 3 – 5 business days
Cost: $799 – $999
Contact: (800) 991-5187 or info@greatresumesfast.com
Visit Great Resumes Fast
5. ResumeWonders
ResumeWonders is run by 9-time certified career coach and resume writer, Kris Plantrich. Her certifications include the Certified Professional Resume Writer (CPRW) distinction. She was recognized as "Jacksonville's Finest" by Folio Magazine in 2016. Kris has also won a Toast of Resume Industry (TORI) Award.
Pros: You will be matched with a professional resume writer most suitable for your career needs. All the resumes go through a final review by Kris herself. They offer a lower-priced resume update service for returning clients.
Cons: The resume packages come with only two rounds of revisions. The company is more geared toward senior professionals. There is no specific package for entry-level job seekers.
Reviews: Not found
Turnaround: 7 – 10 business days
Cost: $695 – $1495
Contact: (248) 627-2624 or kris@resumewonders.com
6. Resume Pro
Resume Pro is run by Brenda Burtch and is based in Jacksonville. Brenda is a University of Hawaii graduate with over 18 years of writing experience. She also has a corporate executive background. Brenda is experienced in writing resumes for all career levels and industries.
Pros: All the resumes are written by Brenda herself. You can see some of her work on the resume sample page on the website. She promises to work with you until you are completely satisfied.
Cons: If you are looking for a certified resume writer, Brenda isn't the best option for you. There is no mention of resume writing certifications on her website.
Reviews: 5/5 based on 96 Google reviews, 5/5 based on 9 Facebook reviews
Turnaround: 5 – 7 business days
Cost: $275 – $475
Contact: (904) 419-9881 or brenda@resume-pro.com
7. ePropelr
ePropelr boasts a resume writing staff constructed of C-suite professionals, HR managers, recruiters, and even college advisors. They also have a Certified Professional Resume Writer (CPRW) on the team. All of their resume writing packages are backed by a 100% satisfaction guarantee.
Pros: The company also offers in-person appointments for local clients. For current or former members of the Armed Forces, ePropelr offers a discount on their services.
Cons: A few resume samples on the website would have been great for clients to review the quality of the service. The resume packages include only one round of edits.
Reviews: 5/5 based on 16 Google reviews, 5/5 based on 15 Bark reviews, 5/5 based on 1 Angie's List review
Turnaround: Not found
Cost: $198 – $369
Contact: (844) 577-1940 or coach@epropelr.com
8. A Remarkable Resume
A Remarkable Resume is owned by Sarah Jewell. Sarah spent 15 years in a Fortune 100 company before starting her resume service in 2002. She is also a Certified Professional Resume Writer (CPRW). She is well equipped to write a professional resume for all career levels. The company is based in St. Augustine.
Pros: Sarah will gather your information with a phone interview, no need for a questionnaire. She directly works with all her clients. She also offers a complimentary analysis of your current resume.
Cons: The website doesn't display any resume samples. You also can't order the resume package directly via the website. You will need to contact the service for a quote, turnaround time, and project begin date.
Reviews: 4.5/5 based on 3 Yelp reviews, 4/5 based on 2 Google reviews
Turnaround: 3 – 7 days (can expedite)
Cost: $300 – $750+
Contact: (904) 824-3608 or sjewell@aremarkableresume.com
9. Milestone Resumes
Milestone Resumes has an underwhelming website, but that wasn't enough to knock them out of our list. The company is run by Linda Carter. Linda has been writing resumes since 2002. She has written resumes for all levels of professionals across industries. Her company is based in Jacksonville.
Pros: The company offers a 24-48 hour rush service. This can be a life-saver for job seekers on tight deadlines. You can also meet with your writer face-to-face in Jacksonville.
Cons: Their bare-bones website leaves a lot of key questions about their service unanswered. There are no resume samples to view. It is not clear if Linda writes all the resumes herself.
Reviews: 5/5 based on 1 Google review
Turnaround: 3 – 5 business days (can expedite to 24-48 hours)
Cost: Not found
Contact: (678) 596-1039 or info@milestoneresumes.com
Bonus: Top Jacksonville Resume Winners (2021)
Find My Profession, Exclusive Career Coaching, ResumeWonders, Resume Rocketeer, Resume Pro, ePropelr, Jacksonville Resume Writer, A Remarkable Resume, Career Florida, Milestone Resumes