Craigslist is an American classified advertisements website.
It has multiple sections devoted to categories including:
Jobs, Housing, Items for sale, Items wanted, Services, Community service, Gigs, Résumés, Discussion forums, and many more!
Maybe you have come across some interesting jobs on Craigslist.
Now your question is, should you create a Craigslist resume?
While posting about yourself on Craigslist could be a good idea, it's important to create the best Craigslist resume in order to attract the top positions.
First, we will walk you through how to post your resume on Craigslist.
Next, we will give you some tips on how to make your resume stand out from your competition.
How to Post Your Resume on Craigslist
To post your resume on Craigslist (free), you should first go to craiglist.org.
Once you are on the Craigslist website, click on the "Create a posting" button in the top left corner (see picture below).

Next, select the "resume/job wanted" option and then click "continue."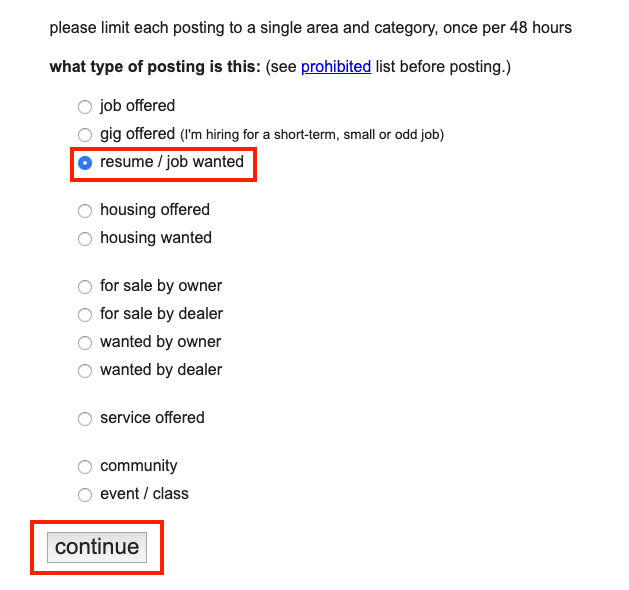 Finally, select "I am an individual seeking employment."
Again, click "continue."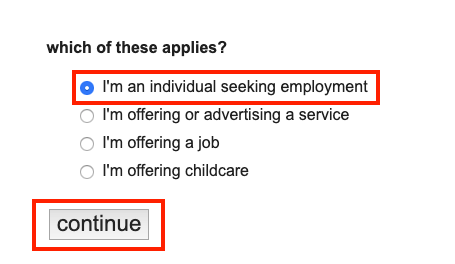 Now you should be on the page that asks for you to provide these details:
A posting title
Location
Description
Contact info
This leads us to our next section of the article where we will discuss how to properly create a Craigslist resume that will get results.
How to Make the Best Craigslist Resume
To set yourself apart from your competition that may also be looking for a job on Craigslist, it's important you take time to focus on your Craigslist posting.
Anyone can create a resume on Craigslist. But very few people are doing it right.
We've broken up this process into seven simple steps.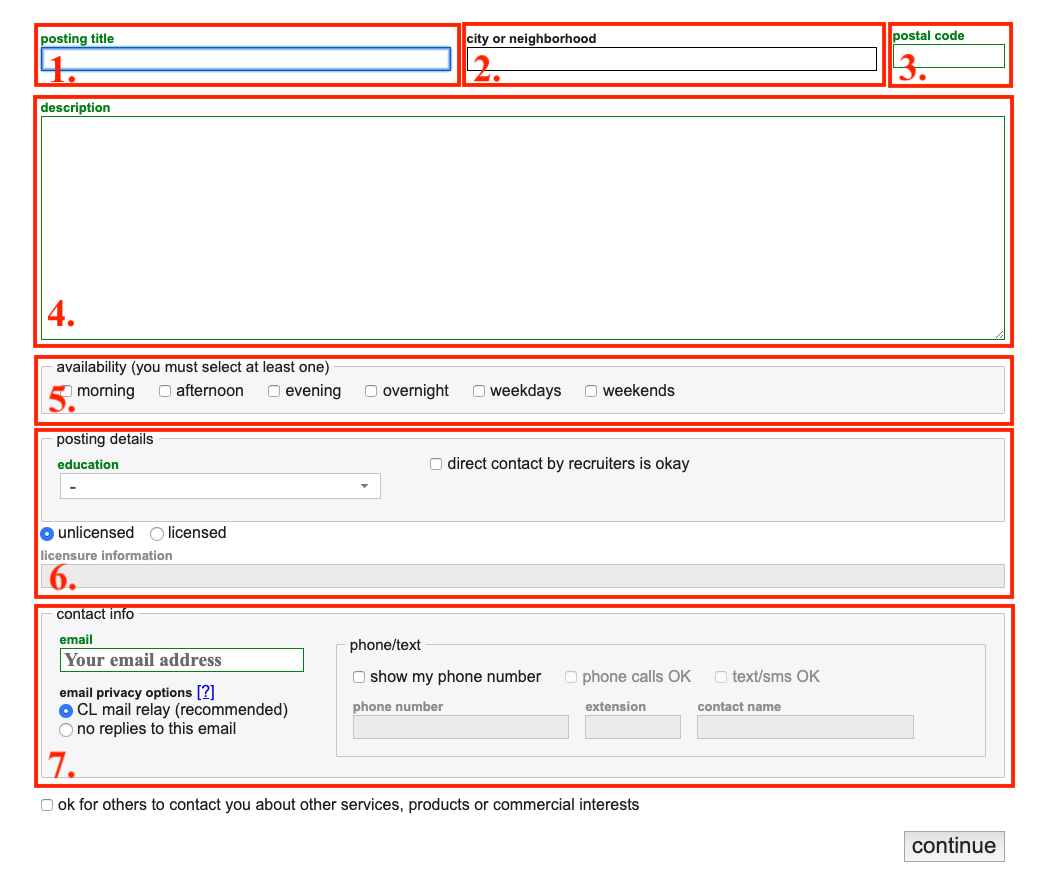 1. Posting Title
The posting title is the second most important part of your Craigslist resume.
Create a catchy title that will attract your future employers' attention.
To give you an idea of some of the resume titles floating around on Craigslist, we've included a few samples of what we found.
Christian Female Seeking Work/Gigs! Office/Nanny/OnlineSales/Mngmt. Exp
Collision repair tech or handyman
Customer service 20 years experience trying to relocate
25-year-old hard worker seeking employment
Small-time trimmers we will trim your herb for you
Your posting title is the first thing employers will see when they are searching for resumes.
Without a catchy posting title, the rest of your information will most likely never be seen.
Here are some tips on creating a catchy headline:
Make sure to state the kind of work you are looking for.
Say something unique that others are not saying.
Be concise and to the point.
Here are some examples of catchy headlines:
(Desired Job) | (Interesting Fact) | (Proof of Quality)
Sales Associate | ESTJ Personality Type | Top 10% Sales Achiever
Handyman | Complete Toolset Owner | 20+ Years Working w/ Hands
Customer Service Rep | Voted Most Friendly in School | People Person
2. City or Neighborhood
This one is fairly straightforward. While it is not a required field, we recommend entering the name of the city you live in.
3. Postal Code
Also straightforward; make sure to enter your current postal code or a nearby postal code so that people looking to hire in your area can find your resume.
4. Description (Most Important)
The description is the most important part of the entire Craigslist resume.
This is the section where you can share information about yourself, including prior work experience, achievements, and more.
Posting a resume on Craigslist is different than a traditional resume.
Since Craigslist only provides one large text box to enter information, you won't be able to use any fancy formatting. But that's ok!
Start off by creating the sections you will write about within the "description."
Here are the three main sections you should be writing about:
Summary
Work Experience
Education
If you already have a resume, your job will be very easy. Copy and paste each of these sections from your resume and add them to your Craigslist posting.
If you don't have a resume, we recommend you read these additional articles:
First, check out How to Write a Resume that Gets Past the Bots.
Second, read these Tips on Creating the Perfect Resume Summary.
Finally, if you have any formal education, include it near the bottom of your Craigslist resume.
Below we share a resume sample on Craigslist that you can take a look at.
5. Availability
Select the days and times that you are able to work.
You can select one, or as many boxes as you'd like.
6. Posting Details
Posting details pretty much just asks what level of education you have, and whether or not you'd like recruiters to contact you.
I'd recommend checking the box to allow "direct contact by recruiters."
7. Contact Info
Finally, your contact info. Enter the best email account that you check regularly.
To keep your personal email private, select the bubble next to "CL mail relay" and do not check the box next to "show my phone number."
Sample Craigslist Resume
Below we have provided two sample Craigslist resumes.
The first, we created as a guide for you to copy.
The second is one we thought was funny, and highly recommend that you do not copy.
Here is a good example of a resume posted on Craigslist: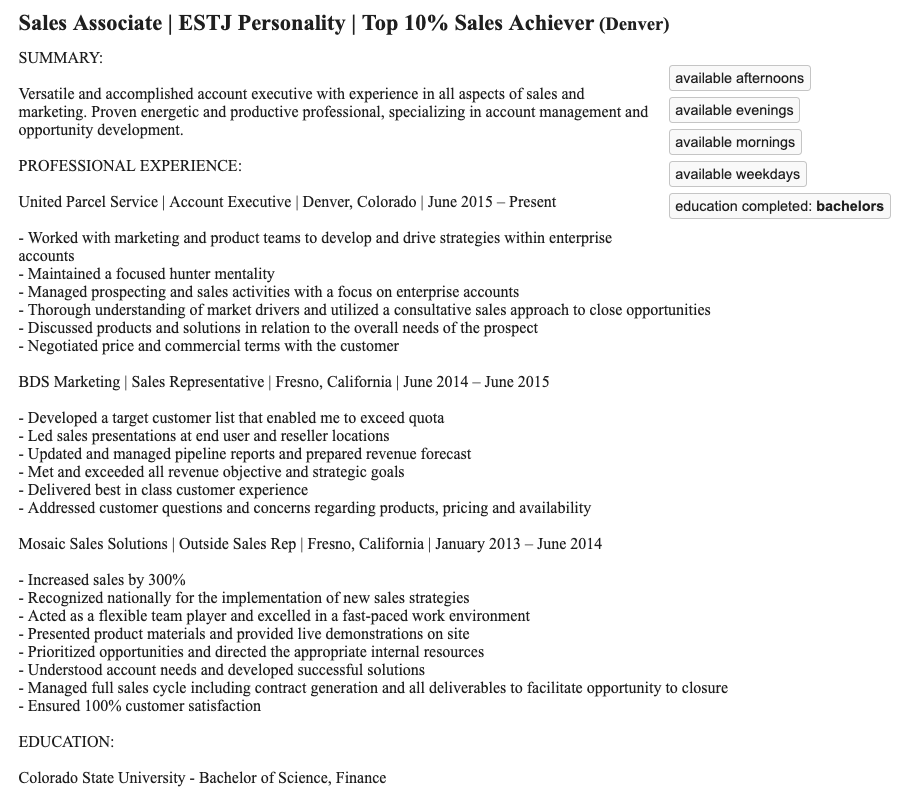 Here is a bad example of a resume posted on Craigslist:

Popular Cities to Find Jobs on Craigslist
Craigslist resumes and jobs can be found in nearly every major city across the United States.
Some of the most popular locations to find work and post your resume on Craigslist include:
If your city was not mentioned on this list, don't worry. You can browse all the cities with Craigslist jobs by going to their website and clicking on the "resumes" category.
Additional Career Resources
Finding a job can be a difficult process.
So, we've included some more resources below that might be able to help.
Check out the Best Free Resume Review Sites and get your resume reviewed for free today!
Consider hiring a professional resume writer within your local city or for your industry.
Check out our list of 750+ best resume writers.