A professional reference is a potential employer's inside look at what you are like to work with.
Sometimes, a glowing reference from the right person can be exactly what lands you your dream job.
Are you writing "References Are Available on Request" on your resume? Maybe you have your mom as your first choice for references.
Neither of these is advised.
This article will give you guidance as to exactly how to present your professional references to a potential employer.
From who to ask to provide references, to how to approach that issue, and much more, we will show you how to best handle the matter of references on resumes.
Should You Include References on a Resume?
Most of the time, you'll find that the answer is actually a straight, "No!"
If there are 250 applicants for a job, can you imagine a hiring manager calling 750 to 1250 references?
Not really. References are usually requested far down the line when the number of candidates has been whittled down.
What about saying "References Available Upon Request" on my resume? Is that a good compromise?
No!
That's like saying, "Applicant has a pulse." It's obvious.
Your resume is short and sweet. Do not waste space with an out-dated sentence like that.
And if you don't have references available, then that is a mistake as well.
Consider also that if you are applying online, you do not want to include a list of references for another reason.
The reason is that you will be giving the contact details of your references to whoever sees your resume.
That is not ideal. Your references may not agree to be referenced for you again.
But wait.
A general rule is just that, general. Specific instances will be different.
Do not just assume that your resume will never need a reference page.
Perhaps references on your resume will be explicitly requested, in which case, include a professional reference page.
If references on your resume are requested and you do not include them, then that isn't going to end well for you. You have shown that you cannot follow directions and now the recruiter may need to contact you for the missing information, if they take the time to do so.
Top Tip
If you can't decide whether or not to include references, don't. Wait for them to be specifically requested.
How to List Professional References on a Resume
If you have determined that you do need to include references on your resume, we will explain how to do this correctly.
Regardless of how many references that you have listed, always put your best reference at the top.
That may be your highest ranking reference, it may be your reference that already works where you are applying to, it may be the reference who can best state your skills.
In every case, you want to be prudent about who you list. You will receive advice on exactly how to approach this later on.
This is how you should list professional references on a resume:
Reference's first and last name
Reference's current job title
Company reference currently works for
(Optional) Company's address
Reference's email address
Reference's phone number
(Optional) Background information on your relationship with your reference
With that order, your reference will look something like this: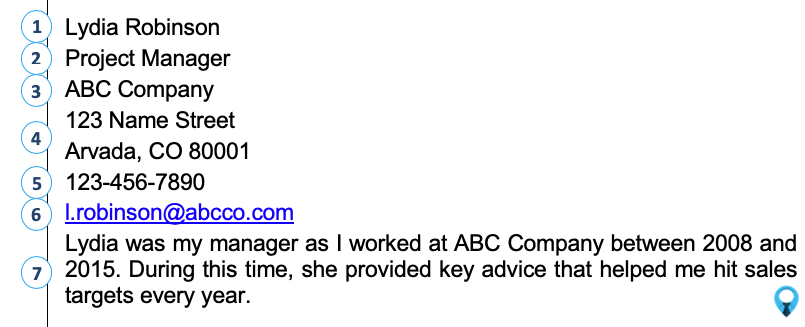 You may wish to give some background on the nature of the relationship with your reference.
It is not essential to include details, provided that you state their role in your list, but sometimes your relationship helps give context as to why they are a reference.
How Many References Should You Include?
How many references you have really depends on your prior experience and the job that you are applying for.
If you have just graduated, and have limited experience, it is perfectly acceptable to have 3 or 4 references.
However, if you have worked for a long time and are applying for an executive role, you should have at least 5, even up to 7 references.
However, read the job posting carefully.
If your potential employer says that they want 4, then provide them with 4.
You do not want to make it look like you are already not following their instructions.
Top Tip
If you provide 7 references, remember that your potential employer may only contact a few people. Ensure that your references are solid as stand-alone references, rather than as a group as you do not know who will be contacted.
Resume References Example
Even if your resume does not end at the bottom of the page, you should still be sure to start your reference list on a separate page.
Carry over your contact information section from your resume and use the same formatting.
After that, begin with your references.
As stated above, list your references with your best one at the top. Oftentimes, that will be the most relevant reference at the top.
A reference list with three references may look like this. Click the image to download the template.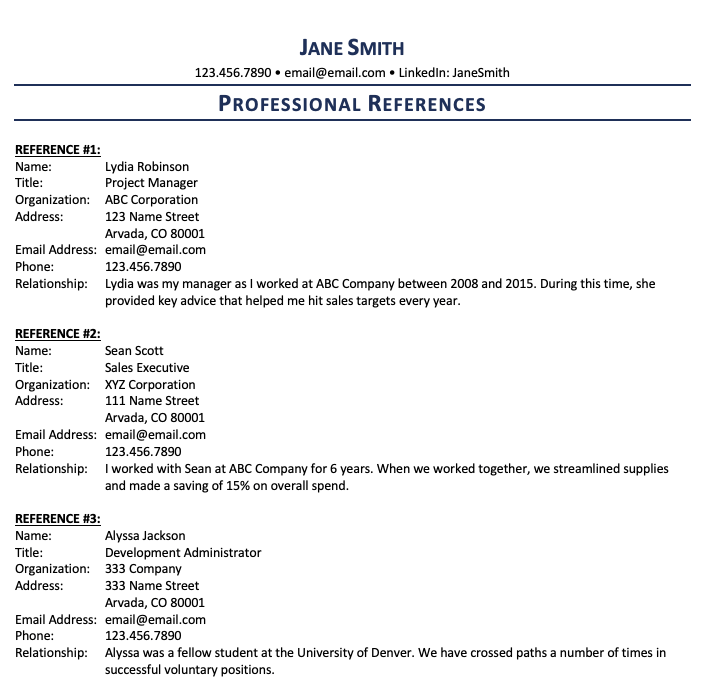 As stated before, having three references is not a mandatory amount at all. Submit as many as were requested.
If there isn't a specific number requested, add according to experience and what you are applying for.
(Read How To Make a Resume That Gets Past the Robots for more information on writing the other sections of your resume.)
Resume References Format (to Submit After Your Resume)
A reference list on your resume will be included in the same document.
A reference sheet is a separate document that you can submit when references are requested during the hiring process and is not attached directly to your resume.
Much like with the reference page on your resume, emphasis will be in the very same places. The document is essentially the same.
While either of these formats can be used to list your references, here is an example of a reference sheet that is more simplified than the sample above. Click the image to download the template.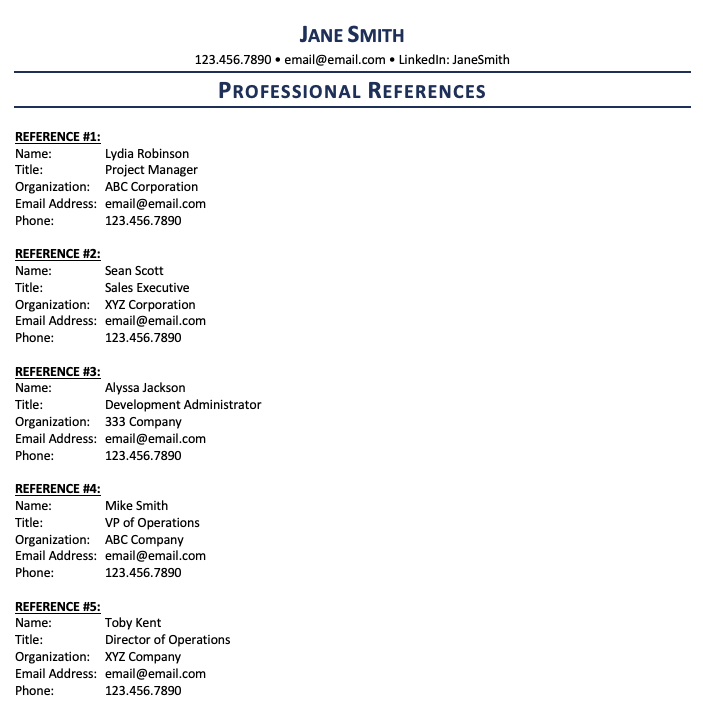 Ensure that the font, font size, margins, and color scheme match those on your resume and cover letter.
This will ensure that the document looks similar to what you have already submitted.
How to Ask for a Reference
There are many ways that you can ask for a professional reference.
If you are on the phone with a potential reference, ask them then.
If you are talking with them in person, it will be a good idea to ask them then.
You definitely want to ask your references for permission before giving out their personal information.
You do not want them to be surprised by an unexpected call regarding your application.
You also want them to have time to prepare. With adequate preparation time, you will get a better reference by virtue of the fact that they could plan ahead.
That person might not actually want to provide a reference.
If they do not want to be a reference for you, then being surprised by a call is even less likely to yield positive results for you.
Asking for permission also helps ensure that you provide the correct contact details of your references.
Who Are Good References on a Resume?
Selection is vital.
Perhaps you have worked in a number of jobs and have access to reference options from countless colleagues. In addition, you may have a significant number of former subordinates, supervisors, and bosses.
Your go-to should not just be to pick out the most prestigious ones. Relevance matters.
A mix is great, as it allows for a fuller character picture based on how you are perceived by both your superiors and your subordinates.
Below is a list of potential references:
Former or current supervisor
Former or current colleague
Former of current subordinate
Former or current professor/teacher
Advisor
Business partner
If your job search is discreet, it goes without saying that your current coworkers will not be a good option for you.
Remember to be specific when talking to your references.
Do you recall that time that you collaborated on a project with your reference and you saw a 10% rise in net profit in that area? Remind them. Then when called, they can say:

Yes. I worked with Mr. Smith for 7 years at ABC Company. We achieved a lot together, but a highlight was when we collaborated on a project which led to a 10% rise in net profit. It was a shame that he had to leave us, but I would absolutely give my recommendation.
That is a lot better than them receiving a call out of the blue and saying:

Yes. I worked with Mr Smith for some time. He was a good worker who I liked working with. Yeah, I'd recommend him.
Being on the same page as who is giving your reference will help you a lot.
Additionally, advice about confidential applications is different.
If you don't want your current employer to know, be smart.
You want to avoid asking anyone currently working for, or in contact with, your employer.
No matter who you ask, and if they promise to keep it confidential, they still can reveal your secret, even by accident.
Eliminate that risk by asking people who aren't connected to your current job.
Top Tip
If you struggle to think of a specific achievement that your reference can highlight, remember to check key achievements in that shared job on your resume.
Who Are Bad References on a Resume?
Apart from colleagues and your current boss (if you are applying elsewhere discretely), there is a general rule that will you do well to remember.
When considering who should be a reference on your resume, remember that it is almost always a drawback to have personal rather than professional references.
A colleague that you worked with for years is a far better option than an aunt of yours that thinks your lemon drizzle cake is worth dying for.
It is great to make these personal connections and memories, but a potential employer will doubt a good reference from a relative as they are unlikely to mention any drawbacks, no matter how messy your bedroom is.
Friends are generally a no-no as well. However, if they currently work where you are applying, that may be more acceptable.
Also, remember anyone that you have clashed with is not someone you should list as a reference.
Even if things are better between the two of you now, you never know for sure that they are not going to mention it.
They might say something like this:

In our time working together, Ms. Smith was a diligent worker who endeavored to do her job to the best of her ability. However, she was occasionally prone to butting heads with colleagues if she disagreed about something. That may not be an issue now, but it was in my experience.
Being on better terms as you leave is great, but your history with that colleague remains.
In times like these, it is certainly best to err on the side of caution.
If there are two colleagues of note in the same job, but you only butted heads with one of them, then it should be obvious as to who to go with.
Stay on the safe side.
Shortlist the Perfect References
As stated before, you need to select the best references.
Depending on what role you are applying for, you can often select what references are better than others.
What references can highlight your skills that are the most relevant to this job?
What references currently work in that field, or a similar field?
Always aim to have these targeted references.
If you are a graduate in your early 20s, getting a reference from a professor is great. However, in your 40s, it is not nearly as ideal. They can only vouch for your aptitude a long time ago.
Be as up to date as you can, especially for key references.
Always have individuals lined up for references if you are beginning a job search. That way, you don't have to pull a list together on very short notice.
Sample Email to Request a Reference
You may have to ask for a reference via email rather than on the phone or in person.
You have the opportunity here to choose your words carefully. Make the most of this by keeping the email from being vague.
Below is a sample of how an email to a reference might look:
Hi [Reference Name],
I hope you are well and having a great week!
We had talked previously about you providing a reference for me. I have since applied for [Job] at [Company]. I believe that I will likely be considered, in which case, references would be required. If you do not wish to provide a reference after all, that is absolutely fine.
However, the work that we did together remains one of the fondest professional memories that I have. I especially recall when we worked on [project] and saw [results]. I would be very grateful if you were willing to talk a little about this.
Best Wishes,
[Your Name]
See what that accomplishes?
It doesn't only ask for a reference.
The email says where you have applied, and it provides some ammunition for the reference to use.
The reference is up to speed on your application because of your email. This is definitely better than expecting them to figure it out for themselves.
Even if they are not up for it, the worst that can happen is that they say no.
Once you have sent a number of these emails out, you should have a large enough list of references. Send individual messages though. Do not copy and paste the same message for everyone.
Remember to Follow Up
Make sure that whoever is giving your reference is fully up to speed with where you are in the process.
Tell them what jobs you have applied to, let them see your resume. Tell them that they are listed as a reference, even remind them of key things to think about highlighting.
If they agree and then give a reference for you, thank them.
That may be taking them for a coffee, or sending them a nice email.
If they help you land the job, do the same again. Giving a special thanks to individuals is a good thing to do, and it helps if you need another reference another time!
Always be willing to return the favor if a reference asks.
Key Takeaways
To summarize then, we can consider these as key takeaways:
Ensure that you select references wisely, and have them fully up to speed on your job search. Ensure that you ask permission before using a reference.
Do not include references on your resume unless specifically instructed to do so.
The number of references you give can correlate with your experience and where you are applying to. A graduate can get away with 3, an executive applicant may need as many as 7.
Format your reference sheet in the same way as you format your resume.
Not getting asked for your references?
Find My Profession is a highly rated resume writing service. Use this service and you will have a high-quality resume that can help you progress to the stage where you need to share references!