Career Steering, an executive resume writing service, was founded by Rosa Elizabeth Vargas in 2001.
Rosa is one of the most experienced executive resume writers around. So, the chances are high that you have heard her name or found her company, Career Steering, while searching for a professional resume writer.
In this article, you will get an in-depth review of Career Steering resume writing services.
We will share pros, cons, pricing, writer backgrounds, and even our opinion on some great alternatives to consider.
It's always a good idea to take a deeper look into a resume service and compare it against other writing services before making your final decision.
Career Steering – Resume Service Review
Career Steering claims a space for professional executive resume writing & career coaching for global leaders.
The company is mainly focused on writing resumes and career documents for executives and other senior professionals such as directors and managers.
It's a boutique-style service operated mainly by Rosa Elizabeth Vargas herself, along with a small team.
Let's go ahead and look at the pros and cons of working with Career Steering.
Pros:
Career Steering has a track record of 20+ years of global success. So, that makes them one of the most experienced resume writing services around.
They have a very closely-knit team of multi-certified and award-winning writers.
All clients work directly with Rosa herself at some point during the process. This means that you will likely get an intimate and personalized resume writing experience with Career Steering.
Another pro for working with the service is that you will get multiple phone consultations with your writer.
Cons:
Every resume service has its own set of drawbacks. Career Steering's main shortcoming is its turnaround time of approximately four weeks.
Being a very small team, they are not able to offer any expedited delivery option. If you are in a hurry to get your resume written, this could be a major disadvantage.
Moreover, the cost of the resume writing service is also on the more expensive end of the spectrum. Even for executives, there are likely better companies available with more affordable pricing and additional services.
Finally, if you are an entry-level or mid-management professional, there's no resume package available for you at Career Steering.
How Much Does Career Steering Cost?
The a la carte resume writing service and resume packages can be fairly expensive at Career Steering.
Resume-only packages:
An a la carte resume for the C-suite, senior executives, and board-level leaders costs $1,695.
A resume for directors and senior management-level professionals is $1,395.
There are also numerous packages containing other services.
Management-level branding packages from Career Steering:
Their 180° Career Acceleration Branding Package includes a resume, cover letter, LinkedIn profile, customized LinkedIn background, thank you letter, job search handouts, and value proposition, all priced at $1,895.
The Reputation Branding Package contains a resume, two cover letters, LinkedIn profile, customized LinkedIn background, modern bio, mini-bio, and graphics, costing you around $2,495.
Finally, their 360° Career Steering Branding Package consists of a resume, three cover letters, LinkedIn profile, LinkedIn background, biography, networking resume, recruiter distribution, and coaching, priced at $3,695.
Executive-level resume branding packages from Career Steering:
The 180° Career Acceleration package includes a resume with custom graphics, LinkedIn profile and SEO optimization, job-focused cover letter, and job search handouts for $2,295.
Their 270° Brand Reputation Executive Branding Package contains a resume with custom graphics, a LinkedIn profile and SEO optimization, a job-focused cover letter, a modern bio with custom graphics, and job search handouts, coming in at $2,795.
Lastly, the 360° Career Steering Executive Branding Package consists of resume with custom graphics, job-focused cover letter, recruiter letter, LinkedIn development & SEO optimization, customized LinkedIn background, modern bio with custom graphics, distribution to recruiters and venture capital, networking resume or personal branding video, thank you letter, job search handouts, and unlimited email communications costing you a grand total of $3,995.
We feel that the pricing rests on the higher end of the spectrum.
Additionally, the packages are filled with several unnecessary services.
Note: The prices here are at the time of this publication. For updated information visit Career Steering's pricing page.
Career Steering Resume Writing Process
The resume writing process employed by Career Steering is quite easy to follow.
Here's what a typical resume writing workflow of Career Steering would look like:
You choose and buy one of the resume packages or the a la carte resume service from the website.
You will get an email within a few business hours, or you can go ahead and email your already existing resume to writer@careersteering.com to speed up the process.
In the email from them, you will get the questionnaire or worksheet that you can fill out, or skip if you so choose.
Next, you will have to schedule a phone interview with Rosa to discuss your resume branding strategies and other details.
The interview is around 60-90 minutes for executive packages and 40-60 minutes long for management-level packages.
Now, all you have to do is sit back and wait for them to deliver your resume.
You will have the option to set up another interview session for finalizing your resume.
The turnaround from start to finish is 2 to 4+ weeks, based on capacity.
Career Steering doesn't offer any interview or satisfaction guarantee with their resume packages.
The number of edits and revisions you get is also limited.
Career Steering Resume Writing Team
Rosa Elizabeth Vargas is the lead resume writer at Career Steering. She is an award-winning and multi-certified resume writer.
Rosa holds four resume writing certifications:
Nationally Certified Resume Writer (NCRW)
Academy Certified Resume Writer (ACRW)
Certified Master Resume Writer (CMRW)
Master Resume Writer (MRW)
Rosa also has won more than 25 Toast of The Resume Writing Industry (TORI) nominations and awards.
She has two handpicked executive resume writing assistants to support her in the work.
According to the website, both the writers are multi-certified and award-winning writers. Each of the assistant writers has 15+ years of resume writing experience.
However, the identities of the other writers have not been disclosed on the website. We also couldn't find them on LinkedIn.
Career Steering Customer Reviews
Customer reviews is where Career Steering could use a bit of improvement.
We couldn't find the company's presence in any of the popular online review platforms such as Trustpilot, Sitejabber, and Yelp.
They have a few Google reviews that give them an average rating of 4.8 based on 11 reviews. The most recent review, however, was given a year ago.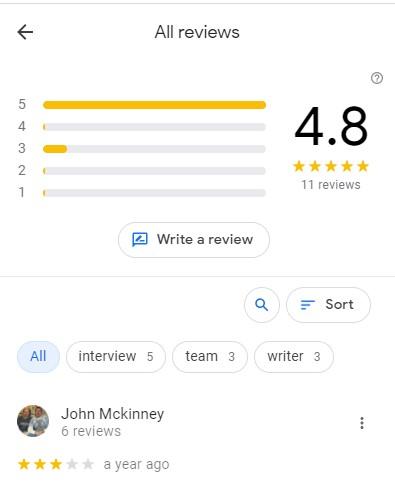 Apart from that, Rosa has also received 14 glowing recommendations on LinkedIn.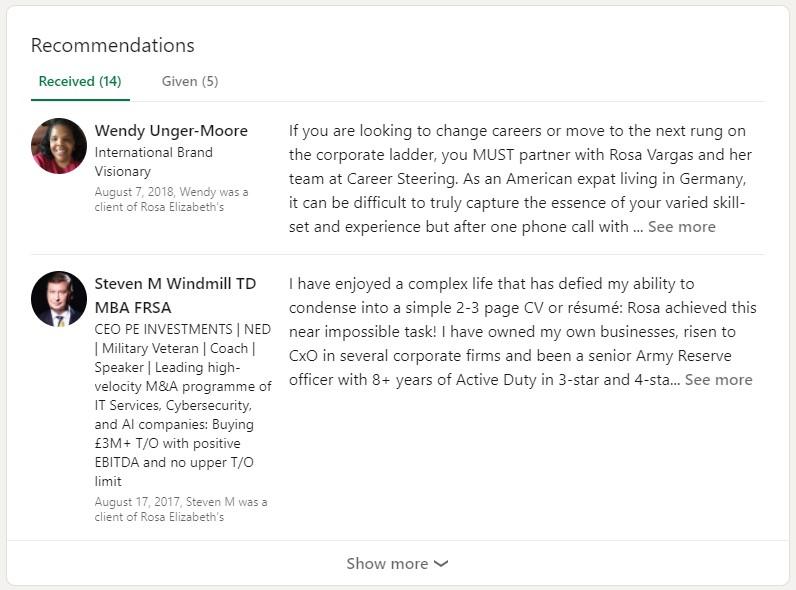 A few more reviews on a few other customer review portals would have helped more in evaluating the company.
Career Steering – Resume Sample
No resume service review is complete without critically reviewing the samples provided on the website.
So, we went ahead and examined the samples offered at the Career Steering website.
Here's one resume sample from the website for your consideration: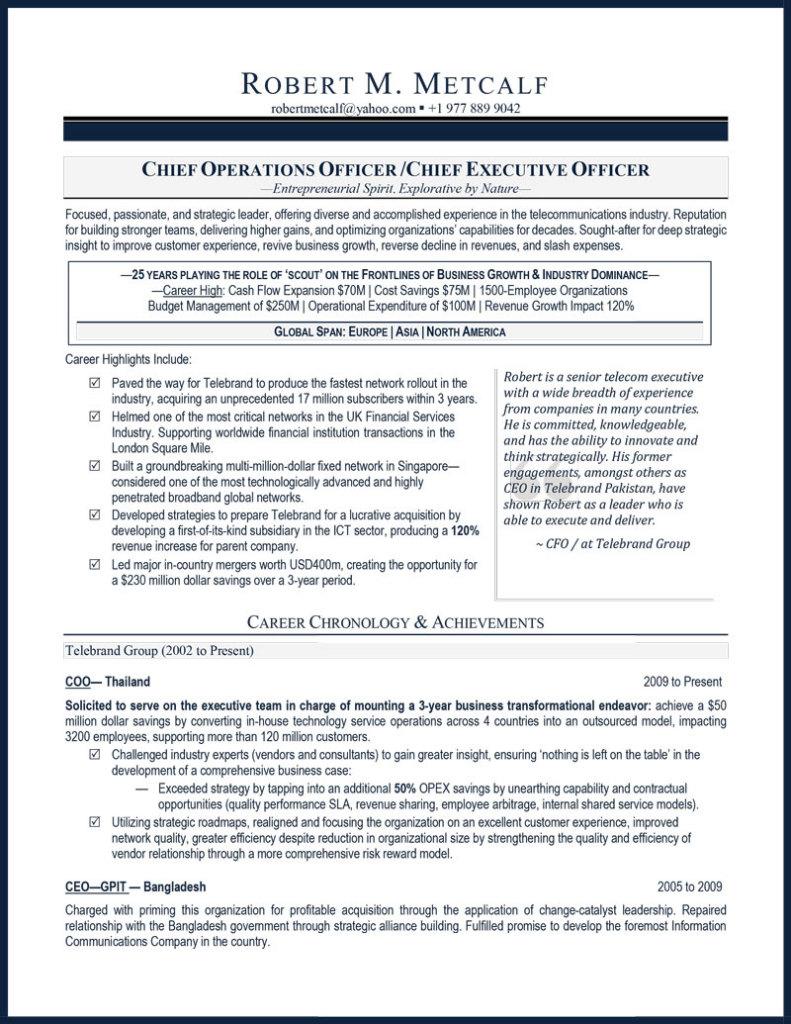 Key Takeaways
Our rating for Career Steering is 6.4/10.
The level of expertise and experience of their lead writer is surely exceptional.
The ordering process is easy and hassle-free. Also, you have many resume packages and additional services to choose from.
Moreover, they offer two phone consultations with resume services, which is quite unique in the industry.
On the other hand, they do not offer any guarantees with their resume services.
Additionally, the resume writing team consists only of one lead writer and two assistant writers. It leaves one wondering about how many industry specializations they can have.
Moreover, both the cost and the turnaround time are something that can cause many professionals to think twice about before choosing Career Steering.
Your resume is one of the most important documents in your professional life.
You should always review and talk to multiple companies before you make your final decision.
What Is a Better Alternative to Career Steering?
When it comes to your resume, you can't be too careful.
Consider adding the resume writing services of Find My Profession to your review list.
We have a multi-certified and experienced team of resume writers. All our writers are based in the US and cover 85+ industries. We also offer a 60-day interview guarantee.
The turnaround time is only 3-5 business days, and you will get phone consultations with your resume writer included in every resume package as a one-on-one strategy session.
Find My Profession has more than 650+ five-star reviews on sites like Trustpilot, BBB, Sitejabber, and Google.
No matter who you choose to help create your resume, it's important that you feel confident in your decision.
Be sure to do your research and call your prospective resume writers if possible so that you can determine whether or not they will be a good match for your career needs.