If you are a Canadian senior-level executive looking to take your next career step, you need to think hard about how to make the best impression on potential employers. At the leadership level of the job market, a great track record is important, but so is having a focused personal brand.
So what should your first step toward your next career move be?
That's easy. Hire a professional resume writer.
There are executive resume writing services across Canada who are wizards at making you look good on paper. They can craft you a laser-focused, keyword-friendly masterpiece that will get you more interviews and even more leverage as you negotiate your new salary.
Use this list of the top ten executive resume writers in Canada to get you started today.
Canada Executive Resume Service Criteria
Each of the Canadian resume services below was reviewed by a Certified Professional Resume Writer (CPRW) taking into consideration the following:
Cost: The cost of the service compared to other Canada executive resume writers.
Turnaround: The speed at which the resume is completed.
Credentials: Overall experience, awards, and certifications.
Resume Design: The design, style, and overall look of the resume.
Customer Service: Guarantees, number of edits, and reviews.
This list was hand-curated to serve all industries, professions, and career levels. While many of the writers on this list are from Toronto, these services are virtually available whether you are in Toronto, Montreal, Vancouver, Calgary, Edmonton, Ottawa, Winnipeg, or any other great Canadian location.
Best Executive Resume Writing Services Canada
1. Find My Profession
Find My Profession is not just an executive resume writing service available in Canada. We are a global company whose work has been featured on sites like Forbes, Inc., Zety, Fast Company, and more.
Our elite executive resume writing team has experience in 85+ industries/professions. This allows us to assign you a professional writer based on your unique background and experience.
We have successfully landed our executive clients senior-level leadership positions at companies like Apple, Amazon, EA, Oracle, GM, Facebook, DoJ, Morgan Stanley, Gap, and 2U just to name a few.
Find My Profession has 650+ 5-star reviews and offers a 60-day interview guarantee. Every resume created is Applicant Tracking System (ATS) compatible and highly customized to meet your unique needs. We've included a sample executive resume below.
Pros: Find My Profession commits to working with each client until they are 100% satisfied. Don't worry about having a limited number of edits, or a set amount of time with your writer. Your writer will send as many emails or get on as many calls as you require.
Cons: Find My Profession is a virtual company. While we provide services in Canada, we don't have a physical office for in-person visits. You'll communicate directly with your writer via email and phone calls.
Reviews: 5/5 based on 124 Google reviews, 5/5 based on 8 BBB reviews, 5/5 based on 35 Facebook reviews, 4.9/5 based on 304 Trustpilot reviews, 4.7/5 based on 255 Sitejabber reviews
Turnaround: 3 – 5 business days (can expedite to 2 business days)
Cost: $795 – $995 USD
Contact: (831) 888-0967 or help@findmyprofession.com
Check out some of our 5-star reviews.
2. FutureWorks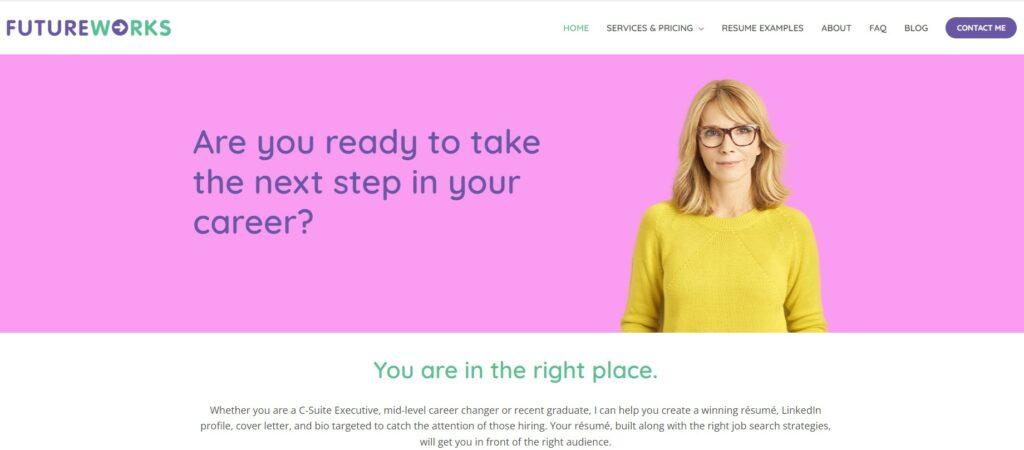 FutureWorks is owned by experienced, Vancouver-based resume writer Dorothy Keenan. In addition to a full range of resume services, all of which include three one-hour consultations, FutureWorks offers career guidance and outplacement services. All FutureWorks resumes come with a no-nonsense satisfaction guarantee. She also provides LinkedIn and professional biographies.
Pros: Dorothy has helped more than 5,000 individuals find rewarding careers in a variety of industries including technology, science, gaming, trades, finance, manufacturing, and more.
Cons: FutureWorks did not have any resume samples on their website. Additionally, the turnaround time and cost can be a bit high for some job seekers.
Reviews: 5/5 based on 8 Google reviews, 5/5 based on 1 Yelp reviews
Turnaround: 10 – 15 business days
Cost: $1495 CAD
Contact: (604) 618-3112 or dorothyk@fwt.bc.ca
3. CareerJoy
CareerJoy is a Toronto career coaching and outplacement service with an auxiliary resume-writing team. They promise to help you create your personal brand, so if that is what is really missing from your equation, give them a solid look. All CareerJoy's top packages come with two hours of personal branding coaching. We love that their top Leadership package also comes with a 30-second elevator pitch. You can never know when you'll need one!
Pros: Every resume package comes with a LinkedIn assessment and training. You will also receive a cover letter and 3 hours of job search and personal branding coaching.
Cons: Their resume samples could be more eye-catching graphically.
Reviews: 4.7/5 based on 122 Google reviews
Turnaround: 5 business days
Cost: $1250 CAD
Contact: (877) 256-2569 or info@careerjoy.com
4. Expert Resume Writer
Expert Resume Writer, formerly known as Docherty Career Management is run by former employment agency owner Ken Docherty. Ken has won prestigious awards for his executive resumes, competing against certified resume writers from around the world. As you look through his resume gallery, you will immediately see some gorgeous CEO samples.
Pros: Ken Docherty is an experienced executive recruiter and has conducted recruitment campaigns for some of the world's leading employers including Shell, Chevron, Teck, Fluor, IBM, Motorola, HSBC, and Deutsche Bank.
Cons: There is no phone number available on the site. Also, the resume samples on the site do not appear to be Applicant Tracking System (ATS) compliant causing potential application issues. Lastly, we were unable to find any reviews for this company.
Reviews: 5/5 based on 21 Google reviews, 5/5 based on 1 Facebook review
Turnaround: ~5 business days (can expedite)
Cost: $950 CAD
Contact: ken@dochertycareermanagement.com
5. Career Impressions
Career Impressions is a resume writing service just for executives. It is run by professional resume writer and interview coach Adrienne Tom. She dubs herself Canada's First Certified Executive Resume Master and is dedicated to creating effective personal branding packages for top-tier professionals. She provides loads of resume samples on her website that will wow you instantly.
Pros: Adrienne Tom writes every resume herself so you will never have to worry about who is writing your resume. She has various awards and certifications for resume writing.
Cons: Career Impressions makes it very clear that there are no interview or satisfaction guarantees. Additionally, the resume samples on the site do not appear to be ATS compliant.
Reviews: 5/5 based on 13 Google reviews
Turnaround: 14 business days
Cost: $1095 – $1895 CAD
Contact: (587) 332-6806 or adrienne@careerimpressions.ca
6. Careers By Design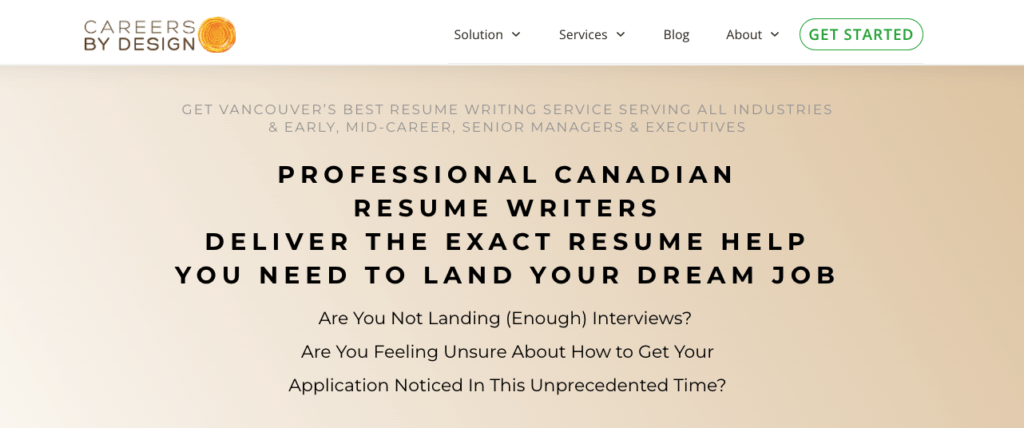 Careers By Design is a national career counseling and life coaching firm, founded in 2005 by Shirin Khamisa. Before signing up, you get to choose between their three resume writers. Your options include Adam Winfield, Nadia Qasmieh, and Nicole Davey. Since Adam also works with entry-level candidates, Nicole and Nadia seem like the best options for executive-level resumes.
Pros: Careers By Design regularly offers promotions/discounts on their services. Check the website to see if they have special pricing. Also, the payments can be split up into two payments making the upfront cost a bit more enticing. Finally, the turnaround time is faster than most companies on this list.
Cons: The website does not provide a ton of detail about the resume writer credentials or process. There were no resume samples to review on the website so it's impossible to know what the quality of resumes looks like. Lastly, they do not offer any sort of interview guarantee.
Reviews: 4/5 based on 5 Yelp reviews, 5/5 based on 1 Yellow Pages review, 4.9/5 based on 200 Google reviews
Turnaround: 3 business days
Cost: $788 CAD
Contact: (416) 519-8408 or resumes@careersbydesign.ca
7. Resume World
Resume World is a pioneer of the resume writing industry in Canada with more than a quarter-century of experience. They will give you a choice of resume formats to use and you will be sure to find the one that suits you best. They claim that 97% of their clients re-use their service again to advance their careers, which is a stunning statistic.
Pros: Resume World gives you the option to purchase a resume reformatting service at a fraction of the cost. If all you are looking for is a new resume design while keeping your content, Resume World will reformat your resume for $250.
Cons: The website itself lacks some visual appeal. It reads a bit cluttered and is hard to find the information you are looking for. The cost of the service and turnaround time is also a bit higher than some of the other executive services.
Reviews: 4.7/5 based on 127 Google reviews
Turnaround: 1 – 1.5 weeks
Cost: $1495 CAD
Contact: (416) 438-3606 or info@resumeworld.ca
Bonus: Top Canada Executive Resume Winners (2021)
Find My Profession, FutureWorks, CareerJoy, Expert Resume Writer, Career Impressions, Careers by Design, Resume World Inc.
Executive Resume Example
We've included an executive resume sample so you can get a better idea of what makes an executive resume great.
As you can see, executive resumes need to grab your attention with their appearance. They also need easy-to-read language that describes high-level skills.
Here is an example of a Marketing & Communications Advisor resume. It is from the #1 pick on our list, Find My Profession. Click on the resume below to view the full resume.
Visit Find My Profession