An Expert Resume was founded by Laura Smith-Proulx in 1998.
Laura is one of the most experienced executive resume writers in the industry. She is also a popular writer on career-related topics with a footprint across 60+ media outlets.
Seeing such a glowing reputation, it's likely for you to want her as your resume writer…or you might be wondering whether she would really be a good fit for you.
Well, you have come to the right place!
In this article, you will get an in-depth review of An Expert Resume's resume writing services.
We will share pros, cons, pricing, and writer background, in addition to our opinion on some resume writing alternatives to consider.
An Expert Resume – Resume Service Review
An Expert Resume has been in business for over 23 years. That's no joke, if you ask us.
This extensive experience, along with Laura's industry certifications and accolades, makes her a force to be reckoned with.
Laura's articles on resume writing have been featured in many reputed global media outlets, including Forbes, CNN, Wall Street Journal, and Huffington Post.
Based in Denver, Colorado, An Expert Resume boasts a 98% success rate for the resumes it creates.
So, what's in the service that makes it click? Let's look into the major pros and cons of working with An Expert Resume.
Pros:
Laura has 11 credentials, including Master Resume Writer and Certified Professional Resume Writer (CPRW) certifications.
Her executive resumes and LinkedIn profiles have won an impressive 35 total awards and nominations over 12 years in the Toast of the Resume Industry (TORI) award competition.
Also, as a former recruiter, Laura has the advantage of inside knowledge on what employers and hiring managers are looking for in a resume.
Her resumes have also been featured in books on resume writing. She herself has written six resume writing and cover letter books.
Cons:
As with any other service or company, An Expert Resume is not flawless.
One drawback that might affect you is the lack of resume packages for entry-level to mid-level job seekers. If you fall into this category or are seeking a management-level role, this writing service is not for you.
Additionally, the service is quite costly compared to most other resume services available. The lowest price that you can get a resume for is $1,697.
An Expert Resume's turnaround time for a resume is higher than most other companies. Their regular turnaround time is 10-14 business days while the industry average is approximately five days.
Another con of working with An Expert Resume is that the service offers no resume guarantees with the packages.
How Much Does An Expert Resume Cost?
Resume packages from An Expert Resume are among the costliest that you will find.
The cost is higher partly due to the company's exclusive focus on executive-level, C-level, and other senior and leadership positions.
Another reason is the extensive expertise and experience Laura has garnered over her two decades of a resume writing career, which has naturally increased the cost of her services.
The pricing of An Expert Resume has been categorized into two levels:
Executive resume
Board resume
Under the executive category, there are three packages with varied service offerings.
The resume-only package, Expert Resume Package, costs $1,697.
The Leadership Package costs $2,297 for a resume, LinkedIn profile, and cover letter.
The $3,697 VIP Premium package includes a resume, LinkedIn profile, cover letter suite, leadership bio, and an optional recruiter or investor distribution campaign.
All three packages also offer guide books on job search and interview preparation.
Another thing that should be noted is that the resume-only package provides a 90-minute phone consultation. The Leadership Package offers 90-120 minutes, while the VIP Premium allows 120+ minutes of one-on-one phone consultation time with Laura.
Under the Board Resume category, there are also three packages you can choose from.
Board Resume Only at $1,897.
C-Suite SILVER Package, consisting of an executive or board resume, LinkedIn profile, and executive biography at $2,897.
C-Suite GOLD Package, which offers an executive/board resume, LinkedIn profile, executive biography, and critical leadership initiatives document, and comes to $3,277.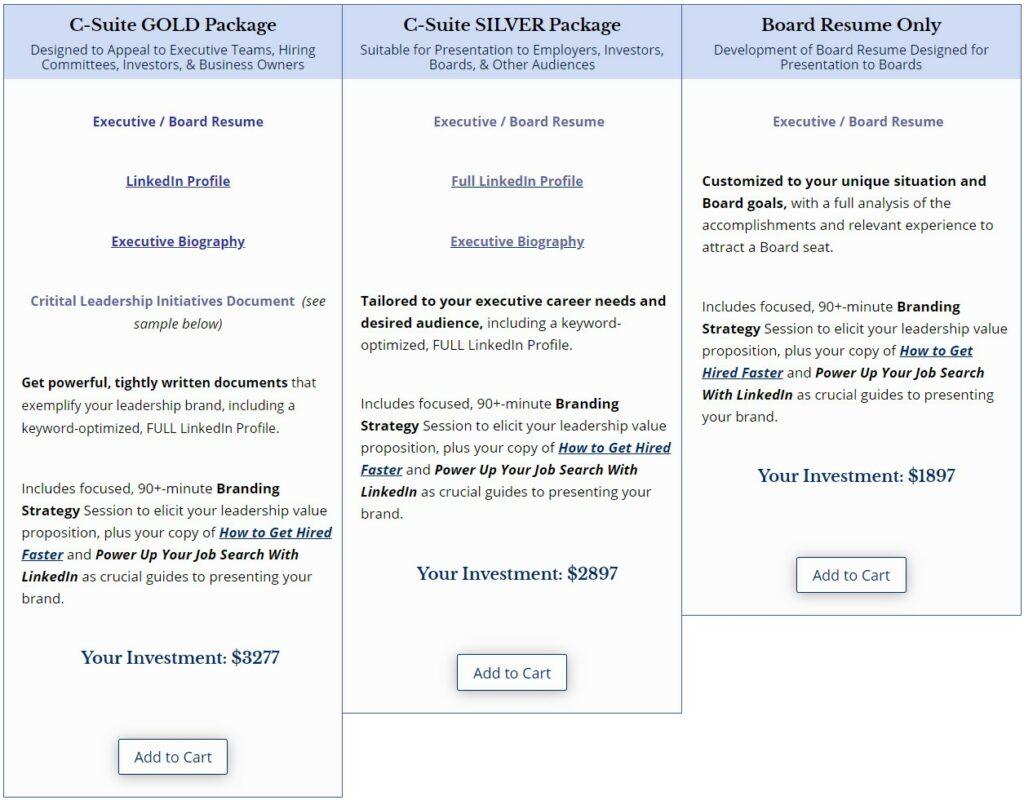 These packages also provide you with a few guides and books on job search and interview preparation.
All the packages offer 90+ minutes of branding sessions.
An Expert Resume Resume Writing Process
The resume writing process of An Expert Resume is very thorough and extensive.
Here's how a typical resume writing process of An Expert Resume looks:
Select the package that you want with other additional services and confirm the purchase.
Schedule an appointment on Laura's calendar for the strategy session.
Fill in a short questionnaire to inform Laura of your career goals and objectives.
Attend the strategy session of 90-120+ minutes, depending on the package purchased.
Get your resume draft within 10-14 business days (or 3 business days if you picked the rush option while purchasing your package).
You will also get a 60-minute follow-up session to review your documents.
The strategy session or phone consultation time offered by An Expert Resume is among the longest in the industry.
Also, very few other companies offer a follow-up session in their packages.
An Expert Resume Writing Team
An Expert Resume writing team consists solely of Laura Smith-Proulx.
Every client works directly with Laura through the whole process, providing personalized service to each of her clients.
She also promises to spend around 12-15 hours in strategy and writing for every resume she creates.
An Expert Resume Customer Reviews
An Expert Resume is one of those companies that has been around for ages but is a bit old school about online reviews.
These kinds of companies don't seem to care much about seeking customer reviews on third-party review platforms like Google, Trustpilot, Sitejabber, and Yelp.
This company does not have any presence on these review platforms.
The only customer reviews available are the ones that Laura has chosen to display on the website, as well as the LinkedIn recommendations she has received on her LinkedIn profile.
An Expert Resume – Resume Sample
No resume service review can be complete without looking at the resume samples provided by the company.
So, we went ahead and glanced at all the resume samples available on An Expert Resume's website.
The resumes examples show accomplishment-driven and data-backed resumes.
The distribution of keywords is also fine; however, the format and some design elements are a bit outdated.
It's possible that the website samples are from a few years back and haven't been recently updated.
Here's a sample from An Expert Resume for your consideration: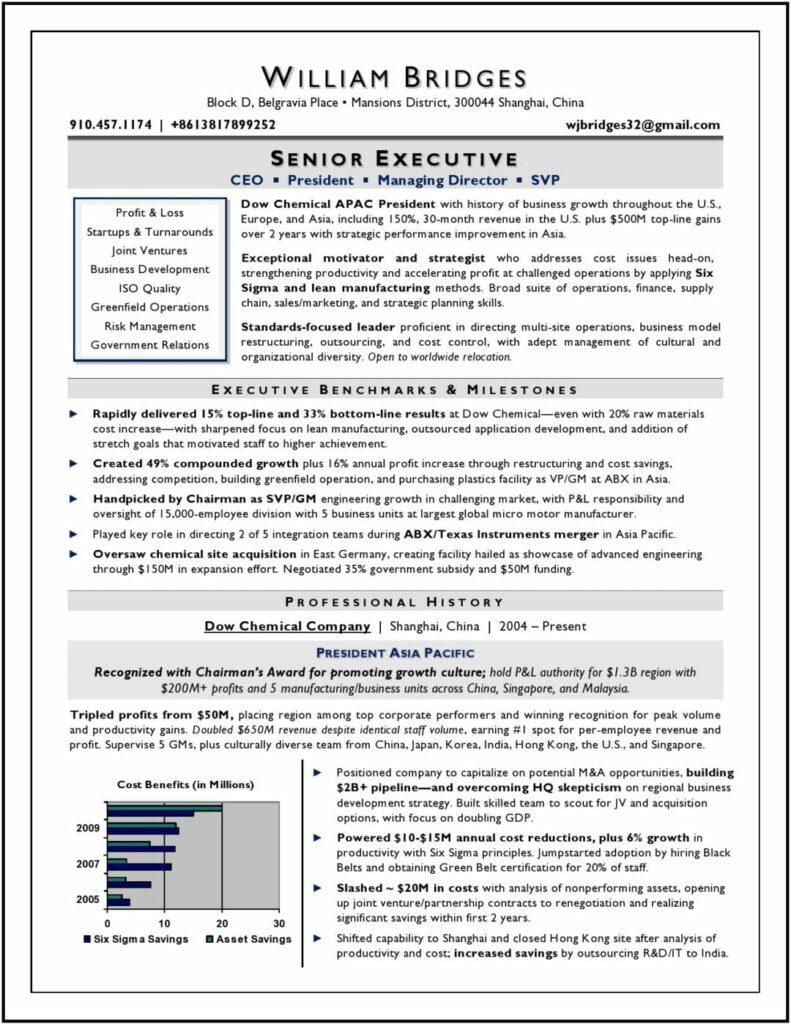 If you'd like to see all of the resume samples from this company, click on the image of the resume sample below to be taken to their resume samples page.
Key Takeaways
Our rating for An Expert Resume is 6.7/10.
An Expert Resume is certainly among the top resume writing services for executive leadership roles, C-suite, board, and rising leaders.
Having a 21-time award-winning Executive Resume Writer with 11 industry credentials and certifications is surely something.
The service structure is also very thorough and comprehensive.
However, apart from the caveat of the resume samples appearing outdated, there are a few additional downsides, such as the high price, long turnaround time, and the lack of resume guarantees.
Your resume is one of the most important documents in your professional life.
You should always review and talk to multiple companies before you make your final decision.
As you continue your research, the services listed above are a great place to start!
Good luck to you!
What Is a Better Alternative to An Expert Resume?
When it comes to your resume, you can't be too careful.
Consider adding the resume writing services of Find My Profession to your review list.
We have a multi-certified and experienced team of resume writers. All our writers are based in the US and cover 85+ industries.
We also offer a 60-day interview guarantee.
The turnaround time is only 3-5 business days, and the cost of a resume affordably ranges from $395 to $995.
Find My Profession has more than 650+ five-star reviews on sites like Trustpilot, BBB, Sitejabber, and Google.
No matter which resume writing service you choose to go with, it's important that you feel confident in your decision.
So, be sure to call your prospective writers to discuss whether you will be a good match or not.
Good luck!