Your resume is an important part of the job search. It could very well be the thing that sets you apart from your competition.
This also means that a subpar resume can set your job search back months.
Today we will be reviewing Kelly Donovan & Associates and their resume writing services.
We have taken a deep dive into the customer reviews, cost, resume samples, and writer credentials at Kelly Donovan & Associates. Our overall rating for KDA is 60/100.
Kelly Donovan & Associates
Score
Our goal is to help you find the best resume service that will advance your career. Take a look at some other top-rated resume writing services and find the perfect fit for you!
Best
Kelly Donovan & Associates

Alternatives




About Kelly Donovan & Associates
Kelly Donovan founded Kelly Donovan & Associates in 2007.
Kelly is an executive resume writer, LinkedIn profile specialist, and job search coach.
As a career expert, she has been featured and quoted on reputable media outlets including CBS, Forbes, and Entrepreneur.
Kelly has been helping people with their resumes even before she created the company. She was good at it, and most of all, she enjoyed doing it.
A year after starting her company, she quit her day job and started working full-time as her own boss at Kelly Donovan & Associates.
Let's dive right into some of the pros and cons when it comes to working with Kelly Donovan & Associates.
Kelly Donovan & Associates Pros vs Cons
As with any company, there are pros and cons. It's up to you to determine what is a "must-have" and what things you can live without.
Pros
Multiple resume writing certifications including CPRW and NCOPE.

Received one TORI nomination for resume writing.

Resumes have been featured as samples in

Resumes for Dummies

.

Clients have landed jobs at Amazon, Disney, Microsoft, and more.
Cons
Very pricey resume service starting at $1,400.

Very few online reviews from previous clients.

10 – 15 business day turnaround time is on the long side.

No interview or satisfaction guarantee on their resumes.
If you are looking for a resume writing service, Kelly Donovan & Associates is a great option, but it is worth exploring other alternatives to find the best fit for your needs.
One such alternative is Find My Profession who has a team of certified resume writers that have landed clients roles at Amazon, Apple, and Tesla.

However, Find My Profession differs from Kelly Donovan & Associates in that they have an average rating of 4.9/5 from over 900 previous clients, resumes start at $395, and they have a quick turnaround time and an interview guarantee.
Kelly Donovan & Associates Customer Reviews

Our Certified Professional Resume Writers have rated Kelly Donovan & Associates a 60/100. Additionally, Kelly Donovan & Associates has received customer reviews of 4.2/5 on Google, 5/5 from Yelp, and 5/5 on Yellow Pages. While this in itself may seem impressive, it falls short when you consider that there's less than 20 total reviews.
Google shows 5 reviews with an average rating of 4.2/5. Nearly all the reviews are from customers who landed interviews and new jobs with the resume Kelly wrote for them.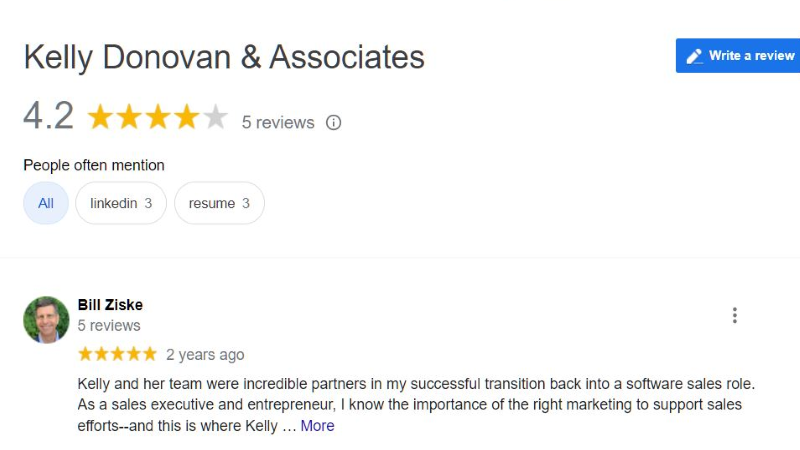 Yelp shows 2 reviews with an average rating of 5/5. The two reviews mention how Kelly went the extra mile to craft them a resume and LinkedIn profile that eventually landed them new, higher-paying jobs.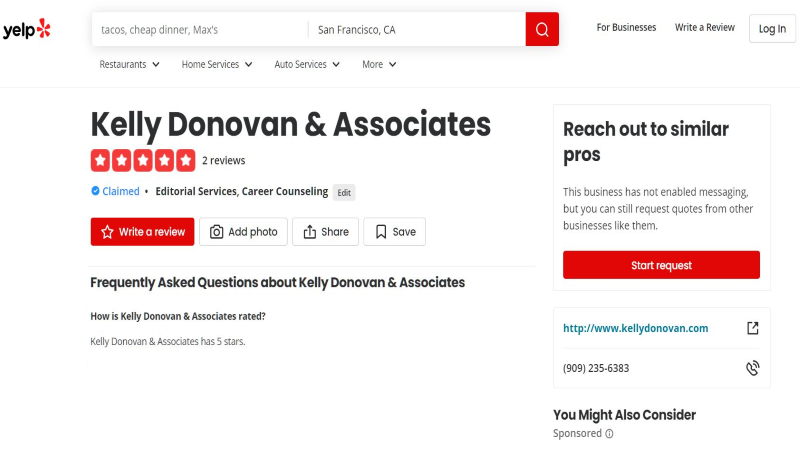 Yellow Pages shows 2 reviews with an average rating of 5/5. Previous clients mentioned how their revamped resume and LinkedIn profile from Kelly helped them land new jobs after a long break.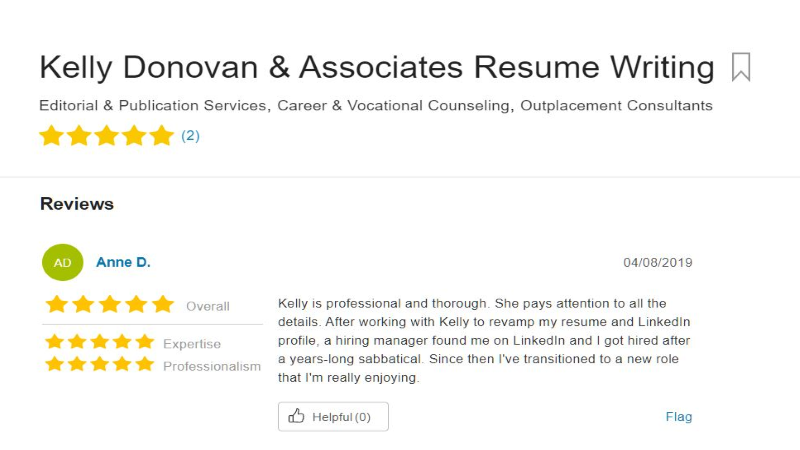 Most of the reviews that we discovered were 2+ years old. We'd have liked to see more recent reviews being collected from this company. We also would like to see more reviews across other trusted platforms such as Sitejabber, Trustpilot, or BBB.
As with anything, it's important to take each review with a grain of salt. Additional research should be done beyond reading the reviews that are found online.
How Much Does Kelly Donovan & Associates Cost?

Kelly Donovan's resume packages cost $1,400 – $2,900+. This is well-above average, even for executives. In our opinion, $1,400 is too much to spend on a resume alone.
Kelly Donovan & Associates
Cost
$1,900
Kelly Donovan & Associates does not offer packages directly on their website. Each resume is custom quoted and the price will be determined after speaking with the company and sharing information about yourself.
However, according to Kelly Donovon & Associates website, the usual cost for resume writing services is:
$1,400 to $1,900+ for individual contributors/managers.
$1,500 to $2,900+ for executives, including C-suite.
In other words, the more you make, the more you will likely be charged.
If you're interested in adding coaching services, these will cost between $200 – $1,000. Additional services that can be purchased include LinkedIn profile makeovers, cover letters, executive bios, value proposition letters, and more.
For the most accurate and up-to-date details on package pricing at Kelly Donovan & Associates, we recommend that you visit their website directly.
Kelly Donovan & Associates Resume Sample
We wanted to see what the resume quality of Kelly Donovan & Associates looked like so we took a look at some of the resume samples featured on their website.
Unfortunately, the Kelly Donovan & Associates website doesn't provide any resume samples for its audience to review.
This is a big red flag for us, as the quality of resumes written is the number one factor we consider when reviewing a resume writing company.
Kelly Donovan & Associates Writer Credentials
The resume writing team at Kelly Donovan & Associates consists of Kelly Donovan only. All clients work directly with Kelly from start to finish.
Kelly is a multi-certified resume writer.
Her certifications include Certified Professional Resume Writer (CPRW) and Nationally Certified Online Profile Expert (NCOPE).
Kelly's resumes have been published as samples in career books, including Resumes for Dummies, 101 Great Ways to Compete in Today's Job Market, and more.
She has also won a nomination in the Toast of the Resume Industry (TORI) competition for her resume writing.
Early in her career, Kelly worked as a newspaper reporter, a vocation that helped her develop strong interviewing and writing abilities.
After her career in journalism, she worked as a manager at a marketing and PR firm. As a manager, she gained hiring experience and has also learned to see both sides of the hiring process.
Kelly Donovan & Associates Resume Writing Process
Kelly Donovan follows a straightforward and simple operating procedure for getting your resume written.
Let's look at the steps taken in Kelly Donovan's resume writing process below:
Schedule a time on Kelly's calendar for the initial free consultation.
Receive a custom quote and project timeline during or after the consultation.
Have a 90-minute interview session to deep dive into your qualifications, accomplishments, and other professional details.
Kelly's associate Katherine Moody, an experienced recruiter, identifies your branding strategy.
Kelly starts her work on crafting your resume and sends you the draft within 10-15 business days.
You will get up to five rounds of revision if you want any changes.
Finally, Katherine Moody will have a glance at your resume to ensure it passes what they call a Recruiter Litmus Test.
The process will include extra steps if you choose other services such as LinkedIn profile makeover and/or job search coaching.
Is Kelly Donovan & Associates Worth It?
Whether or not Kelly Donovan & Associates is worth it is entirely up to you.
Our goal is to provide you with the most transparent and helpful information possible. But, only you know what is best for you and your career.
Here is a summary of our findings on Kelly Donovan & Associates written and reviewed by a Certified Professional Resume Writer:
Customer Reviews: 15/25
Cost to Value: 20/25
Sample Quality: 0/25
Writer Credentials: 25/25
Total Score: 60/100
As a reminder, we highly recommend reviewing 2-3 services before making a final decision.
If you're in need of a top-notch resume writing service, we suggest checking out Find My Profession. With a team of experienced reverse recruiters and a commitment to customer satisfaction, Find My Profession can help you find your dream job. And with a perfect score of 100/100, you can trust that you'll be in good hands!