Your resume is an important part of the job search. It could very well be the thing that sets you apart from your competition.
This also means that a subpar resume can set your job search back months.
Today we will be reviewing ResumeZest and their resume writing services.
We have taken a deep dive into the customer reviews, cost, resume samples, and writer credentials at ResumeZest. Our overall rating for ResumeZest is 95/100.
About ResumeZest
ResumeZest was founded in January 2020 by a former recruiter and job search expert. The company is one of the most noteworthy newcomers in the resume writing industry.
They offer a host of career services to help job seekers in their career journey. While their primary service is resume writing, they also write LinkedIn profiles, cover letters, professional bios, thank you letters, and more.
ResumeZest's resume writers are Certified Professional Resume Writers and members of the Professional Association of Resume Writers and Career Coaches (PARW/CC). They have also written resumes for job seekers in more than 75 industries.
Let's dive right into some of the pros and cons when it comes to working with ResumeZest.
ResumeZest Pros vs. Cons
As with any company, there are pros and cons. It's up to you to determine what is a "must-have" and what things you can live without.
Pros
70+ years of combined resume writing experience.

96% customer satisfaction based on 5-star reviews.

Each resume package includes a satisfaction guarantee.

Clients have landed jobs at Google, Oracle, Apple, and more.
Cons
Starting at $279 there are cheaper services on the market.

Only 3 resume samples are visible on the website.

This is a newer company having only been around a couple years.

Unlimited revisions last for only 7 days after receiving first drafts.
ResumeZest Customer Reviews

Our Certified Professional Resume Writers have rated ResumeZest a 95/100. Additionally, ResumeZest has received customer reviews of 4.8/5 on Trustpilot, 4.9/5 on Google, 4.6/5 on SiteJabber, 5/5 on Facebook, 5/5 on Yelp, and an A+ rating on BBB. These are astounding customer reviews as one would expect from a quality resume service.
Trustpilot shows 95 reviews with an average rating of 4.8/5. More than 99% of the customers were happy with the service. They particularly liked the team's responsiveness, delivery speed, and the resume quality.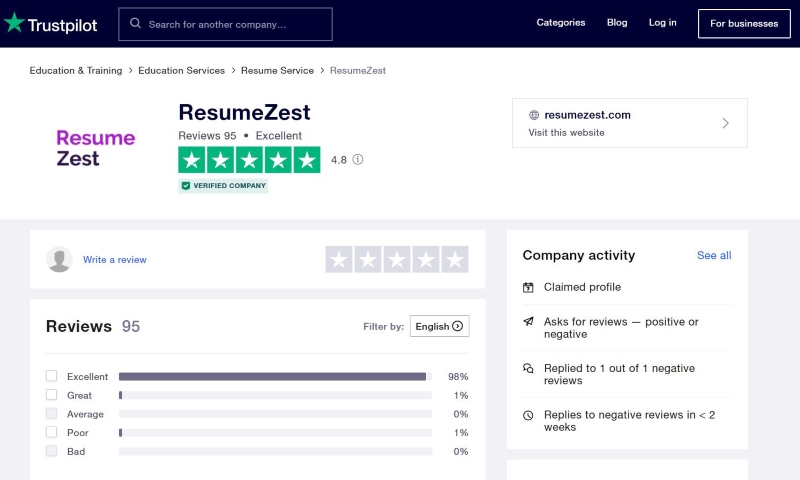 Google shows 77 reviews with an average rating of 4.9/5. This is a superb rating, and it's even more impressive that 75 of the total 77 reviews are 5-star reviews.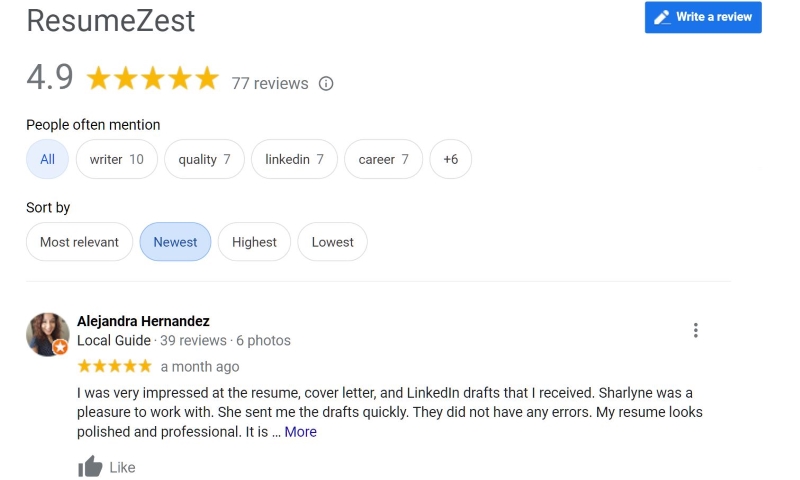 Sitejabber shows 69 reviews with an average rating of 4.6/5. Most of the customers hailed the team's customer service, speed, and communication. What's more impressive is that the team consistently replied to most of the reviews.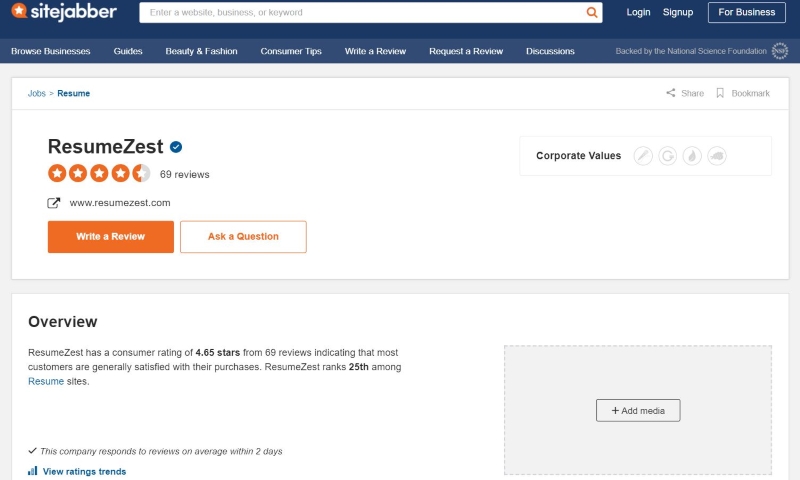 Facebook shows 9 reviews with an average rating of 5/5. All of the reviews were from customers who think that ResumeZest's team was caring and delivered great work in a timely manner.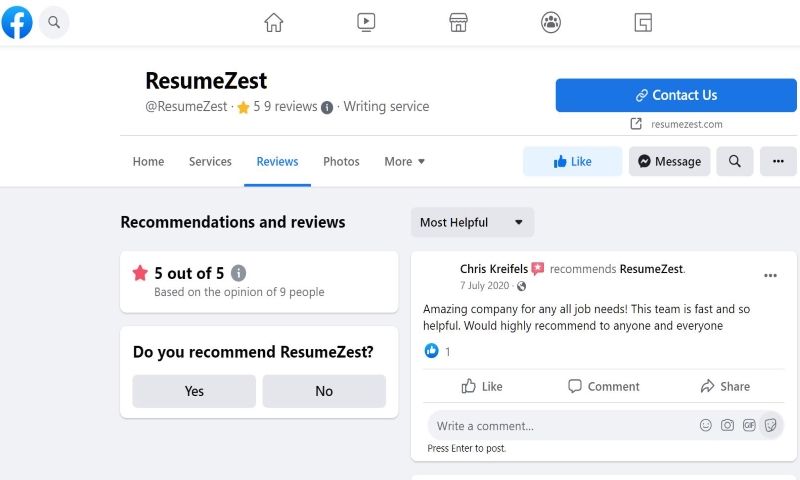 Yelp shows 3 reviews with an average rating of 5/5. Overall the customers loved the personable communication with ResumeZest's team, as well as the price and quality of the final resume delivery.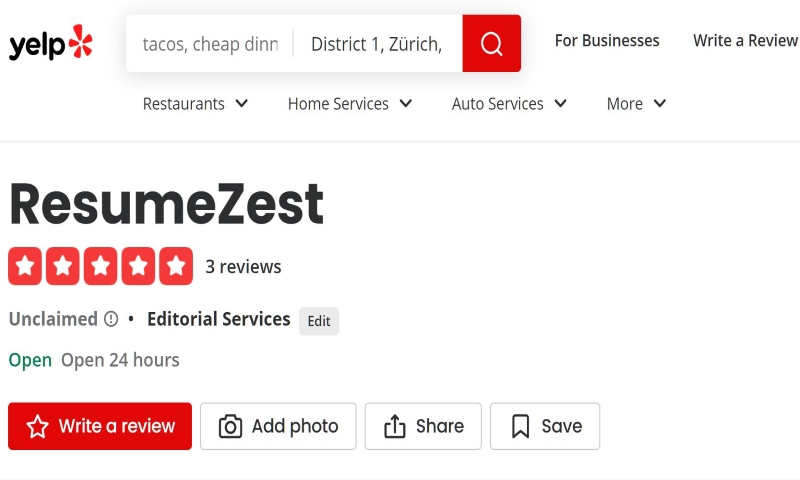 Better Business Bureau shows an A+ rating. Asides the A+ rating, they have no reviews here. They also have no complaints, which is a green flag.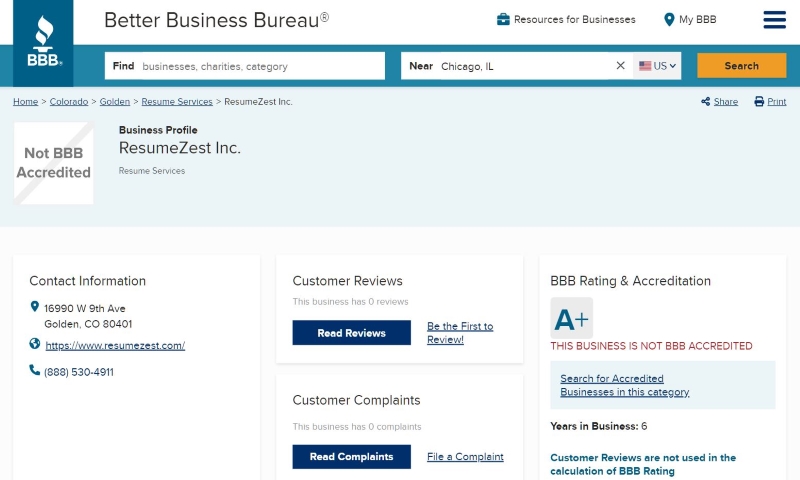 As with anything, it's important to take each review with a grain of salt. Additional research should be done beyond reading the reviews that are found online.
How Much Does ResumeZest Cost?

ResumeZest resume packages cost $279 – $479. This falls within the average price range in the resume writing industry. There are services that cost less, but not many of them have as many satisfactory customer reviews as ResumeZest.
$379
There are three packages to choose from – Entry-Level Resume ($279), Professional Resume($379), and Executive Resume ($479).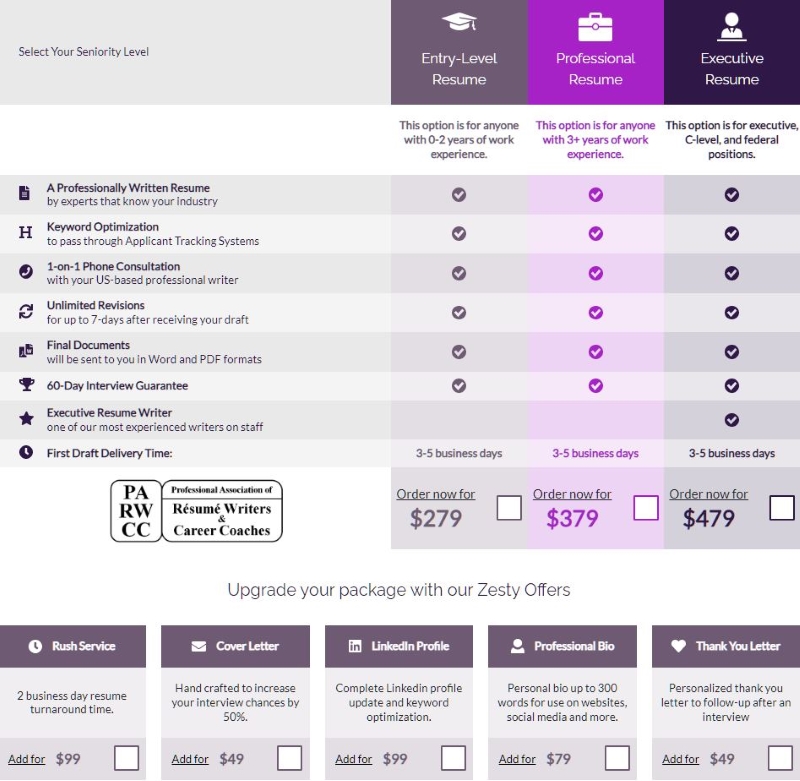 The Entry-Level Resume package is for individuals with 0 – 2 years of work experience ($279).
The Professional Resume package is meant for professionals with 3+ years of work experience ($379).
The Executive Resume package is designed for people applying to executive, C-level, and federal positions ($479).
Each resume package comes with an ATS-optimized resume, 1-on-1 phone consultation with a resume writer, 3 – 5 business day turnaround, 7 days of unlimited revisions, and a 60-day interview guarantee.
You also have the option to purchase additional services with your resume package. The add-ons include 2 business day Rush Service ($99), Cover Letter ($49), LinkedIn Profile ($99), Professional Bio ($79), and Thank You Letter ($49).
For the most accurate and up-to-date details on package pricing at ResumeZest, we recommend that you visit their website directly.
ResumeZest Resume Sample
We wanted to see what the resume quality of ResumeZest looked like so we took a look at some of the resume samples featured on their website.
We've attached a ResumeZest resume sample for you to review (first page only). Below, we share some of the things that we liked, and what we disliked about this resume.
The Good
Target job title is clearly stated at the top of the resume.

ATS compatible format is used, but also has some visual aesthetics.

Contains a strong summary with an impact statement at the top.

Includes measurable accomplishments and specific details for each role.
The Bad
Uses blue font within blue shading making is somewhat difficult to read.

Combines both keywords and an impact statement at the top.

Second position has a lot of bullet points and content.

Includes relevant keywords, but could use more to make it more effective.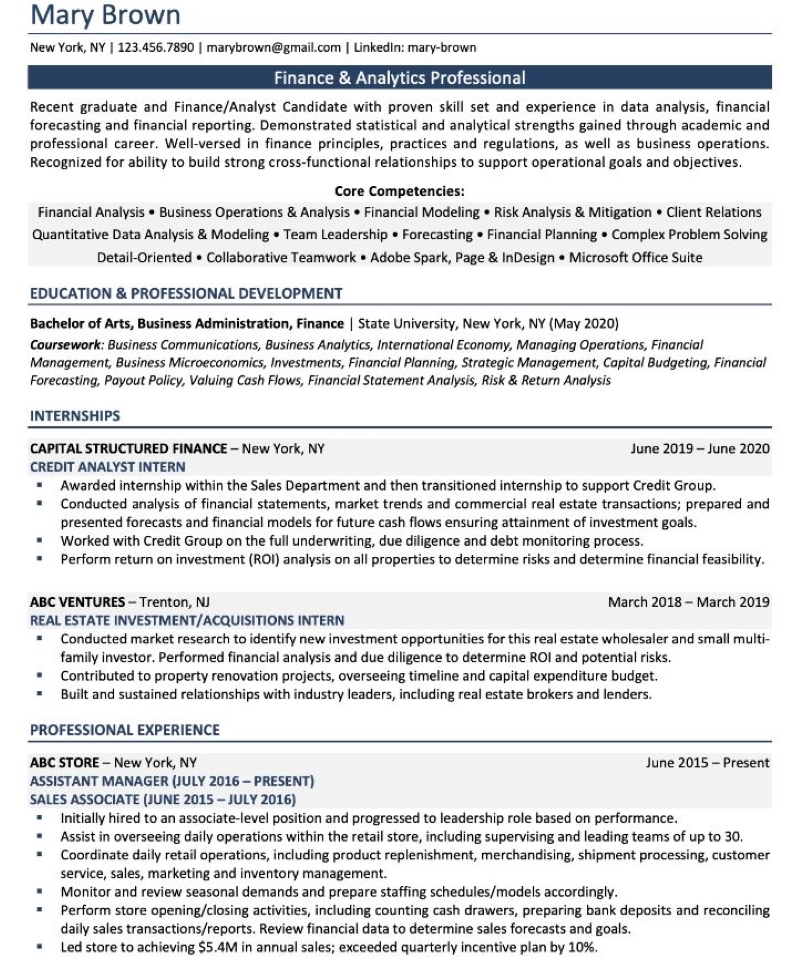 ResumeZest Writer Credentials
ResumeZest is a member of the Professional Association of Resume Writers and Career Coaches (PARW/CC).
This means that they're more than capable of fulfilling their promise to bring you the 'zestiest' resume writers around.
The resume writing team consists of 4 expert resume writers, each possessing extensive knowledge in the resume writing block. The writers are also Certified Professional Resume Writers (CPRWs).
They're a small team, but that also means they're more focused on the quality of work they deliver, rather than the quantity.
A testament to this is the fact that they possess a combined experience of over 70 years. Additionally, in their long line of work, they've written resumes for professionals in 75+ industries/professions.
The members of ResumeZest's team have backgrounds in HR, staffing, recruiting, headhunting, and the like. This background allows them to know what hiring managers are looking for.
The team members also have degrees in English, business marketing, and writing. This means they can write flawlessly, and they can use writing to help market you.
Finally, all the writers at ResumeZest are U.S. based, so you'll be working with a writer who's familiar with your industry as well as your target location.
ResumeZest Resume Writing Process
ResumeZest follows a straightforward and simple operating procedure for getting your resume written.
Let's look at the steps taken in ResumeZest's resume writing process below:
Browse their "Resume Services" page and choose one of three outstanding resume packages.
If you need an additional service, you can take your pick from the five add-on services, and proceed to checkout.
After payment, your resume writer will reach out to you to schedule a 1-on-1 phone consultation.
During the call, standard procedure would require you to answer a few questions to help your writer understand your career history and goals.
You'll receive the first draft of your resume within 3 – 5 business days of your call with your writer.
After receiving your first draft, you can provide comments and feedback about the draft for the resume writer to revise.
Revisions only last 7 days, so you'll need to send your comments and feedback in a timely manner.
Once all revisions have been made, you can start applying for jobs.
ResumeZest offers you a 60-day interview guarantee on all their resume packages. This means that in the event that you're not happy with your resume, ResumeZest will rewrite it for free.
Is ResumeZest Worth It?
Whether or not ResumeZest is worth it is entirely up to you.
Our goal is to provide you with the most transparent and helpful information possible. But, only you know what is best for you and your career.
Here is a summary of our findings on ResumeZest written and reviewed by a Certified Professional Resume Writer:
Customer Reviews: 25/25
Cost to Value: 25/25
Sample Quality: 25/25
Writer Credentials: 20/25
Total Score: 95/100
As a reminder, we highly recommend reviewing 2-3 services before making a final decision.
It's helpful to understand the different service offerings, prices, and writer credentials before choosing a resume writing service.