Your resume is an important part of the job search. It could very well be the thing that sets you apart from your competition.
This also means that a subpar resume can set your job search back months.
Today we will be reviewing Fiverr and their resume writing services.
We have taken a deep dive into the customer reviews, cost, resume samples, and writer credentials at Fiverr. Our overall rating for Fiverr is 40/100.
Fiverr Resume Writing Services
Score
Our goal is to help you find the best resume service that will advance your career. Take a look at some other top-rated resume writing services and find the perfect fit for you!
Best
Fiverr

Alternatives




About Fiverr
Founded by Micha Kaufman and Shai Wininger in 2010, Fiverr is an online marketplace for freelance services. They connect freelancers from all over the globe with clients looking for an array of services.
These services include web design, content writing, graphics design, and even some weirder services like "bring back your ex", "rent a friend", or "cast a bullet-proof spell".
Weird services aside, today we will be talking about the resume writing services provided on Fiverr.
It's important to note that when you hire someone on Fiverr, you aren't hiring a Fiverr employee. Fiverr the company is not writing your resume. They are simply a tech platform for freelancers to provide their services.
Let's dive right into some of the pros and cons when it comes to working with Fiverr resume writing services.
Fiverr Resume Writing Services Pros vs. Cons
As with any company, there are pros and cons. It's up to you to determine what is a "must-have" and what things you can live without.
Pros
Budget friendly, starting as low as $5 (hence the name Fiverr).

700+ freelance resume writers to choose from.

Transparent reviews make selecting a resume writer easier.

Fiverr is a very well-known platform.
Cons
With so many freelancers, it can be difficult to know who to choose.

Very few high quality and certified writers use Fiverr.

If you are unhappy with your resume, you have very little recourse.

No satisfaction or interview guarantees offered by Fiverr.
If you are looking for a resume writing service, Fiverr is an option, but it is worth exploring other alternatives to find the best fit for your needs.
One such alternative is Find My Profession who is also a global company with an average rating of 4.9/5 stars from 900+ previous clients and offers a personalized service for all professionals, from entry to C-level.
However, Find My Profession differs from Fiverr in that they will match you with the best writer for your needs, offer an interview guarantee, and have a team of high-quality, certified resume writers.
Fiverr Customer Reviews

Our Certified Professional Resume Writers have rated Fiverr a 40/100. Additionally, Fiverr has received customer reviews of 3.9/5 on TrustPilot, 1.6/5 on Sitejabber, 4.3/5 on G2, 3.8/5 on Google, and 1.02/5 on BBB with an A+ rating.
Trustpilot shows 7,279 reviews with an average rating of 3.9/5. A lot of their 5-star reviews seem like fake reviews. Also, many clients complained of not receiving the service they paid for.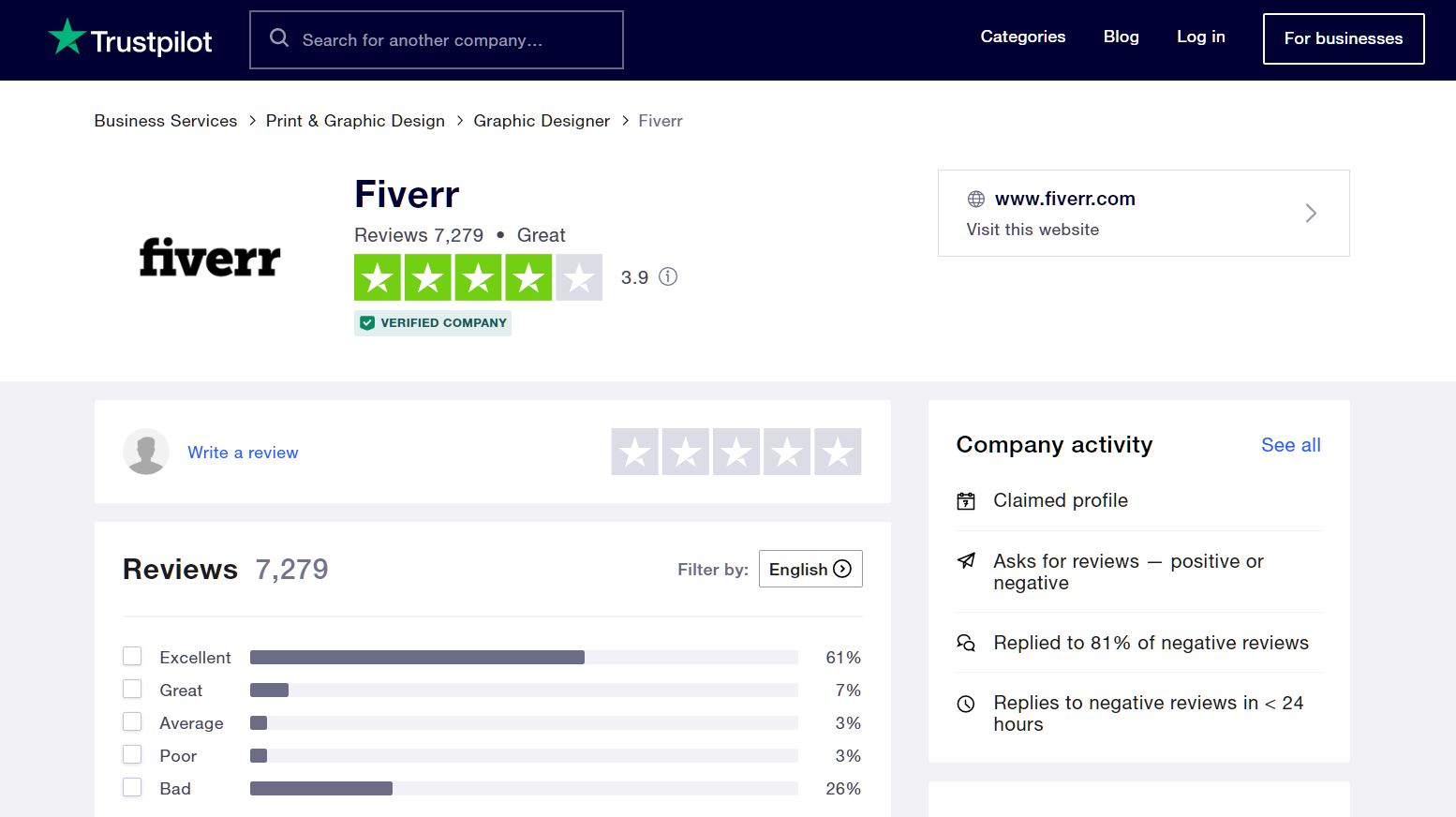 Sitejabber shows 1,204 reviews with an average rating of 1.6/5. More than 900 of the reviews are 1-star, with most of them coming from buyers who said that the service delivered to them was either a rip-off or low-quality work.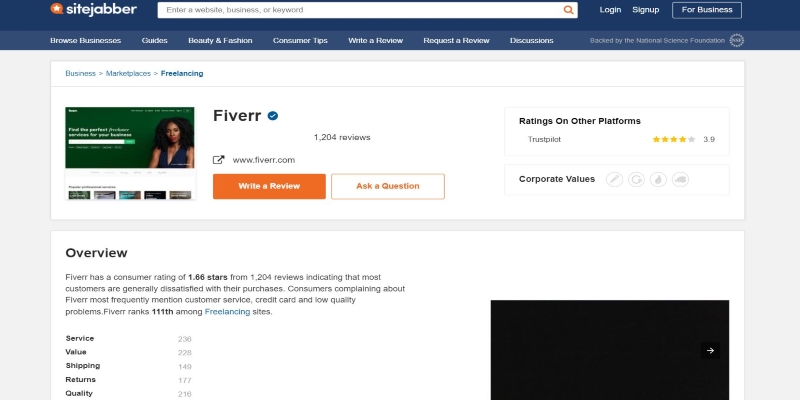 G2 shows 176 reviews with an average rating of 4.3/5. While a large portion of the reviews were from Fiverr sellers, the reviews from most buyers mention how easy it is to navigate, find a professional, and make payments for their project.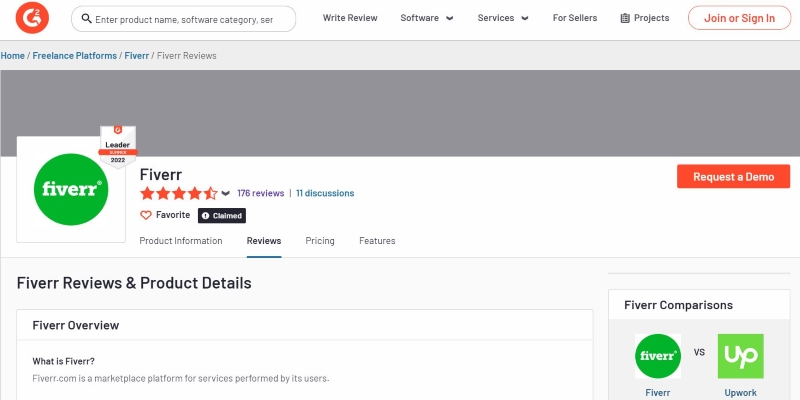 Google shows 154 reviews with an average rating of 3.8/5. A lot of these reviews explain that Fiverr's customer service to both sellers and buyers is basically non-existent.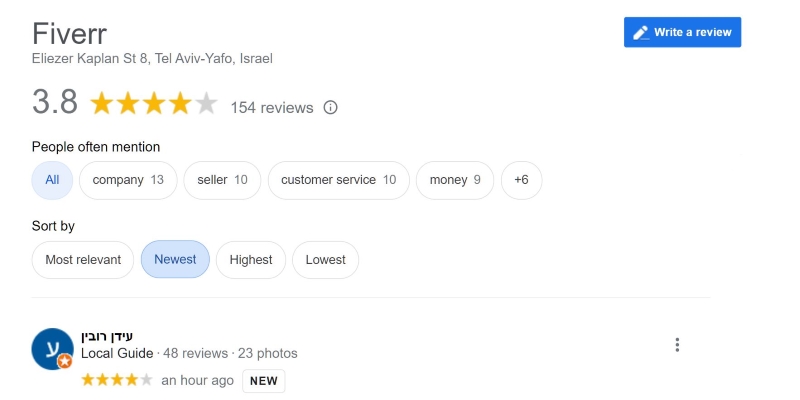 BBB shows 53 reviews with an average rating of 1.02/5. It would've been better for them not to have any reviews at all. Also, they've closed over 97 complaints in the last 12 months and over 240 within the last 3 years.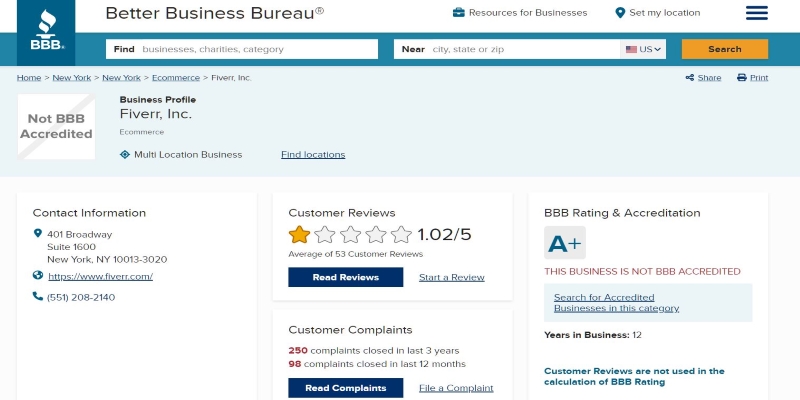 You can also check out these Quora and Reddit threads where real customers narrate their experience of using Fiverr.
It's important to note that the reviews of Fiverr do not reflect the reviews of the individual freelancers on the website. Each resume writer will have completely unique reviews.
However, the negative reviews Fiverr receives are usually due to the fact that customers are unhappy with the low-quality freelancers hired on their site.
As with anything, it's important to take each review with a grain of salt. Additional research should be done beyond reading the reviews that are found online.
How Much Does Fiverr Resume Writing Cost?

Fiverr's resume writing packages cost $5 – $1,295. We know, it's a huge range! With 700+ freelancers who all get to name their own price, this can be expected.
$550
Fiverr's freelance resume writers typically offer three resume writing packages to choose from:
Basic – resume only
Standard – resume + cover letter
Premium – resume + cover letter + LinkedIn
Every freelancer gets to choose their own pricing starting at $5. The average price of a resume writing service alone on Fiverr is $50. The highest cost service we found was $1,295 for a resume, cover letter, and LinkedIn profile.
On Fiverr, you can find a resume writing service to fit any budget. You can also find a resume writer who can work with you on just about any deadline. Turnaround times range from 12 hours up to multiple weeks.
Make sure to read the fine print before signing up for a service that appears affordable, but becomes the most expensive after multiple revisions.
For the most accurate and up-to-date details on package pricing at Fiverr, we recommend that you visit their website directly.
Can You Get Scammed On Fiverr?
Yes, you can, in fact, get scammed on Fiverr.
Fiverr houses thousands of freelancers with almost no restrictions for creating an account. Inevitably, this means scammers are going to take advantage of such a platform.
While Fiverr is continuously working to reduce scams, the pure volume of users makes getting rid of 100% of the scams nearly impossible.
Our top recommendation is to hire freelancers with dozens of 5-star reviews. Scammers usually won't spend the time or energy to properly serve hundreds of clients just so they can scam you one day.
Most fake accounts on Fiverr have no reviews at all.
Simply do your research. Exchange a few messages with your freelancer before hiring them. Make sure they sound legit. Ask for work samples. And most importantly, read their customer reviews!
More on this in the "writer credentials" section down below.
Fiverr Resume Sample
We wanted to see what the resume quality of Fiverr's resume writers looked like so we took a look at some of the resume samples featured on the website.
We found out that most of their resume writers have their resume samples proudly displayed on their profiles.
We've attached a resume sample from one of the freelancers on Fiverr (first page only). Just remember, each freelancer is going to have their own resume style and design.
Below, we share some of the things that we liked, and what we disliked about this resume.
The Good
 Resume starts with a summary outlining the candidates experience.

 It contains the appropriate keywords for the target position. 

 Contains some color and visual appeal to engage the reader. 

 Uses the reverse chronological order format, which is best for ATS.
The Bad
The target position is not clear and gets lost in the formatting.

Content is weak and does not contain specific information. 

Lacks measurable accomplishments to make the candidate stand out.

Format lacks creativity and is outdated.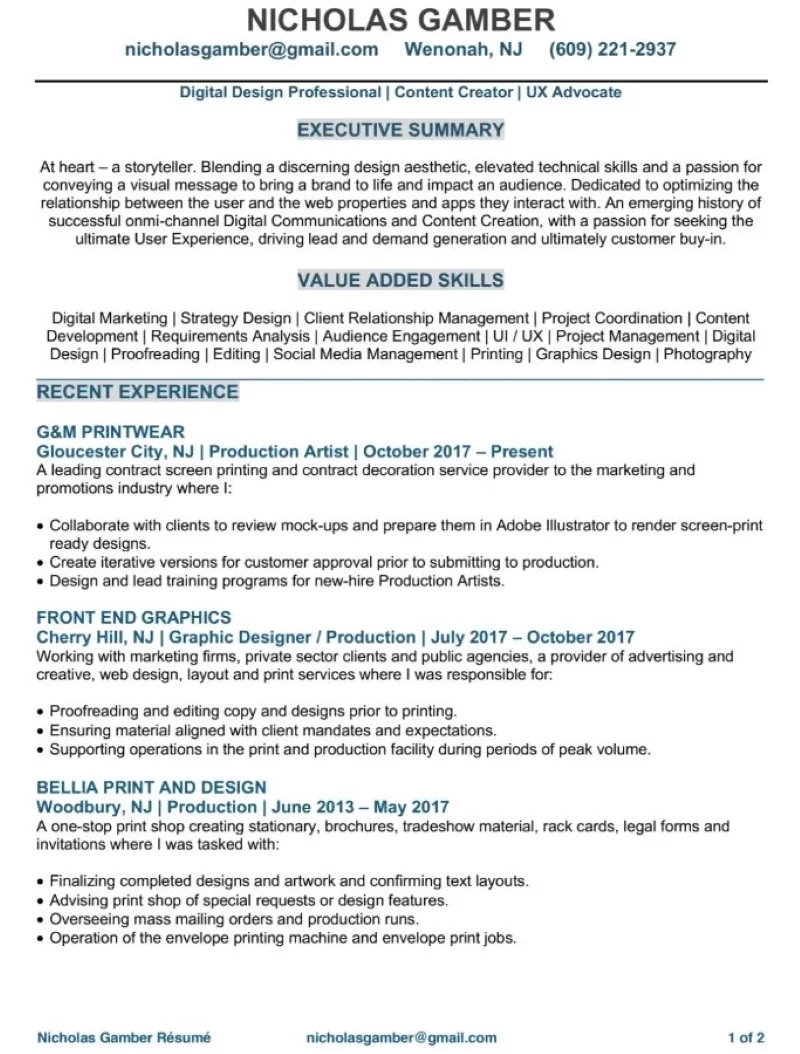 Fiverr Resume Writer Credentials
Every single freelance resume writer on Fiverr will have unique credentials. And as we mentioned above, there are hundreds to choose from.
It is important to conduct the necessary research before investing in a freelance resume writer. Here are a few things to look out for:
Professional and industry-related certifications. Always look out for Fiverr resume writers with certifications like Certified Professional Resume Writer (CPRW), Certified Advanced Resume Writer (CARW), and other resume writing certifications.
Quality and relevant reviews. It is often a safe bet to hire freelance resume writers with over 15 reviews and ratings of 4.5 and above. However, do not rely on this alone, as some freelancers have been known to pay for fake reviews. Also, make sure the reviews received are relevant to the service you are interested in.
Bold and professional-looking profiles. Never hire a freelance resume writer with a generic-looking profile. Odds are you would get a generic resume too. Always look for profiles that are error-free, professional, and descriptive.
Resume samples. Most of the freelance resume writers we found on Fiverr had at least one resume sample on their profiles. It is very easy to gauge the quality of the resume service you would get just by viewing a resume sample. There's also nothing wrong with asking the writer you are considering to share a couple more samples relevant to your industry/profession.
Fiverr Resume Writing Process
For the most part, Fiverr freelancers follow a straightforward and simple operating procedure for getting your resume written.
Let's look at the steps taken in Fiverr's resume writing process below:
Create a buyer's account and log in to the Fiverr app or website. You can also browse the website without creating a user account.
Go through their list of services and select "Resume Writing" from the list. Or just type "Resume Writing" on the search bar located on top.
Browse through a compilation of resume writing services and select one that fits your needs and budget. You can filter these services based on your budget, freelancer ratings, delivery time, and more.
Contact your writer and communicate to discuss specifics.
Pay for the service through a secure checkout option. Pay through PayPal, Visa, MasterCard, or Fiverr Credits. If you did not create a user account at the beginning, you will have to create one now.
Your chosen freelancer will contact you once the payment is successful.
Within the agreed-upon delivery time, your resume writer will send you a first draft to review.
Once you've received your draft, spend time reviewing the resume and providing any necessary feedback to your writer.
If you'd rather post your job and have freelancers apply to you, you can easily send a 'buyer request'.
A buyer request allows you to post all the details of your resume writing project and have interested freelancers reach out to you, pitching why you should hire them.
Are Fiverr Resume Writing Services Worth It?
Whether or not Fiverr Resume Writing is worth it is entirely up to you.
Our goal is to provide you with the most transparent and helpful information possible. But, only you know what is best for you and your career.
Here is a summary of our findings on Fiverr Resume Writing Service written and reviewed by a Certified Professional Resume Writer:
Customer Reviews: 10/25
Cost to Value: 10/25
Sample Quality: 5/25
Writer Credentials: 15/25
Total Score: 40/100
As a reminder, we highly recommend reviewing 2-3 services before making a final decision.
If you're in need of a top-notch resume writing service, we suggest checking out Find My Profession. With a team of experienced reverse recruiters and a commitment to customer satisfaction, Find My Profession can help you find your dream job. And with a perfect score of 100/100, you can trust that you'll be in good hands!