Your resume is an important part of the job search. It could very well be the thing that sets you apart from your competition.
This also means that a subpar resume can set your job search back months.
Today we will be reviewing ResumeGo and their resume writing services.
We have taken a deep dive into the customer reviews, cost, resume samples, and writer credentials at ResumeGo.net. Our overall rating for ResumeGo is 80/100.
Our goal is to help you find the best resume service that will advance your career. Take a look at some other top-rated resume writing services and find the perfect fit for you!
Best
ResumeGo

Alternatives





About ResumeGo
ResumeGo was founded in 2015 by Peter Yang, a former Hewlett-Packard HR manager. The company provides professional writing services that include LinkedIn profiles, cover letters, and of course, resumes.
The ResumeGo team consists of HR experts, recruiters, hiring managers, and certified resume writers working to help clients present themselves in the best way possible.
They have been featured several times on popular media outlets like Forbes, Wall Street Journal, Business Insider, and more.
Let's dive right into some of the pros and cons when it comes to working with ResumeGo.net.
ResumeGo Pros vs. Cons
As with any company, there are pros and cons. It's up to you to determine what is a "must-have" and what things you can live without.
Pros
80+ years of combined recruiting experience.

Featured on media like Forbes, CNBC, WSJ, and more.

Good online customer reviews averaging 4+ stars.

Resume price of $360+ falls within the average.
Cons
Writers have no industry-recognized resume writing certifications.

Standard turnaround time of 1 – 2 weeks is longer than most services.

Revisions of your resume are available for only 14 days.

Resume writing service does not include an interview guarantee.
If you are looking for a resume writing service, ResumeGo is a great option, but it is worth exploring other alternatives to find the best fit for your needs.
One such alternative is Find My Profession who has been recognized by reputable sources such as CNET, Forbes, and Inc., has an average rating of 4.9/5 stars based on 900+ client reviews, and has similar pricing.
However, Find My Profession differs from ResumeGo in that they have a team of certified resume writers, and offers a quick turnaround time and a 60-day interview guarantee.
ResumeGo Customer Reviews

Our Certified Professional Resume Writers have rated ResumeGo.net an 80/100. Additionally, ResumeGo has received customer reviews of 4.6/5 on SiteJabber, 4.5/5 on Trustpilot, and 5.7/10 on Resumehelpservice. These are the kind of reviews we'd expect from a quality resume writing service.
SiteJabber shows 127 reviews with an average rating of 4.6/5. The majority of their customers loved the resume writing process, as well as the resume they received.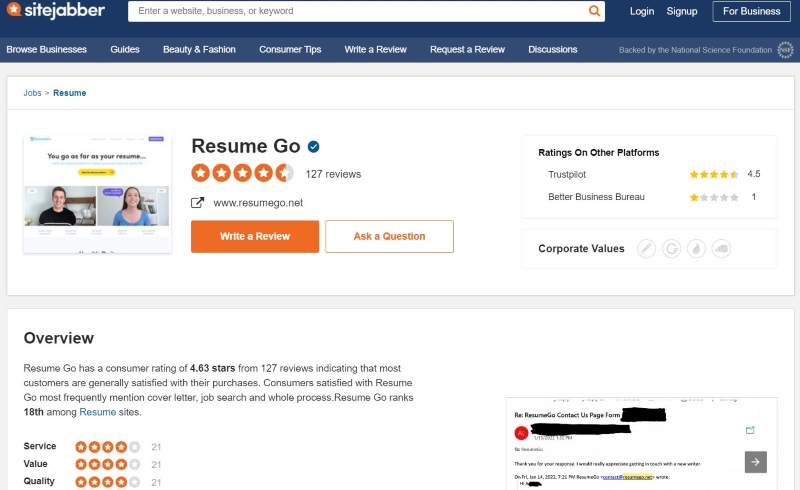 Trustpilot shows 57 reviews with an average rating of 4.5/5. What's more impressive than the rating itself is that over 50 of the reviews are 5-star reviews.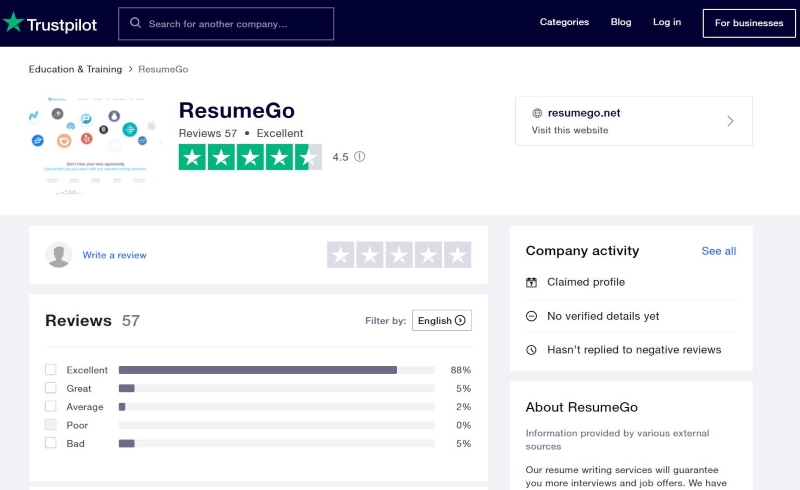 Resumehelpservice shows an average rating of 5.7/10. Customers liked the resume quality and the turnaround time. However, those weren't enough to make up for the bad customer service, hence the lackluster rating.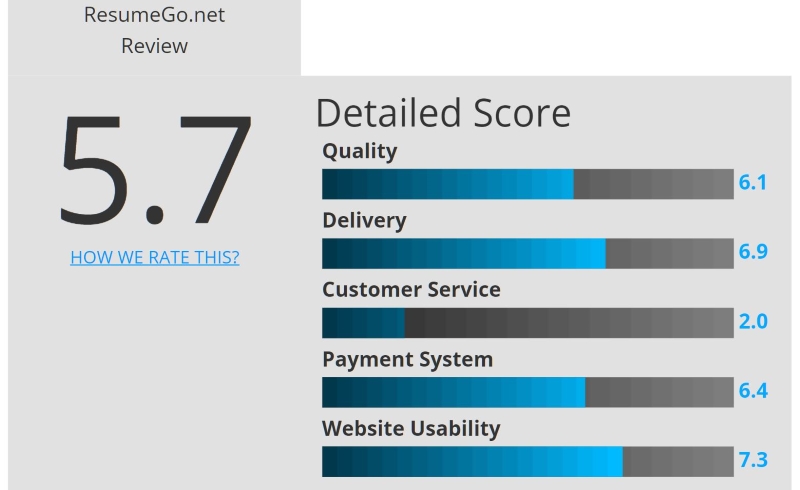 As with anything, it's important to take each review with a grain of salt. Additional research should be done beyond reading the reviews that are found online.
How Much Does ResumeGo Cost?

ResumeGo's resume packages cost $360 – $600. These prices fall within the range of the average resume writing services. Also, going by their great reviews, it stands to reason that clients are getting their money's worth.
$520
There are two packages to choose from – Professional ($360) and Executive ($600).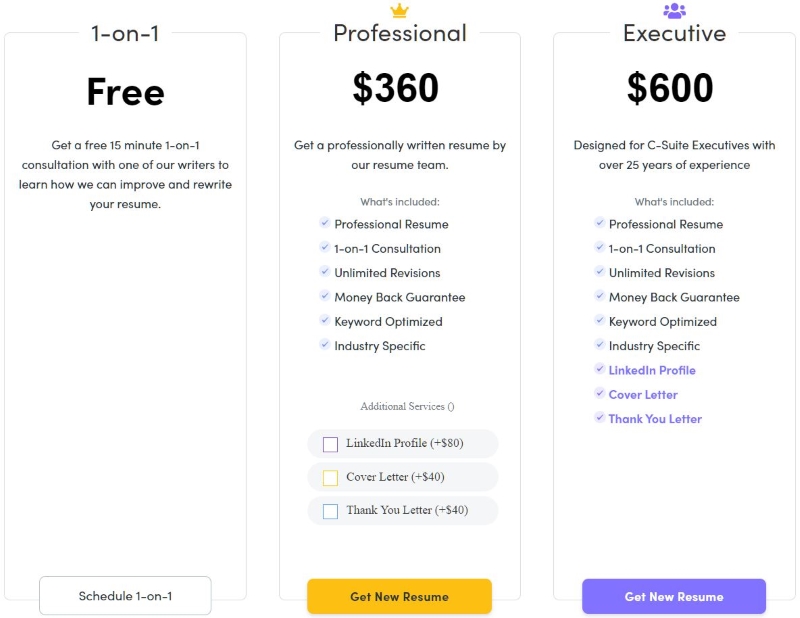 The main difference between the two packages has to do with the types of services that you receive.
The Professional package includes only a professional resume for $360. You can purchase additional services including a LinkedIn Profile ($80), a Cover Letter ($40), and a Thank You Letter ($40).
The Executive package is designed for C-Suite executives with 25+ years of experience. It includes a professional resume and all the additional services at no extra cost ($600).
All of the packages include 1-on-1 consultations, unlimited revisions, keyword optimization, industry targeting, and a money-back guarantee.  
What you get when you buy the Executive package for $600 is exactly the same as when you purchase the Professional package and all its additional services at a price of $520.
However, the website explains that Executive package resumes would be reviewed by the company's management team before it is sent over to you.
For the most accurate and up-to-date details on package pricing at ResumeGo, we recommend that you visit their website directly.
ResumeGo Resume Sample
We wanted to see what the resume quality of ResumeGo looked like so we took a look at some of the resume samples featured on their website.
We've attached a ResumeGo resume sample for you to review (first page only). Below, we share some of the things that we liked, and what we disliked about this resume.
The Good
Format is clean and easy to read without excessive formatting.

 Contains lots of keywords for the target position.

 Content includes measurable accomplishments related to target.

Includes a clear target position at the top of the resume.
The Bad
Uses only bullet points in the professional experience. 

 Format lacks any visual appeal, color, or shading.

Uses content that is too over-the-top for a resume.

Summary lacks engaging content and doesn't capture the reader's attention.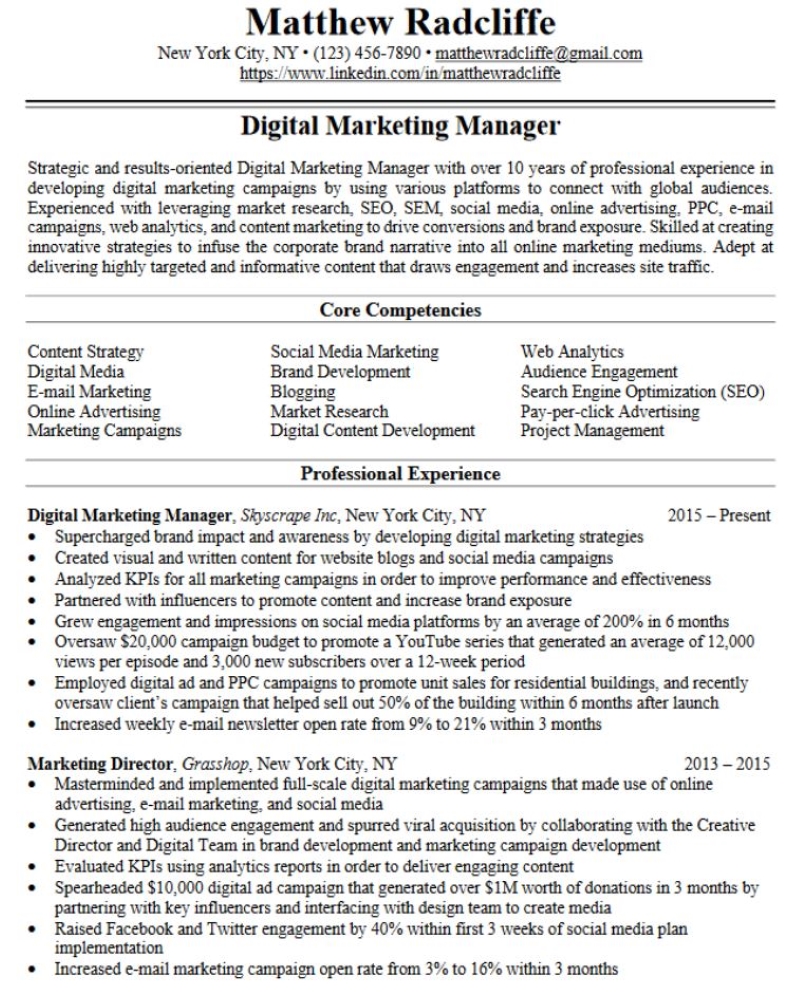 ResumeGo Writer Credentials
The ResumeGo website provides the details of 11 writing and coaching staff, which they have termed the "Resume Dream Team".
We looked through the details they provided on their website, expecting to find resume writing certifications like CPRW, CERW, and the like. However, we only found certifications in career & life coaching.
One thing we noticed about ResumeGo is the disparity in information regarding the size of their team. While their "Resume Writers" page lists 11 employees, a dive into the company's LinkedIn profile showed only 5 employees.
Adding to the confusion is the info in their FAQs section that said they have over 50 employees. While it is not clear who the other mystery writers are, the 11 employees listed on the website's "Resume Writers" page possess extensive experience in their chosen industries.
Also, they all have some form of experience in either HR or headhunting. In fact, by our calculations, we found that the entire ResumeGo team possesses over 80 years of recruiting experience. This is an added advantage, as it means they know exactly what kinds of resumes grab the attention of recruiters.
One thing we liked about each resume writer is that they do not claim to be a jack-of-all-trades. Each resume writer has their specialized industries and areas of expertise neatly penned on their work profile.
The team aside, ResumeGo in and of itself has been featured in tons of popular media outlets. They include Forbes, Business Insider, Wall Street Journal, CNBC, Fortune, Yahoo!, Business Insider, The Muse, and many others.
You can find more information about the education and industry background of their writers on the company's website.
ResumeGo Resume Writing Process
ResumeGo follows a straightforward and simple operating procedure for getting your resume written.
Let's look at the steps taken in ResumeGo's resume writing process below:
Select a preferred resume package and pay for it.
Submit your current resume and fill out an online questionnaire to identify your work history, career goals, current resume, and other necessary information.
Get matched with a certified resume writer that is qualified in your industry and can handle your career needs.
Communicate with your resume writer via phone, Skype or email to discuss specifics.
Get the first draft of your new ATS-compliant resume draft.
Work 1-on-1 with your assigned writer to perfect your new resume.
The entire process takes one to two weeks, but you can expedite it to 48 hours.
In addition, the website explains that they have a 14-day money-back guarantee. This means that you can get a 100% refund if you do not want to proceed with their service.
However, if you have already received your first draft, you can only get a 50% refund.
Is ResumeGo Worth It?
Whether or not ResumeGo is worth it is entirely up to you.
Our goal is to provide you with the most transparent and helpful information possible. But, only you know what is best for you and your career.
Here is a summary of our findings on ResumeGo written and reviewed by a Certified Professional Resume Writer:
Customer Reviews: 25/25
Cost to Value: 25/25
Sample Quality: 15/25
Writer Credentials: 15/25
Total Score: 80/100
As a reminder, we highly recommend reviewing 2-3 services before making a final decision.
If you're in need of a top-notch resume writing service, we suggest checking out Find My Profession. With a team of experienced reverse recruiters and a commitment to customer satisfaction, Find My Profession can help you find your dream job. And with a perfect score of 100/100, you can trust that you'll be in good hands!