Your resume is an important part of the job search. It could very well be the thing that sets you apart from your competition.
This also means that a subpar resume can set your job search back months.
Today we will be reviewing Mary Elizabeth Bradford of CEOresumewriter.com and their resume writing services.
We have taken a deep dive into the customer reviews, cost, resume samples, and writer credentials at Mary Elizabeth Bradford. Our overall rating for CEOresumewriter.com is 70/100.
Mary Elizabeth Bradford
Score
Our goal is to help you find the best resume service that will advance your career. Take a look at some other top-rated resume writing services and find the perfect fit for you!
Best
Mary Elizabeth Bradford

Alternatives




About Mary Elizabeth Bradford
Mary Elizabeth Bradford founded CEOresumewriter.com formerly known as MaryElizabethBradford.com in 2008 after spending 10+ years working in executive recruiting and outplacement.
There's no doubt that Mary Elizabeth Bradford caters to high-end executive and C-level clientele. Her website branding makes it abundantly clear that her services are for 6- & 7-figure executives.
This organization has received various certifications such as Certified Executive Resume Master (CERM), Nationally Certified Online Profile Expert (NCOPE), and Certified Advanced Resume Writer (CARW).
They have also received various awards including a Career Innovator Award, multiple TORI awards, and a Lifetime Achievement Award.
Let's dive right into some of the pros and cons when it comes to working with Mary Elizabeth Bradford.
CEOresumeWriter.com Pros vs Cons
As with any company, there are pros and cons. It's up to you to determine what is a "must-have" and what things you can live without.
Pros
3 resume certifications including CARW, NCOPE, and CERM.

3-time

Toast Of The Resume Industry (TORI)

award winner.

Featured on Forbes, Inc., TIME, and other media outlets.

10+ years of executive recruiting and outplacement experience.
Cons
Only 1 customer review, despite a 14 year work history.

Extremely expensive service costing as much as $11,997.

2 – 4 week turnaround time is far longer than the average.

Website provides little to no information about the resume writers.
If you are looking for a resume writing service, Mary Elizabeth Bradford is a great option, but it is worth exploring other alternatives to find the best fit for your needs.
One such alternative is Find My Profession, which also has well-qualified, certified resume writers and has been featured on Forbes, Inc., and CNET.

However, Find My Profession differs from Mary Elizabeth Bradford in that they have a quick 3-5 business day turnaround time for your first draft, a 4.9/5 rating from 900+ previous clients, and a starting price point of $395 for a resume.
Mary Elizabeth Bradford Customer Reviews

Our Certified Professional Resume Writers have rated Mary Elizabeth Bradford an 70/100. Additionally, Mary Elizabeth Bradford has received customer reviews of 1/5 on BBB. Sadly, this company does not have any other online reviews. When you're investing $1,000s of dollars on a resume, some online reviews from trusted third party sites like Sitejabber, Google, Trustpilot, or Yelp are expected.
This company has changed its name multiple times over the years which is never a good sign. When researching CEOresumewriter.com, you will also want to look up Mary Elizabeth Bradford and The Career Artisan. They are all one and the same.
Better Business Bureau shows 1 customer review with an average rating of 1/5 stars. The customer seemed quite displeased. We were even more disappointed in the dismissive response given by Mary Elizabeth Bradford.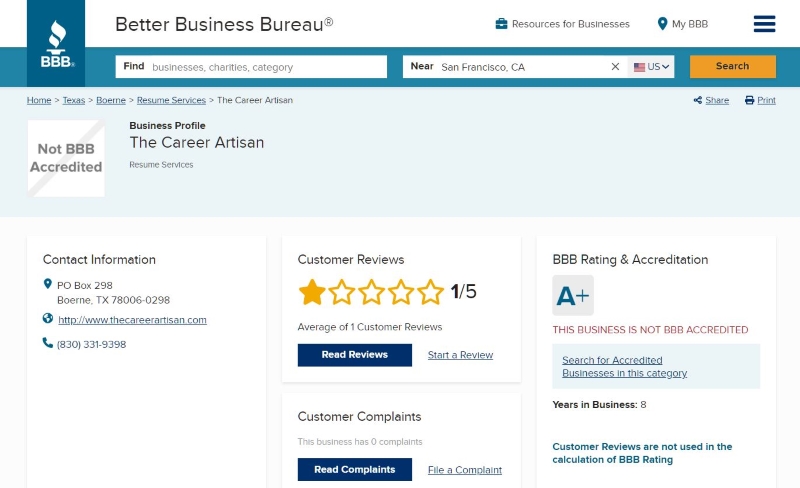 In order to maintain the integrity of this review, we only feature reviews from third-party websites such as Google, Sitejabber, Trustpilot, or BBB.
It appears that Mary Elizabeth Bradford is not actively collecting reviews, which gives us very little insight into her customer's feedback after the fact.
This is a major concern for us especially considering the cost of the services.
As with anything, it's important to take each review with a grain of salt. Additional research should be done beyond reading the reviews that are found online.
How Much Does CEOresumewriter.com Cost?

CEOresumewriter.com resume packages cost $2,597 – $11,997. This is by far one of the highest prices you'll find in the industry (if not the very highest).
Mary Elizabeth Bradford
Cost
$4,397
There are five packages to choose from – Executive Resume Package ($2,597), Premium VIP Resume Package ($3,979), VIP BOD Resume Package ($4,397), VIP Executive Resume Package ($5,979), and VIP Platinum Resume Package ($11,997).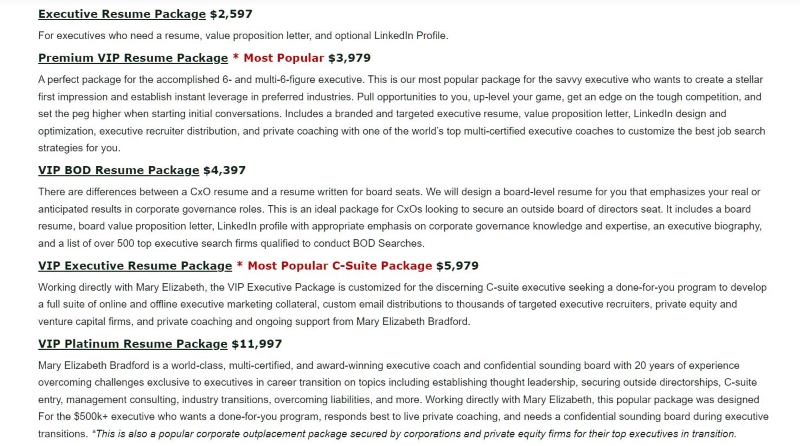 The main difference between the five packages has to do with the types of services that you receive.
The Executive Resume Package includes a resume, value proposition letter, and LinkedIn profile ($2,597).
The Premium VIP Resume Package includes everything in the Executive Resume Package plus executive recruiter distribution and a 30-minute coaching session ($3,979).
The VIP BOD Resume Package includes everything in the Premium VIP Resume Package plus an executive biography. This is the best option for those looking for Board of Director seats ($4,397).
The VIP Executive Resume Package includes everything in the VIP BOD Resume Package plus customized value proposition letters, reference testimonials, additional resume distribution, and private coaching calls ($5,979).
The VIP Platinum Resume Package includes everything in the VIP Executive Resume Package plus a custom website design, strategy coaching session, catered lunch, and a phone call every other week ($11,997).
While we typically don't recommend our readers to not use a service, we are a bit torn here. Out of hundreds of resume writing companies we have reviewed, Mary Elizabeth Bradford's is by far the most expensive.
There are many other executive and C-level resume writing services that are half the cost, and have hundreds of online reviews proving their credibility.
We advise extreme caution when considering CEOResumeWriter.
For the most accurate and up-to-date details on package pricing at CEOresumewriter.com, we recommend that you visit their website directly.
Mary Elizabeth Bradford Resume Sample
We wanted to see what the resume quality of Mary Elizabeth Bradford looked like so we took a look at some of the resume samples featured on their website.
We've attached a Mary Elizabeth Bradford resume sample for you to review (first page only). Below, we share some of the things that we liked, and what we disliked about this resume.
The Good
 Content includes lots of measurable accomplishments for the candidate.

 Includes keywords relevant for the career target.

 Has color, shading, and visual appeal to attract the reader's attention.

 Target title is clearly defined and noted at beginning of the resume.
The Bad
Summary does not engage the reader of provide detailed information.

Graphic at the top of the resume may impact the ATS.

 Quote distracts the reader and does not add value to the resume.

Long company description takes space that should be used for specific details.
CEOresumewriter.com Resume Writer Credentials
CEOresumewriter.com employs a handful of resume writers to work with their 6 and 7-figure clients.
Unfortunately, there is no information on the website about resume writers beyond Mary Elizabeth Bradford.
The three more affordable resume packages offered are written by unknown writers and it is not until the VIP Executive Resume Package ($5,979) that Mary Elizabeth Bradford begins to write the resumes herself.
While this team's resume writer credentials are unknown, we do know that Mary Elizabeth Bradford has more than 20 years of experience helping executives, C-suite, and board members.
Mary has received various industry awards and certifications including Certified Executive Resume Master (CERM), and Certified Advanced Resume Writer (CARW) to name a few.
While we are confident in Mary's resume writing skills, the lack of information about her team leaves much to be desired.
Mary Elizabeth Bradford Resume Writing Process
Mary Elizabeth Bradford follows a straightforward and simple operating procedure for getting your resume written.
Let's look at the steps taken in Mary Elizabeth Bradford's resume writing process below:
Select one of the package options listed above on her website and submit your payment.
Receive an email from the Mary Elizabeth Bradford team prompting the next steps.
Schedule a consultation call with your writer.
Receive a resume draft. Turnaround time is unknown, we estimate 2-4 weeks.
We expect that you will be allotted some level of revisions/edits after receiving the updated resume from your writer.
Unfortunately, there was limited information that we could gather about Mary Elizabeth Bradford's average turnaround time or overall resume writing process.
Is CEOresumewriter.com Worth It?
Whether or not CEOresumewriter.com is worth it is entirely up to you.
Our goal is to provide you with the most transparent and helpful information possible. But, only you know what is best for you and your career.
Here is a summary of our findings on CEOresumewriter.com written and reviewed by a Certified Professional Resume Writer:
Customer Reviews: 5/25
Cost to Value: 15/25
Sample Quality: 25/25
Writer Credentials: 25/25
Total Score: 70/100
As a reminder, we highly recommend reviewing 2-3 services before making a final decision.
If you're in need of a top-notch resume writing service, we suggest checking out Find My Profession. With a team of experienced reverse recruiters and a commitment to customer satisfaction, Find My Profession can help you find your dream job. And with a perfect score of 100/100, you can trust that you'll be in good hands!