In our modern world of global networking and technological progress, you might wonder if some things have simply gone out of style … like sending out a thank you letter after a job interview.
But the truth is, politeness and gratitude will never go out of style.
However, sometimes they do need to get updated.
In this case, a thank you letter after an interview might instead be a thank you email, but the concept is the same. Not only are you expressing your gratitude, but you are building upon your initial connection made during the interview.
This might give you an added edge over other interview candidates.
Read on to discover how to write a terrific thank you email after an interview.
Before we jump into the details, we wanted to provide you with some interesting statistics about thank you notes in today's job market.
Facts About a Job Interview Thank You Email
Why does writing a post-interview thank you letter give you an added edge?
The truth is, not everyone takes the time for this gesture anymore.
A survey by CareerBuilder disclosed that more than half (57%) of current job seekers do not send a thank you email after interviews.
In another survey, HR managers stated that less than one quarter (24%) of job applicants sent a post-interview thank you. Eighty percent of hiring managers surveyed find it helpful to receive a thank you note after an interview.
The simple act of writing a thank you email will put you in that dwindling – yet highly appreciated – category of grateful candidates.
Would a hiring manager dismiss a candidate for not sending a thank you?
Yes, some would. A survey conducted by TopResume revealed that nearly 20 percent of hiring managers say they have dismissed a candidate due to the lack of a job interview thank you email.
More than two-thirds of recruiters and hiring managers state that their decision-making process is impacted by whether they get a note of thanks.
In short, a little gratitude can go a long way.
FAQs for Writing a Thank You Email After Interview
1. Should I Send a Thank You by Regular Mail or Email?
This is one of those areas where technology has facilitated easier ways to communicate and express thanks.
In short, it's perfectly fine to send a thank you email rather than a handwritten thank you note sent by the good ol' postal service.
In a survey of HR managers, 94% state that an email is an appropriate way to express thanks after an interview.
The other two most acceptable methods are:
Handwritten note (86%)
Phone call (56%)
Only seven percent believe it's okay to send a thank you via social media.
Even fewer (five percent) find a texted thank you after an interview acceptable.
There are some situations when you might send a traditional thank you note in addition to sending an email.
Does the company have a formal and conventional feel?
If so, they might appreciate a traditional thank you note sent by mail.
Are you seeking a job in the nonprofit sector?
If so, this is an industry where a handwritten thank you might show you are a great fit.
Do you feel that you had a great connection with the hiring manager?
If this is the case and you want to express a personal thank you, it might be an appreciated gesture.
Because a thank you via email is generally preferred, our focus during the remainder of our article is how to write a great thank you email after interviewing with a company.
2. Should I Write a Thank You Email If I Had a Phone Interview?
Yes, you should! Whether the interview was in person, via Zoom or Skype, or over the phone, you should send a thank you email.
That said, there are two types of phone interviews.
The phone screen interview:
An initial screening interview might take place over the phone. This would last no more than 30 minutes and would not cover much in-depth material.
As such, you might feel like you didn't get a lot of time to connect.
You only covered the basics.
If this screening was conducted by HR and not a hiring manager, some suggest that a thank you note is not critical.
It could still be a good idea to write a brief thank you email after this phone screening; however, a few sentences should be enough.
The in-depth phone interview:
Let's say that you had a longer interview via phone.
Perhaps you are hiring for a remote position or for some other reason an in-person interview did not take place.
You spoke with the hiring manager or potential employer and covered quite a bit of ground during the phone interview.
In this case, you would definitely write a more carefully crafted thank you email.
3. Who Should I Write the Thank You Email To?
Email a thank you to each person with whom you interacted.
If you met with four or five different people during an in-person interview, send an email of thanks to each of them.
Also, be sure to write something unique to each person you thank.
You never know when they might compare notes – literally – and you don't want them to see that you used the same wording in every single message.
4. What About a Group Email Thank You?
Perhaps you feel a little overwhelmed at the thought of writing several separate thank you emails because you interviewed with half a dozen people.
Believe us: it's worth it to write unique emails, and here's why.
Perhaps one interviewer expressed an interest in your soft skills while another of them questioned you on specific hard skills from your resume.
Sending separate thank you email messages gives you the opportunity to highlight those unique "selling points" to each individual.
This will showcase your attention to detail.
It will also help you stand out to those deciding whether you get hired.
5. When Should I Send a Job Interview Thank You Email?
Timing is important!
This isn't the place to play it "cool" as you might do with a first date.
You'll want to send that thank you email within 24 hours of the interview.
If you get busy or something comes up, don't wait longer than 48 hours.
If you write a thank you a week or two later, you might find yourself sorry to learn the position has already been filled.
6. When Do I Follow Up?
After sending the thank you notes, you'll likely feel on edge, checking your phone every few minutes, waiting to hear back about your job prospect.
Take a deep breath.
You've done what you can by preparing for your job interview.
You've shown gratitude and strengthened connections by sending a thank you.
Now, give it a few days.
It is recommended that you wait at least three business days before sending an additional follow-up note after that initial thank you email.
6 Parts of the Interview Thank You Email
Okay, now that you know you should send a job interview thank you email and when you should send it, let's talk about how you should write it.
The image below illustrates the six key parts of an interview thank you email.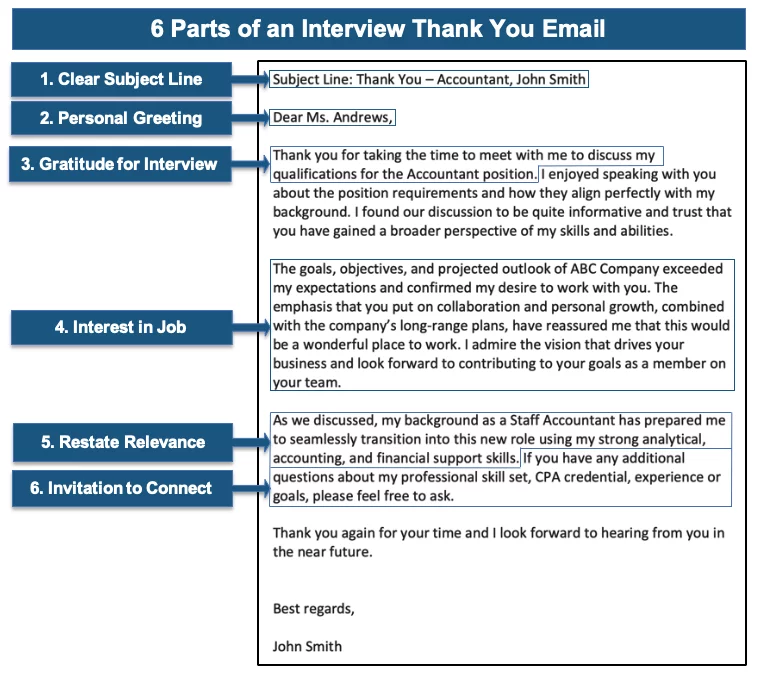 Don't worry, we'll provide more detail on each of these thank you letter sections below.
1. Add a Clear Subject Line
Don't make it more than five or six words. Short and clear is the best way to go.
Good subject lines include:
[Position] Thank you, [name of recipient]
Thank you re: job interview
Thanks for your time
Great speaking with you
Enjoyed our conversation today [or Friday, yesterday, etc.]
2. Open With a Personal Greeting
Double-check to be sure you have the correct name and spelling of the one(s) who interviewed you.
It helps if you ask for the business card of each person you interviewed with.
This way you know their name and position in the company if you are sending out a few emails; you don't want to get them confused.
3. Express Gratitude for the Interview
A straightforward statement works well, such as:
Thank you for the opportunity to interview with ABC Company.
You might add additional detail like one of the following:
I appreciate the time you took to explain [details of the position].
I was very impressed by the scope of services this company offers to clients and your commitment to superior customer service.
What you shared about the recent growth of the company was both fascinating and inspiring to hear.
4. Confirm Your Interest in the Job
One of the most important reasons for sending a thank you after a job interview is to confirm that you are still interested in the position.
If you're not engaged in the job opportunity enough to follow up with a thank you, the hiring manager might write you off or assume you lack interest.
You'll want to express your desire to land the position with a statement like:
After learning more about the position, I'm eager for the opportunity to be a part of your team and help [produce accessible training modules/create cutting-edge methods for reaching more clients/garner new fundraising opportunities for vital projects/etc.].
5. Restate Your Relevance for the Position
It helps if you can comment on some of the highlights during the conversation.
This can remind the hiring manager of important parts of the interview.
It also gives you the opportunity to restate areas or mention skills that would make you the most ideal candidate for the position.
You might choose to make a statement such as one of these statements:
I believe that my years of experience in fundraising for nonprofit organizations will provide just the edge your company is looking for to reach goals and exceed expectations.
I am confident that the years I have spent working in the field of web development would benefit the team.
6. Provide an Invitation to Further Connect
Show yourself as being easy to get in touch with by adding one of these examples:
Please get in touch if I can provide any further information regarding my work history or references.
Feel free to contact me if you would like to see samples of previous work or need clarification on any points we discussed.
Sample Thank You Email After Interview
You have a few options as far as how to put these essential pieces together into a single message. Much will depend on the position, the industry, and the type of interview that was conducted.
The basic thank you email
As mentioned earlier, some interviews only necessitate a basic thank you note, such as after a phone interview.
Here is a basic sample thank you email:
Subject Line: Great speaking with you
Dear Mr. Marquez,
Thank you for the opportunity to interview with Midwest Nonprofits. I appreciate the time you took to explain more about the organization and share expectations for the ideal candidate.
After learning more about the position, I believe that my years of experience in fundraising for nonprofit organizations will help garner new opportunities to be part of your team,
Please get in touch if I can provide any further information regarding successful projects completed.
Sincerely,
Evonne Lyle
123-456-7890
evonnelyle@email.com
The Detailed Thank You Email
There are times when you feel you made a good impression and want to follow up with more substance than a basic thank you would provide.
If this is the case, it's perfectly fine to go into detail, as in the following sample:
Subject Line: Thank you re: job interview
Dear Ms. Shull,
I enjoyed meeting you yesterday and having the opportunity to discuss your open position as an account executive at the Shull Agency.
From the background you shared, the job appears to be an excellent match for my skills and interests. I appreciate your creative approach to account management. The description of the goals you have for the agency's growth and future confirmed my desire to work with you.
In addition to my enthusiasm, I am eager to bring to the position strong writing skills, assertiveness, and the ability to work cooperatively with others in the department.
I appreciate the time you took to interview me. I am very interested in working for you and look forward to hearing from you regarding this position. In the meantime, please feel free to get in touch if you have any questions for me.
With thanks,
Connie Leland
987-654-3210
connieleland@email.com
The Next Level Thank You Email
Perhaps you know you're facing stiff competition for the position.
You want to do anything possible to give you a greater chance of getting hired.
If so, you might want to go "next level" by offering an idea or project that would impress the hiring manager to where they simply can't turn you away.
Here's an example of how to write a thank you email that sets you a notch or two above the rest:
Subject Line: Content Writer Position – Thank You
Dear Mr. Baird,
I enjoyed connecting with you yesterday and learning more about the position as a content writer for University Scholars ABC. I appreciate the information you shared; it was fascinating to hear about how your company utilizes digital marketing to increase opportunities for academics seeking scholarships.
I'm excited at the opportunity to join your team as I believe the position would be the perfect fit. My background and experience in creative writing and editing would fit perfectly in the role of content writer and strategist.
In fact, if this is a direction you would like to take, it might be interesting to design a series of digital marketing posts across your social media platforms based on [something relevant and impressive]. For instance, I have done some relevant research in the area and have attached a brief sample article that might launch the series.
In closing, please let me know if I can provide any further information regarding my work history. I look forward to hearing back regarding your decision on this position.
Warm regards,
Francine Baker
555-567-4321
fbaker@email.com
Closing Thoughts
You might wonder if it's worth it to send a post-interview thank you email if the interview didn't go that well.
Don't give up yet!
If you feel like you stumbled through the interview, the thank you letter can give you the opportunity to improve on some of those less impressive aspects.
Let's say the hiring manager asked tough questions about your qualifications; provide a strong statement about those abilities in the thank you email.
Or perhaps you haven't gotten as far as an interview.
Maybe you're still waiting for a callback and wondering if your resume needs updating to help you get attention from a recruiter or hiring manager.
If so, we can help.
Here at Find My Profession, we would love to help you land the perfect career.
We are a top-notch resume writing service on a mission to create resumes that convert into job offers.
A major perk of working with our team at Find My Profession is that we assign you a writer based on your unique background and experience.
We offer resume writing services and reverse recruiting services. Get in touch today and let us help you navigate every step of your job search.