"Why did you choose your major?" Hearing a question like that during an interview can be enough to make your brain go blank.
Even answering that question to a friend or relative can prove challenging.
There are often so many reasons involved in making such a large decision.
You may have held an interest in business management, but a fascinating class held by an amazing teacher in your senior year suddenly changed your focus.
You decided to study French history.
So you have a French history degree, but then realize that you want to enter into the business world after all.
At this point, when looking for jobs in the business industry, you might be asking, "Why did I choose that major?"
Those years you spent working for that degree did not go to waste!
Regardless of your choice in major, the fact that you completed the program and earned a degree speaks well for you.
Why You Get Asked This Question
First of all, realize that the best part of getting asked, "Why did you choose your major?" is that you are already in an interview.
That is 87% of the battle!
Remember, there is absolutely no right or wrong answer here, but you should have a well-thought-out response ready.
By asking this question, the interviewer wants to know a few things:
What are your interests and skills?
Where did your personality lead you in your educational focus?
Will you be a good fit for the company culture?
By following the suggestions below, you will effectively cover what is necessary as you construct your answer to this interview question.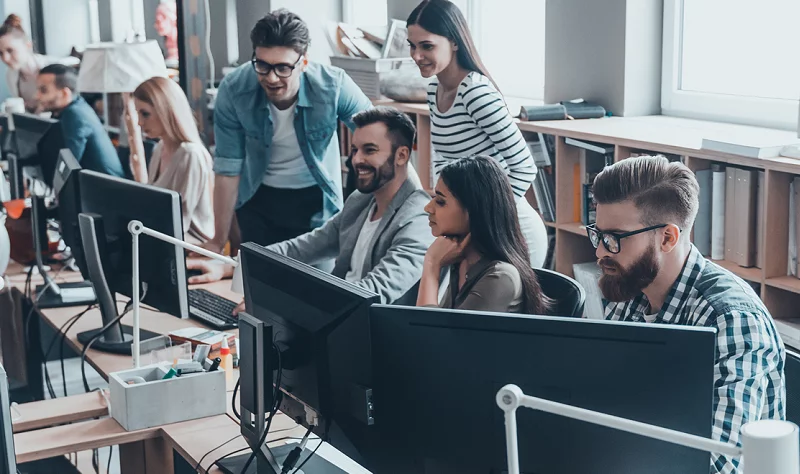 Need help with your resume?
Find the best resume writing services for new grads and entry-level professionals.
How Not to Answer
Before discussing several important elements of answering this interview question, let's touch on a few places you don't want to go.
1. Don't mention income
In all honesty, your salary might be one of the primary reasons you are seeking a job in a different industry from your major.
Don't bring up this detail!
You don't want to come across as someone primarily motivated by the financial aspects of a job.
2. Don't come across as irrelevant
Remember that every single interview question gives you an opportunity to demonstrate your relevance for the position.
This is not the time to wax nostalgic about how your Uncle Mo on your dad's side and Aunt Sally on your mom's side, as well as three of your cousins all told you how great it was to study French history, and how it all tied together when you met a teacher who spoke fluent French and you took a trip to Paris that same summer and …
It might be an interesting story.
It might even be true.
But it is not relevant; focus instead on why choosing your major will help you excel in this career path.
How to Answer This Interview Question
Here are three important factors to keep in mind as you respond to the question, "Why did you choose your major?"
1. Be confident and proud
Just because you did not attend Harvard Business School does not mean you can't be proud!
You only hurt yourself when you say, "Oh, I just went to some small no-name school."
You still have a college degree!
Although your major may not relate to your career path, you picked the subject for a reason.
Discuss your thought process choosing said major.
Convey how you have become a better person through the courses you took.
Yes, you should avoid delving into long and detailed personal reasons why you chose the major (as mentioned earlier).
But this question does give you room to get a little personal.
After all, it relates to a dream or aspiration you have/had.
It's okay if you need to get personal with your answer to explain your choice.
(Just don't go overboard and dump your life story on the hiring manager.)
2. Relate your skillset
If you are not specialized for a given industry, you still have relatable skills.
Expand on these relevant skills.
Study the job description beforehand for applicable skills and experience.
In your response, make the connection to what you have to offer.
Concentrate on past experience you have that relates to the open position.
Many candidates will stretch the truth.
Of course, you should never respond dishonestly.
But you do need to make your answer effective; otherwise, you will not be hired.
3. Demonstrate your passion
Being a college grad, you had to meet deadlines, work long hours, and multitask to graduate.
All these skills can relate to almost any job.
So, make the correlation and translate these skills in an organized manner.
Remember, this is not a trick question and there is no wrong answer.
Preparation is the only way to ensure you will not be thrown by any interview question the hiring manager asks.
Sample Interview Response
Here is an example of a good response to this interview question:

Hiring manager:
Why did you choose your major?

Candidate:
Since I was a kid, I've had a passion for social justice. My parents encouraged me to believe in the ability of a single person to effect positive change, so it only seemed natural to pursue a degree in social work.
I have always enjoyed interacting with others and as such I excel in interpersonal communications. Majoring in social work enabled me to gain experience and skills along these lines.
A year-long internship with a local rescue mission gave me the opportunity to grow in these abilities.
I am ready to jump into a full-time position working with clients as a human resources coordinator and helping them improve their quality of life.