You may have heard that a terrific resume is key in landing your dream job.
That's because it is.
Your resume introduces you to a company, hiring manager, or recruiter.
A resume showcasing your best skills is how you wedge your foot in the door … and keep it there until you get into the company (i.e. land the job).
So, it behooves you to learn how to flaunt your great skills on your resume.
Case in point:
Once upon a time, there was a Mad Hatter.
He saw an open position as a leading character in Alice in Wonderland.
The Mad Hatter wrote on his resume, "I have mad skills."
Those mad skills got him the job.
But seriously … when a hiring manager sees a great set of skills and abilities on your resume, they'll take a second look, increasing your chances of a callback.
So, what are good skills for a resume?
And how do you effectively position those skills to stand out from the rest?
Glad you asked!
The Best Skills for a Resume
First of all, let's quickly define skills.
Skills are a combination of your natural and learned talents and abilities.
They enable you to perform a task, process information, or solve a problem.
When a hiring manager or employer is skimming resumes for a new hire, they are looking for a combination of two kinds of skills – hard skills and soft skills.
In this section, we'll define and provide examples of both kinds – because both hard skills and soft skills are vital for a resume.
Hard Skills for Resume: Definition and Examples
Hard skills include technical or learned skills.
They are generally the practical skills you need to perform a job in an industry.
For example, a computer programmer would need a solid foundational knowledge in SQL in order to perform computer management and programming tasks.
Additionally, some hard skills would be useful in a variety of industries.
Let's look at a few of the most common hard skills many companies would find useful for a job candidate to have.
List of Valuable Hard Skills for a Resume:
Computer skills
Mathematics and analysis skills
Accounting and finance skills
Digital marketing skills
Research and analysis skills
Foreign language skills
Writing and communication skills
Customer service skills
Many of these skills can be further broken down into subdivisions.
For instance, computer skills for a resume section might also include familiarity with various software, capabilities in online networking, and fluency in using various operating systems.
The image below shows more valuable hard skills for a resume: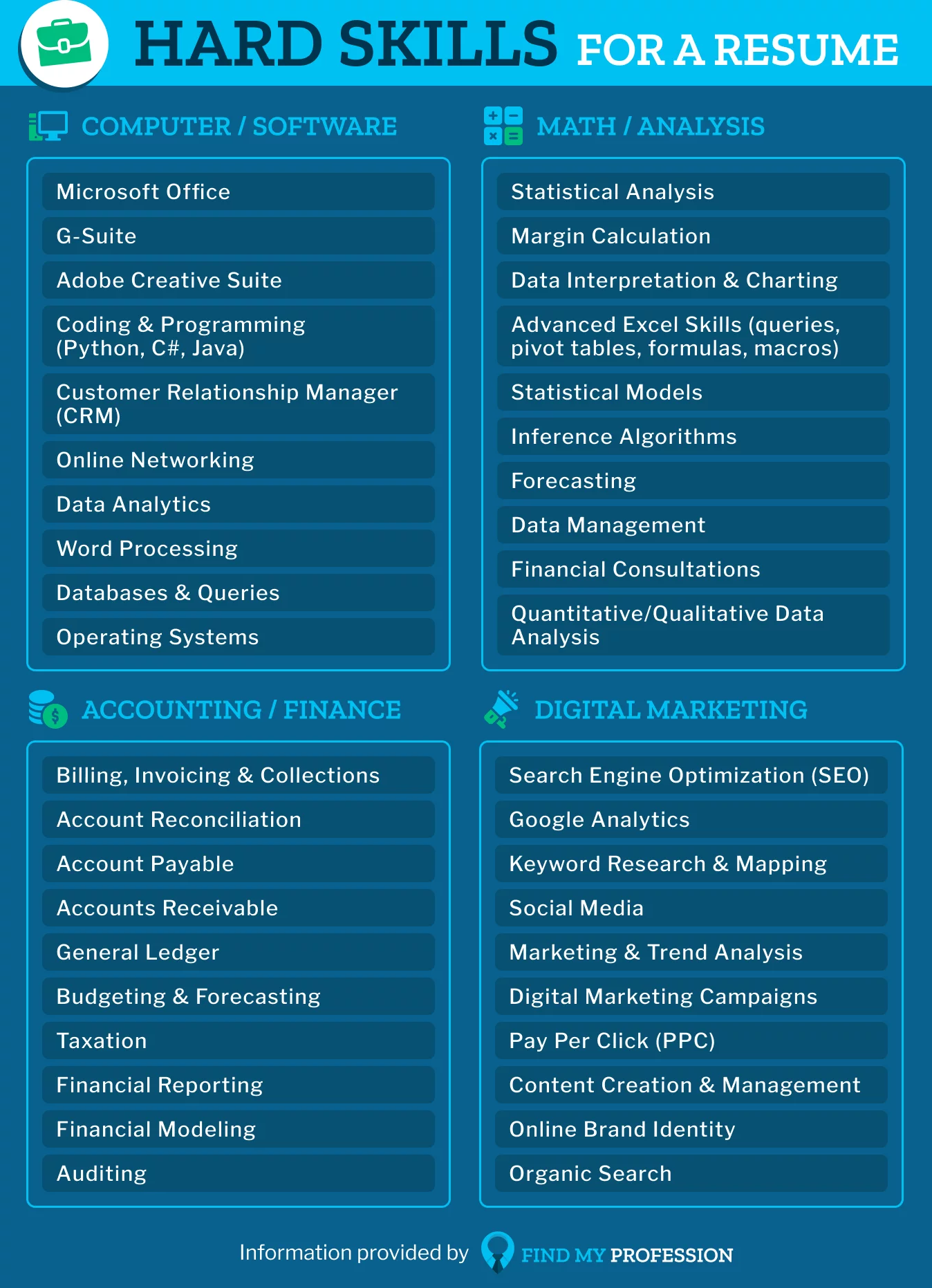 Soft Skills for Resume: Definition and Examples
Soft skills have a few synonyms. You might have heard them referred to as social skills or abilities that a "people person" is strong in.
Foundational soft skills often go hand in hand with a person's EQ – or emotional quotient.
In many cases, the higher a person's emotional intelligence, the more easily that person can develop soft skills that will look good on any resume.
The reason these soft skills are such a commodity in the professional world is that, while some can be learned, many are considered more innate.
For instance, active listening simply comes more naturally to some people.
Here is a list of valuable soft skills and abilities for your resume.
These "social skills" will complement the hard skills on your resume.
List of Valuable Soft Skills for a Resume
Leadership skills
Teamworking/interpersonal skills
Problem-solving skills
Communication skills
Positive work ethic skills
Time management skills
Adaptability skills
Again, several of these resume soft skills can be divided further, as per the image below: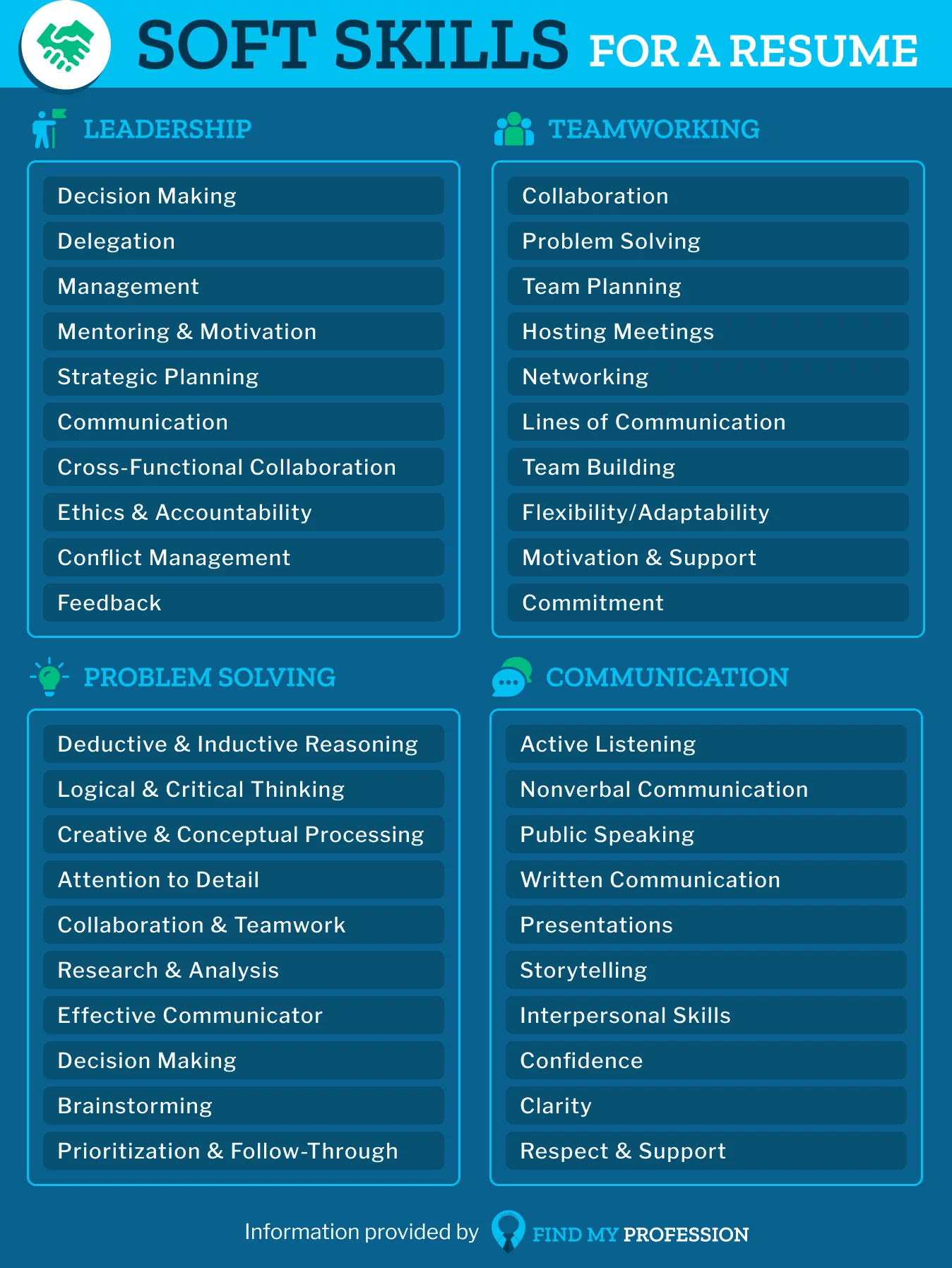 You've undoubtedly noticed that many soft skills could fit in a variety of positions and industries.
For instance, if you have active listening skills, not only will it help you in communication, but also in team and leadership positions.
This is why soft skills are so important.
Good Skills for a Resume Make a Great Skillset
Your hard and soft skills combine to create your unique skillset.
No one will have the exact same skillset for a resume as you do.
What you want to do is find ways to highlight your unique skillset and use it to show why you are the ideal candidate for the position.
Sample: Resume Skills for an Operations Leader
Let's consider a job posting and look at an ideal combination of skills.
A job description for an operations leader might include the following expectations:
Be an expert in operations, accuracy, process, and efficiency.
Establish clear goals and expectations for team members.
Demonstrate a culture of ethical conduct, safety, and compliance.
Assess department workflow and processes.
Develop and implement changes that improve data collections, operations, and protocols.
Review, update, and maintain organizational policies and procedures.
Relevant hard skills for this position would include:
Versatility in communication tools and technologies.
Analytical, financial planning, management, and reporting skills.
Adept in process improvements and workload efficiency.
Skills in interviewing, developing, coaching, evaluating, and retaining team members.
Experience in change management and process improvement.
Ideal soft skills for this position would include:
Superior problem-solving skills.
Ability to work independently; self-motivated.
Strong oral and written communication skills.
Skilled in teamworking and fostering collaboration.
Ability to manage operations with flexibility and creativity.
Where to Put Skills on a Resume
So, now you have the skinny on a variety of general hard and soft skills, as well as what skills and abilities for a resume would look good.
Now let's discuss where you will place these skills on your resume.
Where should hard and soft skills go when you craft your professional resume?
1. Create a Resume Section to Highlight Skills
You'll want a section of your resume set apart for skills.
You might title it "skills" or "areas of excellence."
Use bulleted points and short phrases in this section.
As per the operations manager example above, your skills section might look something like this, borrowed from Find My Profession's sample resumes:

2. Place Your Skills Throughout Your Resume
You'll also want to sprinkle an ample helping of your skills and abilities in your resume's "work experience" section.
See the example below, from one of Find My Profession's sample resumes: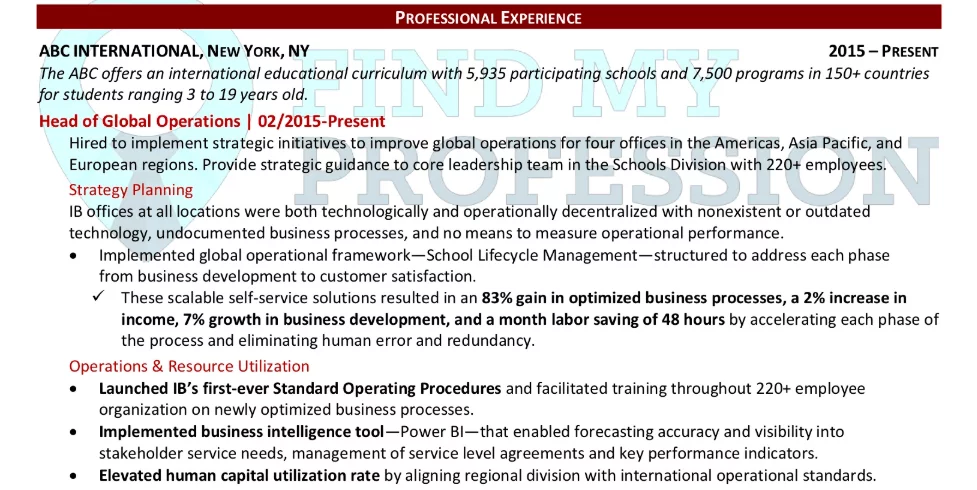 3. Choose the Best Format for Your Resume
The format you choose for your resume will determine how skills are used throughout your resume.
Chronological Resumes
Most professionals use the chronological format when organizing their resume.
This format usually begins with a brief, bulleted section of skills.
Then it moves into work experience.
The most recent work history is placed at the top and continues in reverse-chronological order.
Functional Resumes
A functional resume is often recommended for someone changing careers.
It is also helpful when an individual does not have a lot of work experience.
The functional resume includes a lengthier skills section.
Beneath each general skill, you would describe specific achievements relevant to that skill.
Hybrid Resumes
Also known as the combination resume, this resume format combines the chronological and the functional resume styles.
You would outline skills and connect them to former employment experiences.
(Read more about using different Resume Formats.)
How to Describe Skills on Your Resume
1. Research Similar Skillsets
Do you know there are job sites that give detailed job descriptions from real companies looking for real candidates?
You can browse job sites such as Glassdoor and Indeed and find out exactly what skills a variety of companies are looking for.
This isn't cheating; it's research.
For instance, searching "operations leader" on Glassdoor.com turns out several open positions.
They are not all for an "operations leader" but browsing the job descriptions can provide a helpful list of good skills for a resume:

Read through job descriptions similar to the position you are seeking.
Take note of the relevant skills and abilities that you see repeatedly.
These are skills that you should be adding to your resume.
2. Make Your Skills Relevant to the Position and Company
Now, having recommended that you research similar positions, the fact is that no two jobs will be exactly alike.
The most important job description you should be studying is the one to which you are applying!
Don't just submit a resume generally suited to the position.
You don't have to be a Mad Hatter to tell them about your mad skills.
Create a unique resume precisely targeted to the position you're seeking.
3. Sprinkle Skills Throughout Your Resume
As mentioned previously, don't cram your skill and abilities for your resume into one single section.
Make it easy for the hiring manager to make the connection.
Demonstrate how the skills you have will help their company.
Add specific details to your work experience section that will make an employer think, "Hey, we need those achievements in our company!"
4. Balance Soft and Hard Skills
We already spent a lot of time on this, but once you're actually crafting your resume, don't get lost in specific details to the neglect of the big picture.
You want to make sure your resume contains a good combination of soft skills and hard skills.
The hiring manager should be able to see that you would be a practical choice because of your technical and computer skills. But they also want to know that your "people" skills will make you a good fit for the team and company culture.
For instance, you might find the following list of qualifications on a job description, which focus on hard skills you could add to your resume:
Qualifications
Working knowledge of material, facilities, and equipment – including maintenance.
Working knowledge of computers and related hardware and common business software.
Above-average spreadsheet and word processing skills.
Ability to write in English coherently with proper grammar and tone.
Ability to manage projects from conception to final commissioning.
Experience with a computerized maintenance management system.
Willing to study and learn new technical skills and techniques.
Additionally, you might find a request for a set of good people skills:
Team/People Skills
Ability to lead a team in an industrial setting, effectively balancing Customer, Company, and Team Member needs.
Understands and is committed to the growth and development of coworkers.
Ability to delegate and/or involve others where appropriate.
Ability to effectively communicate on several different levels (Customers, Team, and other Managers).
Sets tone, motivates and persuades Team Members to follow a positive example in the areas of safety, health, and the environment.
Ability to interact and work effectively with vendors, always maintaining a high level of integrity.
Use some of these same phrases as keywords in your resume.
5. List Transferable Skills That Provide Value to a Company
We focused primarily on "hard skills" and "soft skills" but there is another category of skills for a resume.
Often called transferable skills, they compass both hard and soft skills.
Transferable skills are those abilities that will add value to any company.
They include proficiency in areas such as:
Communication – written and verbal
Time management and multitasking
Technological literacy (computer and Internet)
Adaptability/flexibility
As you craft your resume, highlight a few vital transferable skills.
6. Provide Statistics and Percentages
No one loves success like a hiring manager skimming through resumes.
If you were a hiring manager or employer looking for the right candidate, which of the following statements would stand out to you?
Reduced employee turnover rate by utilizing effective plans and processes.
Reduced employee turnover rate from 30% to 12% by improving hiring process and compensation plans; established learning and development program.
You don't have to add a lot of numbers and percentages.
Even a few impressive statistics, strategically placed, can stand out effectively.
7. Make Your Resume ATS-Friendly
We're not saying that AI is taking over the world … yet.
But robots do play a part in the hiring process.
More specifically, Applicant Tracking Systems (ATS) often process resumes before a human reader ever sets eyes on the resume.
If your skills don't impress the robot, your resume won't get a second glance.
The most effective way to get past ATS is by placing relevant keywords, such as industry terms and applicable skills, throughout your resume.
(Read more: How to Make a Resume that Gets Past the Robots.)
Closing: Get Help for Your Resume
There's a lot more to writing a resume than the skills that you include.
A perfect resume is in the details and even something as seemingly insignificant as the resume font and color you choose can make a world of difference.
Here at Find My Profession, we would love to help you land the perfect career.
We offer a top-notch resume writing service.
Our mission? To create effective resumes that convert into offers.
You don't have to settle for a resume that simply states, "I have mad skills." (While it worked for the Mad Hatter, it wouldn't fly for most positions.)
A major perk of working with our team at Find My Profession is that we assign you to the best writer for you based on your unique background and experience. They will be familiar with your industry and the keywords and skills that go with it.
Learn more about our resume writing services or reverse recruiting services today. We want to help you find true vocational success!