What difference does a resume format make as long as you have all the skills, right?
Wrong!
A lot depends on using the correct resume format for your situation.
After all, your resume is one of the most important elements of getting a job.
It is the first contact between you and your potential employer.
So, you have to get it right and show your skills and experience in the best light.
To help you with this, we have provided all the information you need about resume formats and when and how to use them.
5 Different Types of Resume Formats
Before we get into the resume formats that will be best for your specific case, let's have a look at the most popular professional resume formats being used today.
Essentially, we have three standard formats to look at – chronological, functional, and combination.
However, there are a few others that are used occasionally. These are usually used as a supplement to one of the three standard formats in a job search.
1. Chronological Resume Format
The chronological resume is the most-used professional resume format.
This format is also called the reverse-chronological resume format as your job experiences are listed from the most recent to the oldest.
Recruiters and applicant tracking systems (ATS) are most familiar with the format of this resume.
Reportedly, they also prefer this format as it puts most emphasis on your career progression, which they like to look at first.
Have a look at an example of a chronological resume. Click image to download full resume.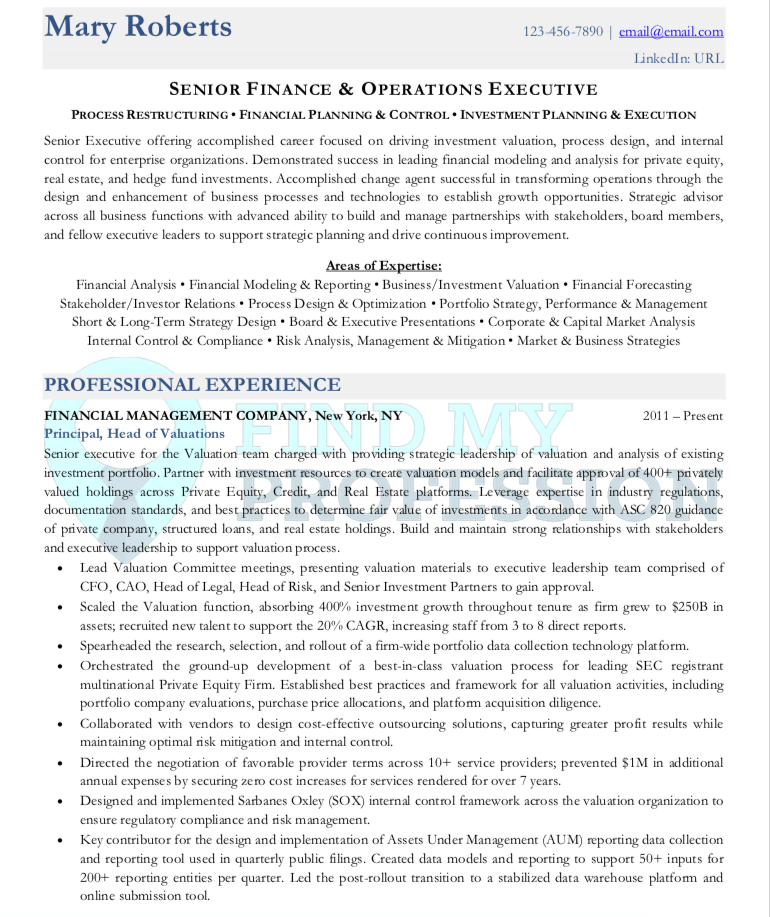 This format also has its downsides. See the pros and cons of this resume format below: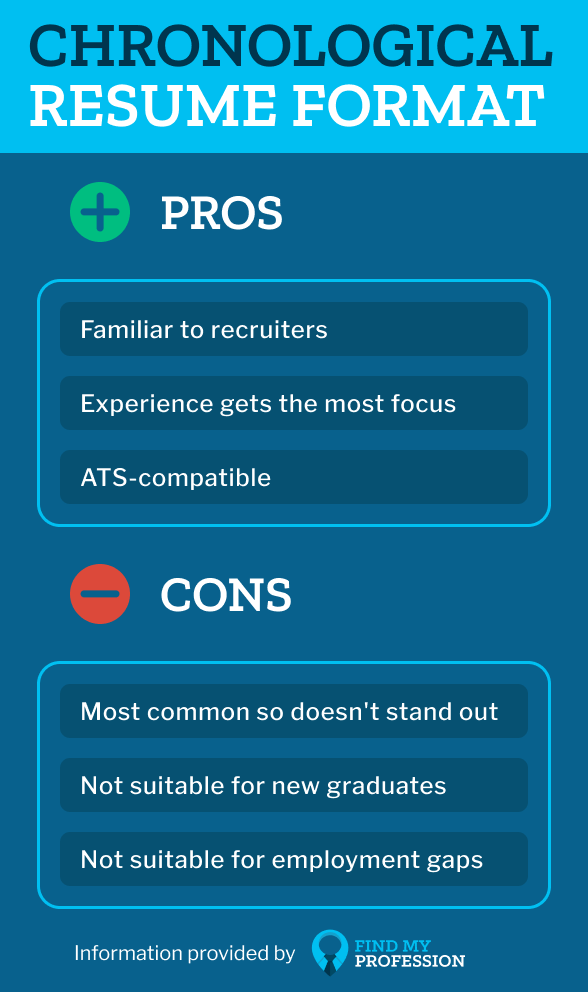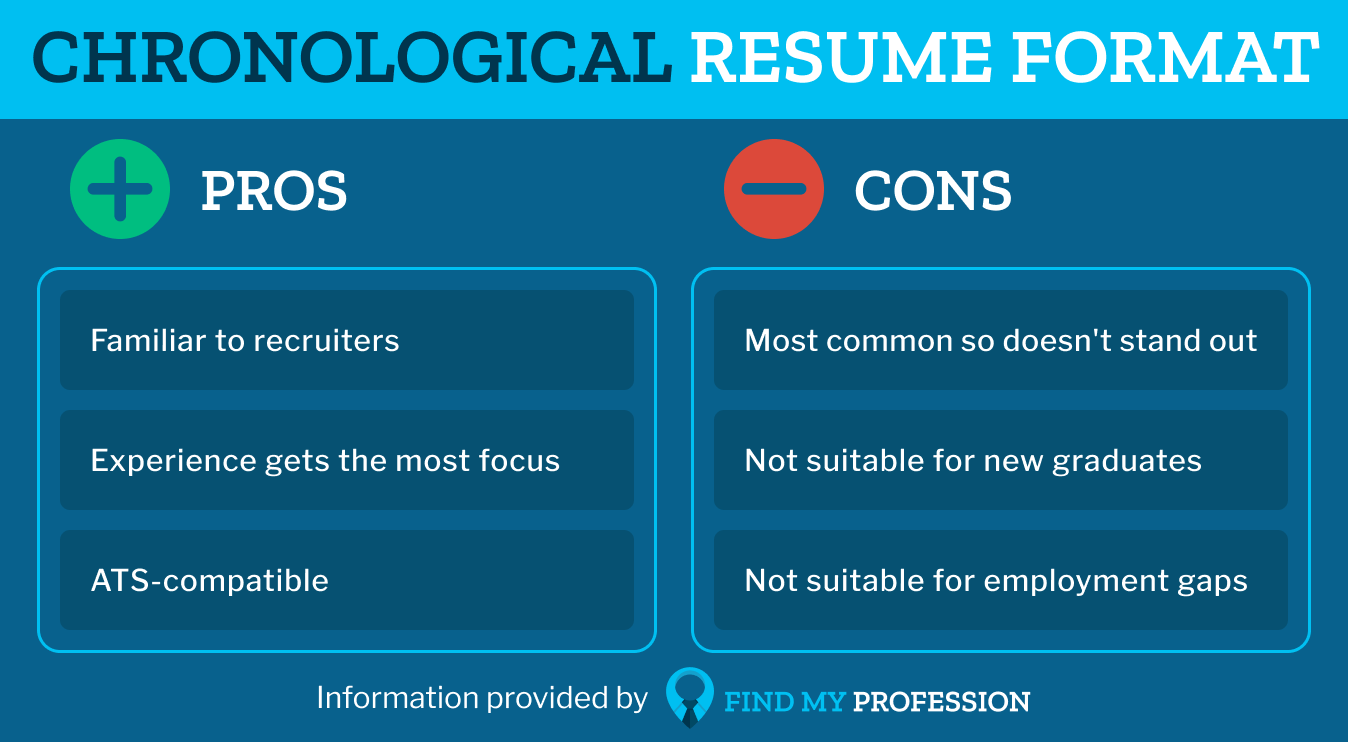 It is evident that you should use this format when you have a few years of experience to back you up and you are applying to jobs similar to your previous experiences.
On the other hand, if you are a new graduate or changing your career path to a new direction, a chronological resume format is not the most suitable option for you.
Also, if you have significant employment gaps, using this format can make the gaps too visible.
2. Functional Resume Format
The functional resume format is the second most popular format in use.
This format is also called the skilled-based resume format because instead of experiences, it focuses on your relevant skills.
This format is useful when you have the skills for the job, but your work history isn't that solid.
Take a look at an example. Click image to download full resume.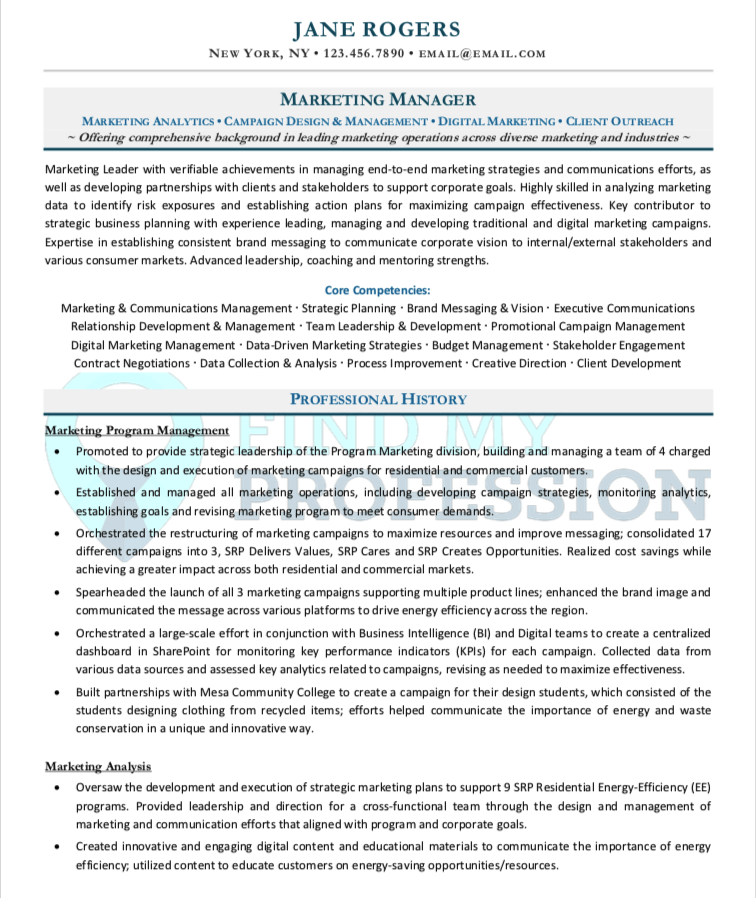 As you can see here, a functional resume provides an overall summary of your skills and qualifications as well as details of all the most relevant skills in relation to the job in question.
This takes the primary focus away from your career progression.
The functional resume format can be the best choice for some, but not for most others.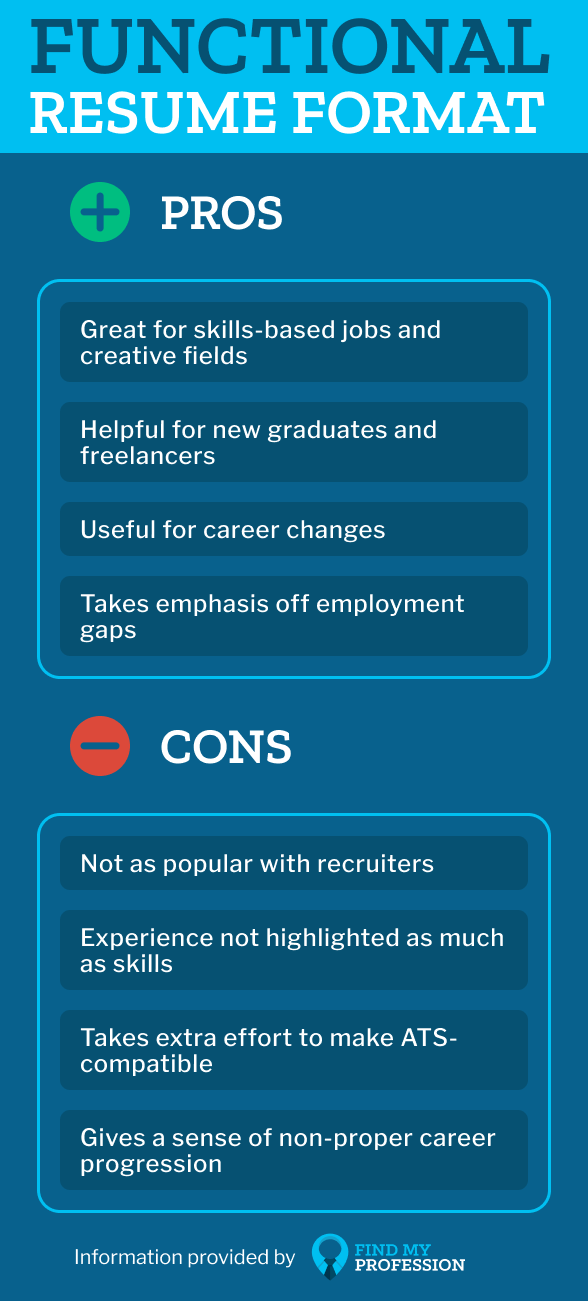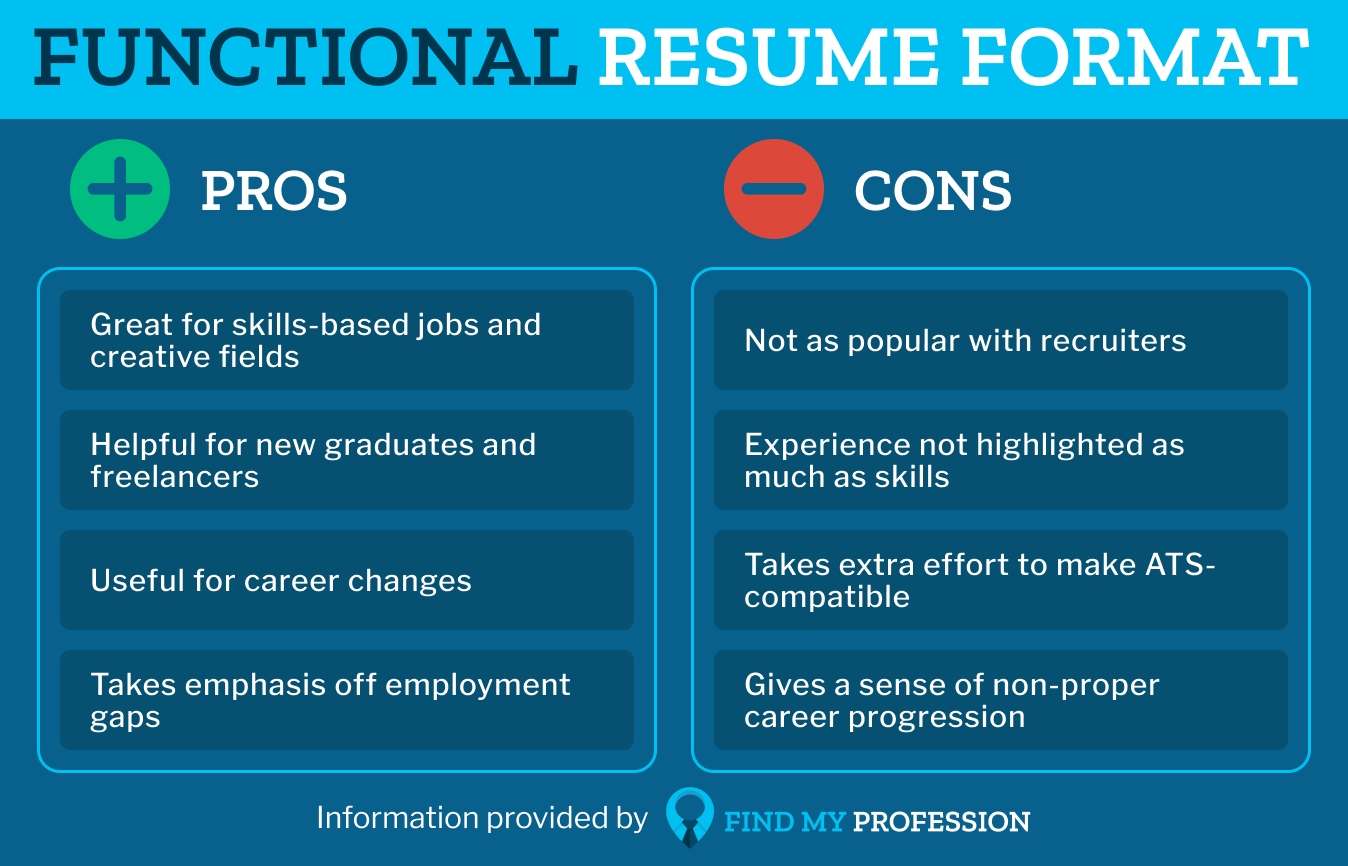 Pick the skills to highlight very carefully in relation to the job you are applying to. Make sure that it is the right format for you.
While detailing each skill, give prominence to real-life accomplishments and how you acquired the skills.
If possible, show the impact of your achievements through numbers.
3. Combination Resume
As the name suggests, a combination resume, or hybrid resume, combines chronological and functional resume formats.
This format gives equal emphasis to your skills and experiences.
However, the skills section gets more prominence as it remains at the top.
Have a look at our sample. Click image to download full resume.
It may seem that it is the best option as it brings the best of both worlds together. But it also has its cons.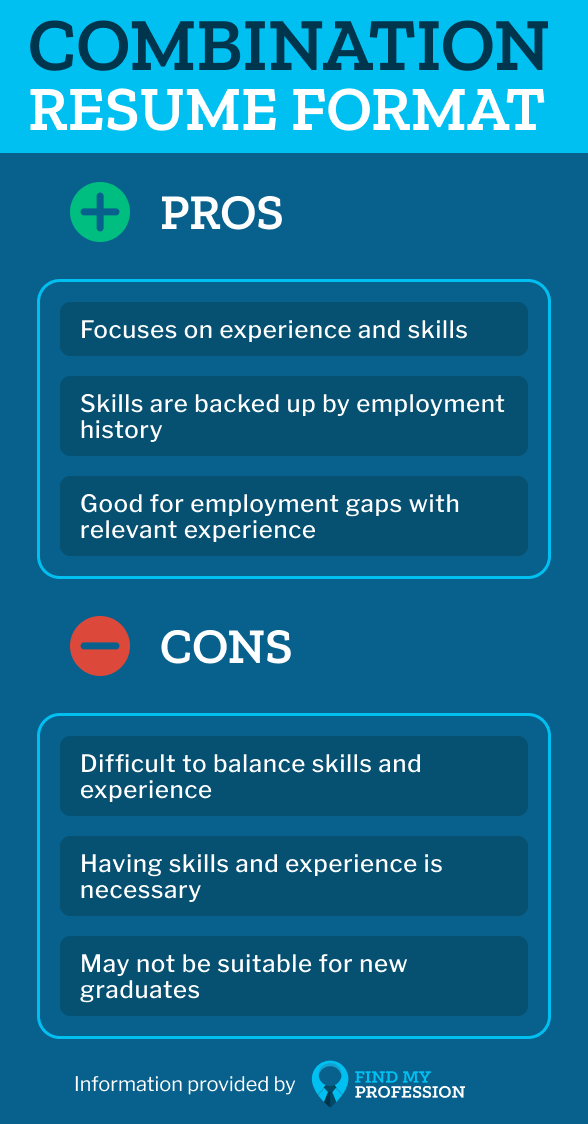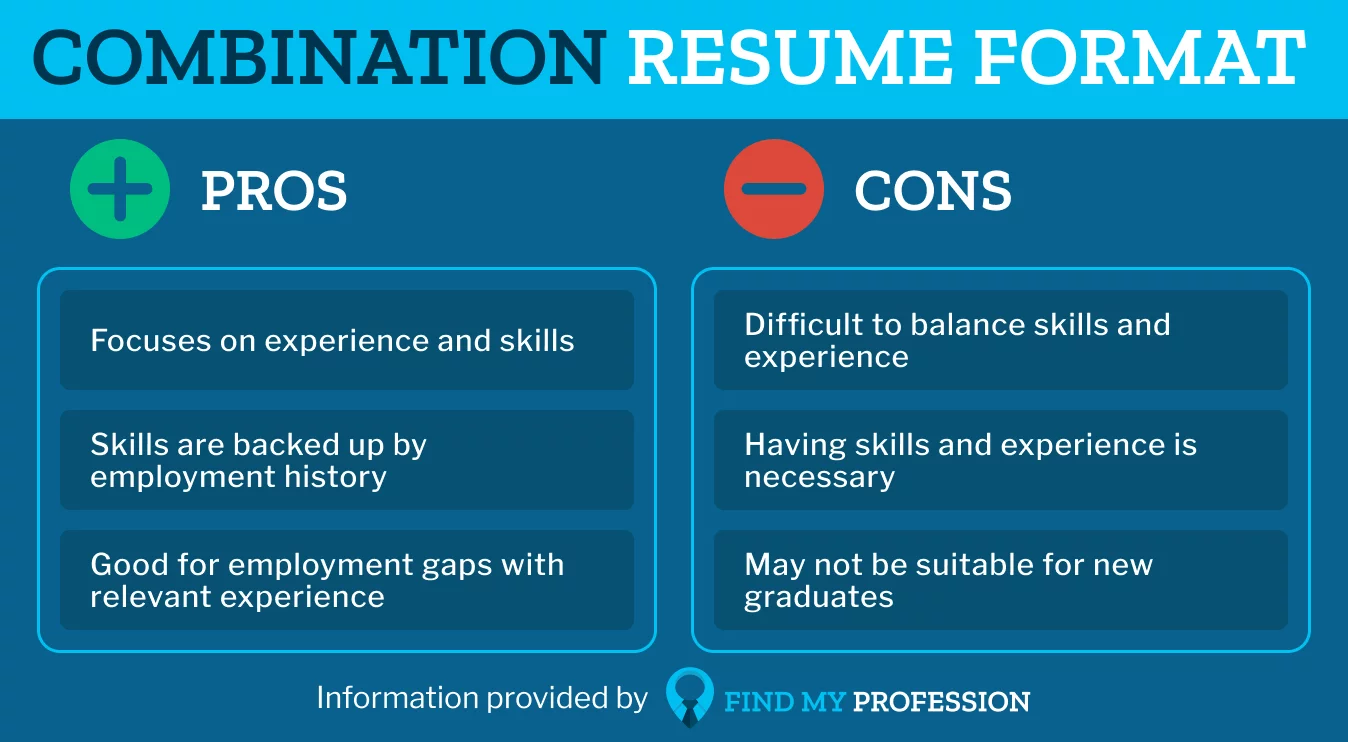 While describing the skills and experiences, give focus to quantifiable achievements. You have to pick the correct skills and experiences to highlight in relation to the job you are applying to.
4. Infographic Resume
An Infographic resume is where you can show off your graphic design skills.
This format uses various design elements with a focus on the aesthetics of the resume.
It is most suitable when you are applying for a position where design skills and aesthetics are most important.
However, no matter what your profession is, you can also use this resume format during face-to-face networking to catch the eye of your connections.
Take a look at a sample infographic resume from venngage.com: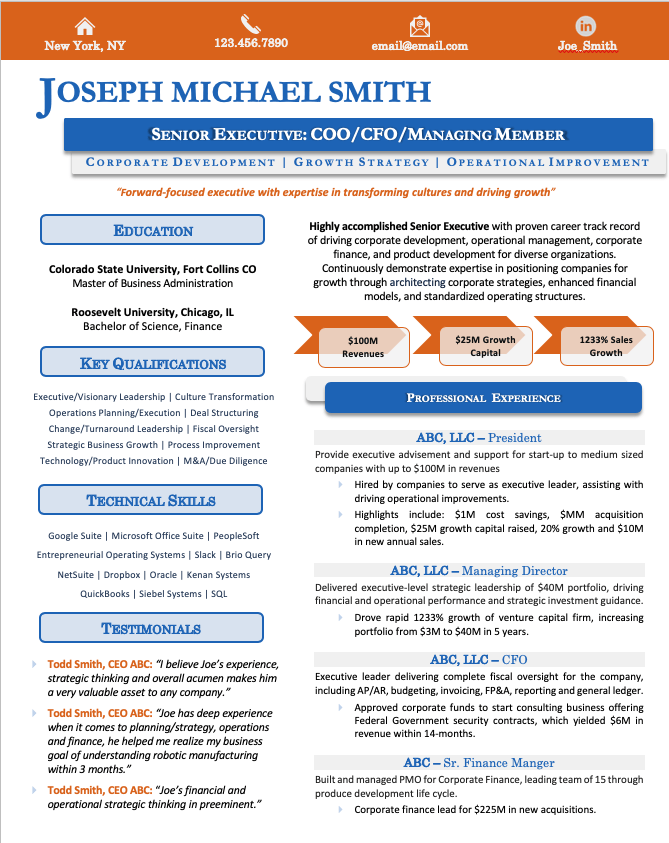 Now, let's take a look at the pros and cons of the infographic resume: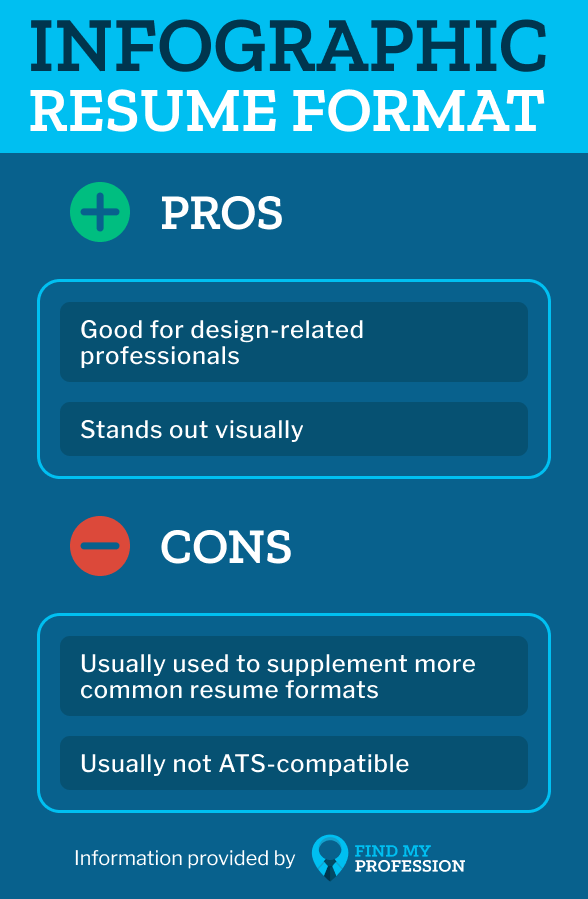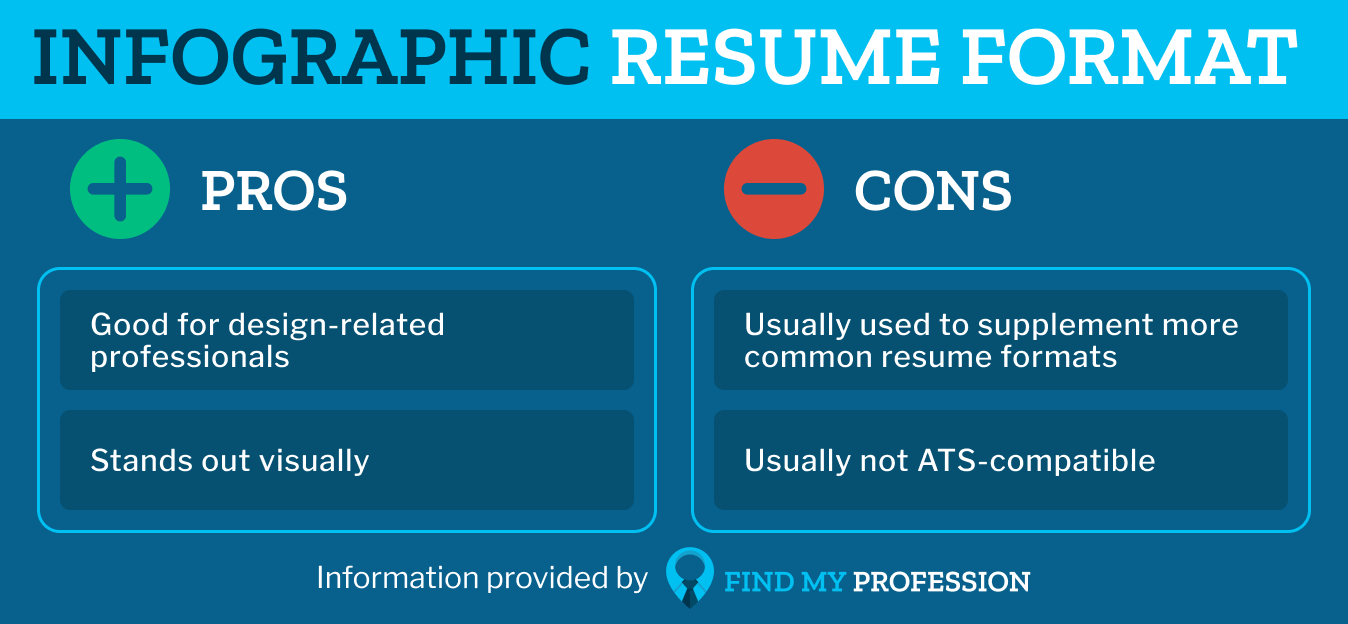 Only use this format when you have enough confidence in your design skills and concepts.
Make sure that the job you are applying to goes with the vibe you are creating with your design and ATS would not be a problem.
You can also use this format for face-to-face networking events.
5. Mini Resume
The mini resume is a special-use scenario where you need to tell your story in the shortest possible space.
This resume only contains the most specific details of your job or industry or your core professional details.
It is easy to share and great for networking events.
Have a look at this sample: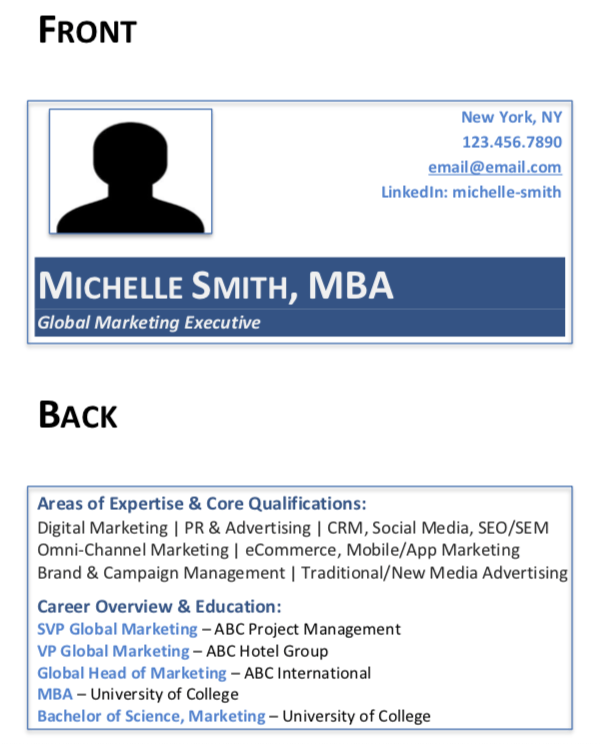 Due to its very limited scope, it has its own set of pros and cons: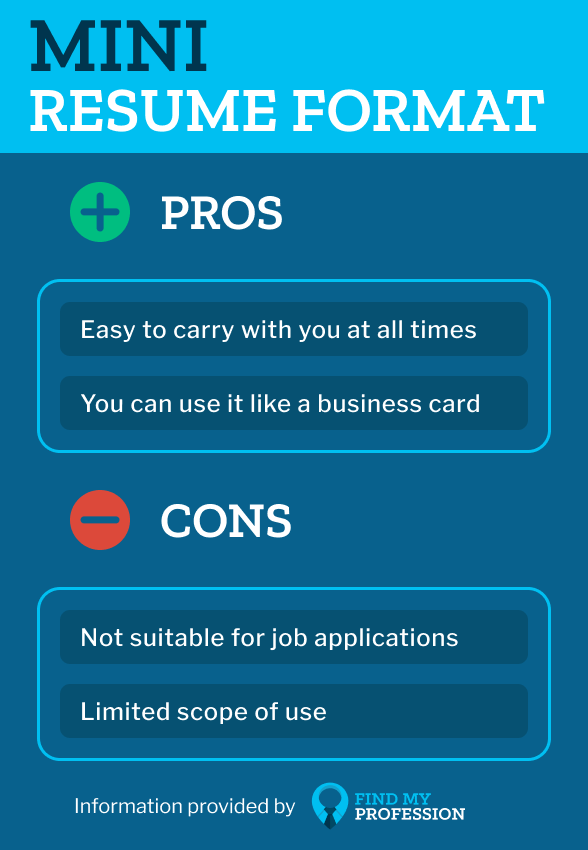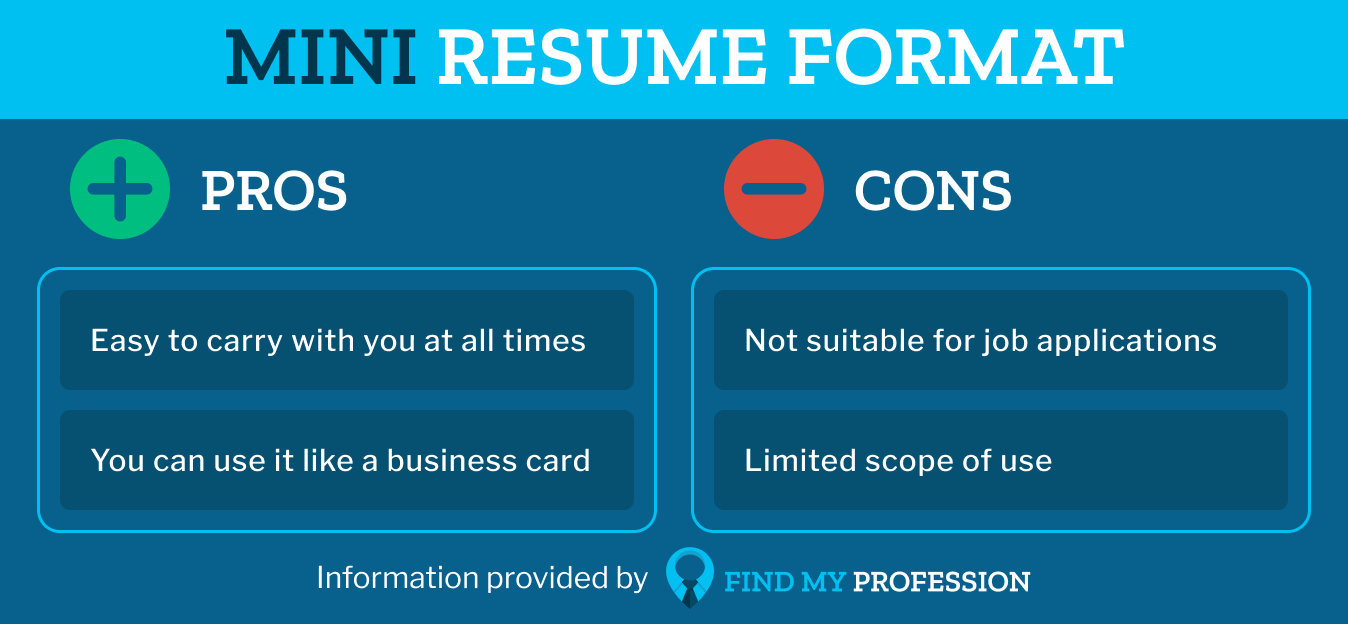 Create mini resumes for networking and meeting new people.
Only give the most relevant and impressive details about your career.
How to Choose the Best Resume Formats for You
Which of the above resume formats fits your needs?
Not sure? Read on!
We will discuss your specific career situation and which resume format you should use:
As a new graduate
As an executive
As an experienced professional
For an internship
For a career change
For employment gaps
We'll begin with the resume format of a new graduate.
Best Resume Formats for New Graduates
Very tricky.
You have to choose your resume format based on the following factors:
Academic performance
Skills
Extracurricular and volunteer work
Internships and part-time experience
Here's a simple equation to cut through all the confusion.
If you have acquired sufficient relevant skills during your study and academic training, go for a functional resume format.
If your volunteer work, internships, or part-time jobs have to offer what is needed for the job in question, go for the chronological resume.
And, if you have skills as well as experiences related to the job, go for the combination resume format.
Best Resume Formats for Executives
You probably already know what's best for you.
A chronological format seems to be the most suitable option.
It will show what needs to be shown: your experience in the field as an executive.
However, depending on the industry and position, there might be some scope for a bit of creativity with your resume.
So, consider soliciting help from professional resume writers to strike a perfectly balanced and targeted resume.
If, however, you are facing an industry change scenario, going for the combination approach would be the most appropriate.
Best Resume Formats for Experienced Professionals
The chronological resume format is also the best option for experienced professionals applying for a job within the same field of expertise.
It makes it easier to get the message across that you are already an expert.
But then again, you should not miss out on the opportunity of doing something different if there's an option.
Using a combination resume layout can be more useful if the job is skill-based.
Best Resume Formats for Internship
A functional or combination resume format would be the best format for internship resumes.
With the functional resume format, you will be able to showcase all the relevant skills that you have acquired during your academic years.
It will be easier to prove your suitability for the job based on your skillset using a functional resume format, as you are yet to gain any noteworthy job experience.
But if you have a bit of experience in related fields, be it extracurricular, voluntary, or part-time, you may opt for a slightly hybrid combination approach to increase the impact of the resume.
Best Resume Format for Career Change
A combination resume format is undoubtedly the favorite for a career change scenario.
It allows you to highlight the transferable skills that you have gained from your job experiences.
You will also be able to prove those skills by showing the achievements of your previous jobs without actually putting them as job experiences.
So, this is the best way to make the most out of your previous experiences in case of a career change.
Moreover, you can still add a short experience section listing only the most relevant positions.
Best Resume Formats For Employment Gaps
The combination and the functional resume formats are for you if you are concerned about employment gaps.
The combination layout would display only the most relevant skills and experiences, so the focus would automatically move away from the employment gaps.
However, if you have too many gaps and not enough relevant job experience, you should go for a functional resume focusing mostly on your skills.
This would help you to keep the focus away from the gaps.
How to Make Your Resume ATS-Compatible
Applicant tracking systems (ATS) are the bots that most companies are using to screen your resume even before a human sees it.
According to a recent survey, 89% of all companies with more than 500 employees are using ATS or HRIS (Human Resources Information System) for hiring purposes.
So, before you get to impress humans, you have to impress their machines first.
How do you plan on doing it?
Well, it's not too difficult if you check out a few of the basics.
Know What an ATS Is Looking For
Keywords!
The machines are looking for keywords.
Scan the job description and find the most relevant keywords.
Use these keywords in your resume title, summary, skills, and experience sections.
Know What an ATS Doesn't Like
Formats that are difficult to scan for a machine can hurt your chances of passing through the ATS.
That's why it is better to stay away from the infographic layout and it is best to use one of the three standard resume formats for applying online.
You should also avoid tables, acronyms, and uncommon fonts and typefaces in your resume.
(Have a look at this article to learn more about making a resume that gets past the robots.)
Resume Formatting FAQs
1. Which Fonts Do I Use on My Resume?
Using the right fonts, font size, and color is important because of the scannability factor.
If your resume font is difficult to read, the recruiter is annoyed at the very first glance.
Here are some of the best fonts to use for your resume – Calibri, Cambria, Garamond, Helvetica, Georgia, and Tahoma.
(Read more about resume fonts in this article, 9 Best Fonts for a Resume or CV.)
2. What Is the Best Resume File Format?
The most common, popular, and safest file formats for a resume are DOC, DOCX, and PDF.
Just make sure that the job description does not specifically mention anything else.
PDF file format ensures that your resume styling and formatting remain unchanged during transmission.
A few ATS can find it difficult to scan a PDF file, so it's safer to have both DOC and PDF formats ready to go.
You can submit the DOC or DOCX when ATS is involved and use PDF when you are sending your resume to a personal connection.
3. What Is the Difference Between a CV and a Resume?
Simply put, a CV, or curriculum vitae, is the full picture of your professional life, whereas, a resume is more of a summary view.
A CV is very less frequently used in the US but is used for some academic, research, and postsecondary teaching roles.
(You may read more about these two documents here: CV vs. Resume: Difference, Samples, & When to Use Which.)
4. Should I Include a Cover Letter with My Resume?
Definitely yes!
Including a cover letter shows you are serious about the job and understand the job responsibilities properly. You may also need one to explain some things on your resume.
(Read more about how to write a cover letter here: How to Craft an Attention-Grabbing Cover Letter.)
5. How Do I Target My Resume to a Specific Job?
Basically, to customize your resume for a specific job, you have to go through the job description very carefully.
Find out the most crucial skills and experiences that the job requires.
Then, highlight those skills and experiences on your resume title, summary, skills, and experiences section.
(Read more on How to Write a Targeted Resume.)
6. Should I Include an Objective or Summary Statement?
Using a resume summary is the best bet for most situations.
Objectives are not useful in terms of the value you are going to provide to the job, whereas summaries show exactly what you are offering to the recruiters.
Using a resume objective could be more effective if you are changing careers, have no paid work experience, or are seeking an entry-level position.
(Read more on the Differences Between a Resume Objective and Summary.)
7. What Skills Should I List On My Resume?
Just like your experiences, you should only include the skills that are most relevant to the job in question and are most impressive.
You should also keep an eye on blending the hard and soft skills as needed.
(Learn more about resume skills here: Most Important Skills for a Resume.)
8. Should I List Company Names First or Job Titles First?
There is no rule of thumb here.
You can either put the company name first or the job title first, but be consistent throughout your resume.
If you have multiple positions at the same company, it may make more sense to list the company name first.
9. How Do I List Freelance Gigs on a Resume?
It is not really different from how you would list your regular job experiences.
Be sure to list only the ones that are relevant to the job you are applying to.
Give focus to your accomplishments and show achievements through numbers or performance indicators.
(Find more specifics in Self-Employment & Freelancing On a Resume.)
10. How Many Jobs Should Be on a Resume?
There is no specific consensus among experts about this.
Stick to the most recent and most relevant job experiences. Generally, focus on your duties and accomplishments during your most recent jobs.
Add more only when they are super relevant, but keep the details short, catchy, and keyword-rich.
This leads us to our next question.
11. How Far Back Should a Resume Go?
Most experts say that you should go back up to 15 years while listing your job experiences.
Give the most focus on the recent five years.
Include only the relevant experiences. Include anything older than 15 years if only it is super relevant and impressive. But keep the descriptions short or just as a list of job titles.
12. Should I Put a Photo on My Resume?
Most experts believe putting your photo on your resume is a big "No!"
Unless you are a model or an actor.
However, there are some countries where a photo may be expected, but not in the US.
13. Should I Include References on My Resume?
No, unless specifically mentioned in the job posting.
There is no need to add your references to your resume or add anything like, "References will be provided upon request".
You should have your reference ready to go in a separate document if you are asked to provide them.
(Learn more about how to list references here: How to List References on a Resume.)
14. Should I Sign My Resume?
No.
You may put your handwritten signature on your cover letter if it is a hard copy you are sending over.
In the case of emailed cover letters, it is optional to put a scanned signature on the document.
15. Can I Build My Resume Online?
There are many online resume builders that help you create your resume using pre-built resume templates in minutes.
There are also many professional resume writing services that you can find online if you don't want to create your resume on your own.
(Read more about online resume builders here: The Best Free Online Resume Builders.)
16. Where Can I Download Resume Templates?
There are lots of resume templates available online for free.
Just Google " free resume templates" and you will get plenty of templates.
But you have to be careful while choosing. Not all online resume formats are created equal in terms of quality and efficacy.
(You can have a look at some of the tried and tested samples here: Find My Profession Resume Samples.)
17. Can I Create A Resume With Microsoft Word?
Yes. You can also get pre-built resume templates within MS Word.
However, there are many advanced online and offline tools available now with more features and flexibility for creating resumes.
Remember that you can save your resume as PDF directly from MS Word.
18. How Many Pages Should My Resume Be?
For most applicants, your resume should be one page.
You can add another page only when you have more than seven years of experience, and it is absolutely necessary to add that extra page to include only the most relevant information.
(Find out more about resume length here: How Long Should A Resume Be?)
19. How Do I Shorten My Resume?
Be very precise with your wording.
Leave everything out that does not align or only somewhat aligns with the job description.
Focus only on the most relevant and impressive skills, experiences, and achievements.
You can also try decreasing your font size and margins, if possible, to shorten your resume. Just make sure the font size is still easy to read and that you have included enough white space.
20. What Should Not Be Included on a Resume?
Generally, your resume should not include the following things:
High school info, hobbies, and interests, grade point average, resume objective, references, photo, an unprofessional-looking email address.
Conclusion
This article covers all the bases about the best resume formats to use in which situations and some resume format FAQs that you may have.
However, there may be a few specific career situations that are unique to you.
If you are still not sure which resume format would be best for you, contact Find My Profession right away!
Our expert resume writers are always there to help rewrite your resume for maximum impact.