What is the best definition of a targeted resume?
Simply put, a targeted resume is the perfect resume for a particular job.
The perfect resume for any job is a resume precisely tailored and targeted to that job.
What does that mean for you?
It means your resume should showcase the necessary skills, experience, and accomplishments for the job you are applying for.
It also means that you have to edit your resume for every new job application.
We get it.
Having to edit and customize your resume every time you apply for a new job can be overwhelming and frustrating.
That's because you don't know the easy, fast, and effective way to write a targeted resume yet.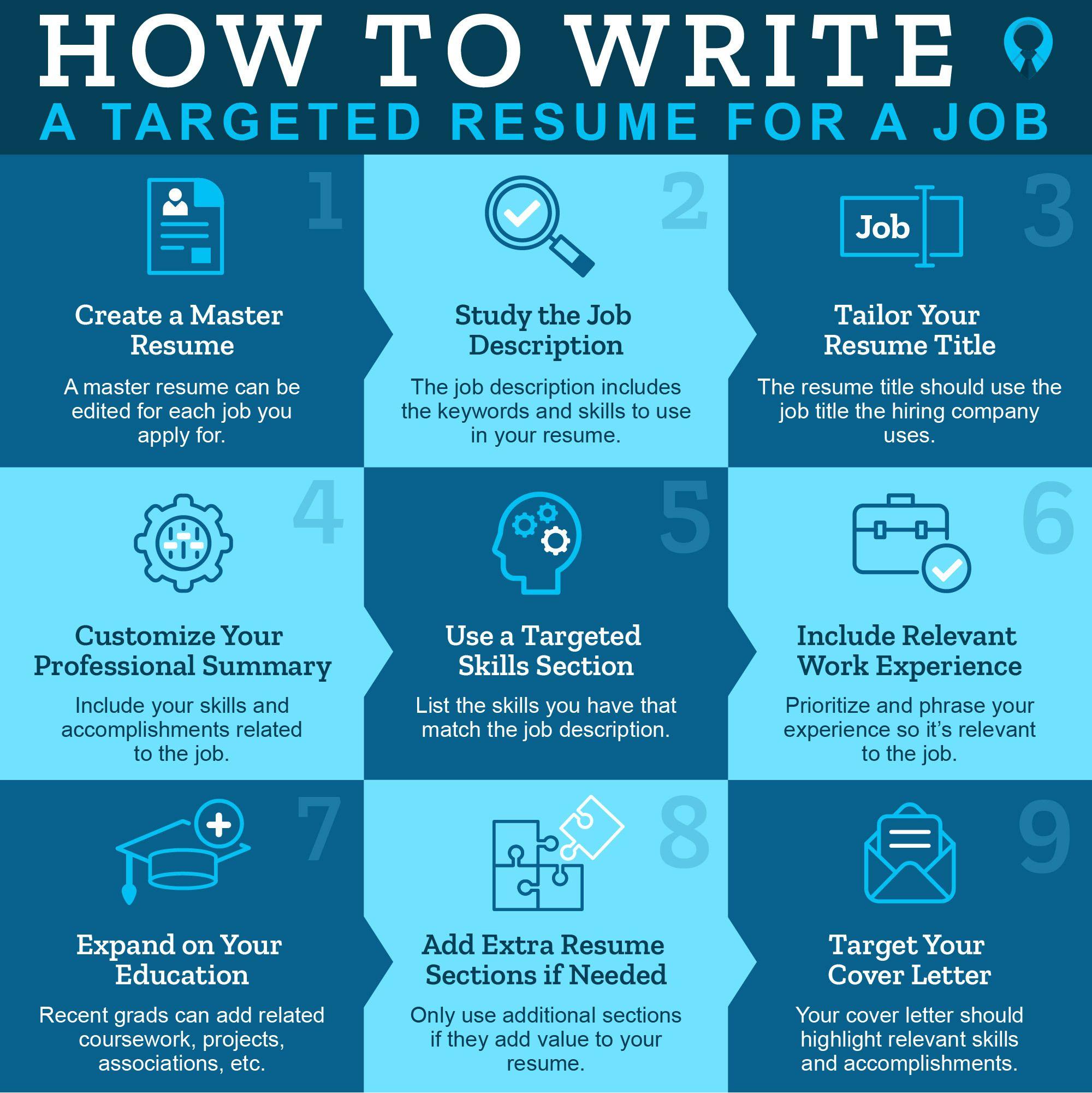 Keep reading for more details…
Why Do You Need a Targeted Resume?
Having a single generic resume and using it out for all the jobs you apply to is not a good plan.
If you did manage to get a job through this approach, you were lucky. Somehow your generic resume got matched with the job you have.
Depending only on luck and a numbers game is not a smart move.
Over half of mid-sized to large corporations are now using Applicant Tracking Systems (ATS).
ATS software scans resumes and job applications before a human sees them.
So, if your resume doesn't include the keywords that an ATS is scanning for for that particular job, your chances of an interview are pretty low.
A tailored resume also allows you to present yourself on your resume the way you want to be seen to some extent. You can highlight the parts of your experience that are relevant to the job and downplay the parts that aren't as much.
A targeted resume will also allow a recruiter to quickly see how perfect you are for the job.
What Parts of Your Resume Need to be Customized?
What do you need to customize for a targeted resume?
Well, almost all of it.
These parts of your resume should be customized to each job:
Professional title
Professional summary
Skills
Experience
Education
Additional resume sections
Sounds like a huge task.
The trick is to start with a master resume and edit it down as needed for each job.
And of course, don't forget to create a targeted cover letter to accompany your targeted resume for the job!
We will walk you through 9 steps to tailor your resume below.
1. Create a Master Resume
Starting with a master resume allows you to edit and delete information instead of recreating the wheel for each job application.
Tips for your master resume:
Create a master resume that includes most, if not all, of your experience and accomplishments, education, and skills.
Write a solid professional summary geared towards your desired roles. It doesn't need to be perfect and you can improve it as you go.
Research and add industry-related terms as appropriate to your resume. Add key industry terms that will be relevant to the type of jobs you are seeking.
The more refined your master resume is, the easier it will be for each job application you submit.
If you are targeting substantially different roles, you can have more than one master resume to work from. Start with one, then modify it for a second role or industry.
If you need help creating your master resume, check out our article, How To Make A Resume.
Now you're ready to start tailoring!
2. Study the Job Description
Let's learn through actual practice.
The job description holds the secret to a targeted resume.
Here's a sample job description that we will use to create a targeted resume step by step.
This job posting is for a restaurant manager.
The responsibilities of the Restaurant Manager position are:
Coordinate daily Front of House and Back of House restaurant operations
Deliver superior service and maximize customer satisfaction
Regularly review product quality and research new vendors
Organize and supervise shifts
Ensure compliance with sanitation and safety regulations
Control operational costs and identify measures to cut waste
Create detailed reports on weekly, monthly, and annual revenues and expenses
Promote the brand in the local community through word-of-mouth and restaurant events
Recommend ways to reach a broader audience (e.g. discounts and social media ads)
The requirements include:
Proven work experience as a Restaurant Manager, Restaurant General Manager, Hospitality Manager, or similar role
Proven customer service experience as a manager
Extensive food and beverage (F&B) knowledge, with the ability to remember and recall ingredients and dishes to inform customers and wait staff
Familiarity with restaurant management software, like OpenTable and PeachWorks
BSc degree in Business Administration; hospitality management or culinary schooling is a plus
If we study the job description carefully, we will find important keywords, skills, and accomplishments to highlight on our own resume.
We have bolded all that seems like valuable information.
Using keywords on your resume is a must.
BUT…
It is possible to use too many keywords on your resume. "Keyword stuffing" can easily be detected by both ATS and hiring managers.
Don't try to cheat the system with keywords written in white font or unnaturally repeating keywords. It won't get you very far.
Now, let's dive into how we can tailor each of the resume sections.
3. Tailor Your Resume Title
What do you think the title for the targeted resume we are creating for this restaurant manager should be?
The title, or headline, would simply be Restaurant Manager. That's it.
Even if your professional titles have been Chef Manager, a Banquet Manager, or even an Executive Chef, the title you want to use is Restaurant Manager.
Use the title the hiring company uses for the job.
Using the title from the job posting allows the recruiter to easily see which job you are applying for.
4. Customize Your Professional Summary
You will now be customizing all that you have done and accomplished to match the restaurant manager job posting.
A professional summary, or resume summary, is a condensed overview of your career.
It shows what you have accomplished in your career and some of your major skills.
The goal of a resume summary is to show that you are the perfect candidate for the job. So, it must be tailored to that specific job.
Include your skills and accomplishments that directly relate to the job description.
Let's write a targeted resume summary for the Restaurant Manager job:
Restaurant Manager with 8+ years of experience in the food and beverages (F&B) industry. Coordinated daily Front of House and Back of House restaurant operations at industry giants like XYZ Restaurant, ABC Restaurant. Flawless track record of continuous revenue growth by 20%. Increased customer satisfaction by 10% through superior service quality.
Now, here's a not-so targeted resume summary sample:
Worked with industry giants and took established restaurants to new heights. Ability to manage all restaurant floor activities, including staff monitoring and work allocation. Expertise in developing business continuity processes and change management for restaurant businesses.
Which do you think would lead to an interview call?
Certainly the first one with the use of keywords from the job description and a quantifiable accomplishment to back up the claims.
The accomplishments mentioned and quantified are directly related to the job requirements of revenue reporting and maintaining customer satisfaction.
(Learn more: How to Write A Resume Summary)
5. Use a Targeted Skills Section
This section of your resume is a snapshot of your skills in list form.
Compare the skills from the job description to those you possess.
Try to include 12-15 skills on your resume.
This is one of the easiest sections to customize based on the job description.
Our Restaurant Manager can list all these releavent skills on their resume:
Managing restaurant events, leadership, financial reporting, P&L, conflict resolution, negotiation
Technical Skills: OpenTable, PeachWorks, Social Media Marketing
Listing these skills is less effective:
Active listening, management, human resources, budgeting, continuous improvement, staff monitoring
Technical Skills: Excel, Word, reporting tools
Keyword-stuffing is painfully obvious here:
Managing restaurant events, human resources management, conflict management, managing budgets, staff management
Technical Skills: Restaurant Management Software, Social Media Management
The first example checks all the boxes that the hiring manager wants.
The second one is generic for any managerial role.
The third…well…yikes!!!
Include the skills you actually have here. It's easy to cut-and-paste skills from the job description, but you need to have those skills as well!
(Learn more: Most Important Skills For a Resume)
6. Include Relevant Work Experience
Work experience is another resume section that has to be highly tailored to the job you are applying for.
Again, go back to the job description.
Find the key points from the responsibilities and requirements section that match the tasks and accomplishments from your previous jobs.
Emphasize and prioritize these in each of the roles you include on your resume.
Here's how our Restaurant Manager should tackle this:
Ensured unfaltering superior service quality over the years.
Increased customer satisfaction ratings by 10% across review platforms.
Developed and implemented social media ad campaigns generating 120% ROI.
Monitored weekly, monthly, and annual revenues and expenses reporting.
Organized training to enhance staff performance and productivity.
Decreased customer complaints to virtually zero.
Impressive, isn't it?
Let's take a look at what could have gone wrong:
Instrumental in overseeing the procurement and distribution of cooking supplies profitably.
Played a lead role in periodical financial auditing and management.
Oversaw employment and training of restaurant staff members.
Conducted operations according to all industry best practices, legal rules, and regulations.
What do you think?
Although the second version sounds like a great manager, it's not checking any of the major boxes on the job description.
7. Expand on Your Education
Should you customize the education section of your targeted resume?
Most certainly if you are a recent graduate.
If you are not a recent grad and have substantial work experience, the education section of your resume should be short and sweet, unless you are specifically asked for more information.
Add your relevant coursework, projects, and academic accomplishments that match the bold items on the job description.
Prioritize those items in your education section.
Here's how the education section could look for our Restaurant Manager:
BSc in Business Administration – 2022
State University
Coursework: Strategic Management for Hospitality, Cost Controls for Food and Beverage, Guest Services Management, Food Safety & Sanitation Management
Organized project with Z Non Profit to spread awareness on sanitation and safety regulations among local restaurants.
This education is not targeted to the job:
BSc in Business Administration – 2022
State University
Coursework: Accounting, Business Law, Economics
Worked on a project with Z Non-Profit to assess food safety standards
Including irrelevant information in your education section just takes up valuable space.
8. Add Extra Resume Sections If Warranted
Additional resume sections are a great place to showcase any extra qualifications, skills, and accomplishments you have.
These sections need to be even more tailored and targeted, or they will seem redundant and/or unnecessary.
Add an extra section to your resume only when you have something to show that's also in line with the job description.
Our Restaurant Manager could include volunteering for a community cooking class organization or volunteering for a local charity organization working in food management.
Always remember to only include information on your resume that will help you get an interview.
9. Target Your Cover Letter
Once you have your targeted resume ready to go, writing a targeted cover letter to accompany the resume should be a breeze.
Here's how to target your cover letter:
Start by addressing the hiring manager by their name.
Open with a catchy hook and express your interest in the position.
Offer a high-impact preview of your resume showing how you are the perfect fit.
Talk about your most notable and relevant details using the keywords from the job description.
End the letter with a call to action for a meeting to discuss further.
You will have your targeted cover letter ready in no time!
(Learn More: How to Write an Amazing Cover Letter)
Key Takeaways
Let's make writing a targeted resume even easier!
Follow these steps to write a targeted resume:
Create a master resume with your skills, accomplishments, and other details.
Note all the important keywords and phrases in the job posting you are interested in.
Compare the keywords from the job description with your master resume and delete or rephrase information that isn't relevant.
Ensure that the information throughout your resume is related to the job description and shows you as a great match.
Viola! You have your targeted resume for the job you are applying for!
Need professional help writing your job-specific or master resume?
Find My Profession is here to help!
We will match you with a professional resume writer with experience in your field. They will know the keywords and industry terms to use on your resume.
If you'd rather not do any of this yourself, there's an option for that too. We can professionally manage your job search (including targeted resumes) for you!