Your resume summary can make or break your next job opportunity.
It is the element of your resume that has the potential to excite the recruiter and keep him glued to your resume for more than six seconds.
That's the very first and one of the major wins for you towards securing your new job.
To help you with this very crucial step of your job search, we have compiled all the pertinent information and provided specific samples of resume summaries.
What Is a Resume Summary?
A resume summary is your professional journey in a nutshell.
Often called a "professional summary" or "resume summary statement," it contains a brief description of the experiences, skills, expertise, and achievements of your career so far.
It sits at the very beginning of your resume and most probably the first thing a recruiter will read.
So, undoubtedly, it is one of the most important elements of your resume.
It is the place to arouse interest and attract the hiring manager like a super magnet.
Check out this sample resume summary for a marketing executive: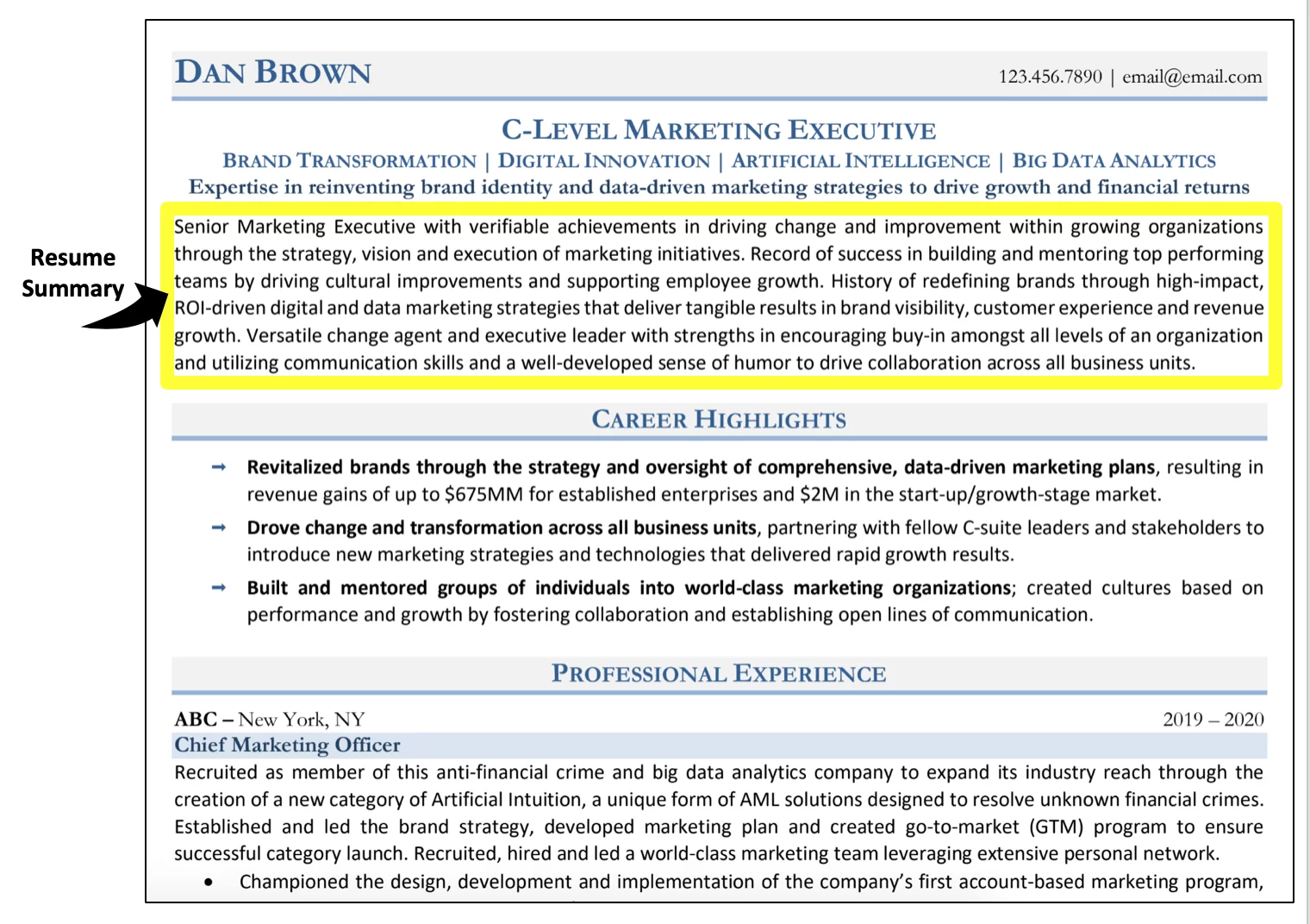 If you write an unimaginative resume summary, the recruiter will just skip ahead to the next candidate in line.
We don't want that to happen! You will learn how to optimize your summary below.
What Is the Difference Between a Summary and an Objective?
Although they sound similar, resume summary and resume objectives are two distinctly different things with different goals in mind.
A resume objective is focused on what you are looking for and what you want from the job.
It uses more "I" language.
A resume summary, on the contrary, is fully focused on your potential employer with more emphasis on what they will get from you.
Instead of what you want to do and become, it states what you already are made of.
As a result, in most of the cases, a resume summary is more effective than the resume objective.
Hence, the use of resume objectives has declined significantly in recent times.
However, a resume objective can still be useful in case you are a new graduate or you are changing careers.
When to Use a Resume Summary
Almost 90% of all resumes now use resume summaries.
It is a great way to showcase your worth and draw the attention of the recruiter.
It lets you easily explain why you are the right fit for the job based on verifiable experiences and achievements from your past.
So, you should try to utilize a resume summary as often as you can.
That means, as long as you have a sufficient number of relevant experiences, expertise, and accomplishments related to the job you are applying for, you should use a resume summary.
Top Tip
If you include an objective on your resume where a summary should be used, you and your resume may look out-of-date.
There may be situations when your experiences and past career progression may not match with the job post at hand, then you can consider switching back to a resume objective.
With a resume objective, you will be able to better highlight your transferable skills and motivation for the job.
If you are a new graduate, a resume objective will be a better fit for you too as it will allow you to show your passion for the job.
(If you determine that you need a resume objective, take a look at Resume Objective: How to Write, Examples & More.)
How to Write a Resume Summary
Now, let's get into the real action: how to write the perfect resume summary for you.
Well, if you keep your focus on the right places, it is not that much of a tough task.
The secret is to pick the most relevant and impressive elements of your career and deliver them with a bit of panache.
Keep the following tips in mind while writing your resume summary.
Use Keywords
Using the right keywords related to the job is crucial for two reasons:
Keywords are what the ATS (Applicant Tracking System) is looking for.
Keywords easily get noticed by recruiters.
So, keep strict attention to the use of job-specific keywords for your resume summary.
Go through the job posting and find out all the required skills, experiences, and related achievements.
Those are your keywords.
As long as they describe your abilities, include those in your resume summary.
(Learn more about How to Use Resume Action Verbs When Applying for Jobs.)
Quantify Your Achievements
While describing your most recent, impressive, and relevant achievements, try to make it quantifiable.
Using numbers turns your accomplishments into something more tangible and concrete.
Ask yourself questions like these to quantify your achievements:
What was the success rate of your marketing strategy?
What percentage of increased sales did your initiatives achieve?
How much positive client feedback did you get for your organization?
How many successful events did you organize?
Any similar questions are likely to give you the numbers you are looking for.
(Take a look at How to Turn Job Duties Into Accomplishments for more insight.)
Prove Your Experiences
You do not have much space when it comes to your resume summary.
Focus only on the most recent, relevant, and proven work experiences that you have.
It is okay to brag a little, but never okay to say something that you can't prove later on.
Faking never ends well.
Write Your Summary After Completing the Resume
It is a great idea to write your resume summary after you have completed all the other parts of your resume.
By doing so you will get a clearer view over your whole career and easily pick the elements to include in the summary.
It will also ensure that you do not miss any important information that would look great in the resume summary section.
Keep It Short
As already mentioned, your professional summary should be short and simple.
It should be three to four sentences only.
So, keep only the elements that are sure to have the maximum impact.
Leave out the skills that are common. Only include the ones that are highly valued in the industry.
Top Tip
Start with your professional title modified by one or two glorifying adjectives and the years of experience you have in the field. Back it up with the most relevant achievements and skills.
Resume Summary Examples
So far, you have read all the theoretical knowledge about resume summaries and how to write one.
Now, let's get a practical view of real-life resume summary examples.
Entry-Level Resume Summary Example
You are applying to an entry-level job, but you believe that you have enough material at hand to pull off a resume summary.
Focus on your internships, part-time jobs, volunteer or extracurricular work, and any transferable skills from your academic study and coursework.
Find out the elements most relevant to the job you are applying to.
Then, create something like this:
Confident and motivated Computer Science graduate with over three successful software projects already helping businesses of the likes of X and Y. Utilized full-stack development skills as a freelancer with a 100% success rate and client satisfaction. Seeking to practically impact the businesses with the power of innovation.
Did you notice how even this entry-level resume summary makes you look like a pro?
College Student Resume Summary Example
As a current student, oftentimes, you don't have sufficient professional working experience to include in your resume summary statement.
But you still have your academic performance, extracurricular and volunteer work, part-time jobs, and relevant academic or professional projects.
Whatever you have at hand, you have to make the most out of it.
Your summary may look something like this:
Inspired to create a better world, nearing the completion of the Bachelor of Social Work Degree with a CGPA of 3.84. Conducted over 15 successful offline and online social campaigns focused on creating a safer, cleaner, and prosperous society. Collaborated with X and Y nonprofits to strategize the best approach to help over 100 homeless people in the Z neighborhood.
Management Resume Summary Example
If you are applying for a management position and have a few years of relevant experience under your belt, a resume summary would be the best option for you instead of a resume objective.
Keep the guidelines described above on how to write a resume summary in mind and create something similar to this:
Dedicated and result-oriented project manager/office manager for more than 8 years. Worked at managerial positions in organizations with 500+ employees with a proven track record of success. Skilled in Six Sigma practices for improved organizational and business efficiency. Increased overall productivity by up to 25%.
Be it for a trainee management position or experienced project manager role, you can tailor this example summary for your specific situation.
Executive Resume Summary Example
For experienced professionals applying to an executive role, a resume summary is indispensable.
Have a look at this executive resume summary:
A seasoned and experienced senior executive with a proven track record of 15 years in the world of pharmaceuticals. Proficient in market penetration for new products as well as increasing revenue from existing product lines. Established markets for over 20 new product lines with over 60% more market reach compared to major competitors.
Now, create your own depending on your industry.
Career Change Resume Summary Example
Usually for career change situations, using a resume objective works the best for most applicants.
However, even if you are pursuing a career change, but have a significant amount of related experience, skills, and achievements, you should go for a resume summary statement.
A customer-centric seasoned copywriter, aiming to expand into the whole world of digital marketing with over 9 years of experience in writing for the digital audience across industries. Written high-converting industry-specific copies that boosted conversion up to 50%. Know the pulse of the people and what makes a campaign massively successful.
Notice how transferrable skills and experiences have been used for the most impact.
Teaching Resume Summary Example
A resume summary for a teaching job should be focused on your teaching experiences and how well your teaching methods have worked with students.
A caring and dynamic teaching professional with over 12 years of experience in reputable institutions like X and Y. Proponent of creative and innovative methods of teaching and loved by students and parents alike. Have a track record of improving underperforming students' grades by 15% on average.
Medical Career Resume Summary Example
A resume summary as a physician, nurse, medical assistant, or any other healthcare professional should give the most importance on your care-giving abilities and previous positive patient reviews.
A certified medical assistant with over 13 years of experience in quality patient care. Experienced in a team-oriented fast-paced work environment with 99% positive patient reviews. Skilled in personalized service in line with all the hospital regulatory standards and advanced medical technology management.
Customer Service Resume Summary Example
For a resume summary on a resume for a customer service role, give the most prominence to the number of customers you have served daily, customer conversion rates, problem-solving skills, and any contribution to overall customer experience for the companies you have worked for.
Intuitive customer service manager with an impeccable track record of 15 years of success. Have managed teams of 30+ service representatives with 99% positive customer reviews. Maintained over a 30% conversion rate for sales-oriented customer queries over the last 3 years.
Service Industry Resume Summary Example
As a service industry professional, be it for hotel management or for the food industry, you should try to emphasize your abilities related to hospitality and customer communications.
Energetic and customer-centric Restaurant Manager with a 5-year track record in service excellence. Ensured 98% customer satisfaction at X restaurant and increased the Yelp ratings from 3.5 to 4.5 for Y Bar. Managed up to 25 staff daily and planned marketing campaigns resulting in 20% increased revenue.
Technical Career Resume Summary Example
Show the success of your previous IT projects.
How did your technical skills help the organizations you worked for?
What are your core technical skills related to the job at hand?
Seasoned Director of IT with 15 years of experience in building and leading highly productive IT departments. Proven track record of success in driving organizational strategy for IT infrastructure development, operations, and business intelligence. Skilled in managing all the aspects of the IT portfolio and finding solutions for increased business efficiency.
Engineer Resume Summary Example
Innovation, efficiency, field-specific and problem-solving skills should be the focus along with the successes of previous projects for an engineering resume.
Inventive and passionate Mechanical Engineer with over 7 years of experience. Skilled in implementing complex designs and processes with a 100% success rate. Increased production efficiency by 15% at XYZ. Highly regarded for providing the most cost-efficient solutions keeping the manufacturing excellence intact.
Administrative Assistant Resume Summary Example
As an administrative assistant, you should display minute attention to detail and proficiency in day-to-day office tasks, related computer skills, and communications.
Proficient Administrative Assistant with over 7 years of experience in working closely with senior managers and executives. Have handled everything administratively from data entry to client communications with flawless efficiency. Successfully redesigned administrative workflows for speedy, precise, and cost-efficient execution of assignments.
Accounting and Finance Resume Summary Example
If you are writing an accounting or finance resume summary, showcase your past experiences in the field, in-demand financial and accounting skills, and how profitable you were for the organizations you worked for.
You will need something like this:
Stringent CPA with over 7 years of professional experience in financial planning, auditing, budget analysis, forensic accounting, and cloud and software integration. Saved hundreds of working hours by implementing cloud accounting at ABC Company. Successfully managed the annual budgeting of 1M+ for XYZ.
Sales Executive Resume Summary Example
As a sales executive, give utmost prominence to the numbers in terms of sales you have made and the revenue you have increased for your companies.
Also, give a bit of focus on strategy development and customer service experiences.
Energetic and customer-focused sales executive with 6 years of experience in the field. Increased the monthly sales at the XYZ Outlet by 5% with an innovative approach to customer handling and cross-selling. Proficient in digital sales funnel management and online customer query handling.
Marketing Executives/Manager Resume Summary Example
Again, it is all about the numbers.
What was the conversion rate of your marketing campaigns?
How much revenue has it boosted for your organizations?
How pervasive were your contributions?
Intuitive and passionate Marketing Manager with 8 years of professional experience. Managed teams of 10+ professionals including writers, designers, and developers to conduct highly successful campaigns with a conversion rate of 40%. Implemented data-driven marketing practices and customer analytics for both digital and traditional marketing success.
Feel free to use the above samples and tweak the information so it's relevant to you!
Key Takeaways
In this article, we have found out that:
A resume summary is too important to not be taken seriously.
A resume summary is an overview of your core strengths, skills, most impressive experiences, and glaring achievements.
You should keep your resume summary short and only include the most recent, impressive, and relevant information.
Using keywords related to the job you are applying for is crucial to impress both the ATS machines and humans.
Always try to quantify your achievements.
Now, go through the sample resume summary statements and the guidelines once again to create a resume summary for yourself that grabs the recruiters' attention.
For information about writing the rest of your resume, check out How to Make a Resume That Gets Past the Bots.
You can always get assistance from our certified professional resume writers at Find My Profession. We are always here to help you get the dream job that you deserve.