What is a resume career objective?
Your resume objective, also called a career objective, is the statement you place at the top of your resume, just below your contact information and heading.
This objective offers a concise statement, a sentence or two in length, that outlines your career goals.
Difference Between a Resume Objective and Resume Summary
Now, you might have heard that resume objective statements are obsolete, and there is some truth to this.
Many recruiters prefer a resume summary, which is a synopsis of relevant work experience and skills (hard and soft skills).
The main difference between the resume objective and resume summary is how they are worded.
With a summary, you summarize what experience you have gained in previous jobs.
With an objective statement, you outline what you hope to bring to the table.
Although the resume objective is not as common, there are times when you should use it on your resume.
Here are some additional differences between a summary and an objective: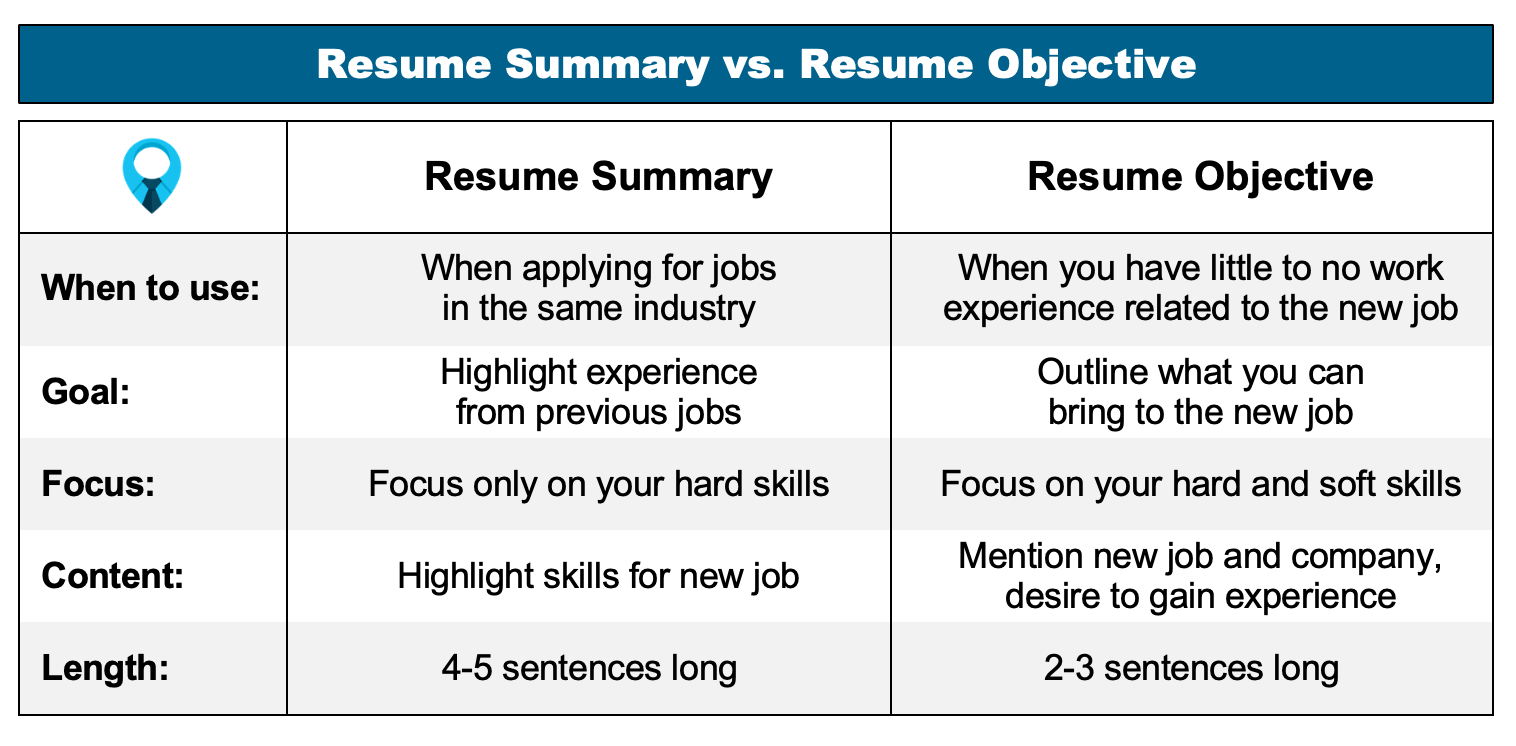 When to Use an Objective Statement on Your Resume
If you're seeking a position in the same industry that you have been working, the resume summary is probably the best choice for you.
However, there are times you might find it more effective to use a resume objective.
When would a job seeker opt for a resume objective over a summary?
When changing careers
If they have no paid work experience
As a recent graduate seeking an entry-level position
If they are a current high school or college student
We'll provide more details on each of these four potential circumstances below.
Keep in mind that, whether you choose to use an objective or summary on your resume, the important thing is to highlight your skills and abilities.
You want to impress upon the recruiter or hiring manager that you're the ideal candidate for the job.
Resume Objective for a Career Change
When you have experience in one industry and yet you are hoping to switch to another industry, you should write a resume objective rather than a summary.
The reason for this is that you likely don't have much work experience in the exact areas needed.
With an objective statement, you can highlight relevant skills and what you would bring to the position.
A resume objective for a career change might look something like this:
Organized professional with a background in accounting; strong attention to detail and advanced mathematics skills. Skilled in research and account reconciliation; hoping to contribute knowledge and experience as a tax auditor with [company].
Resume Objective for Someone Without Paid Work Experience
You might be new to the working world altogether.
Perhaps you worked as a stay-at-home mom or cared for an ailing parent and now hope to enter the workforce.
This is another situation where a resume objective would be useful.
You might not have work experience, but you have certainly developed hard and soft skills that could assist you in the professional world.
Here's an example of a resume objective with no paid work history:
Efficient and skilled in multi-tasking, seeking to leverage four years of personal caregiving experience to fill open position as care provider with [company]. Adept in housekeeping and meal preparation services; diligent in providing attention to clients' needs. CPR and First Aid certified, with a flexible schedule.
Resume Objective for a Recent Graduate (Entry-Level)
If you are a recent graduate, you do have a lot to offer, for sure.
You probably also have some good experience, but not in the form of paid work.
So, think about where you've gained experience.
For example, you might have …
Completed some relevant class projects and assignments
Volunteered in a club or at a local shelter
Interned with a company or organization
Even though this isn't paid experience, it is still something you can refer to in a resume objective.
Emphasizing this experience can motivate the recruiter to take a closer look at your resume.
Here's an example graduate entry-level resume objective:
Dependable college graduate in graphic design with a minor in marketing. Hoping to leverage skills in design and layout gained during two semesters of internship experience. Seeking to utilize creativity and enthusiasm in a full-time position with [company].
Resume Objective Sample for a Current Student
If you're a current student seeking a job, you might not have as much experience under your belt as if you already graduated. But the good news is, if you land a job while you're still in school, you'll have work experience to show upon graduation.
A resume objective is ideal as it will help you map out your trajectory.
You can also outline what you hope to accomplish, moving forward.
Here's an example of a student resume objective:
Dependable high school senior with strong computer skills (Microsoft Office Suite) seeking a part-time position with [company]. Enthusiastic to gain experience and support team goals while utilizing excellent communication skills and a positive attitude.
How to Write an Objective for a Resume
As you can see, there are several circumstances where a resume career objective would be a better fit than a resume summary.
That said, there is a right way and a wrong way to construct an objective for a resume.
The important thing is showcasing your skills and relevance for the position to which you are applying.
Bad example
I've never had a paying job, but I'm a hard worker. I would be a great employee at your company because I've earned a degree in computer science and you have an opening. Also, I've designed websites for fun since I was 15.
The above objective statement shows someone with a lot of potential.
Unfortunately, they simply don't know how to "sell" their skills in an impressive way.
The same information could be reworded to look a lot better on a resume.
Good example
Computer science graduate with skills in Python and Java; experienced in online collaboration. Seeking position with [company] as Full Stack Web Developer to utilize skills in developing databases, improving website functions, and designing interactions to enhance user experience.
It doesn't have to be twice as long to be twice as powerful.
A few important basics for creating your resume career objective:
Brief is best – two or three sentences are enough.
Use third-person voice – avoid "I" and "me" in a resume objective.
Provide specifics – the title of the position and the name of the company should be in your objective.
Add the most relevant hard and soft skills.
Clarify how you can play a vital role in the company.
One suggestion is to draft your full resume and then use the most impressive skills and experience you have to create a short, succinct resume objective.
Resume Career Objective Examples
To help you in your quest to land the perfect job, we want to provide you with sample resume objectives for dozens of specific positions.
All you have to do is find the job you are seeking, tailor it to your specific situation, and there you have it – a professional and impressive resume objective!
You can jump ahead to any of these sections by clicking on the links below:
General Resume Objective Examples
Retail merchandiser resume objective example:
Bringing initiative, accountability, and a drive to succeed as retail associate. Skilled in TCO/ROI analysis, competitive planning, item placement, and other merchandising activities. Seeking to enhance sales growth and develop new market opportunities with [company].
Customer service representative resume objective:
Motivated customer service representative with strong computer skills seeking to provide exceptional customer service with [company]. Experienced in assisting customers, facilitating orders, building successful relationships, and fulfilling customer needs. Bringing excellent organization and follow-up skills to ensure positive outcomes.
Call center specialist resume objective sample:
Enthusiastic call center specialist with excellent typing skills and positive phone demeanor. Experienced in handling high volume of calls, troubleshooting and resolving questions, and building member relationships with each interaction. With a passion for excellence and great interpersonal skills, seeking a position with [company].
Paramedic resume objective example:
Empathetic paramedic seeking to provide quality patient care and life support with [company]. Knowledgeable in administration of Advanced Cardiac Life Support (ACLS), Pre-Hospital Trauma Life Support (PHTLS), and approved medical protocols. Courteous and sensitive; able to maintain calm and professional in emergency situations.
Administrative assistant resume objective sample:
Efficient administrative assistant with advanced organizational skills seeking to advance the goals and strategies of [company]. Experienced in preparing reports, handling invoices, coordinating schedules, and anticipating department needs. Offering excellent communication skills, time management, and proficiency in Microsoft Office Suite/G-Suite.
Computer support specialist resume objective:
Helpful computer support specialist experienced in creating active directory accounts, installing printers and software, and troubleshooting software and network problems. Seeking position with [company] to provide professional technical support. Knowledgeable of C4IM services and I3A standards; CompTIA Security+ certified and MS Office suite proficient.
Claims adjuster resume objective example:
Motivated and confident, with advanced computer skills, including Microsoft Office Suite, Xactimate estimating software, and web-based claims systems. Customer-focused approach; adaptability in a fast-paced environment. Seeking position as claims adjuster with [company] to increase productivity and transform problems into opportunities.
Store manager resume objective example:
Store manager seeking to represent and promote all aspects of business with [company]. Innovator with leadership skills, experienced in promoting customer service excellence and seeking innovative solutions in store management. Skilled in setting strategic goals and sales targets, maximizing profit, and managing inventory.
Graphic designer resume objective sample:
Enthusiastic graphic designer with proficiency using After Effects and Photoshop; advanced creative skills in composition, style, and color; a passion for providing quality with minimal oversight. Seeking to oversee video and audio content, and eager to manage multiple projects in a fast-paced, progressive environment with [company].
Social worker resume objective example:
Passionate and sympathetic social worker seeking to help seniors and other patients at [location] to create meaningful lives in spite of the psychological and health crises they face. Skilled in collaborating with nursing home staff to ensure optimized care for patients. Experienced in handling challenging caseloads and managing patients' needs.
Warehouse associate resume objective:
Warehouse associate with high attention to detail seeking position at [company]. Skilled in shipping and receiving, checking products and packing lists, stock pulling, and inventory counting. Experienced in operating forklift, packaging products, and working in various environments.
Waiter/waitress resume objective sample:
Upbeat waitress dedicated to providing every customer with personal, friendly service. Bringing excellent communication skills, attention to detail, and the ability to maintain a positive demeanor through long hours. Seeking to join the team at [company] and offer courtesy and responsiveness to every customer.
Finance and Accounting Resume Objective Examples
Loan officer resume objective example:
Diligent mortgage loan officer seeking to assist [company] in guiding applicants through the entire loan process. Skilled problem-solver experienced in presenting products and services to clients, preparing loan program information files, and conducting seminars and sales meetings.
Underwriter resume objective sample:
Detail-oriented underwriter with extensive knowledge of credit guidelines and regulatory requirements seeking to assist the team at [company]. Skilled in reviewing loan files, identifying necessary documentation, and completing credit analyses in a timely manner. Able to manage and prioritize projects to ensure that loans close in a timely manner.
Financial advisor resume objective example:
Financial advisor experienced in preparing comprehensive financial plans for clients seeking a position with [company]. Successful portfolio includes working with clients to make recommendations, providing ongoing support and follow up, and creating a process to help clients meet financial goals.
Example of resume objective for enrolled agent:
Dependable enrolled agent seeking a long-term career with [company]. Demonstrated success in negotiating with tax agencies, communicating professionally on behalf of clients, analyzing financial documents, and determining the best solution for clients. Strategic and able to prioritize and handle a high volume of cases.
Investor relations associate resume objective:
Investor relations associate seeking to utilize excellent skills in communication, organization, and analysis as a member of [company]. Reputation for the ability to work under tight deadlines and deliver quality work. Experienced in creating spreadsheets, tracking client information, and developing relationships with investment professionals.
Credit analyst resume objective example:
Motivated credit analyst dedicated to the task of underwriting commercial loans as a member of the team at [company]. Skilled in the analysis of credit, financial performance, and market trends. Verifiable success in processing financial statements, real estate spreadsheets, and loan requests. Seeking to provide a detailed risk analysis of loan requests in a timely manner.
Accountant resume objective sample:
Organized accountant with attention to detail and aptitude for numbers seeking a long-term position with [company]. Proven history in data entry and compiling/analyzing account information. Eager to provide assistance with tax filings and financial/tax audits. Offering advanced skills in MS Office and data entry; familiarity with accounting software. Available to work weekends.
Example of resume objective for business teacher:
Enthusiastic business teacher seeking to create a supportive and respectful classroom environment at [school/college]. Skilled in fostering students' curiosity while enhancing their skills and understanding of business-related subjects. Familiar with marketing, buyer behavior, economics, and investing.
Budget analyst resume objective example:
Strategic budget analyst, skilled in research and account monitoring. Seeking to boost performance at [company] by developing/managing budget plans and programs. Proficient in using Microsoft Office; effective in interpersonal relations; strong organizational skills and able to work with tight deadlines.
Actuary resume objective example:
Efficient actuary with proficient communication and time management skills; comfortable with multitasking and collaborating in a deadline-oriented environment. Seeking to help [company] provide solutions that create a secure financial future for clients. Eager to demonstrate abilities to reach company goals with efficiency and timeliness.
Sales and Marketing Resume Objective Examples
Advertising coordinator resume objective sample:
Self-motivated advertising coordinator seeking opportunity to support the goals of [company] by providing project support for marketing management. Accomplished in compiling media performance reports, assisting with related projects, supporting sales campaigns, and researching advertisement trends.
Sales consultant resume objective example:
Bilingual (Spanish and English) sales consultant eager to assist [company] in reaching and exceeding sales goals. Adept in pursuing leads through networking and following up in a timely manner. Communicative, with a strong work ethic, and skilled in the use of computers.
Market researcher resume objective example:
Responsible market researcher adept in social media marketing, monitoring and forecasting trends, and identifying target markets. Seeking long-term position with [company] and enthusiastic to develop effective marketing programs. Experienced in using statistical software and converting data into graphs and presentable reports.
Media planner resume objective example:
Entrepreneurial media planner seeking to assist [company] in developing and implementing marketing strategies across a broad range of marketing channels. Experienced in managing media programs, monitoring performance, and making recommendations. Skilled in managing all aspects of media buying and price negotiation.
Public relations specialist resume objective:
Successful intern as a public relations specialist seeking a long-term position with [company]. Eager to develop skills in drafting press releases, managing social media campaigns, and pitching ideas to the media team. Adept in prioritizing tasks and time management; strong oral and written communication skills.
Sales manager resume objective sample:
Assertive sales leader passionate about motivating teams to strive for excellence. Experienced manager in a fast-paced sales environment seeking fulltime position with [company], aiming to develop creative ways to improve sales performance and increase efficiency at all levels. Empathic and excellent in interpersonal skills.
Marketing manager resume objective example:
Motivated marketing manager seeking to develop and implement brand and content strategy at [company] by implementing creative content for advertisement across various marketing platforms. Skilled in conducting market research, identifying growth strategies, and developing new marketing concepts. Energetic and able to work long hours to ensure timely project completion.
Product manager resume objective:
Ambitious product manager seeking to join the team at [company]; eager to engage customers by establishing a product vision and overseeing every aspect of production to its successful launch. Adept in analyzing performance, identifying areas for improvement, and measuring the impact of products through data analysis.
IT and Engineering Resume Objective Examples
Engineering technician resume objective:
Competent engineering technician with exceptional communication and interpersonal skills; proficient in data entry, seeking a position with [company]. Two-year internship; experienced in developing electrical motor test procedures, presenting reports, and using equipment.
Information system specialist resume objective:
Dynamic IT specialist with an advanced degree in computer science seeking a role with [company]. Familiar with troubleshooting, maintaining system performance, and collaborating on network security. Volunteer consult, providing education on new technologies; experienced in offering support of Microsoft Office and other applications.
Computer programmer resume objective example:
Meticulous computer programmer with a good understanding of backup technologies and managing cloud environments. Experienced using remote access technologies, offering back-end customer support and database configuration. Seeking to assist [company] in all things related to application and software maintenance and security.
Computer systems administrator resume objective:
Detail-oriented systems administrator with strong documentation skills eager to work with [company] in developing systems enhancements and maintaining applications and technology solutions. Eager to leverage problem-solving skills to assist IT systems management, provide technical support, and offer training.
Mechanical/design engineer resume objective example :
Dedicated and creative engineer skills in meeting tight deadlines while balancing multiple projects. Seeking to join [company] team; bringing experience in product design using current drafting software. Interned with [ABC Systems] and successfully saw three designs through a complete product life cycle.
Web developer resume objective example:
Motivated web developer with strong design skills eager to work in a fast-paced environment to reach [company] goals and exceed expectations. Adept in coordinating multiple projects and working independently. Advanced skills in Adobe Creative Suite, Dreamweaver, XHTML/CSS/jQuery, and content management systems.
App developer resume objective example:
Self-starting app developer excelling in idea generation, concept development, and feature design. Adept in current coding practices for mobile apps. Experienced using Java and C++ in mobile app creation and seeking to assist [company] in providing sustainable, clean code for applications.
Software developer resume objective sample:
Software developer familiar with using NET Framework, Entity Framework, and LINQ in server database development. Quick learner with excellent communication skills seeking to join the team at [company] and develop/maintain software using the latest technology solutions. Educated in designing, developing, and troubleshooting.
Computer engineer resume objective example:
Recent computer engineer graduate seeking to utilize excellent technical skills to provide optimum systems solutions. Familiar with identifying customer needs, providing recommendations, and offering solutions to technical problems. Eager to demonstrate creative approaches to problem-solving at [company].
Human Resources Resume Objective Examples
Human resources coordinator resume objective:
Positive HR coordinator with a background in event management. Offering strong communication skills and a great work ethic. With familiarity using Microsoft Office Suite and CRM software, seeking to work with [company] and efficiently coordinate human resources core processes. Eager to facilitate training and plan employee events.
Placement specialist resume objective example:
Wholehearted placement specialist seeking opportunity for meaningful work with the team at [company]. Hoping to leverage excellent interpersonal skills and attention to detail in problem-solving, collaboration, and locating optimum placement for students.
Recruiter resume objective example:
Enthusiastic recruiter with strong communication skills eager to identify talent, organize phone screens, conduct interviews, and make recommendations on behalf of [company]. Familiar with all aspects of the recruiting process, locating qualified candidates through direct sourcing, social networking, and referrals.
Training specialist resume objective sample:
Service-oriented trainer seeking to leverage skills in relationship management on behalf of [company]. Experienced in technical writing and able to quickly adapt to using new technologies. Enthusiastic to conduct department and employee training at all company levels.
Employee relations/development specialist resume objective:
Relations specialist skilled in listening to all sides, identifying issues, and resolving problems. With a strong background in interpersonal communication, hoping to facilitate the resolution of interpersonal issues between management and staff at [company]. Skilled in assimilating company guidelines and utilizing them in addressing interpersonal concerns.
General operations manager resume objective:
Practical and energetic supervisor seeking a position as a general operations manager with [company]. Keen awareness of keys to professional development and experienced in new hire training, scheduling, and coordination. Hoping to leverage background in marketing and promotions to increase sales.
Key Takeaways
In review, your resume objective should include a few main elements.
We'll use a resume objective for a position as a health and safety specialist as an example:
Conscientious health and safety specialist with current certification seeking a full-time position with [company]. Experienced in developing and leading training sessions, ensuring safe practices on-site, and identifying potential hazards. Developed communication and computer skills.
You want the following information:
Your desired position title – health and safety specialist
A relevant trait – conscientious
Goal – seeking a full-time position with [company]
A few strong soft/hard skills – developed communication and computer skills
Appropriate experience – leading training sessions/ensuring safe practices/identifying hazards
Need a little extra help drafting your resume?
We would love to help you land the perfect career.
We offer a top-notch resume writing service.
Our mission is to create successful resumes that convert into job offers.
Here at Find My Profession, we take note of your unique background and experience and connect you with the most relevant writer on our team.
We are also home to the legendary Reverse Recruiting services with a focus on executive-level job seekers.
Get in touch today and let us help you navigate every step of your job search. Our goal is always to help you find vocational success.