In a hurry to create the perfect executive resume?
Click on the resume sample below to download it.
If you need tips on how to customize your executive resume, keep reading.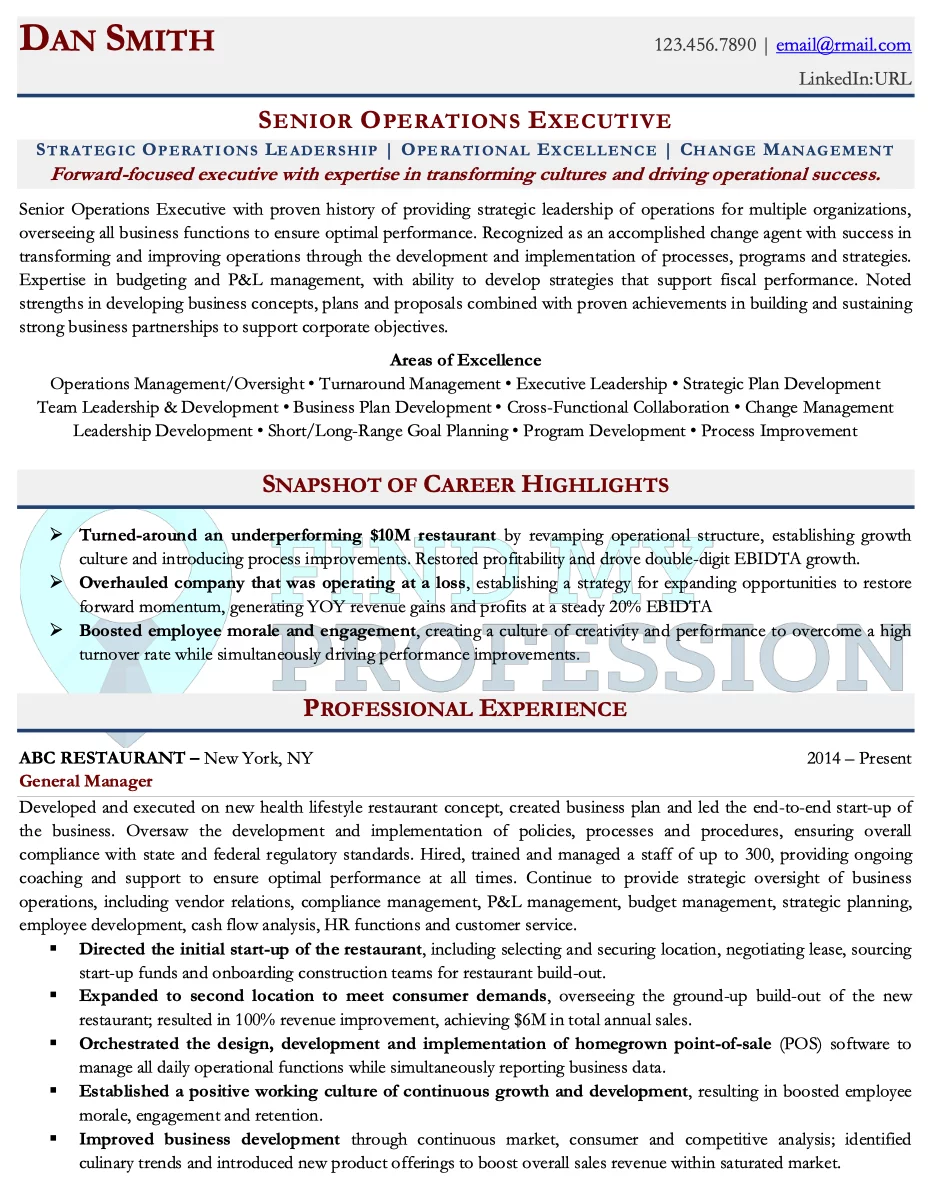 Additional Executive Resume Examples
We have also included Marketing and Finance resume samples!
Click on a sample below to download the full resume sample.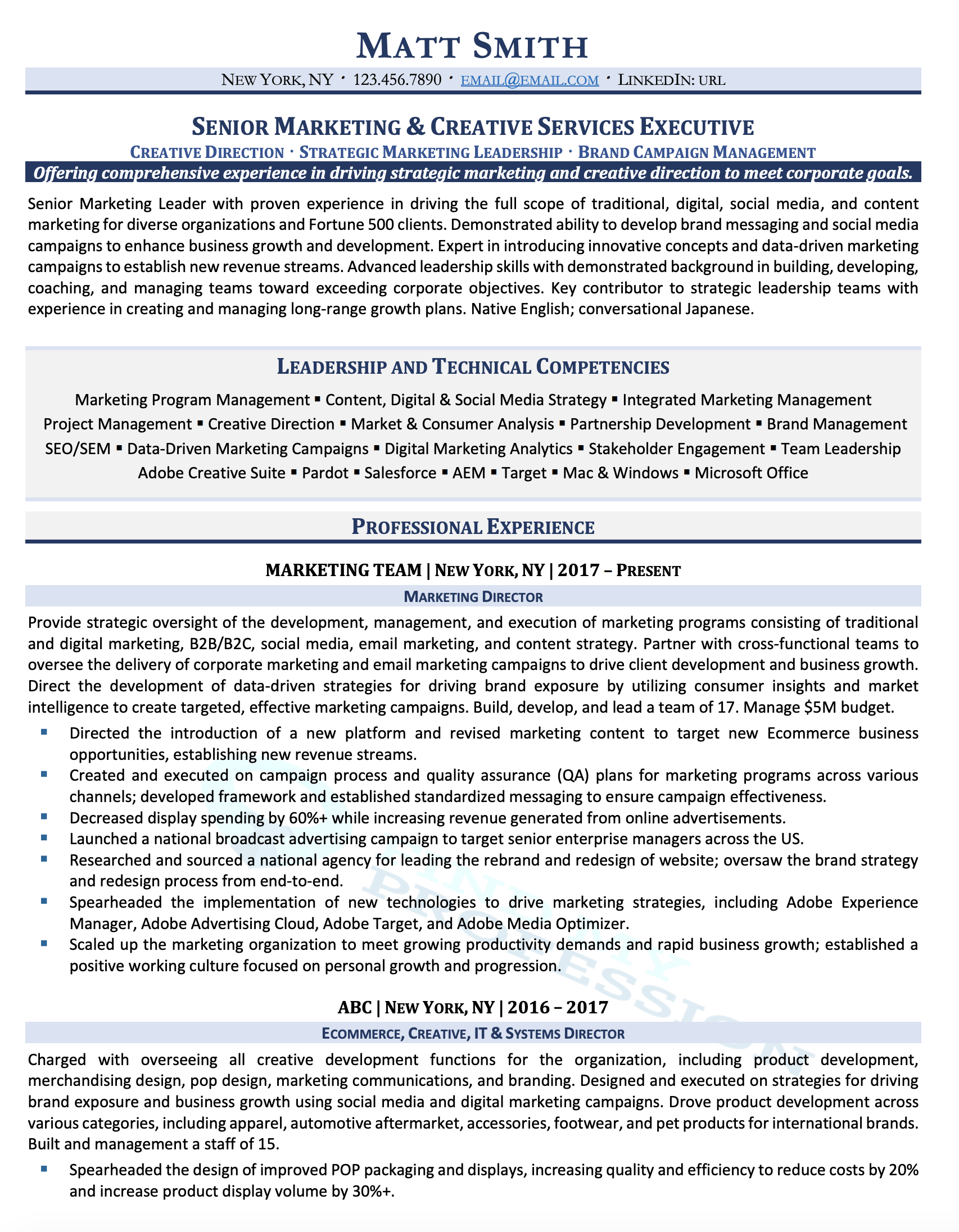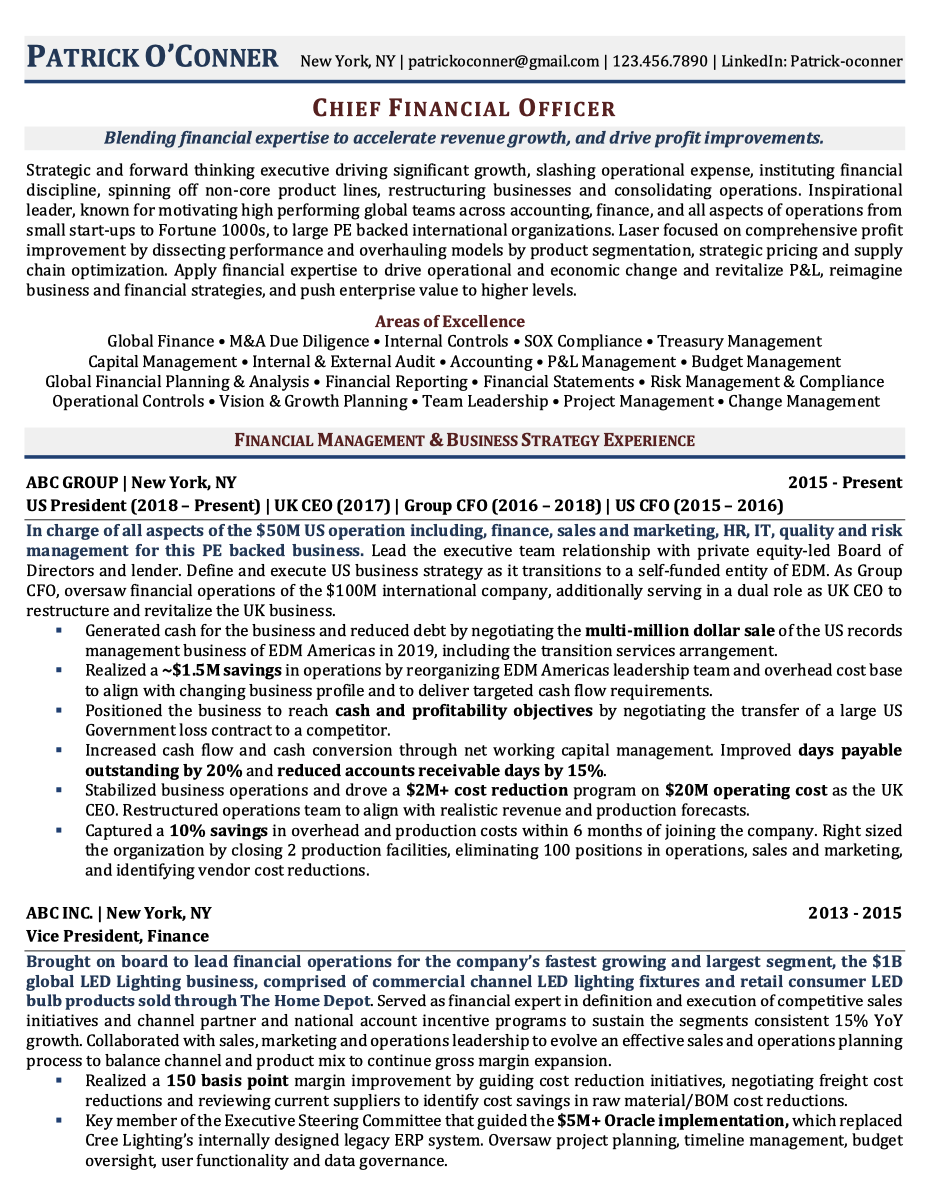 Check out even more executive resume examples on our website!
Include an Executive Summary on Your Resume
You've seen the templates and some formatting options, so let's dive into customizing your executive resume for you.
Leadership, sharp perception, business acumen, and strategic thinking.
What else does an executive position require you to do?
Demonstrate that you possess all that and much more in your executive resume summary!
A resume summary, or executive summary, is one of the elements of your resume that gets a hiring manager's attention in the first few decisive seconds. So you have to make it count.
How can you do that?
Simply by personalization and being highly relevant.
You should craft a summary that gives the most impressive overview of your executive career as well as demonstrates how your expertise and experiences will help solve the company's pain points.
Include your most impressive roles and achievements along with a hint at how your career so far makes you the best candidate for that specific role.
While selecting your roles, skills, and achievements, give utmost importance to the ones that show your leadership and decision-making capabilities as an executive and the actual impact of your decisions and efforts so far.
If you can quantify the impact and relate it to any major challenges the company is facing right now, even better!
For example:
Suppose, you have led a team of customer analysts at XYZ Corp that enhanced the customer journey or led to a precise personalization of marketing messages, which in turn, increased the customer satisfaction score by 20%.
Luckily, from your research, you have found that the company you are applying to now is in the middle of doing something similar with their customer analysis efforts.
Bam! You have your leverage.
That's what personalization of your executive summary looks like.
Your executive resume summary should be 4-6 sentences long. Use keywords from the job description to help describe yourself as the most fitting candidate for the role.
Take a look at an executive summary example:
Senior Marketing Executive with verifiable achievements in providing the full scope of global advertising, brand development and multi-platform marketing strategy. Record of success in building and mentoring top performing teams by driving cultural improvements and supporting employee growth. History of redefining brands through high-impact, ROI-driven advertising and marketing strategies that deliver tangible results in brand visibility, customer experience and revenue growth. Versatile change agent and executive leader with strengths in encouraging buy-in amongst all levels of an organization and utilizing data-driven concepts to deliver sustainable revenue gains across competitive markets.
Here, the applicant was aware of the organizational challenges the company was facing, such as redefining their brand and has leveraged that expertise in the executive summary.
Try writing your summary after you have completed the rest of your resume. It will be easier to see your most impressive and relevant experiences.
(Find more information about writing your executive summary in this article.)
Hard & Soft Skills for Your Executive Resume
The skills you use on your executive resume need to show that you are a strategic leader.
Do not just list every single skill that you have.
Applying for executive-level roles won't require you to show any skills that you used when you worked at a cafe twenty years ago.
You should stay away from task-focused skills that will make you look like you are applying to lower-level roles.
Check the job description of the job you are applying for to see what skills they seem to be seeking. The keywords used in the job description will often be the same keywords you should use on your resume.
Here are hard and soft skills examples to use on an executive resume: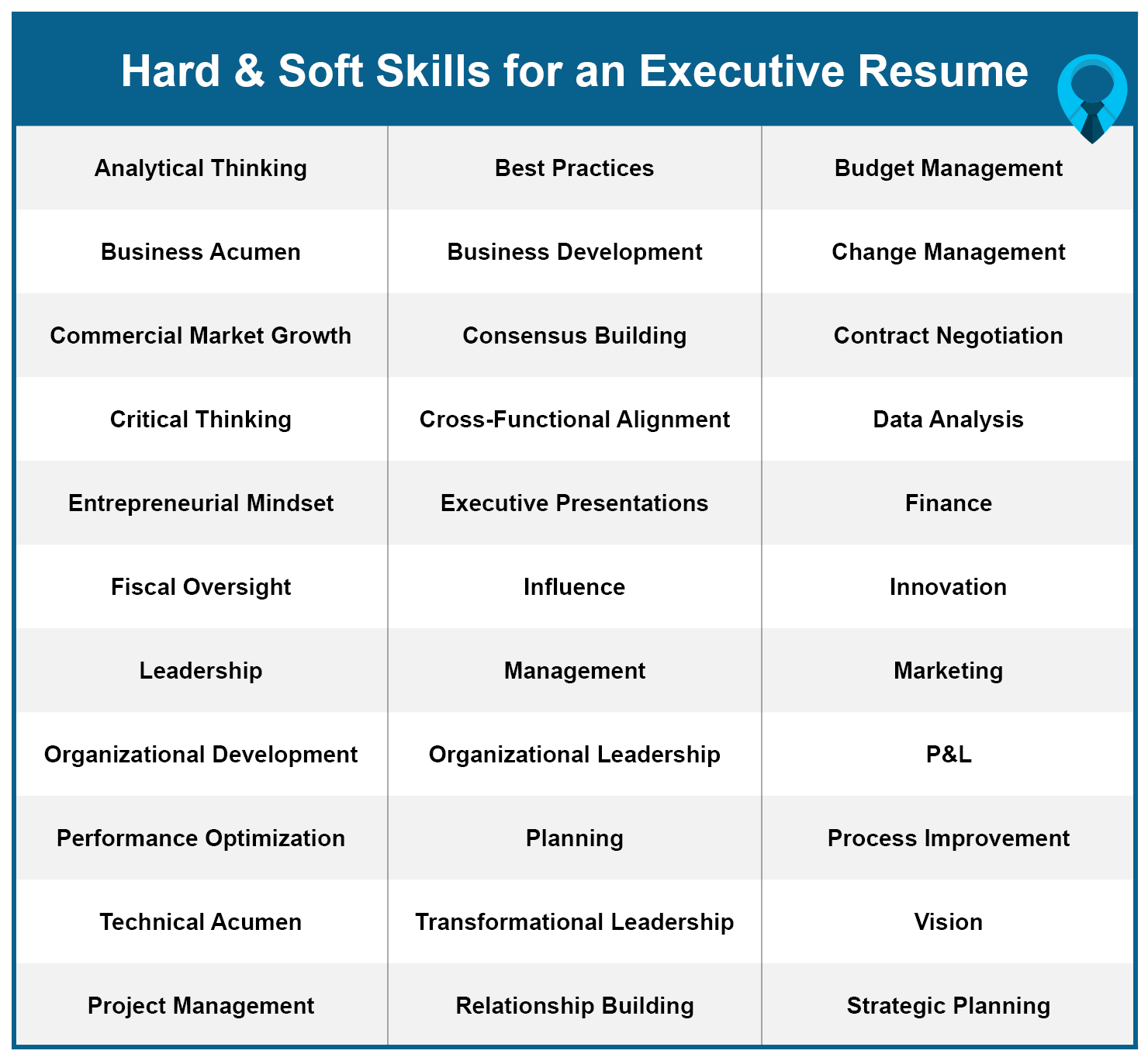 When writing the skill section of your resume, if you present a list of skills that looks like a soliloquy, that isn't going to be interesting. Instead, ensure that you only include the skills you possess that are relevant and valued.
However, you don't want to make it look like you have very few skills either; it is a balancing act. You need to show aptitude without going overboard.
Keep the number of skills in the skills section of your resume to 10-15 to be on the safe side. They should be a mixture of hard and soft skills.
If you have 16 solid, relevant skills, don't panic about cutting one out. It's a guide, just aim to be around 12-15. If you can only think of 10 high-quality skills, don't add two obscure skills just to get to 12.
There are endless formatting designs for the skills section of your resume and you can label this section of your resume with different titles.
Instead of "Skills," you can use a section title like "Areas of Expertise," "Areas of Excellence," "Core Competencies," "Signature Competencies," or "Leadership and Technical Competencies."
Here is an example of the skills section of an executive resume:

Check out the skills section in the resume samples provided above.
(For more information on skills for your resume, read Most Important Skills for a Resume.)
Prove Your Achievements On Your Resume
Anyone can type a laundry list of skills into a resume.
But can they prove their skills and achievements with numbers and examples?
Quantify Your Accomplishments
Metrics are king on a resume, and definitely on an executive resume.
Whenever possible and wherever relevant, quantifying your successes looks significantly better than just alluding to them.
If your neighbor told you that they took your dog for a walk for a while when dog-sitting for you, that'd be nice.
But if they said they took the dog out for 2 hours, we'd really be getting somewhere.
Quantifying the fact gave significantly more clarity. And you know that the dog needs a drink!
The same applies to your resume. Any time that you are listing an achievement, try to quantify it.
The achievement stays the same, but the person reading about it gets better information if you include a number.
For example, instead of:
Worked at ABC Company for 6 years and streamlined our service to increase net profit.
You can say:
Increased net profit 17% through the introduction of cost control initiatives and automated systems.
You say the same thing, but one way is significantly more enticing.
Additionally, if there is an accomplishment that you can't easily put a number to, you can add an adjective to it.
Organized an event? Well, don't just say "organized an event".
An event where the attendance or donation goal was slightly missed was still organized.
Say that you "organized a successful event." If you can't state how much you beat a goal by, include the number of attendees or amount of money raised if it was still significant.
Here are some additional examples of quantifying successes on a resume:
Established a centralized mixing facility that improved tire division warranty and quality revenue. Restructured the facility after four years to generate a $4M savings in cost structure.
Drove a 30% reduction in inventory through the development, negotiation, and implementation of a plant storeroom vendor managed inventory program.
Improved employee on-boarding process and implemented a six-month new-hire training program to drive a 25% reduction in employee turnover.
Established a client-centric culture, focused on creating, innovative and effective marketing/advertising strategies, resulting in 25% new and organic revenue growth in 2019, positioning team as top-performer across agency network.
Created a comprehensive global marketing strategy that increased brand recall 11 points, improved net promoter score (NPS) 10% and boosted annual revenue 22%, achieving $28.4B.
Ensure your executive resume stands out with numbers and statements like those above.
Show How You Achieved Success
The person reading your resume are under no obligation to believe you.
That doesn't mean that they'll assume that you are lying. But it is easy to make claims that sound good. But without backing them up, what is the use?
Are you telling the hiring manager that one of your skills is project management?
Well, highlight how this was demonstrated. How did you control costs? How did you lead your team? How did you manage suppliers?
Otherwise, your claims will seem very insipid.
Check out some examples showing how success was achieved:
Increased cash flow by over $1M over a period of 7 years by improving tax planning and researching/utilizing federal R&D tax incentives.
Improved reporting accuracy and timeliness by creating a comprehensive financial and managerial reporting process and obtaining buy-in from key process participants.
Improved efficiency and automation levels by expanding the existing utilization of Salesforce CRM from just the sales department to the entire organization. Led the integration of Salesforce with Microsoft Dynamics SL.
Reversed 7 weeks of churn caused by competitor's marketing attack by rolling out a new high-profile advertising campaign across multiple platforms; restored pre-attack churn levels in under 6 weeks.
Improved employee morale and engagement by establishing an employee "Impact Award" that recognized and rewarded employees for innovation in safety, quality, and efficiency improvements.
If you can show results and how you accomplished those results, you successfully subsidize your claims.
(Learn more about turning duties into accomplishments on your resume.)
What is the Best Format for Executive Resumes?
There are a number of resume formats to use and we will explain the differences and when to use them below.
Chronological Resume Format
The chronological format is the most used format for executives, and with good reason.
We would advise that you use this format too, as it focuses on your professional work experience.
That is exactly what recruiters want to hear about when you are pursuing a position like this.
Including key details about your recent employment experience puts you in the best position to catch the eye of the recruiter.
You will list your professional work experience in reverse-chronological order with the resume format, describing your duties and accomplishments in each of your recent roles.
Combination Resume Format
If the chronological format does not work for you because of a recent gap in employment or you are changing careers, use the combination resume format.
Your key transferable skills will be highlighted before your work history with this resume format.
Your resume is for an executive position. As such, work responsibilities and achievements will be a huge determining factor on your candidacy, so ensure that you give your previous employment section the attention it deserves.
We emphasize that the chronological format is the more effective of the two if you can choose between them.
Avoid the Functional Resume Format
On an executive resume, you don't want to completely remove focus from your professional experience.
That is exactly what this format does as it prioritizes skills and only provides a high-level view of your experience.
Yes, you get to highlight your key skills and achievements with this format, but you also need your resume to focus on what an executive recruiter wants to know about you. If you don't include the details of your employment history, you may look like you are hiding something.
(For more information, and for samples of how these formats look, read The 5 Best Resume Formats).
How Long Should Your Executive Resume Be?
There are some questions that can come up as you create your resume to target executive-level roles.
We will address the length of your resume as well as some common issues for executives.
Your Executive Resume Should Be 2 Pages
Should your resume be one page as an executive? Is two pages the maximum length for an executive resume?
The short answer is "no."
But the longer answer highlights that the recommended length can vary.
The goal of your executive resume should be 2 pages. As an executive, you will need to cover too much experience to fit on a one-page resume.
But if your resume reaches three pages, should you be concerned? Should you adjust the line spacing and font size to get it down to two pages?
Well, no.
But only if everything that you have included on your resume helps sell you for the position you are targeting with that particular resume.
If there's a lot of space taken up with information that is not adding much value, then cut those sections out. The length of your resume isn't so rigid here.
Some executives just can't limit their relevant accolades and experience to two pages. If this is you, you are not expected to downsize your resume.
Do Not Go Back More Than 15 Years (Even If Tempted!)
You do not want to look like you are relying on your work experience from over a decade and a half ago to get you a job today.
If your resume is covering details of your accomplishments and skills when George W. Bush was first taking office, things will look quite dated. And sadly, so will you.
Times change. And so do you.
If you cannot sufficiently demonstrate your aptitude from your last 15 years of work experience, then that is not much use.
If your resume says that you held 3 different positions recently, each for less than 6 months, but won an award in 2002, the award is not going to be what stands out.
You want to be giving evidence of your continued success, and that is best achieved by including the most up-to-date information.
You can include a small section on your resume titled "Earlier Career" or "Additional Experience" which can list job titles and companies from prior to 15 years ago if needed.
Top Tip
Got a fantastic accomplishment from prior to 15 years ago? That could be an award or similar. You may include it, but you are better off omitting the date.
Most Resumes Will Only Be Read for a Few Seconds
You spent hours and hours perfecting your resume. You completed every section of your resume.
And then it gets less than 10 seconds of attention before being placed to the side.
How do you ensure that this isn't something that happens to you?
Keep your content relevant to the role you are applying for and only as long as it needs to be.
Hiring managers do not want to sift through 3 pages of your experience and accomplishments that have nothing to do with the role they'd like to see you in.
Don't sound generic and boring, especially in the top sections of your resume.
Instead, be engaging. Hit the reader with impressive numbers, make them want more from the start.
Fantastic statistics halfway down the page will hardly matter if the reader doesn't get that far.
Make bold points, not bland points.
If you can use numbers to back your statement up, do so. It makes your claim a lot more substantial.
Should You Hide Your Age On Your Resume?
Are you concerned about your age getting in the way of getting an interview?
Perhaps there is a stigma attached to you being considered too young or too old for the position.
We have some do's and don'ts to hide your age on your resume.
First, do not lie about dates worked or the dates of your education. The truth can easily be found by your potential employer.
However, you can omit the dates of your education.
If you fear you will be looked over because of your older age, make sure any statements about how much experience you have don't make you sound like you have too many years of experience.
If you are an older executive, including only your last 15 years of experience (as mentioned above) won't highlight exactly how many years you have been in the workforce.
Another key way to hide age is to distract the reader with the most relevant skills. Recent experience and skills will do a fantastic job of framing you as a qualified and up-to-date candidate.
Your age won't be relevant if you appear to be a perfect fit!
Executive Cover Letter Example
Once you have completed your resume, crafting a stellar executive cover letter won't be much of a hassle.
You will just need to pick the best parts of your resume and present those details in the form of a letter.
Below is an example of an executive cover letter. Click on the image to easily customize the letter for yourself.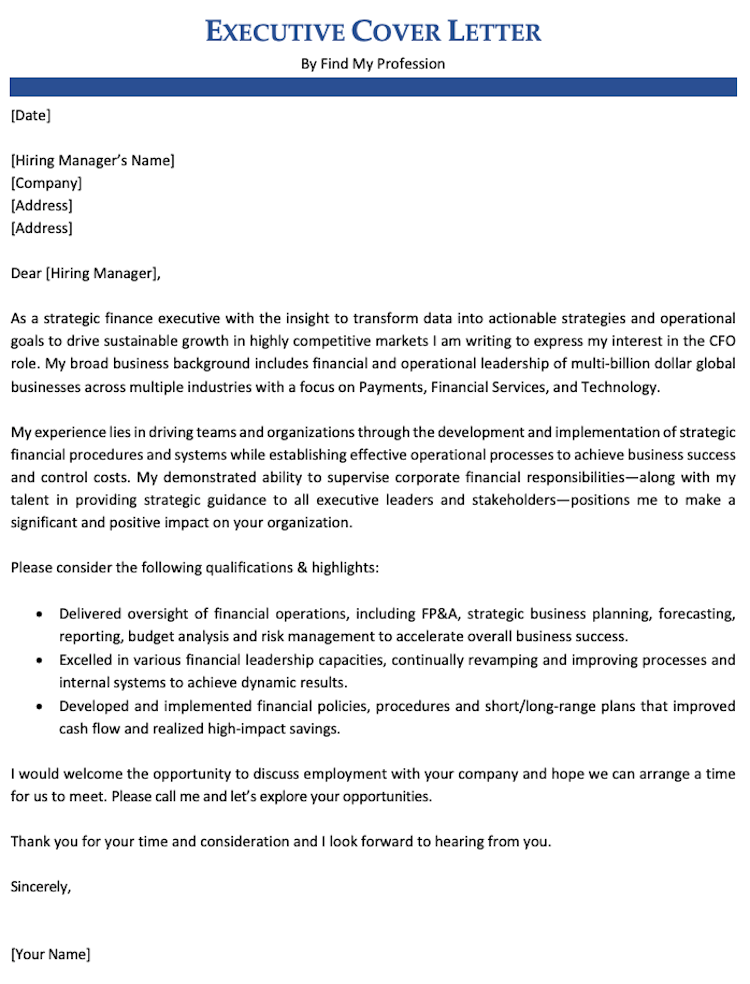 Keep these executive cover letter writing tips in mind:
Address the letter to the hiring manager by their name.
Just like you did for the resume summary, include your most impressive and relevant details in the opening paragraph.
Present your career highlights in a bulleted list containing all of your most impressive and relevant skills, experiences, accomplishments, awards, and other details.
End your letter with an open call to action inviting the hiring manager to chat about how your executive acumen would help their organization progress on their path forward.
For finding the perfect tone and voice, study the company website, LinkedIn profile, and other publications and follow their brand voice.
Keep your letter under one-page and around 350-400 words.
Formatting and styling should be the same as you used on your resume.
With these tips at your disposal, you are on your way to creating the best cover letter the recruiter is going to ever receive.
Key Takeaways
And there you have it.
Everything from what to write in your executive resume to how to write it has been covered.
Here is a summary of the key information in this article:
Include key sections in your executive resume including a summary and a space dedicated to your skills.
Personalize your executive summary to be relevant for the job you are applying for with your top skills and keywords from the job description.
Include executive-level and relevant skills in your resume. Study what skills the recruiter wants, and then include the skills that you possess in your resume.
Quantify and your experiences and accomplishments when you can.
Keep your executive resume to 2 pages if possible.
Include a cover letter to highlight your best accomplishments and why you are the best fit for the job.
Use an executive resume writing service if you need to. Resume writing isn't for everyone. There is no shame in making an investment to ensure that you get the best possible outcome.
Use these tips to create an executive resume on your own. Good luck with your job search!