Yes you do!
Now you may be saying:

Why do I need a resume if I have a LinkedIn profile?
I can apply via LinkedIn, easily share my profile online, and even generate a resume from LinkedIn with a couple of clicks.
It is easy to do all that, but it's not the best practice for an effective job search.
You need both a resume and a LinkedIn profile because they have some significant differences in purpose, design, formatting, style, and tone.
Your resume and LinkedIn profile should work together and tell the same story, just in different ways. As such, you should add your resume to LinkedIn and include your LinkedIn profile URL on your resume.
Let's look at some major differences between a resume and a LinkedIn profile so you'll know why you shouldn't replace one with the other.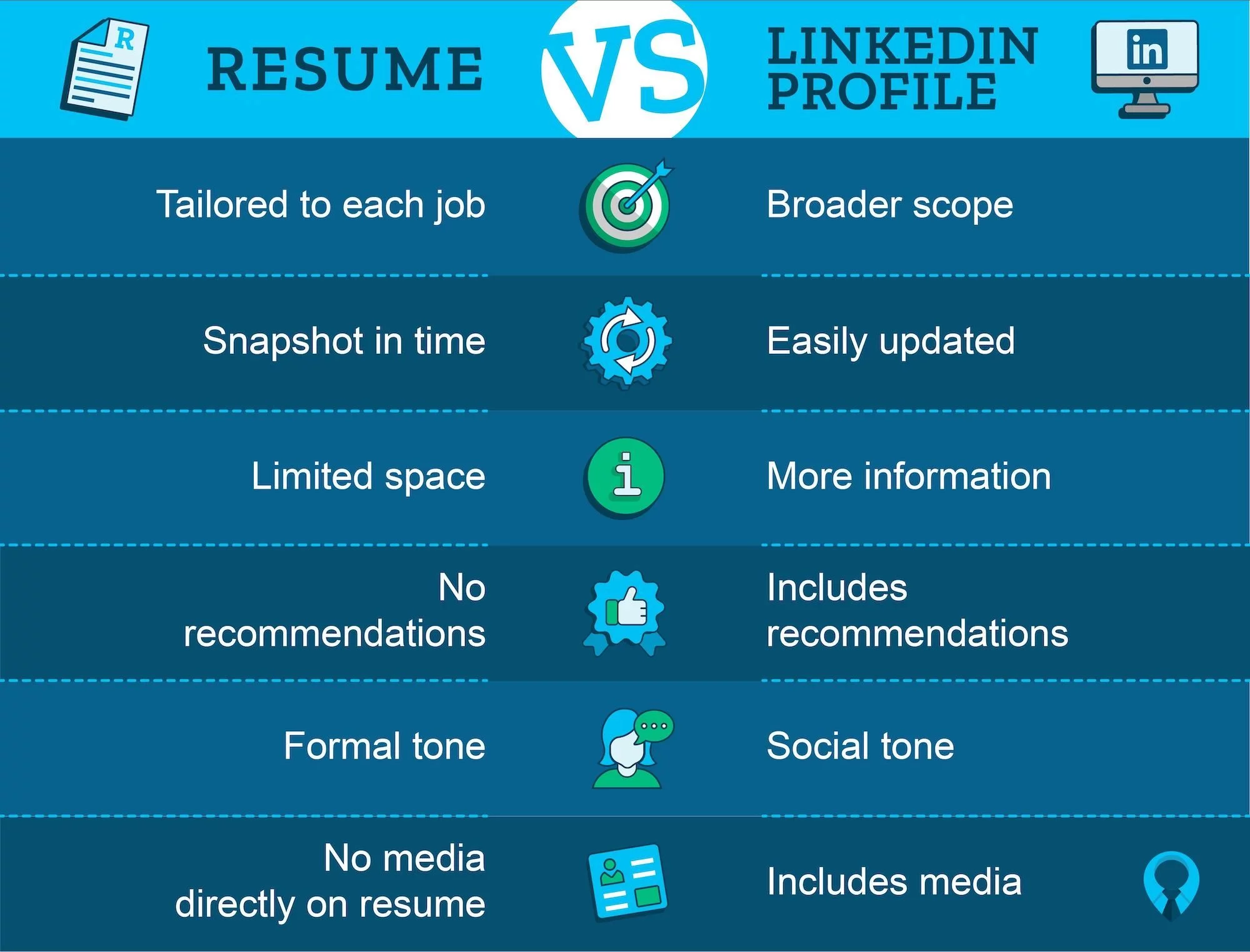 1. Your Resume Is Tailored to Each Job
The first thing that any job search expert would tell you about resumes is that they should specifically be tailored to the jobs you are applying for.
Not just targeted to an industry or job category but targeted to a specific job post.
LinkedIn, on the other hand, should not be so targeted.
The purpose of LinkedIn is professional networking and being found by recruiters.
You have to strike a balance to be relevant to a particular industry and, at the same time, not being too narrow in focus.
If you narrow down the target audience of your LinkedIn profile too much by limiting information on your profile, your professional network won't grow.
The opportunity for people (ie: recruiters) to find you will also shrink.
On the contrary, if you keep the focus on your resume as broad as your LinkedIn, you won't be seen as the perfect fit for a job.
2. Your Resume Is Static
Once you hit send on your application, your resume will probably be sent through an Applicant Tracking System and then (hopefully) to the hiring manager's inbox.
The document the company sees is what it was when you sent it.
Your LinkedIn Profile can easily be updated and changed.
If you have an interview coming up and want to tweak some things on your LinkedIn profile to better match that role, change it.
If you just received a new certification, you can quickly and easily update your profile.
3. LinkedIn Includes More Information About You
Your LinkedIn profile "About" section can host 2600 characters. That's Mount Everest compared to what you can use for a summary on your resume.
The same goes for your LinkedIn experience section.
On LinkedIn, you have much more room for including more details. You can include all of your experience, achievements, accomplishments, skills, certification, honors, awards, volunteering, hobbies, and even personal interests.
On a resume, you don't have the luxury of space.
Your resume should only include the most valuable and relevant information. Your accomplishments, experience, and other details should be succinctly showcased.
4. LinkedIn Provides Proof of Your Background
Recommendations and endorsements are unique features of LinkedIn.
These features offer us a way to back up whatever professional claims we are making in our "About" and experience sections.
For example, if you claim that you have tripled the conversion rate of a marketing campaign for your previous employer, a glowing recommendation from them would surely cement the authenticity of your claim.
Your resume doesn't include endorsements from other people.
So it doesn't offer that same instant third-party validation.
5. Your Resume Has a Formal Tone
Another major difference between a resume and a LinkedIn profile is the extent of formality in their structure and wording.
Albeit a professional tool, LinkedIn is ultimately a social media platform.
On LinkedIn, you have much more freedom and flexibility in language usage, designing, formatting, and styling than on a resume.
You can use icons, styled bullet lists, and even emojis.
Your tone can be much more friendly, open, and conversational.
In your LinkedIn "About" section, you can delve much deeper into your professional life than it's possible on a resume summary section. You may even add some personal tidbits of information in this section.
You can even use the first person "I" narrative on your LinkedIn, but not on your resume.
6. Your LinkedIn Profile Includes Media
It's almost mandatory to use a professional profile photo and a cover photo on your LinkedIn profile.
On a resume, using your photo is often discouraged.
You also have the option to utilize other rich media formats in your "Featured" section of your LinkedIn profile.
You can upload images, presentations, article links, and videos that showcase your expertise and industry influence.
There's no way to include such media directly on your resume.
You can add a few visual elements to your resume if you choose to use a graphic resume. But then you risk being not recognized by Applicant Tracking Systems (ATS).
7. It Saves Time and Money To Do Both
Here's an important note:
If you are considering creating a LinkedIn profile or a resume, do them together.
It will save you time in the long run. It will also save money if you are planning to hire a writer.
Resume writing services often provide packages bundling a resume and LinkedIn profile together.
This way, they won't have to consult with you about all of your professional information twice, saving you time and money.
You have two options to create both of these documents. You can perfect your resume and then use that as a guide for your LinkedIn profile. You can simply expand on sections of your profile as you need to.
Or you can create your LinkedIn profile first. Treat your profile as a master resume containing all the information about your professional life.
Then, you can generate a resume directly from LinkedIn. But then you must edit, rework, and reformat it, so it reads like a resume, not a LinkedIn profile.
Key Takeaways
For all the reasons above, we suggest having both a resume and a Linkedin profile for your job search.
If you already have a LinkedIn profile and were trying to get out of creating a resume, well, we aren't going to tell you that that's okay.
There are some significant differences between your resume and LinkedIn profile.
The purpose, language, formatting, styling, tonality…everything is different.
But we can help you if you'd like a professional service to do it for you.
We have professional resume writers who can help you with both a resume and an updated LinkedIn profile for your job search.
If you aren't currently looking for a job, but need a LinkedIn update to attract business for yourself or the company you work for, we can help with that too! You can also check out the best LinkedIn profile writing services.