Having a stellar LinkedIn profile is a must, especially when it comes to actively searching for a job.
Multiple sources report that around 87% to 95% of recruiters use LinkedIn regularly. Naturally, it's no surprise that four people are getting hired every minute on LinkedIn. 
By learning these 19 essential LinkedIn profile tips, you are guaranteed to get noticed by recruiters and increase your profile views to land an interview!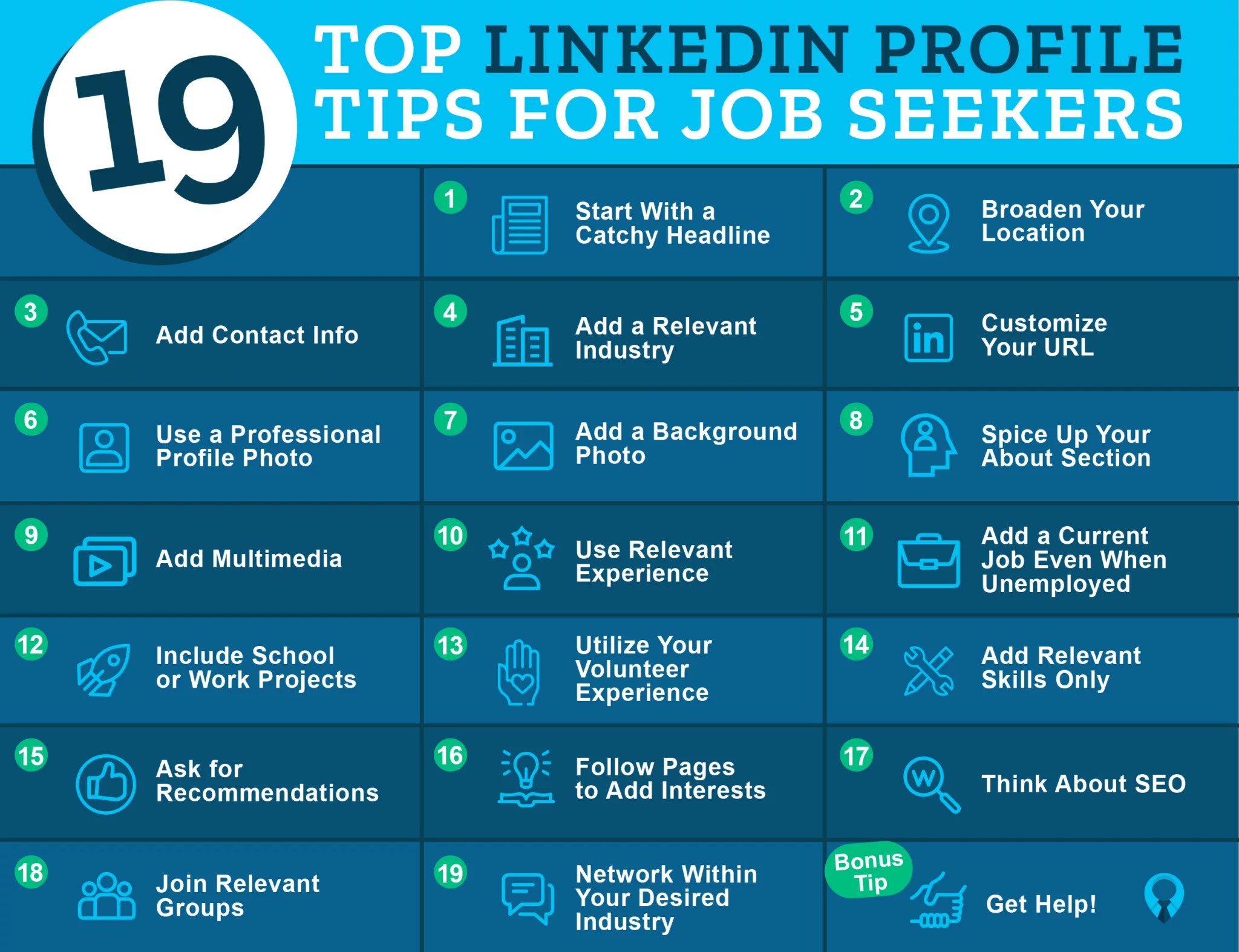 Once your profile is perfected, be sure to be active daily. Check your feed, engage with connections, and post content.
Dive right into the best LinkedIn profile tips below if you are searching for a job!
1. Start With a Catchy Headline
Your headline is the most visible piece of information to recruiters and hiring managers, which is why this is LinkedIn Profile tip #1.
Instead of writing your current job title and company, make sure that you mention the type of job you are looking for.
Also, mention what you bring to the table with keywords that recruiters will be looking for.
Here are a few LinkedIn headline examples:
Senior Sales & Account Management Professional. Literally sold ice to an Eskimo!
Organized Executive Assistant. 10+ years of experience. Here to make your life easy!
Author/Writer specializing in LinkedIn Makeover for job seekers
Customer Success Manager – Increased customer satisfaction ratings by 10%
Digital Marketer | Google Ads & Analytics Certified | PPC, SEM, Facebook Ads
Full-Stack Programmer | JavaScript, Python, PHP Expert
Professional Growth Coach | Helping CXOs & board members maximize impact
Content Specialist | Create Content that Ranks & Boosts Business
Communications Director | Uplift your brand communications across channels
What should your LinkedIn headline look like if you are unemployed?
If you are currently unemployed, you should definitely mention the type of job you are looking for.
Note that there is no need to add phrases like "seeking employment" or "available for new opportunities." You have 220 characters; make them count.
Instead of blasting your unemployed status across LinkedIn in your headline, you can choose to share that you are open to finding a new job with recruiters only.

In other words, you can show you are "open to work" on LinkedIn without the green frame on your profile picture by using profile settings that make it visible only to recruiters.
Why do this?
First of all, while the #opentowork photo frame being visible to everyone may sound like a great idea, employers who see that you are unemployed tend to make assumptions as to why.
They might wonder: Were you fired? Did you quit?
As unfair as it may sound, a study by Monster.com showed that 89% of disqualifications for a job happened based on a first impression.
Secondly, it is statistically proven that getting a job is much easier when you have a job.
Employers always want their competitors' property, and being employed gives you leverage to negotiate, interview with confidence, and have access to more referrals.
After all, if you get turned down for work, you still have a job, right?
Finally, #opentowork is redundant and risks making you appear desperate.
Of course you are open to hearing about a job. You are on LinkedIn!
Employers typically do not hire people who need to be "saved" from unemployment. They would rather hire a person who says "I am ready to work" than "I need a job."
(Need more ideas? Check out LinkedIn Headline Ideas That Don't Suck.)
2. Broaden Your Location
Do you live in a smaller town next to a large city that you are willing to work in?
If so, make sure that you put the closest large city in your location.
This will make it easier for job recruiters and hiring managers to find you.
3. Add Contact Info
This seems obvious but, surprisingly, it is overlooked a lot.
Add your contact info to your profile (and make sure it's correct) so that the recruiter can get in touch with you!
The option to add or update your contact info is right below your headline on the profile.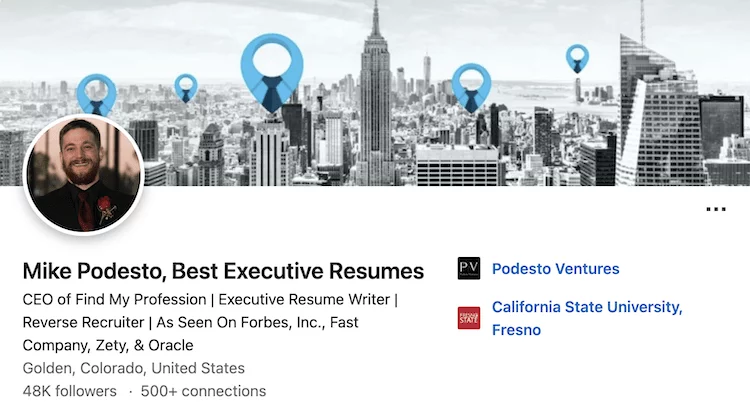 If you have a name that is unique or difficult to pronounce, you can add name pronunciation to your profile on the Linkedin mobile app.
4. Add a Relevant Industry
Including a relevant industry will help recruiters find your LinkedIn profile.

You can find the settings to change your headline, address, and industry all in one place if you click the pen icon on the top right corner of your profile's introduction.
5. Customize Your URL
This LinkedIn profile tip is often overlooked. But it's an important step for making your profile more professional and accessible.
Customizing your LinkedIn URL will give your profile a cleaner look.
Who wants a URL with a bunch of random numbers next to your name?
If your entire URL is visible on your resume, you want it to look professional.
It will also help you stand out from others.
If you haven't already, go to your profile and click on the "Edit public profile & URL" option on the top right corner of the page.

This will take you to a page where you can customize your URL on the upper right-hand side.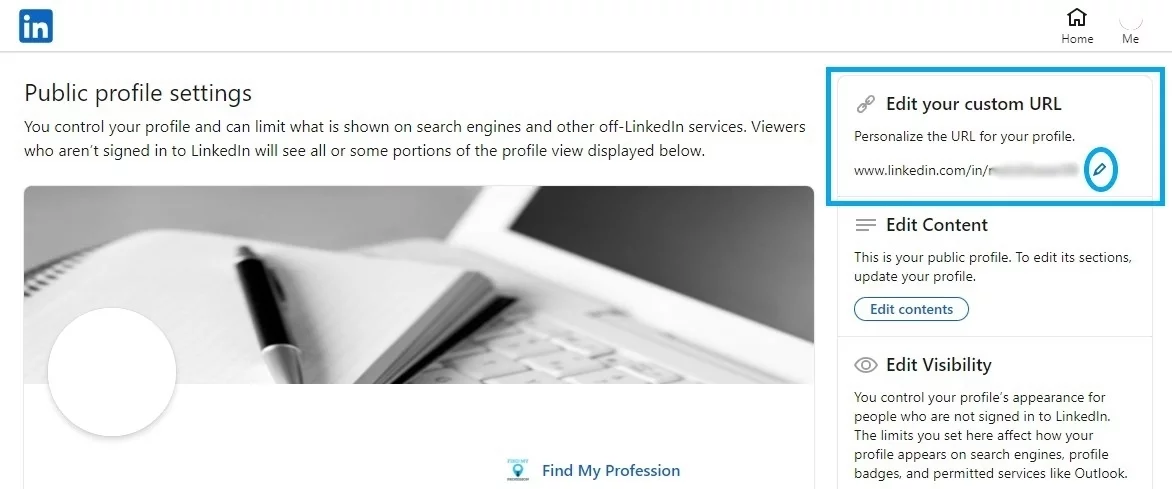 Edit your URL so that it is linkedin.com/yourname if possible.
6. Use a Professional Profile Photo
Make sure that your profile photo represents you in a professional manner.
This doesn't mean you need to hire a professional photographer. Just make sure that the photo shows you facing the camera and smiling.
Also, try to dress nicely and professionally.
Take a look at profile photos of others in your industry.
Note exactly how they are presenting themselves.
7. Add a Background Photo
A background photo is always a good touch for a profile that looks complete.
It adds personality and character to your professional LinkedIn profile.
Choose an image that is relevant to your desired profession or industry.
Recruiters and hiring managers will appreciate you making an effort in your online presence.
8. Spice Up Your About Section
Your LinkedIn profile summary is your opportunity to show who you really are.
It also happens to be one of the most important LinkedIn profile tips of all.
The best LinkedIn summary, or about section, is one that shows off your personality and achievements.
Add any relevant, industry-specific work experiences you have.
This is also a great section for you to add some personality.
Don't be afraid to speak in the first person and speak directly to the hiring manager/recruiter who might be reading your summary.
Your summary should be tailored towards your target audience while telling a story about yourself, your experiences, skills, and achievements.
An ideal summary is 5-7 short paragraphs.
You can also mix bullet lists and paragraphs to differentiate between your most prominent achievements and other details.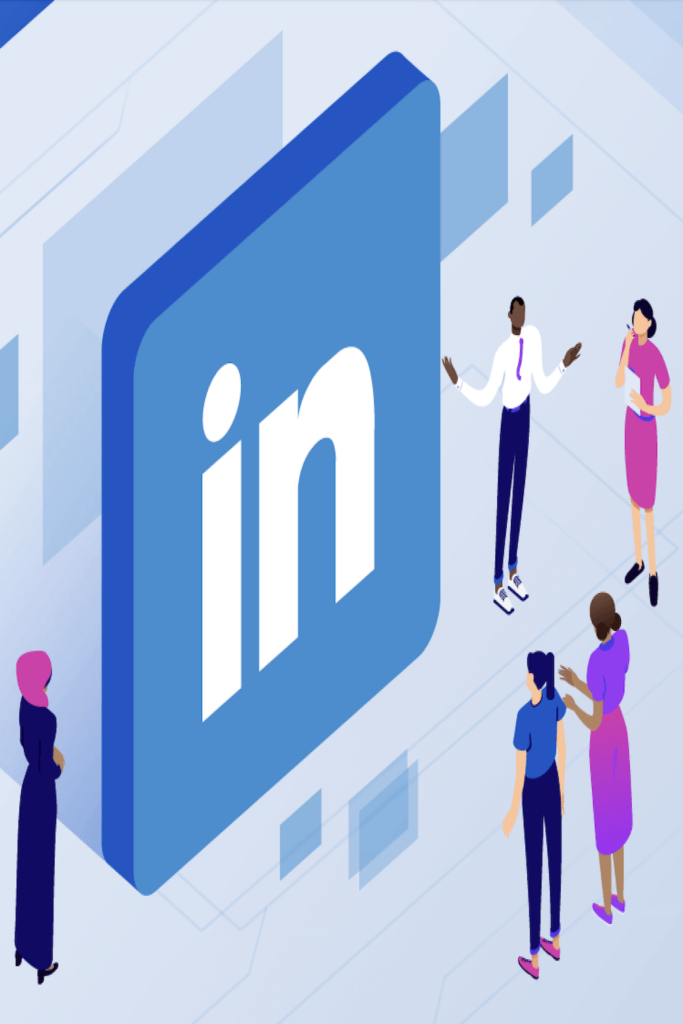 Hire an Expert LinkedIn Writer!
If you'd rather hire a professional to optimize your LinkedIn, you always have that option. Check out our list of the best LinkedIn profile writing services in America!
9. Add Multimedia
This LinkedIn profile tip is sure to add some color and style to your profile, making it more enjoyable to look at.
Many people fail to utilize the multimedia "Featured" section on their LinkedIn profiles.
Take a look at the profile of someone with multimedia under his or her About section and compare it to someone who doesn't.
Featured items can spice up your profile by showcasing your work.
Add posts, images, articles, links, and presentations to your profile.
If you don't have any work to show off, you could also try adding the URL of your company website.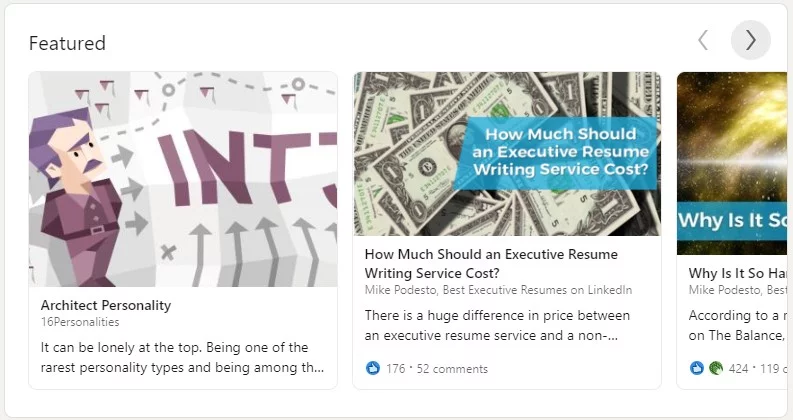 Another great way to offer more value to your LinkedIn audience is to add your resume to the Featured section of your profile.
10. Use Relevant Experience
A common mistake that job seekers make is adding too much information.
If you are applying for an engineering position, remove babysitting experience from your LinkedIn profile.
If you have no relevant work experience, some things you can include are:
Relevant projects
Volunteer work
Experiences that relate to whatever field you are trying to get into
A recruiter should be able to skim your LinkedIn and know what you are looking for.
They should not get confused by unrelated work experience.

11. Add a Current Job Even If Unemployed
If you're unemployed and your LinkedIn shows that you have no "current" job, some recruiters may think you are out of the game.
A LinkedIn profile tip to help you get noticed is to add your desired job title, such as "Executive Assistant" or "Sales Professional."
Follow this by "Seeking Opportunities" or "In Transition" in the Company Name box so it doesn't remain blank.
12. Include School or Work Projects
You might be concerned that you have little to no work experience.
In this case, it is extremely important that you make up for it with any school or personal projects that relate to your desired job.
No work experience doesn't mean you have no experience to show.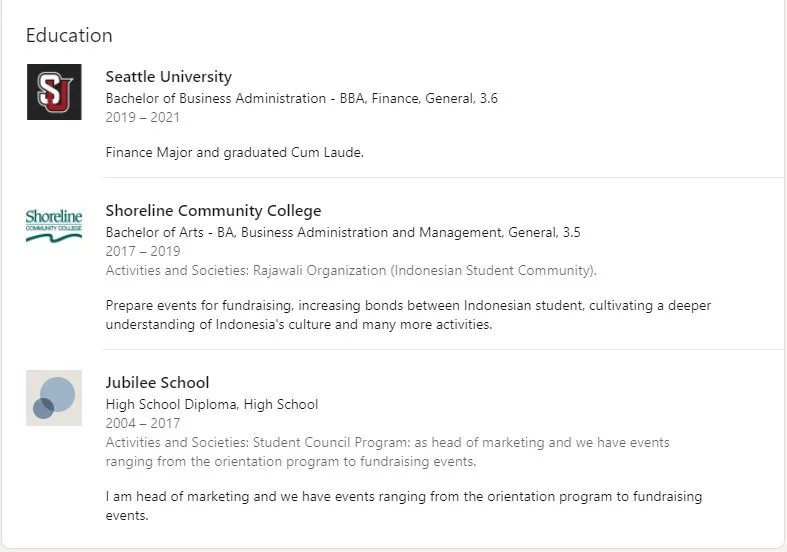 13. Utilize Your Volunteer Experience
Some studies show that people who have volunteer experience on their LinkedIn profiles are 20% more likely to get hired than those who don't.
We can't speak to the validity of that statistic, but it definitely can't hurt to add volunteer work if you have it.
Volunteer work not only adds experience but it also shows a willingness to work with others in order to contribute to the benefit of your community.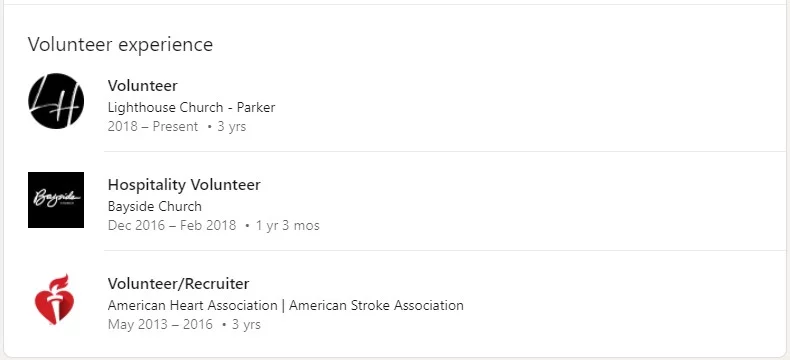 14. Add Relevant Skills
A common mistake job seekers make on LinkedIn is adding too many skills to the Skills & endorsements section.
Do you really expect a recruiter to believe you have all of those skills?
More importantly, are ALL of them relevant to the job you are looking for?
Be strategic with the skills you add.
The more skills you add, the fewer endorsements you will get on each skill.
Start with 10-20 relevant skills and work your way up.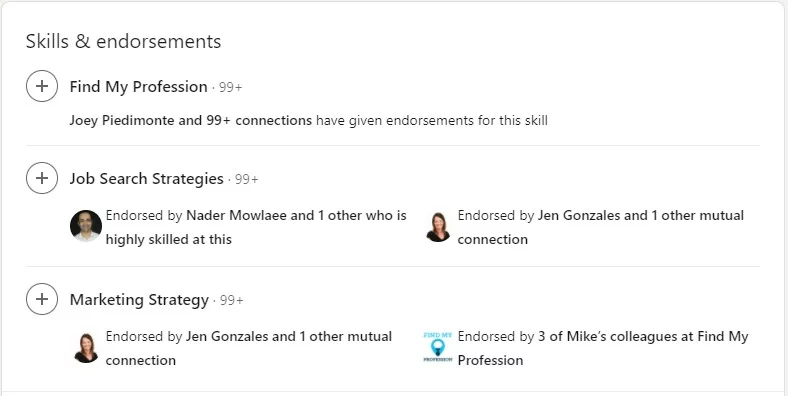 15. Ask for Recommendations
So, you've created a great profile and talked a lot about yourself.
Have you thought about what others have to say about you?
Think of LinkedIn recommendations as a way for potential employers to get confirmation from people you've worked with that you really are the person you claim to be.
Here's how you can ask for recommendations on LinkedIn:
1. Scroll down to the recommendation section; you will find it right below the "Skills & endorsements" section on your LinkedIn profile.
2. Click on the "Ask for a recommendation" option.

3. You will be asked to enter the name of the person you want the recommendation from, your work relationship, and your position during the time you worked together.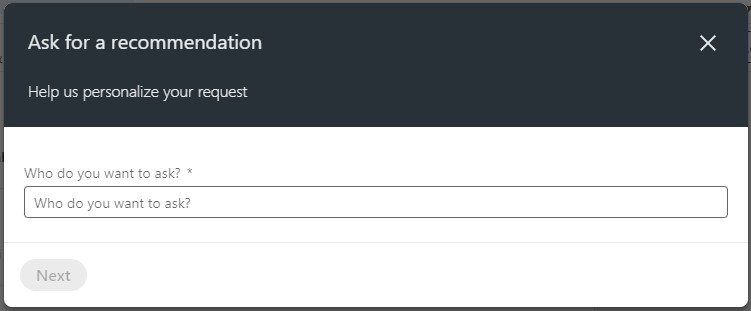 4. Next, write a short and sweet personalized message requesting a recommendation and hit send.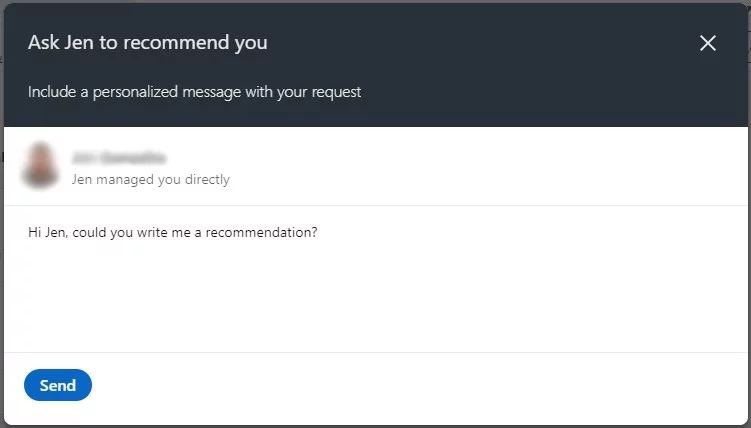 Your recommendation request could look like this example:
Hi X, I hope things are going well with you! I'm writing to ask for a LinkedIn recommendation to show off my X skills. I am really proud of the work we did on the X project. Could you write a bit about that initiative and what our collaboration and results were like? Please let me know if I can ever write a recommendation for you.
Don't forget to return the favor and write recommendations as well!
16. Follow Pages to Add Interests
The Interests section of your profile displays the influencers, companies, groups, and schools you follow on LinkedIn.
Having interests on your LinkedIn profile allows your viewer to learn a little bit more about you.
Be sure to follow pages that are relevant to your industry.
Who knows, maybe a common interest that you have with the hiring manager will be the little extra push they need to give you a call.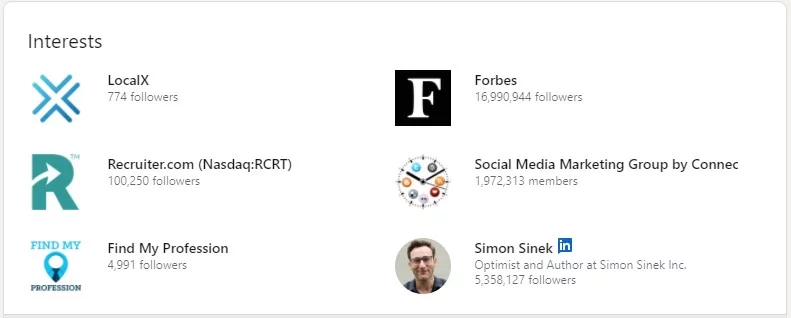 17. Think About SEO
The words you add to your profile also play a factor in SEO (Search Engine Optimization).
Add any relevant keywords that you think an employer will be using to find someone for the job.
The most important places to add keywords are your headline, About section, Experience section, and Skills & endorsements.
Think about the keywords that the recruiters are using to search for professionals like you.
For example, if you are a programmer, the most valuable keywords would be the programming languages you are an expert in, specific kinds of applications you develop, and your previous job titles as a programmer.
On the other hand, avoid generic buzzwords like hard-working programmer or passion-driven coding ninja, etc. These are words nobody searches on LinkedIn.
This particular Linkedin profile tip, by the way, is also very useful for your resume.
18. Join Relevant Groups
By joining groups, you will increase your chances of finding someone, or someone finding you, for a job.
Of course, you will want to be strategic about the groups you choose to be a part of.
Join industry-specific groups and begin networking with other professionals connected to your desired roles.
You might even run into someone that can offer you some additional LinkedIn profile tips for your industry.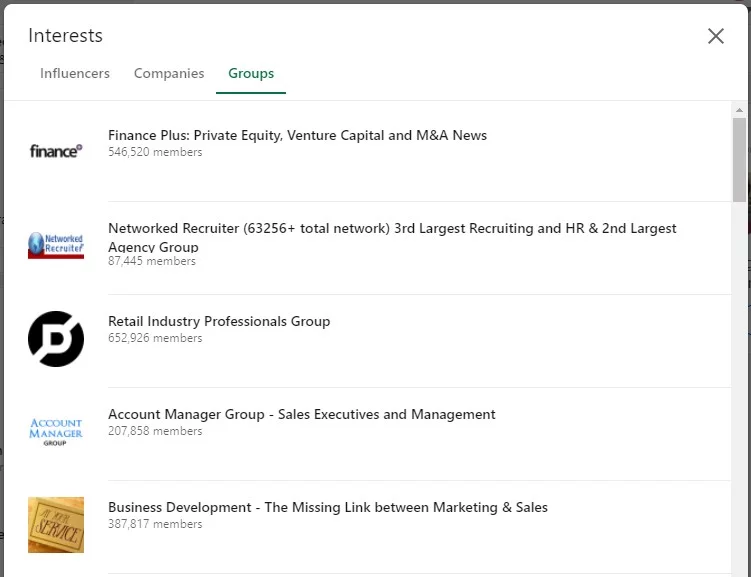 You can search for relevant groups using the LinkedIn search bar and selecting the Groups filter.

19. Network Within Your Desired Industry
Groups aren't the only way to meet industry-specific people.
Once your profile is completed, don't be afraid to search LinkedIn for people in your desired industry.
Use the search bar at the top to type in your desired job title or industry, and then add a filter to view only your second-degree connections. Send a connection request.

These people have the best chance of accepting your invite.
After all, you already have a shared connection with them.
Bonus Tip: Get Help!
At the end of the day, creating an effective, high-value LinkedIn profile is not easy.
There are professional LinkedIn profile writers who do this for a living.
If you are interested in finding a company to do the work for you, check out our list of the Best LinkedIn Profile Writing Services in America.