Writing your first resume for a "real" job is exciting!
There are some common mistakes you will want to avoid on your recent graduate resume.
There are also things that make your resume different than resumes for seasoned professionals.
We will show you how to easily write a resume for new college graduate jobs.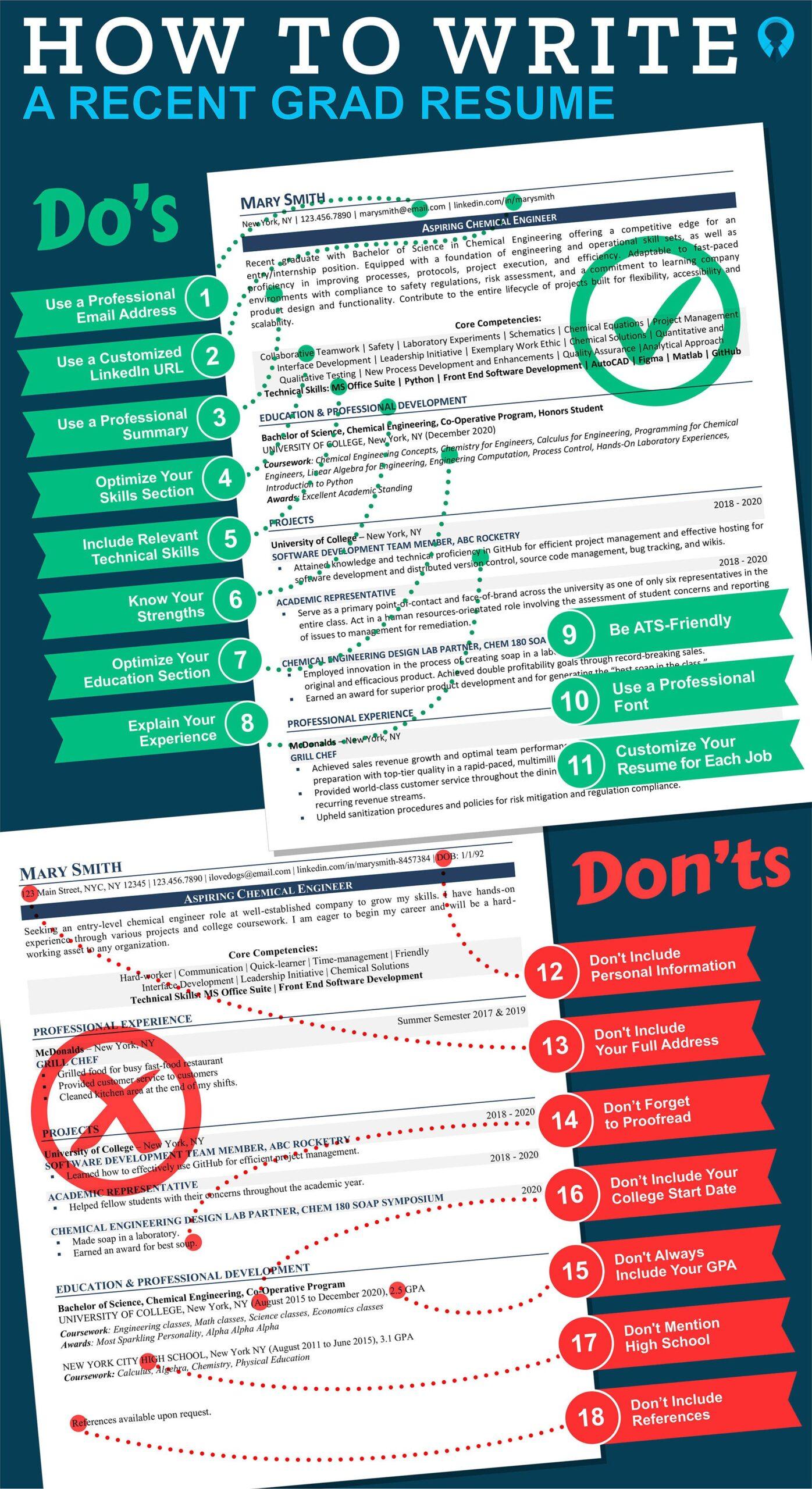 1. Use a Professional Email Address
Many recent grads often have funny or cute (or worse!) email addresses that they created years ago.
It can be a fatal mistake to use that address on your recent college graduate resume.
Your email address is one of the few details at the very top of your resume and hotchick2000 is not the first impression you want to make!
Stay away from services that can be viewed as outdated (ie: aol or yahoo).
Leave the year of your birth or graduation year off your address as well.
Create a separate professional email address for your job search correspondence.
Having a dedicated email account also keeps all of your job-related emails together and separate from your personal inbox.
2. Use a Customized LinkedIn URL
Just like your email address, your LinkedIn profile URL is also important.
If your LinkedIn URL is brian-smith-5736364, it looks sloppy and shows a lack of attention to detail.
It takes 2 minutes to customize your LinkedIn URL.
You will find the option to edit your URL on the top right corner of your LinkedIn profile. 

If all variations of your first and last name are already taken, try adding your middle initial, middle name, and/or a single number at the end.
3. Use a Professional Summary
Showing what you are capable of doing is more effective than telling what you want to accomplish in your new job (objective statement).
Summarize your best assets related to the job you are applying for.
Instead of writing a resume objective, write a professional summary.
Don't use objective-type sentences or "I" sentences like this one:
I have hands-on experience through various projects and college coursework.
Instead, use professional statements like this one:
Equipped with a foundation of engineering and operational skill sets, as well as proficiency in improving processes, protocols, project execution, and efficiency.
(Related: Resume Summary: How To Write [+Examples])
4. Optimize Your Skills Section
The skills section on your resume is a crucial element, especially as a new grad without a lot of work experience.
If you don't have a good amount of work experience, the skills you have will matter to the hiring manager.
You need to highlight your skills that are relevant to the job you're applying for.
Include your relevant skills using the keywords and requirements from the job description.
If the first requirement in the job posting you are applying for is:
Ability to manage projects from conception to final commissioning.
Then your skills section should include terms like project management, project planning, full project life cycle management, scheduling, budgeting, risk management, etc. depending on the job.
(Related: Most Important Skills For a Resume)
5. Include Relevant Technical Skills
Do not ignore the technical skills mentioned in the job description.
Not mentioning a technical skill can mean getting eliminated by the Applicant Tracking Systems (ATS).
You can also list technical skills that are needed for the job but have not been mentioned in the job post.
However, be careful to stick to only relevant skills. The hiring manager won't care about your Python skills if you're applying for an accounting job.
If you are not confident enough in a skill mentioned in the job description, consider taking an online course to advance your knowledge of that skill.
6. Know Your Strengths
Knowing what makes you great for your target position and playing that up is crucial in a competitive job market.
From the overall resume structure to the details included in all the sections, your key selling points should take center stage on your resume.
For example, if you have prior experience closely matching the job you are applying for, put your professional experience right after the summary section.
On the other hand, if your work experiences are irrelevant, you'll want to draw more attention to your transferable skills and education.
Organize the individual sections keeping this strategic approach or prioritization in mind.
(Related: The 5 Best Resume Formats [Tips & Samples])
7. Optimize Your Education Section
Be thorough in the education section of your resume for recent college graduate jobs.
If you lack professional experience, you can beef up this section of your resume to show relevant school experience.
Add coursework that is directly related to the job you are applying for.
You can also mention your relevant academic achievements, awards, honors, scholarships, projects, and extra-curriculars.
8. Explain Your Experience
As a new grad, you may be apprehensive about including your part-time gigs, summer positions, freelance jobs, volunteering, and internships.
You shouldn't be!
If you don't have enough professional working experience, include your non-traditional working experience just like any other experienced professional would do.
But be mindful of relevance. If a summer gig was 2 months long and doesn't add value, you might not include it.
Include your experience that is the most relevant to the job.
Explain your experience and on-the-job accomplishments in such a way that it is precise, professional, and closely related to your target position.
Instead of calling the section Professional Experience, you could call it Relevant Experience, or [Industry Name] Experience or Background.
Avoid long and boring paragraphs that just list your responsibilities like a job description.
Use bullet points to highlight your accomplishments. Quantify your achievements whenever you can.
9. Be ATS-Friendly
Companies are increasingly using Applicant Tracking System (ATS) software.
The influx of online resumes for job postings has created a need for a system to organize it all for employers.
The 2 things you need to know about ATS is that your resume needs to include keywords and be formatted correctly.
ATS collect data from applicants and screen for keywords related to the job posting.
So, using appropriate keywords on your resume can determine your fate.
ATS-optimization means using keywords from the job description in your professional summary, skills, education, and professional experience sections.
The other side of ATS is that your resume needs to be read easily by the ATS so your information is sorted correctly.
Avoid tables, charts, graphics, and header and footer details.
(Related: How to Make a Resume That Gets Past the Robot [ATS Resume])
10. Use a Professional Font
Everything about your resume should be professional, including the font choice and the font size.
Avoid fancy fonts like Comic Sans. Avoid overused fonts like Ariel and Times New Roman as well.
The best fonts for recent college grad resumes are Cambria, Georgia, Calibri, and similar fonts.
(Related: Best Resume Fonts [+ Size, Color, Fonts to Avoid])
11. Customize Your Resume for Each Job
This is a mistake that even seasoned professionals often make – submitting the same generic resume for all the positions they apply for.
Why? Simply because it takes extra time and planning to do.
A targeted resume significantly increases your chances of getting an interview.
To be prepared, keep a master resume on hand for your targeted industry.
Then, when you apply for a new job, customize and tailor a new version of your resume to best match the target position and job description.
Update things like your resume title, your skills, and accomplishments according to the job posting.
(Related: How To Write A Targeted Resume [+ Examples])
12. Don't Include Personal Information
On a resume, there's no place for your personal information.
Do not include anything relating to your personal life, such as a photo, hobbies, marital status, religion, age, sex, nationality, and other details.
Personal information has nothing to do with your ability to do the job.
However, in certain non-US countries, you may be required to use a curriculum vitae (CV) that includes personal information.
13. Don't Include Your Full Address
A resume is no place for redundant and unnecessary details.
Your full street address is a detail that doesn't need to be included on your resume anymore. No matter how many times your parents advise you to!
No one will be contacting you by snail mail.
Just list your city and state.
In some rare cases, the job posting may specifically request a full address. Of course, you'll want to follow directions and include your full street address then.
14. Don't Forget to Proofread Your Resume
We know you won't make the rookie mistake of sending out your resume without a grammar check and thorough proofreading.
A simple typo can cause severe harm to your reputation.
Even worse is if you have included Attention to Detail as a soft skill on your resume!
It's often difficult for a writer to find mistakes in their own writing. It's best if you can have a friend or family member proofread your document.
15. Don't Always Include Your GPA
Another misconception often seen among college grads is that including their GPA on their recent college graduate resume is mandatory.
Including your GPA is usually not mandatory.
If your GPA is not competitive enough, putting it on your resume can hurt your chances of getting an interview.
That's why you should only include your GPA when it's 3.0 or above and likely to increase your chances of getting an interview.
You can delete your GPA from your resume entirely after it's been 2 years since your graduation.
16. Don't Include Your College Start Date
This is a pretty common mistake that we see on recent graduate resumes in their education section.
You don't need to mention when you started college.
Just include the month and year you graduated on your resume. Just the year works too.
You can also take the graduation date completely off if it's been more than 2 years since you graduated.
On the other hand, if you are still in school, you can use any of these phrases:
In progress
To be completed + date
Anticipated graduation date: + date
The actual text on your resume will be something similar to this:
Bachelor of Science, Chemical Engineering, Co-Operative Program, Honors Student
UNIVERSITY OF COLLEGE, New York, NY (To be completed December 2023)
17. Don't Mention High School
Some of us want to forget high school sooner than others!
Regardless, your high school alma mater has no place on your recent college grad resume.
As you have already completed your college graduation, including high school information on your resume is not necessary.
It will only take up precious resume real estate without adding any value for the hiring manager.
Use that space for more useful information that's directly related to the job description.
18. Don't Include References
As a college graduate, a one-page resume would be most suitable for you.
Adding references to a recent college graduate resume is a waste of space and an out-dated practice.
You should also avoid the mistake of using the phrase, "References available upon request."
Hiring managers already know that you will provide references if asked.
(Related: How to List References on a Resume [And If You Should])
Key Takeaways
Getting your resume prepared for your first job as a recent graduate can be exhilarating.
In all the excitement, avoiding mistakes and getting everything right can be a challenge, however.
Here are a few things to always keep in mind while writing your recent college graduate resume:
Be precise and specific.
Use a professional email address and LinkedIn URL.
Avoid unnecessary details like personal information.
Use a professional summary instead of objective statements.
Prioritize your skills, experience, and accomplishments based on your strengths.
Keep everything in close relation to the target position.
Customize your resume for each job you apply for.
If you need professional help writing your new graduate resume, we would love to help you! Just click on Resume Writing above to find more information.
We also recommend ResumeZest. They have a team of professional resume writers experienced in writing resumes for college graduates at an affordable price.