Effective communication skills are undoubtedly one of the most sought-after skills in today's world of technology.
Communication is now multifaceted and multi-channel.
It doesn't matter how good you are at the core skills of your job if you are not good at communicating with team members or stakeholders effectively. Work gets hindered and your career progress gets stalled.
The art of communication is of eminent importance not only in the world of sales and marketing but in all careers and in our day-to-day lives.
So it is quite obvious that your potential employer will be on the lookout for effective communications skills on your resume.
Here are 10 of the best communication skills for your resume:
Collaborative Mindset
Confidence
Conflict Management
Empathy
Leadership
Negotiation
Presentation Skills
Public Speaking
Team Building
Writing
But let's not stop here. There are so many other communication skills that are very useful for different career options.
What Are Communication Skills?
Communication skills are defined as the abilities needed to exchange information between you and others. These skills involve giving and receiving both verbal and non-verbal information.
When you are writing a resume, it's important to note that there are three distinctly different types of communication skills.
Three Types of Communication Skills:
Verbal communication skills are all the skills that help you with job speaking to colleagues or customers (i.e. phone kills, presentational skills, persuasion).
Written communication skills include the skills you need to write anything in your job, from emails to presentations to legal briefs.
Interpersonal communication skills are the skills that help you understand and work with other people effectively. These skills would be adaptability, empathy, flexibility, etc.
We've researched 100 communication skills for your resume and categorized them for your convenience. Check out the list and choose the skills that are relevant to the jobs you are applying for.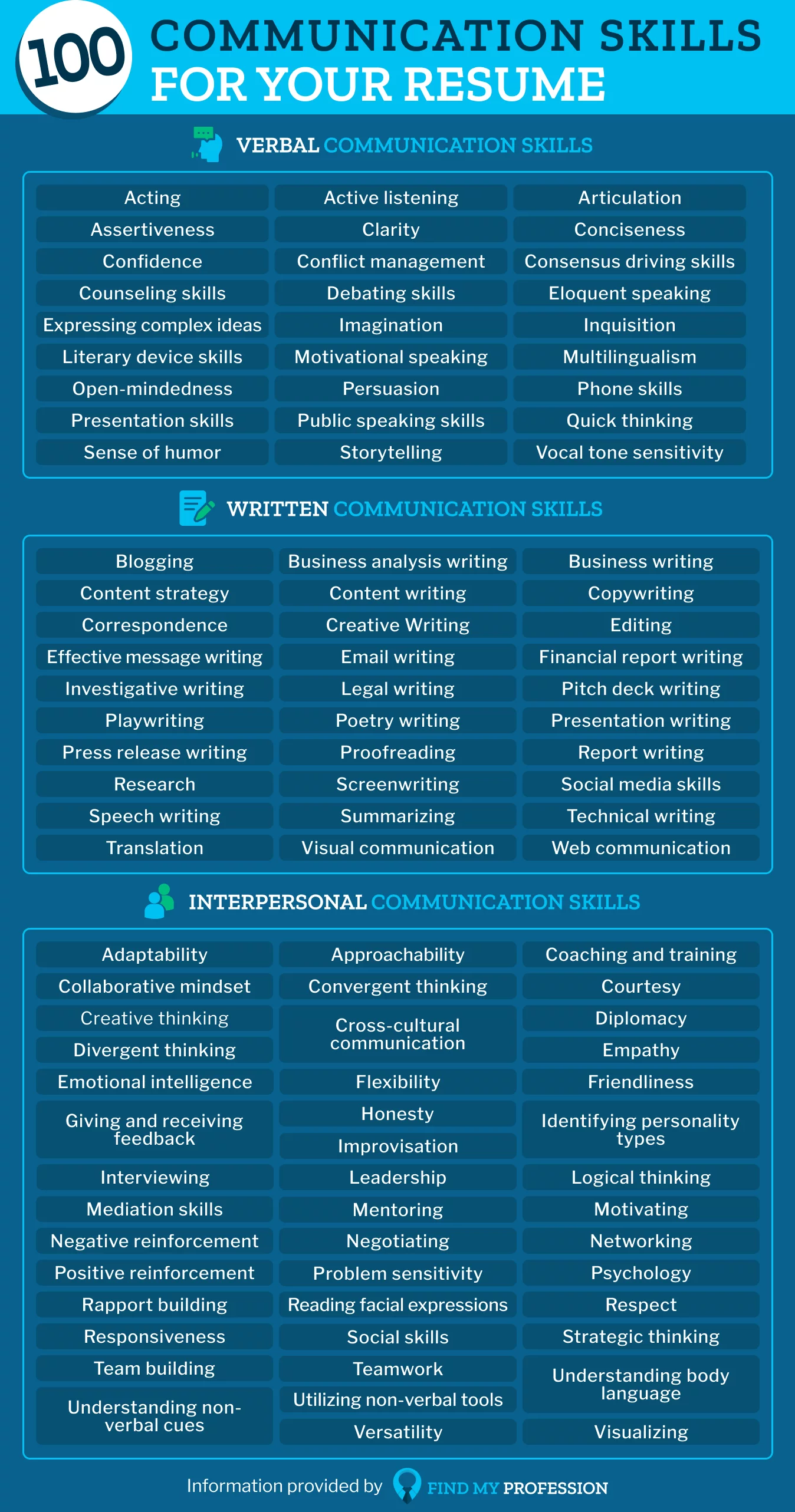 Read on to see these skills in action!
Verbal Communication Skills For Your Resume
Verbal communication is the most used and perhaps the most important mode of communication in our daily life.
Ask anyone with communication anxiety about the importance of using the right words with the right tone and voice in front of an audience.
A slight mispronunciation can throw you off-track during a presentation, as the presenter or audience member.
The same is true for our day-to-day office activities.
Use the following verbal communication skills on your resume to show that you are a pro at this.
1. Acting
Not required for most jobs other than the entertainment industry. But putting it on your resume can show that you are a good communicator.
2. Active Listening
If you don't listen to others, how would you know what to say to them? Active listening is a must for effective verbal communication.
3. Articulation
Being able to speak clearly and present your ideas coherently and effectively is a skill that everyone would like to have.
4. Assertiveness
There are situations when we must be assertive to present an idea or opinion. But not everyone can do it in a polite manner. It's a skill that you can master with practice.
5. Clarity
Speaking with clarity and making sense to each and every person in your audience is one of the basics of effective verbal communication.
6. Conciseness
We want to know what we want to know quickly. Concision is a virtue.
7. Confidence
Speaking with confidence keeps your audience assured and engaged. A lack of confidence in you will sow doubts in others' minds about your capabilities.
8. Conflict Management
Among colleagues, subordinates, or customers, conflicts must be handled. You can solve conflicts with your empathetic verbal communication and problem-solving skills.
9. Consensus Driving Skills
Having the ability to get multiple people on the same page is a difficult task that involves understanding different viewpoints, conveying ideas, and some persuasion.
10. Counseling Skills
If you have counseling skills, that means you know how to use words to soothe minds in distress. It's also a great leadership trait to include on your resume.
11. Debating Skills
They may not be explicitly required for the job, but having this skill means you are a good speaker and critical thinker.
12. Eloquent Speaking
Fluent or eloquent oratory skills enable you to express your ideas, emotions, and incidents in an easy-to-follow and effective manner.
13. Expressing Complex Ideas
Verbal communication is about expressing facts, ideas, and emotions. Expressing complex ideas so that your audience understands them demonstrates your ability to process information and communicate it.
14. Imagination
The more imaginative you are, the more ways of problem-solving and expressing yourself are at your disposal.
15. Inquisition
Another element of active listening is being responsive and asking the right questions to gain insight. It lets you pinpoint the pain points of your audience and address them.
16. Literary Device Skills
Devices like similes, metaphors, analogies, and others help in expressing complex and abstract ideas in an easy-to-grasp manner.
17. Motivational Speaking
People need motivation every now and then and you know how to provide it. This could be one-on-one with a colleague or in front of an audience.
18. Multilingualism
If you know more than one language, you can show it off on your resume. It also indicates that you are ready to learn new things.
19. Open-Mindedness
You should not let your biases and judgments affect your communication. Open-mindedness is a much-needed communication skill in today's world.
20. Persuasion
Persuasion is tricky. You always risk being too "salesy". But there's a sweet spot for being convincing without being pushy and it's a highly sought-after skill.
21. Phone Skills
Knowing phone call etiquette and having stellar phone conversation skills are required for jobs involving phone calls with customers or other team members.
22. Presentation Skills
Presentation skills are very useful in an office setup. Not everyone can give an effective presentation, so if you have presentation skills, make it known on your resume.
23. Public Speaking Skills
Speaking effectively and clearly in front of an audience requires both verbal and non-verbal communication skills.
24. Quick Thinking
There are situations when we feel at a loss for words. You have to be a quick thinker to get out of these situations quickly.
25. Sense of Humor
A sense of humor can go a long way in more professions than you think. Customer-facing, marketing, and human resources roles can all benefit from someone who can crack a joke and a smile.
26. Storytelling
Who doesn't love stories? Weaving storytelling techniques into verbal communication keeps your audience attentive and entertained.
27. Vocal Tone Sensitivity
Using vocal tones and pitch is an essential element of effective verbal communication. It enables your communication to be deeper and more powerful.
Written Communication Skills For Your Resume
Written communication skills are the core of many jobs and almost all jobs require you to have some kind of written communication skills.
Moreover, as a significant portion of office communication is happening online, written communication skills have assumed further importance.
Check out some of the most sought-after written communication skills below.
28. Blogging
Blogging is a great written communication skill. It denotes creativity and depth of understanding.
29. Business Analysis Writing
Similar to business writing, but more focused on comparative study between companies or business models. Add to your resume for any writing or business-related positions.
30. Business Writing
This is a great writing skill to add to your resume for any kind of job. Apart from writing, this also shows that you have business acumen.
31. Content Strategy
A must-have for marketing jobs today. It's a huge skill consisting of many sub-skills like SEO. It denotes you are familiar with the new media landscape.
32. Content Writing
Adding content writing skills to your resume will show that you are good at writing as well as research.
33. Copywriting
Listing copywriting skills is a must for any digital marketing-related job. It is also useful for any job where you are required to do text-based work.
34. Correspondence
Effective office and business correspondence is a must-have skill for many jobs, especially office assistance and customer support professions.
35. Creative Writing
The ability to write creative pieces not only shows your writing ability but also your creativity. This skill is essential for artistic career fields.
36. Editing
A must-have skill for writing-heavy jobs. Include it whenever the job responsibilities include written communication.
37. Effective Message Writing
Essential for jobs in the communications field. Putting it on your resume will show you understand audience targeting.
38. Email Writing
Emailing is one of the essential written communication skills. You need to know what to say and how to say it correctly.
39. Financial Report Writing
If the job is related to finance, you should consider including this written communication skill on your resume. It also does well for any writing-related jobs or managerial positions.
Grammar Knowledge
We all know technology can do most of this for us in some jobs, but having a keen eye and a thorough understanding of grammar rules is essential for some roles.
40. Investigative Writing
Indicates your attention to detail, research skills, and critical thinking ability.
41. Legal Writing
A job-specific requirement. List it if the job descriptions hint at the ability to handle legal documents.
42. Pitch Deck Writing
Writing wonderful pitch decks will make you the boss' favorite in no time. It also expresses your business acumen.
43. Playwriting
Not required in most cases, other than jobs in the entertainment industry. But having it means you are good with words and expressing ideas.
44. Poetry Writing
Writing poetry shows you are creative and imaginative. It can also show that you have a deeper level of sensitivity and emotional intelligence.
45. Presentation Writing
Writing a stellar presentation is almost 70% of the job of giving an impeccable presentation.
46. Press Release Writing
Often required for many positions in public relations, public affairs, and mass communications. Having this ability would prove you to be an asset to the team.
47. Proofreading
Having this skill means you will keep office correspondence and documents flawless.
48. Report Writing
Previous experience and your ability to describe and analyze all the crucial business updates for your office meetings will make you stand out among others.
49. Research
No writing is possible without research. Even creative writing requires it to some extent. So, add it to your resume as needed.
50. Screenwriting
Required for some specific jobs in the entertainment industry. Having this skill means you are creative.
51. Social Media Skills
Social media management and writing are popular skills sought after for digital marketing positions.
52. Speech Writing
Not always required. But having it would benefit you for certain jobs, like office assistant, personal assistant, etc.
53. Summarizing
The ability to summarize events or documents concisely and accurately can be an important communication skill to have.
54. Technical Writing
Applying to a tech company? Having this skill will denote that you are familiar with the technology landscape.
55. Translation
If you know more than one language, translation is a great written communication skill to show off on your resume.
56. Visual communication
Having this skill allows you to convey ideas through visual formats such as infographics, charts, animation, etc.
57. Web Communication
A must for jobs that require constant communication over the internet, i.e. customer support.
Interpersonal Communication Skills For Your Resume
Interpersonal communication skills are essential for our day-to-day operations.
These skills describe how you work with other people in a work environment. These skills are especially important for leadership roles in an organization.
Let's have a look at some of the best interpersonal communications skills to put on your resume.
58. Adaptability
Having adaptability means you excel at change management and can read changing situations easily.
59. Approachability
Approachability indicates how easy you are to work with. It shows that you are open to discussions with your team.
60. Coaching and Training
Having the ability to teach and coach others is a great asset to have in any employee or leader.
61. Collaborative Mindset
Required for working on teams and building lasting client relationships. Effective collaboration makes work effortless.
62. Convergent Thinking
A problem-solving tool used to arrive at a concrete answer using logical reasoning. Show off your logic and problem-solving skills.
63. Courtesy
A basic skill that we all should have. But being courteous in the most difficult of situations is a great skill to master.
64. Creative Thinking
A must for creative fields. But having it on your resume for business-related jobs also fares well.
65. Cross-Cultural Communication
A much-needed skill in today's world of globalization. You need to constantly engage with people from various cultures across the globe.
66. Diplomacy
Although required on a daily basis, it is essential for jobs involving international relations.
67. Divergent Thinking
A problem-solving tool that uses multiple possible solutions to come up with ideas or answers. Show that you are creative and open-minded.
68. Emotional Intelligence
An underrated interpersonal skill. Emotional intelligence plays a significant role in rapport building by forming an understanding of others at an emotional level.
69. Empathy
A must for your personal as well as professional life. Understanding the pains of your clients or audience is what makes you the best at what you do and say.
70. Flexibility
Flexibility is a must for creating a smooth workflow. Working with others and in certain situations can require a great amount of compromise.
71. Friendliness
A great skill to have for any kind of career that involves co-workers or customers.
72. Giving and Receiving Feedback
Being able to give and receive constructive feedback shows that you are open to improving yourself and helping others succeed.
73. Honesty
Another much-needed skill for any job. You should always be honest to keep you and your company out of trouble.
74. Identifying Personality Types
If you know how and what to say based on someone's personality and values, you can get the desired result out of any interpersonal communicative situation.
75. Improvisation
Improvisation skill is a lifesaver in awkward situations. Shows that you are an out-of-the-box thinker.
76. Interviewing
An essential HR management skill. Indicates that you contribute to the recruitment process and can select the best candidates for a position.
77. Leadership
Leadership skills come with experience and practice. If you are applying to management roles, be sure to include leadership skills on your resume.
78. Logical Thinking
Logical thinking is a must for every job. But more so for jobs in business development, strategy, and planning.
79. Mediation Skills
Having this skill helps in day-to-day conflict management. It is also essential to work in corporate legal teams.
80. Mentoring
The same is true for mentoring. This skill is a leadership trait and enables you to set an example and keep your whole team in sync.
81. Motivating
Including this interpersonal communication skill on your resume indicates that you are optimistic and a team player.
82. Negative Reinforcement
An interpersonal skill for leadership and executive roles. It allows you to keep your team on the right track.
83. Negotiating
Stellar negotiation skills are a great advantage when it comes to interpersonal communication. It lets you create a win-win situation for all the parties involved.
84. Networking
Networking is a communication skill that is great to have for your own career growth as well as for your company's progress.
85. Positive Reinforcement
This is a required skill for leadership and executive roles. It allows you to constantly improve your team.
86. Problem Sensitivity
The ability to sense the pain points and problems of your clients is a great skill, specifically in sales and marketing.
87. Psychology
Having a basic knowledge of psychology helps you to understand others better, and improves your interpersonal communication.
88. Rapport Building
Interpersonal communication is all about building lasting relationships. Rapport building is a must-have skill when you will be working directly with clients.
89. Reading Facial Expressions
A non-verbal communication skill that allows you to get the vibe of your audience and craft your message accordingly.
90. Respect
Every recruiter keeps an eye open to detect disrespectful behavior in potential employees.
91. Responsiveness
Responsiveness means that you are proactive and a team player. You are also able to take appropriate action quickly.
92. Social Skills
Social skills are great for networking events. Employees with stellar social skills can attract clients to their companies.
93. Strategic Thinking
A must-have skill for business development, planning, management, leadership, and executive roles.
94. Team Building
Teamwork is fine, but team building is even better. Team building is the ability of a leader.
95. Teamwork
Every employer wants a team player in their organization. The ability to selflessly work on a team is a trait that employers will be looking for.
96. Understanding Body Language
An often ignored, but very crucial part of interpersonal communications. A lot depends on reading and using body language signs.
97. Understanding Non-Verbal Cues
Reading non-verbal cues is essential for knowing how the other person is feeling and what you should say or do next.
98. Utilizing Non-Verbal Tools
Hand gestures, facial expressions, touch, and eye contact are important parts of interpersonal communication. Using them appropriately is an essential skill.
99. Versatility
Versatility means you are flexible, can communicate across mediums, and handle difficult situations with calmness and ease.
100. Visualizing
Be it with words or creative art forms, visualizing skills are often required for many jobs, i.e. customer experience manager and creative director.
(Check this article out for more hard and soft skills: Most Important Skills for a Resume.)
How to Add Communication Skills To Your Resume
How do you include your communication skills on your resume? Depending on the jobs you are targeting, you may need to list written, verbal, or interpersonal skills…or perhaps all three!
There are multiple ways you can put communication skills on your resume.
The first step is to take inventory of all of the communication skills that you possess. Use the list above to write down as many skills as you have.
Next, check the job description of the job that you are targeting. Look for any required or preferred skills the employer would like to see.
Compare the employer's list to your list and any common skills will be the skills to add to your resume.
If your skills list falls a little short, double-check the job description for skills that may have been missed in your initial list. You can also research common skills for the role you are applying to.
Top Tip
The key is to list the communication skills on your resume that you possess, and are relevant to the job you are applying for.
Resume Summary Section
Your resume summary, or professional summary, sits at the top of your resume and provides a summary of your highlights to your prospective employer.
It is only 4-6 sentences long, so you want to include your most impressive and relevant information.
Describe your skills using examples or experiences.
Here are some sample sentences from resume summaries that include communication skills:
Senior Marketing Leader with proven experience in driving the full scope of traditional, digital, social media, and content marketing for diverse organizations and Fortune 500 clients.
Cultivate team symmetry and drive adherence to industry best practices by effectively communicating with executives, teams, and stakeholders to ensure achievement of all financial goals.
Technical and business acumen with advanced knowledge of and experience with machine learning technologies, analytics solutions, and data warehouse tools.
Resume Skills Section
You can list your most relevant skills in the main "Skills", "Core Competencies", or "Area of Expertise" section of your resume.
This section of your resume quickly lists and highlights the skills you possess for the targetted job.
The main skills section of your resume is usually between your summary and your professional experience section.
List 12 -15 of the hard and soft skills you possess for the job. Use our list above to get started.
Professional Work Experience Section
You should also showcase the achievements that you have made possible using your verbal communication skills wherever suitable on your resume, i.e. in the previous job details, voluntary or extracurricular work.
In this section, you will write about any hard communication skills you have as well as soft skills.
Take a look at some example sentences from professional experience sections that include communication skills:
Recognized for consistently exceeding individual quotas by overcoming client objections, making appropriate product recommendations, and diffusing escalated client issues.
Mentored and coached resources in adopting Agile behaviors and principals, including 200 scrum masters, product owners, business owners, development teams and HR teams.
Drafted and edited legal documentation, including pleadings, appellate briefs, summonses, subpoenas, complaints, discovery and court filings, as well as transcribing dictation and drafting legal correspondence.
Consistently created viral content across several social media platforms in addition to playing a lead role within a team tasked with developing a $5MM financial presentation/analysis.
Educate providers on product portfolios, addressing their questions and concerns to ensure optimal patient outcomes.
Sample Resume With Communication Skills
We've provided samples of adding good communication skills to your resume.
How does this look put together on one resume?
The communication skills used in this sample resume are underlined to show how these skills are used throughout a resume.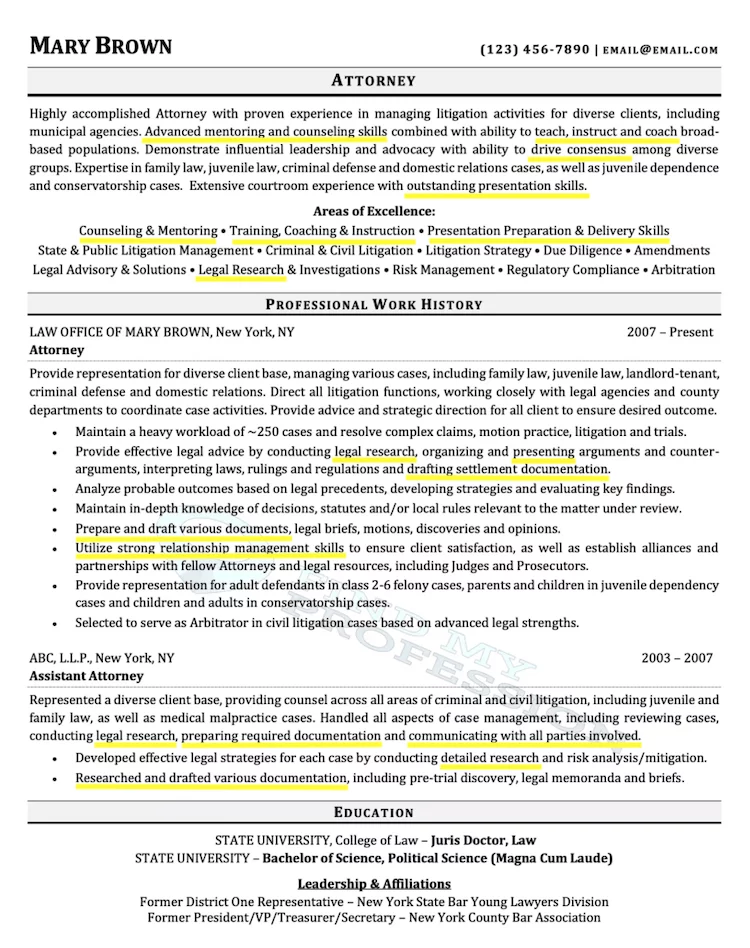 How your resume will look will depend on your own communication skills and what skills are required for the job you are applying for. Every job is different and every resume will be too.
Key Takeaways
The most important lessons from the article are worth repeating:
Having effective communication skills is a must in today's world of business.
Communication skills to include on your resume are skills related to verbal, non-verbal, interpersonal, and written communication.
You must include only relevant communication skills on your resume to be seen as the perfect fit for your desired job.
You can highlight your communication skills in various sections of your resume.
Back up your skills with examples and achievements in your resume.
Follow these guidelines to list communication skills on your resume and rest assured that you will get noticed.
Of course, an effective resume is more than great communication skills on a mediocre resume. Your entire resume needs to shine!
If you'd rather have a professional take care of all of this for you, no problem! Professional resume writers create successful resumes with effective communication skills for clients every day. Check out how Find My Profession can help you!