What are leadership skills and why do you need to include them on your resume?
The answer to this question is simple. You need to show your potential employers that you can manage a team and get results.
Companies like Amazon are very serious about leadership skills.
They won't hire you if you don't have leadership capabilities.
This is true even if you are applying to non-leadership positions!
In this article, we will explain the 9 most important leadership skills for your resume.
We will also share 45 leadership skill synonyms that you can sprinkle into your resume.
Let's define leadership and get a deeper look into the nature and reality of leadership itself.
What Are Leadership Skills?
Leadership skills are the abilities that allow you to direct, supervise, and guide a group of people to achieve goals in unison. It's not only being able to give direction to subordinates. It's being able to inspire your team members to achieve the objectives of the organization.

Dwight D. Eisenhower
Leadership is the art of getting someone else to do something you want done because he wants to do it.
Leadership traits are essential for management, executive, and supervisory roles. But most positions required them in some form.
Leadership ability is also essential for rapid and desirable career growth.
For quick reference, here are 45 leadership skills and adjectives for a resume. Pick the skills that best describe your abilities.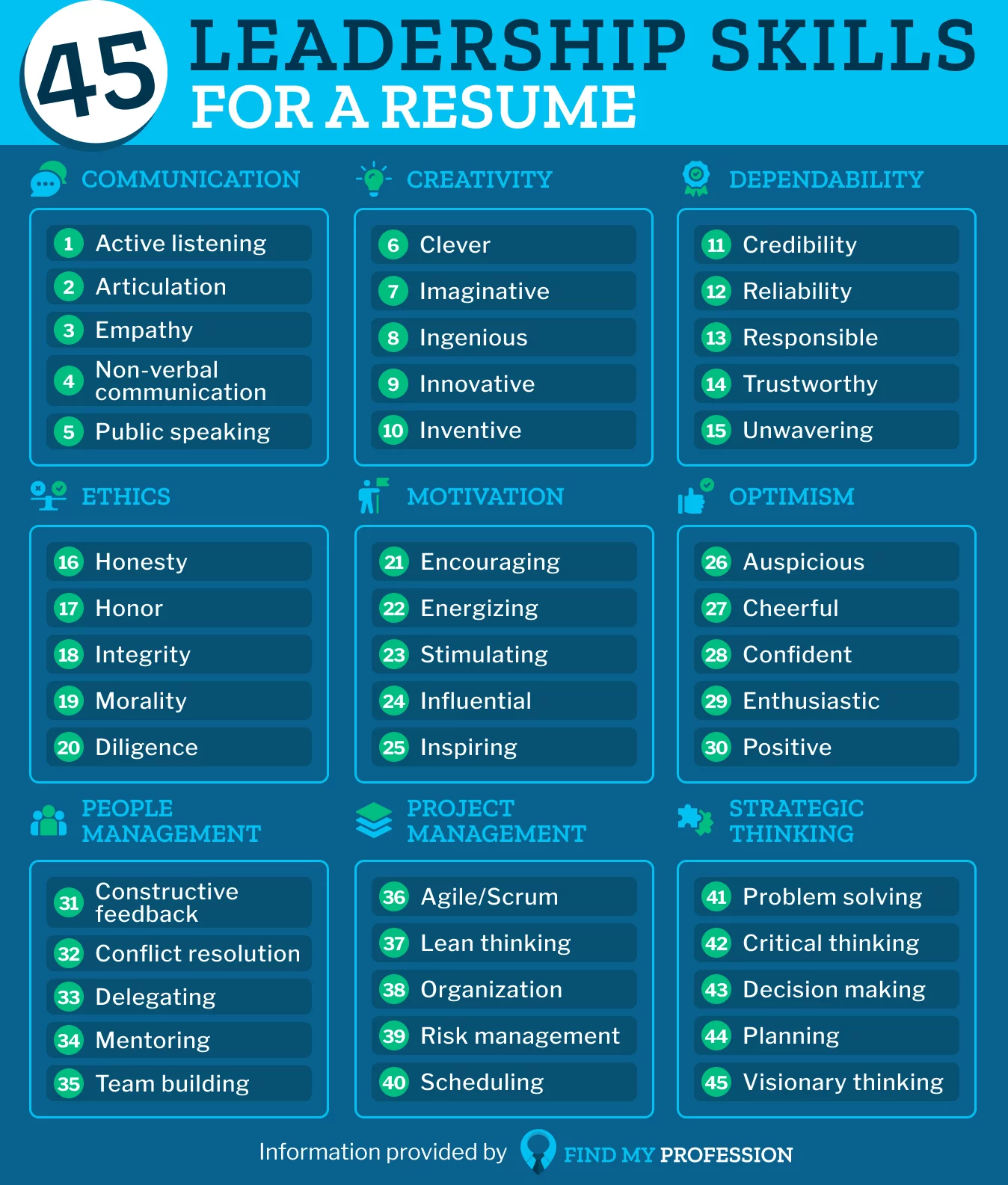 Top Tip
Don't use too many leadership adjectives throughout your resume. This will increase each one's impact!
Where To Include Leadership Skills on Your Resume
Above is a list of the top leadership skills.
Now it's time to get them added to your resume.
To include the best leadership traits on your resume:
Analyze the job posting. Determine the most important leadership skills for the position you are applying for.
Compare those skills with the ones you have.
Weave these skills into various sections of your resume.
Here is a sample resume with leadership skills used throughout the resume: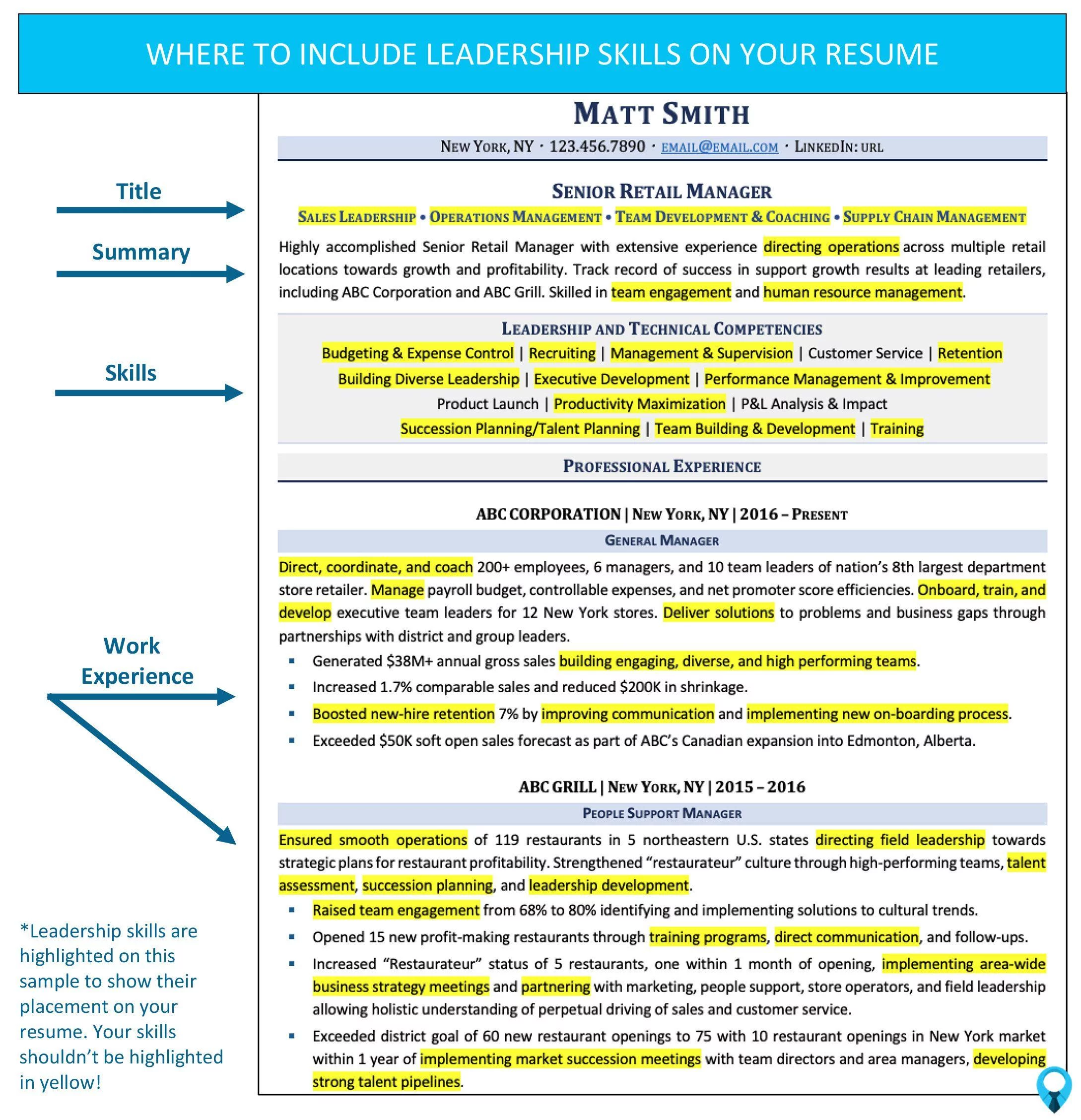 We'll walk you through each section of your resume and how to include the skills that make you a great leader.
Leadership Skills in Your Resume Title
Take your resume to the next level by adding leadership skills to your resume title.
Your resume title should tell the hiring manager what role you are applying for, but you can do more than that.
Including leadership skills here will set you apart from your competition.
You can add 3 – 5 skills to your title such as:
Sales Leadership
Team Development & Coaching
Executive Leadership
Turnaround Strategy
Remember to check the job description to know which skills to include in your title.
Leadership Qualities in Your Resume Summary
Your resume summary section is a great place to showcase your leadership skills.
Back up the skills you mention with a few great examples from your career.
Here's a sample resume summary for a retail manager:
Highly accomplished Senior Retail Manager with extensive experience directing operations across multiple retail locations towards growth and profitability. Developed career track record of success in support growth results at leading retailers. Skilled in team engagement, human resource management, and training and development. Described by superiors as a winning goal-achiever in the face of obstacles.
The sample summary includes leadership traits (in bold).
Leadership Traits in Your Skills Section
The skills section of your resume is important. It will show the hiring manager that you have the necessary skills for the job you are applying for.
List your skills front and center on your resume.
Don't leave this section off of your resume or place it at the bottom of the second page.
You can name this section with various titles like:
Skills
Core Competencies
Area of Expertise
Here you will list 10-15 of your best and most relevant skills for the job you are applying for. Include both hard (or technical skills) and soft skills like those listed above.
Leadership Skills in Your Work Experience
Add leadership skills to the professional experience section of your resume.
Always try to highlight your skills with examples, results, and numbers.
Here are some sample statements that include leadership skills:
Developed and managed a team of 10 call center employees, providing ongoing coaching, mentoring and feedback to ensure optimal performance.
Implemented an improved culture focused on growth and leadership development, which significantly reduced turnover and resulted in extremely high employee retention rate of 92%.
Built, developed and managed a staff of 7 sales professionals, providing coaching and mentoring to support their personal growth and achievement of challenging quotas.
The samples use numbers to quantify leadership skills (in bold). They also show what actions led to the accomplishments.
Top Tip
Check out our 20+ resume samples to see different formatting options for your resume.
Leadership Traits to Add to Your Resume
Now we will discuss each individual leadership trait and provide some synonyms to use on your resume.
1. Communication
Communication is the heart of effective leadership.
It doesn't matter how skilled you are at your work and how much passion you have for it. If you do not know how to transfer your knowledge and passion to others, you can't be a good leader.
Many other leadership skills are useless without effective communication skills.
Include the following on your resume to show that you have communication skills:
Active listening
Articulation
Empathy
Non-verbal communication
Public speaking
Include examples of using your communication skills to get work done effectively.
2. Creativity
We often think that creativity isn't learned, it's inherent.
But that is far from the truth. You can develop your creativity through experience and practice.
And, creativity is very much required for effective leadership.
These words on your resume will show that you are creative:
Clever
Imaginative
Ingenious
Innovative
Inventive
It is a good idea to avoid the use of the word "creative" itself due to its being overused. Instead of directly stating it, you need to show how you were creative or use the words above.
3. Dependability
A leader that is not dependable is not a leader at all.
What makes a good leader is that people know that they can rely on you and jump into action with a simple request.
That's the magic of dependability in a leadership role. Your team must know they can count on you to tackle any issues that may come up.
These words will help you to express your dependability on your resume:
Credibility
Reliability
Responsible
Trustworthy
Unwavering
Don't forget to show how dependable you were to everyone in your previous role.
4. Ethics
"Integrity is doing the right thing, even when no one is watching," according to C.S. Lewis.
Being ethical is an essential leadership skill. If the leader does not do what is right in every situation, how can the followers?
An ethical person will keep their commitments, take responsibility, and respect their employees.
You can show your ethical characteristics with the following words on your resume:
Honesty
Honor
Integrity
Morality
Diligence
Include the words above to show that you are a leader and an employee that can be trusted.
5. Motivation
The ability to motivate others is essential for effective leadership.
Motivation and productivity go hand in hand. A motivated team is a productive team.
And, the leader must keep their team motivated to achieve their goals.
The following words will help you to explain your ability to motivate others:
Encouraging
Energizing
Stimulating
Influential
Inspiring
Include some succinct stories of your motivational skills at play and how it helped your colleagues and team members.
6. Optimism
A positive outlook is sometimes all you need to get through a tough assignment.
Optimism in a leader is a godsend. We all love to work with someone who always sees and brings out the best in us, instead of being doubtful.
Positivity as a leader will also make your leadership experience a fulfilling one.
The following words will help you to represent your positive attitude on the resume:
Auspicious
Cheerful
Confident
Enthusiastic
Positive
Remember that positivity is not about blindly being optimistic for every solution, it's about finding the best logical solution and keeping unfaltering faith in your discernment.
7. People Management
To be a great leader, it takes technical knowledge as well as the ability to manage people.
Keeping people aligned with your vision is the art of a true leader.
A significant part of corporate leadership is people management.
These are the words to use on your resume to show your people management skills.
Constructive feedback
Conflict resolution
Delegating
Mentoring
Team building
Include any training you have in HR management.
8. Project Management
Leading a project involves coordinating a lot of moving parts. It takes many skills to be an effective project manager.
From planning to allocating resources to monitoring progress, this skill covers it all.
Add these words to your resume to convey your project management skills:
Agile/Scrum
Lean thinking
Organization
Risk management
Scheduling
Be sure to quantify your projects on your resume by including your results. Include any PM certifications you have in the education section of your resume.
9. Strategic Thinking
Strategic thinking is the ability to take complex problems and determine logical solutions.
Strategic thinking requires clarity of thought and a deeper understanding of the situation.
It is an essential leadership trait.
The following words show your strategic thinking capabilities:
Problem solving
Critical thinking
Decision making
Planning
Visionary thinking
Showcase tasks you have accomplished by strategic thinking and what the results were.
Key Takeaways
What we have learned about leadership skills and how to include them on your resume is quite simple:
Leadership qualities are sought-after skills in today's job market.
You must show quantifiable leadership skills on your resume. It is the first contact with a potential employer.
Leadership traits are indispensable for management, executive, and supervisory roles. They are also essential for teamwork and career growth.
Read the job announcement to determine the leadership skills required for the job.
Include your leadership skills in various sections of your resume with quantifiable examples.
Keep these guidelines in mind to create a resume that moves you into your next leadership role.
Or contact a professional resume writing service to do it for you.
Find My Profession's team of experts can help job seekers craft a resume that effectively showcases their leadership abilities and stands out from the competition. Contact us today!