Ireland is one of the most difficult countries to get a job in continental Europe.
Just ask The Irish Times!
In a country with such tough competition, how can you increase your chances of landing that dream job?
It's easy…kind of.
You just need a well-crafted and compelling resume/CV.
And the best way to achieve this is by securing the services of a professional CV writer.
But a search on Google for "CV writers in Ireland" will provide you with an overwhelming 8,820,000 results.
Who has the time to sift through all of them?
We do, and we have!
We have done the heavy lifting for you to narrow this number down. And in the end, we have compiled this list of the best CV writing services in Ireland.
---
Note: For the sake of this article, we will be using "resume" and "CV" interchangeably. Each of the companies below offers elite resume/cv writing services to fit any job seekers' needs.
---
Ireland Resume Service Criteria
Each of the Ireland resume services below was reviewed by a Certified Professional Resume Writer (CPRW) taking into consideration the following:
Cost: The cost of the service compared to other Ireland resume writers.
Turnaround: The speed at which the resume is completed.
Credentials: Overall experience, awards, and certifications.
CV Design: The design, style, and overall look of the resume.
Customer Service: Guarantees, number of edits offered, and reviews.
This list was hand-curated to serve all industries, professions, and career levels. While many of the writers on this list are from major cities in Ireland, these services are virtually available whether you are in Dublin, Cork, Munster, Waterford, Wexford, Drogheda, Carlow or any other Ireland city.
Best Resume Services in Ireland

1. Find My Profession
Find My Profession is much more than an Ireland resume and CV writing service. We are a global company whose work has been featured on sites such as Forbes, Inc, Zety, Fast Company, and more.
Our elite resume/CV writing team has experience in 85+ industries/professions. This allows us to assign you a professional writer based on your unique background and experience.
We have successfully landed our clients positions at companies including Apple, Amazon, EA, Oracle, GM, Facebook, DoJ, Morgan Stanley, Gap, and 2U…just to name a few.
Find My Profession has 650+ 5-star reviews and offers a 60-day interview guarantee. Every CV created is Applicant Tracking System (ATS) compatible and highly customized to meet your specific needs.
Pros: You will work one-on-one with an expert CV writer. Find My Profession commits to working with each client until they are 100% satisfied. Don't worry about having a limited number of edits or a set amount of time with your writer.
Cons: Find My Profession is a virtual company. While we provide services in Ireland, we don't have a physical office for in-person visits. You'll communicate directly with your writer via email and phone calls.
Reviews: 5/5 based on 124 Google reviews, 5/5 based on 8 BBB reviews, 5/5 based on 35 Facebook reviews, 4.9/5 based on 304 Trustpilot reviews, 4.7/5 based on 255 Sitejabber reviews
Turnaround: 3 – 5 business days (can expedite to 2 business days)
Cost: $695 – $1395
Contact: (831) 888-0967 or help@findmyprofession.com
Check out some of our 5-star reviews:
Visit Find My Profession

2. ResumeZest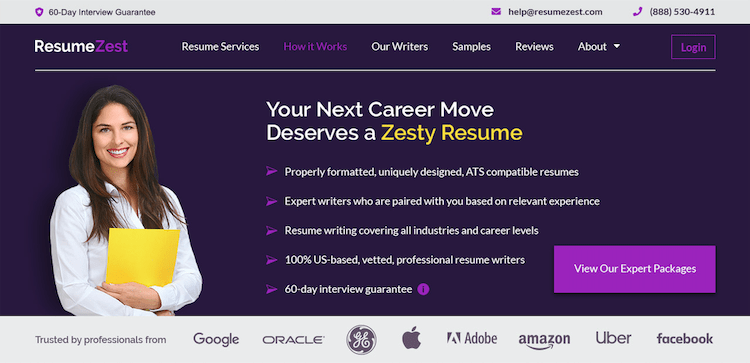 ResumeZest is trusted by professionals from companies including Google, Amazon, Apple, Oracle, GE, Adobe, Uber, and Facebook. Their resume writing team has written resumes for more than 75 industries. A 60-day interview guarantee backs up every CV written by ResumeZest. Each CV is also ATS compliant and keyword-optimized.
Pros: ResumeZest is a very well-rounded company. They offer affordable pricing and quick turnaround times. You will work with a high-quality, certified writer and receive excellent customer service. They are also members of the Professional Association of Resume Writers and Career Coaches (PARW/CC).
Cons: ResumeZest is one of the newer companies on this list. While they do a great job and their writers have many years of experience, the company was only founded in 2020.
Reviews: 5/5 based on 9 Facebook reviews, 5/5 based on 50 Google reviews, 5/5 based on 3 Yelp reviews, 4.8/5 based on 56 Sitejabber reviews, 4.8/5 based on 52 Trustpilot reviews
Turnaround: 3 – 5 business days (can expedite to 2 business days)
Cost: $179 – $379
Contact: (888) 530-4911 or help@resumezest.com
Visit ResumeZest

3. The CV Centre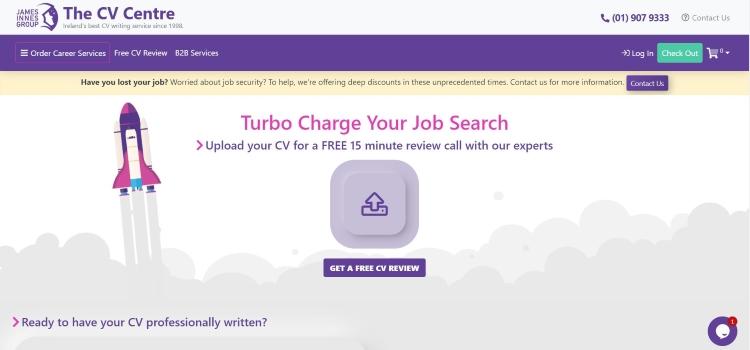 The CV Centre is a subgroup of the well-known James Innes Group, and is a reputable Irish CV service based in Ireland. They have written an astonishing 36,312+ CVs, and they boast over 100 experienced consultants. The CV Centre promises to work with you until you are fully satisfied with your CV.
Pros: You can chat personally with your writer in order to consult and discuss specifics. You're also able to select your choice of delivery time, at an additional cost.
Cons: Although based in Ireland, the CV Centre does not have a physical office for in-person meetings. As a result of this, all of their services are provided virtually.
Reviews: 4.8/5 based on 36 Google reviews, 1.0/5 based on 1 Facebook review
Turnaround: 3 business days (can expedite to 6 – 72 hours)
Cost: €75 – €425
Contact: (01) 907-9333 or customerservices@cvcentre.ie
Visit The CV Centre

4. Linking Lines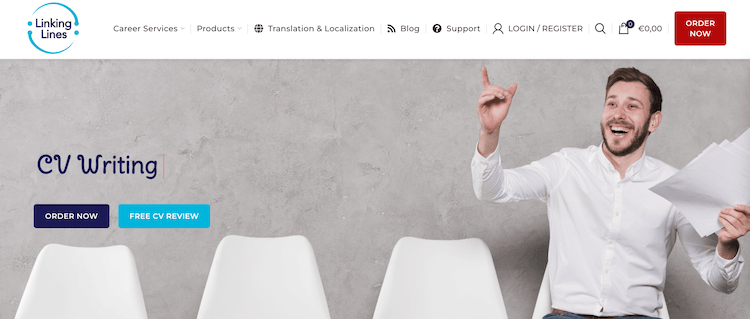 Linking Lines is a career service based in Cork. It was established in 2015 by Kristina Simunovic. Linking Lines focuses on providing fully optimized CVs and resumes tailored to meet clients' specific needs. They specialize in CV, cover letter, and resume writing services and also offer translation and Linkedin services.
Pros: Kristina is TEFL (Teaching English as a Foreign Language) certified. She has a team of certified CV writers and career coaches who undergo extensive training. Her agency also has a live chat option for clients needing their CV in a hurry.
Cons: The company no longer accepts phone queries, meaning you can only contact them via email or through their website chatbox. They also do not have a physical address and only provide virtual services.
Reviews: 5/5 based on 44 Facebook reviews, 5/5 based on 43 Bark reviews, 4.9/5 based on 74 Google reviews, 4.9/5 based on 17 Locale.online-Ireland reviews
Turnaround: 4 business days (can expedite to 2 business days)
Cost: €90 – €160
Contact: info@linkinglines.com
Visit Linking Lines

5. CV Expert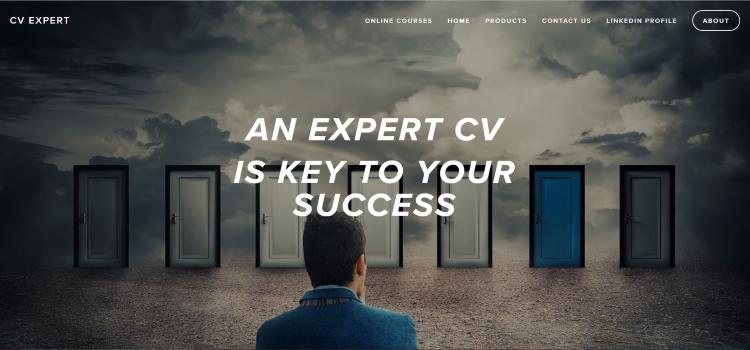 CV Expert is one of Ireland's leading CV service companies. Based in Rathgar, Dublin, the company was started in 2006. They provide continuous support and feedback until your CV or resume has been fully optimized to suit your desired job position.
Pros: Although based in Ireland, CV Expert offers worldwide online services to anyone around the globe. Also, their site is straightforward and easy to navigate.
Cons: The CV Expert does not provide person-to-person services. Also, it does not have a lot of available reviews for prospective clients to check.
Reviews: 4/5 based on 1 Google review
Turnaround: Not found
Cost: €79+
Contact: info@cvexpert.ie
Visit CV Expert

6. Miss Smyth CV Writing Services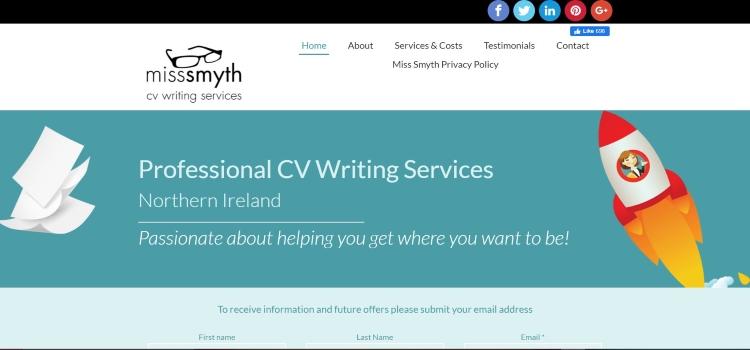 Miss Smyth CV Writing Services is a virtual CV service based in North Ireland, and founded by Victoria Smyth in 2010. Victoria is a committed writer with years of CV experience. The agency promises to help you "win that interview" and will collaborate with you from the first draft to the final document.
Pros: Their services encompass every career level or stage, with CV services ranging from high school leavers to executives. They provide face-to-face physical consultations for local clients, and virtual services for their not-too-near clients.
Cons: The website makes no mention of the expected turnaround time. Also, due to it being run by a single individual, it's possible that you might experience a lengthier delivery time than some of the other options on this list.
Reviews: 5/5 based on 24 Facebook reviews, 2.3/5 based on 8 Trustpilot reviews, 2.3/5 based on 3 Google reviews
Turnaround: Not found
Cost: €40 – €125
Contact: info@miss-smyth-cvs.com
Visit Miss Smyth CV Writing Services

7. CV Tips And Tricks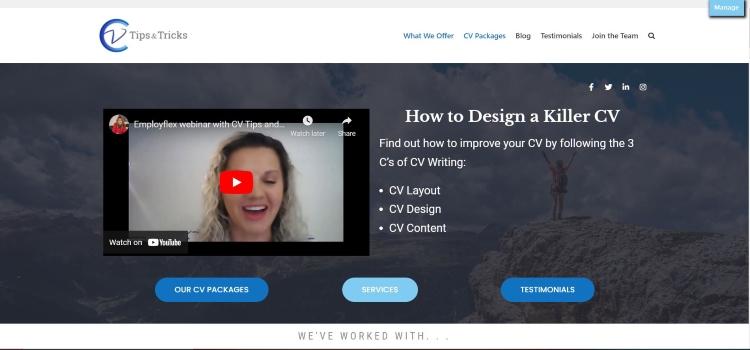 CV Tips and Tricks is a Sligo-based CV service that was created by Lorraine Mc Guinness in 2016. It was established with the goal of boosting clients' confidence by tutoring and helping them craft aesthetic CVs and resumes. It also boasts of landing 97% of its clients with interviews for their dream job.
Pros: They provide one-on-one consultations and also render services all around the globe. They have numerous satisfied clients in the Middle East, Asia, the US, and more. Their CV services also span a host of industries.
Cons: CV Tips and Tricks is run by just one person, Lorraine Mc Guinness. As such, the agency's availability may not be satisfactory. Also, service delivery may take more time.
Reviews: 5/5 based on 20 Facebook reviews, 5/5 based on 11 Locale.online-Ireland reviews, 4.9/5 based on 11 Google reviews, 4.4/5 based on 10 Trustpilot reviews
Turnaround: 3 – 5 business days
Cost: €80 – €250
Contact: (087) 271-3190 or info@cvtipsandtrick.com
Visit CV Tips and Tricks

8. The CV Agency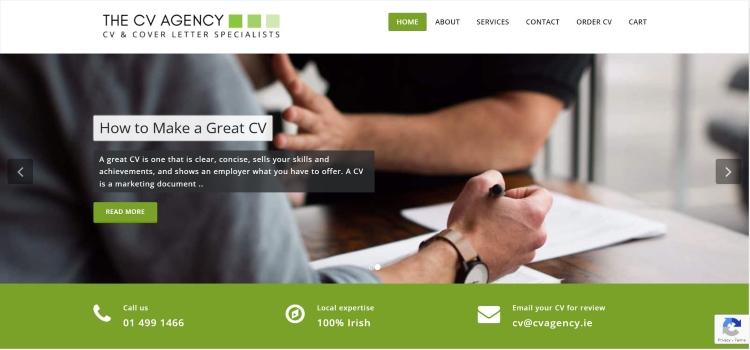 The CV Agency is one of Ireland's top CV writing services. Created in 2015 and based in Dublin, The CV Agency's services are available globally. They employ writers who have extensive CV writing experience. They also advise and walk their clients through the job application process.
Pros: They do not only create CVs and resumes from scratch; they also edit your existing documents and make them better. The company never outsources their services, so you are assured of a CV experience with a personal Irish touch. Also, they have a rapid turnaround time compared to other Ireland CV services.
Cons: Their telephone consultation service is not free, so you have to pay whether you ultimately use their services or not. Their site does not include details about any of their writers. The reviews and testimonials on their site have not been verified by a third-party source.
Reviews: 5/5 based on 1 Google review, 5/5 based on 1 Facebook review
Turnaround: 2 – 3 business days
Cost: €94 – €117
Contact: (01) 499-1466 or cv@cvagency.ie
Visit The CV Agency