Executive positions are among the most influential roles a person can hold in any company.
As a result, sometimes these positions aren't advertised publicly.
Thankfully, more and more career sites are focusing on high-salary, senior-level jobs.
ExecThread was designed to help executives discover and apply to $100k+ jobs.
Instead of filtering through thousands of lower-paid jobs on sites like Indeed, ExecThread focuses solely on six-figure jobs.
All of this sounds great…if it works.
In this post, we will be reviewing ExecThread and its job search services.
We have taken a deep dive into the customer reviews, costs, and services offered. Our goal is to provide you with enough information to determine whether or not ExecThread is the right service for you.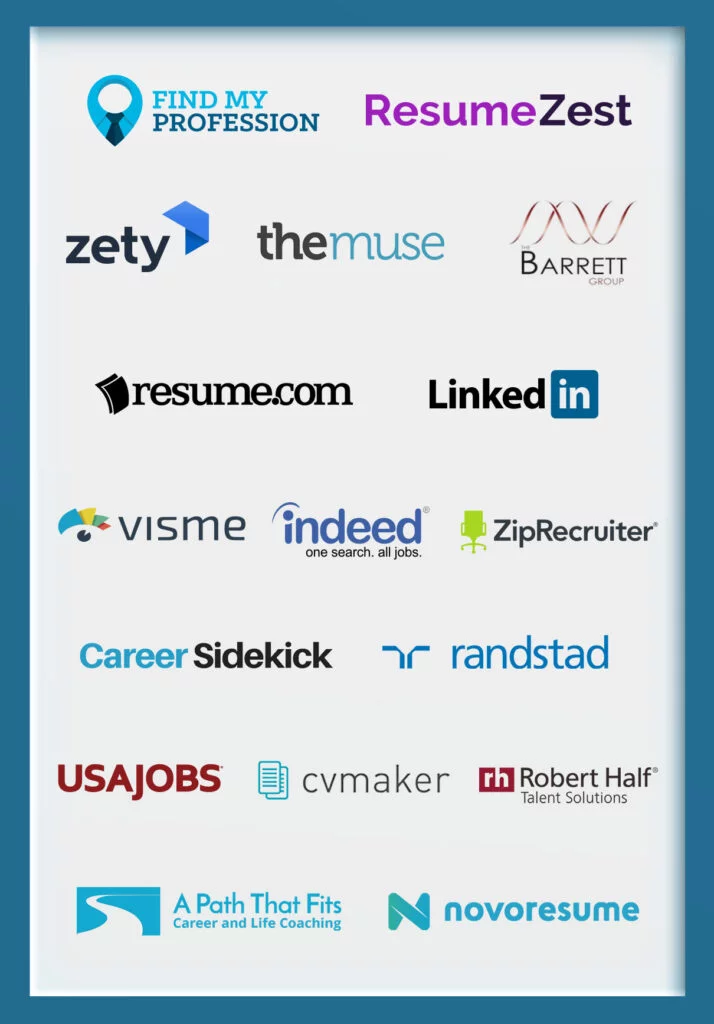 Need some more help?
Did you know there are dozens of companies that can help with your job search? Check out our list of the best agencies to find a job, including our #1 alternative to ExecuThread.
About ExecThread
What is ExecThread? ExecThread is a job-sharing board for executives. The service specializes in connecting eligible executives with the best job opportunities in their industry.
Joe Meyers created the platform in 2015. This came a few years after he sold his mapping startup, HopStop, to Apple.
Due to his success as an Apple alum, the job offers started rolling in. However, he soon realized that most of the jobs didn't appeal to him.
In fact, he was only interested in about 1% of the job opportunities he was offered. This raised the question of what happens to the executive job opportunities he turned down.
He had been quick to realize that most job boards didn't advertise all executive jobs, and that these jobs were instead shared by acquaintances and friends.
This gave him the idea of creating a platform that allowed executive-level professionals to share information about executive job openings they were privy to, but were not interested in applying for.
With that, ExecThread was born.
Today, ExecThread comprises over 55,000 executives and has crowdsourced more than 25,000 retained executive-level jobs.
In addition to sharing confidential jobs, the job site also offers various career advancement services. The services include professional biography writing, LinkedIn profile optimization, and resume writing services for executives.
Should you invest your time and money in this job site? Read on to find out!
But first…
Let's dive into some of the pros and cons of working with ExecThread.
How Does ExecThread Work?
ExecThread differs from other job boards in that ExecThread serves as a platform for crowdsourced, executive-level job opportunities.
They employ a unique peer-to-peer job-sharing method that allows members to share job postings anonymously.
To enjoy the full benefits of the service, you need to apply for a membership. The application process ensures that the jobs being shared are truly executive-level jobs, and are being posted by executive-level professionals.
The application process begins with verifying your email address, after which your LinkedIn profile will be verified as well.
Another interesting part of using ExecThread is their points-based system.
In this system, you receive ExecThread "points" for completing certain tasks. You can then trade in these points to reduce the cost of your membership.
You receive points for doing things such as referring new members and submitting executive-level jobs you're not interested in pursuing.
ExecThread Pros vs Cons
As with any company, there are pros and cons. It's up to you to determine what is a "must-have" and what things you can live without.
Pros
Network of over 55,000 executives in the $100k salary range.
Featured on Career Cloud, TheWiseJobSearch, and Forbes.
Landed jobs for their clients at Apple, Nike, Bloomberg, and more.
Thorough vetting process for members, jobs, and prospective employers.
Cons
Poor online customer reviews.
Users cannot apply for jobs without paying for a membership.
Not suitable for executives who fall below the $100k salary mark.
There have been complaints that the jobs were outdated and irrelevant.
If you are looking for a career service provider, ExecThread is a great option, but it is worth considering other alternatives to find the best fit for your needs.
Find My Profession's Reverse Recruiting services provide a more comprehensive and efficient job search solution. With their services, you will have a dedicated career expert manage your entire job search process and handle everything from finding and applying to jobs to interview preparation.
Find My Profession also differs from ExecThread in that they have excellent online reviews, they work with professionals at all career levels, and your Reverse Recruiter will filter through job postings to find the most relevant for you.
ExecThread Customer Reviews

Our Certified Career Experts have rated ExecThread a 70/100. Additionally, ExecThread has received customer reviews of 2.5/5 on Google, 2/5 on Trustpilot, and 5/5 on Facebook. These reviews are downright disappointing. One would think a company with such a bright idea would be better received by their customers.
Google shows 19 reviews with an average rating of 2.5/5. More than 60% of these reviews were negative, with many customers using terms like "scam" to describe it. Some reviewers claimed that the job opportunities they found on the ExecThread website were outdated or completely irrelevant to their industry.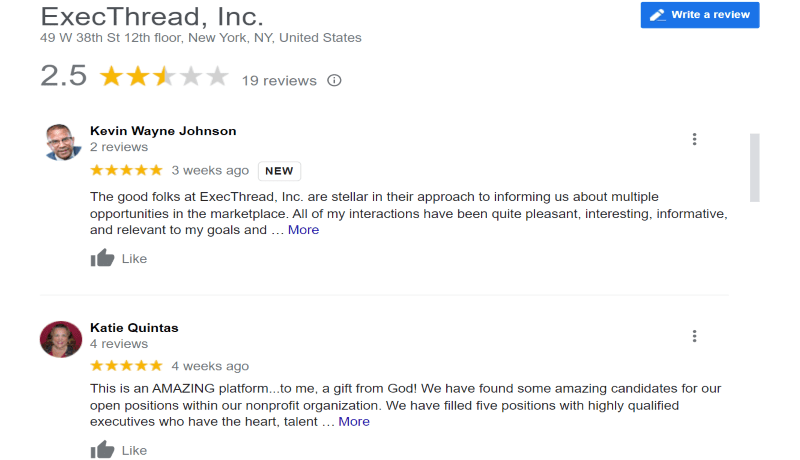 Trustpilot has 10 reviews of ExecThread with an average rating of 2/5. It's illuminating that every review detailed the woes and shortcomings of the career service. Users described them as useless, irrelevant, junk, unethical, and incompetent. Also, the word "scam" came up one too many times.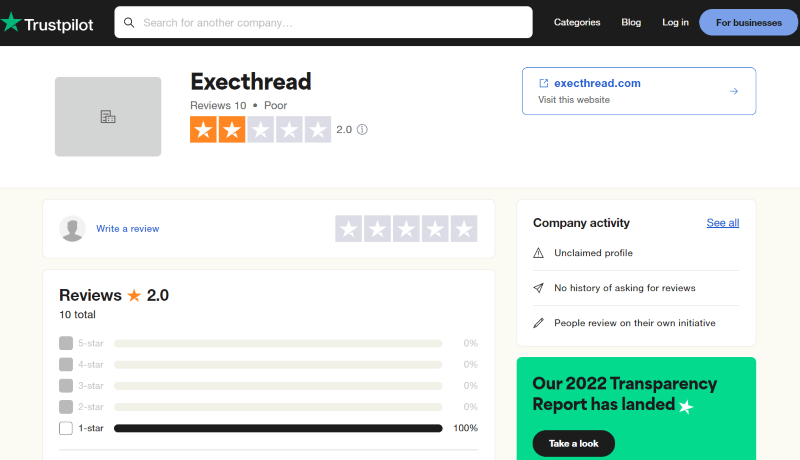 Facebook shows 1 review from 5+ years ago with a rating of 5/5. The one reviewer did not make any remarks.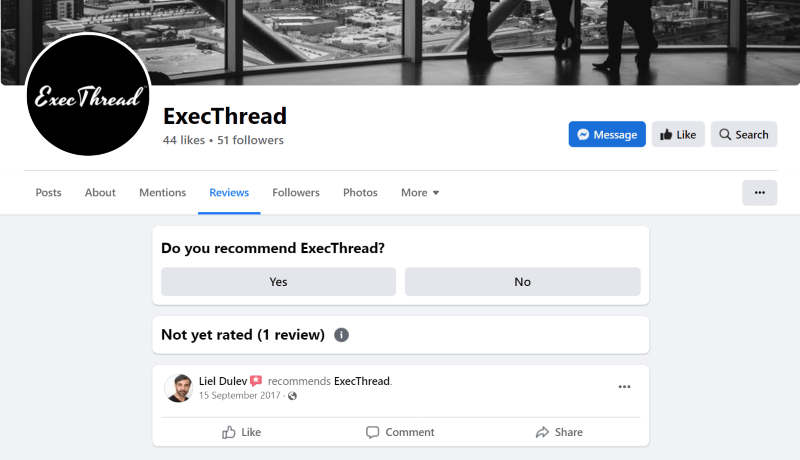 The CEO, Joe Meyers, has received two positive recommendations on LinkedIn.
Overall, the reviews that ExecThread received from its customers are nothing to write home about.
Apart from the fact that we expected to see more reviews, their overall ratings are not very encouraging.
We could assume that the majority of ExecThread's clientele are executives who do not have the time to review the service they received from the company.
But after seeing the unimpressive reviews that ExecThread received on Trustpilot, we're left to wonder if the company is worth the time and money.
As with any company you're researching, remember that additional research should be done beyond reading the reviews that are found online.
How Much Does ExecThread Cost?

ExecThread charges $39 (per month) – $1,499 (lifetime subscription) for access to their career services, resources, and network. Not too shabby, considering that their clients are executive-level professionals bringing home at least $100k per year.
$59
Anyone can access the ExecThread website without subscribing.
Without paying or having any form of membership, you can browse and filter through the job listings on the website for free.
However, to apply for these jobs or view confidential details about them, you must sign up.
There are two memberships to choose from – Full Access Membership ($39 – $1,299) and Full Access Plus Membership ($59 – $1,499).
The main difference between the two membership plans has to do with the types of resources and services you'll have access to.
The Full Access Membership gives you unlimited access to hidden features on the ExecThread website. These features include the ability to view compensation information, as well as the names of hiring companies, hiring managers, and recruiters. You'll also be allowed to apply for all full-time job postings. Finally, you'll be able to share resumes, cover letters, and social media profiles for certain job postings ($39 – $1,299).
The Full Access Plus Membership gives you unlimited access to hidden features on the ExecThread website. These features include access to compensation information, as well as the names of hiring companies, hiring managers, and recruiters. You'll also be allowed to apply for all board and interim job posts. Finally, you'll get a complimentary board branding consultation ($59 – $1,499).
Each membership is further divided into four subscription lengths – monthly subscription, biannual subscription, annual subscription, and lifetime membership.
The Full Access Membership plan is divided as follows:
Monthly Subscription: $1 for the first 28 days (trial period), and $39 every 28 days after.
Biannual Subscription: $180 per 180-day period.
Annual Subscription: $300 per 360-day period, plus a $3 service fee per 360-day period.
Lifetime Membership: $1,299, plus a $3 one-time service fee.
The Full Access Plus Membership plan is divided in this way:
Monthly Subscription: $1 for the first 28 days (trial period), and $59 every 28 days after.
Biannual Subscription: $300 per 180-day period.
Annual Subscription: $480 per 360-day period, plus a $3 service fee per 360-day period.
Lifetime Membership: $1,499, plus a $3 one-time service fee.
These plans automatically renew at the end of their term unless you cancel at least one day before the end of the current billing cycle.
As mentioned earlier, ExecThread also offers other career advancement services to their paying members.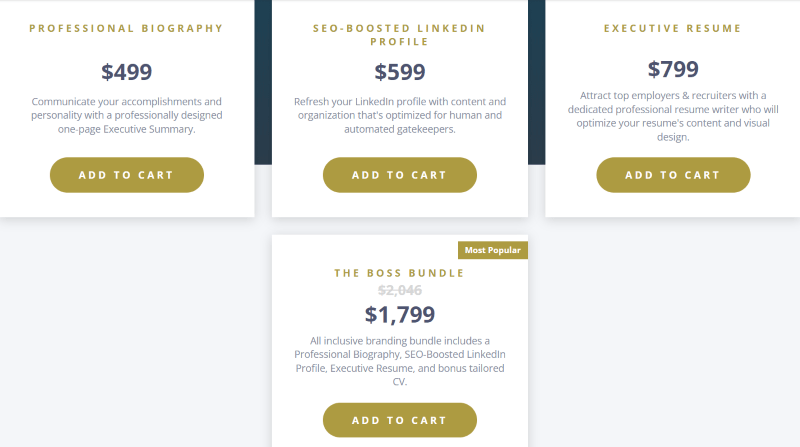 20-Minute Consultation: consultation with ExecThread's personal branding team ($59).
Professional Biography: professionally designed one-page executive summary ($499).
SEO-Boosted LinkedIn Profile: optimized LinkedIn profile ($599).
Executive Resume: optimized resume and access to a dedicated professional resume writer ($799).
The Boss Bundle: professional biography, SEO-Boosted LinkedIn Profile, Executive Resume, and a free, tailored CV ($1,799).
For the most accurate and up-to-date details on package pricing at ExecThread, we recommend that you visit their website directly.
The ExecThread Team
ExecThread is a community of business executives from different industries around the globe. The company's website mentions five of the company's board members. While they do not provide much data apart from their names, there are links to their respective LinkedIn profiles for those wanting more information.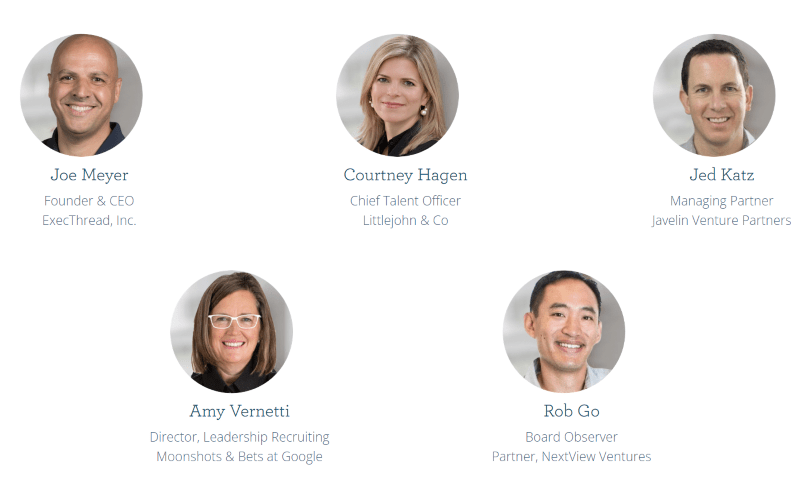 The founder and CEO of the company, Joe Meyers, is an executive who specializes in the technology industry. His mapping startup, HopStop, was acquired by Apple in 2013. Before this, Joe held executive-level positions in various U.S. companies.
He was named "Entrepreneur of the Year" in 2012 by Crain's New York Business. He has also made the top 9% of Business Insider's 2013 list of the "Top 100 Tech Executives in NYC."
Like the founder, the other four team members have all held several leadership roles in their respective careers.
Further investigation revealed 28 employees on the company's LinkedIn profile.
These employees boasted titles such as talent officer, certified executive coach, personal branding specialist, resume writer, and more.
Collectively, the ExecThread team has helped career professionals land executive-level positions at Foot Locker, Apple, Nike, Verizon, Bloomberg, Pinterest, and more.
The company has also been featured on Career Cloud, TheWiseJobSearch, Aruba Executive, MMS Group, Forbes, and other media outlets.
Amongst the companies that use ExecThread to connect with executive-level professionals are Barnes & Noble, CNBC, UNICEF, Walmart, Harvard, and more.
Is ExecThread Worth It?
The answer to this question is subjective.
While quite a few customers would say "yes" and agree that ExecThread is indeed worth paying for, there are quite a lot who would claim otherwise.
In fact, based on online reviews, it's safe to say that the ratio of customers who think that ExecThread is not worth paying for is on the higher side.
Every reviewer on Trustpilot had something to complain about, from how they could not sign up easily, to how irrelevant the service was to their job search.
It's noteworthy that one of ExecThread's selling points is their promised access to "confidential executive jobs." However, one dissatisfied customer found the same jobs posted publicly.
Granted, the cost of their membership may be affordable. But this is still not an excuse for the company not to deliver what they promise.
In the end, it is left to you to decide whether you think the company is worth using for your executive job search.
Consider Find My Profession's Reverse Recruiting services to manage your entire job search and free yourself from job search sites. Our career experts handle everything from job searching and applications to interview preparation.