If you are looking for the best IT staffing agencies, you've come to the right place.
When you're in the middle of a job search, you want to find a recruiter who understands your field and can talk the talk.
That's why it's so important for IT professionals to work with IT staffing companies.
And you'll find plenty of options out there.
In fact, a quick Google search for IT staffing agencies yields about 129,000,000 results!
But don't worry. We've done the heavy lifting by sorting through hundreds of IT-specific staffing agencies.
To save you time, this article outlines only the best IT recruiters and staffing companies.
Whether you are looking for entry-level software engineering roles or a CTO position, we've included companies on this list that will cover your specific vocational needs.
IT Staffing Agency Criteria
Each of the IT Staffing Agencies below was reviewed by a Certified Professional Resume Writer (CPRW) taking into consideration the following:
Credentials: Overall experience, awards, and certifications.
Opportunities: Number and variety of jobs available.
Customer Service: Guarantees and reviews.
This list serves the following IT roles:
Computer hardware engineer, software developer, game programmer, web designer, network administrator, computer systems analyst, cloud computing engineer, IT support specialist, chief information officer (CIO), chief technology officer (CTO), and many more.
Best IT Staffing Agencies
Before reaching out to any companies on this list, we recommend that you make sure your resume is in tip-top shape. If you'd like professional help with your resume help, contact the pros at Find My Profession.
And now for the detailed reviews …
1. TEKsystems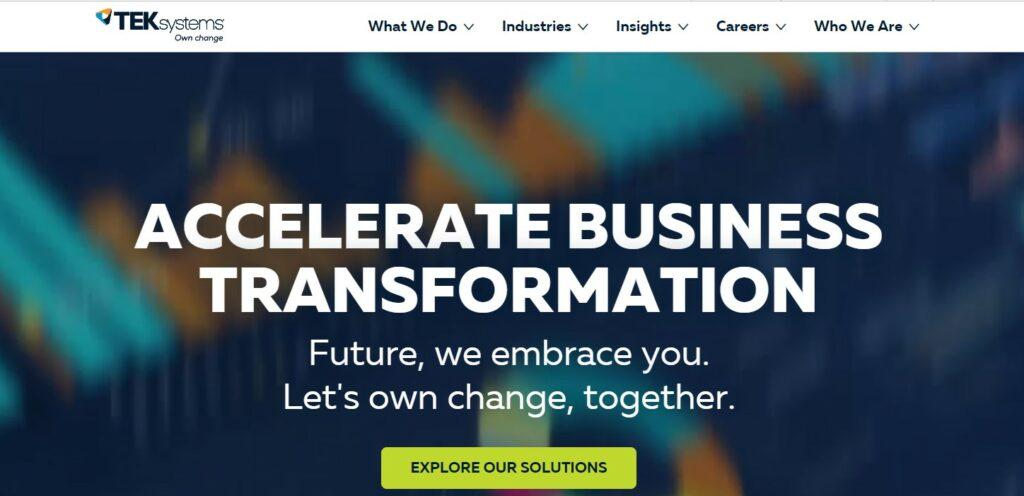 TEKsystems, as you might have guessed from the name, focuses on technology. This company is an IT staffing agency with a massive footprint. They serve 80% of the Fortune 500 in 100+ locations worldwide. TEKsystems offers full stack digital transformation services and provides talent as needed.
Job Types: TEKsystems is home to thousands of job opportunities including project manager, database administrator, network engineer, security engineer, telecom technician, developer, architect, help desk analyst, business/systems analyst, and more.
Pros: Since TEKsystems' focus is solely on IT positions, you can save time by not having to sort through jobs that are not relevant to your line of work. Also, having so many offices across the country allows the TEKsystems recruiters to get access to national and local networks at the same time.
Reviews: 4.5/5 based on 6 Gartner reviews, 2.3/5 based on 8 Google reviews, 1/5 based on 3 BBB reviews, 4.5/5 based on 4 G2 reviews
Contact: (410) 540-7700
2. Robert Half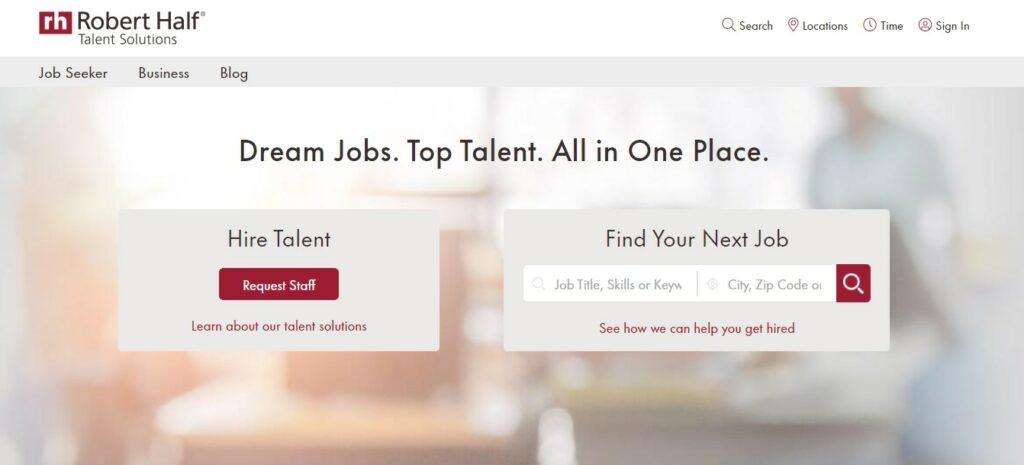 Robert Half is probably the most well-known company on this list. Founded in 1948 by Bob and Maxine Half, Robert Half has grown into the world's largest specialized staffing firm with offices across the globe. Technology/IT is one of the industries they specialize in. This is a publicly traded company.
Job Types: Robert Half has over 1,400 IT jobs available on the website. Some of their IT jobs include computer technician, help desk analyst, software developer, application administrator, systems administrator, .Net developer, IT auditor, DevOps engineer, and more.
Pros: Robert Half is an excellent IT staffing agency in part because of its massive volume. Robert Half has been recognized as one of Fortune's "Most Admired Companies" for 23 consecutive years. From our personal experience, Robert Half recruiters are also some of the most knowledgeable and well-trained recruiters.
Reviews: 3/5 based on 2 Google review, 4/5 based on 61 Facebook reviews, 3.5/5 based on 391 Yelp reviews, 3/5 based on 2 Sitejabber reviews, 2.9/5 based on 15 G2 reviews, 2.9/5 based on 2 Trustpilot reviews, 3.8/5 based on 192 Consumer Affairs reviews, 1/5 based on 3 BBB reviews
Contact: (855) 887-9644
3. Heller Search Associates
Heller Search Associates is a reputed executive search firm specializing in recruiting IT leaders. Heller Search Associates was named in the top 50 in the Forbes 2017 List of Best Executive Recruiting Firms. Founder Martha Heller is a well-connected thought leader in the industry.
Job Types: While we weren't able to find any actual jobs posted on their website, we were able to gather that Heller Search Associates staffs for roles such as Chief Information Officers (CIO), Chief Technology Officers (CTO), Chief Information Security Officers (CISO) and all senior information technology positions (VPs and Directors of IT) nationwide, in all industries.
Pros: Heller Search Associates is an excellent place to visit if you are looking for a C-Level IT job. With its special focus on executive IT staffing, this company is sure to speak your language and offer an excellent network of connections.
Reviews: 4.8/5 based on 195 FeaturedCustomers reviews
Contact: (508) 366-7005 or info@hellersearch.com
Visit Heller Search Associates
4. Insight Global
Insight Global, based in Atlanta, Georgia, is one of North America's fastest-growing providers of information technology (IT) staffing solutions. The company has a large network of 61 regional offices in the United States and Canada. They have won ClearlyRated's 2021 Best of Staffing Client Diamond Award.
Job Types: Insight Global hosts a variety of IT jobs including front-end react developer, desktop support, UX Designer, SharePoint developer, IT auditor, principal full stack engineer, project manager, quality operations associate, content developer, and more.
Pros: Insight Global makes it a point to give back to both local communities and national initiatives. Their focus on diversity and inclusion is also commendable. With more than 8,500 Glassdoor employee reviews and an overall rating of 4, it's easy to see this is a great company.
Reviews: 4.4/5 based on 475 Google reviews, 3.5/5 based on 2 Recruitsy reviews, 2.5/5 based on 70 Yelp reviews, 1.3/5 based on 3 BBB reviews
Contact: (404) 257-7900 or atlanta@insightglobal.com
5. Addison Group
Addison Group was founded in 1999 when a group of staffing industry leaders in Chicago set out with a simple goal: recruiting the best candidates for the best companies. Since then, they have grown to become one of the largest IT staffing agencies with dozens of office locations across the United States.
Job Types: Addison Group hosts more than 1,336 available jobs in IT, finance, engineering, and more. For IT-specific jobs, they have around 155 jobs including business analyst, BI developer, senior Java developer, IT asset support analyst, data analyst, DevOps – Site Reliability Engineer, and more.
Pros: Addison Group has been recognized on the Best of Staffing Client list for eight years and the Best of Staffing Candidate list for seven years. They also offer useful insights via their blog, salary guides, workplace research, and tip sheets.
Reviews: 3.5/5 based on 73 Facebook reviews, 4.5/5 based on 2 ClearlyRated Reviews, 4.2/5 based on 56 Google reviews, 2/5 based on 50 Yelp reviews, 1/5 based on 3 BBB reviews
Contact: (312) 424-0300
6. Randstad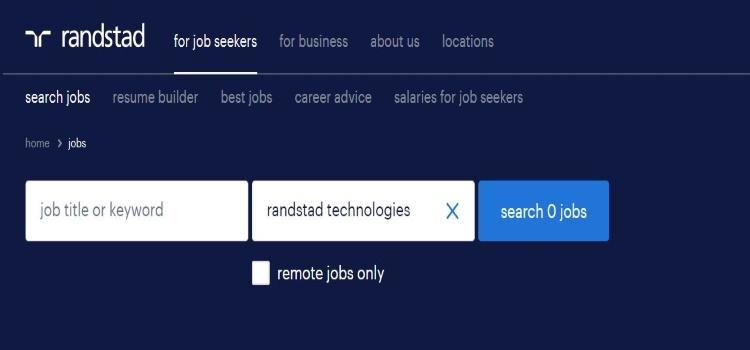 Randstad, founded in 1960 by Frits Goldschmeding, is in the business of matching smart people with great jobs from the executive office to the manufacturing floor. With 5,700+ internal staff in North America and a presence in 38 countries, Randstad is a force to be reckoned with in IT staffing.
Job Types: Randstad Technologies is home to more than 2,295 IT jobs including ETL Developer, business intelligence engineer, UI/UX front end developer, CNC programmer, data analyst, IT support specialist, vehicle-to-cloud data transfer architect, cloud DevOps engineer, and more.
Pros: Randstad has decent reviews from employees and their staff seem to think highly of their CEO. Additionally, their website lets you browse open jobs, best jobs, and in-demand jobs separately. Most of the job postings have a person's contact information that you can reach out to if you are a good fit.
Reviews: 5/5 based on 1 Sitejabber reviews, 2.8/5 based on 3 Trustpilot reviews, 3.4/5 based on 4 G2 reviews, 2.3/5 based on 32 BestCompany reviews, 2/5 based on 22 Yelp reviews, 4.1/5 based on 168 Google reviews, 1/5 based on 5 BBB reviews
Contact: (877) 601-7453 or wehearyou@randstadusa.com
7. PrideStaff
PrideStaff is a staffing agency built on six core values: integrity, trust, reliability, respect, innovation, and pride. PrideStaff has won ClearlyRated's Best of Staffing Talent Diamond Award and was recognized by SIA as one of the fastest-growing staffing firms in the US. It's also on Forbes America's Best Recruiting Firms List.
Job Types: PrideStaff is home to nearly 3,000 positions (not all of which are IT related). Some of the IT jobs you'll find include senior cloud applications developer, network engineer, senior integrations data engineer, IT help desk support specialist, RPA analyst, senior Scrum master, and more.
Pros: One of the most experienced recruiting agencies, PrideStaff was founded by George Rogers in 1978. One cool thing about working with PrideStaff is their commitment to review your resume and contact you for an interview. Their website states that their focus is on finding the right job.
Reviews: 4.7/5 based on 28 Facebook reviews, 4.6/5 based on 5,804 ClearlyRated reviews, 5/5 based on 307 Google reviews, 3/5 based on 31 Yelp reviews
Contact: (800) 774-3316 or info@pridestaff.com
8. Apex Systems
Apex Systems was founded in Richmond, Virginia, in 1995. Since then, the company has grown to over 70 offices and client delivery centers (CDC) across the United States, Canada, and Mexico. They have 20 million consultants in their proprietary database. Apex specializes in IT staffing and services.
Job Types: Apex Systems has around 3,066 jobs ranging across quality specialist, C# developer, cyber recovery solution architect, data entry clerk, validation engineer, Scrum master, application developer, QA automation engineer, IT project manager, java developer, program manager, and more.
Pros: Apex Systems is the proud winner of a handful of awards including the Best of Staffing Client Satisfaction Diamond Award (10 years in a row), Best of Staffing Talent Satisfaction (5 years in a row), and nearly a dozen other awards.
Reviews: 5/5 based on 1 G2 review, 4.7/5 based on 11,864 ClearlyRated reviews, 3/5 based on 27 Google reviews, 1/5 based on 3 Yelp reviews
Contact: (804) 254-2600
9. Lucas Group
Lucas Group was founded in 1970 in Atlanta. Since then, it has grown into one of the major IT staffing agencies in North America. The company has been ranked 5th on the Forbes Best Professional Search Firm and 8th Best Executive Recruiting Firm 2020. Lucas Group focuses on executive-level IT roles.
Job Types: Lucas Group hosts a handful of Information Technology jobs including principal Django software engineer, senior business systems analyst, business intelligence analyst, SSIS developer, VP of engineering, network manager, and more.
Pros: Lucas Group offers a nice niche for senior and executive-level talent. While not all of their positions are "executive," you can rest easy knowing that their staff is well-suited to handle high-level jobs. The company also provides a special service – that of helping military personnel transition to the civilian workforce.
Reviews: 4.8/5 based on 175 Google reviews, 3/5 based on 9 Yelp reviews
Contact: (800) 466-4489
10. Motion Recruitment
Motion Recruitment is a recognized IT staffing and managed solutions service provider. They have 70+ highly specialized teams to cater to specific areas of the IT landscape, from software to cybersecurity. Motion Recruitment is part of the Motion Recruitment Partners LLC (MRP) family, which was established in 1989.
Job Types: Motion Recruitment has thousands of jobs posted on their website including cloud engineer, AWS engineer, python developer, web designer, senior Java developer, senior UX/UI designer, PHP developer, senior .NET developer, senior data engineer, and more.
Pros: The company offers a large pool of employers ranging from emerging startups to some of the biggest brands in the world. Their hyper-specialized and localized field teams have access to extensive networks for your benefit.
Reviews: 4.7/5 based on 283 Google reviews, 4/5 based on 61 Yelp reviews, 1/5 based on 1 Facebook review
Contact: (866) 833-6530 or info@motionrecruitment.com
Bonus: Top IT Staffing Agency Winners (2021)
TEKsystems, Robert Half, Heller Search Associates (C-Suite), Insight Global, Addison Group, Randstad, PrideStaff, Apex Systems, Lucas Group (Executive), Motion Recruitment.
How Do Staffing Agencies Work?
Staffing, or employment, agencies fill open positions for the employers they contract with. The agency is paid by the hiring company, so it's a free service for the job seeker.
Staffing agencies can hire for temporary, temp-to-hire, and permanent positions.
If you are hired for a temporary job, you are usually employed and paid by the staffing agency. Some agencies offer benefits to their employees, including health insurance and retirement plans.
For permanent roles, the staffing agency essentially acts as a recruiter and will refer you to the hiring company.
Here's what we recommend when working with a staffing agency:
Browse the website to see if you find any jobs you are interested in.
Whether you find an ideal job or not, contact the staffing agency.
Provide information about yourself and the type of work you are looking for.
If you found a relevant job on their website, mention it.
The agency will take down your information and reach out if they find a relevant position.
Make as many staffing agencies as possible aware of your search. It's simply more eyes and ears out there helping with your job search.
Before you reach out to these staffing agencies, make sure you have a great resume – both in look and content. The worst thing you can do is provide a resume that won't get results to a bunch of staffing agencies.
Check out some professional resume services on our list of the Best IT Resume Writing Services.
Need more than resume assistance?
At Find My Profession, we also offer career coaching services and Career Finder, a professional job search service that manages every part of the job search, from searching for jobs for you to networking on your behalf.