Your resume is an important part of the job search. It could very well be the thing that sets you apart from your competition.
This also means that a subpar resume can set your job search back months.
Today we will be reviewing Resume Professional Writers and their resume writing services.
We have taken a deep dive into the customer reviews, cost, resume samples, and writer credentials at Resume Professional Writers. Our overall rating for Resume Professional Writers is 70/100.
Resume Professional Writers
Score
Our goal is to help you find the best resume service that will advance your career. Take a look at some other top-rated resume writing services and find the perfect fit for you!
Best
Resume Professional Writers

Alternatives




About Resume Professional Writers
Resume Professional Writers is a California-based resume writing service operating out of Hawthorne, Torrance. They provide Resume, CV, and LinkedIn Profile writing services to career professionals of all levels.
The company has been operating since 2000 and has written over 100,000 unique resumes since its inception. While there is no information on their website about the company's owner, we did find Larry Mercado named as the founder on BBB, and in an article on YahooFinance.
Resume Professional Writers (RPW) currently has a team of experienced and diligent resume writers working round the clock to deliver top-notch services to their numerous clients.
They have helped their clients secure choice positions at top Fortune 1000 companies like Amazon, Verizon, UnitedHealth Group, Boeing, and others.
Let's dive right into some of the pros and cons when it comes to working with Resume Professional Writers.
Resume Professional Writers Pros vs. Cons
As with any company, there are pros and cons. It's up to you to determine what is a "must-have" and what things you can live without.
Pros
450+ stellar online reviews from previous customers.

Moderately priced service coming in at $125 – $485.

1 – 5 business day turnaround time is quicker than most services.

100,000+ unique resumes written since inception.
Cons
No resume writing certifications mentioned on the website.

Website provides no information about the resume writers.

Removing your resume from any job sites requires additional fees.

Strictly virtual service with no option for in-person communication.
If you are looking for a resume writing service, Resume Professional Writers is a good option, but it is worth exploring other alternatives to find the best fit for your needs.
One such alternative is Find My Profession, who has a 4.9/5 rating from 900+ previous clients, a quick turnaround time, and resume services starting at $395.

However, Find My Profession differs from Resume Professional Writers in that they are transparent about their writers (and their certifications), and all resumes include a phone consultation with your assigned writer.
Resume Professional Writers Customer Reviews

Our Certified Professional Resume Writers have rated Resume Professional Writers a 70/100. Additionally, Resume Professional Writers has received customer reviews of 4.3/5 on Trustpilot, 4.3/5 on Facebook, 1.5/5 on Yelp, 4. 5/5 on Google, 4.1/5 on Sitejabber, and 3.8/5 on BBB with an A+ rating. These reviews may not be perfect, but they're way better than the reviews that we've seen for many other resume services in the industry.
Trustpilot shows 317 reviews with an average rating of 4.3/5. More than 240 of the reviews are 5 stars, with only 19 being 1-star reviews.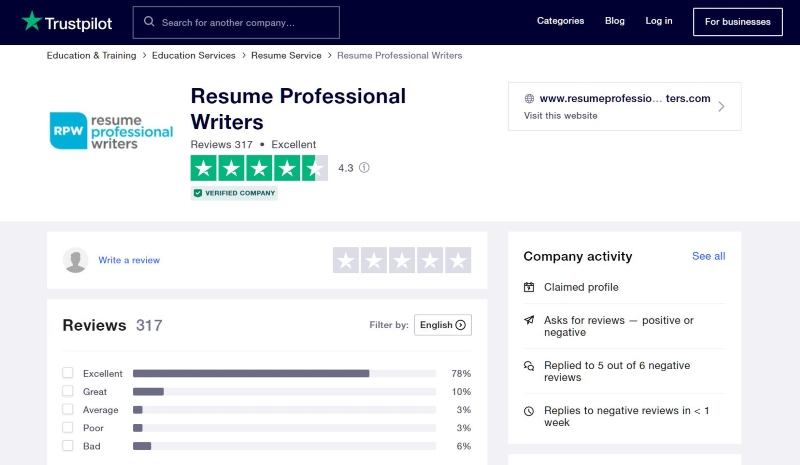 Facebook shows 166 reviews with an average rating of 4.3/5. It's clear that customers appreciate how quickly RPW handles things. It's not every day you see this many reviewers compliment a resume service's responsiveness.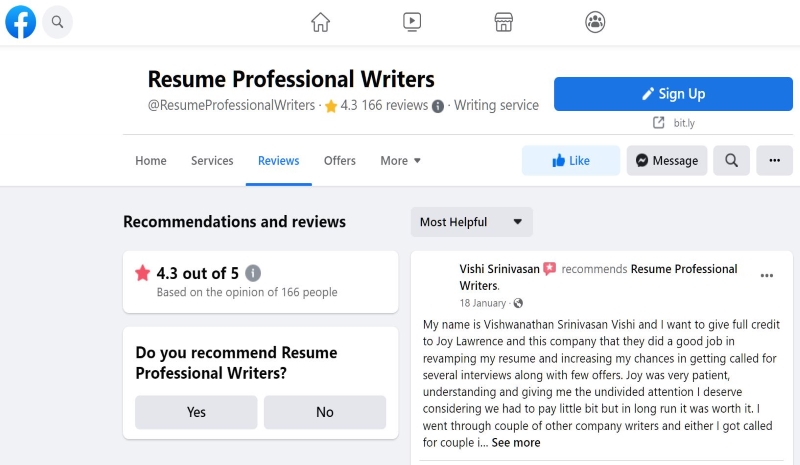 Yelp shows 42 reviews with an average rating of 1.5/5. Nearly all the reviews mentioned that RPW was unprofessional, and delivered a low-quality resume with many grammatical errors.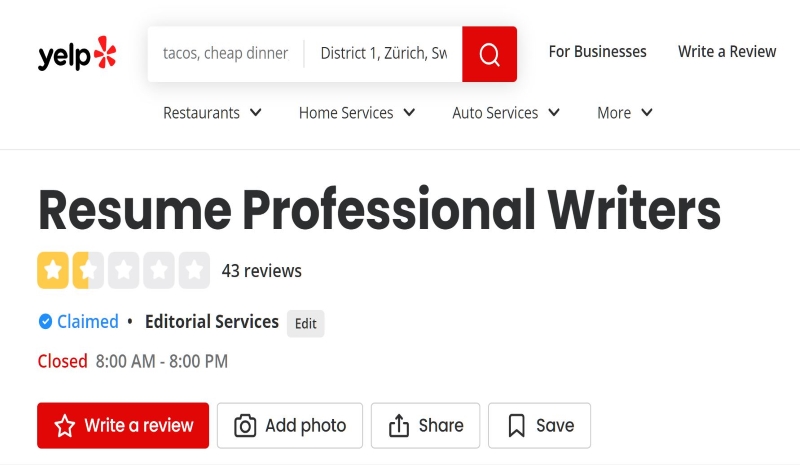 Google shows 20 reviews with an average rating of 4.5/5. Most of the reviewers especially loved the resume team's responsiveness, the resume quality, and the speed of delivery.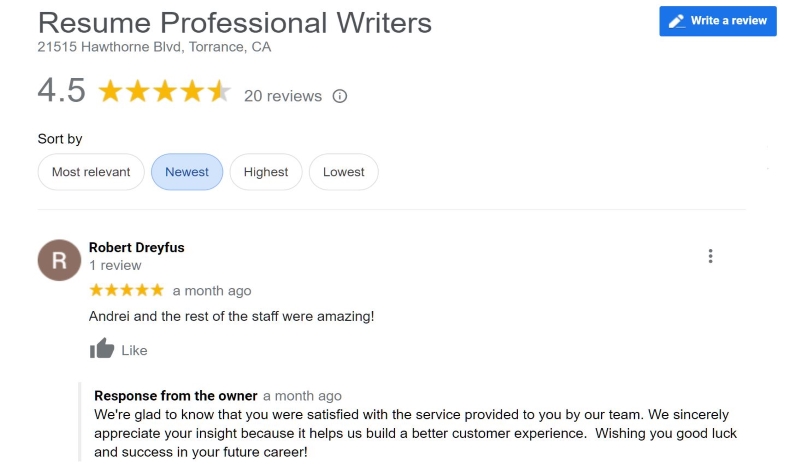 Sitejabber shows 8 reviews with an average rating of 4.1/5. Generally, customers were happy with the resume quality, as well as the customer service provided by Resume Professional Writers.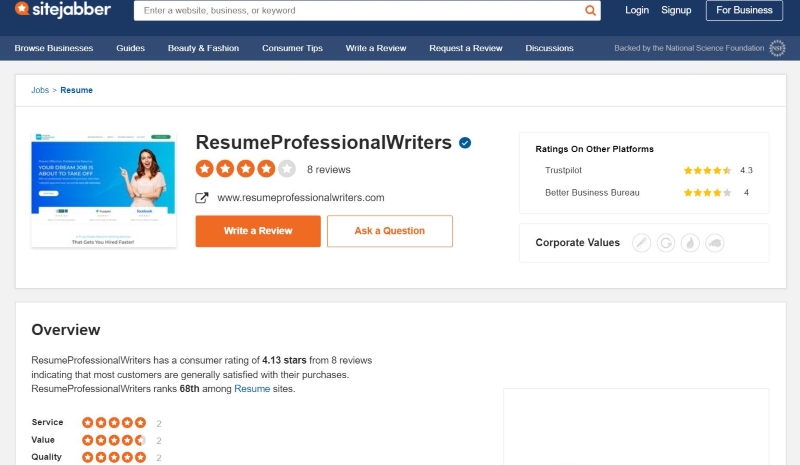 BBB shows 7 reviews with an average rating of 3.8/5 with an A+ rating. They have closed 4 complaints in the last 3 years, but when we looked further into the complaints, we found that they're not exactly resolved.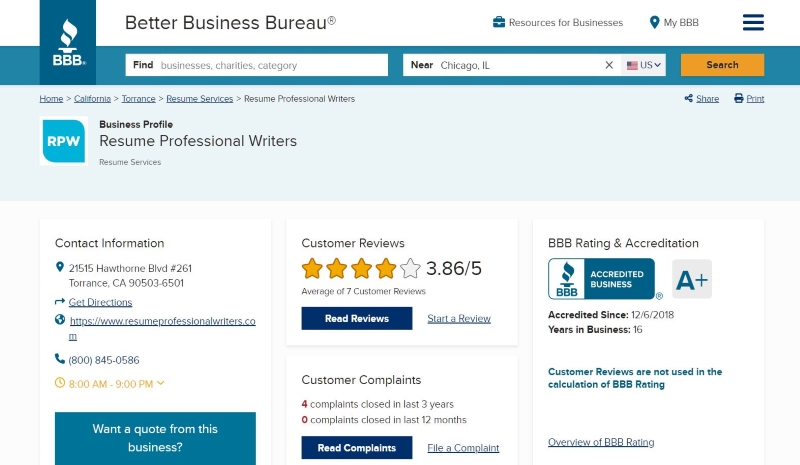 As with anything, it's important to take each review with a grain of salt. Additional research should be done beyond reading the reviews that are found online.
How Much Does Resume Professional Writers Cost?

Resume Professional Writers' resume packages cost $125 – $485. This is moderately priced compared to the average service. And considering the hundreds of stellar reviews they have, it's safe to say the service is worth its weight in money.
Resume Professional Writers
Cost
$305
There are four packages to choose from – Basic Resume ($125), Deluxe Resume ($195), Premium Resume ($305), and Ultimate Resume ($485).
The main difference between the four packages has to do with the turnaround period and the types of services that you receive.
The Basic Resume package offers you a professional resume, backed by a 60-day interview guarantee, optimized with industry-targeted keywords, professionally formatted, presented to you in Word and PDF formats, unlimited revisions, and a turnaround period of 4 business days ($125).
The Deluxe Resume Package contains all the features of the Basic Resume package, with an addition of a unique cover Letter, a thank-you letter, and a turnaround period of 3 business days ($195).
The Premium Resume package contains all the features of the Deluxe Resume package, with an option to submit your resume to the top 25 job boards in the U.K and Canada, and a turnaround time of 2 business days ($305).
The Ultimate Resume package contains all the features of the other packages, with the addition of a follow-up letter, LinkedIn content writing service, and a turnaround period of 1 business day ($485).
Resume Professional Writers also offers a CV writing service which is exactly the same as their Resume Writing Package. The only difference is that one is for a resume, and the other is for a CV.
There's also a Federal Resume package for Federal Government jobs ($300). It includes a resume, a cover letter, word and PDF formats of your document, an ASCII final version, and a turnaround time of 5 business days.
You have the option of purchasing add-ons for your chosen Resume package. These add-ons include LinkedIn Profile Optimization ($100), Civilian Resume ($100), Extra Cover Letter ($80), Electronic Resume ($30), Opening Statement in Job Interviews ($150), and many more.
For the most accurate and up-to-date details on package pricing at Resume Professional Writers, we recommend that you visit their website directly.
Resume Professional Writers Resume Sample
We wanted to see what the resume quality of Resume Professional Writers looked like so we took a look at some of the resume samples featured on their website.
We've attached a Resume Professional Writers resume sample for you to review (first page only). Below, we share some of the things that we liked, and what we disliked about this resume.
The Good
Target job title is clearly mentioned as the top of the resume.

Includes professional development and certifications.

 Job history is in the reverse chronological format.

 Education currently in progress is included.
The Bad
Uses a functional format, which is not effective with today's job search. 

Has icons for contact information (location, phone, email).

Does not have a specific keyword section and content lacks keywords.

Focuses too much on soft skills and contains lots of adjectives.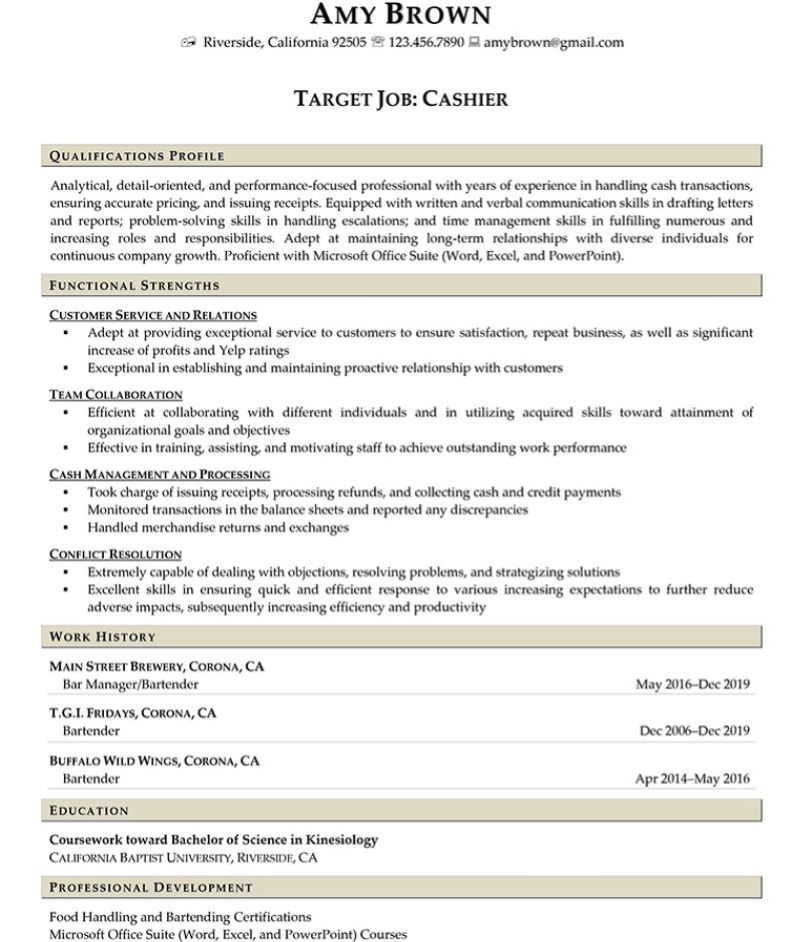 Resume Professional Writers' Writer Credentials
Resume Professional Writers does not provide any details about their resume writers on their website. We, however, took a dive into their LinkedIn profile and found 34 listed employees.
The company's profile on RocketReach shows they have 42 employees, while their profile on Zoominfo shows 81 employees. However, with the company's website not being helpful in this regard, we're left wondering what's actually true.
A further look into their LinkedIn employees shows that all of them are experienced resume writers with at least 10 years of experience in resume writing.
We were also able to identify and look up some names from their online reviews and yes, they know their onions. Also, at least one of them is listed as a Certified Professional Resume Writer (CPRW).
We did find some top dogs of the company though. Mary Wilson is listed as a project manager, Lawrence Weiss is listed as their Marketing Director, while Michelle King is identified as the company's Head Writer.
A look at Michelle's LinkedIn profile shows that she doesn't have any writing-related certification. That said, she's been in the employ of the company since 2003, and now has over 18+ years of resume writing experience.
Resume Professional Writers clients have secured choice positions at companies like Google, Apple, Microsoft, and Dell, to name a few.
Their writers are versatile and have experience in multiple industries, so you can rest assured that you will be matched with a suitable resume writer.
Resume Professional Writers Resume Writing Process
Resume Professional Writers follows a straightforward and simple operating procedure for getting your resume written.
Let's look at the steps taken in Resume Professional Writers' resume writing process below:
Visit their website and locate their Resume Writing service.
Browse through the available packages and choose the one that suits you.
Fill in the order form and pay for your chosen package.
Get an email confirming your order, and another containing your site login details.
Login to the website, answer a questionnaire, and upload your old resume.
Request a phone conversation if you need any form of assistance.
Get an email containing the delivery date of your first resume draft.
Review your initial draft, make suggestions, reviews, and edits to your resume writer, and work together to perfect your new resume.
Get the final optimized resume sent to you in Word and PDF formats.
Start submitting your resume and get job interviews within 60 days!
The website mentions a 60-day interview guarantee. This means that you get your new resume updated for free if you do not get a job interview in 60 days.
Also, Resume Professional Writers offers a free resume review service which entails sending in your old resume and having an expert review it and suggest revamps.
Is Resume Professional Writers Worth It?
Whether or not Resume Professional Writers is worth it is entirely up to you.
Our goal is to provide you with the most transparent and helpful information possible. But, only you know what is best for you and your career.
Here is a summary of our findings on Resume Professional Writers written and reviewed by a Certified Professional Resume Writer:
Customer Reviews: 20/25
Cost to Value: 20/25
Sample Quality: 15/25
Writer Credentials: 15/25
Total Score: 70/100
As a reminder, we highly recommend reviewing 2-3 services before making a final decision.
If you're in need of a top-notch resume writing service, we suggest checking out Find My Profession. With a team of experienced reverse recruiters and a commitment to customer satisfaction, Find My Profession can help you find your dream job. And with a perfect score of 100/100, you can trust that you'll be in good hands!