Your resume is an important part of the job search. It could very well be the thing that sets you apart from your competition.
This also means that a subpar resume can set your job search back months.
Today we will be reviewing Resume Writing Lab and their resume writing services.
We have taken a deep dive into the customer reviews, cost, resume samples, and writer credentials at Resume Writing Lab. Our overall rating for Resume Writing Lab is 55/100.
Resume Writing Lab
Score
Our goal is to help you find the best resume service that will advance your career. Take a look at some other top-rated resume writing services and find the perfect fit for you!
Best
Resume Writing Lab

Alternatives



About Resume Writing Lab
Resume Writing Lab is a professional resume and CV solutions provider that was founded in 2014. They offer a variety of writing services including resume writing, CV writing, LinkedIn profile, and cover letter writing.
Resume Writing Lab is completely web-based, so you can reach out to them from the comfort of your own home.
The company boasts an interview success rate of 98%, and takes pride in its team of 200+ resume writers.
They have also been featured on CNBC, Forbes, CNN, and several other popular media outlets.
Let's dive right into some of the pros and cons when it comes to working with Resume Writing Lab.
Resume Writing Lab Pros vs. Cons
As with any company, there are pros and cons. It's up to you to determine what is a "must-have" and what things you can live without.
Pros
Featured on Forbes, CNBC, CNN, and other media.

Affordable resume writing service starting from $179.99.

2 – 5 business day turnaround time is on the faster side.

14-day money-back guarantee on all resume packages.
Cons
Website shows no resume writing certifications for the writers.

Details of individual resume writers are not available on the website.

7 days of free resume revisions is much less than many other services.

Website does not feature any resume samples for you to review.
If you are looking for a resume writing service, Resume Writing Lab is a great option, but it is worth exploring other alternatives to find the best fit for your needs.
One such alternative is Find My Profession, who has a quick 3-5 business day turnaround time, has been featured on reputable sources like Forbes, Inc., and CNET, and offers a 60-interview guarantee.

However, Find My Profession differs from Resume Writing Lab in that their website includes information about their writers (and their certifications) and high-quality resume samples for you to preview.
Resume Writing Lab Customer Reviews

Our Certified Professional Resume Writers have rated Resume Writing Lab a 55/100. Additionally, Resume Writing Lab has received customer reviews of 4.4/5 on Trustpilot, 5/5 on Sitejabber, and 4.9/10 on Resumehelpservice. Pretty good, but it would've been nice to see more reviews on Google, Yelp, and BBB.
Trustpilot shows 29 reviews with an average rating of 4.4/5. Nearly all their positive reviews came from customers who loved the resume quality and the speed with which it was delivered.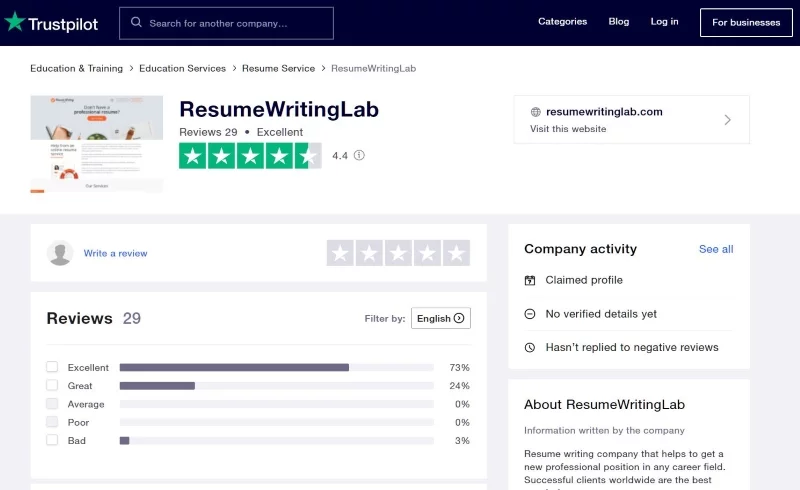 Sitejabber shows 9 reviews with an average rating of 5/5. Customers were generally pleased with the service. They particularly hailed the resume writing expertise of Resume Writing Lab's writers.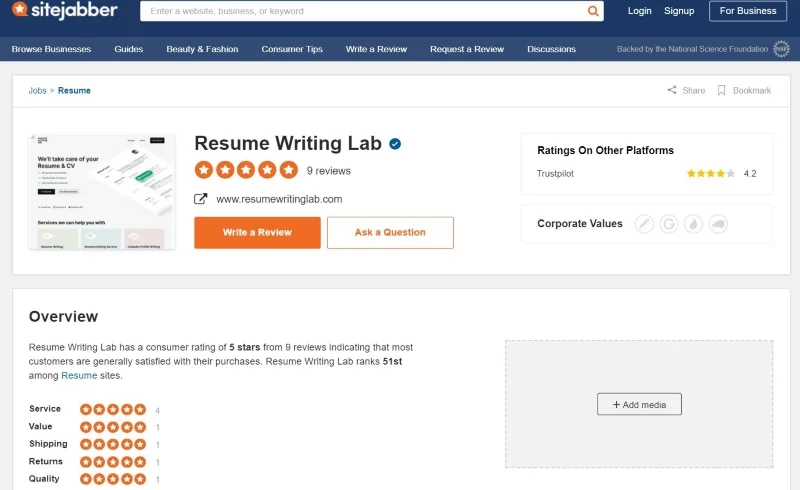 Resumehelpservice shows an average rating of 4.9/10. While the rating for their customer service was a bit above average, the rating for the resume quality was far below average.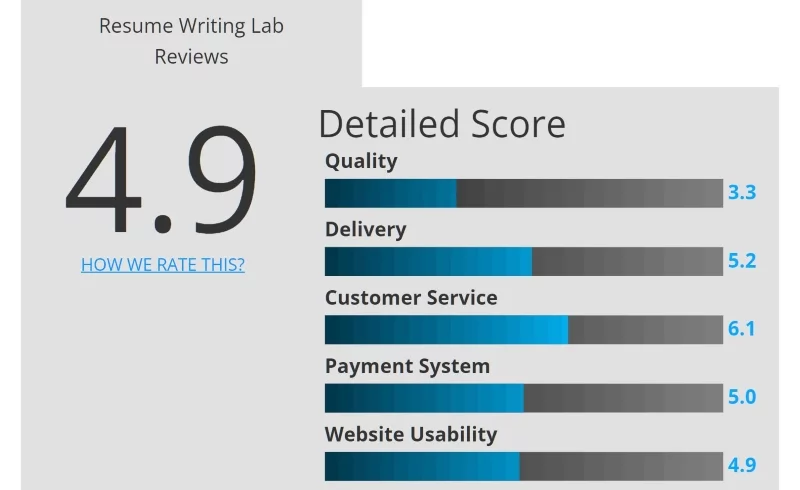 It seems Resume Writing Lab is not actively collecting reviews. After all, they've been in business for more than 8 years, so it's strange to have so few reviews.
That said, in our experience, we've seen much older and more experienced companies with fewer reviews than Resume Writing Lab.
As with anything, it's important to take each review with a grain of salt. Additional research should be done beyond reading the reviews that are found online.
How Much Does Resume Writing Lab Cost?

Resume Writing Lab's resume packages cost $179.99 – $729.99. This is an okay price range for a resume writing service. It goes without saying that there are services that cost much less, and others that cost 3-5 times more.
$379.99
Resume Writing Lab offers pre-packaged resume services for all career levels ranging from entry-level to federal resumes.
Under each career level, there are 3 packages to choose from – Basic, Optimal, and All-In-One.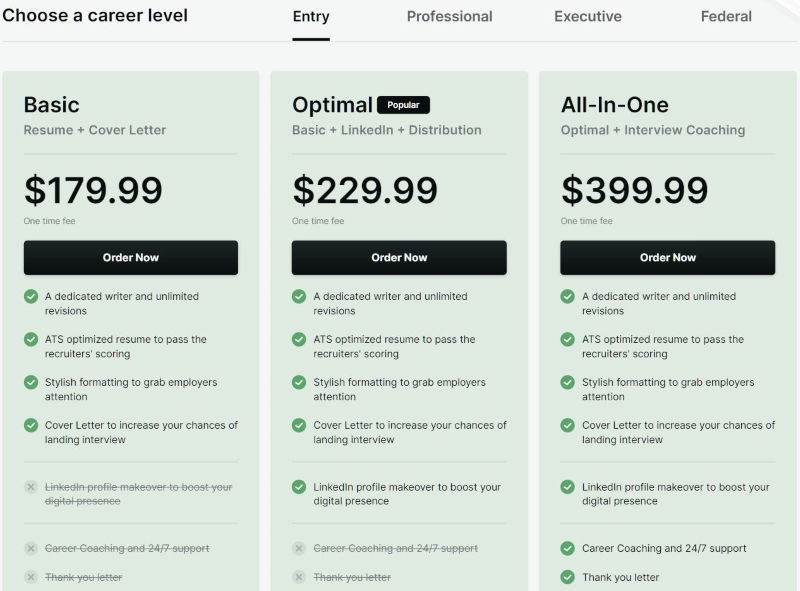 The main difference between the three packages has to do with the types of services that you receive.
The Basic package includes resume and cover letter services.
The Optimal package includes everything in the Basic package plus LinkedIn makeover and distribution.
The All-In-One package includes everything in the Optimal package plus interview coaching.
Keep in mind that the prices for these three packages will vary based on your career level.
There are 4 career levels to choose from – Entry, Professional, Executive, and Federal.
Entry level: Basic package ($179.99), Optimal package ($229.99), and All-In-One package ($399.99).
Professional level: Basic package ($279.99), Optimal package ($339.99), and All-In-One package ($499.99).
Executive level: Basic package ($379.99), Optimal package ($449.99), and All-In-One package ($629.99).
Federal level: Basic package ($479.99), Optimal package ($549.99), and All-In-One package ($729.99).
With this, it's clear that in addition to being affordable, Resume Writing Lab's pricing is also straightforward.
For the most accurate and up-to-date details on package pricing at Resume Writing Lab, we recommend that you visit their website directly.
Resume Writing Lab Resume Sample
We wanted to see what the resume quality of Resume Writing Lab looked like so we tried to take a look at some of the resume samples featured on their website.
Unfortunately, Resume Writing Lab does not provide any resume samples on their website for you to see.
This is a huge red flag for us. It would be like walking into a shoe store where all of the shoes are hidden in a backroom. Then you are asked to purchase a pair of shoes, but sorry, you can't see them first.
If that sounds ridiculous, that's because it is! Come on Resume Writing Lab! What do you have to hide?
Resume Writing Lab Writer Credentials
Resume Writing Lab has a team of 200+ professional resume writers who help their clients with all their resume writing needs.
Their website states that they only hire professional writers who create result-oriented resumes, but we could not find any details about the writers.
Even LinkedIn, the 'Google' of the world of work, was of no help. Resume Writing Lab's profile on LinkedIn was basically empty, and a search for "resume writers" in Resume Writing Lab yielded unfruitful results.
We're not very fond of services that aren't transparent about the information of their writers. After all, if their employees really are impressive, they'd naturally want to showcase them. Strike two Resume Writing Lab!
Resume Writing Lab Resume Writing Process
Resume Writing Lab follows a straightforward and simple operating procedure for getting your resume written.
Let's look at the steps taken in Resume Writing Lab's resume writing process below:
Choose from their variety of career levels and select your preferred package.
Confirm your selection and fill in your personal information (first name, last name, email, and deadline).
Proceed with the order and complete your payment using one of several payment methods.
Fill in a form outlining your career goals and objectives in a clear, concise manner.
Chat with one of their writers for any detailed instructions you have.
Receive your resume via email within 3 – 5 business days after your discussion with your writer. They may deliver even faster than that.
You can ask for free revisions within 7 days of receiving the document. Their website also states that they have a 14-day money-back guarantee.
Is Resume Writing Lab Worth It?
Whether or not Resume Writing Lab is worth it is entirely up to you.
Our goal is to provide you with the most transparent and helpful information possible. But, only you know what is best for you and your career.
Here is a summary of our findings on Resume Writing Lab written and reviewed by a Certified Professional Resume Writer:
Customer Reviews: 20/25
Cost to Value: 20/25
Sample Quality: 0/25
Writer Credentials: 15/25
Total Score: 55/100
As a reminder, we highly recommend reviewing 2-3 services before making a final decision.
If you're in need of a top-notch resume writing service, we suggest checking out Find My Profession. With a team of experienced reverse recruiters and a commitment to customer satisfaction, Find My Profession can help you find your dream job. And with a perfect score of 100/100, you can trust that you'll be in good hands!