Your resume is an important part of the job search. It could very well be the thing that sets you apart from your competition.
This also means that a subpar resume can set your job search back months.
Today we will be reviewing ResumeSpice and their resume writing services.
We have taken a deep dive into the customer reviews, cost, resume samples, and writer credentials at ResumeSpice. Our overall rating for ResumeSpice is 85/100.
Our goal is to help you find the best resume service that will advance your career. Take a look at some other top-rated resume writing services and find the perfect fit for you!
Best
ResumeSpice

Alternatives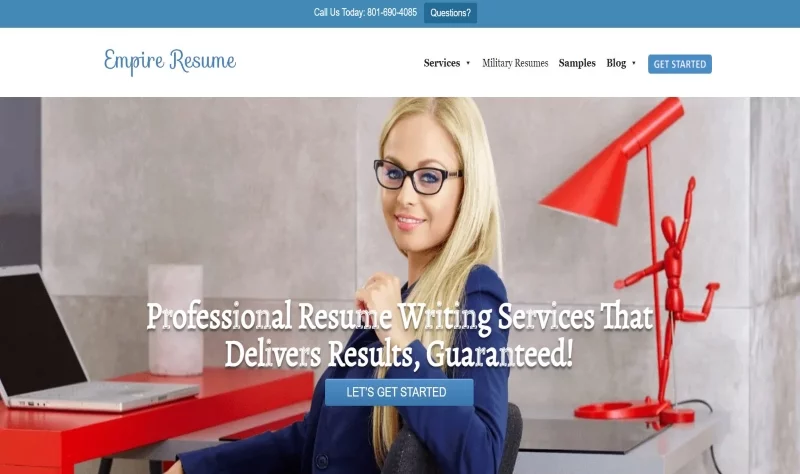 About ResumeSpice
ResumeSpice is a career services agency that offers cover letter, LinkedIn profile, and resume writing services to professionals.
Marsha Murray and Keith Wolf founded the company in 2016. But before that, the duo had already been making waves in the career services block for nearly 3 decades.
Marsha and Keith had been running a Houston-based recruiting firm, Murray Resources since 1988. Houston Business Journal recognized the firm as one of the top 5 recruiting firms in Houston.
During their time recruiting, Marsha and Keith realized some things about job seekers. Beyond finding jobs, job seekers needed help with their resumes and career guidance.
Hence came ResumeSpice, the brainchild of their expansion into the resume and career coaching space.
Let's dive right into some of the pros and cons when it comes to working with ResumeSpice.
ResumeSpice Pros vs. Cons
As with any company, there are pros and cons. It's up to you to determine what is a "must-have" and what things you can live without.
Pros
40+ years of Human Resources and recruiting experience.

Featured on top-tier media like WSJ, CNET, and CBS.

Over 1,000 5-star reviews from previous customers.

2 business day turnaround time is faster than most services.
Cons
No industry-recognized resume writing certifications.

Resume cost of $449+ is a bit higher than the average.

Resume team consists of HR experts, and not resume specialists.

You're entitled to only two rounds of resume edits/revisions.
ResumeSpice Customer Reviews

Our Certified Professional Resume Writers have rated ResumeSpice an 85/100. Additionally, ResumeSpice has received customer reviews of 4.9/5 on Trustpilot, 4.9/5 on Google, 5/5 on Facebook, 4.7/5 on Reviews.io, 4/5 on Yelp, 3/5 on BBB with an A+ rating, and 5.2/10 on Resumehelpservice. Overall superb reviews!
Trustpilot shows 1,081 reviews with an average rating of 4.9/5. This is a superb rating, considering that over 1,000 are 5-star reviews, and less than 10 are 1-star.
Google shows 87 reviews with an average rating of 4.9/5. Most of their positive reviews came from clients commenting on the team's high level of professionalism, responsiveness, and the quality of their work.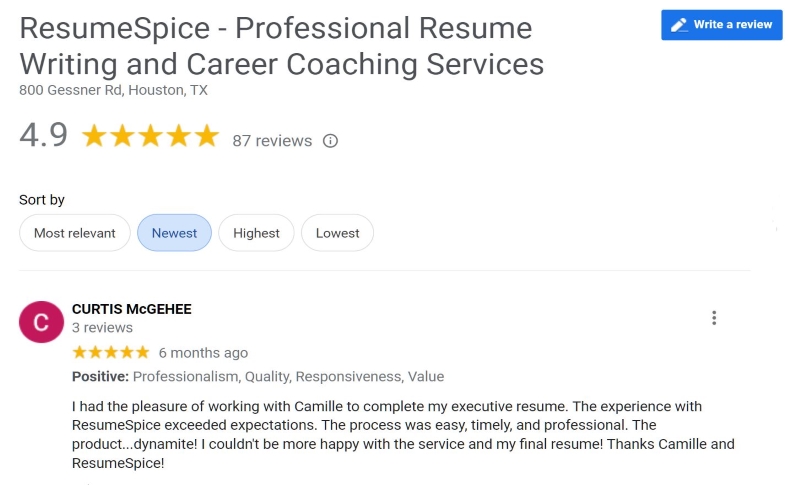 Facebook shows 15 reviews with an average rating of 5/5. Overall, customers loved the resume service they received, but the latest of the reviews is from over 3 years ago.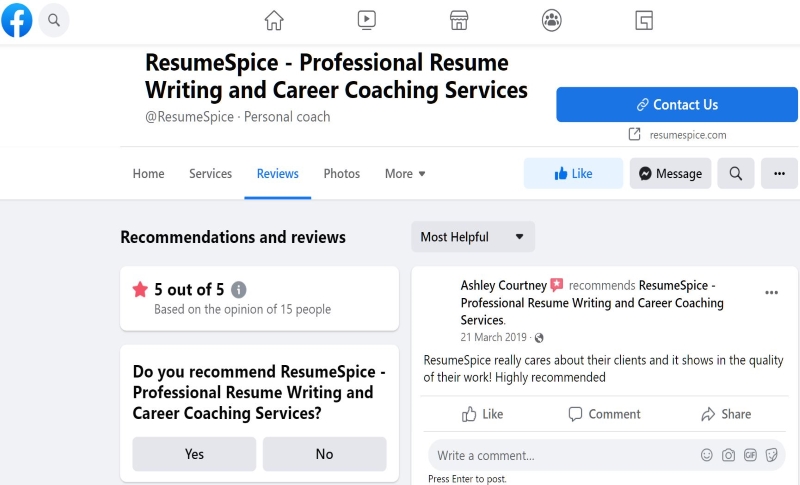 Reviews.io shows 6 reviews with an average rating of 4.7/5. Nearly all the reviewers loved the care and attention to detail their resume writer displayed during the consultation session.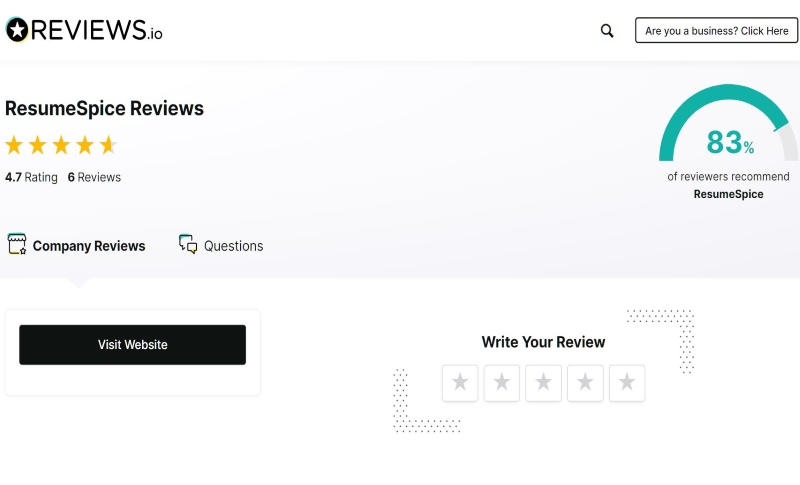 Yelp shows 5 reviews with an average rating of 4/5. While most of the customers were happy with the service, one particular client had complaints. We're disappointed with how Keith replied by publicly calling the review "fake".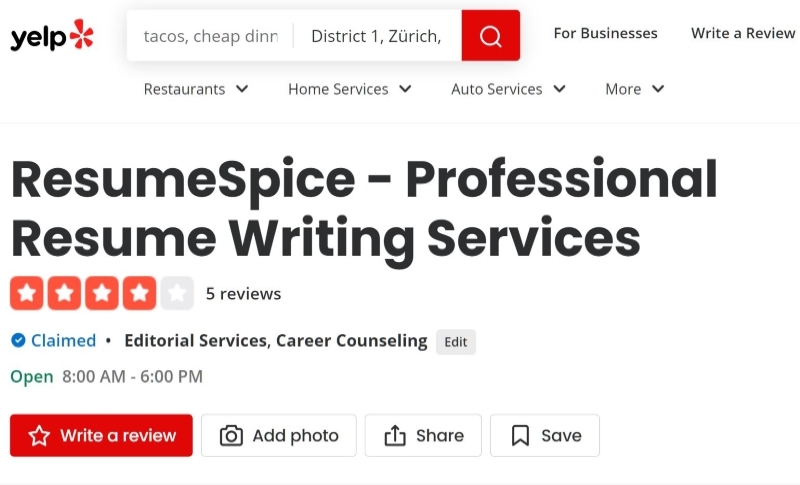 BBB shows 2 reviews with an average rating of 3/5 and an A+ rating. While one customer loved the service as a whole, another client complained about seeing many grammar mistakes after scanning the first draft with Grammarly.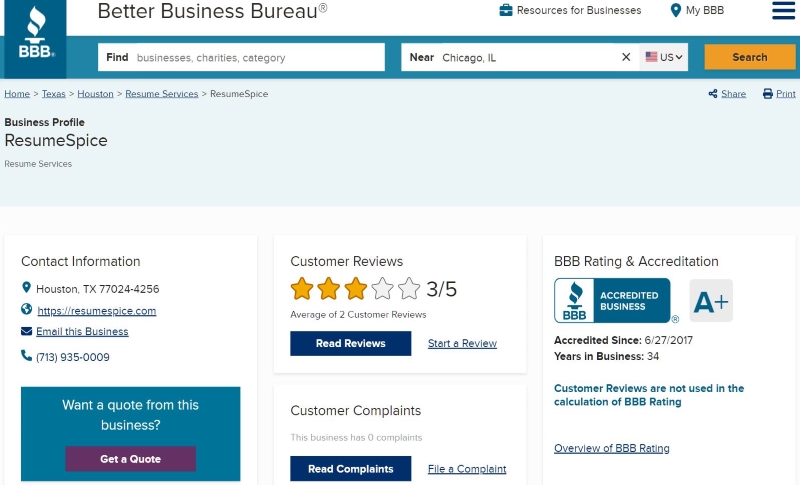 Resumehelpservice shows an average rating of 5.2/10. Based on the reviews, their delivery is the best thing they have going for them, and even that is just barely above average.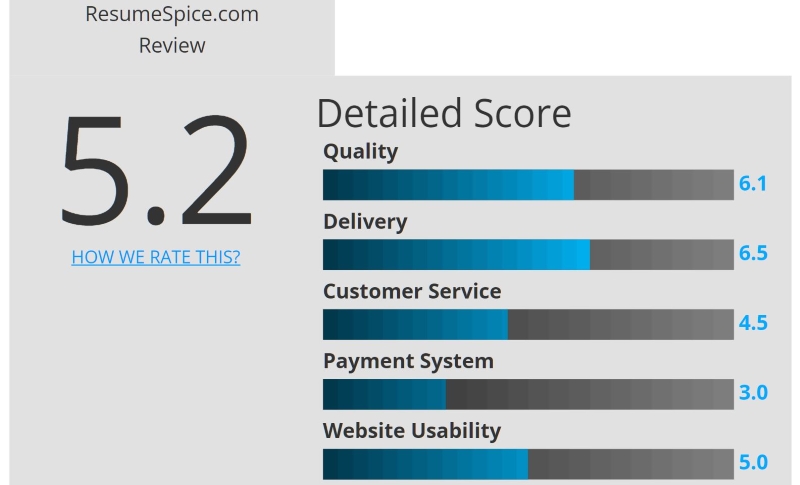 As with anything, it's important to take each review with a grain of salt. Additional research should be done beyond reading the reviews that are found online.
How Much Does ResumeSpice Cost?

ResumeSpice' resume packages cost $449 – $689. This is a bit higher than the average resume writing service. However, their 1,000+ positive reviews means their resume service is worth its weight in money.
$569
ResumeSpice resume packages are based on your career level.
There are three packages to choose from – Entry Level Resume ($449), Professional Resume ($569), and Executive Resume ($689).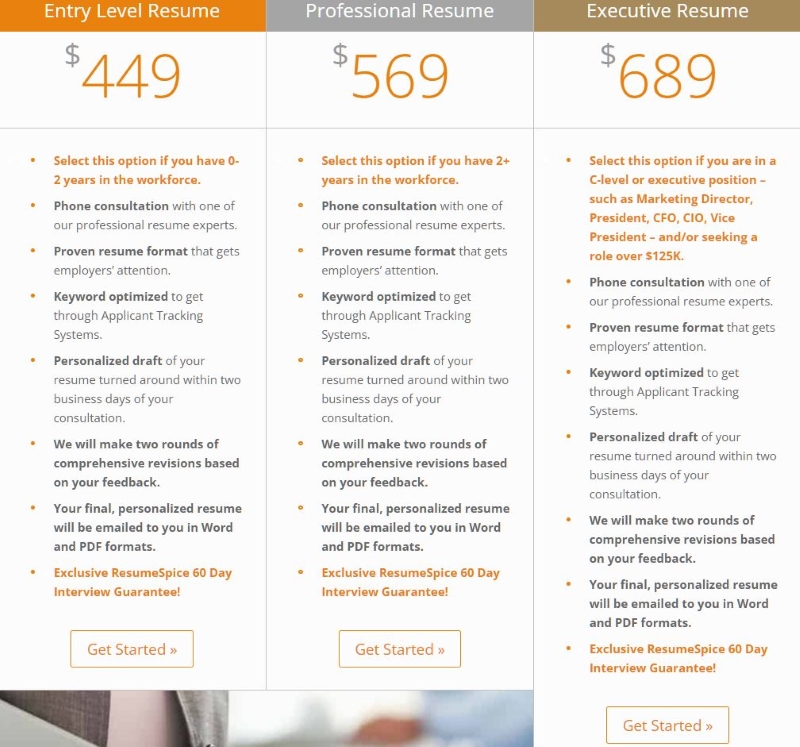 The Entry Level Resume package is for applicants with 0 – 2 years of experience ($449).
The Professional Resume package is for candidates with over 2 years of experience ($569).
The Executive Resume package is for C-level and executive positions ($689).
Each package includes an ATS optimized resume, a phone consultation with a resume writer, and two rounds of comprehensive revisions. It also includes a delivery of your resume draft within 2 business days, as well as a 60-day interview guarantee.
Moreover, ResumeSpice offers the option to buy additional services while checking out. You can add a Cover Letter ($199), LinkedIn profile ($199), Interview Preparation ($179), Professional Bio ($199), and Thank You letter ($129).
Before making your purchase, you should keep in mind that the LinkedIn profile addon is intended to be purchased as a combo with the resume service. If you buy only the LinkedIn Profile, your profile will be "updated to reflect your current resume."
For the most accurate and up to date details on package pricing at ResumeSpice, we recommend that you visit their website directly.
ResumeSpice Resume Sample
We wanted to see what the resume quality of ResumeSpice looked like so we took a look at some of the resume samples featured on their website.
We've attached a ResumeSpice resume sample for you to review (first page only). Below, we share some of the things that we liked, and what we disliked about this resume.
The Good
Has a clear target job title at the top of the resume.

Contains lots of keywords relevant to the job target.

Includes academic projects to highlight relevant experience.

Includes LinkedIn URL to direct readers to the profile.
The Bad
Format is too simple and outdated.

Lacks any visual appeal, color, shading, or aesthetics.

Content is not engaging or specific enough to stand out.

Education should be more prominent for Entry Level.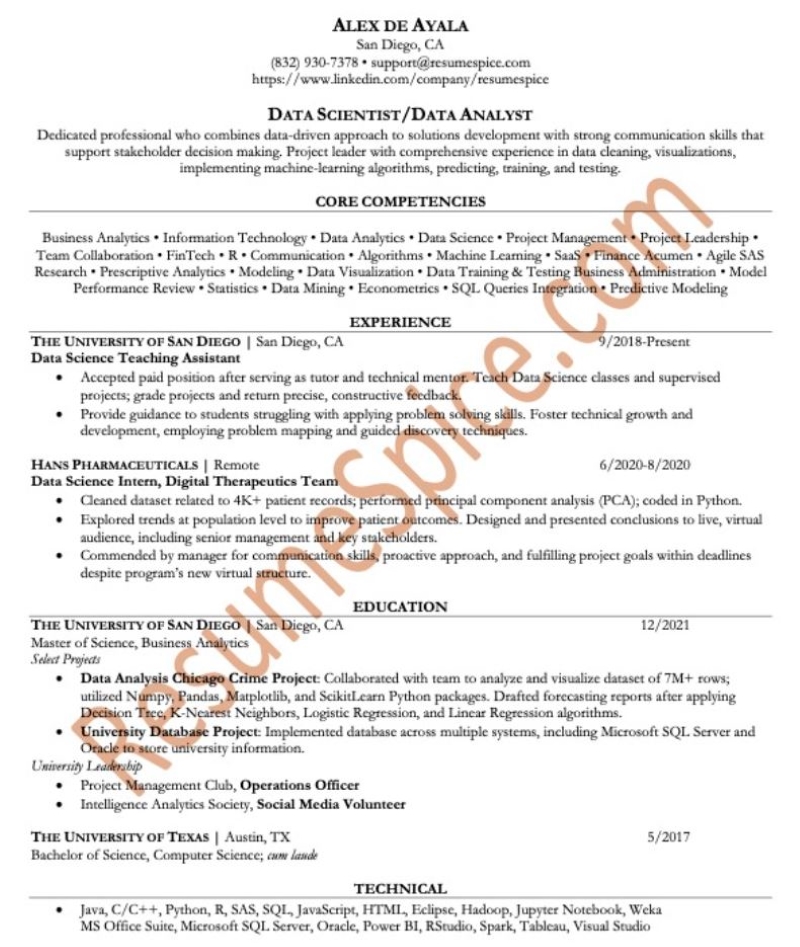 ResumeSpice Writer Credentials
The ResumeSpice "Meet the Team" page showcases their career coaching experts. It seems that they are also the resume writers for the company.
With over 40 years of experience, there's no doubt that the leaders of ResumeSpice are seasoned recruiting professionals. It also seems that the majority of the staff have a recruitment or HR background.
Most of the listed team members hold a master's or a bachelor's degree in arts, communication, literature, and other related fields.
Each team member is labeled as a ResumeSpice Certified Professional. This means they've been trained in ResumeSpice's approach to the job search. It's hard to say how much weight this holds outside of the company.
In the end, it seems the resume team is in fact made up of HR experts, and not resume writers.
If there are any resume writers though, it would appear the company isn't very proud of them, hence the reason why they were not showcased on the company's website or LinkedIn profile.
The team aside, ResumeSpice has been featured in 8+ media outlets. They include Wall Street Journal, CNET, CBS Radio, Yahoo! Finance, and more.
ResumeSpice Resume Writing Process
ResumeSpice follows a straightforward and simple operating procedure for getting your resume written.
Let's look at the steps taken in ResumeSpice' resume writing process below:
Buy any of the three resume packages along with any additional services that you may need.
They will send you a questionnaire and a link to schedule a phone consultation.
Complete the questionnaire and book a consultation time.
Discuss your career objectives on the phone consultation.
Receive the first draft within two business days of the consultation.
You get two rounds of revisions to request any changes.
As mentioned earlier, all the resume packages come with a 60-day interview guarantee. This means that if you do not get an interview within 60 days of receiving your resume, your resume will be rewritten for free.
Is ResumeSpice Worth It?
Whether or not ResumeSpice is worth it is entirely up to you.
Our goal is to provide you with the most transparent and helpful information possible. But, only you know what is best for you and your career.
Here is a summary of our findings on ResumeSpice written and reviewed by a Certified Professional Resume Writer:
Customer Reviews: 25/25
Cost to Value: 25/25
Sample Quality: 15/25
Writer Credentials: 20/25
Total Score: 85/100
As a reminder, we highly recommend reviewing 2-3 services before making a final decision.
It's helpful to understand the different service offerings, prices, and writer credentials before choosing a resume writing service.