Your resume is an important part of the job search. It could very well be the thing that sets you apart from your competition.
This also means that a subpar resume can set your job search back months.
Today we will be reviewing TopResume and their resume writing services.
We have taken a deep dive into the customer reviews, cost, resume samples, and writer credentials at TopResume. Our overall rating for TopResume is 70/100.
Our goal is to help you find the best resume service that will advance your career. Take a look at some other top-rated resume writing services and find the perfect fit for you!
Best
TopResume

Alternatives




About TopResume
Jeff Berger founded TopResume in 2014 after acquiring a company called RezBiz LLC. TopResume was one of the first companies to integrate technology into the industry.
Today, TopResume is a part of Talent Inc. which owns TopResume, TopCV, TopInterview, ResumeRabbit, and their most recent purchase, ZipJob.
Both TopResume and ZipJob use the same resume software, styles, and even writers. These services will be nearly identical to one another since they are owned by the same company.
By using technology, TopResume.com is able to manage a team of 1000+ resume writers. They are an impressive business. But we are here to talk about their resume writing services, not the company's ability to make money.
Let's dive right into some of the pros and cons when it comes to working with TopResume.
TopResume Pros vs Cons
As with any company, there are pros and cons. It's up to you to determine what is a "must-have" and what things you can live without.
Pros
15,000+ positive online reviews from previous customers.

Very affordable resume service going for $149 – $349.

1,000,000+ professional resumes written since inception.

Team of over 1,200 resume writers from around the world.
Cons
7 business day turnaround time is slightly longer than average.

No public information about majority of their staff

Phone consultations require an extra payment.

Too many writers makes it hard to know who you'll work with.
If you are looking for a resume writing service, TopResume is a good option, but it is worth exploring other alternatives to find the best fit for your needs.
One such alternative is Find My Profession who is also a global company with an average rating of 4.9/5 stars from 900+ previous clients and offers a personalized service for all professionals, from entry to C-level.

However, Find My Profession differs from TopResume in that they have a quick turnaround time, are transparent about their writers, and all resumes include a phone consultation with your assigned writer.
TopResume Customer Reviews

Our Certified Professional Resume Writers have rated TopResume a 70/100. Additionally, TopResume has received customer reviews of 4.2/5 on Trustpilot, 4.41/5 on Sitejabber, 2.27/5 on BBB with a C rating, and 5.9/10 on ResumeHelpService. This is quite impressive, considering the fact that they have over 15,000 customer reviews.
Trustpilot shows 11,284 reviews with an average rating of 4.2/5. While this is already pretty good, it gets even better when you consider that over 8,000 of the reviews are 5 stars, and only about 1,000 are 1-star.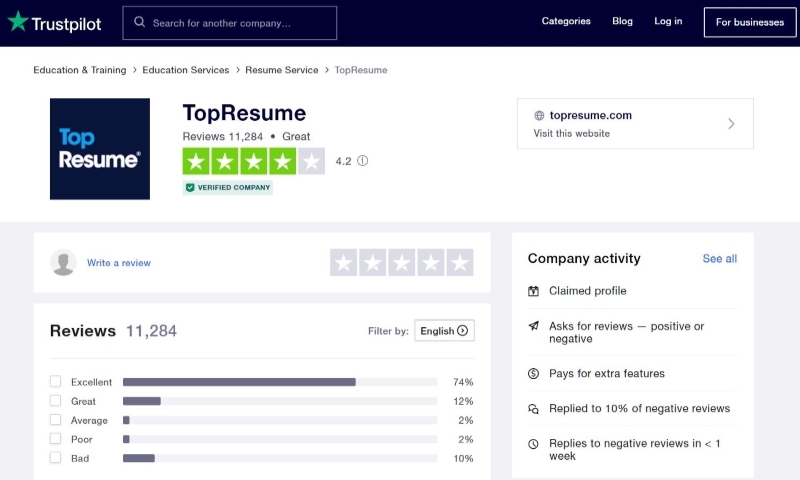 Sitejabber shows 4,749 reviews with an average rating of 4.41/5. They have over 4,000 five-star reviews, most of which came from customers who loved the team's communication, as well as the delivered resume.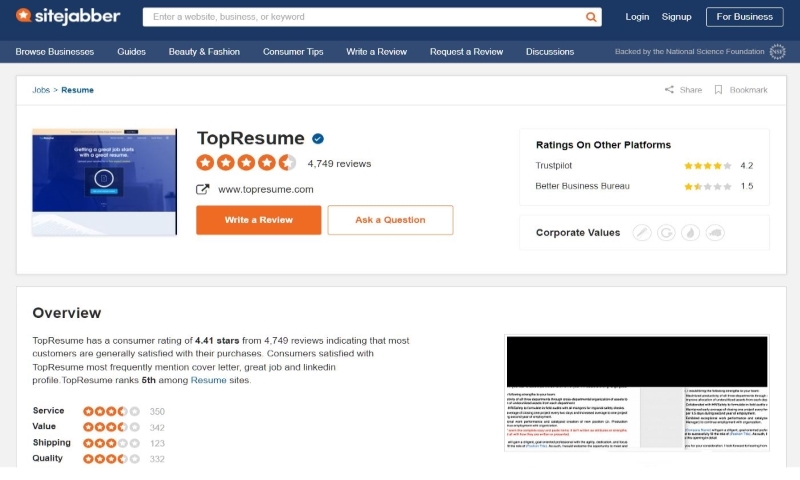 Better Business Bureau shows 110 customer reviews with an average rating of 2.27/5. Currently, BBB has an alert for this business showing a "Pattern of Complaint". This is a bit concerning for us.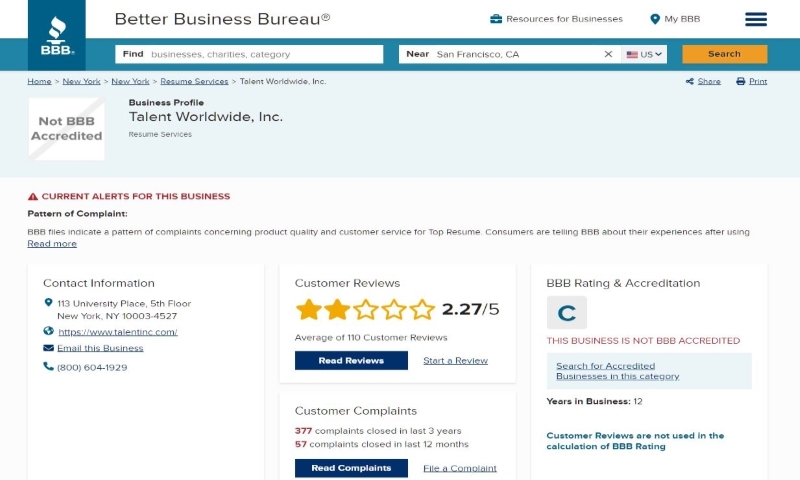 ResumeHelpService provides a detailed review showing a 5.9/10. Customers didn't like the resume quality, but they did like the user-friendly website, customer service, and payment system.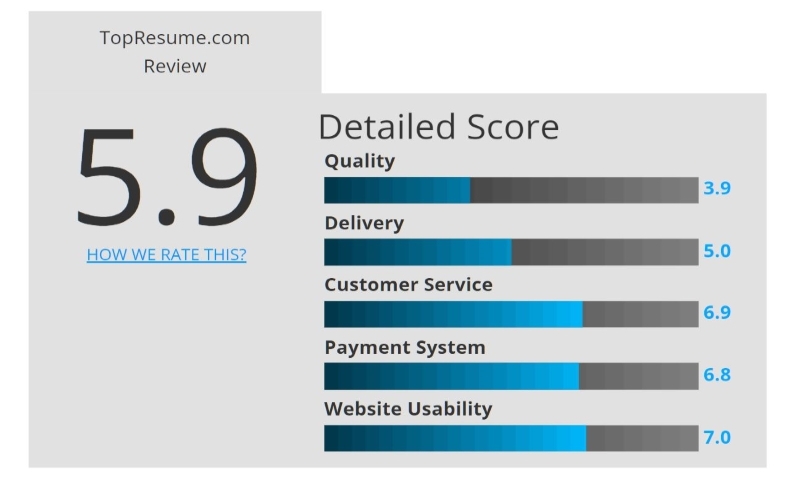 To read more reviews from consumers like you, check out this thread on Reddit and this thread on Quora. They talk about real-life customer experiences working with TopResume.
As with anything, it's important to take each review with a grain of salt. Additional research should be done beyond reading the reviews that are found online.
How Much Does TopResume Cost?

TopResume.com resume packages cost $149 – $349. This falls somewhere in between the industry's low to moderate resume writing prices. There are many services that charge less, and many that charge even more.
$219
There are three packages to choose from – Professional Growth ($149), Career Evolution ($219), and Executive Priority ($349).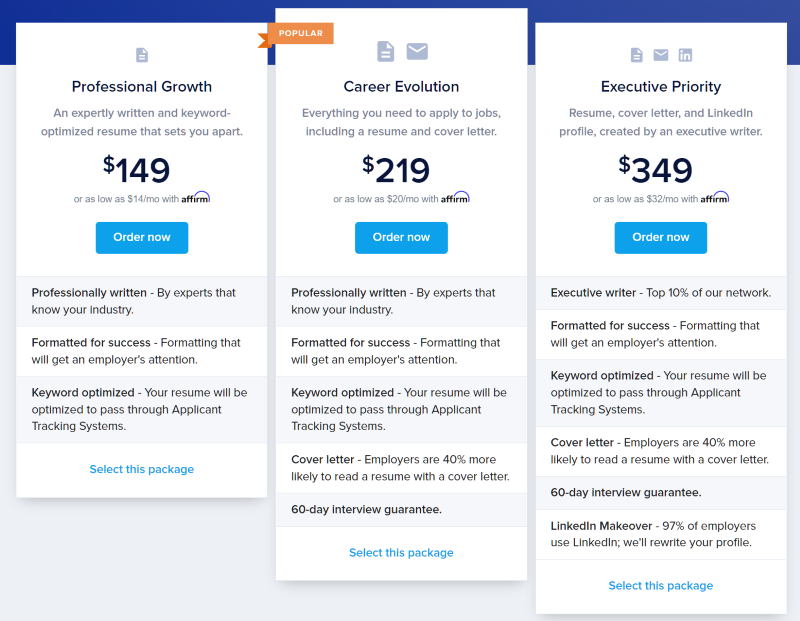 The main difference between the three packages has to do with the types of services that you receive.
The Professional Growth package includes only a resume for $149. (We should note that we've seen this price bounce from $149 to $179 and back again in a short amount of time.)
The Career Evolution package provides you with a resume and cover letter for $219.
The Executive Priority package includes a resume, cover letter, and LinkedIn profile for $349.
For the most accurate and up-to-date details on package pricing at TopResume, we recommend that you visit their website directly.
TopResume Discount Code
Although their services are already pretty affordable, you can get a resume written at an even lower price with a TopResume discount code.
While some TopResume discount codes give you 10% off, others give you as much as 35% off.
If you're looking for a good place to get some discount codes for TopResume, you might want to start with latimes.com, deals.usnews.com, and wsj.com.
If you have time to spare, you can sign up for a free resume review and wait a couple of days. After a few days, TopResume will send you discount codes to try to get you to use the service.
Last we checked, the max discount code was 20% after about 1-week of waiting.
You can find other TopResume discount codes by simply searching on Google. But remember, discount codes expire before long, so be sure to get one that hasn't lost value.
TopResume Resume Sample
We wanted to see what the resume quality of TopResume.com looked like so we took a look at some of the resume samples featured on their website.
We've attached a TopResume resume sample for you to review (first page only). Below, we share some of the things that we liked, and what we disliked about this resume.
The Good
 Includes a clear target job title at the top of the resume.

 Contains keywords relevant for the target job title.

 Includes candidates certifications and professional development.

 Resume starts with a summary to describe the candidates career.
The Bad
 Boring, templated format without any color, shading, or aesthetics.

 Lacks measurable accomplishments and specific details.

 Summary is not engaging and the content is too simple. 

Content very tasked focused and should be results/action focused.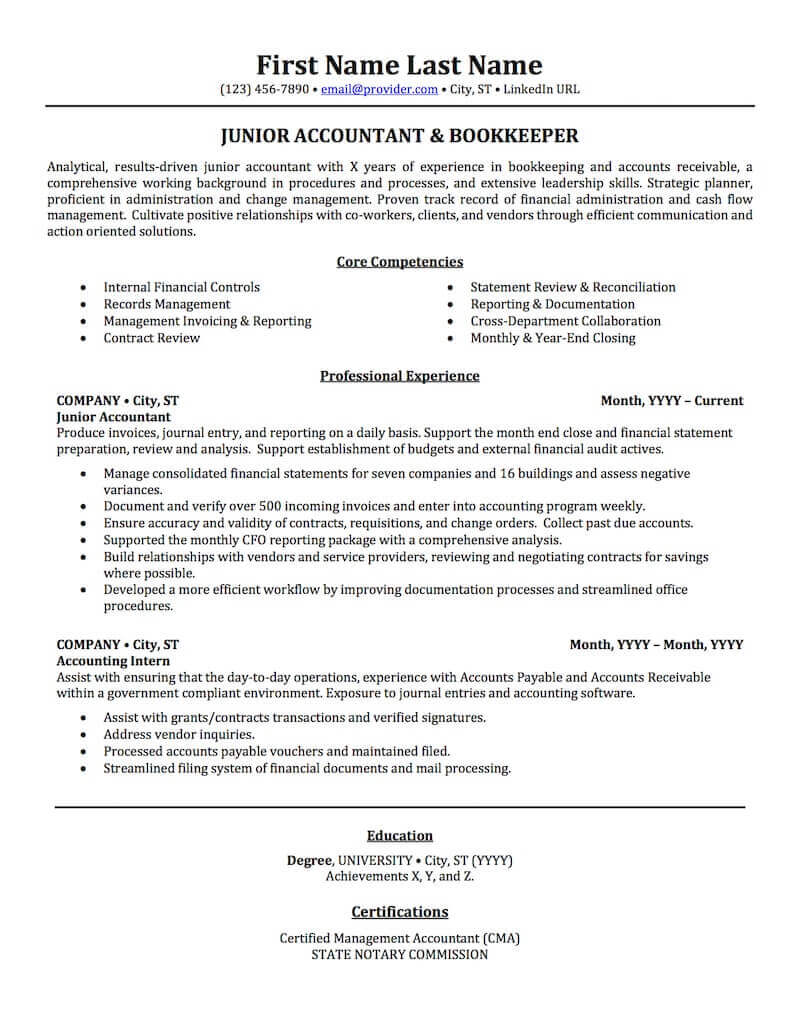 TopResume Resume Writer Credentials
TopResume has quite a large team of writers consisting of 1,200+ contract writers from across the globe.
The writing team includes HR professionals, recruiters, and certified career coaches. They have combined experience in 65 industries.
Since TopResume is owned by the same company as ZipJob, the writer pool is going to be nearly identical.
With such a large pool of writers, it's nearly impossible to know who you will be working with specifically. While you don't get to select your writer, their team will do their best to assign a relevant writer for your resume.
If you check out LinkedIn and search for "resume writer" at TopResume, you will only find 18 results. You will not find public information about the majority of their staff.
It's common for a company of this size to use ghostwriters and also not share specifically who you will be working with.
Many of these writers are outside of the United States which is also why phone consultations do not come standard with your purchase.
TopResume Resume Writing Process
TopResume follows a straightforward and simple operating procedure for getting your resume written.
Let's look at the steps taken in TopResume's resume writing process below:
Choose between the Professional Growth, Career Evolution, and Executive Priority package.
You can add a thank you letter, 48-hour rush service, and resume distribution services (additional fees apply). Submit your payment.
You will then get matched with a writer based on availability, your industry, and your background.
The writer will write and send over the first draft of your resume within 7 business days.
You can receive up to two revisions on your resume, but it has to be within 7 days.
All communications with your writer will be through email. You can opt for a phone consultation for an extra fee.
If you have any additional questions about TopResume's resume writing process, you can contact them directly.
Is TopResume Worth It?
Whether or not TopResume is worth it is entirely up to you.
Our goal is to provide you with the most transparent and helpful information possible. But, only you know what is best for you and your career.
Here is a summary of our findings on TopResume written and reviewed by a Certified Professional Resume Writer:
Customer Reviews: 20/25
Cost to Value: 20/25
Sample Quality: 15/25
Writer Credentials: 15/25
Total Score: 70/100
As a reminder, we highly recommend reviewing 2-3 services before making a final decision.
If you're in need of a top-notch resume writing service, we suggest checking out Find My Profession. With a team of experienced reverse recruiters and a commitment to customer satisfaction, Find My Profession can help you find your dream job. And with a perfect score of 100/100, you can trust that you'll be in good hands!