Your resume is an important part of the job search. It could very well be the thing that sets you apart from your competition.
This also means that a subpar resume can set your job search back months.
Today we will be reviewing LinkedIn Marketplace and their resume writing services.
We have taken a deep dive into the customer reviews, cost, resume samples, and writer credentials at LinkedIn Marketplace. Our overall rating for LinkedIn Marketplace is 60/100.
LinkedIn Services Marketplace
Score
Our goal is to help you find the best resume service that will advance your career. Take a look at some other top-rated resume writing services and find the perfect fit for you!
Best
LinkedIn Services Marketplace

Alternatives




About LinkedIn Services Marketplace
LinkedIn Services Marketplace formerly known as LinkedIn ProFinder was launched in September 2021.
LinkedIn Services Marketplace, like Upwork or Fiverr is a platform for freelancers to provide various services.
Some of their popular services include graphic design, marketing strategy, public relations, iOS development, accounting, and resume writing.
LinkedIn includes a disclaimer that it "does not endorse any particular Member's offered services". LinkedIn simply facilitates the platform as a marketplace for professionals.
Let's dive right into some of the pros and cons when it comes to working with LinkedIn Marketplace Resumes.
LinkedIn Marketplace Resumes Pros vs Cons
As with any company, there are pros and cons. It's up to you to determine what is a "must-have" and what things you can live without.
Pros
80,000+ resume writers to choose from.

Resume certifications are displayed on each freelancer's profile.

Total control over who you'll hire to write your resume.

Swift and easy communication with a writer through LinkedIn messages.
Cons
No customer reviews for individual freelancers.

So many freelancers to choose from makes the process overwhelming.

The burden of vetting a resume writer is on your shoulders.

No satisfaction or interview guarantees offered by LinkedIn Marketplace.
If you are looking for a resume writing service, LinkedIn Marketplace is a good option, but it is worth exploring other alternatives to find the best fit for your needs.
One such alternative is Find My Profession who is also a global company with an average rating of 4.9/5 stars from 900+ previous clients and offers a personalized service for all professionals, from entry to C-level.
Find My Profession differs from LinkedIn Marketplace in that they have a team of vetted and experienced resume writers, you will be matched with the best writer for your needs, and they offer an interview guarantee.
LinkedIn Marketplace Customer Reviews

Our Certified Professional Resume Writers have rated LinkedIn Marketplace a 60/100. LinkedIn Services Marketplace does not have any reviews on any major review platforms. Unfortunately, the freelancers who use the website also do not receive reviews so it's impossible to know who is good, and who is not.
As with any freelance site, it's always harder to ensure you'll work with a quality professional because nobody is there to vet them. They all work for themselves, so there is very little barrier to entry.
This doesn't mean that all the freelancers on LinkedIn Marketplace are bad. It just means that it's like finding a needle in a haystack to find a good one. But they are out there!
When considering a freelancer, you'll want to check out their individual profile to see the number of endorsements and recommendations they have received from past clients. Unfortunately, there is no spot to see negative reviews a customer has left. Only the positive reviews that the freelancer has chosen to feature on their profile.
Apart from that, you can also Google their name and find out whether they have reviews on other platforms such as Google, Trustpilot, and Facebook.
That said, as with anything, it's important to take each review with a grain of salt. Additional research should be done beyond reading the reviews that are found online.
Home Much Does LinkedIn Marketplace Resumes Cost?

The cost of resume services on LinkedIn Services Marketplace will vary significantly, depending on who you choose to write your resume.
This means you will have to discuss the cost of the resume writing service with each prospective resume writer you're vetting.
You also have the choice to submit your project and get a quote from the professionals responding to the project.
You can continue your conversation with any resume writers who have enough experience at the right cost for your budget.
LinkedIn Marketplace Resume Samples
A resume sample is a great way to gauge the style and quality of a LinkedIn Marketplace resume writer's services.
So, you'd do well to hire someone who has samples relevant to your profession/industry on their profiles, or who can provide them to you on request.
LinkedIn Marketplace Freelancer Credentials
Again, this will vary depending on each resume writer you find.
As you vet candidates to hire for your resume writing, it's important to choose someone who:
Is an experienced resume writer. Preferably, you should aim for someone who has proven extensive experience in your industry or profession.
Possesses industry-recognized resume writing certifications. Some certifications to look out for include: Certified Professional Resume Writer (CPRW), Certified Advanced Resume Writer (CARW), Certified Master Resume Writer (CMRW), Professional Association Of Resume Writers (PARW), and more.
Has a professional-looking profile. It's not a good idea to hire or even consider someone who has a generic profile. That may just be a sign that they lack attention to detail, which as you might guess is a deal breaker for a resume writer.
Has quality recommendations on their profile. You'd be in much safer hands if you hire someone with at least 15 recommendations on their LinkedIn profiles.
Can provide relevant and quality resume samples. More on this in the section above.
How to Hire Someone on LinkedIn Marketplace
The first step when you use LinkedIn to find a resume writer is to go through the process of vetting your writer. Once you hire your writer, they will have their own writing process.
To find a resume writer, you can access the LinkedIn Services Marketplace in a couple of ways.
Find Your Resume Writer:
Visit the LinkedIn Services Marketplace Home Page and use the search field to search for resume writing or click "See all services."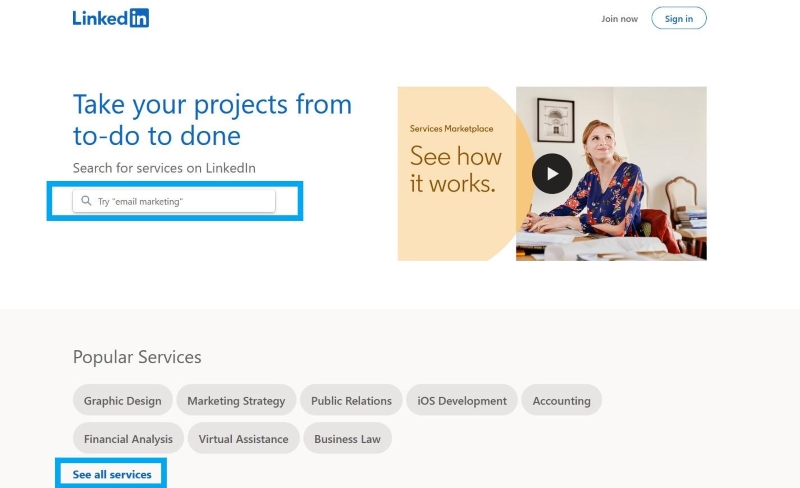 On the next page, under the "Coaching and Mentoring" service category, you will find "Resume Writing."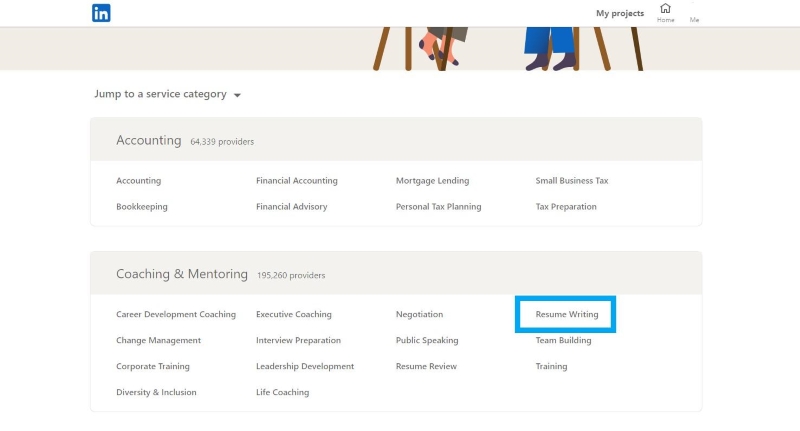 Now, you will get a list of resume writers near your location.
You can also choose to browse resume writers in other locations by manually selecting the location you want.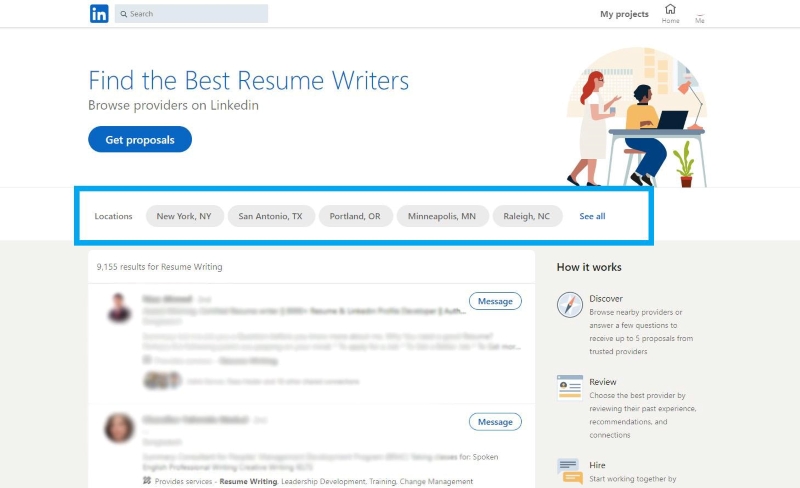 Now, there's another way to approach the process of finding a resume writing service on LinkedIn Marketplace. And that's by…
Submitting your project:
Choose the "Resume Writing" service under the "Coaching and Mentoring" category.
This time, instead of getting into the large list of service providers, click on the "Get proposals" button.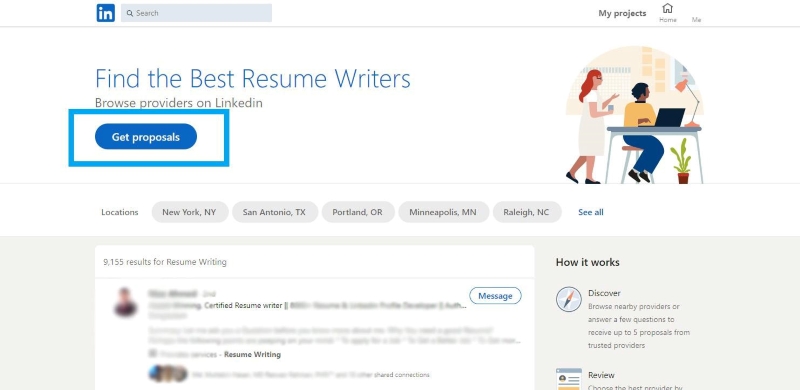 Select the type of resume you need: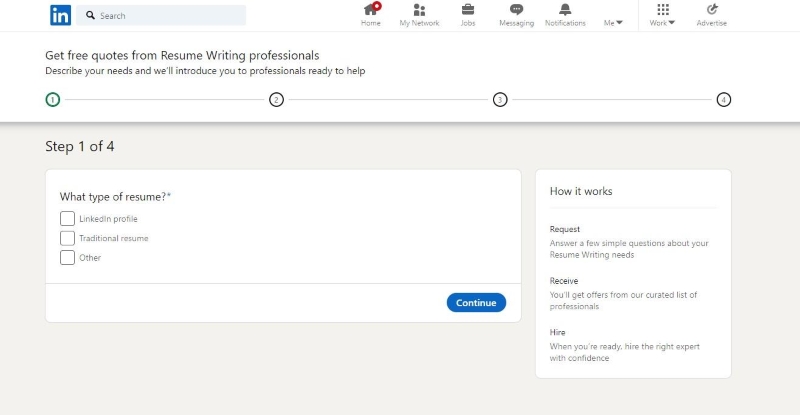 Chose the stage of your resume and the level of your career: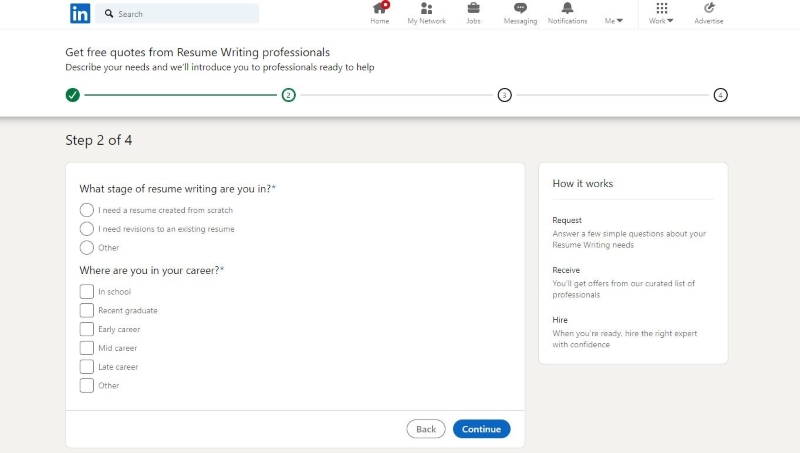 Select your preferred industries and working style: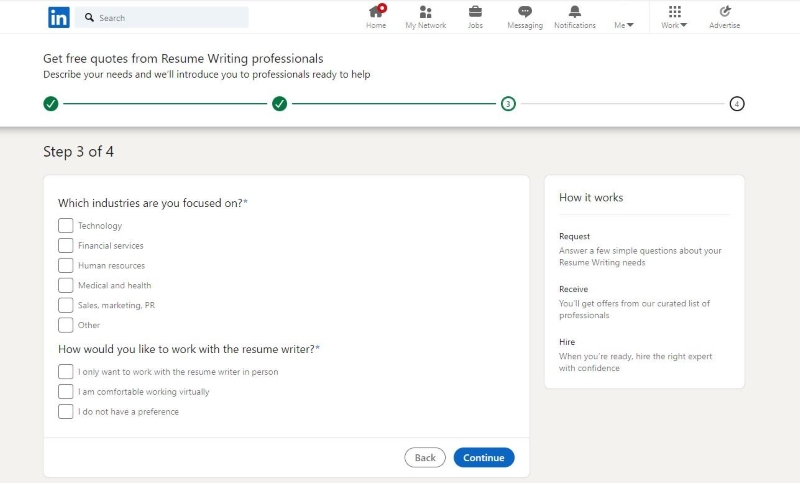 Fill in the optional details that you would like your resume writer to know and enter your ZIP code.
Then, click the "Get free quotes" button.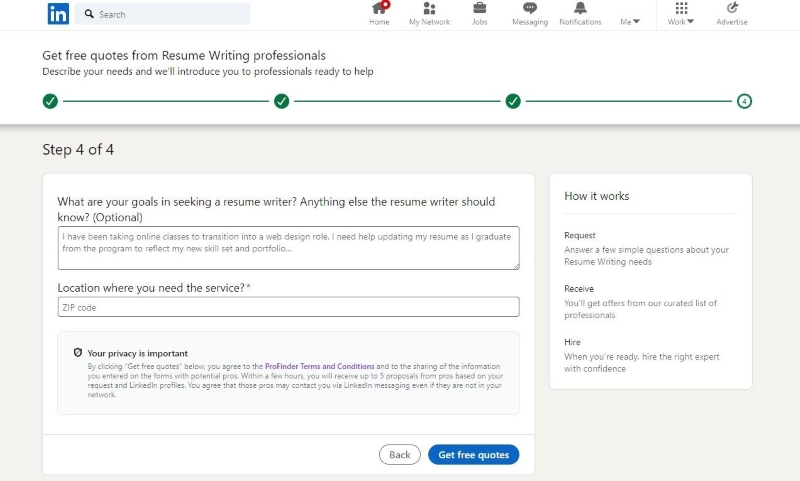 Once your project is live, you will start getting proposals from suitable resume writers based on the details that you have provided.
After all the proposals arrive, it's time to select your resume writer.
From then on, the process will vary from writer to writer. So, make sure you ask about the entire working process before you hire your writer.
Here are some things you should clarify with a prospective resume writer:
How will they get your professional details – consultations or questionnaires?
What is the revision process, and how many revisions will you get?
Do they offer any guarantees?
How many times can you contact or talk to your resume writer?
What's the cost and turnaround time?
How experienced is the writer in your industry and career field?
Once you get satisfactory answers to all these questions, you can safely hire your LinkedIn resume writer.
Is LinkedIn Marketplace Worth It?
Whether or not LinkedIn Marketplace is worth it is entirely up to you.
Our goal is to provide you with the most transparent and helpful information possible. But, only you know what is best for you and your career.
Here is a summary of our findings on LinkedIn Marketplace written and reviewed by a Certified Professional Resume Writer:
Customer Reviews: 15/25
Cost to Value: 15/25
Sample Quality: 15/25
Writer Credentials: 15/25
Total Score: 60/100
As a reminder, we highly recommend reviewing 2-3 services before making a final decision.
If you're in need of a top-notch resume writing service, we suggest checking out Find My Profession. With a team of experienced reverse recruiters and a commitment to customer satisfaction, Find My Profession can help you find your dream job. And with a perfect score of 100/100, you can trust that you'll be in good hands!