LinkedIn Services Marketplace, which took the place of LinkedIn ProFinder, is a platform that lets professionals provide their services as a freelancer on LinkedIn.
LinkedIn users can offer their services to become a professional on LinkedIn Services Marketplace.
However, LinkedIn has a disclaimer that it "does not endorse any particular Member's offered services."
LinkedIn simply facilitates the platform as a marketplace for professionals.
That said, let's look at LinkedIn Services Marketplace's resume services.
LinkedIn Services Marketplace – Resume Service Review
There are plenty of resume writers who are offering resume writing services through the LinkedIn Services platform.
Let's discuss the major pros and cons of working with LinkedIn Services Marketplace resume writing services.
Pros:
The main selling point of using LinkedIn's online marketplace is that you have total control of who you will be hiring to help you with your resume.
You can either manually browse nearby resume writers or get five curated proposals based on your career needs.
You will have the opportunity to ask questions and discuss other details with the professionals through LinkedIn messages.
Also, the resume writers' LinkedIn profiles will give you enough information to get a sense of their experience and reputation in the industry.
Cons:
As LinkedIn mentions on the User Agreement of the LinkedIn Services Marketplace, the resume writers are not endorsed or guaranteed by LinkedIn.
They are just individual service providers offering their services via LinkedIn.
So, the full responsibility of assessing and hiring the resume writer is on your shoulders.
Also, these resume writers are not exclusively working for LinkedIn Services Marketplace. Generally, they are running their own company (or working for one).
LinkedIn is just a channel to get clients.
How Much Does LinkedIn Services Marketplace Resume Services Cost?
LinkedIn Services Marketplace is free to submit your projects and find freelancers.
The cost of resume services will vary significantly depending on who you choose to write your resume.
That means you will have to directly discuss resume writing costs while searching and vetting prospective resume writers.
You also have the choice to submit your project and get a quote from the professionals responding to the project.
You can continue your conversation with any resume writers who have enough experience at the right cost for your budget.
LinkedIn Services Marketplace Resume Writing Process
The first step when you use LinkedIn to find a resume writer is to go through the process of vetting your writer. Once you hire your writer, they will have their own writing process.
To find a resume writer, you can access the LinkedIn Services Marketplace in a couple of ways.
Find Your Resume Writer:
Visit the LinkedIn Services Marketplace Home Page and use the search field to search for resume writing or click "See all services."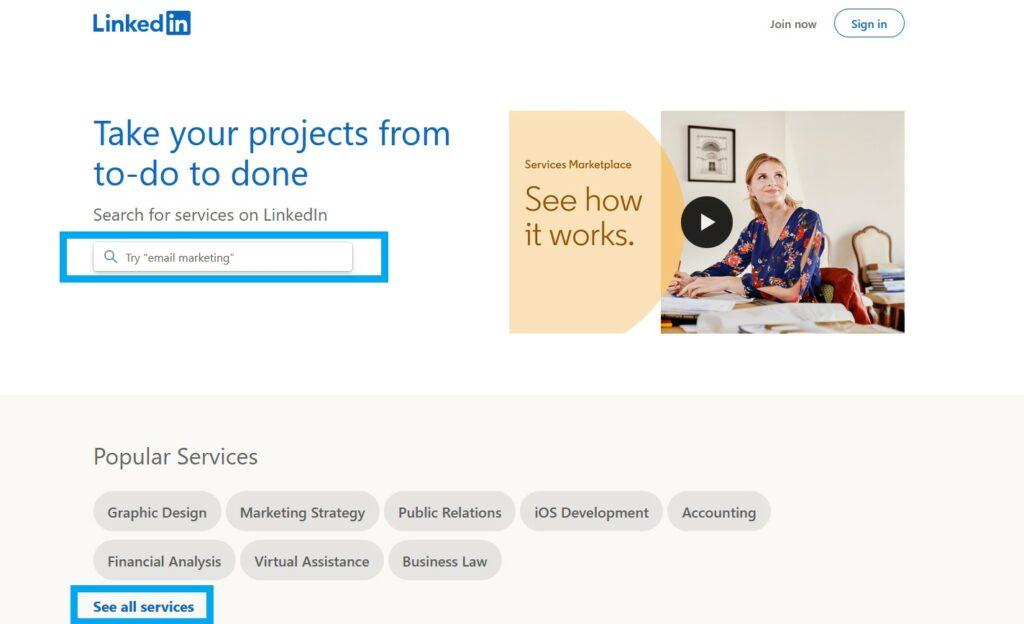 On the next page, under the "Coaching and Mentoring" service category, you will find "Resume Writing."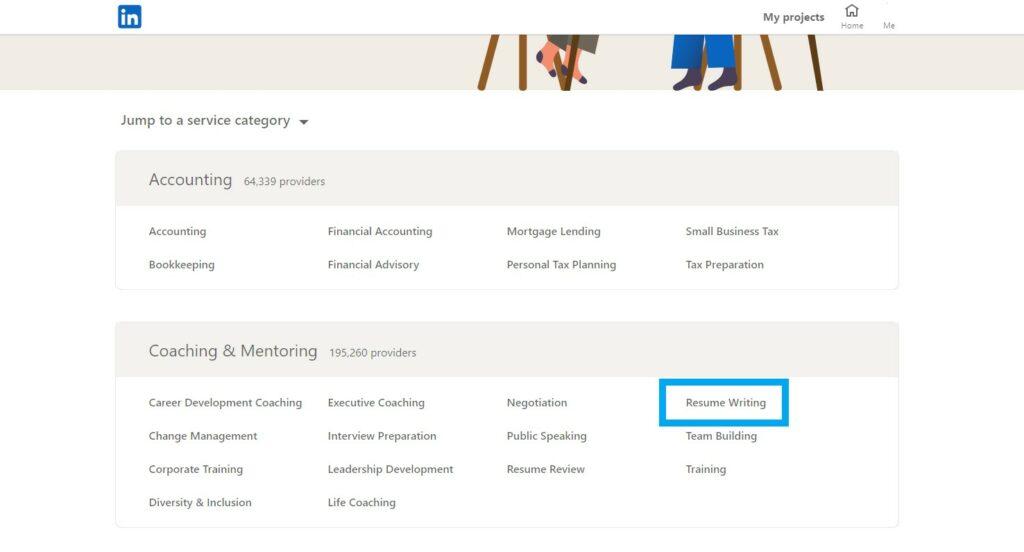 Now, you will get a list of resume writers near your location.
You can also choose to browse resume writers in other locations by manually selecting the location you want.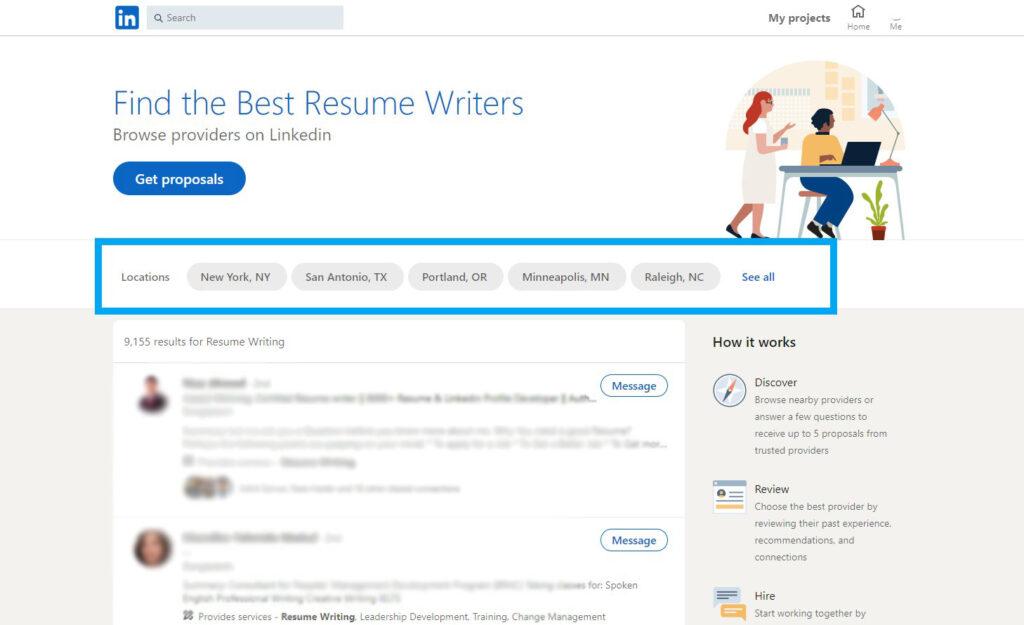 Suppose you have selected New York as your preferred location.
As of the writing of this article, you will get 141 resume writing service providers to choose from.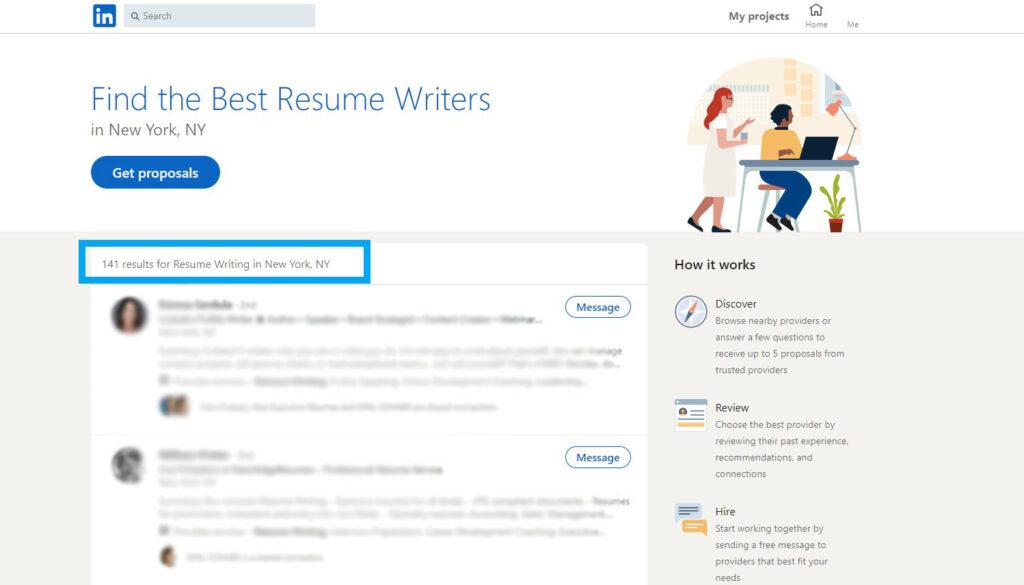 Now, there's another way to approach this process of finding a LinkedIn Services Marketplace resume service.
Submitting your project:
Choose the "Resume Writing" service under the "Coaching and Mentoring" category.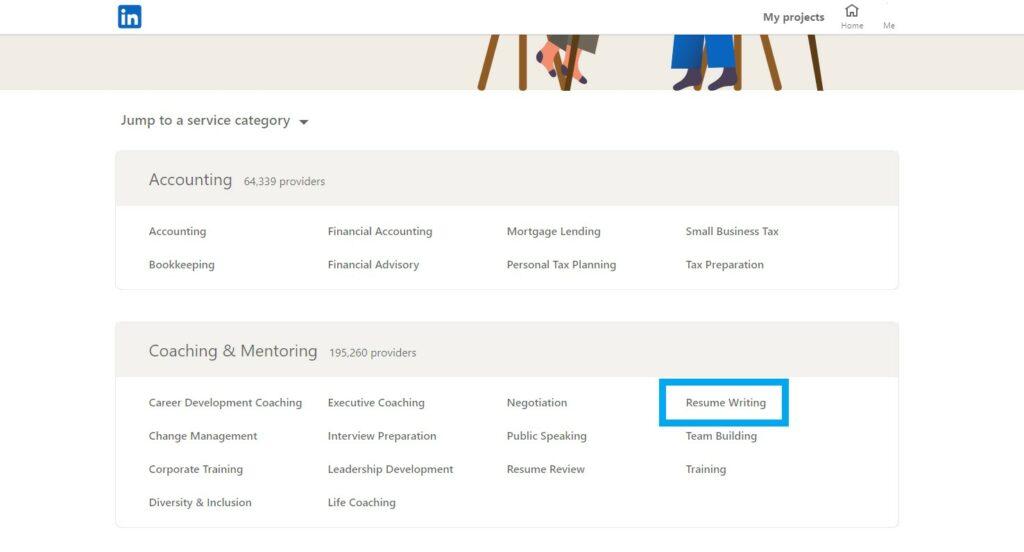 This time, instead of getting into the large list of service providers, click on the "Get proposals" button.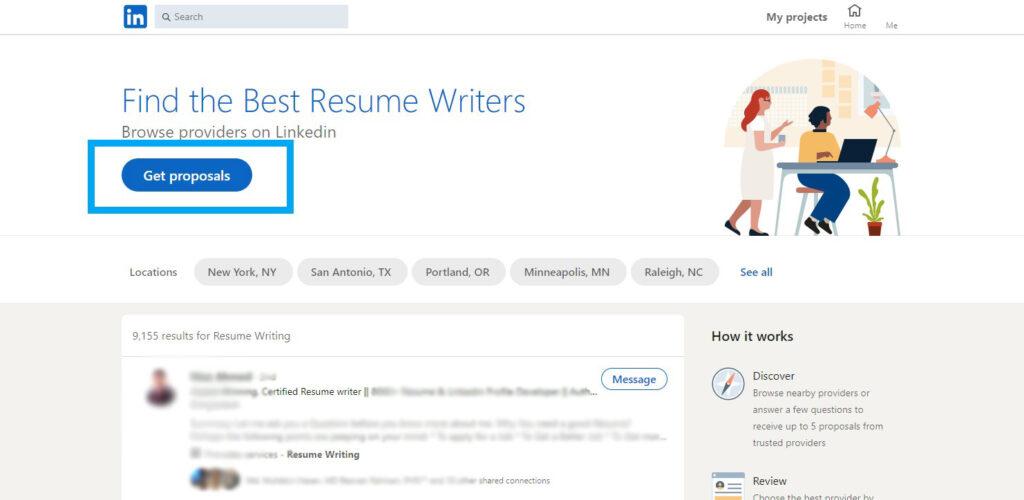 Select the type of resume you need:
Chose the stage of your resume and the level of your career: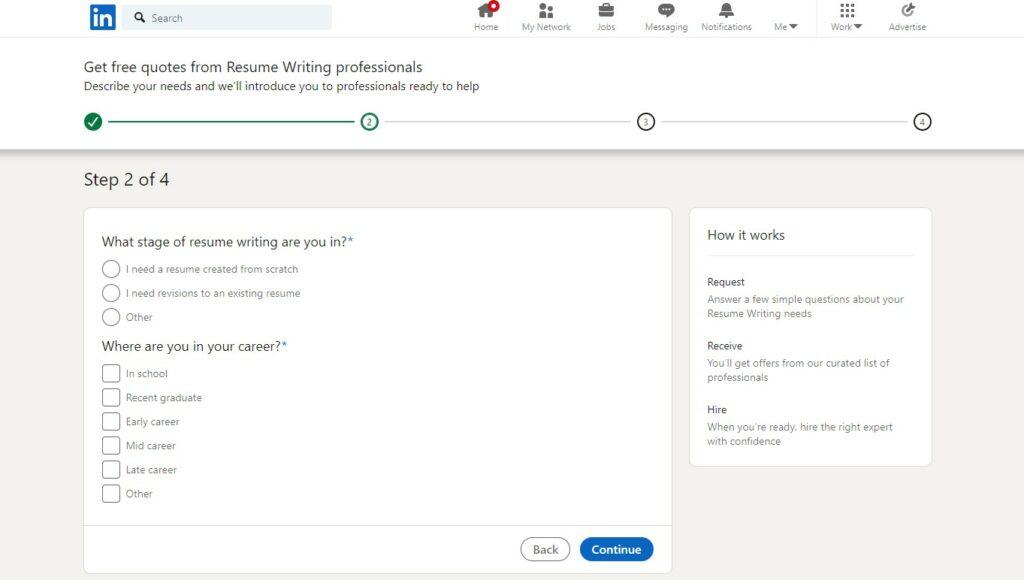 Select your preferred industries and working style: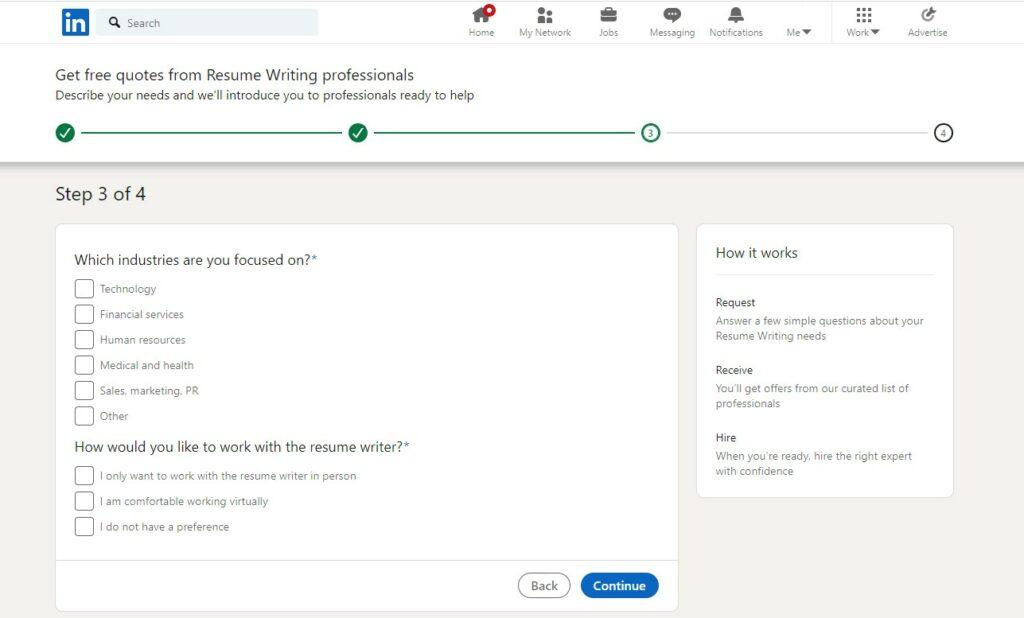 Fill in the optional details that you would like your resume writer to know and enter your ZIP code.
Then, click the "Get free quotes" button.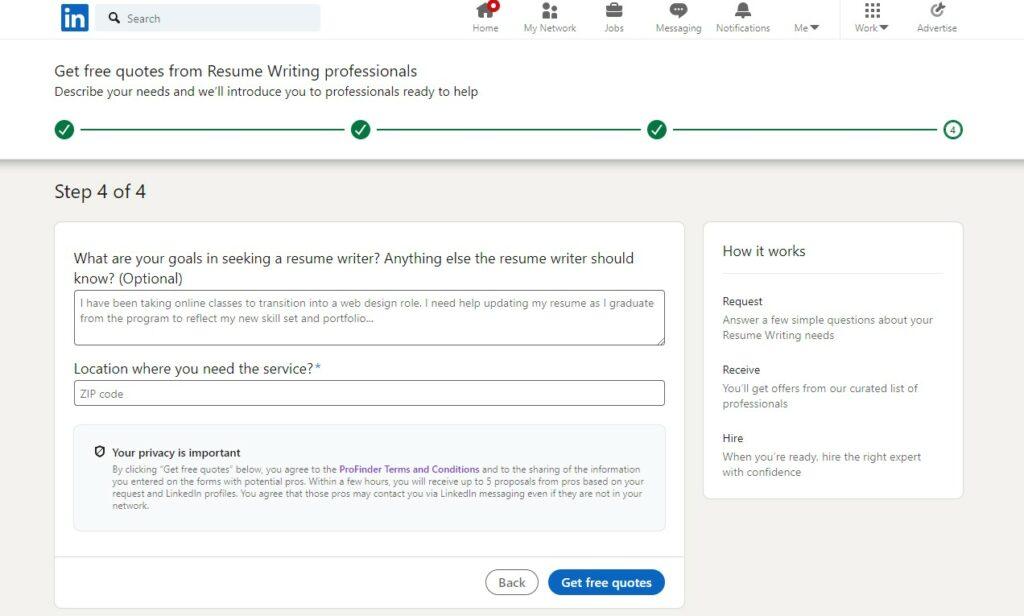 Once your project is live, you will start getting proposals from suitable resume writers based on the details that you have provided.
You will get up to five proposals within 24 hours.
After all the proposals arrive, it's time to select your resume writer.
From then on, the process will vary from writer to writer.
Make sure you ask about the entire working process before you hire your writer.
Here are some things you should clarify with a prospective resume writer:
How will they get your professional details – consultations or questionnaire?
What is the revision process, and how many revisions will you get?
Do they offer any guarantees?
How many times can you contact or talk to your resume writer?
What's the cost and turnaround time?
How experienced is the writer in your industry and career field?
Once you get satisfactory answers to all these questions, you can safely hire your LinkedIn resume writer.
LinkedIn Services Marketplace Customer Reviews
LinkedIn Services Marketplace does not have reviews on any major review platforms.
You have to look into the reviews of the individual resume service providers you are considering.
You can start with the service page reviews, LinkedIn recommendations, and endorsements they have already received on their LinkedIn profile.
Apart from that, you can also Google their name and find out whether they have reviews on other platforms such as Google, Trustpilot, and Facebook.
Key Takeaways
LinkedIn Services Marketplace, formerly LinkedIn ProFinder, is essentially a professional freelance marketplace where you can hire resume writers.
Hiring resume writers from LinkedIn gives you total control over how you will evaluate and hire your writer.
However, as LinkedIn has no centralized control over the vetting and hiring process, the responsibility is fully yours to make an informed decision.
Also, the resume writing process, cost, turnaround time, and other details will vary from professional to professional.
Your resume is one of the most important documents in your professional life.
You should always review and talk to multiple companies before you make your final decision.
Have You Considered Other Resume Writing Solutions?
Managing the whole process, from submitting the project to vetting and evaluating LinkedIn resume writing services, can be quite time-consuming.
You also run the risk of making a bad hire.
It's always better to take a look at all your options.
Instead of going it alone, have you considered hiring an established team of resume writers who would assign you the writer best matching your background and career needs?
We would recommend putting our company, Find My Profession, on your shortlist.
We have a dedicated team of US-based certified professional resume writers covering 85+ industries.
On top of that, we have more than 650+ five-star reviews on sites like Trustpilot, BBB, Sitejabber, and Google.
We are confident that our reputation and quality of service will fit your unique resume needs.