Your resume is an important part of the job search. It could very well be the thing that sets you apart from your competition.
This also means that a subpar resume can set your job search back months.
Today we will be reviewing Klaxos and their resume writing services.
We have taken a deep dive into the customer reviews, cost, resume samples, and writer credentials at Klaxos. Our overall rating for Klaxos is 80/100.
Our goal is to help you find the best resume service that will advance your career. Take a look at some other top-rated resume writing services and find the perfect fit for you!
Best
Klaxos

Alternatives




About Klaxos LinkedIn Profile & Resume Writing
Klaxos is a resume writing company that provides resume and LinkedIn services to job searchers, salespeople, and professionals of all career levels.
The company was created in 2009 by Christian Moritz. Christian is an award-winning career growth adviser whose specialty lies in resume writing and LinkedIn optimization.
Before he created the company, Christian had headed business units of leading firms. So, it goes without saying that he has a wealth of experience in sales and marketing.
The company patterns their services on the Klaxon, a horn that combines electronics and mechanics to create a loud sound. In a similar manner, Klaxos utilizes a mix of technology and human intelligence to craft astounding, result-driven resumes.
Let's dive right into some of the pros and cons when it comes to working with Klaxos.
Klaxos Pros vs Cons
As with any company, there are pros and cons. It's up to you to determine what is a "must-have" and what things you can live without.
Pros
Featured on Forbes, ABC, HuffPost, and other popular media outlets.

140+ satisfactory reviews from previous customers.

5,000+ professional resumes written since inception.

60-day interview guarantee on the resume writing service.
Cons
Resume cost of $749+ is more expensive than most services.

Only one writer has a resume writing certification.

No reviews on reliable sites like Trustpilot, Sitejabber, or BBB.

Access to resume revisions expire 30 days from the date of purchase.
If you are looking for a resume writing service, Klaxos is a great option, but it is worth exploring other alternatives to find the best fit for your needs.
One such alternative is Find My Profession, which has great online reviews from 900+ previous clients, a 60-day interview guarantee, and has been featured on reputable sources like Forbes, Inc., and CNET.
However, Find My Profession differs from Klaxos in that resume writing services begin at $395, they have plenty of reviews on reliable 3rd-party review sites, and they have a team of certified resume writers.
Klaxos Customer Reviews

Our Certified Professional Resume Writers have rated Klaxos a 74/100. Additionally, Klaxos has received customer reviews of 4.9/5 on Google, 4.5/5 on Yelp, 5/5 on Facebook, and an A+ rating on BBB. Overall, Klaxos has above average company reviews which is a huge green flag for us.
Google shows 138 reviews with an average rating of 4.9/5. Most of the reviews came from clients who either loved the process, the quality of the resume/LinkedIn profile, landed more interviews, or secured new jobs.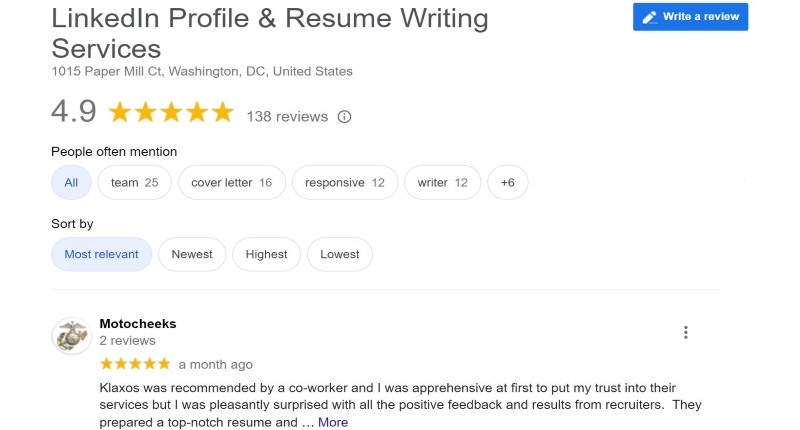 Yelp shows 21 reviews with an average rating of 4.5/5. Most of the customers loved the team's in-depth knowledge, as well as their willingness to explain key parts of the resume writing process.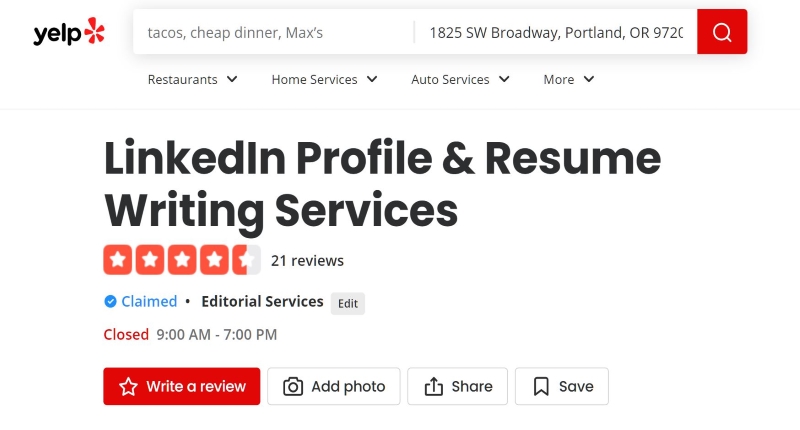 Facebook shows 2 reviews with an average rating of 5/5. There was only one review related to their resume writing service, and even that is from over five years ago.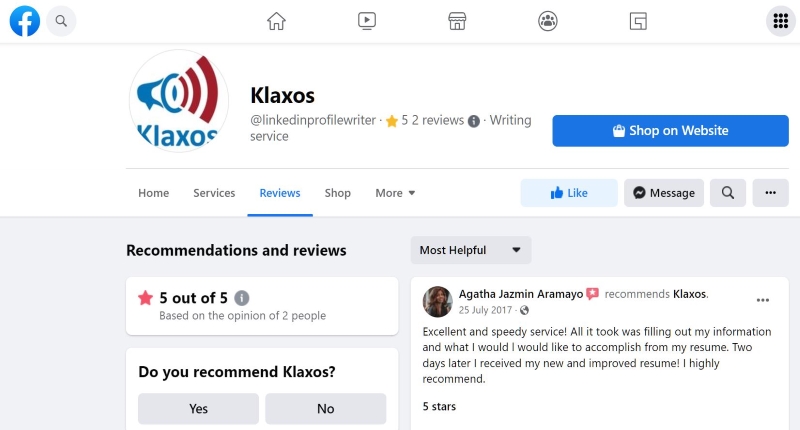 BBB shows an A+ rating. It's noteworthy that they are not BBB accredited, and they have closed one complaint within the last 3 years.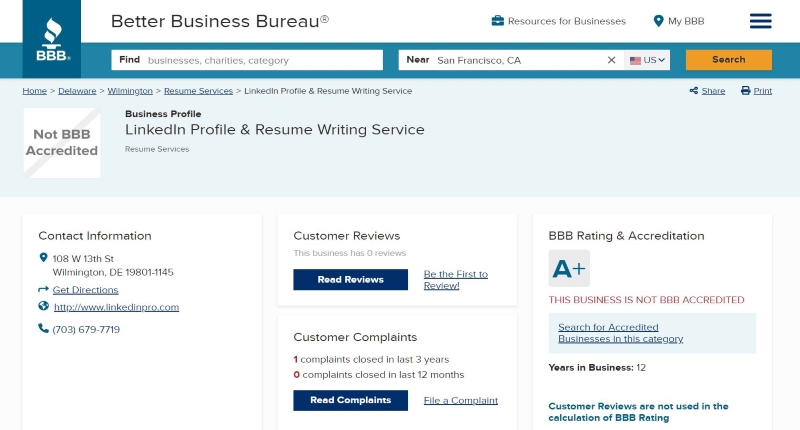 As with anything, it's important to take each review with a grain of salt. Additional research should be done beyond reading the reviews that are found online.
How Much Does Klaxos Cost?

Klaxos resume packages cost $749 (resume alone) – $2,799 (resume, LinkedIn, cover letter, and more). This is a bit higher than most services but with solid reviews, it seems most clients are happy with what they pay for.
$1,499
Klaxos offers à la carte resume writing options as well as packaged options.
Dubbed "Bronze Resume", the à la carte option is for executive, mid-career, professional, and entry-level professionals ($749).
The Bronze Resume package includes resume writing of up to 2 pages, career growth e-books, a skills & goals review call, and information discovery ($749).
Under the packaged options, there are resume packages to choose from – Early Career Package ($999), Silver Package ($1,499), and the Gold Package ($2,799).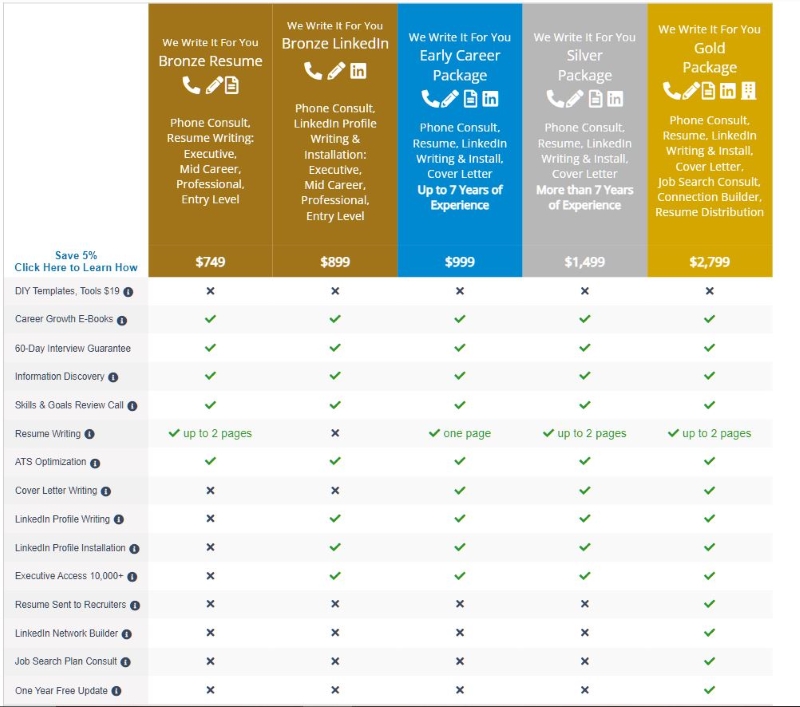 The Early Career Package is for professionals with up to 7 years of experience. It includes resume writing of one page, cover letter writing, LinkedIn profile writing, LinkedIn profile installation, exclusive access to a network of 10,000+ professionals and recruiters, career growth e-books, information discovery, and a skills & goals review call ($999).
The Silver Package is for professionals with more than 7 years of experience. It includes resume writing of up to 2 pages, cover letter writing, LinkedIn profile writing, LinkedIn profile installation, exclusive access to a network of 10,000+ professionals and recruiters, career growth e-books, information discovery, and a skills & goals review call ($1,499).
The Gold Package includes resume writing of up to 2 pages, cover letter writing, LinkedIn profile writing, LinkedIn profile installation, LinkedIn network builder, job search plan consult, access to a network of 10,000+ professionals and recruiters, resume distribution to a database of almost 40,000 recruiters, and a whole year of free regular updates ($2,799).
For the most accurate and up-to-date details on package pricing at Klaxos, we recommend that you visit their website directly.
Klaxos Resume Sample
We wanted to see what the resume quality of Klaxos looked like so we took a look at some of the resume samples featured on their website.
We've attached a Klaxos resume sample for you to review (first page only). Below, we share some of the things that we liked, and what we disliked about this resume.
The Good
Contains measurable accomplishments and specific details.

Format is compatible with all applicant tracking systems.

Includes a lot of keywords relevant for the candidates background.

Has a summary at the beginning of the resume to set the tone.
The Bad
Lacks a clear target title with not direction for the content.

Format lacks any visual appeal and is too simple.

Positions candidate for positions across too many titles, not targeted.

Content not strong enough and does not engage the reader.
Klaxos Resume Writer Credentials
The resume writing team of Klaxos consists of Christian Moritz, Karl Berkoben, and Carolyn Riley.
The website explains that all their writers are former Fortune 100 companies' recruiters. It also mentions that the team has over 100 years of combined experience in career and business writing.
Having only found 3 total employees/writers on LinkedIn, we aren't sure how the experience can total 100 years, but oh well.
The company's CEO, Christian, has authored several articles for various companies like LinkedIn, Huffington Post, and Korn Ferry Recruiters.
Christian also has academic degrees in Marketing and Strategic Management. So, he knows just how to help you market yourself.
Although not all their resume writers boast industry certifications, at least one of them is a Certified Professional Resume Writer (CPRW).
Klaxos Resume Writing Process
Klaxos follows a straightforward and simple operating procedure for getting your resume written.
Let's look at the steps taken in Klaxos' resume writing process below:
You'll select and pay for one of their resume writing services.
You fill in your professional details, goals, and skills via an online questionnaire. You also upload a copy of your old resume.
You schedule a one-on-one phone consultation with one of their resume writers, where you fine-tune the data collection.
Your resume writer collaborates with other team members to craft a detailed results-driven resume.
You receive your first draft within 4 business days.
You collaborate with your resume writer to make edits and revisions and can also request for unlimited revisions within a 30-day period.
That's it! You can get your optimized resume sent to you in Microsoft Word or PDF format.
Your revision requests will be completed in about 2 business days and the completion time is dependent on the number of revisions you request for.
However, your edit requests are limited to a 30-day period.
Is Klaxos Worth It?
Whether or not Klaxos is worth it is entirely up to you.
Our goal is to provide you with the most transparent and helpful information possible. But, only you know what is best for you and your career.
Here is a summary of our findings on Klaxos written and reviewed by a Certified Professional Resume Writer:
Customer Reviews: 25/25
Cost to Value: 25/25
Sample Quality: 15/25
Writer Credentials: 15/25
Total Score: 80/100
As a reminder, we highly recommend reviewing 2-3 services before making a final decision.
If you're in need of a top-notch resume writing service, we suggest checking out Find My Profession. With a team of experienced reverse recruiters and a commitment to customer satisfaction, Find My Profession can help you find your dream job. And with a perfect score of 100/100, you can trust that you'll be in good hands!