Your resume is an important part of the job search. It could very well be the thing that sets you apart from your competition.
This also means that a subpar resume can set your job search back months.
Today we will be reviewing Chameleon Resumes and their resume writing services.
We have taken a deep dive into the customer reviews, cost, resume samples, and writer credentials at Chameleon Resumes. Our overall rating for Chameleon Resumes is 80/100.
Chameleon Resumes
Score
Our goal is to help you find the best resume service that will advance your career. Take a look at some other top-rated resume writing services and find the perfect fit for you!
Best
Chameleon Resumes

Alternatives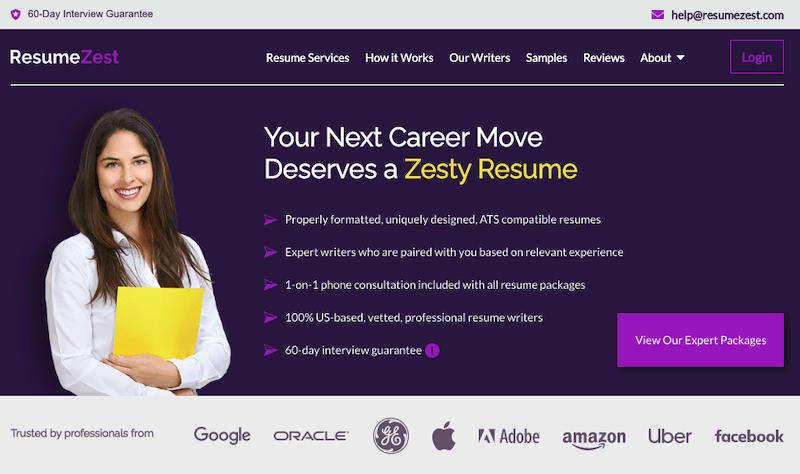 About Chameleon Resumes & Lisa Rangel
Chameleon Resumes was founded in 2009 by CEO and lead executive resume writer Lisa Rangel. Lisa has more than 20 years of combined recruiting and resume writing experience.
Chameleon Resumes is the "only Executive Resume Writing, LinkedIn Profile Development & Job Search Coaching consultancy firm hired by LinkedIn and recognized by Forbes as a Top 100 Career Website."
Let's dive right into some of the pros and cons when it comes to working with Chameleon Resumes & Lisa Rangel.
Chameleon Resumes Pros vs Cons
As with any company, there are pros and cons. It's up to you to determine what is a "must-have" and what things you can live without.
Pros
20+ years of executive resume writing and recruiting experience.

Featured on media outlets including Forbes, the Muse, and more.

Solid online reviews with an average of 4.5+ stars.

Resume packages include 60-minute phone sessions with a career coach.
Cons
Very expensive resume service coming at $2,897 – $6,897.

No industry-recognized resume writing certifications.

3 – 4 week turnaround time is much longer than other services.

No satisfaction or interview guarantees.
If you are looking for a resume writing service, Chameleon Resumes is a great option, but it is worth exploring other alternatives to find the best fit for your needs.
One such alternative is Find My Profession who also has a solid online reputation with an average of 4.9/5 stars, includes a phone conversation with your resume writer before writing your resume, and has been featured by reputable sources such as CNET, Forbes, and Inc.

However, Find My Profession differs from Chameleon Resumes in that their resume services start at $395, they have a team of certified resume writers, and they offer an interview guarantee and quick turnaround times for all their resume packages.
Chameleon Resumes Customer Reviews

Our Certified Professional Resume Writers have rated Chameleon Resumes an 80/100. Additionally, Chameleon Resumes has received customer reviews of 5/5 on Sitejabber, 4.2/5 on Google, and 5/5 on BBB, with an A+ rating. While there aren't many recent reviews, the ones we found seem to be decent.
Sitejabber shows 21 reviews with an average rating of 5/5. Unfortunately, most of these reviews came from customers receiving free career advice and not the actual resume service.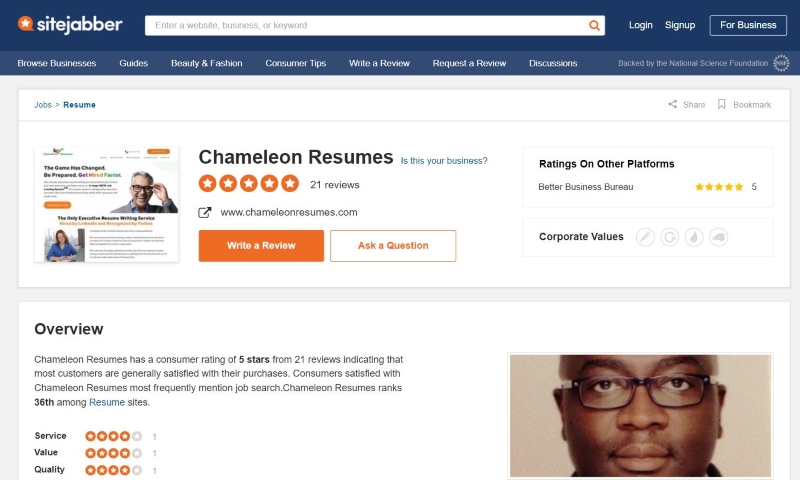 Google shows 21 reviews with an average rating of 4.2/5. We weren't thrilled with some of the responses from CEO Lisa Rangel. She claims publicly that most of the 1-star reviews are "fake".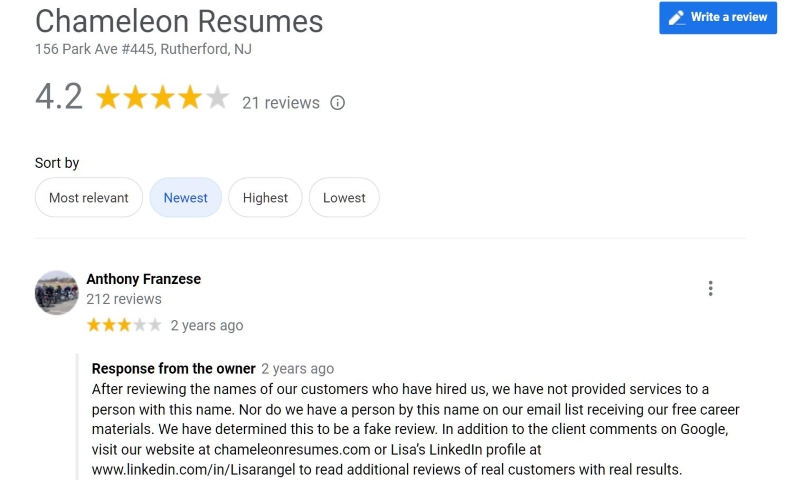 BBB shows 1 review with an average rating of 5/5. However, the one review is about the company's blogs, videos, and books, and not about their resume service.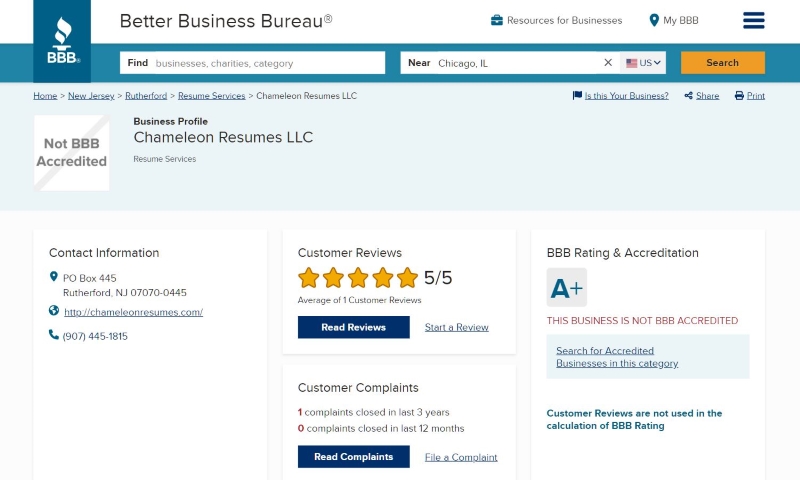 As with anything, it's important to take each review with a grain of salt. Additional research should be done beyond reading the reviews that are found online.
Home Much Does Chameleon Resumes Cost?

Chameleon Resumes packages cost $2,897 – $6,897. This is by far one of the most expensive services we have reviewed. In our opinion, there's no reason a resume and LinkedIn profile should cost this much.
$4,397
There are three packages to choose from – Get Prepared ($2,897), Get Hired ($4,397), and Get Reinvented ($6,897).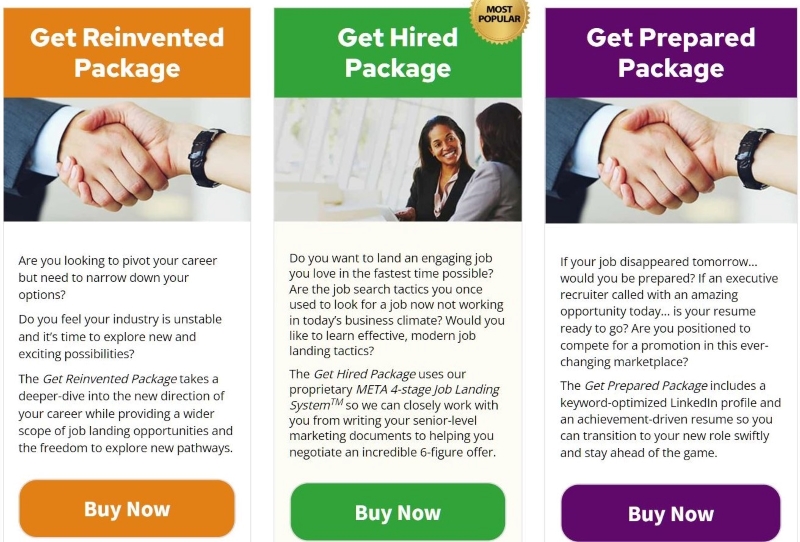 The main difference between the three packages has to do with the types of services that you receive.
The Get Prepared package includes a resume, LinkedIn, and three cover letters ($2,897).
The Get Hired package includes everything in the Get Noticed package plus one 60-minute coaching session, salary negotiation tips, resume distribution, and interview training ($4,397).
The Get Reinvented package includes everything in the Get Hired package as well as two 60-minute coaching calls, and PE/VC resume distribution ($6,897).
For the most accurate and up-to-date details on package pricing at ChameleonResumes.com, we recommend that you visit their website directly.
Chameleon Resumes Resume Sample
We wanted to see what the resume quality of ChameleonResumes.com looked like so we took a look at some of the resume samples featured on their website.
We've attached a Chameleon Resumes resume sample for you to review (first page only). Below, we share some of the things that we liked, and what we disliked about this resume.
The Good
 Contains a clear target position and title section

 Content has measurable accomplishments and specific information

 Has a keyword section with appropriate keywords for the target title

 Starts with a summary that includes strong, engaging content
The Bad
Contains flowery language that is used a filler to bulk up the content

Has a text box, which is not ATS compatible

Unnecessary explanation of professional experience section 

Keywords get lost in the format, making them difficult to find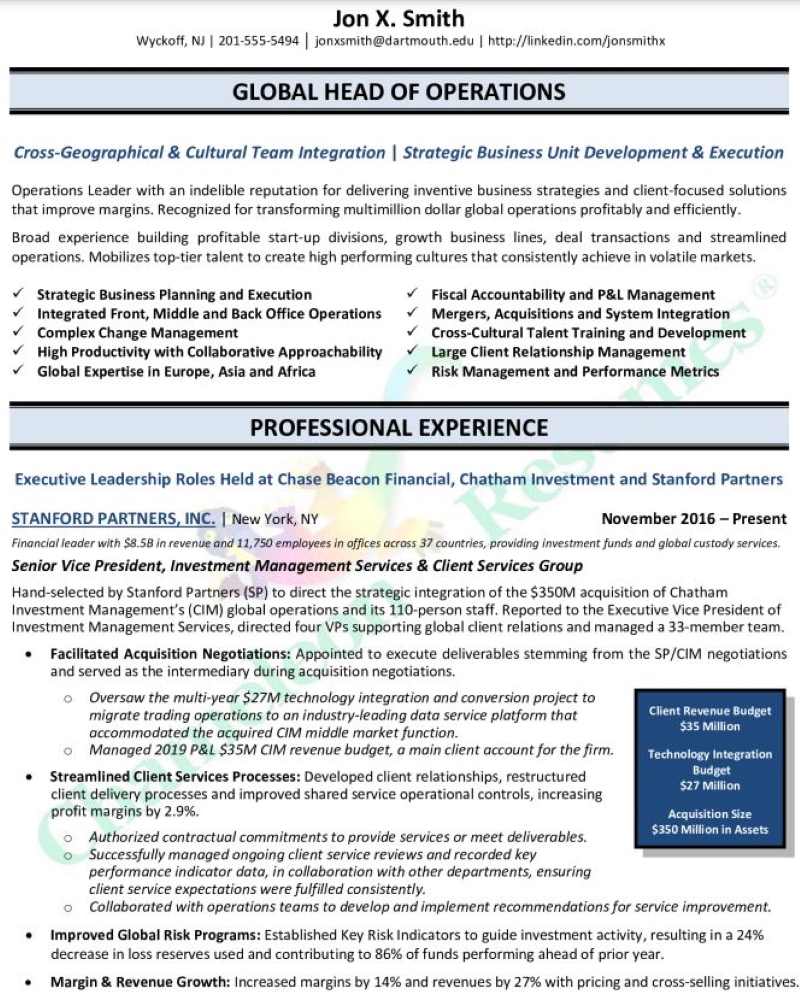 Chameleon Resumes Writer Credentials
While Chameleon Resumes does not specifically mention the writers that are a part of their team, they do share some details about the writers in general.
"Every team member has years of experience working or recruiting for US and International Fortune 500 firms, successful business ventures, and professional initiatives to market job seekers to attract the attention of these specific hiring managers."
Chameleon Resumes provides very little information about how much resume writing experience each of these individuals has. Considering the incredibly high cost of the services, we would have liked to know a lot more about who is writing the resumes.
Chameleon Resumes Writing Process
Chameleon Resumes follows a straightforward and simple operating procedure for getting your resume written.
Let's look at the steps taken in Chameleon Resume's resume writing process below:
Select the package you want, from the list of three and make your payment.
A resume writer will reach out to you within 24 hours.
You'll provide your career journey, as well as your career goals.
The resume writer will go ahead and work on your resume.
Once you receive your resume, you can make comments and request revisions/ edits.
Work through the changes with your resume writer and receive the resume when revisions are done.
Collaborate with your resume writer to proofread the resume and make sure it's complete and accurate.
Receive the completed resume and start applying for jobs!
All sales are final with this service. The turnaround time for this process takes 3 to 4 weeks.
Is Chameleon Resumes Worth It?
Whether or not Chameleon Resumes is worth it is entirely up to you.
Our goal is to provide you with the most transparent and helpful information possible. But, only you know what is best for you and your career.
Here is a summary of our findings on Chameleon Resumes written and reviewed by a Certified Professional Resume Writer:
Customer Reviews: 20/25
Cost to Value: 20/25
Sample Quality: 15/25
Writer Credentials: 25/25
Total Score: 80/100
As a reminder, we highly recommend reviewing 2-3 services before making a final decision.
If you're in need of a top-notch resume writing service, we suggest checking out Find My Profession. With a team of experienced reverse recruiters and a commitment to customer satisfaction, Find My Profession can help you find your dream job. And with a perfect score of 100/100, you can trust that you'll be in good hands!