So you are retiring from active military duty and searching for the best civilian jobs for veterans.
Well, first and foremost, thank you so much for your service!
Whether you are leaving the Army, Navy, Marines, Air Force, or Coast Guard, it can be quite difficult to adapt to resuming life as a civilian. But from a job search context, we have got you covered.
We will help you navigate that.
Some of the best jobs for military veterans are:
Public Relations Specialists
Civil Engineer
Registered Nurse
Cybersecurity Specialist
School Teacher
Police Officer
Intelligence Specialist
Financial Advisor
Commercial Pilot
Maintenance Technicians
After reading this article, you will have advice and resources to help you effectively approach your military to civilian job search as a veteran.
First, we'll jump right into identifying the best jobs for military veterans based on the skills and experiences you gained during your service.
Best Jobs for Veterans After Military Service
There are endless career paths open to service members leaving the military.
There are certain sectors that are more suitable to you because of the specific kind of training you received and the military values you learned.
Let's have a look at 10 best job industries for veterans after their military service:
1. Government and Public Administration
Federal and state-level government jobs require leadership abilities, experience in public affairs, and precise decision-making skills.
So these jobs would be one of the most suitable civilian jobs for all military veterans.
Some examples of government roles that would be a good fit are:
Public Relations Specialist ($68,830/yr)
Budget Analyst ($78,020/yr)
Paralegal and Legal Assistant ($58,720/yr)
Drafter, Engineering Technician, and Mapping Technician ($63,290/yr)
Human Resources Manager ($107,480/yr)
In government jobs, veterans can also be given priority over civilian applicants through Veterans' Preference.
(Check out this article for more information on finding jobs in the federal government.)
2. Engineering
Many former service members have received training in various engineering disciplines and practices.
Air Force veterans could be trained in aeronautical engineering, whereas an Army member could be trained in civil engineering.
If you are one of those veterans with engineering training, you can be highly sought after for military to civilian jobs like:
Electronics Engineer ($87,992/yr)
Mechanical Engineer ($80,504/yr)
Civil Engineer ($78,305/yr)
Aeronautical Engineer ($107,435/yr)
Naval architecture and marine engineering jobs can be suitable for former Navy and Coast Guard members.
3. Healthcare
Many service members are trained in patient care in various scopes as their job demands caring for their fellow servicemen.
Depending on your level of training, you can opt for healthcare roles like:
Registered Nurse ($69,382/yr)
Occupational Therapy Assistant ($65,734/yr)
Physical Therapist Assistant ($60,370/yr)
Medical Lab Technician ($45,651/yr)
Apart from direct patient care related jobs, hospital management positions are also relevant jobs for veterans.
4. Information Technology
Depending on the skills and level of training received during service, you can become:
IT Program or Project Manager ($97,742/yr)
Cybersecurity Specialist ($116,103/yr)
Software Developer ($86,336/yr)
Data Analyst ($67,121/yr)
Information Security Analyst ($99,981/yr)
If you want more flexible options than long-term jobs, freelance IT gigs are all the rage now.
5. Education
With your firm knowledge of disciplinary tactics, education serves as a very suitable sector of employment for former service members.
You can opt for teaching jobs like:
High School Teacher ($64,230/yr)
Elementary and Middle School Teacher ($62,150/yr)
Vocational Education Teacher ($58,520/yr)
Teaching Assistant ($36,390/yr)
You can also opt for administrative positions in educational institutions like Education Administrators.
6. Law Enforcement
It is natural that with a vast experience in maintaining law and order in the most difficult of situations, military veterans can be a valuable asset in civilian law enforcement agencies.
Criminal Investigator ($85,010/yr)
Police Officer ($65,850/yr)
Private Investigator ($61,450/yr)
Correctional Officer ($68,610/yr)
Security Guard ($38,890/yr)
These career options allow you to keep helping people in a direct manner.
7. Defense Contracting
If you want to remain in direct contact with the military, you can opt for various contract positions available with all the branches.
Analyst ($58,948/yr)
Intelligence Specialist ($89,956/yr)
Contract Management Specialist ($63,114/yr)
Were you trained in designing weaponry in the Army or building aircraft in the Air Force? There can be some high-end contract positions waiting for you.
8. Finance and Business Management
In the sectors of finance and business management, skills like attention to detail, developing strategy, and coordinating and motivating people are really valuable.
Use these skills in the following types of business roles:
Financial Advisor ($71,354/yr)
Property Manager ($46,993/yr)
Human Resources Manager ($75,455/yr)
General/Operations Manager ($63,973/yr)
Marketing Manager ($65,906/yr)
You can also open up your own business or a consultancy firm aimed at helping people with their business and finances.
9. Transportation and Logistics
Many former military members are well experienced in transportation, logistics, and supply chain management.
You can easily leverage this experience to get into similar civilian jobs like the following:
Commercial Pilot ($108,921/yr)
Supervisors of Transportation and Material Moving Worker ($58,070/yr)
Air Traffic Controller ($83,920/yr)
Being from the Navy or Coast Guard can make you valuable in the maritime transport and tourism industry.
10. Managerial Positions in Manufacturing and Construction
This is another career option where you would be able to utilize your on-the-job skills honed during your service years.
Maintenance Technician ($43,202/yr)
Manufacturing Supervisor ($51,287/yr)
Construction Manager ($103,110/yr)
(All salary data indicates annual average salary and has been aggregated from U.S. Bureau of Labor Statistics and ZipRecruiter.)
Best Job Search Sites for Military Transition
There are countless job sites, countless posts, so where do you start?
This section will list some fantastic resources that can springboard your military to civilian job search.
There are many resources that you can use in your job search. These resources provide specific services to veterans as they transition into the civilian world.
1. CareerOneStop
CareerOneStop is a one-stop-shop for military veteran resources. You can easily search for civilian jobs for veterans by MOS code. Along with job search tools like Salary Finder and Skills Matcher, they also list specific resources for finding jobs for disabled veterans.
2. Feds Hire Vets
Feds Hire Vets needs no explanation. Interested in pursuing a federal career? This resource has you covered with information about the employment process, veteran resources, and featured jobs by industry.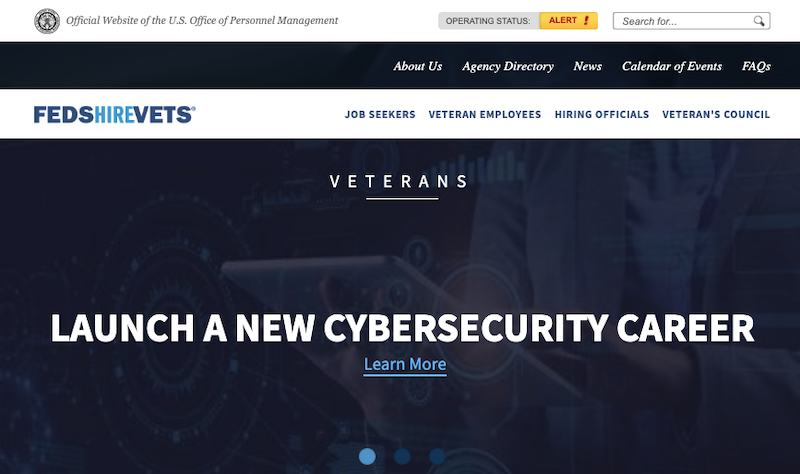 3. Hire Heroes USA
Hire Heroes USA takes pride in ex-military personnel obtaining civilian jobs and offers free veteran job search assistance and career counseling.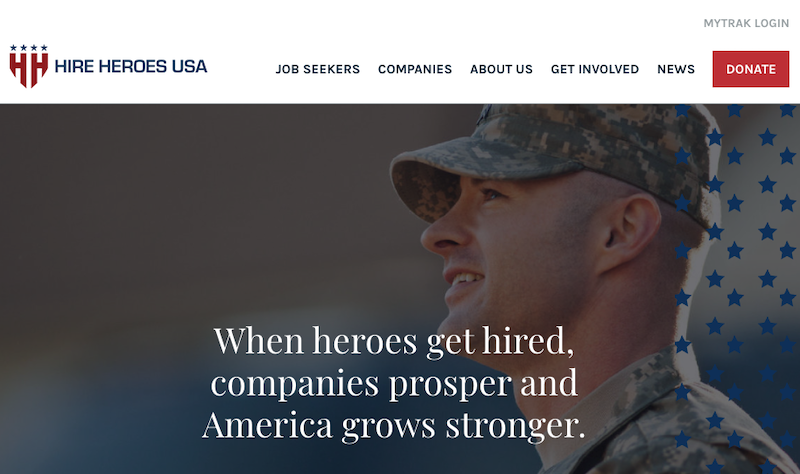 4. Military.com
Military.com is a great military to civilian resource. There you will find an extensive job board and services geared towards veterans like transition planning and career matching.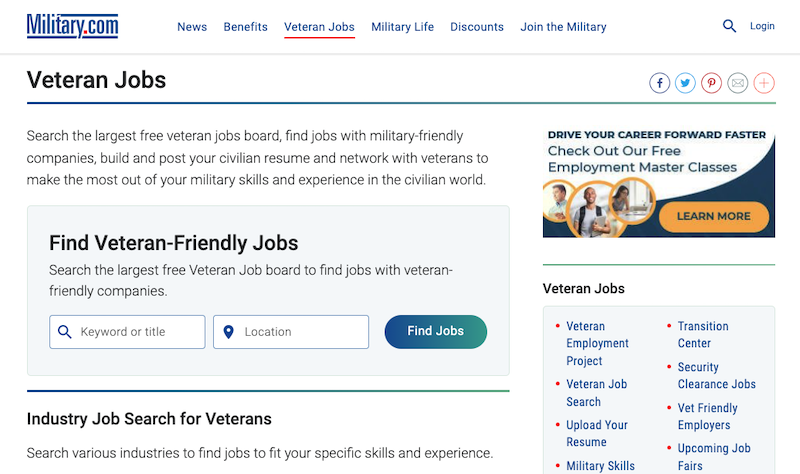 5. USAJOBS
USAJobs.gov is another fantastic resource for federal jobs for veterans. This site lists all federal government jobs and you can select the Veterans filter in your job search.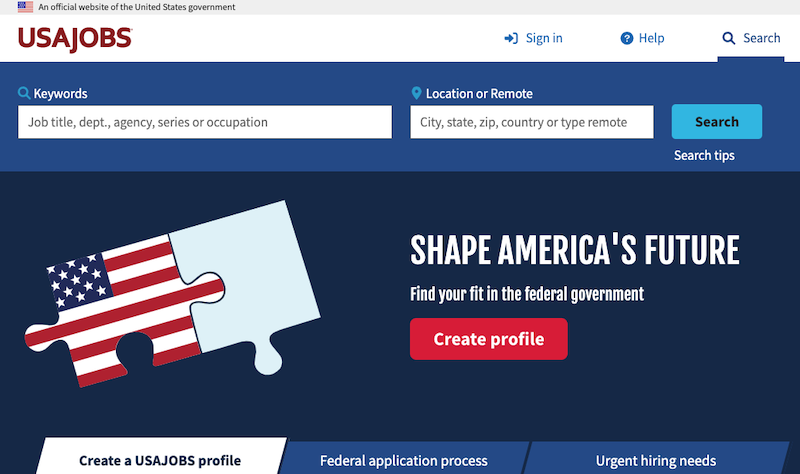 There are more resources as well, like RecruitMilitary, MILITARYHIRE.COM, G.I. Jobs, and TechExpo. You have ample military to civilian resources to help you hit the ground running.
6. General Job Search Websites
These sites have a huge number of people seeking opportunity, but always remember that the other side of the coin is that there is a huge volume of opportunities posted.
(Find more job search sites in this article: Best Job Search Sites.)
Top 15 Job Search Tips for Military Transition
Now on to the how-tos and nitty-gritty of your job search.
There are plenty of things that you can do during your military transition that will make the process a lot easier for you.
The list of things that need to be done may be a little overwhelming at first, but take your time.
Understanding and applying the best strategy to your veteran job search will save you time and stress.
1. Understand the Civilian Hiring Process
There may be advertised vacancies, unadvertised opportunities or simply a company acquiring an individual even if there isn't an opening. A huge portion of jobs are obtained not through postings, but rather more informal means. This means that networking and getting your foot in the door can land you a position that the public doesn't know exists. However, a significant amount of jobs do come from advertisements, so be sure to give your job search adequate time and energy.
2. Research Jobs and Employers
You can learn what skills a certain job requires, and you can see how you meet these needs. When it comes to the time to apply and interview, you can accentuate these needs and how you meet them. Additionally, you can narrow down the best jobs and possibly companies that you are looking at to ensure that your mind is set on positions that appeal to you.
Maybe narrowing down your job options doesn't strike you as something that increases your chances of being employed, but it does. If you narrow your options down, you can understand the specific needs of the role and possible employers. If you understand specific needs, you can show how you fit the role or take steps to be a good fit.
3. Acquire New Skills if Needed
Some positions require training or qualifications. You can't just walk into a hospital and pick up a scalpel! If you want to become a nurse, a doctor, a teacher, an architect and so on, you will need to gain prior qualifications.
There are other jobs that you can get into purely by virtue of the skills that you already have. When you are looking at what your next step will be after the military, remember that this bears much significance. If you can get any of your training out of the way before you transition out of the military, you can save time, so do it!
4. Prepare Financially and Mentally
When you are in between military service and acquiring a civilian job, you may go for a time without full-time work or income. This process can become stressful the longer it goes on for. It doesn't need to. You have a support network. However, you will still need to budget. How much do you make in a month? How much do you spend in a month? What is the difference? How long will that last?
5. Work on Your Reputation
Decide what skills and accomplishments you will put your name on. Whether it is on social media or the outside world, you can choose how to brand yourself. That will help you when you are showing potential employers that you can meet their needs. Not many are looking for a jack of all trades when they'd prefer a master of one in a specific department.
Set up a LinkedIn account if you don't already have one. You can begin making connections and posting content long before your job search begins. Clean up all of your social media accounts so that they are recruiter-friendly.
6. Translate Your Military Experience
Your time working with Air Liaison Officer Bradley at the AFSC is great, but may be gibberish to a recruiter who hasn't done their homework. Not many hiring managers will know exactly what you are talking about right away.
Remember that you want your military to civilian resume to be clear, simple, and enticing. Don't push recruiters away by using words and terms that they are not familiar with! Instead, keep it easy to digest and attractive. Translate your military titles and terms for the recruiter or hiring manager.
It isn't just your resume that you need to keep understandable. Your networking efforts, interviews, and LinkedIn profile all need to be understood by hiring managers as well.
(For information on building your military transition resume, see Military to Civilian Resume: [Examples & How to Write].)
7. Always Tailor Your Resume to the Recipient
Remember that you are not submitting a vague document to 200 random recipients and trying to cover all of your bases. Your resume has a specific recipient. So tailor your resume to speak to that specific recipient about how you are the perfect candidate for the job you are applying for.
A job serving as a police officer won't be concerned with your ability to play Sweet Child O' Mine on the guitar. Be specific. Address how you fit the needs of where you are applying.
8. Highlight Your Relevant Strengths
Throughout your time in the service, you may have found that you had a lot to offer in certain areas. Even before you joined the military, you had strengths and skills that set you apart. You are attempting to sell yourself, so talk yourself up and accentuate the positives that will add value to a potential employer on your job search. Including only relevant experience and accomplishments will help keep your resume concise and focused.
(Learn the best skills for your resume in this article, Most Important Skills For a Resume.)
9. Emphasize Security Clearances or Certifications
Security clearances and certifications provide evidence of the fact that you are an asset to your employer. From security to first-aid, an employer can see responsibility in you (and they might save money too if you are already qualified). However, be careful. You don't want to do this on an online post at all. Malicious individuals finding out that you have access to top-secret clearance will put you at risk.
10. Show Your Resume to Non-Military Friends or Family
It's very important to translate your military experience on your civilian resume. Showing your resume to your friends and family will help you determine that the layperson can understand the military terms that you have translated. It can be hard to tailor your skills and experience to be understandable. It can be even harder to tailor this again to suit each potential employer. But the good results make it all worth it.
(If you'd rather have your resume written and reviewed by professionals, check out Best Military to Civilian Resume Services.)
11. Refer to Veteran Job Boards
As we have already discussed above, there are job boards specific to the military transition job search. Civilian positions exist for veterans. This does not mean that you should throw all your weight behind this, but it is a fantastic source for finding the best jobs for veterans.
12. Network Well and Target Jobs
We all have specific skills and preferences. You don't need to currently be employed in a specific position to successfully network with potential employers or positions of interest. Track down these networking opportunities. Put yourself out there, build rapport with companies that interest you, then if you do come knocking one day, you aren't just a total stranger to them.
Targeting the best jobs for you is not only a great way to set your aspirations, but it may actually help you professionally too. To already have introduced yourself prior to when you need to make a connection helps a lot. Think of the permanent work people can get in charities by first volunteering. This is similar. You can get your foot in the door.
13. Practice Your Interviewing Skills
Practicing interview questions is essential in preparing for a job search. Military veterans may have difficulties translating their experience to interviewees or may have trouble talking about their own accomplishments outside of a team setting. Highlight your military skills and be sure to translate any military jargon during your interviews. Be ready to speak about projects you worked on and how you met goals.
(To practice interview questions, check out 50 Top Interview Questions and Answers.)
14. Don't Overemphasize That You Are a Veteran
Your military experience is going to be in the resume, and it should be. You provided a great service for which many are grateful. However, you do not want to be entirely defined by it or to appear to be using it as a crutch. You don't need to repeatedly highlight it. Talk about you. Your service is not something you should force.
15. Hold Back on Talking About Combat Details
Issues of PTSD and depression affecting performance are things that can make an employer wary of considering you. While it is not your doing at all, highlighting it can damage your chances of being considered for an open position.
Key Takeaways
We have summarized some key points of what we have covered about your military to civilian transition job search:
Some jobs are better suited for veterans than others based on your military background.
Check various job search sites (military-specific and general sites) to find open positions.
Always highlight the value you can add to wherever you apply and tailor your resume to that employer.
Remember to translate military terms and titles to be understood by laypeople throughout the hiring process.
Emphasize your security clearances, but not your combat details.
Writing a solid resume is the foundation of your veteran job search.
We sincerely wish you all the best with whatever comes next for you. And again, thank you for serving our country.