Getting your dream federal job requires effective federal job searching skills.
Knowing where and how to search for federal jobs is almost halfway towards securing one.
The federal job search and application process is a bit different from searching for civilian jobs.
That's why we are here with all that you need to know about a federal job search.
First, let's get a clear idea about how the federal job search process is different from searching for a civilian job.
Differences Between a Federal and Civilian Job Search
The essential aspects of every kind of job search are the same:
Knowing what you are looking for based on your skills, expertise, and experience.
Knowing where to look for the jobs that match your skills, expertise, and experience.
Applying to those jobs with a customized and tailored resume.
But when it comes to federal jobs, there are some fundamental differences that you should keep in mind.
Here are the differences between a federal and civilian job search process:
Unlike civilian jobs, where you have to keep an eye on many job posting sites, for federal jobs you only have to keep an eye on one particular federal job search website.
The whole process of federal resume creation and job application is carried out via that website.
For civilian jobs, you can apply to jobs that somewhat match with your skills and expertise, but for federal jobs, you have to be more precise while targeting jobs based on your resume.
There are some very specific aspects of a federal job search, such as veteran's preference, GS scale, and occupational questionnaire, that do not apply to civilian jobs.
Your resume needs to be more in-depth about you and your career.
You have to include a few specific types of documents along with your resume, such as KSAs (Knowledge, Skills, and Abilities statement), TQs (Technical Qualifications), PTQs (Professional Technical Qualifications), MTQs (Mandatory Technical Qualifications), and ECQs (Executive Core Qualifications) narratives, that are not required for civilian jobs.
Having an idea of these differences will help you prepare for what lies ahead on your path to finding a great federal job.
You might already know that particular federal job search website that we were talking about.
It's USAJOBS!
What Is USAJOBS?
USAJOBS.gov is the most important website on earth for you if you are looking for federal jobs.
It is where almost all the federal job announcements are posted.
There are a few other federal job search websites available, but they just relay the information found on USAJOBS.
So, keeping a consolidated focus on this would be the best option rather than dividing focus among other sites.
According to the USAJOBS website, it is a part of the U.S. Office of Personnel Management (OPM) and it helps "recruit, retain, and honor a world-class government workforce for the American people."
Therefore, USAJOBS serves as the central location to find job openings within hundreds of federal agencies and organizations.
However, a few federal agencies post their jobs on their own agency websites, and you may not be able to find them on USAJOBS.
So, keep an eye on the specific agency websites if your preferred agency is among those.
You will find all the federal agency websites here: U.S. Government Departments and Agencies.
How to Find Federal Jobs
Now that we have discussed the master federal job search website, let's focus on the process of searching for the best federal for you.
In short, here's how to search for federal jobs on USAJOBS:
Log in to the website.
Create a profile.
Upload your resume(s).
Have an idea of the jobs and agencies you'd like to search for.
Search for the jobs using advanced search and filter options.
Visit the specific agency websites for more information about the jobs.
Apply with a tailored resume to the jobs you are interested in.
Now, let's have a deeper look at each step carefully.
1. Create a USAJOBS Profile
The signing up part is similar to any other website.
Provide an email address, verify your email, set your password, and set up authentication methods.
After creating an account, you will be directed to creating your USAJOBS profile.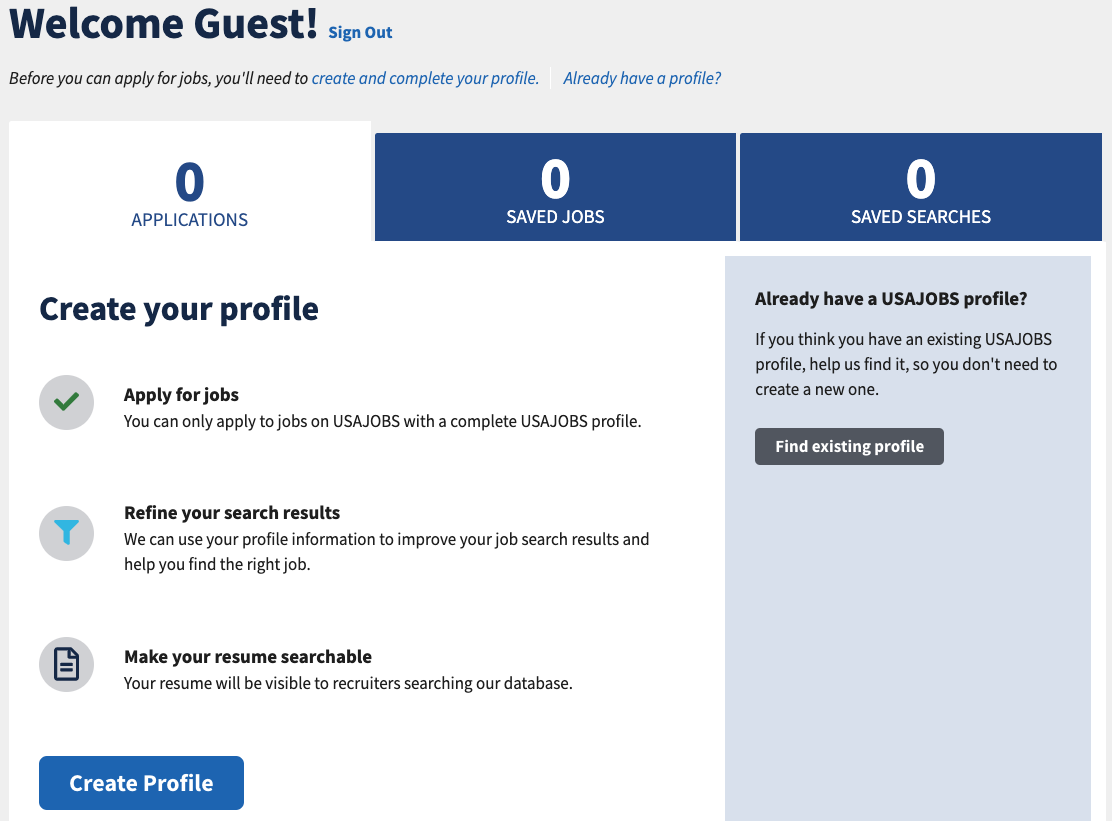 This is the most important element of your job search process with USAJOBS along with the resumes that you will create or upload to your account.
Complete your profile with utmost care and provide as much detail as you can.
After selecting Create Profile, you will select any groups that you belong to for hiring eligibility, as shown below: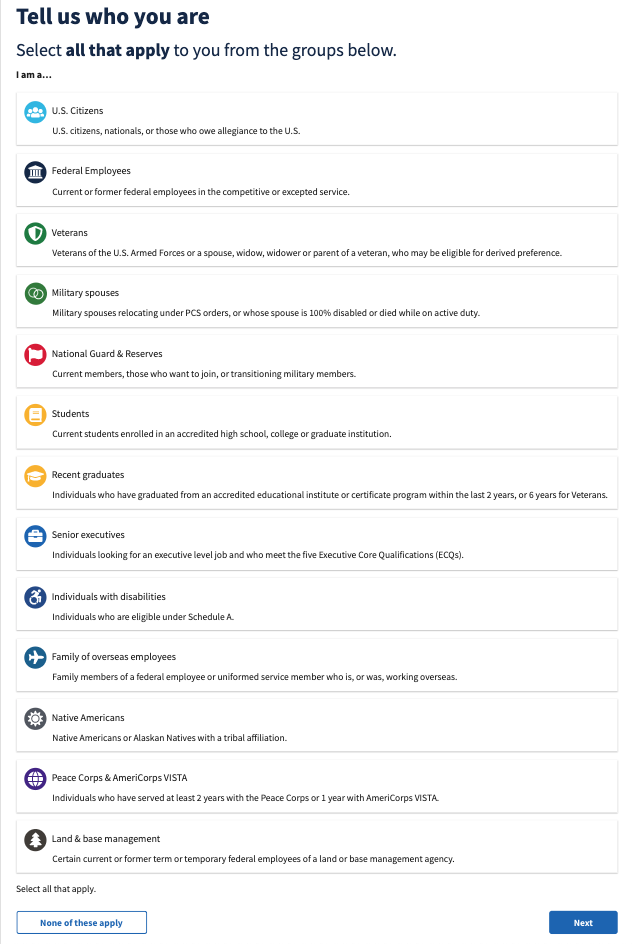 After clicking Next, you will then be guided to complete your profile.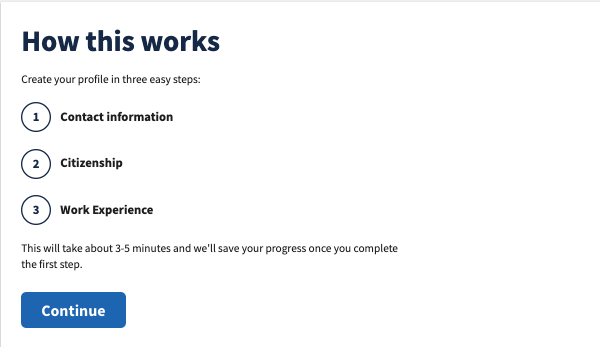 You will need to input the following information:
Your contact information
Your citizenship and Selective Service registration status
Most recent work experience as shown below: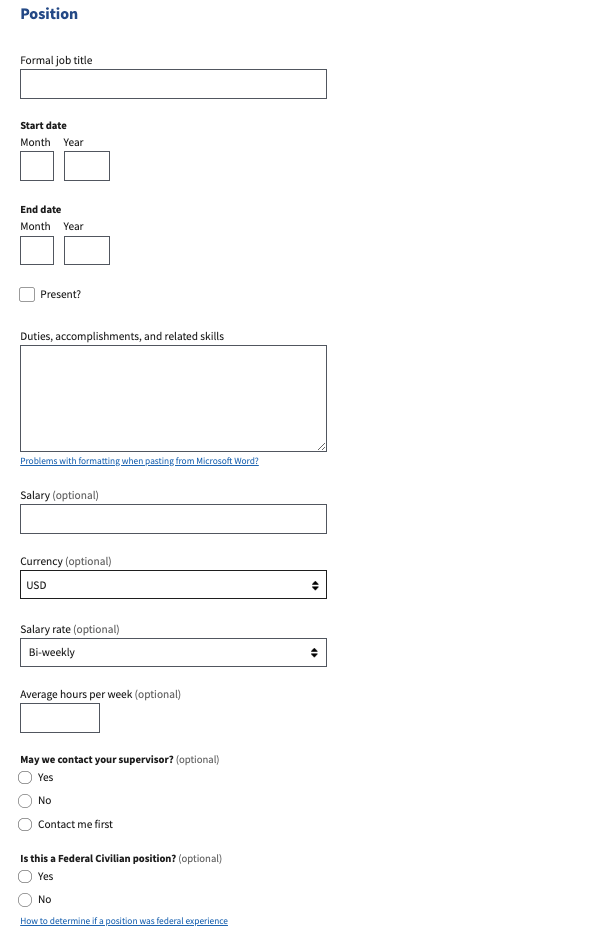 Your profile is now created, but there is more to do to make it complete.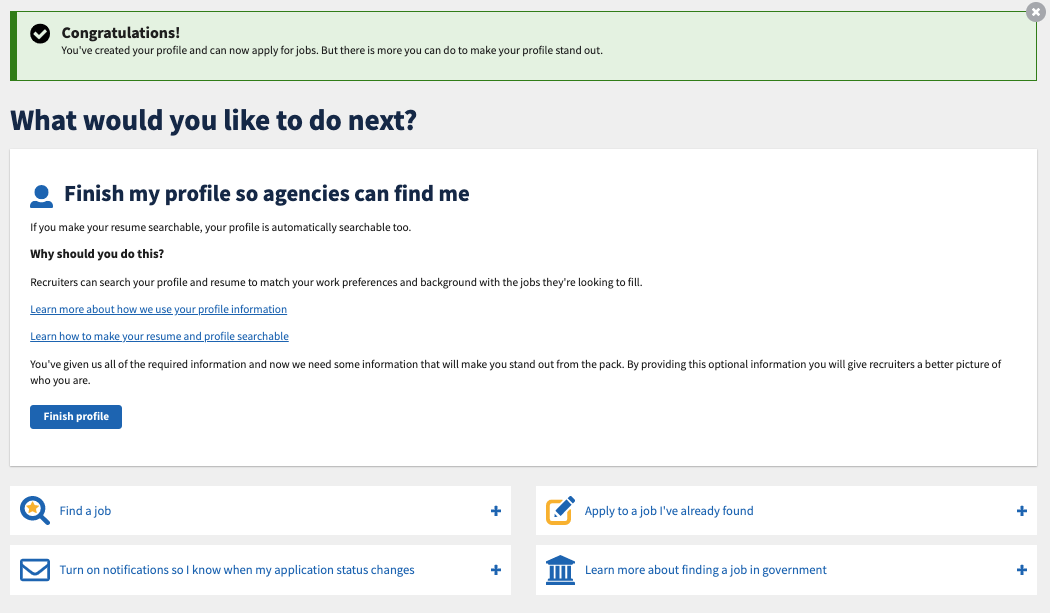 Select Finish profile to add additional information.
Add optional details such as additional work experience, education, demographics, languages, organizations, and references.
Do not skip over the optional details as these details are used to improve your job search results.
You should also complete the Preferences section of your profile for a streamlined job search experience.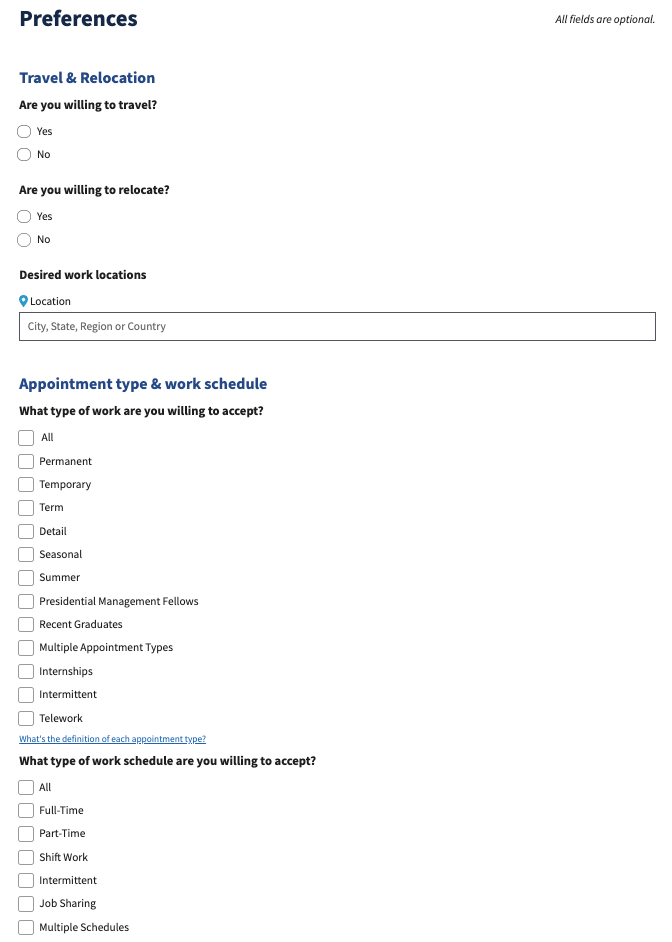 Another essential and crucial element of your USAJOBS account is the resume(s) that you will create or upload to your profile.
Let's have a look at how to use your resumes for USAJOBS in the most effective way.
2. Use Multiple Resumes for Federal Jobs
You can upload up to five resumes to your USAJOBS account.
But only one of them can be selected as a searchable resume.
Select the Documents tab in your account and you can add resumes and other documents.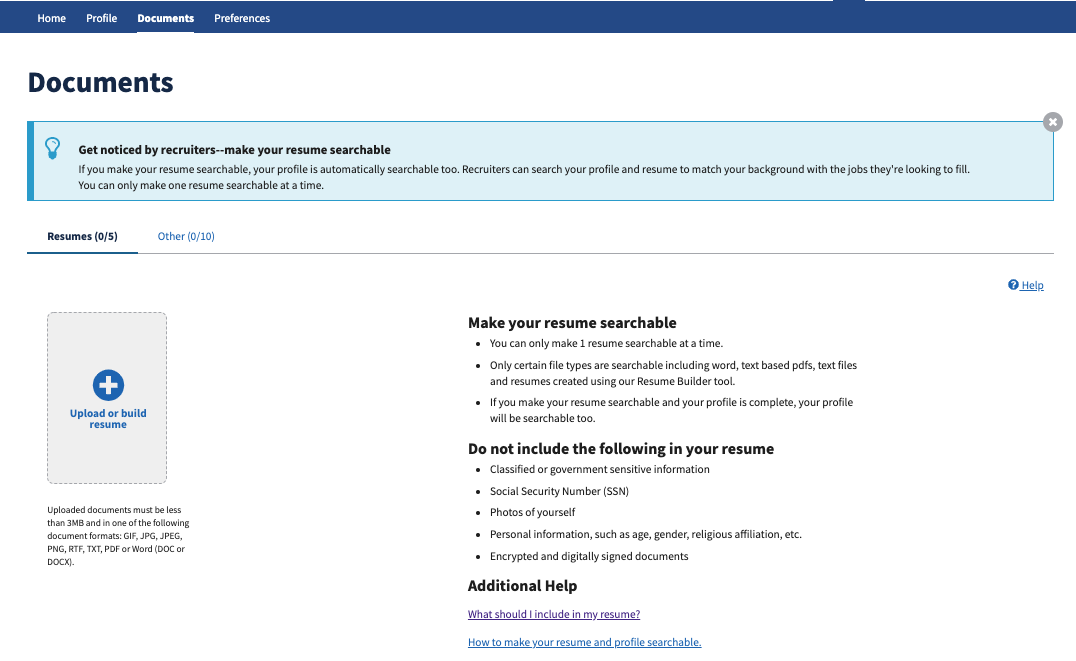 The searchable resume means that it will be used by the USAJOBS search engine to connect you with potential federal jobs and whenever a hiring manager searches for applicants.
It is crucial to make the most out of this opportunity.
Create one master resume to make searchable.
Include all of your skills, expertise, and job experiences in detail.
It can be as long as you want.
Include all of your volunteer work, professional associations, certifications, and any other professional detail that you can think of so that your profile comes up whenever a related keyword is being searched for.
Once you are done with the master resume, create up to four variations from it targeting specific types of jobs that you want to apply for.
Later on, you can attach these targeted resumes to your applications.
Keep updating your resumes regularly.
One thing you should keep in mind is the federal resume format.
USAJOBS has specific preferences about resume format that you can't violate. So, the options to be creative are very limited.
3. Know What Jobs Fit Your Skills, Expertise, and Experience
In order to tailor your resumes and also to conduct the job search effectively, you will need to have a clear idea of which kind of jobs and agencies will be most suitable for you.
Thoroughly assess your knowledge, skills, and abilities.
What careers would be most suitable for you based on your past experiences and academic background?
Make a list of all the possible career options, job positions, and agencies.
Then use those as the search terms while searching for jobs and creating tailored resumes.
4. Use Advanced Search and Filters
USAJOBS will show you jobs on your homepage based on searches, your profile, and searchable resume.
But the best way to ensure that the most suitable jobs appear in your feed is to use saved searches, advanced search, and filters.
Use the keywords related to your targeted job series, skills, and agencies to create saved searches.
You can create up to 10 saved searches for your account.
Using filters is also a great idea to narrow down your focus based on job type, agency, location, grade, and other criteria.
Check out the filters you can use to narrow down your search results:
Hiring Path (includes Open to the public, Armed Forces, Students, Senior executives, and more)
Pay (set your minimum and maximum pay)
Department (includes Agriculture, Defense, Justice, NASA, Veteran Affairs, and more)
Agency (choose from hundreds of government agencies)
Location (select whether you'd like relocation assistance)
Work Schedule (includes FT, PT, Intermittent, and more)
Appointment Type (includes Permanent, Temporary, Term, and more)
Security Clearance (includes Not Required, Top Secret, and more)
Position Sensitively and Risk (includes Non-sensitive to NCS/High Risk)
Travel Percentage (includes Not required to 76% or greater)
For the best results, you should also take advantage of receiving customized email job alerts based on your preferences and saved searches.
To receive job alert emails, save and name your job search and specify how often you would like to receive notifications.
Once you find your dream federal jobs, click the blue Apply button, and follow the step-by-step instructions to attach your tailored resume and other documents (if required), review your documents, answer additional questions, and continue your application with the specific agency.

You can also save jobs to apply to at a later time. We recommend applying for jobs as soon as possible so that you don't miss an opportunity.
5. Visit Agency Websites for More Information
There are few agencies that may not publish job announcements through USAJOBS and have their own hiring systems.
These agencies are called excepted service agencies. Some of these agencies are:
Central Intelligence Agency
Defense Intelligence Agency (DOD)
National Nuclear Security Administration (DOE)
Postal Regulatory Commission, Federal Reserve System
U.S. Foreign Service (U.S. Department of State)
(You may have look at the full list of excepted service agencies here: Excepted Service Information & Employment Opportunities.)
In most state government career portals, you will also have the option to open up your own account and upload your resume for the state employers to find you there.
So, if you are targeting these agencies, you will need to keep an eye on the career pages of their websites.
Moreover, even for the jobs posted on USAJOBS, you should visit the agency websites to have a deeper understanding of the agency activities and the job in question.
Federal Job Search Tips
We have covered the entire process of searching for a federal job already.
But here are some additional tips to keep in mind.
Narrow down the hiring path or special categories that match you the most and follow that direction to explore the most suitable jobs.
Be thorough and careful not to miss any details while completing your profile, resumes, and applications.
Solicit informational interviews with people who are already employed in the federal job you want; it's a great way to know more about the job and the application process.
A federal resume has to follow a specific format preferred by USAJOBS. You can create your resume with the USAJOBS resume builder and then customize it to your preferences.
There are very few options open to customization so you have to make the most out of them to stand out from the crowd.
It is always a good idea to collaborate with a qualified professional federal resume writing service to create the best resume possible.
Read the job announcements at least three times before applying to make sure you have provided all the needed details and documents along with your application.
Include keywords and your past achievements properly in relation to the job announcement.
Always try to quantify your achievements using numbers.
Use the correct document format. You should use either text-based PDF or Word format for you uploaded resumes. For the searchable resume, always upload the Word version or create it with the USAJOBS resume builder.
Top Tip
To keep these tips handy, print them out and hang them on the wall above your computer.
Federal Job Search FAQs
The federal job search process can be a bit complicated and daunting.
It is natural to have lots of questions and worries on your mind.
But once you start the process hands-on, things will start to get gradually clearer.
Before you begin your federal job search, let's get the answers to some of the most asked questions.
1. How Long Is the Federal Government Job Search Process?
A federal job search process can be much lengthier than any civilian job.
It depends upon the agency, type of job, and the number of applicants to consider.
The whole hiring process goes through a series of bureaucratic events that create a few additional delays.
It can take anywhere between several weeks to a few months. Estimates of 6 to 18 months are more likely to happen.
The job announcement itself typically remains open from 30 to 60 days.
The wait may seem a bit too much for most people.
So, patience is key.
2. How Many Pages Should My Federal Job Resume Be?
This is another very common question out there.
A federal resume should be around 3-6 pages long depending on your level of experience and other details.
A federal resume is a lot different from a 1-2 page resume for civilian jobs.
It requires a lot of additional information and in-depth details that you do not need to include on the civilian resume.
So, the common one-pager resume won't work here.
3. Should I Use Professional Resume Writing Services for Federal Jobs?
The whole process of searching and applying for federal jobs is so critical and comprised of so many details to remember, it can easily be seen as a team project.
Even if you go for it all alone, it is safer to have an extra pair of eyes to go through all the details and documents that you need to submit.
So, you should never hesitate to seek professional help if you feel you need to.
Besides, the federal resume format in itself is pretty difficult to crack and you also want to stand out in the crowd.
(Check out Federal Resume Writers for professional resume writing services.)
4. How Do I Track My Federal Job Application?
You can start tracking your federal job application right from your USAJOBS account.
You have to go to your Applications tab from your Homepage where all of your applications are listed.
The application status is indicated right next to each application.
The application status tells you exactly at which stage your application currently is, and is labeled as received, reviewed, referred, selected, and others.
In some cases, the application tracking may not be available, which will be labeled as Unknown or Unavailable.
5. What Does the Interview Process Look Like?
The interview process for federal jobs is not as complicated as most fear.
If your application successfully passes through all the screening processes and you are selected for the job interview, you will receive a call within around three weeks of the application closing date asking for an interview.
Hiring officials can interview applicants using:
A panel
In-person
Video
Phone
There can be more than one round of interviews.
The interview process for federal jobs is highly structured. All the interview questions will be job-related and all the applicants will be asked the same questions.
Interviews usually last about an hour.
6. Can I Apply for Another Federal Job If I Already Work for the Federal Government?
Yes, you can apply to another federal job while already being a federal employee.
But the hiring path is different and you will only be able to apply for the jobs you are eligible for. Of those jobs, your chances are the greatest with jobs that you are the most qualified for.
(Being eligible for a job is different than being qualified for a job. Learn the difference here.)
7. What Is the General Schedule (GS) Payscale?
"General Schedule" (GS) is the most common pay scale for calculating salaries and benefits of federal employees.
The "GS grade" refers to the pay level of a job.
There are 15 GS grades and each grade consists of 10 steps.
The higher the grade, the higher the pay.
If you are a federal government employee, you will have to mention your current GS grade while applying.
On the other hand, if you have never worked for the federal government, you will have to mention which grade you are eligible for.
8. How Do I Know What GS Level I Am?
Here are the requirements for some common GS grades for you to assess where you might stand:
GS-2: High school diploma and little general work experience
GS-3 and GS-4: Jobs with more than three months of general experience
GS-5: One year of specialized experience or graduation
GS-7 and GS-8: Specific work experience related to the job
GS-9: Master's degree
GS-11: Doctorate
GS-13 to GS-15: Top-level positions
(Read more about the federal job salary and pay scale here: OPM Salaries & Wages.)
9. What Is an Occupational Questionnaire?
An occupational questionnaire is a popular application assessment tool used during the application process to screen and rate applicants for federal jobs.
An occupational questionnaire includes multiple-choice and yes-no questions covering a variety of competencies related to the job in question.
It is quite easy to take online and doesn't need a lot of time.
10. What Is the Civil Service Exam?
There is no longer any centralized civil service exam that covers all federal jobs.
Most federal jobs only rely on verbal interviews.
Some agencies may at times require written tests in the hiring process but that is rare.
If a written test is required, the job announcement will specifically mention all of those details.
11. What Is Veterans' Preference?
As the name suggests, veterans' preference is the preference given to eligible veterans during the appointment procedure over other applicants.
According to the official website of the U.S. Office of Personnel Management, veterans' preference applies to all new appointments in the competitive service and many in the excepted service.
Veterans' preference does not guarantee veterans a job and it does not apply to internal agency actions such as promotions, transfers, reassignments, and reinstatements.
Veterans' preference eligibility can be based on dates of active duty service, receipt of a campaign badge, receipt of a Purple Heart, or a service-connected disability.
However, not all active duty service may qualify for veterans' preference.
(Learn everything about the veterans' preference and types of preference eligibility here: Veterans' Preference.)
12. Can a Non-US Citizen Apply for Federal Jobs?
Generally, only US citizens and nationals can apply for federal jobs.
In rare cases, a federal agency may hire a non-US citizen into the excepted service or Senior Executive Service.
If a job is open to non-US citizens the "who may apply" and "Qualifications" section will specifically mention it.
13. Are There Federal Government Jobs for Students and Recent Graduates?
If you are a student or a recent graduate, you can apply for federal government internships and jobs.
Your options are:
Click the ones that suit your situation and go to the relevant pages for more details.
14. How Do I Get into the Senior Executive Service (SES)?
The Senior Executive Service (SES) consists of key positions just below the top Presidential appointees.
It includes managerial, supervisory, and policy positions classified above GS grade 15 or equivalent positions.
To be qualified for SES positions, you must possess the five Executive Core Qualifications (ECQs):
Leading Change
Leading People
Results Driven
Business Acumen
Building Coalitions
There are two ways for applying to a SES position:
Apply directly to a federal agency for a specific SES position.
Apply for an SES Candidate Development Program (SESCDP).
To apply for a SES position, you need to submit an ECQs narrative, demonstrating that you meet all the qualifications, along with your resume and other required documents.
(Learn more about SES positions here: Senior Executive Service.)
15. What Are the Advantages for People with Disabilities During the Federal Job Application Process?
Persons with disabilities may apply through the non-competitive special hiring authority called Schedule A.
The non-competitive hiring process is easier and faster than the competitive hiring process.
You can also apply through the competitive hiring process and for any other jobs that are open to the public.
(Learn more about Schedule A.)
16. What Are the Special Benefits for Returned Peace Corps Volunteers and AmeriCorps VISTA Volunteers?
If you have at least two years of service with the Peace Corps or one year of service with AmeriCorps VISTA, you may be eligible for Noncompetitive Eligibility.
Noncompetitive Eligibility means that a federal agency can hire you outside of the formal competitive job announcement process.
Your non-competitive eligibility lasts for one year after completing your Peace Corps or AmeriCorps service.
If a job is open to Peace Corps Volunteers and AmeriCorps VISTA Volunteers, the "this job is open to" section of each job announcement will mention that specifically.
You can also use the Peace Corps Volunteers and AmeriCorps VISTA Volunteers filter for specifically searching for relevant jobs.
Key Takeaways
What have we learned here?
Searching for federal jobs is different than searching for civilian jobs.
To search for federal jobs, you have to:
Get familiar with the one-stop federal job search website, USAJOBS.gov.
Create much longer resumes with much more information that is usually not required for a civilian job.
Know your hiring paths, preferences, eligibility, and hiring authorities.
Create a master searchable resume as well as job-specific targeted resumes for your USAJOBS account.
Use the keywords in your profile and resumes properly so that agency hiring officials can find you while searching for candidates.
Be very patient during the usually lengthy process of the federal job search.
This guide compiled all of the essential information in an easy to follow manner to make your federal job search process a bit easier.