Your resume is an important part of the job search. It could very well be the thing that sets you apart from your competition.
This also means that a subpar resume can set your job search back months.
Today we will be reviewing Empire Resume and their resume writing services.
We have taken a deep dive into the customer reviews, cost, resume samples, and writer credentials at Empire Resume. Our overall rating for Empire Resume is 80/100.
Empire Resume
Score
Our goal is to help you find the best resume service that will advance your career. Take a look at some other top-rated resume writing services and find the perfect fit for you!
Best
Empire Resume

Alternatives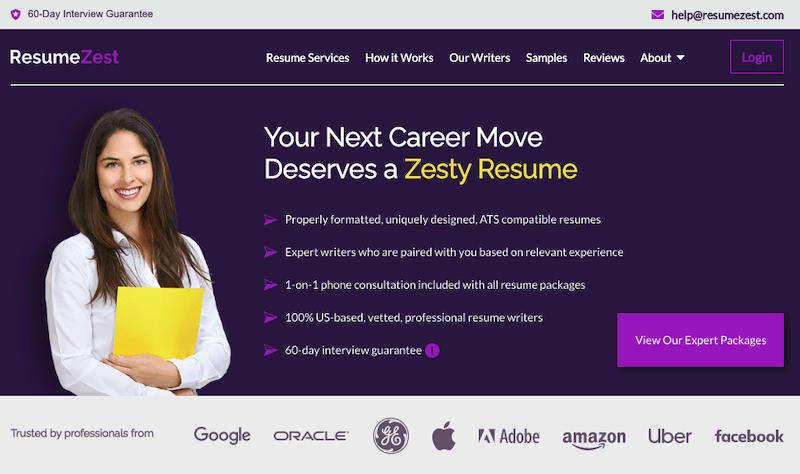 About Empire Resume
Dr. Phillip Steven Gold founded Empire Resume in 2011. Philip is a former USAF captain, who also holds a PhD in Business Administration.
Early in his career, Phil recognized a passion for helping people in their job search. He has been doing it ever since.
So far, Phillip has helped thousands of people craft their resumes. He has also amassed a wealth of experience working with professionals from every career field, at all career levels – from entry-level to C-Suite executives.
Let's dive right into some of the pros and cons when it comes to working with Empire Resume.
Empire Resume Pros vs Cons
As with any company, there are pros and cons. It's up to you to determine what is a "must-have" and what things you can live without.
Pros
Reasonably priced resume service starting at $249.

3 business day turnaround is faster than most services.

Great online customer reviews averaging 4.8 stars.

30-day and 60-day satisfaction guarantees.
Cons
No reviews on third-party sites like Sitejabber and Trustpilot.

Only one resume writing certification.

Website offers no information about the resume writers.

Little to no presence on LinkedIn.
If you are looking for a resume writing service, Empire Resume is a great option, but it is worth exploring other alternatives to find the best fit for your needs.
One such alternative is Find My Profession, who has great online reviews averaging 4.9/5 stars from 900+ previous clients, a quick 3-5 business day turnaround time, and a 60-day interview guarantee.
However, Find My Profession differs from Empire Resume in that they are transparent about their writers (and their certifications) and they have a major presence on LinkedIn, Trustpilot, and Sitejabber.
Empire Resume Customer Reviews

Our Certified Professional Resume Writers have rated Empire Resume an 80/100. Additionally, Empire Resume has received customer reviews of 5/5 on Google, 5/5 on Facebook, and 4.5/5 on Yelp. Overall, Empire Resume has excellent customer reviews which says a lot about their resume quality.
Google shows 180 reviews with an average rating of 5/5. We found it quite impressive that more than 100 of the reviews are 5-star.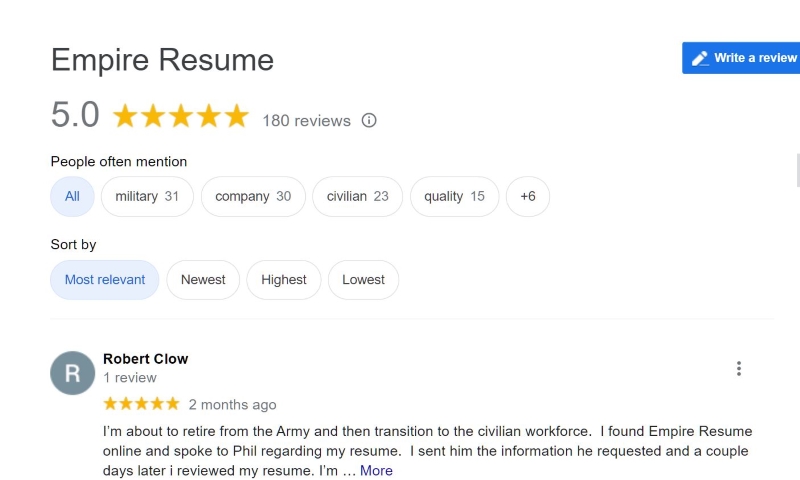 Facebook shows 10 reviews with an average rating of 5/5. Nearly all the reviews mention that they landed new jobs after using Empire Resume's services.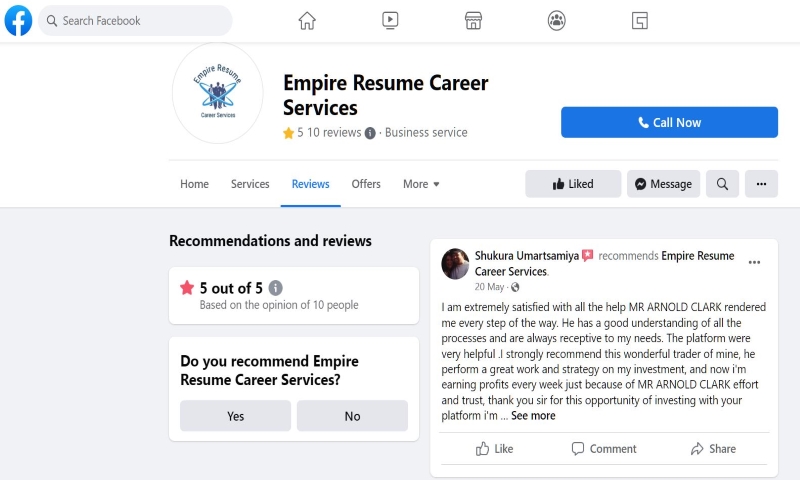 Yelp shows 3 reviews with an average rating of 4.5/5. Two of the three reviews said that they got a job offer after getting their resume written by Empire Resume.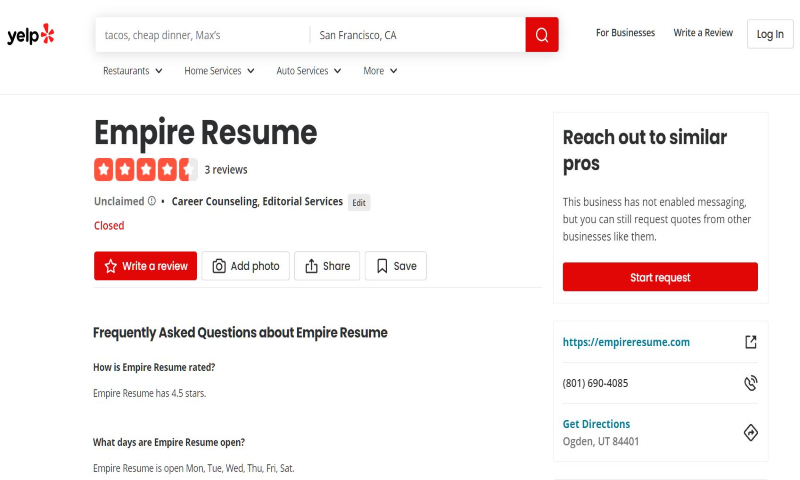 As with anything, it's important to take each review with a grain of salt. Additional research should be done beyond reading the reviews that are found online.
How Much Does Empire Resume Cost?

Empire Resume's packages cost $249 – $349. This falls somewhere between the low to medium prices in the industry. Considering their great online reviews, this is a very reasonable price.
$279
There are four packages to choose from – Basic ($249), Standard ($279), Advanced ($299), and Expert ($349).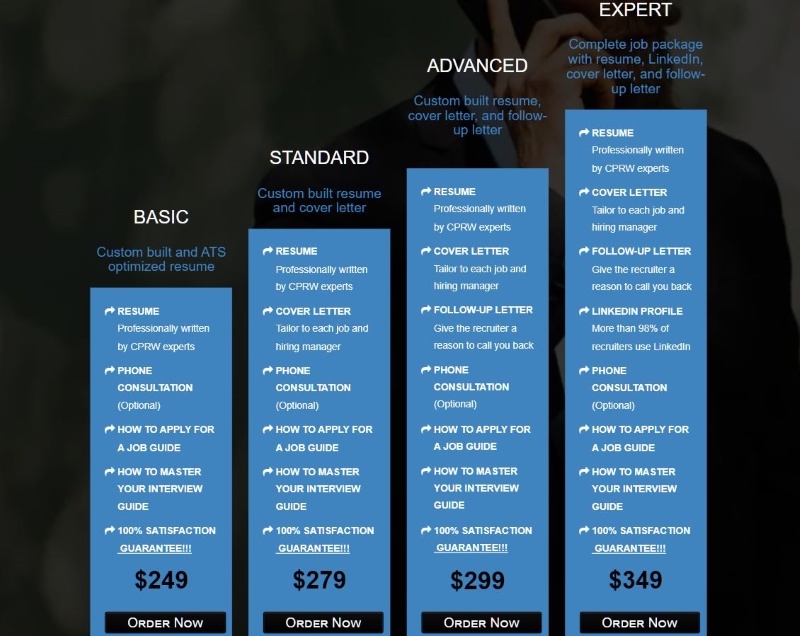 The main difference between the four packages has to do with the types of services that you receive.
The Basic package includes a custom-built and ATS-optimized resume, phone consultation, a 100% satisfaction guarantee, and two guides about "How To Apply For A Job" and "How To Master Your Interview" ($249).
The Standard package includes everything in the Basic package plus a cover letter ($279).
The Advanced package includes everything in the Standard package plus a follow-up letter ($299).
The Expert package includes everything in the Advanced package plus a LinkedIn profile ($349).
For the most accurate and up-to-date details on package pricing at Empire Resume, we recommend that you visit their website directly.
Empire Resume – Resume Sample
We wanted to see what the resume quality of EmpireResume.com looked like so we took a look at some of the resume samples featured on their website.
We've attached one of Empire Resume's resume samples for you to review (first page only). Below, we share some of the things that we liked, and what we disliked about this resume.
The Good
 The format is compatible with ATS requirements.

 Includes a clear target job title at the top of the resume.

 Has a strong impact statement to start of the resume.

 Contains keywords relevant for the job target.
The Bad
Key accomplishments are not results-focused.

Accomplishments section is too long.

Uses flowery language that distracts from the specific accomplishments.

Professional experience section gets lost in the formatting.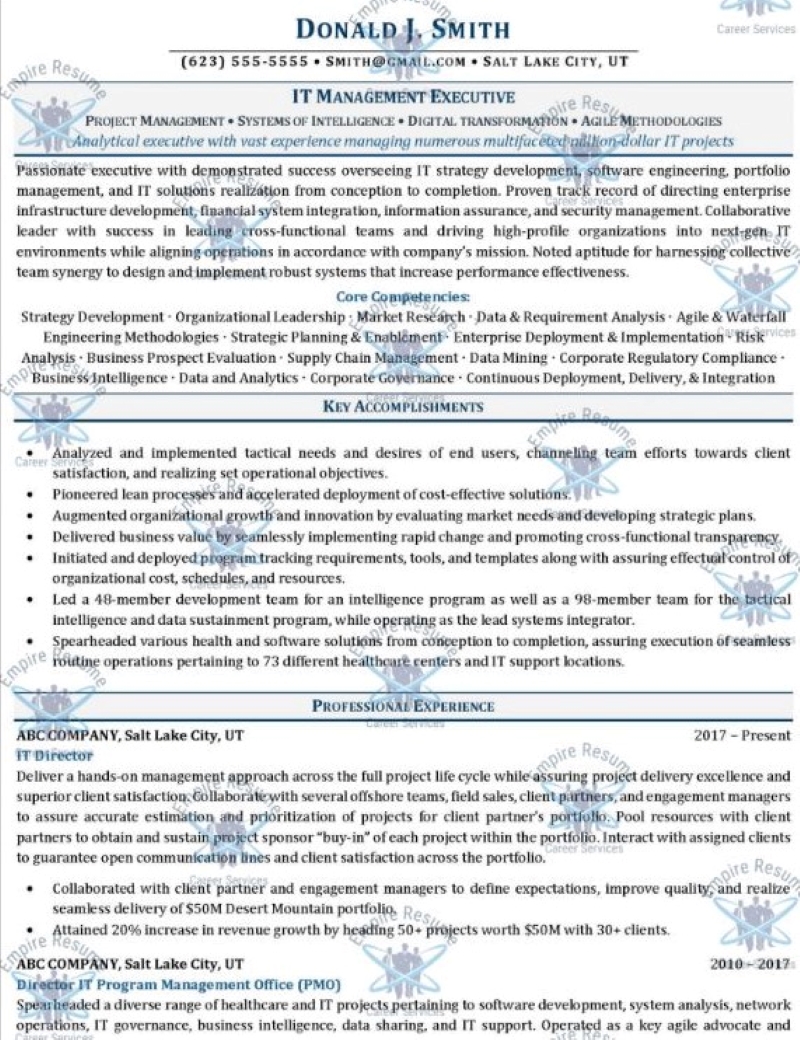 Empire Resume Writer Credentials
One of the major shortcomings of Empire Resume is the lack of details on their writing team.
We did a bit more digging and searched LinkedIn for "resume writers" that work at Empire Resume. Dr. Philip Steven Gold and another writer from Nairobi, Kenya were the only employees found on LinkedIn.
We'd recommend that you contact Empire Resume and ask who you'll be working with. If you are working with Phil, you are likely in great hands. But, it's hard to say how experienced the other writers are.
Empire Resume Writing Process
EmpireResume.com follows a straightforward and simple operating procedure for getting your resume written.
Let's look at the steps taken in Empire Resume's resume writing process below:
Choose the Basic, Standard, Advanced, or Expert package and then make your payment.
They will send you a career questionnaire.
Fill out the questionnaire and send it along with your old resume.
At this stage, you can choose to have the optional phone consultation with the resume writer (we highly recommend having a phone consultation).
You will receive your resume draft in three business days.
Once you've received your resume, you can send feedback or request edits for any changes.
Empire Resume states that they will rewrite your resume if you do not get an interview after 30 and 60 days. This is quite generous of them, as not all companies offer interview guarantees.
Is Empire Resume Worth It?
Whether or not Empire Resume is worth it is entirely up to you.
Our goal is to provide you with the most transparent and helpful information possible. But, only you know what is best for you and your career.
Here is a summary of our findings on Empire Resume written and reviewed by a Certified Professional Resume Writer:
Customer Reviews: 25/25
Cost to Value: 25/25
Sample Quality: 15/25
Writer Credentials: 15/25
Total Score: 80/100
As a reminder, we highly recommend reviewing 2-3 services before making a final decision.
If you're in need of a top-notch resume writing service, we suggest checking out Find My Profession. With a team of experienced reverse recruiters and a commitment to customer satisfaction, Find My Profession can help you find your dream job. And with a perfect score of 100/100, you can trust that you'll be in good hands!