So, you need help with your job search and you're considering hiring an agency to help bridge the gap.
You've possibly heard about The Barrett Group's career management services and are wondering if they're worth the investment.
You've come to the right place! Today we will be reviewing The Barrett Group and their managed job search services.
We have taken a deep dive into the customer reviews, cost, services offered, and staff at The Barrett Group. Our overall rating for Barrett Group is 80/100.
The Barrett Group
Score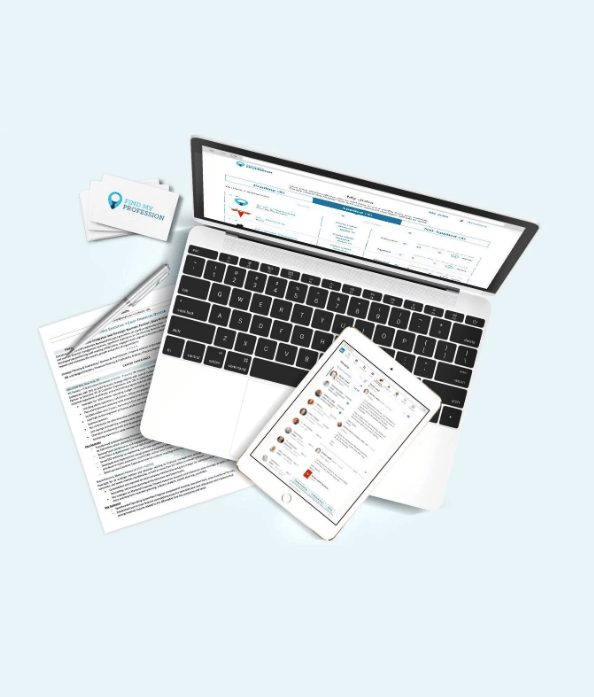 Looking for a higher-rated service?
Find My Profession's Reverse Recruiting Service is rated 100/100 and your dedicated reverse recruiter will manage your entire job search for you!
About The Barrett Group
The Barrett Group was founded in 1990 and is headquartered in King of Prussia, Pennsylvania.
In 2018, Peter Irish took over as CEO to bring The Barrett Group back to its former glory.
The Barrett Group is a career management firm that works only for their clients, not for the companies interested in hiring them.
This approach allows them to be exclusively focused on the best interest of their clients and guiding them to a high level of achievement in their executive job search.
The Barrett Group provides coaching in all aspects of career management including job search, career change, and how to best employ the services of professional recruiters (executive recruiters, headhunters, and staffing agencies).
The Barrett Group Pros vs Cons
As with any company, there are pros and cons. It's up to you to determine what is a "must-have" and what things you can live without.
Pros
30+ years in the business.
A+ rated with BBB.
Exclusively focused on executive jobs.
Detailed and extensive 5-step process.
Cons
A handful of strange and negative customer reviews.
Extremely high cost at $9,000+.
They do not apply to jobs for you.
No satisfaction or interview guarantees.
Our goal is to help you find the best service that will advance your career. Take a look at some of our top-rated reverse recruiting services and find the perfect fit for you!
Best
Barrett Group

Alternatives



The Barrett Group Customer Reviews

Our career experts have rated The Barrett Group a 80/100. Additionally, The Barrett Group has received a 4.2/5 on Google, 4.67/5 on BBB with an A+ rating, and a 5/5 on Facebook. For a company that has been around for 30 years, we'd expect to see more reviews on trusted third-party sites like Trustpilot, Sitejabber, or Yelp.
Google shows 31 reviews with an average rating of 4.2/5. While most of the reviews are positive, we were disappointed to read about someone's experience spending $9,000+ and getting no results.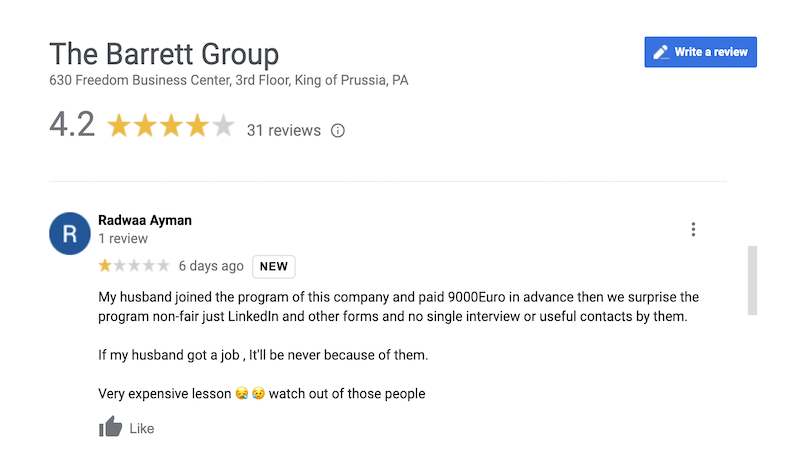 BBB shows 12 reviews with an average rating of 4.67/5 stars and an A+ rating. This seems to be the primary review source for The Barrett Group with only positive reviews from their customers.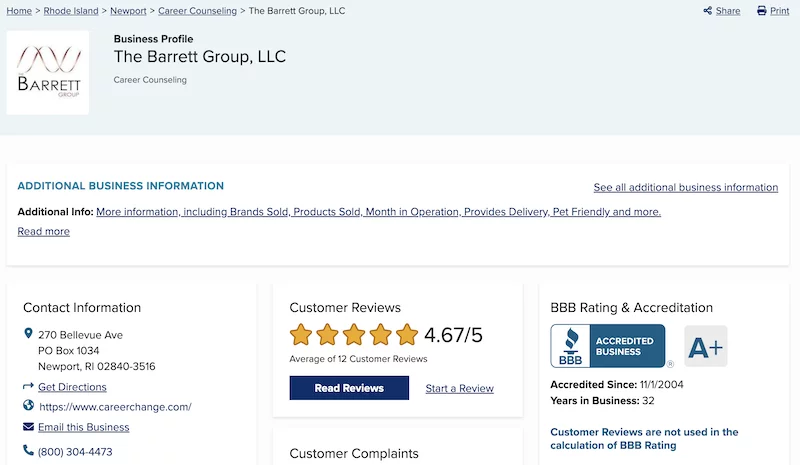 Facebook shows 6 reviews with an average rating of 5/5. We were a little confused by the reviews we found on Facebook. Many of the reviews mention "trading" (see below) and seem to be fake/spammy.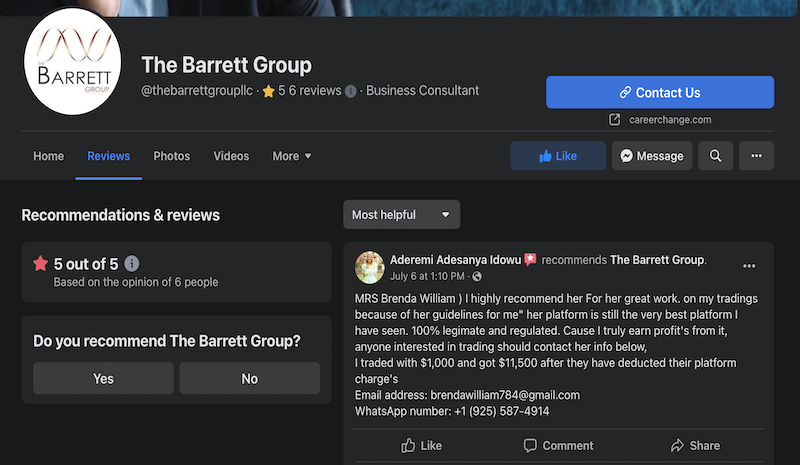 As with anything, it's important to take each review with a grain of salt. Additional research should be done beyond reading the reviews that are found online.
How Much Does The Barrett Group Cost?

The Barrett Group charges $9,000+ upfront for their career management services. Unfortunately, prices are not transparently listed on their website and will be custom quoted. We've heard clients paying over $12,500 for The Barrett Group services.
$10,750
To be clear, The Barrett Group is not a recruiting or staffing agency. They are not headhunters. They work as reverse recruiters which means they work directly for the job seeker.
The benefit of reverse recruiting is that they are completely invested in your job search. The downside is that all fees are paid directly by the job seeker.
So yes, the $10,000+ price tag would be paid by you upfront (not after you get hired).
For the most accurate and up to date details on package pricing at The Barrett Group, we recommend that you visit their website directly.
The Barrett Group Process
The Barrett Group has a very clear process for working with them. They use a proprietary 5-step methodology which can be applied to every job function, industry, and region.
The steps are:
Clarity Program©
Personal Branding and Campaign Development (a.k.a. Packaging)
Market Access
Preparation for Interviews and Offer Negotiation
Onboarding
Each step can be further explained on their website, but we will do our best to summarize them here.
Clarity Program©
The Clarity Program is designed to improve your self-knowledge through the administration of personality assessments and discussions with a personal Clarity coach over four sessions.
In the Clarity Program, The Barrett Group will ask clients to rank their overall happiness in four categories: financial independence, business success, family and relationships, and health and fitness. We then ask them to set short- and long-term goals to boost the scores in all four areas.
This process gives people clarity on what is right and wrong about their lives and helps them make more informed decisions. It gives them a roadmap.
Personal Branding and Campaign Development (a.k.a. Packaging)
The Barrett group will help you quantify your value with solid metrics and show you how to tailor it to a specific audience / employer via resume, cover letter, and LinkedIn profile.
By eliminating the generic and broad-based resume, you ensure that the reader views you as a perfect fit.
They also coach you to strengthen and expand personal connections and to build your social capital, using clear milestones for each stage, to enhance the influence of your personal brand.
Market Access
The Barrett Group will teach you how to get a seat at the table with the decision makers, first by identifying industries and companies in the locations you desire, then by using their proven social capital methodologies to leverage personal connections.
They will provide contact information for key decision makers, plus scripts and strategies, to enable you to target and talk to the right people.
Preparation for Interviews and Offer Negotiation
The next stage in the process is interview preparation. TBG will help you anticipate tough questions and develop fluid, authentic responses.
They identify significant gaps and potential pitfalls you may face during the interview process, and coach you to understand your audience so that you can tailor your comments to their unique concerns.
Finally, once you've received an offer The Barrett Group will review your offer, walk you through a proposed compensation package line-by-line in a round table with their consulting team, then coach you to optimize the final offer.
Onboarding
The Barrett Group will collaborate with you to create a 100-day onboarding plan. This includes an evaluation of the organizational landscape, an analysis of functional interdependencies, and they coach you on how best to navigate your new environment.
The extensive 5-step process offered by The Barrett Group is designed to guide you through each layer of the job search process.
This is very similar to the services offered by Find My Profession, except FMP does most of the work for you (networking, job applications, etc) while The Barrett Group coaches you how to do it yourself.
The Barrett Group Team
The Barrett Group's team consists of roughly 60 individuals with varying responsibilities. These responsibilities include staff writers (11), program managers (16), clarity coaches (3), career consultants (13), marketing professionals (10), and executive leaders (5).
Peter Irish took over as CEO of the Barrett Group in 2018. His background is in advertising, amusement parks, consumer goods (food and hygiene products), POS and packaging, and consulting industries.
Overall, The Barrett Group team seems to enjoy their workplace. They have a 4.4/5 star rating on Glassdoor and 100% of the employees would recommend working there to a friend.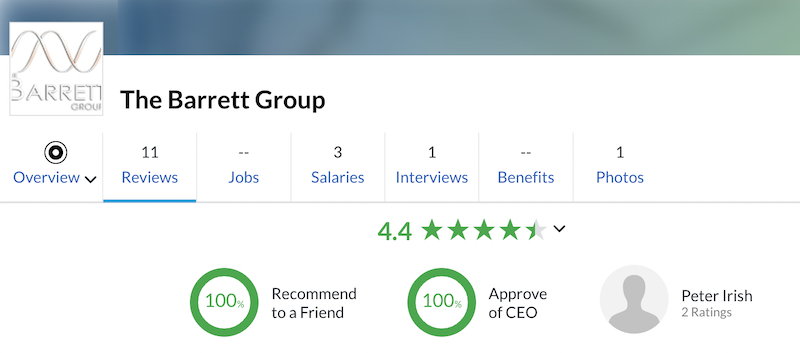 Is The Barrett Group Worth It?
Whether or not The Barrett Group is worth it is entirely up to you.
Our goal is to provide you with the most transparent and helpful information possible. But, only you know what is best for you and your career.
Here is a summary of our findings on Barrett Group written and reviewed by certified and professional career experts:
Customer Reviews: 20/25
Cost to Value: 20/25
Time Savings: 15/25
Team Knowledge: 25/25
Total Score: 80/100
As a reminder, we highly recommend reviewing 2-3 services before making a final decision.
It's helpful to understand the different services, prices, and personal time commitment before choosing a reverse recruiting service.