As far as the job sector is concerned, Steel City is quite strong compared to other similar metro areas.
However, in the same vein, the competition is strong here as well.
In order to be a champion in your job hunt, you need a stellar resume.
That's why we have created this list of the best resume writers in Pittsburgh.
You won't have to sort through the hundreds of Google results to find one.
We have ironed out the details and included the top resume writing services in The 'Burgh in the list below.
Pittsburgh Resume Service Criteria
Each of the Pittsburgh resume services below was reviewed by a Certified Professional Resume Writer (CPRW) taking into consideration the following:
Cost: The cost of the service compared to other Pittsburgh resume writers.
Turnaround: The speed at which the resume is completed.
Credentials: Overall experience, awards, and certifications.
Resume Design: The design, style, and overall look of the resume.
Customer Service: Guarantees, number of edits, and reviews.
This list was hand-curated to serve all industries, professions, and career levels. While many of the writers on this list are from Pittsburgh, these services are virtually available whether you are in Pittsburgh, New Castle, Indiana, Brookville, Altoona, Oil City, or any other Pennsylvania city.
Best Resume Services in Pittsburgh
1. Find My Profession
Find My Profession is much more than a Pittsburgh resume writing service. We are a global company whose work has been featured on sites like Forbes, Inc, Zety, Fast Company, and more.
Our elite resume writing team has experience in 85+ industries/professions. This allows us to assign you a professional writer based on your unique background and experience.
We have successfully landed our clients positions at companies like Apple, Amazon, EA, Oracle, GM, Facebook, DoJ, Morgan Stanley, Gap, and 2U just to name a few.
Find My Profession has 650+ 5-star reviews and offers a 60-day interview guarantee. Every resume created is Applicant Tracking System (ATS) compatible and highly customized to meet your specific needs.
Pros: You will work one-on-one with a resume writer in the United States. Find My Profession commits to working with each client until they are 100% satisfied. Don't worry about having a limited number of edits or a set amount of time with your writer.
Cons: Find My Profession is a virtual company. While we provide services in Pittsburgh, we don't have a physical office for in-person visits. You'll communicate directly with your writer via email and phone calls.
Reviews: 5/5 based on 124 Google reviews, 5/5 based on 8 BBB reviews, 5/5 based on 35 Facebook reviews, 4.9/5 based on 304 Trustpilot reviews, 4.7/5 based on 255 Sitejabber reviews
Turnaround: 3 – 5 business days (can expedite to 2 business days)
Cost: $395 – $995
Contact: (831) 888-0967 or help@findmyprofession.com
Check out some of our 5-star reviews:
2. ResumeZest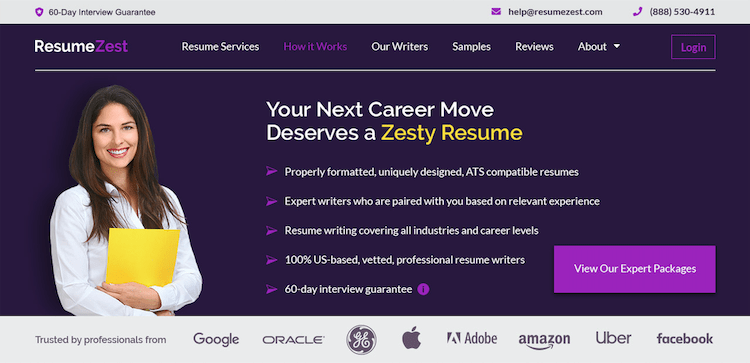 ResumeZest is trusted by professionals from companies like Google, Amazon, Apple, Oracle, GE, Adobe, Uber, and Facebook. Their resume writing team has written resumes for more than 75 industries. A 60-day interview guarantee backs up every resume they write. Each resume is also ATS compliant and keyword-optimized.
Pros: ResumeZest is a very well-rounded company. They offer affordable pricing and quick turnaround times. You will work with a high-quality, certified writer and receive excellent customer service. They are also members of the Professional Association of Resume Writers and Career Coaches (PARW/CC).
Cons: ResumeZest is one of the newer companies on this list. While they do a great job and their writers have many years of experience, the company was only founded in 2020.
Reviews: 5/5 based on 9 Facebook reviews, 5/5 based on 50 Google reviews, 5/5 based on 3 Yelp reviews, 4.8/5 based on 56 Sitejabber reviews, 4.8/5 based on 52 Trustpilot reviews
Turnaround: 3 – 5 business days (can expedite to 2 business days)
Cost: $179 – $379
Contact: (888) 530-4911 or help@resumezest.com
Visit ResumeZest
3. Storeyline Resumes
Storyline Resumes was founded by Robynn Storey in 2000. She has a powerful approach to resumes based on her experience as an HR executive. Robynn has a small, hand-picked team of professional resume writers based in Greensburg, PA. Their clients typically enjoy a 300% increase in interview requests.
Pros: Storyline Resumes commits to working with you until you are happy with the resume. Also, you get unlimited revisions for at least 10 days after you receive the first draft.
Cons: The website lacks detail about the writing team and their credentials. Also, there are no resume samples on the website for you to evaluate the service.
Reviews: 4.7/5 based on 258 Google reviews, 4.2/5 based on 15 BBB reviews, 3.5/5 based on 51 Yelp reviews, 4/5 based on 7 Facebook reviews
Turnaround: 6 – 8 business days (can expedite to 24 hours)
Cost: $399 – $699
Contact: (724) 832-8845 or storeyline01@comcast.net
4. Elevate Resume Services
Elevate Resume Services takes your experiences as a holistic individual and creates a resume finely tailored to you. L. Fusco is the voice behind Elevate Resume Services. The company was born in 2013 when L. lent a hand writing a resume for a friend. Since then, she has helped countless clients.
Pros: Fusco has built relationships with career consultants, recruiters, professional coaches, and interview coaches in Pittsburgh. You can utilize these connections to improve your chances of getting a job.
Cons: Elevate Resume Services has one of the longest turnaround time in the resume writing industry. You will need to check if expedited service is available if you need your resume sooner.
Reviews: 4.9/5 based on 71 Google reviews
Turnaround: 5 – 7 weeks (can expedite)
Cost: $250 – $450
Contact: (717) 968-4862 or fusco@elevateresume.com
5. MJ's Resumes
MJ's Resumes has one of the fastest turnaround times that you can find without having to pay a rush fee. Mary Jo Latorre is a Master Resume Writer, a distinction that very few resume writers hold. Additionally, Mary Jo has written over 15,000 resumes since 1990 as owner of MJ's Resumes.
Pros: MJ's Resumes specializes in many industries, including blue-collar and unique jobs. You can get a free and comprehensive critique of your existing resume before using the service. Edits to your resume are taken care of with very short wait times.
Cons: The website lacks details about the resume writing process. Also, there is no option to purchase services directly from the website. You will need to contact Mary to get a quote and more information.
Reviews: 5/5 based on 3 Google reviews, 5/5 based on 12 Thumbtack reviews, 5/5 based on 3 Bark reviews, 5/5 based on 1 Yellow Pages review
Turnaround: 1 – 3 business days (can expedite to 24 hours)
Cost: $165 – $350
Contact: (724) 348-4461 or mjl8@comcast.net
6. Jennifer E. Free Creative Services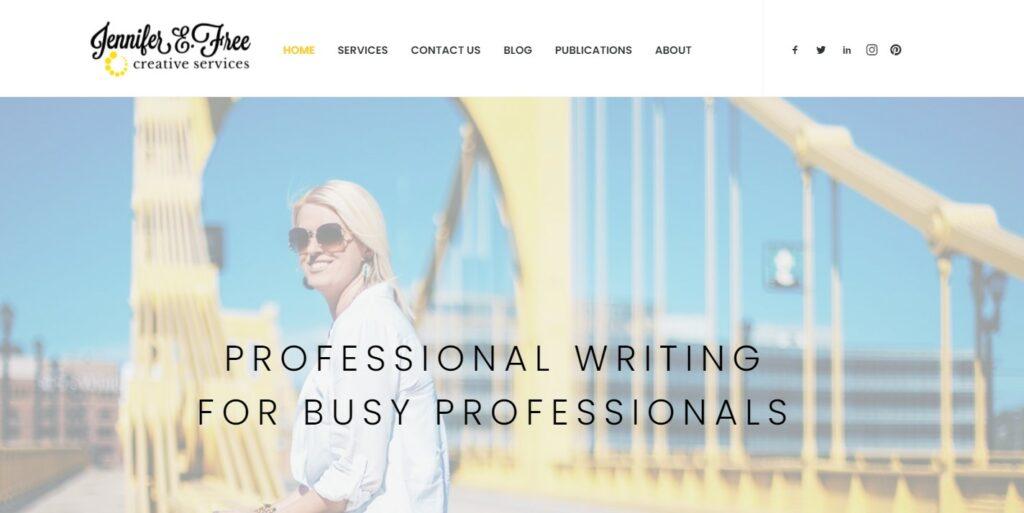 Jennifer E. Free Creative Services is a boutique firm specializing in resume writing services. Jennifer E. Free is the chief writer at the firm who works with clients across a variety of industries. She is also a contributing writer for Pittsburgh Parent Magazine and USA Ball Hockey.
Pros: Jennifer has an extensive professional background in almost every industry including finance, education, management, hospitality, non-profits, social work, and more. You can take advantage of other services such as interview coaching, resume editing, LinkedIn profile development, and more.
Cons: There are no resume samples to review on the site. They do not provide any interview guarantee either. Also, there's a waiting list for the services during peak months (August – April). The lowest-priced package starts at $500, which is pretty high.
Reviews: 5/5 based on 5 Facebook reviews
Turnaround: 4 – 6 weeks during summer months (can expedite)
Cost: $500 – $900
Contact: (724) 331-8850 or jenniferefree@gmail.com
Visit Jennifer E. Free Creative Services

Bonus: Top Pittsburgh Resume Winners (2021)
Find My Profession, Storeyline Resumes, Elevate Resume Services, MJ's Resumes, You're Hired