A good resume can serve as the key to unlocking the next breakthrough in your career.
You don't want to risk getting your resume done by any average resume company.
Wondering if ResumeWritingGroup.com would be a good match for you? You have come to the right place.
Our expert team of researchers has looked into every aspect of this resume service. We have assessed their cost, customer reviews, writing process, and writer qualifications.
You will find all that you need to know about ResumeWritingGroup.com in this article.
Read on!
ResumeWritingGroup.com – Resume Service Review
ResumeWritingGroup.com, headquartered in Clermont, Florida, has been offering resume writing services since 2003.
The company has worked with clients from virtually all industries. They are also experienced in serving all career levels and situations, including federal workers and career changers.
So far, they have served over 125,000 clients in nearly a dozen countries worldwide.
Let's look more closely at the pros and cons of working with ResumeWritingGroup.com.
Pros:
You'll have access to a customer service area where you can login and communicate directly with the writing team at any time.
The pricing of the resume services is very affordable. In fact, ResumeWritingGroup.com offers some of the most affordable packages in the industry.
You can contact them for resume writing services 24 hours a day, 7 days a week.
ResumeWritingGroup.com also offers a unique kind of resume guarantee. They guarantee that you will get a job within 45 days of getting your resume.
Otherwise, they will refund your money, plus give you an additional $100.
However, you have to show proof that you have applied for at least 40 jobs following their strict advice and resume distribution guidelines.
Cons:
Their resume writing process does not appear to include a phone consultation with a resume writer.
Although they say that the telephone is one of the options for communication, the Q&A section avoids giving a direct answer to the question of phone consultations.

Another possible concern is that there are no details available about the founder of the company.
Also, they do not mention how many resume writers work at ResumeWritingGroup.com. We couldn't find any certified resume writers in the writer bios available on the website.
How Much Does ResumeWritingGroup.com Cost?
ResumeWritingGroup.com offers some of the most affordable resume packages for all levels of professionals.
ResumeWritingGroup.com has four resume packages to choose from.
Entry-level resume package priced at $99.
Professional resumes at $119.
Executive resumes at $199.
Federal resumes start at $189.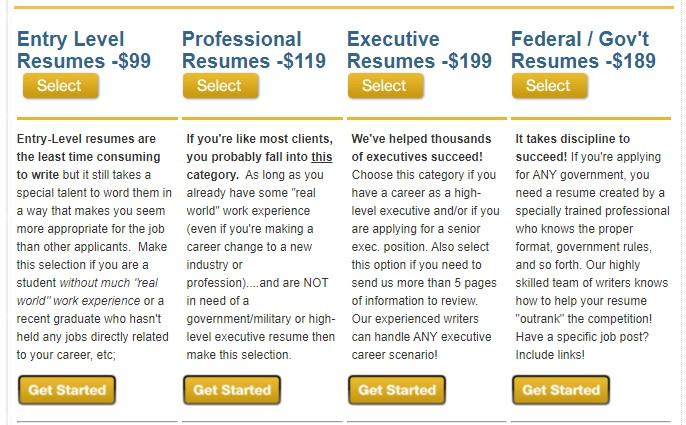 For a federal resume, you will have to pay an additional $69.95 per question for KSA (Knowledge, Skills, and Abilities) responses.
While ordering, you'll also be able to select add-on services including cover letters, career coaching, LinkedIn profile writing, and others.
ResumeWritingGroup.com Resume Writing Process
The resume writing process from ResumeWritingGroup.com looks to be fast and easy.

Here's how the usual resume writing process of ResumeWritingGroup.com looks like:
While buying your resume package, you will have to submit your resume or complete a career information questionnaire.
After payment, you will receive an order ID via email.
The assigned resume writer will reach out to you to start the writing process.
You can communicate with your writer via phone, email, or the client-service interface.
Your resume will be delivered within 2-3 business days for entry-level and professional packages and 4-5 business days for executive and federal resumes.
The writer will keep working on revisions until you are satisfied.
You can order their rush service to get your resume within 1-2 business days for entry-level and professional packages, and 3 business days for executive, federal, and military resumes.
ResumeWritingGroup.com Writing Team
ResumeWritingGroup.com hires only seasoned full-time professionals in the United States or Canada.
Although the exact number of writers working for the company has not been mentioned on the website, there are bios available of 12 writers on the team.
Most of the writers mentioned are experienced in resume writing. Many of the writers come from a wide variety of backgrounds, from admin support and recruiting to healthcare.
A potential drawback is that none of the writer bios mention having any resume writing certifications.
ResumeWritingGroup.com Customer Reviews
You'll find that online customer reviews of ResumeWritingGroup.com are mostly positive.
Among the total of 204 Google reviews, the company has received only 14 one-star reviews.
However, we find it concerning that they stopped replying to negative Google reviews a year ago.
On Google, the resume service has an average rating of 4.6 out of 5.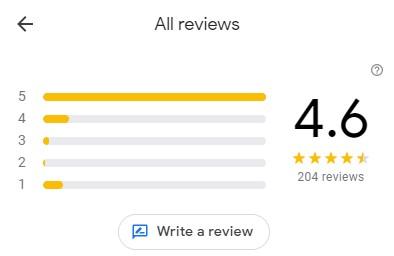 The customer complaints on Google center around poor customer support, lack of timely communication, and poor resume quality.
On Trustpilot, the company has received 51 customer reviews, of which approximately 10% are "poor" and "bad" reviews.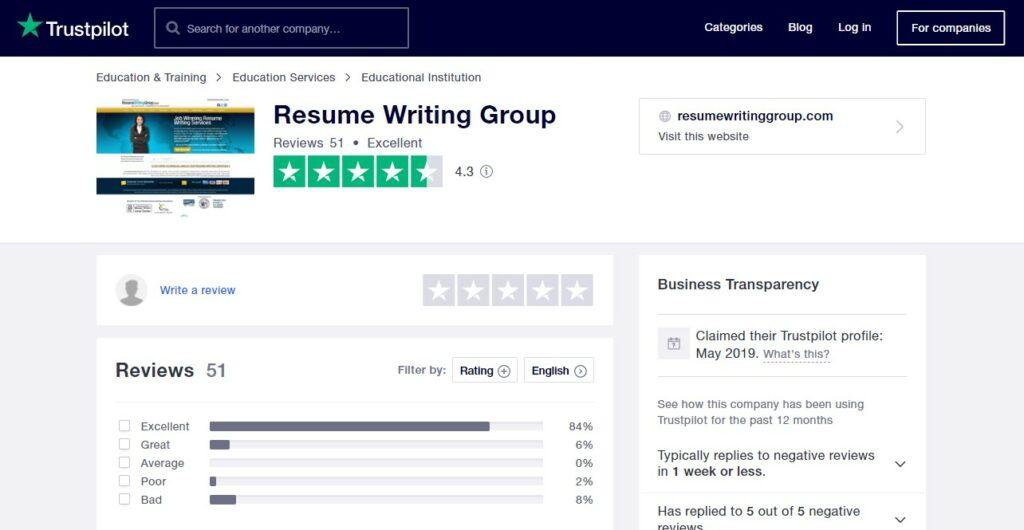 The good thing about the company is that they are seen consistently replying to negative reviews on Trustpilot.
On Trustpilot, most customer complaints center on poor resume quality.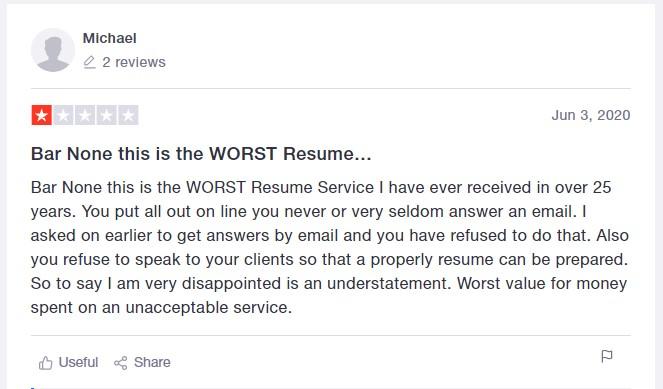 On Sitejabber, ResumeWritingGroup.com has 16 customer reviews, out of which 12 are 5-star reviews.
They have a score of 4.1 out of five on Sitejabber.

The common complaints about resume quality and customer service were also seen here: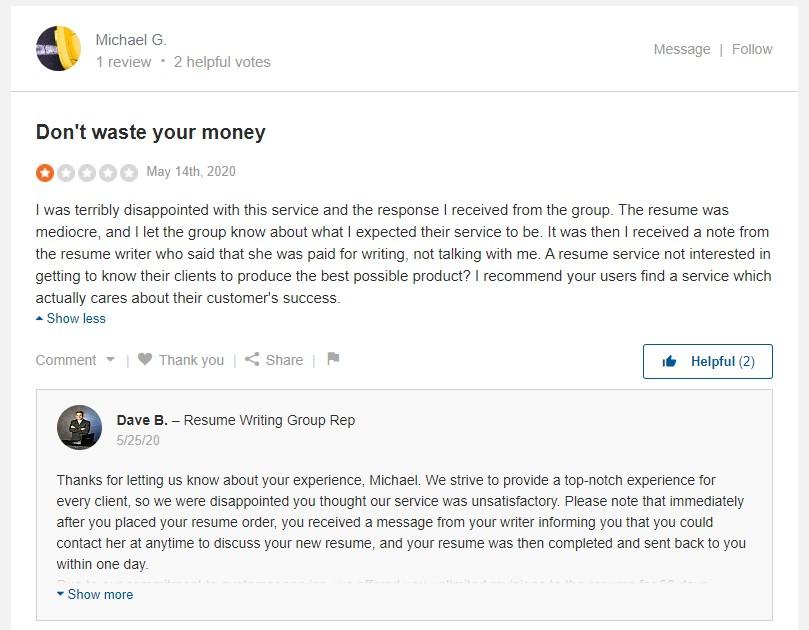 ResumeWritingGroup.com seems to be doing the best on another review platform called Feefo.
On Feefo, they have an average rating of 4.7 out of 5 based on 56 service ratings from the last 12 months.

There's only one 1-star review among the 56 on Feefo.
ResumeWritingGroup.com – Resume Sample
We headed over to the resume examples section to get an actual feel of the resumes created by ResumeWritingGroup.com.
We found over a dozen resume samples displayed on the website.
Here's a resume sample from ResumeWritingGroup.com for you to review (first page only).
If you'd like to see all of the resume samples from this company, click on the image of the resume sample below to be taken to their resume samples page.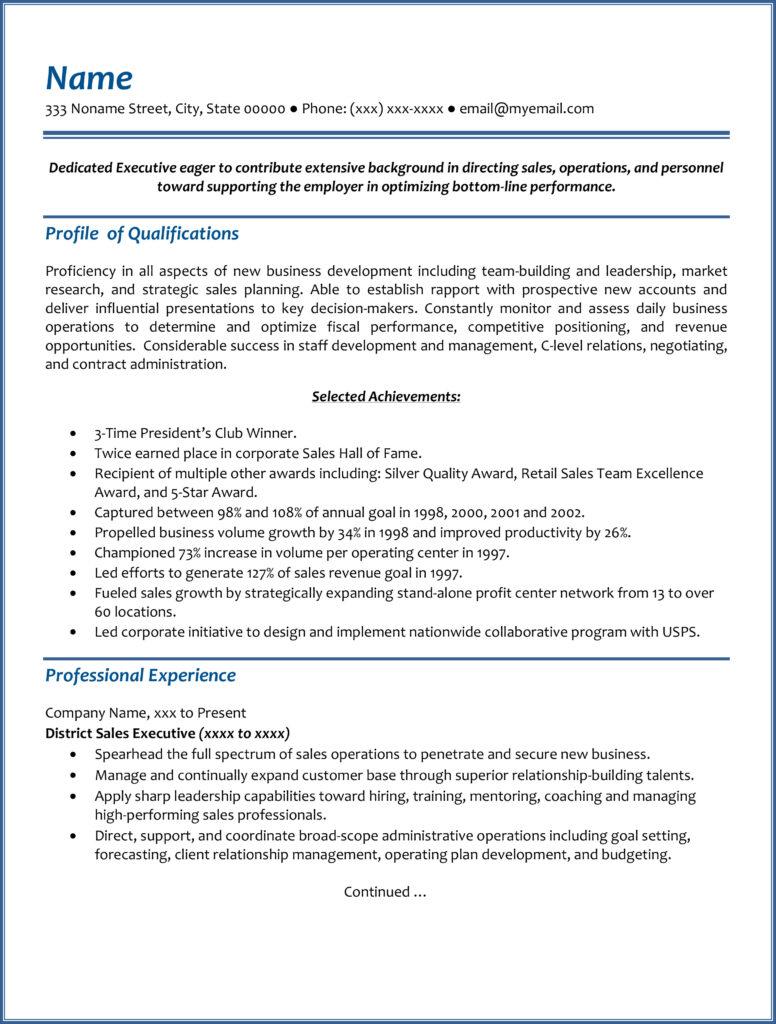 Key Takeaways
Our rating for ResumeWritingGroup.com is 8.2/10.
The years of experience, a wide range of industry expertise, and affordable pricing largely contribute to their being a strong resume service provider.
The company also has a significant number of positive customer reviews on multiple review platforms.
That being said, they also have their share of shortcomings. The lack of certified resume writers on the team is a major one. Also, the writing process doesn't usually include a phone consultation with the writers.
Your resume is one of the most important documents in your professional life.
You should always review and talk to multiple companies before you make your final decision.
What Is a Better Alternative to ResumeWritingGroup.com?
Never settle for a resume writer without reviewing all the options available.
Choose your resume writer after carefully reviewing at least 2-3 resume writing companies out there.
We would recommend putting our company, Find My Profession, on your shortlist.
We have a dedicated team of certified professional resume writers covering 85+ industries. All of our writers are US-based.
We also include a phone consultation with your resume writer with every resume package. The more we know about your career background, the better we can help you craft a terrific resume.
Moreover, we have more than 200 five-star reviews on sites including Trustpilot, BBB, Sitejabber, and Google.
Please take a tour of Find My Profession services. We are confident that our reputation and quality of service will fit your specific career needs.