Your resume is an important part of the job search. It could very well be the thing that sets you apart from your competition.
This also means that a subpar resume can set your job search back months.
Today we will be reviewing ResumeWriters.com and their resume writing services.
We have taken a deep dive into the customer reviews, cost, resume samples, and writer credentials at ResumeWriters.com. Our overall rating for ResumeWriters is 45/100.
ResumeWriters.com
Score
Our goal is to help you find the best resume service that will advance your career. Take a look at some other top-rated resume writing services and find the perfect fit for you!
Best
ResumeWriters.com

Alternatives




About ResumeWriters
Author, podcast host, and speaker Brian McCullough founded ResumeWriters.com in 1999.
Brian was still in college at the time, but over 20 years have passed since then. Today, the company is one of the largest networks of independently contracted resume writing professionals on the internet.
ResumeWriters.com offers resume, CV, cover letter, and LinkedIn profile writing services to students up to executive-level professionals. But our focus here is their resume writing services.
ResumeWriters.com proudly displays this tagline on their website: "The #1 Resume Writing Service in the world."
You might be wondering if that's true, or if it's just a stretch.
Well…let's find out.
Let's dive right into some of the pros and cons when it comes to working with ResumeWriters.com.
ResumeWriters Pros vs. Cons
As with any company, there are pros and cons. It's up to you to determine what is a "must-have" and what things you can live without.
Pros
20+ years of resume writing experience.

Affordable resume service priced at $169.95 – $389.95.

24 – 72 hour turnaround time is quicker than most services.

60-day interview guarantee on all resume writing packages.
Cons
Website does not mention any resume writing certifications.

Little to no online reviews despite 20+ years of work.

Details of resume writers are not available on the website.

No central quality control as the resume service is sometimes outsourced.
If you are looking for a resume writing service, ResumeWriters.com is an affordable option, but it is worth exploring other alternatives to find the best fit for your needs.
One such alternative is Find My Profession, which also offers a quick turnaround and a 60-day interview guarantee.

However, Find My Profession differs from ResumeWriters.com in that they have a 4.9/5 rating from 900+ previous clients, are transparent about their writers (including their certifications), and all resumes are written in-house and never outsourced.
ResumeWriter Customer Reviews

Our Certified Professional Resume Writers have rated ResumeWriters.com a 45/100. Additionally, ResumeWriters.com has received customer reviews of 3.2/5 on Trustpilot, 1/5 on BBB with an A+ rating, and 8.2/10 on Resumehelpservice. These reviews are disappointing to say the least. One would expect a company with over 20 years of working experience to have way more reviews than this.
Trustpilot shows 1 review with an average rating of 3.2/5. Just one review and they still didn't get it right. The user described the service as a regrettable experience.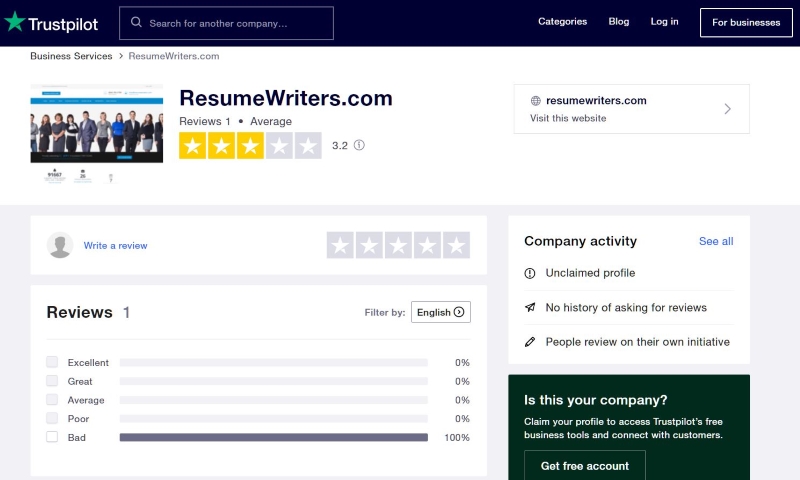 BBB shows 1 review with an average rating of 1/5. We've seen this review fall from 2.23 to 1 within the last year. Seems their work keeps getting worse despite their A+ rating.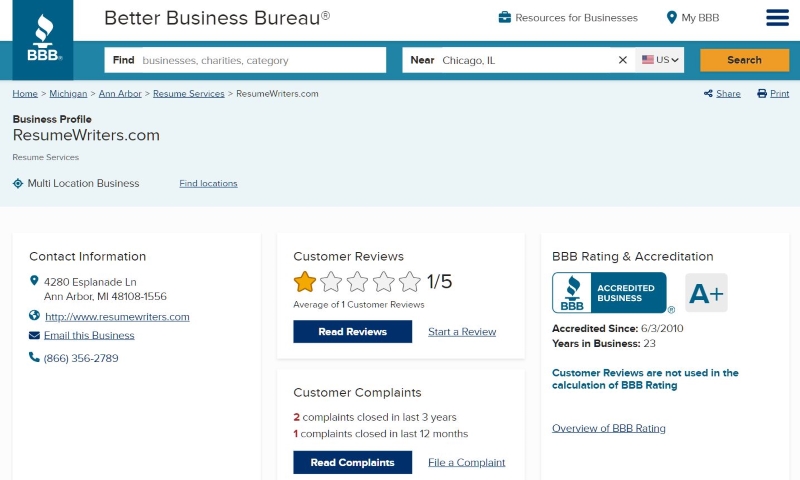 Resumehelpservice shows an average rating of 8.2/10. Going by the detailed ratings, it seemed customers had an enjoyable experience.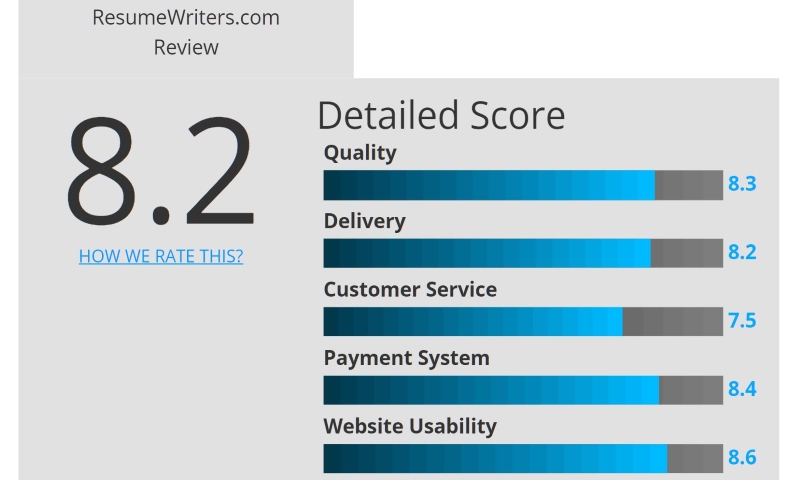 It's surprising that a service that boasts having 250,000+ satisfied clients has so few online reviews.
Their website features tons of testimonials from satisfied clients though. However, it's hard to testify to the veracity of said testimonials.
In order to maintain the integrity of this review, we only feature reviews from third-party websites such as Google, Sitejabber, Trustpilot, or BBB.
As with anything, it's important to take each review with a grain of salt. Additional research should be done beyond reading the reviews that are found online.
How Much Does ResumeWriters Cost?

ResumeWriters.com resume packages cost $169.95 – $389.95. This is quite affordable. And since they have no online reviews that speak to the quality of their work, you won't be risking too much by using the service. That said, there are many services that charge less and have hundreds of positive customer reviews.
$269.95
There are seven packages to choose from – Student/Grad Resume Writing ($169.95 – $259.95), Professional Resume Writing ($199.95 – $289.95), Military Resume Writing ($169.95 – $259.95), Tech & IT Resume Writing ($229.95 – $319.95), Career Change Resume Writing ($249.95 – $259.95), Executive Resume Writing ($299.95 – $339.95), and CV writing ($299.95 – $389.95).
The main difference between the seven packages has to do with the types of services that you receive.
The Student/Grad Resume package is for students, grads, and career professionals with less than two years of combined experience in any industry. It includes a highly detailed and student-focused resume ($169.95 for the ordinary option, $239.95 for the cover letter option, and $259.95 for the complete arsenal option).
The Professional Resume package is for career professionals with more than two years of combined experience in any industry. It includes a well-written professional resume ($199.95 for the ordinary option, $269.95 for the cover letter option, and $289.95 for the complete arsenal option).
The Executive Resume package is for executives, managers, and career professionals up to C-level in any industry. It includes a well-written executive resume ($299.95 for the Silver option, $369.95 for the Gold option, and $389.95 for the Platinum option).
The Career Change Resume package is for career professionals who are transitioning to a completely new industry. It includes an industry-focused career change resume ($249.95 for the ordinary option, $319.95 for the cover letter option, and $339.95 for the complete arsenal option).
The Military Resume package is for military professionals looking to transition to a new career in the civilian sector. It includes a well-written military-civilian resume ($169.95 for the ordinary option, $239.95 for the cover letter option, and $259.95 for the complete arsenal option).
The Tech and IT Resume package is for career professionals in the IT, Tech, Computer, and Networking industries. It includes a well-written tech resume ($229.95 for the ordinary option, $299.95 for the cover letter option, and $319.95 for the complete arsenal option).
The Curriculum Vitae writing is for every career professional in the medical, legal, dental, academic, scientific, and research industries. It includes a 2+ page well-written professional resume ($299.95 for the ordinary option, $369.95 for the cover letter option, and $389.95 for the complete arsenal option).
Each resume package is further divided into three categories – ordinary option, cover letter option, and complete arsenal option.
The ordinary/Silver option includes free, unlimited consultations with your resume writer, a 1-2 page resume, and a turnaround period of 3 business days.
The cover letter/Gold options of each category include everything in the ordinary option plus a customized cover letter
The complete arsenal/Platinum option of each category includes all the features of the other packages plus every document you'll ever need during the job search process. These documents include an e-resume/CV, a scannable resume/CV, and a follow-up letter.
You also have the option of purchasing a LinkedIn Profile add-on service ($199.95).
ResumeWriters.com offers a returning customer package for their previous customers who would like to update, edit, or rewrite their resumes due to new career needs ($100).
For the most accurate and up-to-date details on package pricing at ResumeWriters.com, we recommend that you visit their website directly.
ResumeWriters Resume Sample
We wanted to see what the resume quality of ResumeWriters.com looked like so we took a look at some of the resume samples featured on their website.
We've attached a ResumeWriters.com resume sample for you to review (first page only). Below, we share some of the things that we liked, and what we disliked about this resume.
The Good
Lists credentials with name and in the appropriate order.

Includes professional development, credentials, and certifications.

Includes professional affiliations and memberships relevant for job target.

Highlights all healthcare and relevant experience for job target.
The Bad
Includes full address instead of just city and state.

 Does not list the candidates target job title clearly at the top of the resume.

 Lists sales position ender nursing experience section.

Format lacks visual appeal, color, and shading.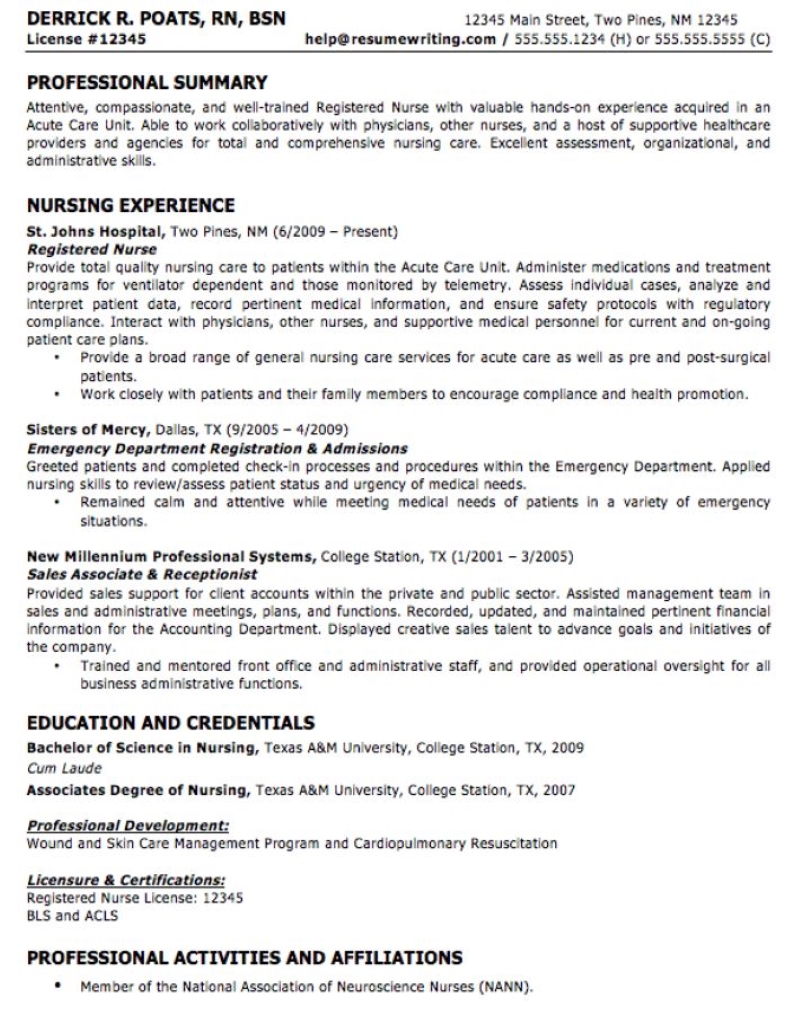 ResumeWriters Writer Credentials
The company in itself is a recognized member of the Professional Association of Resume Writers (PARW) and the Career Directors International. They were also named the best resume writing service by ResumeServiceReview.com consecutively from 2012-2018.
Unfortunately, the ResumeWriters.com website provides no information about the details or qualifications of their resume writing team.
The website, however, explains that all of their writers are independently contracted and made to undergo "in-house intensive training and apprenticeship programs".
These writers are nearly 100 in number, and they're experts in 70+ industries. They also work with other top resume companies.
In fact, the founder, Brian believes that you can determine the quality of any new resume service based on whether or not his contract writers are working for them.
The website goes further to explain that their writers are contracted based on the standards of the Professional Association of Resume Writers (PARW). So, you can rest assured that you will be working with an experienced resume professional.
Most of their contracted writers have also worked with the company since its inception in 1999. This means that each one possesses at least 20 years of experience.
There isn't a lot to go off of, but we did take a dive into a LinkedIn profile that appeared to be theirs though. However, while we were able to find 6 listed employees, we couldn't find any tangible information about the company itself.
This is a bit strange for a service that also offers LinkedIn profile services. In our experience, services like this often lack attention to detail.
But then, after searching the highs and lows of their website, we found that they did not make mention of their LinkedIn profile nor did they link to it. So, it's either the profile isn't theirs, or they purposely omitted the link, knowing fully well that the profile was lackluster.
ResumeWriters Resume Writing Process
ResumeWriters.com follows a straightforward and simple operating procedure for getting your resume written.
Let's look at the steps taken in ResumeWriters.com's resume writing process below:
Select a resume package that best describes your situation and sign up for it.
Submit your old resume/career history through a designed worksheet available on their website.
Get matched with a suitable resume writer and work 0ne-on-one to develop your resume
Get the initial draft of your new resume within 72 hours.
Work with your writer to edit, review, and finalize your initial draft
Get the final optimized resume sent to you in MS Word format, so you can easily edit it.
Apply for jobs with your new resume and start getting interviews.
Their website explains that they provide a 60-day interview guarantee. This means that if you do not get a job interview within 2 months, they will rewrite your resume for you, at no extra charge.
They also offer a 24-hour rush service for clients who would like to get their resumes faster.
Is ResumeWriters Worth It?
Whether or not ResumeWriters.com is worth it is entirely up to you.
Our goal is to provide you with the most transparent and helpful information possible. But, only you know what is best for you and your career.
Here is a summary of our findings on ResumeWriters.com written and reviewed by a Certified Professional Resume Writer:
Customer Reviews: 5/25
Cost to Value: 10/25
Sample Quality: 15/25
Writer Credentials: 15/25
Total Score: 45/100
As a reminder, we highly recommend reviewing 2-3 services before making a final decision.
If you're in need of a top-notch resume writing service, we suggest checking out Find My Profession. With a team of experienced reverse recruiters and a commitment to customer satisfaction, Find My Profession can help you find your dream job. And with a perfect score of 100/100, you can trust that you'll be in good hands!