ResumeWriters.com proudly displays this tagline on their website: "The #1 Resume Writing Service in the world."
You might be wondering, is that really true?
If you're looking for a job or a career change, your resume is the doorway to career growth.
Because of this, you'll want to thoroughly review a resume service before hiring them to help you with this all-important task of resume writing.
Really…you should not settle for anything less than the best.
Want to know more about the service quality of ResumeWriters.com?
Our expert team of researchers has looked into every aspect of the resume services offered by ResumeWriters.com. We have assessed their cost, customer reviews, writing process, and writer qualifications.
So, let's dive in!
ResumeWriters.com – Resume Service Review
Author, podcast host, and speaker Brian McCullough founded ResumeWriters.com in 1999 when he was still in college.
This means the company has two decades of experience you can tap into.
ResumeWriters.com is also the largest network of independently contracted resume writing professionals on the Internet.
Here are the major pros and cons of working with ResumeWriters.com.
Pros:
ResumeWriters.com has close to 100 professional resume writers on their partner list.
Their extensive network of writers should ensure that you will get a writer most experienced in your industry and career level.
The company discloses that if they feel they do not have a writer qualified to fulfill your resume writing needs, they will refund your order.
You also get to choose from different levels of services and products on the website.
Additionally, you can review quite a few resume samples from various industries on the ResumeWriters.com website.
Cons:
Disconcertingly, the details about the writers, other than Brian, are not available on the website.
Although they likely do have some of the most experienced writers on their network, seeing a few actual names on the site would have been nice.
Also, as the company has built a network of writers and acts as a platform that connects professionals with a suitable resume writer, there's the possibility of a lack of centralized quality control.
Another possible disadvantage of working ResumeWriters.com is that the company doesn't have many online customer reviews.
The scanty number of reviews they have are, unfortunately, marred by customer complaints.
How Much Does ResumeWriters.com Cost?
The ResumeWriters.com has a complex cost structure.
They offer resume packages based on career level and career field, as well as job situation, such as if you are undergoing a career change.
There are packages from student to executive-level job seekers as well as separate packages for IT/Tech fields or those in need of a Curriculum Vitae.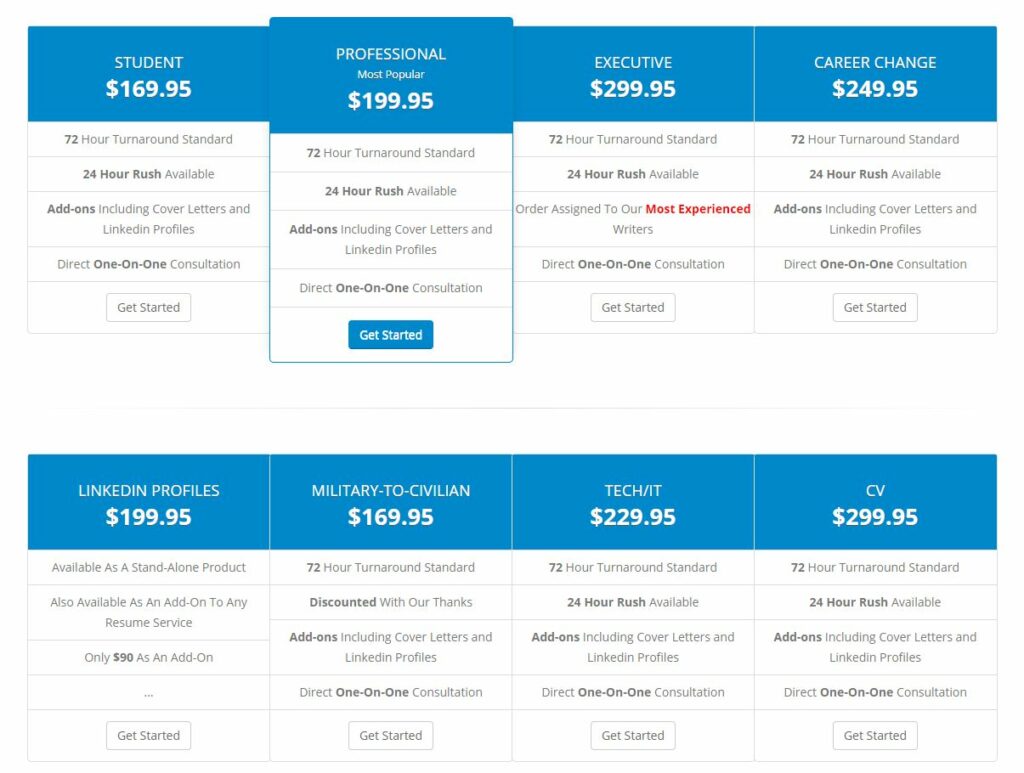 The overall resume-only pricing seems affordable.
There are six resume packages or categories of service at ResumeWriters.com that you can choose from.
Student resume services start at $169.95.
The professional resume package starts at $199.95.
The executive resume package starts at $299.95.
Resume services for career changers start at $249.95.
Their military-to-civilian resume package starts at $169.95,
The resume package for Tech/IT professionals starts at $229.95.
The company also provides separate LinkedIn profile and CV packages.
Each of the resume packages offers add-on services for cover letters and other career documents.
For example:
The basic IT resume costs $229.95.
Getting your cover letter written along with the IT resume costs $299.95.
For $319.95 they also add in "every document you could need over the course of your job search" including a post-interview follow-up letter.
ResumeWriters.com Resume Writing Process
Their resume writing process is described in simple and straightforward terms.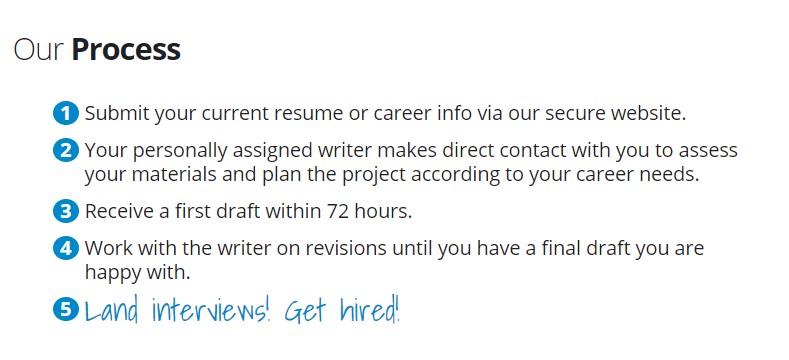 Here's the usual resume writing process at ResumeWriters.com:
Purchase the package you need from the website.
Fill out the career information form and submit your old resume.
Get assigned to a resume writer based on your career background.
The writer contacts you for a consultation.
The writer writes the resume.
The resume is emailed back to you within 72 hours.
You have the option to place a rush order to get the resume in 24 hours.
Throughout the process, you are free to contact your writer as needed. ResumeWriters.com promises that the writer will work on your resume until you are satisfied.
They also offer an interview guarantee.
If you do not get a job interview within two months, the company will rewrite your resume for free, and you can work with a different writer for the rewrite.
ResumeWriters.com Writing Team
According to the website, the company only partners with the most experienced and well-recognized resume writers.
The writers are also certified, North America-based resume professionals.
ResumeWriters.com will match you with a writer based on your career needs.
All the writers in their network have their own local resume businesses. They merely partner with ResumeWriters.com to expand their client base.
However, the website doesn't provide any details about the individual resume writers.
A search on LinkedIn also returned only a couple of resume writers working at ResumeWriters.com.
ResumeWriters.com Customer Reviews
ResumeWriters.com doesn't have any customer reviews on most of the popular customer review platforms such as Trustpilot, Sitejabber, and Yelp.
The only places they have a few reviews are the Better Business Bureau (BBB) and Google.
On BBB, the reviews don't tell a good story.
The company has only 2.33 out of 5 based on three customer reviews.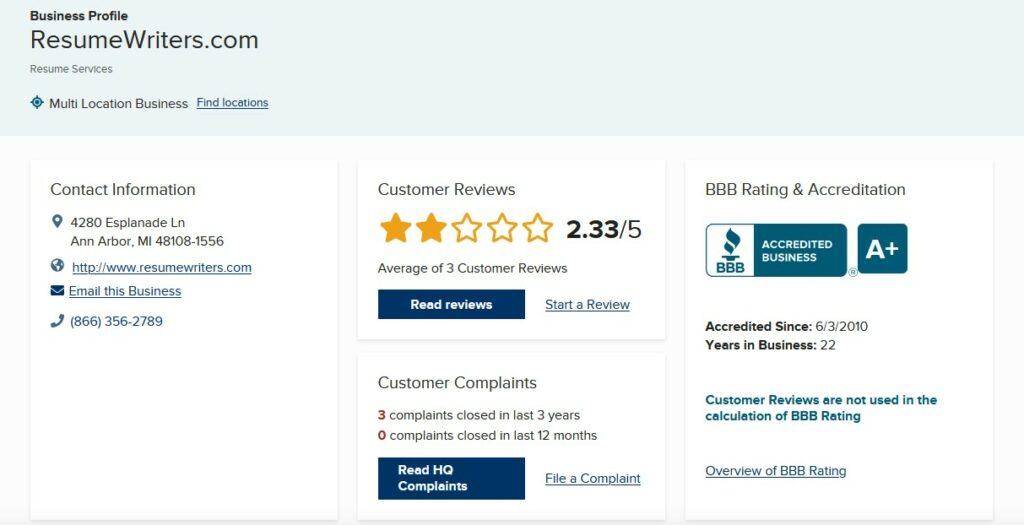 Two of the reviews are glaring 1-star reviews complaining about a poor resume and grammatical errors.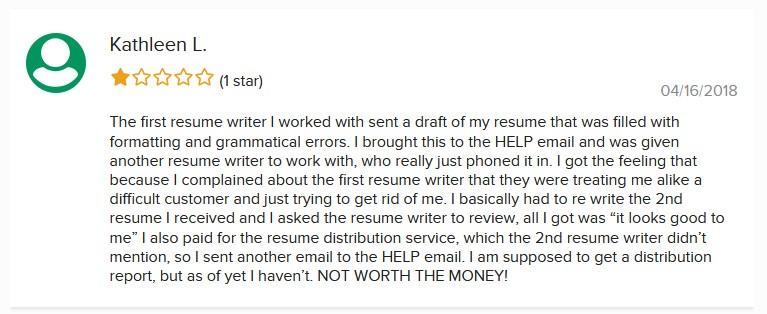 On Google, ResumeWriters.com has garnered 10 reviews. The average rating is 4 out of 5; however, the most recent review was posted a year ago.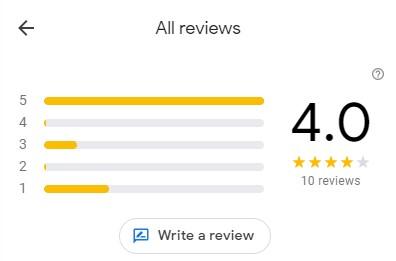 As with BBB, customers were dissatisfied due to unhelpful customer service and poor resume quality.
ResumeWriters.com – Resume Sample
We wanted to get a real taste of a resume from ResumeWriters.com. So, we went in to check out the resume samples on the website.
Most of the resume samples seem pretty decent and abide by all the industry standards.
However, the image size of some of the samples was so small that we couldn't read them.
Here's a resume sample from ResumeWriters.com for you to review (first page only).
If you'd like to see all of the resume samples from this company, click on the image of the resume sample below to be taken to their resume samples page.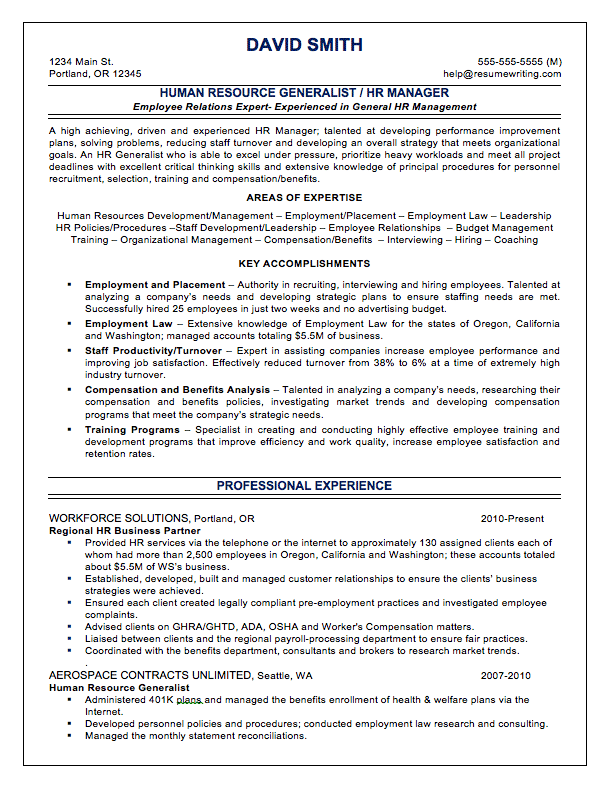 Key Takeaways
Our rating for ResumeWriters.com is 6.2/10.
The years of experience that the company has in resume writing and its extensive network of resume writers surely make it a unique company in the resume industry. The cost of the resume packages is also quite affordable.
However, the major drawback of the service is the lack of a centralized resume writing team and working processes. Also, their online reviews are very few and there are no recent reviews from the customers.
Your resume is one of the most important documents in your professional life.
You should always review and talk to multiple companies before you make your final decision.
What Can Be a Better Alternative to ResumeWriters.com?
Your resume is the most important career document you will ever have.
As such, you want to choose your resume writer carefully.
We would recommend reviewing 2-3 options before making your choice.
Short of resume writing options? Feel free to put our company, Find My Profession, on your shortlist!
We do not rely on third-party resume writers to serve our clients.
We have a dedicated team of US-based certified professional resume writers covering 85+ industries.
Moreover, if you check us out online, you'll find more than 200 five-star reviews on sites like Trustpilot, BBB, Sitejabber, and Google.
Please take a tour of Find My Profession services. We are confident that our reputation and quality of service will fit your career needs.