Dubai offers luxurious travel destinations, world-famous architecture, and a lively night scene.
On top of that, it's getting more prominent as a global trading hub.
As a result, this great place continues to attract talents from all over the world. Finding a job here is getting more and more difficult.
Naturally, you think of giving your resume a leg up and search for the "best resume writing services in Dubai".
You get 5,630,000 results!
Now what? How do you choose among so many local resume services?
Let's get into the crux of the dilemma and solve it once and for all.
This list of the top writers will serve job seekers looking for both resume and CV writing services in the UAE.


Dubai Resume Service Criteria
Each of the Dubai resume services below was reviewed by a Certified Professional Resume Writer (CPRW) taking into consideration the following:
Cost: The cost of the service compared to other Dubai resume writers.
Turnaround: The speed at which the resume is completed.
Credentials: Overall experience, awards, and certifications.
Resume Design: The design, style, and overall look of the resume.
Customer Service: Guarantees, number of edits, and reviews.
This list was hand-curated to serve all industries, professions, and career levels. While many of the writers on this list are from Dubai, these services are virtually available whether you are in Dubai, Abu Dhabi, Sharjah, Al Ain, Ajman, Fujairah, or any other UAE city.
Best Dubai Resume Writing Services
1. Find My Profession
Find My Profession is much more than a Dubai resume writing service. We are a global company whose work has been featured on sites like Forbes, Inc., Zety, Fast Company, and more.
Our elite resume writing team has experience in 85+ industries/professions. This allows us to assign you a professional writer based on your unique background and experience.
We have successfully landed our clients positions at companies like Apple, Amazon, EA, Oracle, GM, Facebook, DoJ, Morgan Stanley, Gap, and 2U just to name a few.
Find My Profession has 650+ 5-star reviews and offers a 60-day interview guarantee. Every resume created is Applicant Tracking System (ATS) compatible and highly customized to meet your specific needs.
Pros: You will work one-on-one with an expert resume writer. Find My Profession commits to working with each client until they are 100% satisfied. Don't worry about having a limited number of edits or a set amount of time with your writer.
Cons: Find My Profession is a virtual company. While we provide services in Dubai, we don't have a physical office for in-person visits. You'll communicate directly with your writer via email and phone calls.
Reviews: 5/5 based on 124 Google reviews, 5/5 based on 8 BBB reviews, 5/5 based on 35 Facebook reviews, 4.9/5 based on 304 Trustpilot reviews, 4.7/5 based on 255 Sitejabber reviews
Turnaround: 3 – 5 business days (can expedite to 2 business days)
Cost: $395 – $995 USD
Contact: (831) 888-0967 or help@findmyprofession.com
Check out some of our 5-star reviews.
2. We Find Jobs
We Find Jobs aims to create a platform that helps both job seekers and employers alike with employment and HR services. They have a team of award-winning CV writers who have written almost 9000 CVs. They also offer a CV distribution service that will send your CV to targeted employers in UAE.
Pros: All CV packages include LinkedIn updates and cover letters. You will get unlimited revisions with the packages. Also, the website offers additional blogs, career resources, and tips.
Cons: There are a few resume sample images on the website but you can't enlarge them. There is no live chat support, unlike many other services that we saw during our research.
Reviews: 5/5 based on 69 Sitejabber reviews, 5/5 based on 194 Reviews.io reviews, 4.8/5 based on 52 Google reviews, 4.6/5 based on 61 Facebook reviews, 4.5/5 based on 13 Trustpilot reviews
Turnaround: 1 – 4 days
Cost: 200 – 550 AED
Contact: +971 55 429 4595
3. Optimus Management Consultants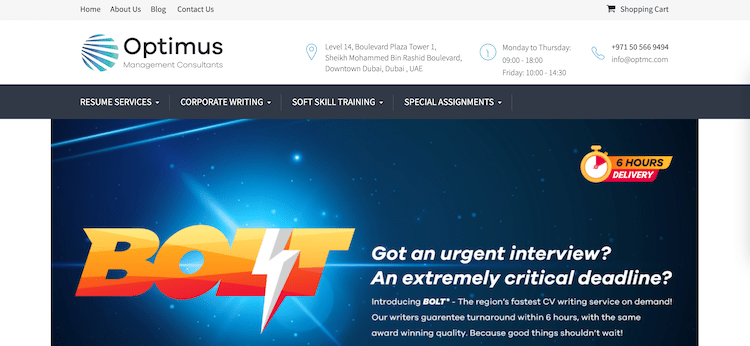 Optimus Management Consultants is a multifaceted employment service provider for the Emiratis. All of their writers have 15+ years of experience and have combinedly helped with 8000+ CVs so far. The company is a member of the Professional Association of Resume Writers and Career Coaches (PARWCC).
Pros: They offer an insanely fast turnaround time of 6 hours (restrictions apply). They provide a few detailed resume samples and case studies on the website. There's also a free resume and CV review service.
Cons: We weren't able to navigate parts of their website because the links were incorrect. A bit more information about their writing team would have made the website more helpful.
Reviews: 5/5 based on 1 Facebook review, 4.8/5 based on 225 Google reviews, 3.7/5 based on 8 Trustpilot reviews
Turnaround: 1 – 5 business days (can expedite to 6 hours)
Cost: 399 AED
Contact: +971 50 566 9494 or info@optmc.com
Visit Optimus Management Consultants
4. CVWriting.ae
CVWriting.ae offers professional resume and CV writing services with the promise of fresh, original, and interactive designs. They also claim that all of their writers are HR professionals having experience working as "HR officers". If you are looking for an infographic or video CV, they can also create one for you.
Pros: CVWriting.ae has a physical office in Dubai, UAE. They offer services for CV, resume, LinkedIn, cover letter, Business CV, Immigration CV, corporate letter writing, and more. CVWriting.ae offers face-to-face meetings for CV writing services in UAE. Their professional CV writers are based in the office.
Cons: CVWriting.ae provides customized writing services, so there is not enough information about the CV packages or samples.
Reviews: 4.7/5 based on 49 Google reviews
Turnaround: 3 – 5 business days
Cost: 350+ AED
Contact: +971 504968788 or info@cvwriting.ae
5. Resume.ae
Resume.ae is a very unique kind of CV and resume writing service in Dubai. The company allows employers to post jobs on the job board hosted on their website. Employers can also search for job seekers from their candidate pool. Their resume and CV writing services offer writers experienced in the hiring process.
Pros: Resume.ae provides a free profile assessment. There are plenty of sample resumes on the site that you can check out. They promise unlimited revisions for one month and lots of free resources on the site.
Cons: There is conflicting information on the website. They list guarantees on the home page, but there is opposing information or no explanations on the website. You may need to contact them for specifics.
Reviews: 5/5 based on 5 Facebook review, 4/5 based on 4 Google reviews
Turnaround: 3 business days
Cost: 350 – 900 AED
Contact: +971 55 9564 344 or info@resume.ae
6. Dubai-Forever

.com
Dubai-Forever.com was founded by professional CV writer, Shabbir Kagalwala. Shabbir has vast experience working in the field of HR management. From his experience, he felt the intense need to help people with their careers. This realization got him to establish his very own CV writing company in 2009.
Pros: The company has a closely-knit team of professional CV writers trained by Shabbir and his family. All levels of resumes are guaranteed to land an interview in 90 days.
Cons: Some useful blogs and a few more sample resumes would also have been a great addition. The free gift with purchase may sound gimmicky and be a turn-off for some.
Reviews: 4.1/5 based on 5 Trustpilot reviews
Turnaround: 3 – 6 days
Cost: 107 – 769.30 AED
Contact: +91-9158104352 or shabbir@dubai-forever.com
7. ProfessionalCV
ProfessionalCV is surely one of the best CV and resume writing services tailored specifically for the UAE landscape. Their team of expert CV writers includes HR professionals and recruiters who have experience working in the UAE. The pricing structure is also very suitable for entry-level job seekers.  
Pros: ProfessionalCV promises to provide industry-specific tailored CV and resume services at affordable prices. They also offer free revisions for a year, a free consultation, and 24/7 support.
Cons: The website does not give any details about their writers' identities and doesn't include any samples of their work. There are no reviews on third-party websites either.
Reviews: Not found
Turnaround: 5 business days (can expedite to 48 hours)
Cost: 79 – 299 AED
Contact: +1-202-766-9208 or info@professionalcv.ae
8. CV Maker

CV Maker is yet another leading CV and resume writing company based in Dubai. They are the largest CV writing service in the Gulf. The company has expertise in about 35 career fields. CV Maker promises to provide you with a writer who is experienced with the field you are applying for.
Pros: According to the website, their clients have been hired by a few quite reputed brands in Dubai. They offer plenty of CV and resume formats to choose from. They also promise fast revisions and corrections.
Cons: The website only provides a few samples and templates. The details about individual writers are not disclosed on the website. The information about the writing process isn't very specific.
Reviews: 3.5/5 based on 3 Trustpilot review
Turnaround: 2 – 7 days
Cost: 200 – 500 AED
Contact: +971-543-901-889 or info@cvmaker.ae
9. Perfect CV
Perfect CV aims to create effective CVs by aligning them with the specific market demands. They understand the need for personalization. They utilize industry specific CV and resume templates suited to your career field. According to the website, their writers have decades of experience writing resumes.
Pros: The company provides separate services for CVs and resumes. They also offer free revisions and 24/7 customer support. You have the option to get your resume done in a day.
Cons: The website does not disclose information about their writers. It is not clear whether you have a call with your writer or just complete a questionnaire to start the process.
Reviews: 5/5 based on 2 Bark review, 5/5 based on 4 Sitejabber review, 4.1/5 based on 6 Trustpilot reviews
Turnaround: 6 – 7 days (can be expedited)
Cost: 240 – 460 AED
Contact: +971-543-901-889 or info@perfectcv.ae
10. Bayt
Bayt is one of the leading job search sites for the UAE market. They also offer CV writing service for the Emiratis. The company has created over 40,000 CVs and resumes since 2005. Having a presence on both sides of the hiring equation gives them insider knowledge on hiring practices.
Pros: Their website displays quite a few good-quality CV samples. The company also offers a lower-cost and faster CV review and evaluation service. They can also provide you with an Arabic-translated version of your CV for an additional fee. 
Cons: The CV packages come with only two rounds of revisions. The site doesn't provide any details about their resume writers. Also, the cost of their CV writing is at the higher end of the spectrum.
Reviews: 4.4/5 based on 77 Google reviews, 1.9/5 based on 22 Sitejabber reviews
Turnaround: 6 – 10 business days (can expedite to 3 business days)
Cost: $99 – $249 USD
Contact: +971-4-449-3193 or careerservices@bayt.com
Bonus: Top Dubai Resume Winners (2021)
Find My Profession, We Find Jobs, Optimus Management Consultants, CVWriting.ae, Resume.ae, Dubai-Forever.com, ProfessionalCV, CV Maker, Perfect CV, Bayt
Free CV/Resume Resources for Job Seekers in Dubai
If you have already written your CV, you may be wondering if it's good enough to get you interviews.
Take a look at these free CV and resume review services to evaluate your CV/resume.
Free CV Review Sites in Dubai:
Laimoon and GulfTalent have partnered with TopCV to offer a comprehensive free CV review service. It's easy to use and provides personalized recommendations.
Art2write promises a detailed, word by word evaluation of your CV by their experts within 24 hours.
Careerzooom also offers a free CV review. However, not many details are provided on their website.
Most of the top Dubai resume writing services listed above also provide free CV reviews.