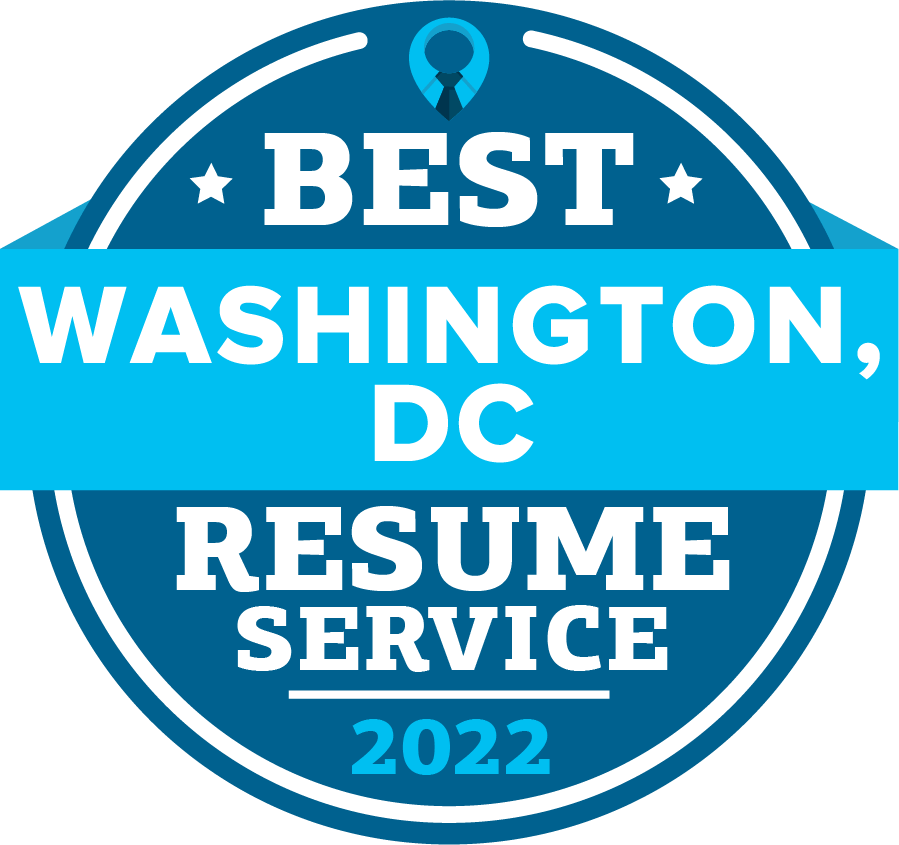 2022 Winners: Add your badge to your marketing materials.
Washington, DC, and the entire DMV area, is a booming metropolis with incredible career opportunities.
Are you putting your best foot forward in your job search?
Without a stellar resume, the answer is essentially no.
Our list of the top resume writers in DC is here to help you find a resume writing service that will show hiring managers just how perfect you are.
Don't worry. We've got the DMV metro area covered.
Take a look at this list of the best Washington, DC, resume writers, then prepare to take your job search to new heights!
Best Resume Services in
DC


4

4
5

5
6

6
7

7
8

8
9

9
10

10
See more services
See less services
How We Choose Winners
Each of the Washington, DC, resume services below was reviewed by a Certified Professional Resume Writer (CPRW) taking into consideration the following:

Cost
The cost of the service compared to other DC resume writers.

Turnaround
The speed at which the resume is completed.

Credentials
Overall experience, awards, and certifications.

Resume Design
The design, style, and overall look of the resume.

Customer Service
Guarantees, number of edits, and reviews.
This list was hand-curated to serve all industries, professions, and career levels. While many of the writers on this list are from Washington, DC, these services are virtually available whether you are in DC, Arlington, Alexandria, Bethesda, Fairfax, McLean, Rockville, Baltimore, or anywhere in the greater DMV area.
Average Washington DC Resume Cost
Washington DC
Resume Service Cost
Average Resume Cost
$1555
Resume Cost Range
Washington, DC Resume Writer Reviews
Find My Profession is much more than a Washington,DC resume writing service. They are a global company whose work has been featured on sites like Forbes, Inc., Zety, Fast Company, and more.
Their elite resume writing team has experience in 85+ industries and professions. This allows them to assign you a professional writer based on your unique background and experience. Every resume also includes a 1-on-1 phone consultation with your writer.
They have successfully landed their clients positions at companies like Apple, Amazon, EA, Oracle, GM, Facebook, DoJ, Morgan Stanley, and Tesla just to name a few.
Find My Profession has 650+ 5-star reviews and offers a 60-day interview guarantee. Every resume created is Applicant Tracking System (ATS) compatible and highly customized to meet your specific needs.
PROS
You will work one-on-one with an elite and certified resume writer in the United States. Find My Profession commits to working with each client until they are 100% satisfied. Don't worry about having a limited number of edits or a set amount of time with your writer.
CONS
Find My Profession is a virtual company. While they provide services in Washington,DC, they don't have a physical office for in-person visits. You'll communicate directly with your writer via email and phone calls.
REVIEWS
5/5 based on 124 Google reviews
5/5 based on 35 Facebook reviews
5/5 based on 8 BBB reviews
4.9/5 based on 304 Trustpilot reviews
4.7/5 based on 255 Sitejabber reviews
TURNAROUND
3 – 5 business days (can expedite to 2 business days)
COST
$395 – $995
CONTACT
(831) 888-0967 or help@findmyprofession.com
Check out some of our 5-star reviews:
H. S. on April 11, 2022
Top Shelf Service
I used one of the Find My Profession writers to clean up and modernize my personal documents. The level of knowledge and know-how was stellar. The response was prompt and timely. The writer delivered the product on time and with quality. I was extremely pleased with this service and paid a fraction of what other services charge for similar products and support.
C. B. on May 2, 2022
100% Recommend
[Writer] was a pleasure to work with. This was a great experience and investment in myself and career. I always feel overwhelmed by creating or updating my resume and I had no idea how to create one that was suitable for today's automated analysis used by HR departments. I struggle to find the best words to describe what I do and what I like/dislike. In one phone call [Writer] was able to listen to me blather on and craft my experiences into an outstanding package.
M. J. on October 15, 2021
Extreme Appreciation
[Writer] created an eye-popping & creative resume tailored to my individual needs after carefully reviewing my transitional situation with me. I am extremely happy with how she crafted my beautiful resume for my specific needs. [Writer] was very professional, personable and provided me very honest and direct feedback and insight. Lastly, she kept her promises on resume delivery and follow-up timing – great communication that assured me I was in good hands.
F. J. on July 15, 2021
I Will 100% Be Back
I approached hiring Find My Profession as an investment in my future and it ABSOLUTELY paid off. [Writer] was attentive, responsive, and highly professional. After meeting with me to discuss my career history, she put my work into words that helped me shine in my job search. I'm recommending this service to everyone I know and I will 100% be back when I need this service again.
K. M. on March 1, 2022
I Am 110% Satisfied
[Writer] provided exactly what I wanted. I am 110% satisfied with the completed project which includes a resume, cover letter, and LinkedIn Profile. It was completed in the time frame that was agreed upon, and delivered more than I was expecting. Do not bother looking anywhere else, [Writer] is wicked awesome and a true professional!
C. S. on June 21, 2022
Immediate Results
On the same day I received the final resume draft, I applied to a few jobs and got an interview request the next day.
Visit Find My Profession
2
The Career Strategy Group
The Career Strategy Group promises to create an impeccable resume each and every time. The company has award-winning, nationally certified resume writers on the team. The team is led by Laura Labovich and Michelle Glick. They have been in business since 2006 in Bethesda and also offer outplacement services.
PROS
The company is a widely popular resume service throughout America. They have been featured and quoted in publications like Forbes and The Washington Post.
CONS
The turnaround for resume writing is quite long compared to other services on our list. The cost is on the high end. Entry-level job seekers may need to look elsewhere.
REVIEWS
5/5 based on 28 Google reviews
5/5 based on 1 Facebook reviews
4/5 based on 2 Yelp reviews
TURNAROUND
~10 business days
COST
$1000 – $3000
CONTACT
(301) 834-2290 or laura@thecareerstrategygroup.com
Visit Career Strategy Group
3
XCaliber Coaching & Consulting LLC
XCaliber Coaching & Consulting LLC founder, Alex Aberle, is a Certified Professional and Executive Coach. She has over 20 years of experience in leadership development and career coaching. You will work with a resume writer experienced in hiring, interviewing, and personal branding.
PROS
They offer resume services as well as career marketing packages for executives. You can have a look at the resume samples provided on the website before ordering.
CONS
Details about the resume writing team are not available on the website. You only get two rounds of revisions with the resume service.
REVIEWS
5/5 based on 17 Facebook reviews
TURNAROUND
3 – 5 business days (can expedite)
COST
$300 – $695
CONTACT
(757) 292-7271 or info@xcalibercoaching.com
Visit XCaliber Coaching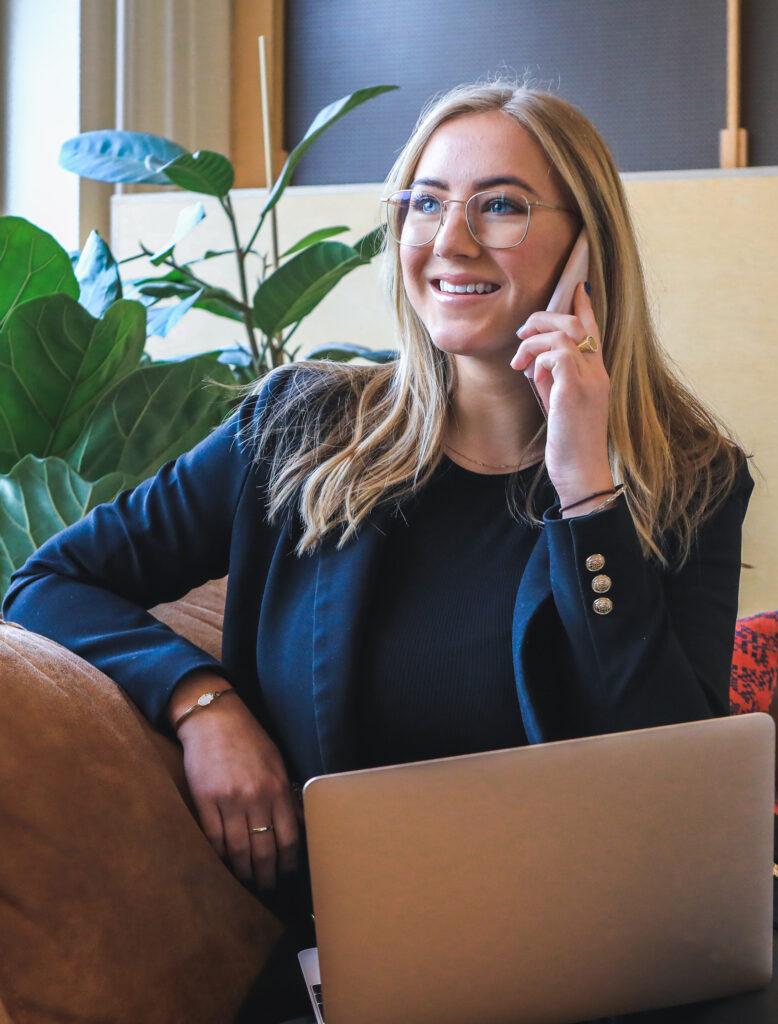 Need A Career Coach?
Have you considered hiring a career coach to help with your job search? You don't have to do it alone. Check out our list of the best Washington DC career coaches.
Liz Strom is not only known for her life coaching, but her resume writing as well. She is a member of the National Resume Writers Association (NRWA). Liz has received local attention, allowing her to promote her company's "energy-shifting life coaching & workshops" throughout the DC area.
PROS
If you're in need of additional services besides resume writing, her life and career coaching services may be of use to you. You can get all of the help you need in one place.
CONS
The resume service includes only one 30-minute phone consultation. Liz gets booked up in advance so her services may not be immediately available.
REVIEWS
5/5 based on 4 Google reviews
5/5 based on 2 Yelp reviews
5/5 based on 1 Facebook reviews
TURNAROUND
3 – 5 business days (can expedite to 48 hours)
COST
$200 – $600+
CONTACT
liz@lizstrom.com
Visit Liz Strom
Your Next Jump was founded by Timothy Lo and has been serving job seekers in Washington DC since 2015. Timothy has over a decade of experience in business development and recruitment. He is a PARWCC certified resume writer. He has also been featured in Business Insider and CNN as a career expert.
PROS
Every resume is written by a Certified Professional Resume Writer. Moreover, the customer reviews they have received are nearly flawless.
CONS
Your Next Jump doesn't write federal style resumes. Their website also lacks resume samples to review and details about individual resume writers.
REVIEWS
5/5 based on 267 Google reviews
5/5 based on 125 Yelp reviews
5/5 based on 27 Facebook reviews
TURNAROUND
7 – 28 days (can expedite)
COST
$399
CONTACT
office@yournextjump.com
Visit Your Next Jump
Klaxos has built a reputation based on knowing "what recruiters want." They boast a combined 100 years of experience in recruiting, writing, marketing, and communications. Since 2009, they have helped 5000+ individuals in 30+ countries and 200+ industries with their resume writing services.
PROS
Klaxos offers a 60-day interview guarantee with all of their services. They have certified resume writers on staff. You will have 30 days of unlimited revisions to your resume.
CONS
The resume-only package doesn't include a phone consultation with your writer. There is also not an option to call the service with questions before you get started.
REVIEWS
5/5 based on 2 Facebook reviews
4.9/5 based on 126 Google reviews
4.5/5 based on 21 Yelp reviews
TURNAROUND
2 – 4 business days
COST
$399
CONTACT
Contact form available on website
Visit Klaxos
7
Blueprintgreen Career Coaching & Consulting
Blueprintgreen Career Coaching & Consulting is owned by Chrissy Macken and has an inspiring mission. They help "professionals break free from toxic work environments, transition into positions they love, get paid what they're worth, and achieve peak performance using Emotional Intelligence."
PROS
Chrissy Macken is a woman on a mission. She is involved in quite a few noble social and environmental initiatives. This is a major plus for you if you like supporting companies that may align with your personal values.
CONS
This is a career coaching service even for resume writing. If you want a straight-to-the-point resume writing service, your needs will be better met by a company that offers resume writing on its own.
REVIEWS
5/5 based on 11 Google reviews
5/5 based on 8 Facebook reviews
5/5 based on 5 Yelp reviews
TURNAROUND
Not found
COST
$995
CONTACT
christina@blueprintgreen.us
Visit Blueprintgreen
Jim Weinstein is a career coach not only with a Harvard MBA, but with over two decades of experience as both a business executive and a licensed psychotherapist. Impressive, right? It's this variety of education, experience, and skill that has landed him firmly on our list of the best resume writers in DC.
PROS
Jim's experience as a psychotherapist can give him a leg up in working through how to best position you for success. His expertise is often featured in The Washington Post and the Washingtonian.
CONS
Jim bases his resume writing costs based on how many sessions it takes to get your resume written. This could be a major con if you're looking for a flat rate DC resume writing service.
REVIEWS
5/5 based on 21 Google reviews
5/5 based on 4 Facebook reviews
4/5 based on 23 Yelp reviews
2.5/5 based on 2 Angie's List reviews
TURNAROUND
Not found
COST
$250 per hour
CONTACT
(202)667-0665 or jim@dclifecounseling.com
Visit Jim Weinstein
Resume Your Way believes in perfection. They are a veteran-owned, military-friendly company specializing in nearly all career fields including federal resumes. The company offers discounts to service members and their spouses. They also promise to work on your resume until you are satisfied.
PROS
All Resume Your Way writers are Certified Professional Resume Writers (CPRWs). Each resume includes a round of editing and SEO optimization by a recruitment team.
CONS
The optional phone consultations offered for civilian resumes are only for 5- 20 minutes depending on your level. The revision process is not explained on the website.
REVIEWS
5/5 based on 17 Bark reviews
4.9/5 based on 51 Google reviews
3/5 based on 2 Yelp reviews
TURNAROUND
3 business days
COST
$109 – $449+
CONTACT
(877) 940-2220 or support@resumeyourway.com
Visit Resume Your Way
DMV Resume Services is owned by Ms. Kim Love. Kim writes all the resumes for DMV Resume Services. She puts care into every single resume that she writes. Kim has been writing resumes since 2008. She has clearly put in the hours to hone her resume writing abilities.
PROS
DMV Resume Services offers a satisfaction guarantee as well as an interview guarantee. Along with resume service, they also offer job application processing services.
CONS
The website doesn't offer any details about the resume writing and revision processes. Professional details about Kim are also missing.
REVIEWS
4.6/5 based on 29 Facebook reviews
TURNAROUND
3 – 5 business days
COST
$200 – $500
CONTACT
(240) 441-9899 or ​mskimloveresumes@gmail.com
Visit DMV Resume Services
Previous Years Winners
Resume Writing Winners (2021)
Find My Profession, The Career Strategy Group, XCaliber Coaching & Consulting LLC, Liz Strom, Your Next Jump, Klaxos, Blueprintgreen Career Coaching & Consulting, Jim Weinstein, Resume Your Way, DMV Resume Services