Your resume is an important part of the job search. It could very well be the thing that sets you apart from your competition.
This also means that a subpar resume can set your job search back months.
Today we will be reviewing Monster.com and their resume writing services.
We have taken a deep dive into the customer reviews, cost, resume samples, and writer credentials at Monster Resume. Our overall rating for Monster.com is 50/100.
Monster.com Resume Service
Score
Best Monster.com Alternatives
Our goal is to help you find the best resume service that will fit your needs and advance your career.
We've researched and provided detailed reviews for several alternatives below if Monster's resume services don't align with your requirements.
Take a look at our highest-ranked service, Find My Profession. You'll also find ResumeZest, Storeyline Resumes, and TopResume on the list.
Best
Monster.com

Alternatives




About Monster Resume
Jeff Taylor created Monster.com in 1999. This is when the Monster Board and Online Career Center joined forces.
In recent years, Monster began offering resume writing services. This was a logical addition for a website that already has thousands of job seekers visiting it each day.
Our review includes the pros and cons of working with Monster's resume service, not the job board.
Let's dive right into some of the pros and cons when it comes to working with Monster Resume.
Monster.com Resume Pros vs Cons
As with any company, there are pros and cons. It's up to you to determine what is a "must-have" and what things you can live without.
Pros
3,000+ customer reviews on reliable third-party review sites.

Affordable resume services coming in at $129 – $349.

2 – 5 business day turnaround time is faster than most services.

60-day 100% satisfaction guarantee on all resumes.
Cons
No industry-recognized resume writing certifications. 

Over 1,000 1-star customer reviews on Trustpilot alone.

Website provides no tangible information about the resume writers.

No phone consultation is offered to resume clients.
If you are looking for a resume writing service, Monster is a good option, but it is worth exploring other alternatives to find the best fit for your needs.
One such alternative is Find My Profession, which has a rating of 4.9/5 stars from 900+ previous clients, a quick turnaround time, and a 60-day interview guarantee.

However, Find My Profession differs from Monster.com in that they are transparent about their writers (and their certifications), and all resumes include a phone consultation with your assigned writer.
Monster.com Customer Reviews

Our Certified Professional Resume Writers have rated Monster Resume a 50/100. Additionally, Monster has received customer reviews of 2.8/5 on Trustpilot, 3.6/5 on ConsumerAffairs, 2.25/5 on Sitejabber, and 1/5 on BBB with an A+ rating. Most of these reviews are about their job board; we'd like to be able to find some more Monster resume reviews.
Trustpilot shows 3,512 reviews with an average rating of 2.8/5. This is far below what a quality resume service should be receiving. It's even more disappointing that over 1,900 of the reviews are 1-star and 2-stars.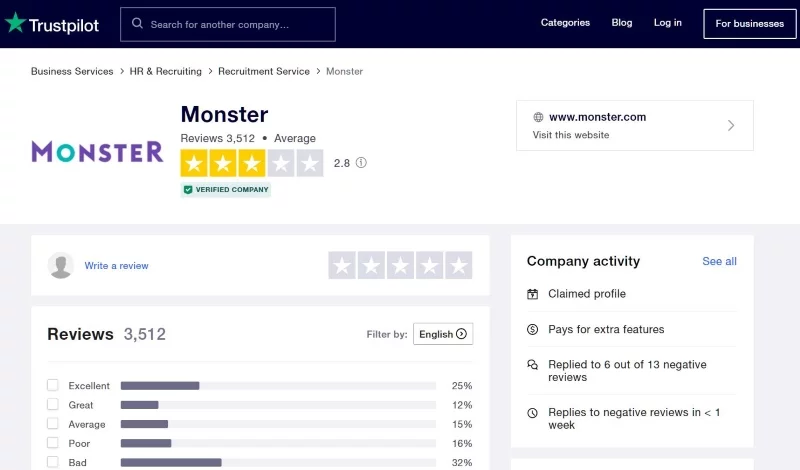 ConsumerAffairs shows 197 reviews with an average rating of 3.6/5. Many customers complained about constantly receiving spam emails from "placement" agencies. Apparently, Monster was giving out their private information.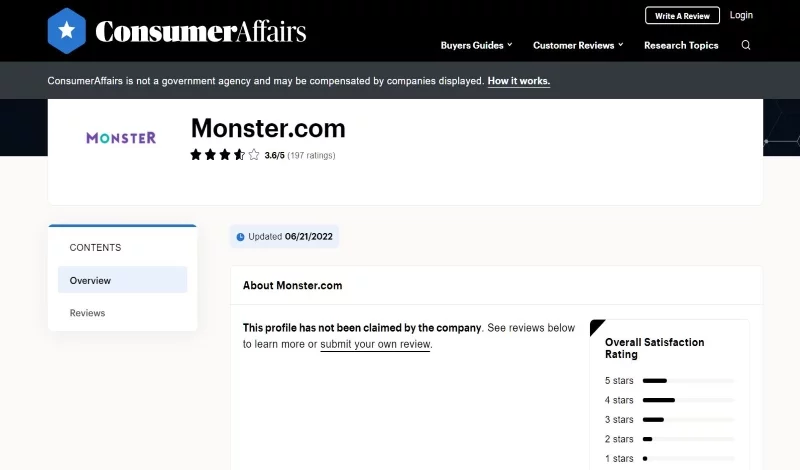 Sitejabber shows 107 reviews with an average rating of 2.25/5. More than 70% of the customers were unhappy with the service. To make matters worse, Monster didn't deem it necessary to address ANY of the complaints.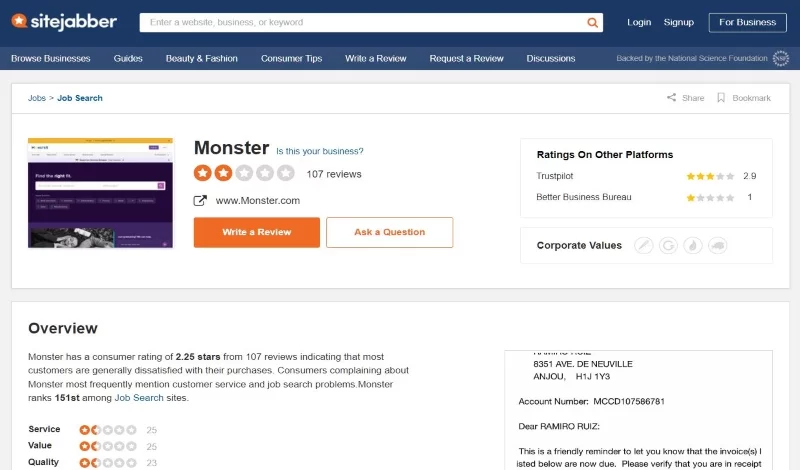 Better Business Bureau shows 6 customer reviews with an average rating of 1/5. They've closed 12 complaints in the last 12 months. That said, it's unclear how a company with an A+ rating ended up with 1/5 stars.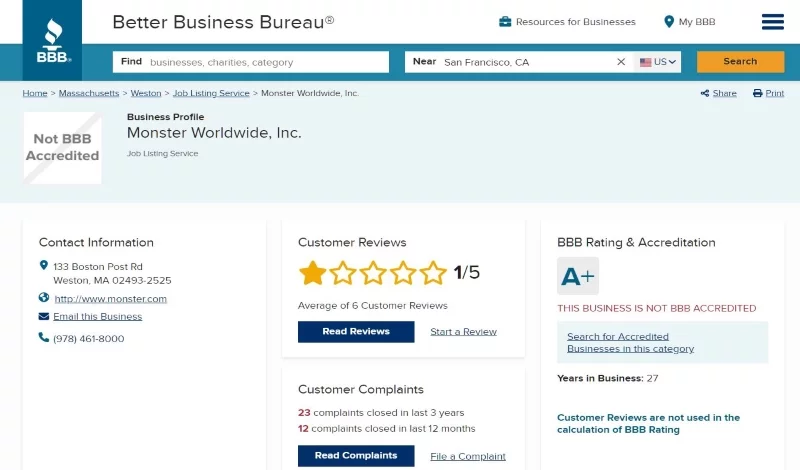 As with anything, it's important to take each review with a grain of salt. Additional research should be done beyond reading the reviews that are found online.
How Much Does Monster Resume Cost?

Monster.com's resume packages cost $129 – $349. This is very affordable compared to most services; however as the reviews show, you get what you pay for.
$189
There are three packages to choose from – Basic ($129), Deluxe ($189), and Premier ($349).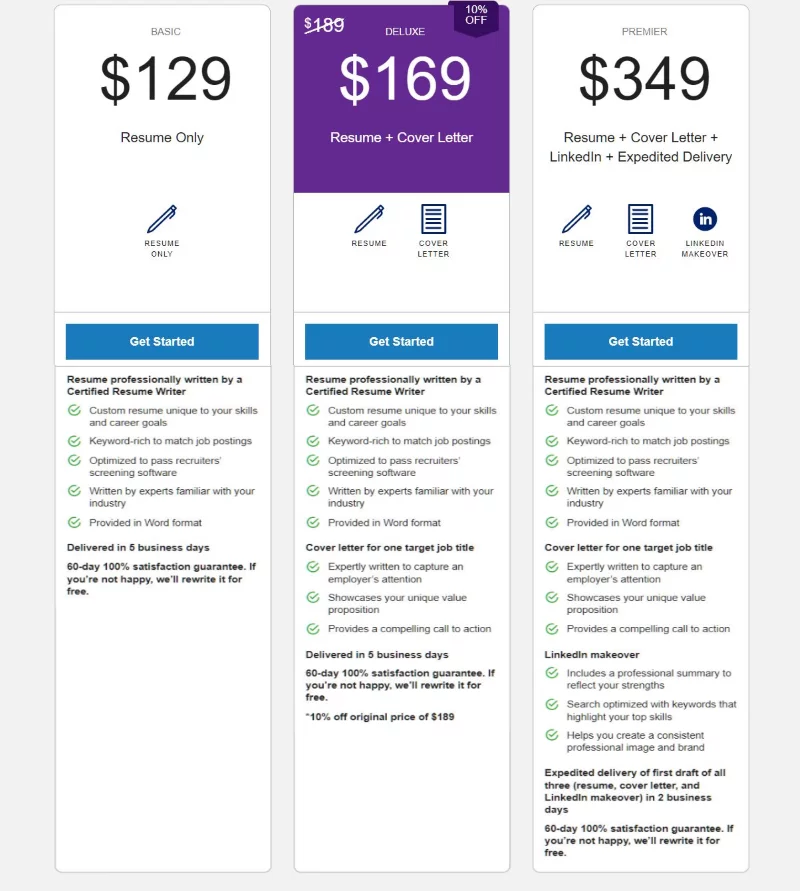 The main difference between the three packages has to do with the types of services that you receive.
The Basic package includes a custom resume to be delivered in 5 business days ($129).
The Deluxe package includes a custom resume plus a cover letter for one target job to be delivered in 5 business days($189).
The Premier package includes a custom resume, cover letter, and LinkedIn profile makeover – all to be delivered in 2 business days ($349)
For the most accurate and up-to-date details on package pricing at Monster Resume, we recommend that you visit their website directly.
Monster.com Resume Sample
We wanted to see what the resume quality of Monster looked like so we took a look at some of the resume samples featured on their website.
We've attached a Monster resume sample for you to review (first page only). Below, we share some of the things that we liked, and what we disliked about this resume.
The Good
Target title is clearly defined and highlighted at the top of the resume.

Includes relevant projects and internships that the candidate held.

 Has color and shading that provides visual appeal.

 Contained lots of keywords that are relevant for the target title.
The Bad
Content contains and excessive amount of adjectives.

Too much content for an entry-level resume.

Includes manager-level positions, making the candidate appear over-qualified.

Missing relevant coursework completed during degree program.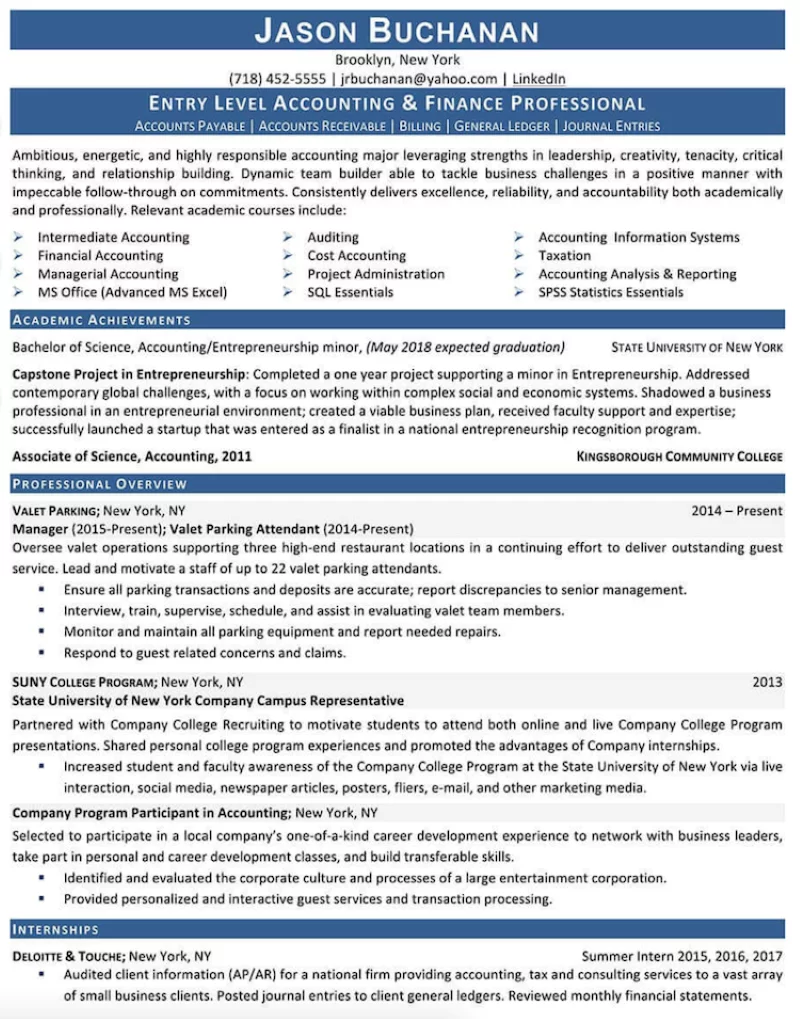 Monster Resume Writer Credentials
As mentioned above, Monster shares little information about their resume writing team.
They do mention that their writers are:
Certified (the kind of certification is not mentioned).
Receive specialized training through their professional development programs.
They have experience in human resources and recruiting in a variety of industries.
The lack of information is a bummer since the resume writer is going to be doing all the work. Companies with amazing writers like to show off the quality of their team members.
We did some more digging outside of Monster.com and checked out LinkedIn. We searched "resume writer" in Monster employees and couldn't find any resume writers.
Monster.com Resume Writing Process
Monster Resume follows a straightforward and simple operating procedure for getting your resume written.
Let's look at the steps taken in Monster's resume writing process below:
Choose the Basic, Deluxe, or Premier package and then submit your payment.
Fill out a detailed questionnaire about your career progression and desired job type.
Upload your resume (if you have one).
Monster will assign you a resume writer who has experience in your industry.
Depending on the package you choose, you'll receive the first draft in 2 business days or 5 business days.
Review the draft and provide any feedback you have for your Monster resume writer.
You only have one revision with your writer so make it count!
If your writer has a question about your questionnaire or resume, they will contact you.
Is Monster Resume Worth It?
Whether or not Monster is worth it is entirely up to you.
Our goal is to provide you with the most transparent and helpful information possible. But, only you know what is best for you and your career.
Here is a summary of our findings on Monster.com written and reviewed by a Certified Professional Resume Writer:
Customer Reviews: 10/25
Cost to Value: 10/25
Sample Quality: 15/25
Writer Credentials: 15/25
Total Score: 50/100
As a reminder, we highly recommend reviewing 2-3 services before making a final decision.
If you're in need of a resume writing service, we suggest checking out Find My Profession. With a team of experienced reverse recruiters and a commitment to customer satisfaction, Find My Profession can help you find your dream job. And with a perfect score of 100/100, you can trust that you'll be in good hands!